Looking for burlap fall banner ideas? This DIY fall banner can be made in just 5 minutes so it's the perfect fall DIY decor to make before your Thanksgiving guests arrive!
In case you can't tell, I'm on a DIY Fall Decor kick! I'm cranking out DIY fall home decor projects left and right… mostly because they're all so easy to do.
And this DIY burlap fall banner is no different.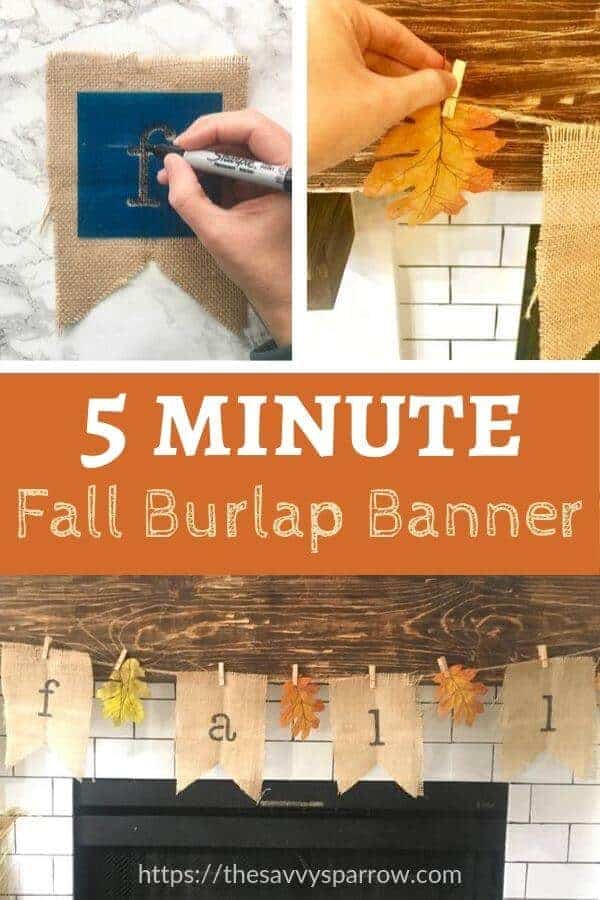 In fact, this is probably one of the easiest DIY projects that I have ever done… Yes, it's easier than my Fall Tobacco Basket Wreath and this DIY Fall Wall Hanging.
After a little bit of trial and error, that is. But luckily for you guys, I made the mistakes so you don't have to! 🙂 You're welcome!
And I don't blame you if you're skeptical…
"How can I make that cute fall burlap banner in 5 minutes?"
Well, I'll show you…
*This post contains affiliate links which means I may earn a small commission from these links at no additional cost to you. Read my full disclosure here.
How to Make a Burlap Fall Banner: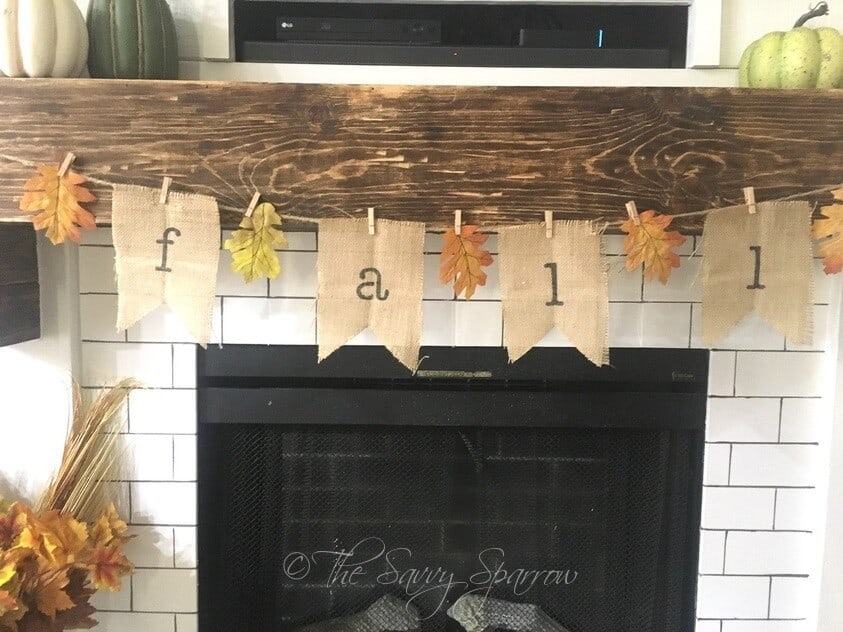 Step 1: Gather your supplies
Pre-cut burlap pennants
My burlap pennants are from an old Stampin' Up kit. Yes, I used to be a Stampin' Up salesperson in another crafty life. But then I had homemade cards coming out of my ears and I decided to hang up my ink pads. 🙂
Most craft stores sell burlap pennants, but you can also find them here and save a trip to the store.
Jute rope
Alphabet stencils
Every home decor DIY-er needs a good set of alphabet stencils in their arsenal. (See my DIY Farmhouse Canvas Wall Art for proof!)
My letter stencils are from Stampin' Up, but unfortunately they are retired so you can't purchase them anymore. And I LOVE mine so much that I will never part with them… not even if you offered me 5 times what I paid for them.
You may luck out and find these Stampin' Up stencils on ebay… or find some nice 3 inch letter stencils here.
Sharpie marker
I just used a classic black Sharpie marker and it worked very well. However, be careful because on some types of burlap with a tighter weave the Sharpie marker may bleed a bit.
Faux leaves
I had my loose faux leaves left over from this easy DIY fall wall hanging.
You can also use mini pennants in between the larger pennants like I did last year: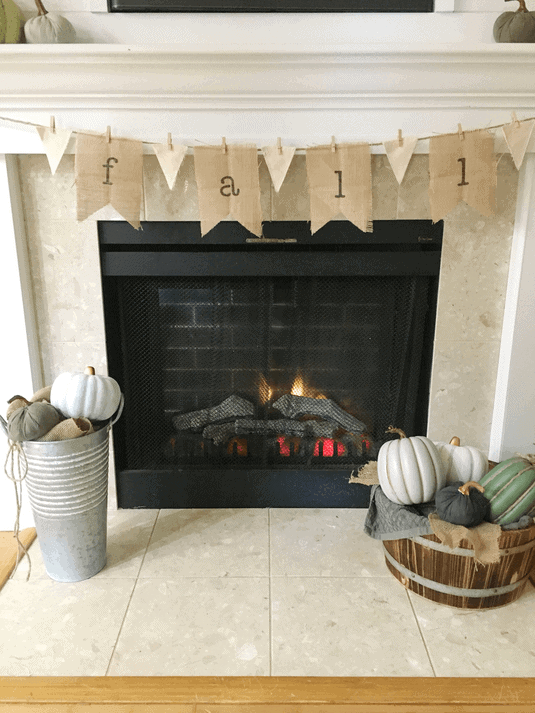 By the way… if my fireplace looks different now than it did last year, it's because I painted my old beige and boring tiles to look like faux subway tiles! This simple and cheap DIY hack shot my fireplace straight out of the 90s and into this modern-farmhouse-loving decade!
And the great thing about this easy burlap fall banner is that the pennants and leaves are just pinned on so you can easily swap them out for a completely different look.
Mini clothespins
My clothespins measure 1 – 3/8 inches, and they are the perfect size for this burlap fall banner. Here are some that would work perfectly for this project, and they come with jute twine also:
Step 2: Stencil letters onto your burlap pennants
Position your letter stencil where you want it on your pennant and then just use your Sharpie marker to color in the stencil.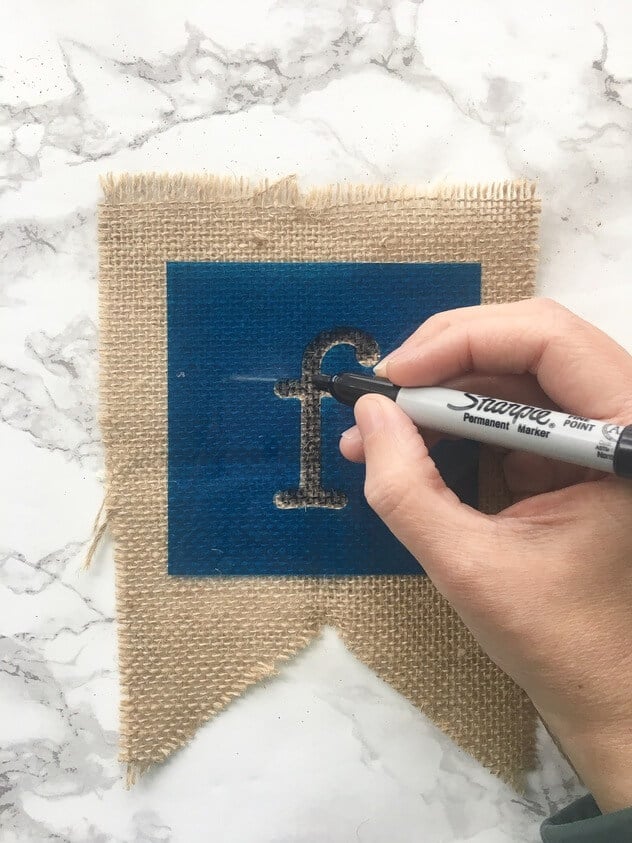 If your pennants have a tighter weave, then be sure to use a very light touch when coloring with the Sharpie. Or better yet, test the Sharpie marker on a small section of a spare pennant first.
Step 3: Attach pennants to jute rope with clothespins
Just clip your stenciled pennants onto your jute rope. Couldn't be easier!
At first I was trying to figure out how to cut two small holes in the top of each pennant and thread the jute rope through and still get the burlap fall banner to hang straight. After about 45 minutes and 3 failed attempts, I just decided to go with this clothespin option which is WAY easier!
Step 4: Attach leaves to your burlap fall banner
Clip on your fall leaves and you're good to go!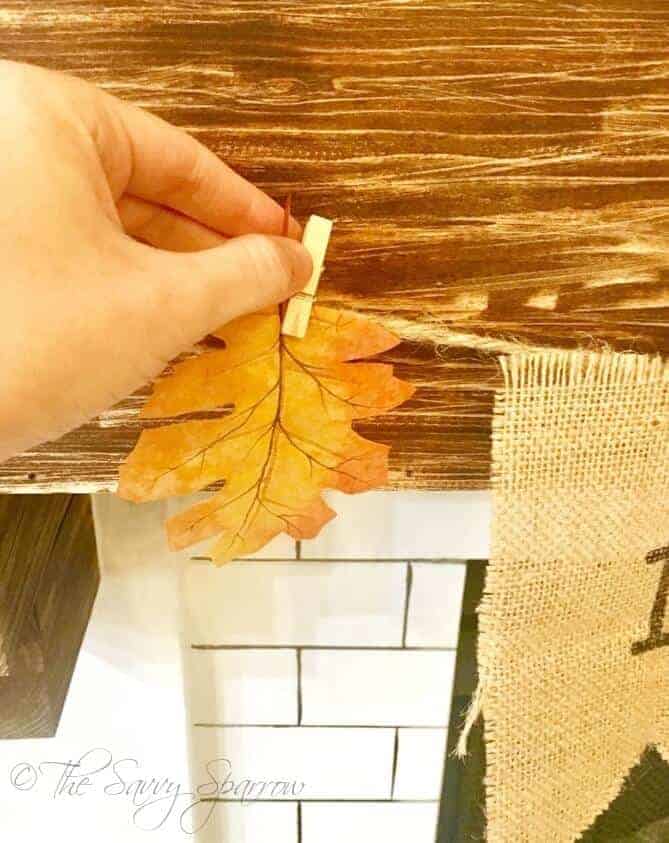 You could also use felt pumpkin cut-outs in between the pennants, or for even more color, tie ribbon pieces around the jute rope.
The possibilities are endless!
And once December comes, just swap your leaves out for Christmas ornaments or snowflakes, and stencil a few more pennants with "NOEL" or "MERRY". Then you'll have a completely new burlap banner for just a few dollars.
See, I told you this fall burlap banner was easy-peasy!
And, isn't it super cute with the rest of my easy DIY fall decor?!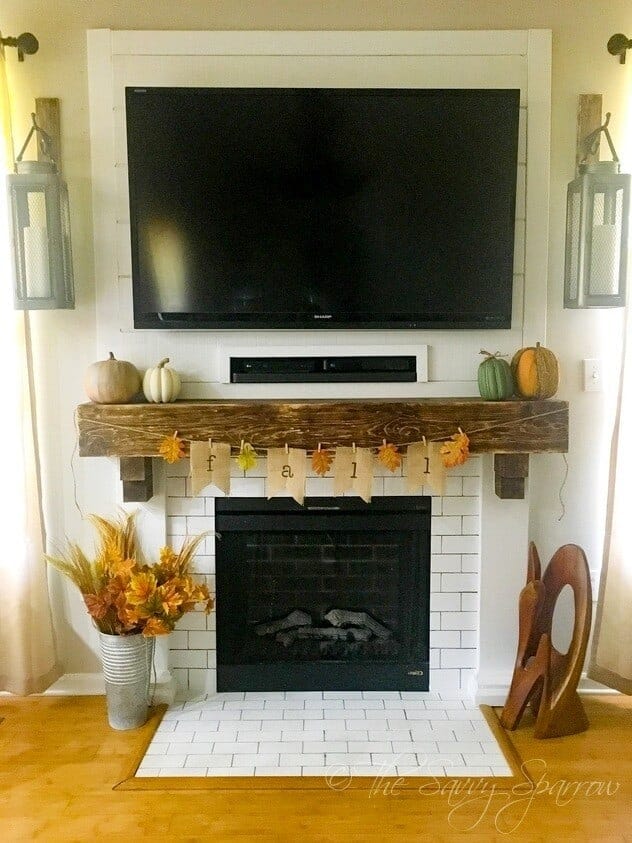 By the way… here's a BONUS Farmhouse decor hack for ya…
See my farmhouse lanterns on the sides of my TV… well, those aren't $40 white candles in there… NOPE… I put $1 Bounty paper towels into my farmhouse lanterns!
You can't even tell the difference because my lanterns have wire mesh sides and they're hanging up high. Genius, huh?!
Have any home decor hacks of your own? I'd LOVE for you to share them with me! Leave me a comment below…
And if you want even more DIY fall craft ideas, then check out Country Living… they have some adorable DIY ideas for fall!
And happy crafting!