This easy DIY wall hanging is the perfect DIY fall project to dress up your plain old walls. Make this rustic fall DIY wall decor to hang over your buffet table for Thanksgiving, or hang it over your fall mantle! If you've got a spare half hour, then you can make this gorgeous leaf wall hanging. No power tools needed!
It's Fall Y'all! Well… almost. Though Fall actually started about 3 months ago if you ask Hobby Lobby. 🙂
And since you're about to be bombarded with all things pumpkin spice, I thought I would go ahead and add to your soon-to-be fall overload with this super easy DIY wall hanging for fall.
I've been browsing Pinterest lately (who isn't!?), and I've been noticing all the beautiful flower DIY wall hangings, like this one from Sweet Teal. Of course the flowers are perfect for spring decor, but I figured that the same idea would be great for faux fall leaves.
And I was right…
I LOVE it when I have an idea, and then I can actually implement said idea perfectly. Though it doesn't always happen that way… Don't ask me about trying to stencil on my dining room wall with Sharpie markers. Eek!
So after taking a quick trip to the craft store and rummaging through the scrap wood and branches in my backyard I was ready to start this easy DIY fall decor project!
But enough rambling…
I can't wait to show you this beautiful DIY wall hanging!
Isn't it gorgeous?!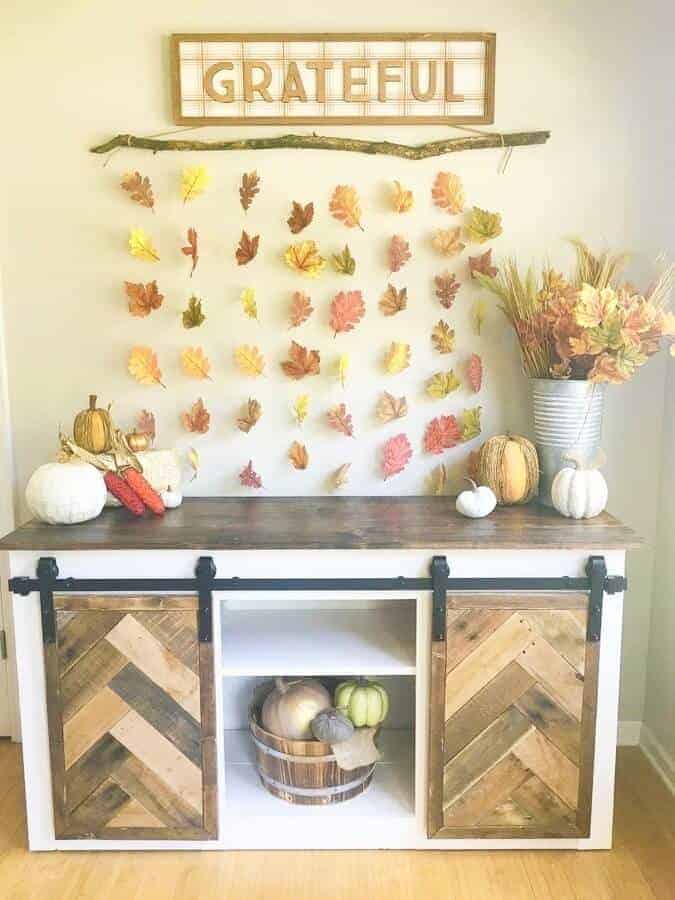 And props to my awesome husband for building me this farmhouse style buffet! I'll post about that later, I promise.
The "Grateful" sign over top is from Joann Crafts. I fully intended to make my own sign to go with this DIY fall wall decor, but I ran out of time, so that will have to be a project for another day.
But, don't you love this DIY fall wall hanging!
It's even more amazing in person because the leaves are so light that they gently flutter in the wind from the air conditioner. Almost like they're actually falling from the trees.
And the greatest thing about this easy DIY fall wall hanging is that you don't have to own a single power tool to make it!
By the way, if you want more awesome and easy DIY fall decor ideas then you have to check out this DIY fall banner and this DIY fall wreath.
Here's how to make an Easy DIY Wall Hanging for your DIY Fall Decor:
1. Gather your supplies
You only need a few basic supplies for this easy DIY wall hanging for fall, most of which you probably already have on hand.
I dare say that it might actually take you longer to go to the craft store to get faux leaves than it will for you to make this whole fall DIY project!
Here's what you need:
Faux fall leaves – I used faux leaves on "branches" from Michael's and a pack of individual fall leaves from Hobby Lobby. I actually preferred the pack of individual leaves because they didn't wrinkle as much as the big bunches. If I made this project again, I would only use that kind.
A stick or small branch – Break the stick in the length that you want for your finished DIY wall hanging (my finished wall hanging is 52 inches long). Since I used a real branch that had been laying in my backyard, I sprayed it with bug spray and let it sit for a few hours before using it.
Clear fishing line
Jute rope
Hot glue gun and glue sticks
2. Lay your faux leaves out face-down in the order that you want them to hang.
I angled mine so that they would not be perfectly straight up and down. I also tried to alternate different colors and types of leaves.
Lay out one row at at time – probably 6 or 7 leaves.
3. Hot glue the faux leaves on to fishing line.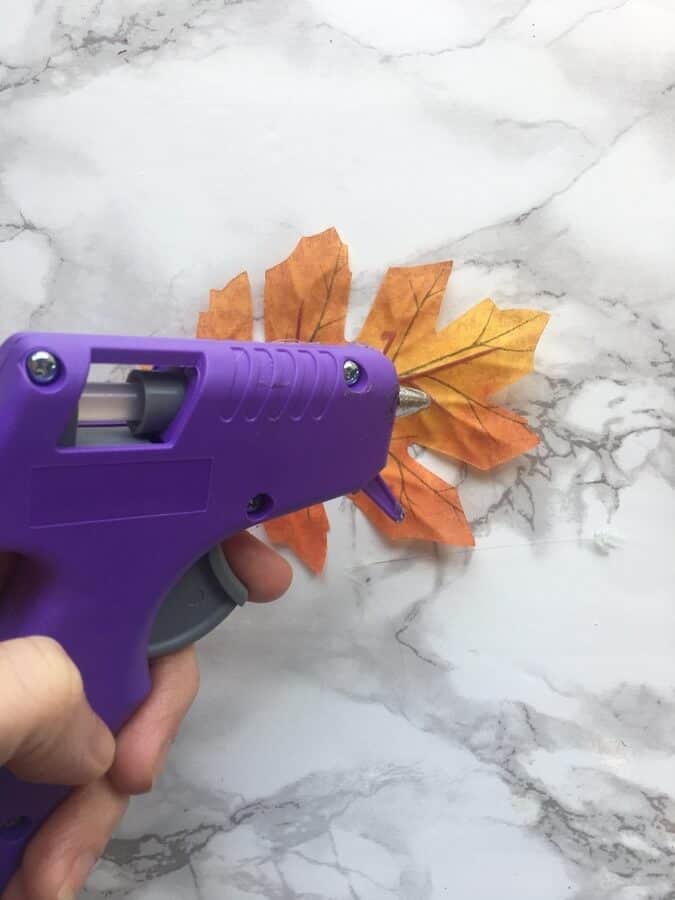 Run a small line of hot glue down the back of the leaf. I used the end of a wooden skewer to press the fishing line into the hot glue so that I didn't burn my fingers.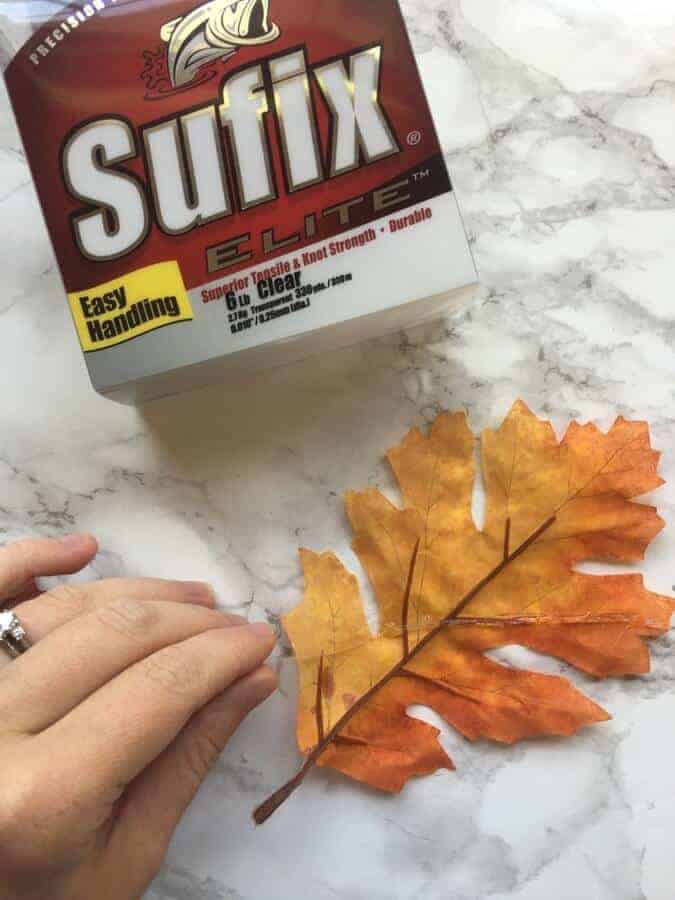 My leaves are spaced about 1-1/2″ – 2″ apart, but I just eyeballed it. I used 6 -7 leaves on each line.
4. Tie the end of each fishing line to the branch.
I spaced my rows of leaves out about 4″, and I tied them at different heights so that the top leaves of each row were a bit scattered rather than straight across.
5. Tie jute rope to the ends of the branch.
Leave as much slack in the rope as you want to hang your finished DIY wall hanging for fall.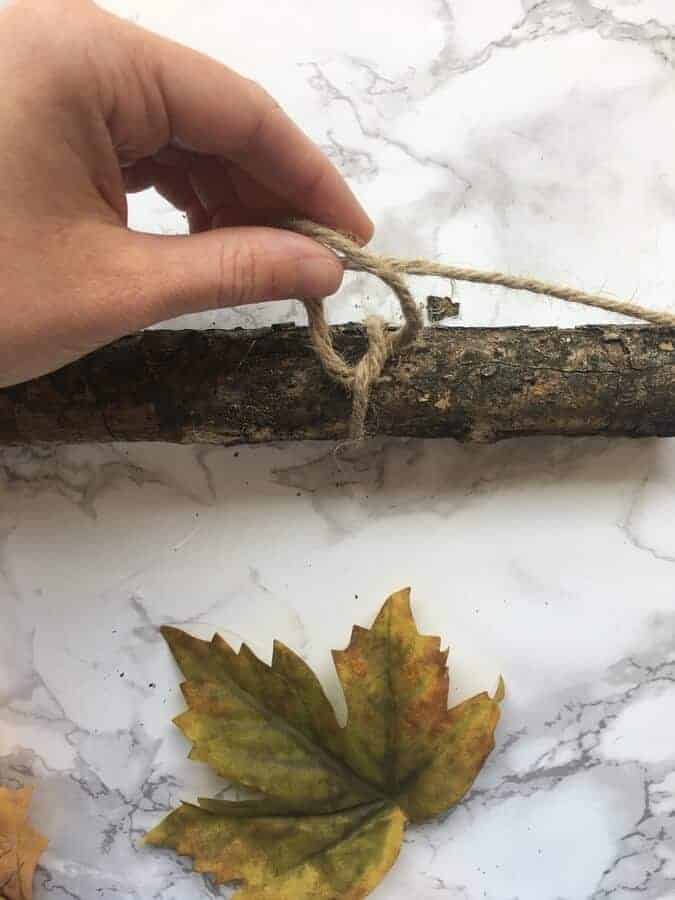 6. Hang up your easy DIY wall hanging and enjoy your new fall wall decor!
I am in LOVE with this easy DIY fall decor project! It was easy-peasy to make, and I didn't even need my hubby's help… Unless you count the foraging for the perfect stick… There was no way I was going to dig through that wood pile with who knows what kinds of deathly spiders hiding back there. 🙂
And I LOVE how this fall wall hanging makes the perfect backdrop for my buffet table which is all decked out and ready for Thanksgiving…
3 months early…
Hobby Lobby would be proud!
And for you visual learners out there… I created a video to show you just how easy this DIY fall wall decor is! Check it out:
By the way… do you like videos? I'm taking a mini-poll to see if I should start making more videos for my recipes and DIY decor projects… Leave me a comment below and let me know what you think!
Want to make this easy DIY fall wall decor project yourself? Be sure to PIN this post so you can come back to it later!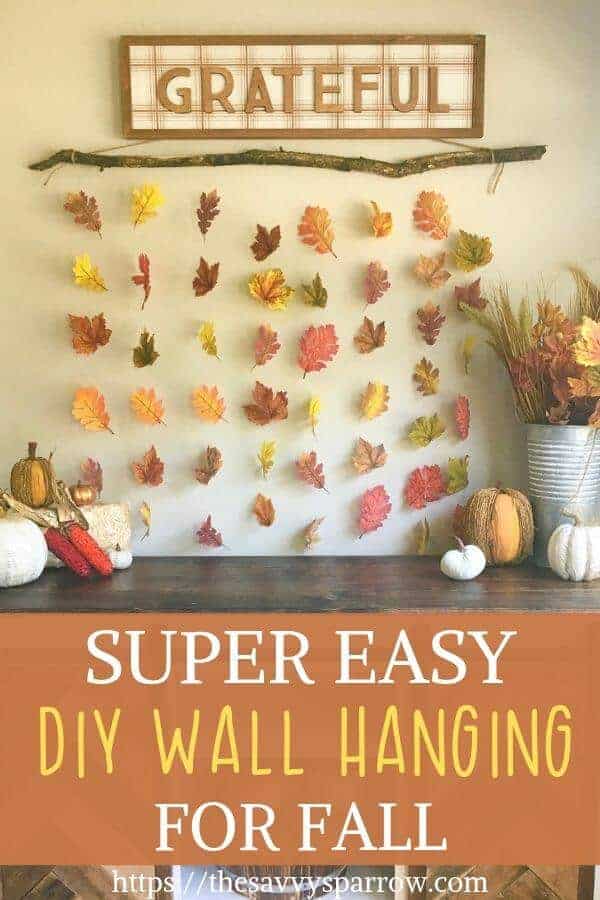 And be sure to check out some of my other popular DIY home decor projects: