Yes, I've hopped on the front porch Fall sign bandwagon.
I just couldn't help myself. Even my local grocery store is selling the uber-trendy vertical front porch Fall signs… and "Welcome" and "Snow" and "Noel" and on an on.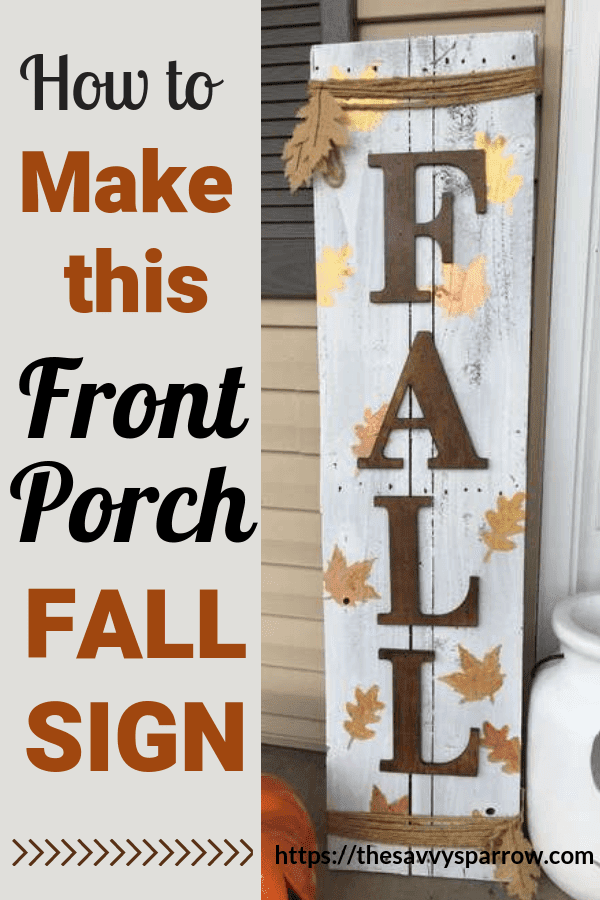 So, of course, we had to DIY our own version. And you can, too, with this simple tutorial for how to make a front porch fall sign.
*This post contains affiliate links, which means I may earn a small commission from these links. Read my full disclosure here.
1. Build your front porch Fall sign base
You've got lots of options here. Pallet wood, 2 x 4s, 1 x 6s, or underlayment boards, just to name a few. Underlayment boards are a favorite of mine for projects like this because they're cheap. Plus, they are already nice and smooth and require very little prep work. Bonus- Home Depot will actually cut them down for you for free (as long as you only need 1 or 2 cuts).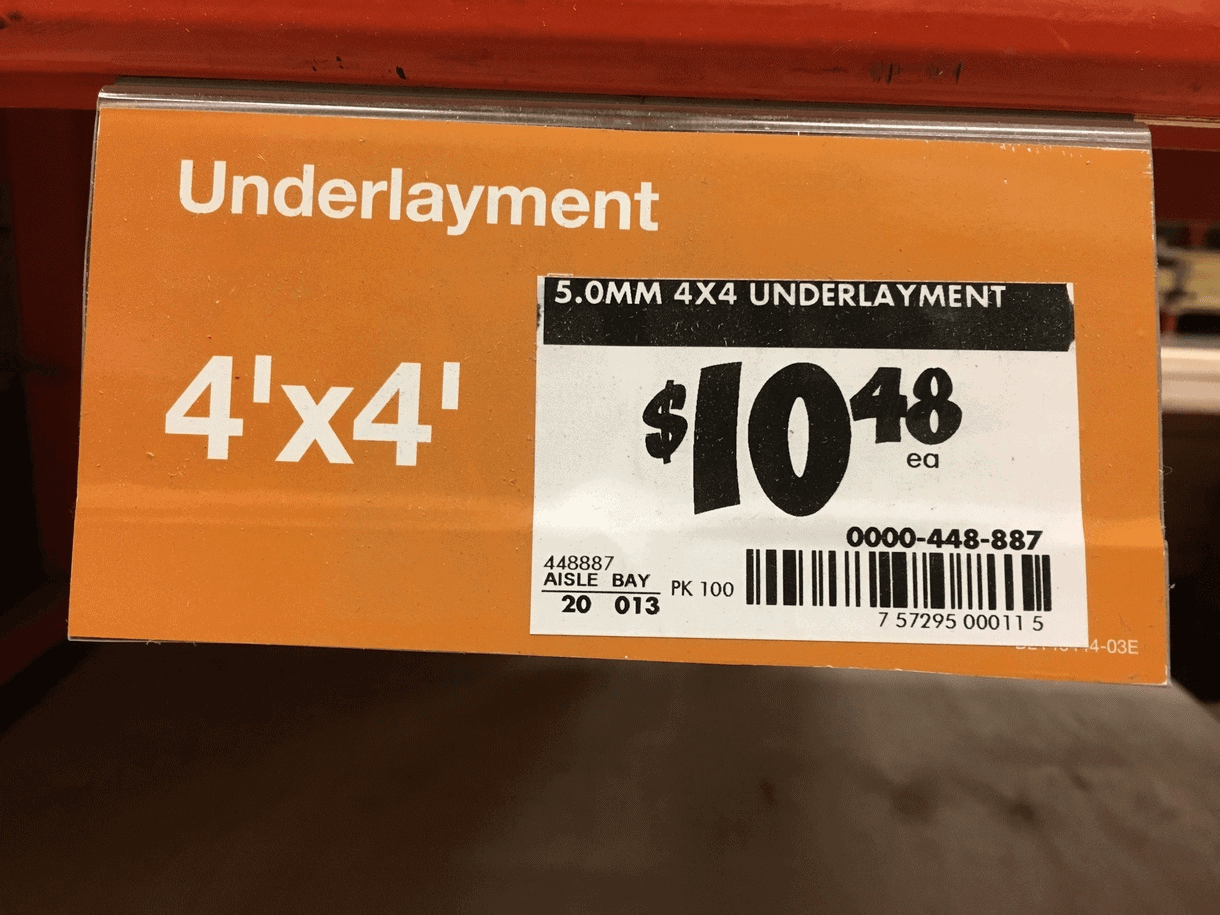 We actually used a wood "screen" type thing that had been installed on the side of our house to block the view of the air conditioner. It was made of pallet wood, so we just disassembled it and nailed it together in the shape that we wanted for our front porch fall sign. This is the back of our finished sign to show the wood that we used.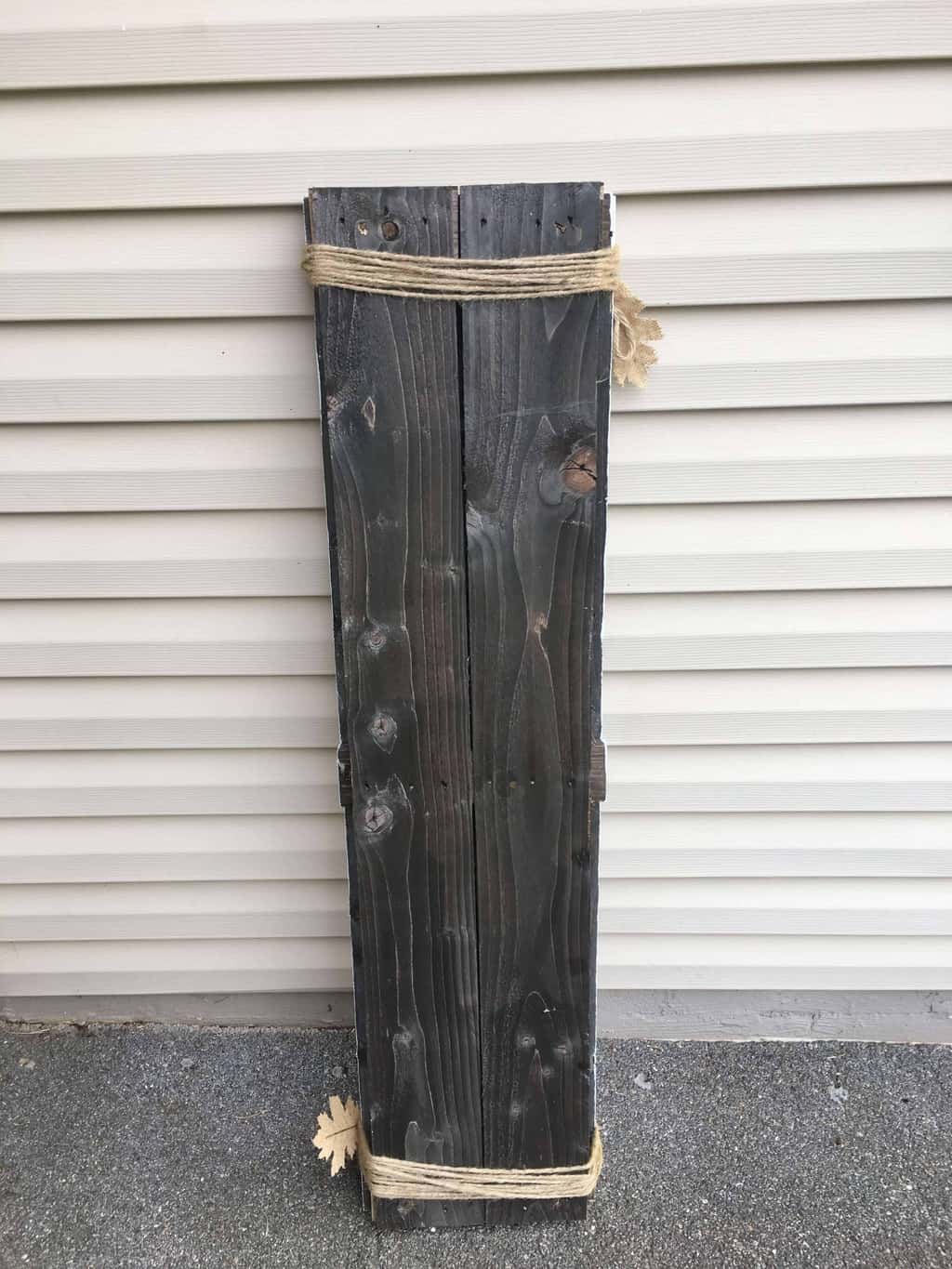 This side will soon be a winter-themed sign.
2. Paint the base
Here's where the fun part starts. Choose any color you like, or leave the wood unpainted for a rustic look. We used Behr Premium Plus Ultra paint in Frost, because that's what we had left over from various other projects (like these cheap and easy DIY farmhouse wood signs).
3. Stencil a background design
To make our leaves, I used the same method as I did for my easy DIY farmhouse wood signs, except instead of printing out words I printed out a few different leaf shapes.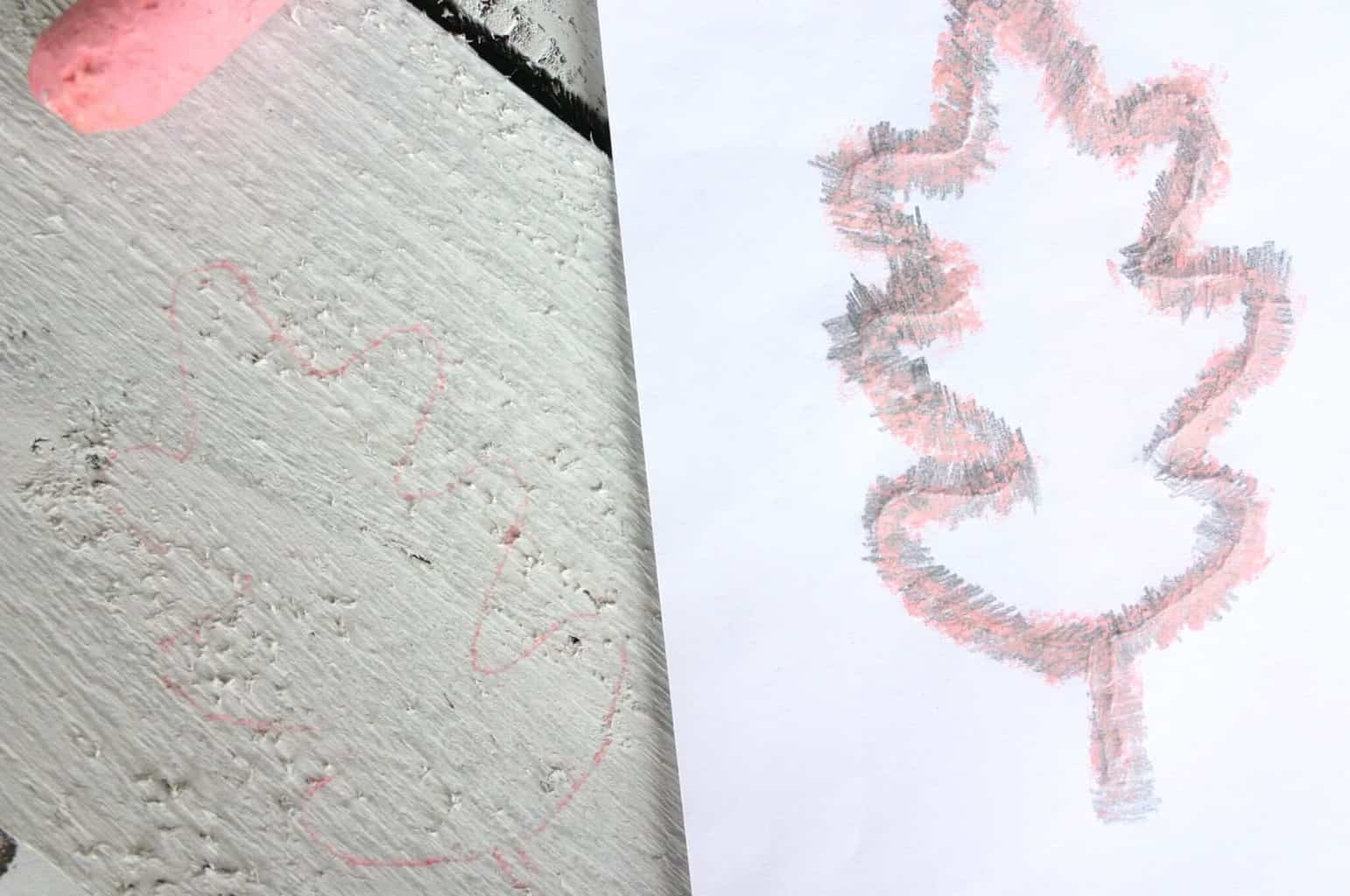 I used pink sidewalk chalk to make the imprint, because it showed up better on the rough white surface than the pencil.
Go here for the full tutorial on how to easily stencil any shape or font onto wood without an actual stencil or a cricut!
4. Paint the background design
I used the mini bottles of acrylic paint that you can find at any craft store in gold, bronze, and copper.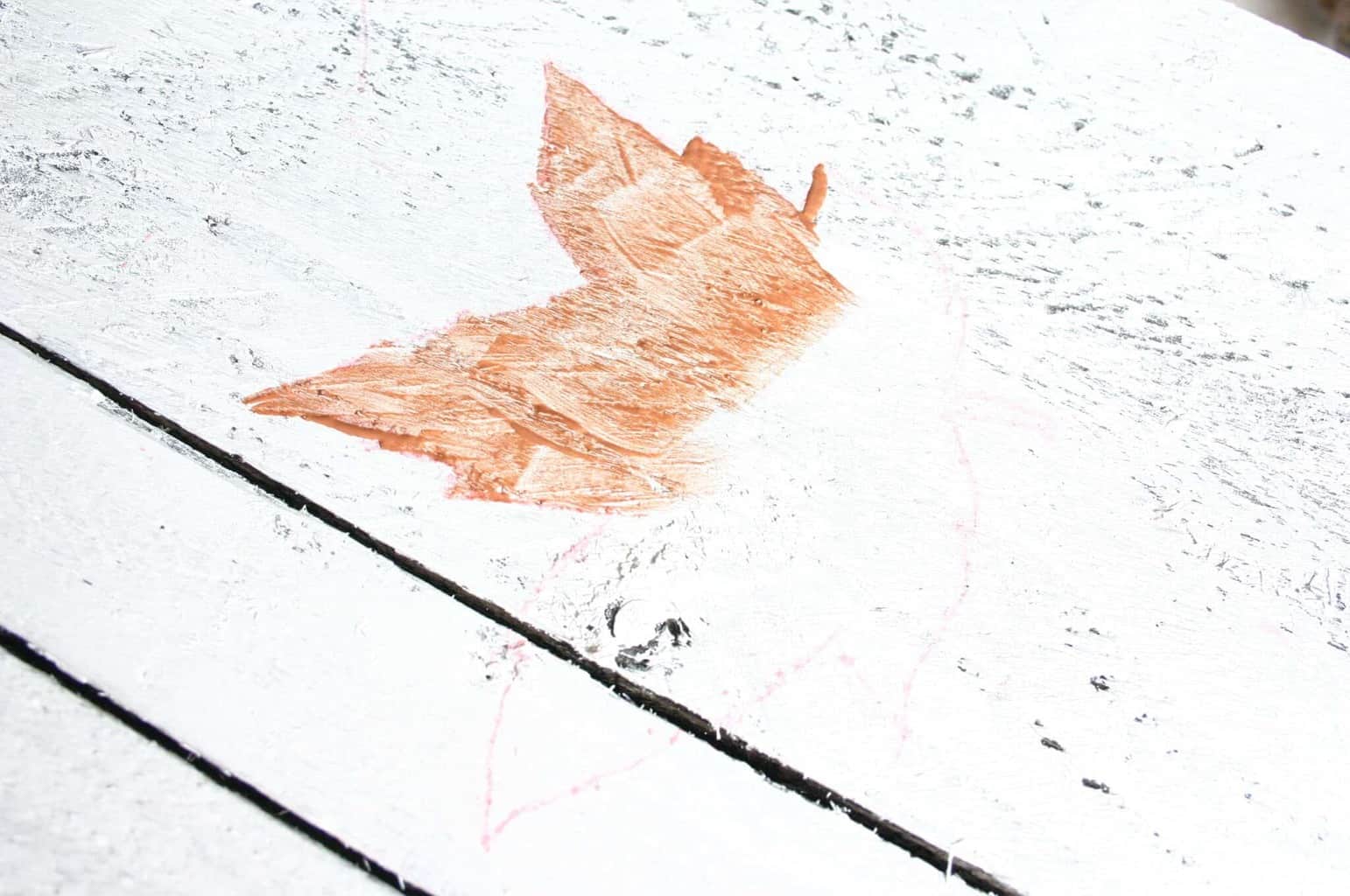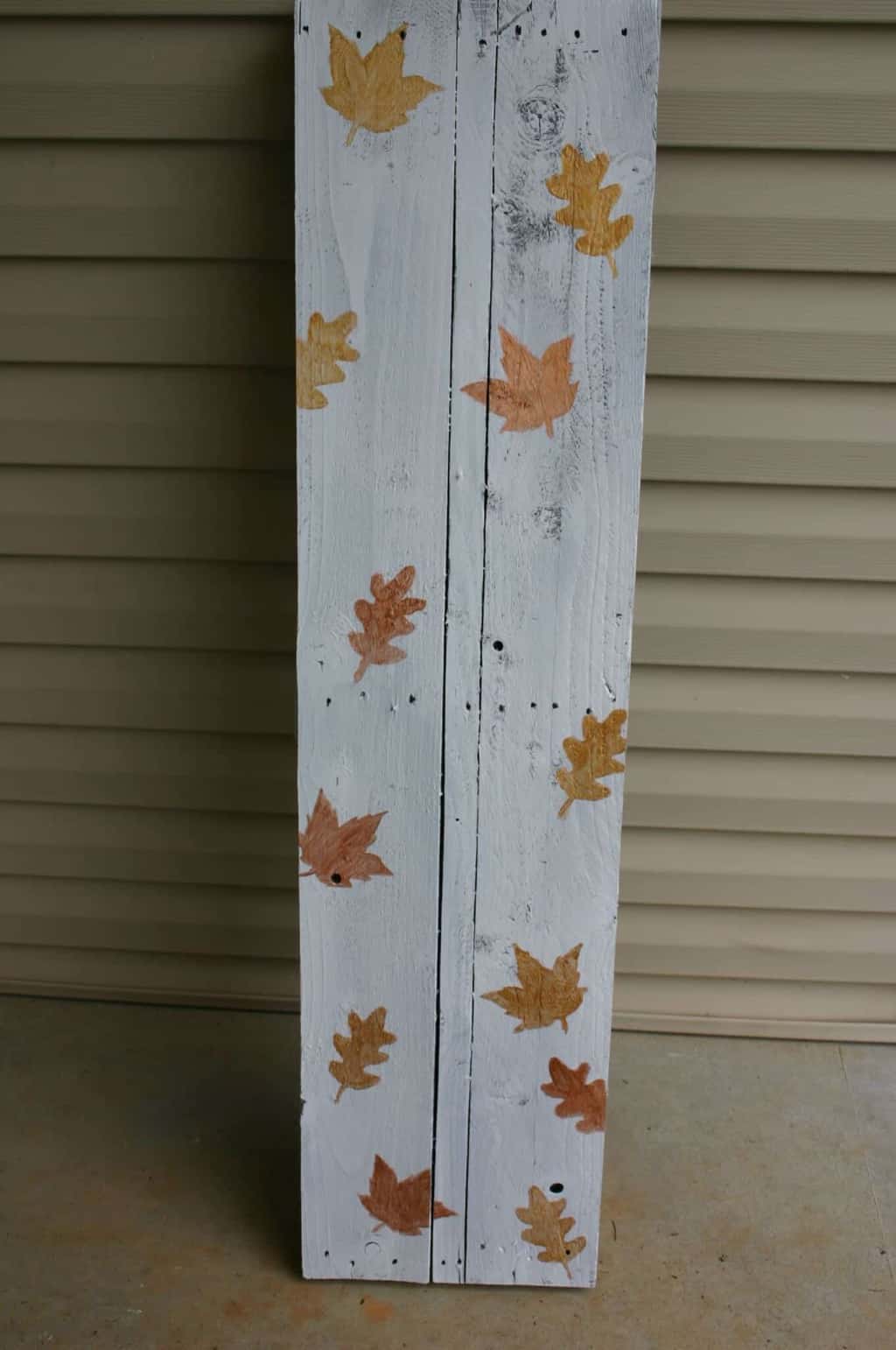 5. Stain your letters
I found unfinished wood letters at Hobby Lobby and stained them with this stain. Tip – Make sure you have latex gloves when staining… Stain is a pain to remove from your skin!
6. Attach letters
We used a finishing nail gun to nail our letters in place, but a hammer and nails or even construction-grade caulk or adhesive would work well also.
7. Embellish your Front Porch Fall Sign
We were going for a rustic look, so we wrapped some thick twine around the top and bottom of our front porch Fall sign. Next, we tied a few burlap leaves from Hobby Lobby to the twine.
The options are limitless here. Acorns, pumpkins, leaves, and any other fall-themed wreath picks would also work well.
And, that's it! Easy peasy!
The hardest part of this entire front porch fall sign tutorial, in my opinion, is building the base. If you want to simplify this DIY even further, use a 1″ x 8″ board, and have Home Depot cut it down to the height that you want. Then, all you have to do is paint it and you're good to go!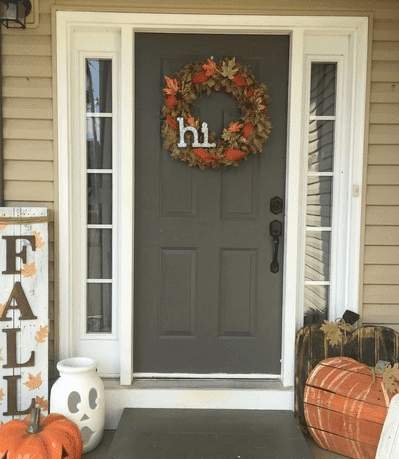 I love how this Fall sign compliments the rest of my front porch fall decor! And, did you notice my fall wreath? Go HERE for the tutorial – and see how this wreath can be easily changed up from season to season!
Want to see more of my DIY home projects!? Check these out: