Elegant holiday appetizers don't have to be stressful to make! You can serve fancy appetizer recipes that you can be proud of this holiday season. These are some of the best easy and elegant appetizers to bring to a party this Thanksgiving and Christmas!
Thanksgiving and Christmas are right around the corner… and that means FOOD and lots of it!
And I don't know about you… but one of my FAVORITE things about the holidays is the seemingly endless supply of party appetizers.
I could (and often do) just stand around the appetizer table and stuff myself with bite-sized goodness at holiday parties. So much so, that I'm usually not even hungry for the main course.
Yup, my husband and I love appetizers and small plates so much that when we hosted the Christmas party at our house last year, we actually made the menu heavy hors d'oeuvres and skipped the main course and side dishes altogether.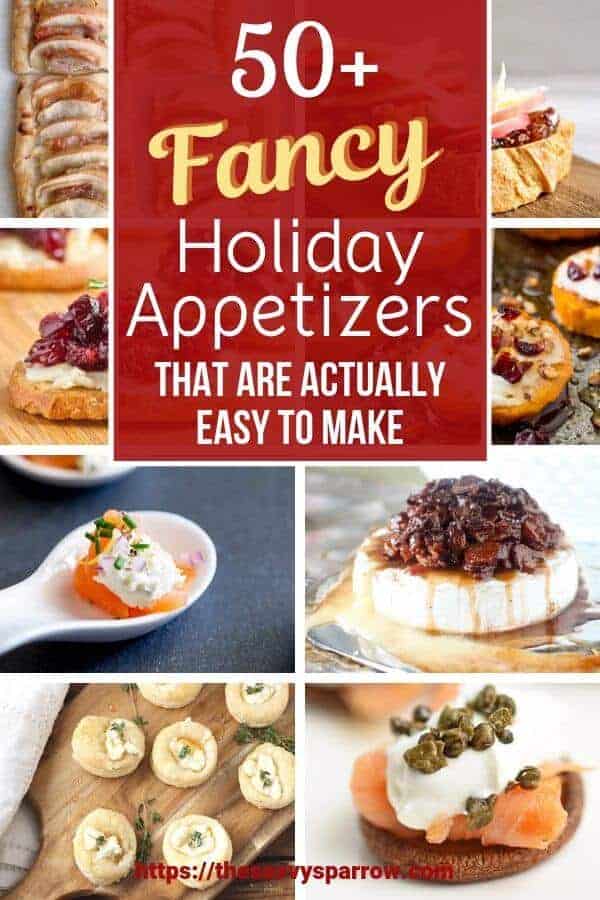 You'll probably be slaving in the kitchen for hours with the turkey and 2,342 sides anyway, so take a little bit of the load off and try one of these easy, elegant holiday appetizers.
Easy holiday party foods don't have to LOOK like they've just been thrown together…
You can make elegant holiday appetizers that look good enough to grace the pages of Martha Stewart Living, without the stress.
From easy crostini appetizers that look (almost) too pretty to eat, to ooey-gooey baked brie appetizers, to fancy bite-sized tartlets, I've rounded up some of the prettiest elegant holiday appetizers that are actually easy to make.
Easy Crostini Appetizers
The great thing about crostini appetizers is that they look so elegant but require very little work.
You can just toast some bread, spread some cheese, and spoon on some fruit and you've got a beautiful and easy appetizer that would be worthy of a magazine cover.
Here are some awesome easy crostini appetizers that would be perfect for Thanksgiving or Christmas parties:
Brie with Carmelized Onions, Prosciutto, and Fig Jam from What a Girl Eats
Roast Beef Crostini from Snacks and Sips
Christmas Crostini with Brie, Prosciutto, Clementines, and Pomegranate from Girl Heart Food
Roasted Acorn Squash Crostini with Crispy Prosciutto and Goat Cheese from Girl Heart Food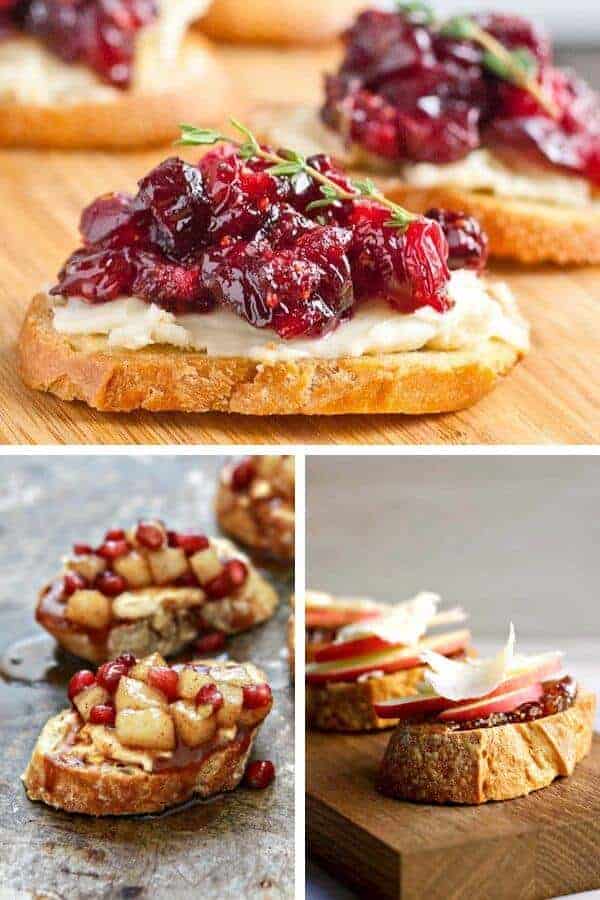 Roasted Balsamic Cranberry Brie Crostini from Neighborfood
Spiced Pear and Pomegranate Crostini from Good Life Eats
Apple Crostini with Fig Jam and Pecorino from Pinch and Swirl
Baked Brie Appetizers
Give me all the cheese!
If you're a cheese-fiend, too, then these easy brie appetizers are for you!
Baked brie appetizers are another way to fancy-up your appetizer table this holiday without stressing for hours in the kitchen.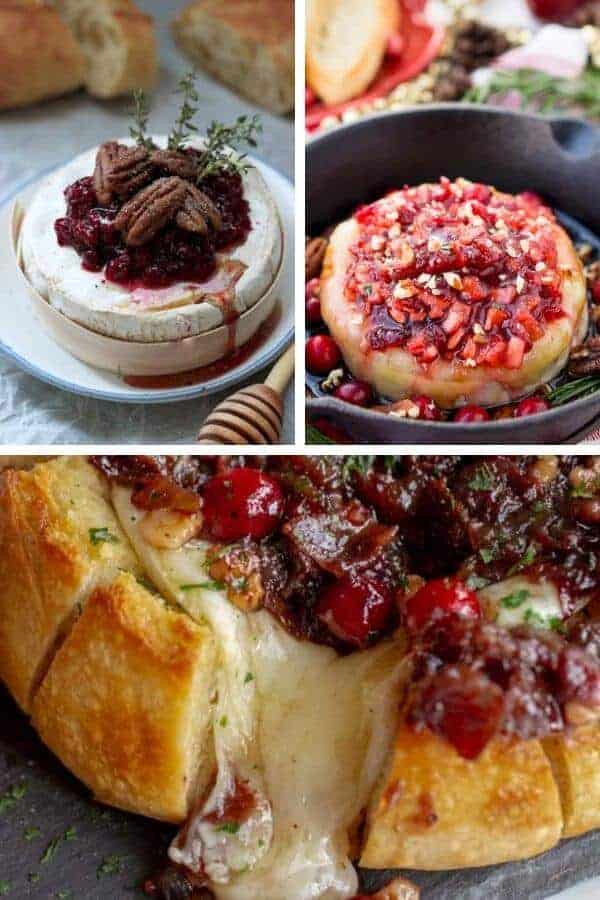 Easy Cranberry Baked Brie with Thyme from Happy Kitchen
Apple Cranberry Baked Brie from Sugar and Soul
Sourdough Baked Brie with Cranberries and Bacon from Away from the Box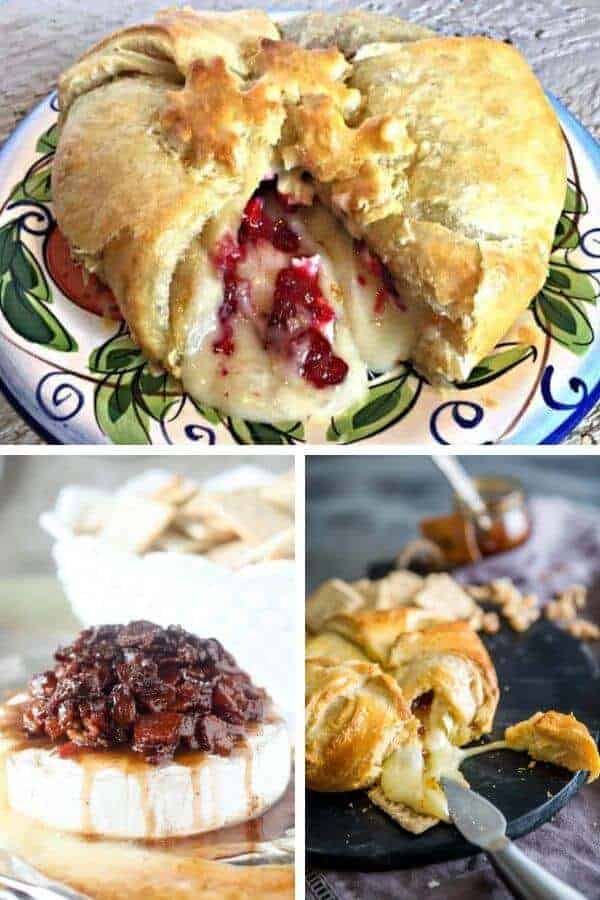 Baked Brie with Cranberries from Beyond the Chicken Coop
Candied Bacon Baked Brie from Blackberry Babe
Fig and Walnut Baked Brie Appetizer from Lemons for Lulu
Cheese Ball Appetizers
Cheese, cheese, and more cheese…
The holidays call for extra cheese, and these easy cheeseball recipes don't disappoint!
The cheeseballs with goat cheese on this list are a personal fave! I LOVE goat cheese… By the way, if you haven't ever had goat cheese as a steak topping then you're missing out.
I eat goat cheese on my steaks, mixed in with eggs, and on salads. But I love any kind of cheese really… who doesn't?! So I'm sure that these easy cheeseball recipes will be a hit at your holiday party!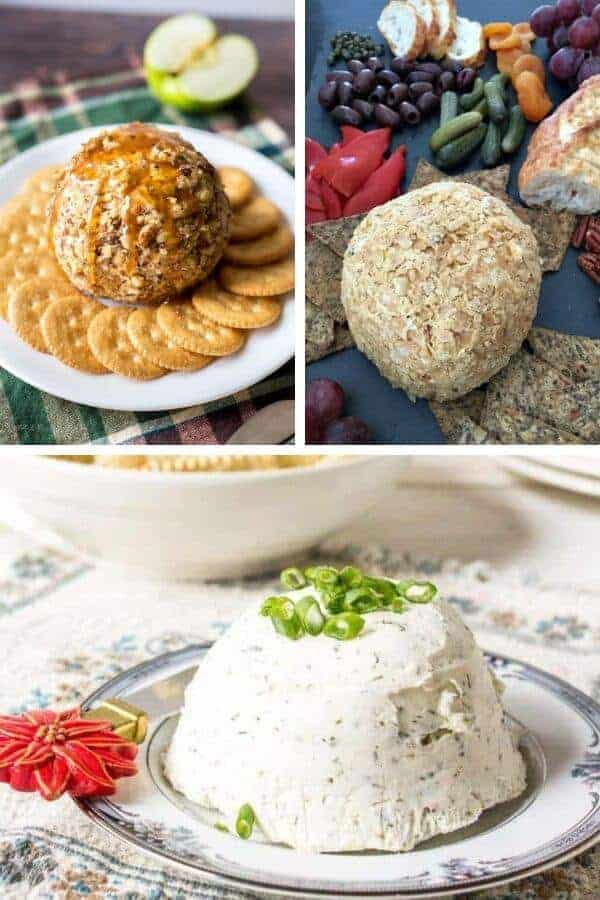 Caramel Apple Cheeseball from Plating Pixels
Spiced Pumpkin Basil Cheeseball from Spabettie
Homemade Boursin Cheese Spread from Beyond the Chicken Coop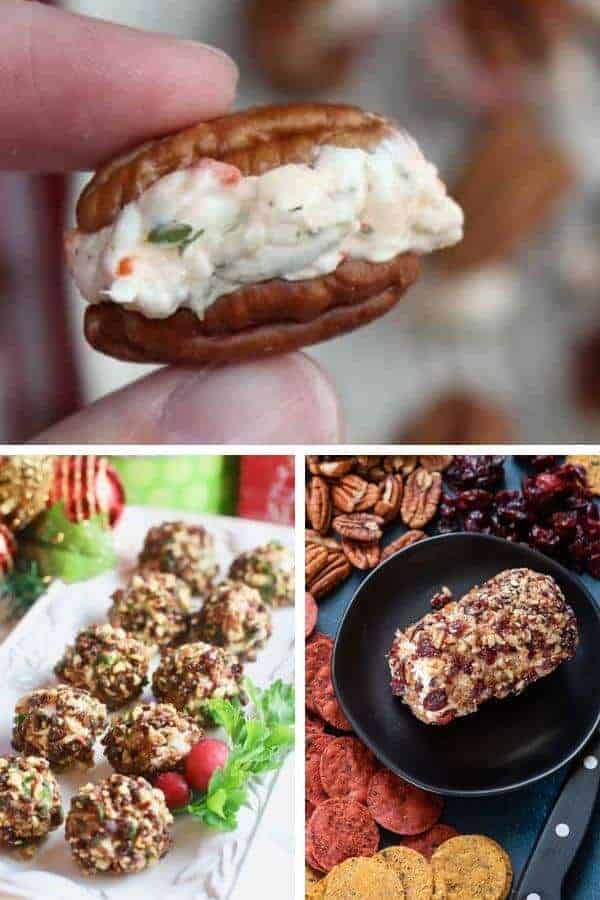 Bite-Size Pecan Cheeseball Bites from Bake Me Some Sugar
Cranberry Pecan Mini Goat Cheese Balls from Grits and Pinecones
Cranberry Pecan Goat Cheese Roll from Boulder Locavore
This easy but beautiful Ranch Olive Cheeseball is from yours truly… the perfect blend of flavors to compliment some buttery crackers!
Appetizer Dips
Think outside the Ritz… (though I LOVE Ritz crackers!). You can fancy up some of these easy appetizer dip recipes with thin toasted party breads or specialty crackers.
Or, if you're feeling extra adventurous, you can make your own quick and easy crackers by brushing extra virgin olive oil on top of packaged tortillas or flatbread and sprinkling it with a nice dried herb mixture. Pop them in the oven to toast up a bit, and you've got an easy homemade cracker to dip into one of these delicious and easy holiday appetizer dips!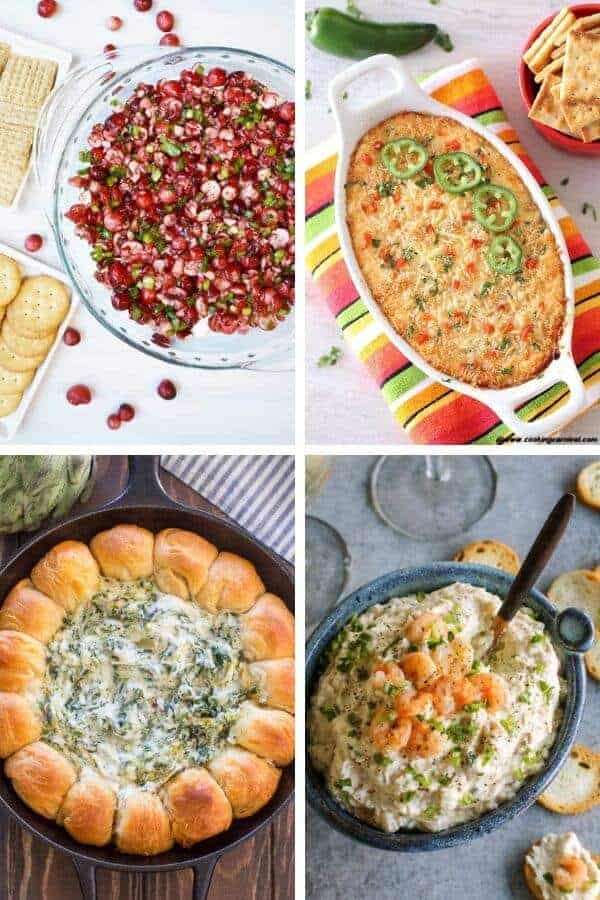 Cranberry Jalapeno Dip from Snacking in Sneakers
Jalapeno Popper Dip from Cooking Carnival
Spinach Artichoke Dip from Sweet and Savory Meals
Shrimp Dip from A Farm Girl's Dabbles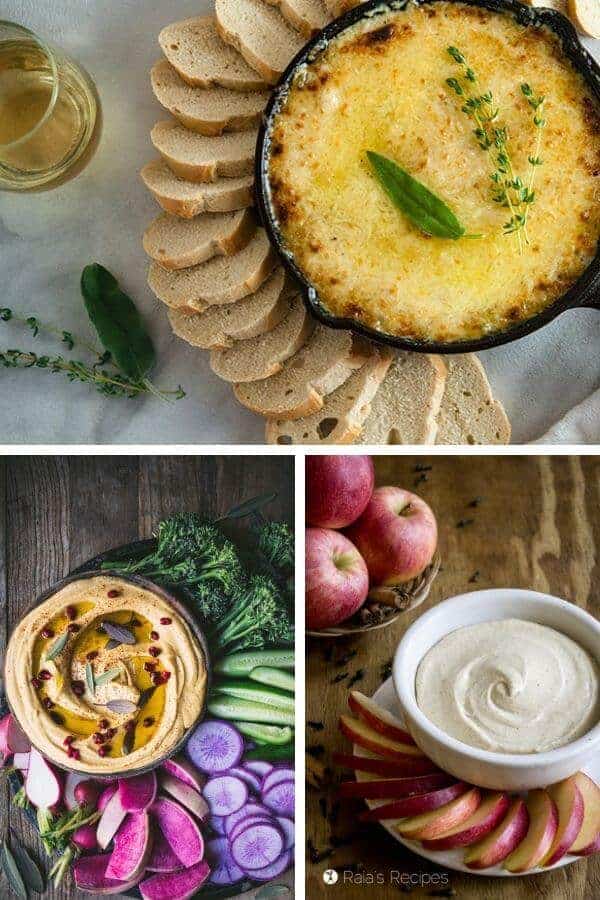 Caramelized Onion Cheese Dip from Seasoned Sprinkles
Pumpkin Sage Hummus from Crowded Kitchen
Pumpkin Spice Fruit Dip from Raia's Recipes
Meatball Appetizers
Meatballs might not be the first thing that comes to mind when you hear "elegant appetizers", but these easy meatball recipes are tasty AND beautiful.
It's all in the presentation! You can easily elevate a simple meatball appetizer recipe by beautifully plating them (I love the mini gold forks below!) instead of just serving them straight from the crock pot.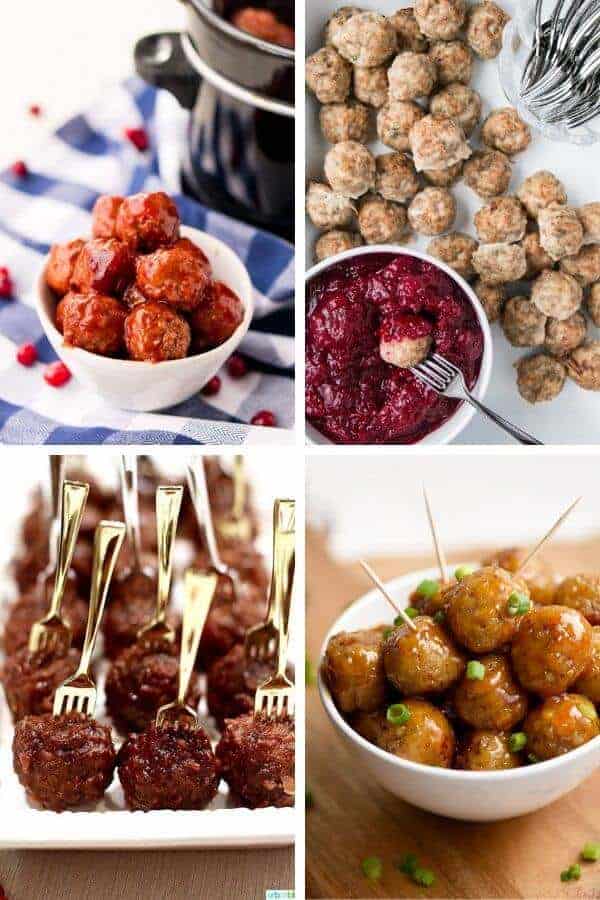 Cranberry Orange Meatballs from Sugar and Soul
Mini Turkey Meatballs with Easy Cranberry Dip from My Kitchen Love
Slow Cooker Cranberry Meatballs from Urban Bliss Life
Easy Spicy Orange Marmalade Meatballs from Mighty Mrs.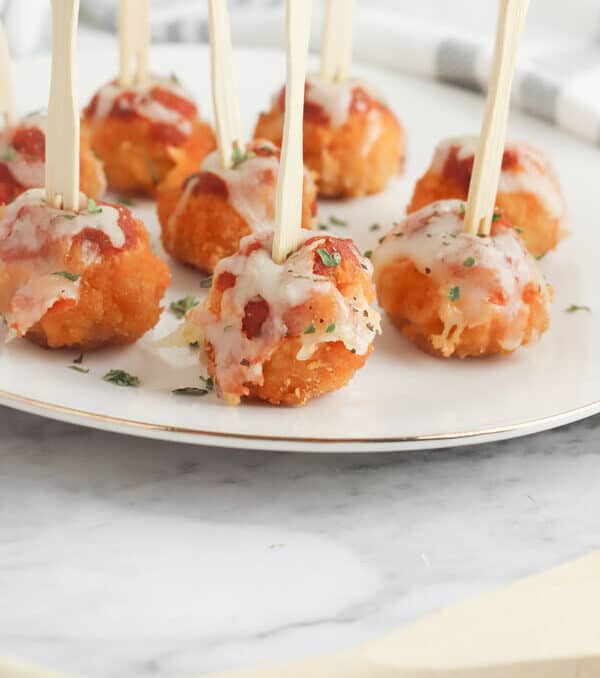 While not quite a "meatball", these mini Chicken Parmesan Bites are another one of my favorite super easy holiday appetizers… and they're just 3 ingredients!
Puff Pastry, Phyllo, and Tart Appetizers
Nothing says fancy like puff pastry and phyllo!
And if I see a plate of puff pastry anything, then I'm making a beeline for it!
Thanks to easy pre-made doughs, these awesome appetizer bites not only look like miniature works of art, but they're easy to make too!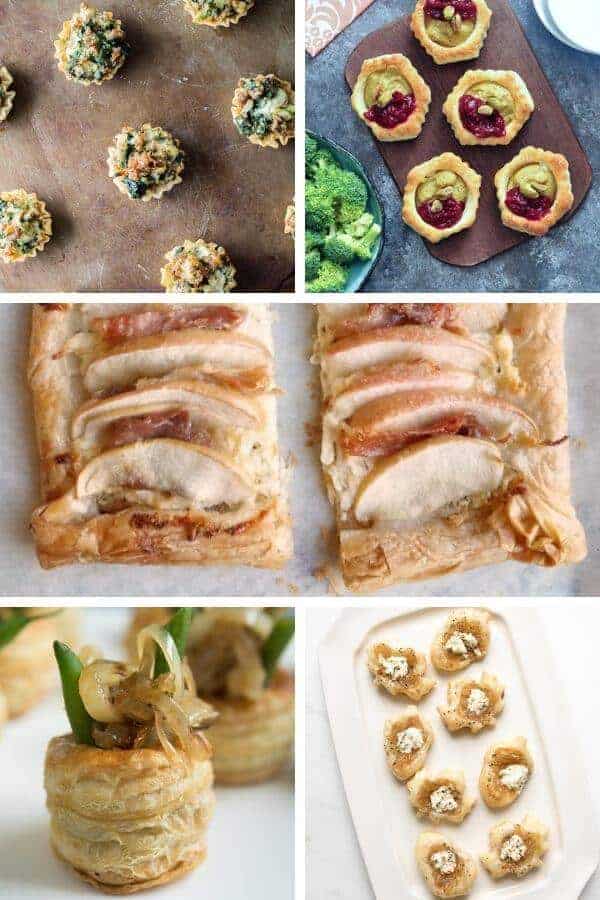 Mini Sausage and Spinach Phylllo Cups from Plating Pixels
Garlic Pistachio Cranberry Tarts from Spabettie
Ricotta Tart with Apples and Prosciutto from Cooking with Carlee
Mini Green Bean Casserole Puffs from The Sweetest Occassion
Onion Tart from Julie Blanner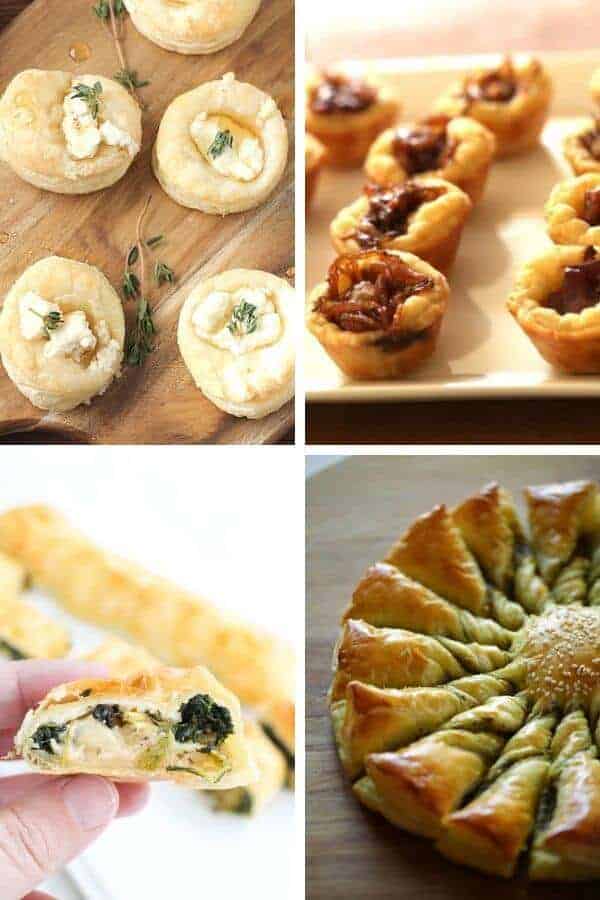 Easy Goat Cheese and Honey Bites from Suburban Simplicity
Goat Cheese Tartlets from Entertaining with Beth
Spinach Artichoke Dip Appetizer Bites from A Turtle's Life for Me
Tarte Au Soleil from Entertaining with Beth
Easy Holiday Appetizers for Special Dietary Restrictions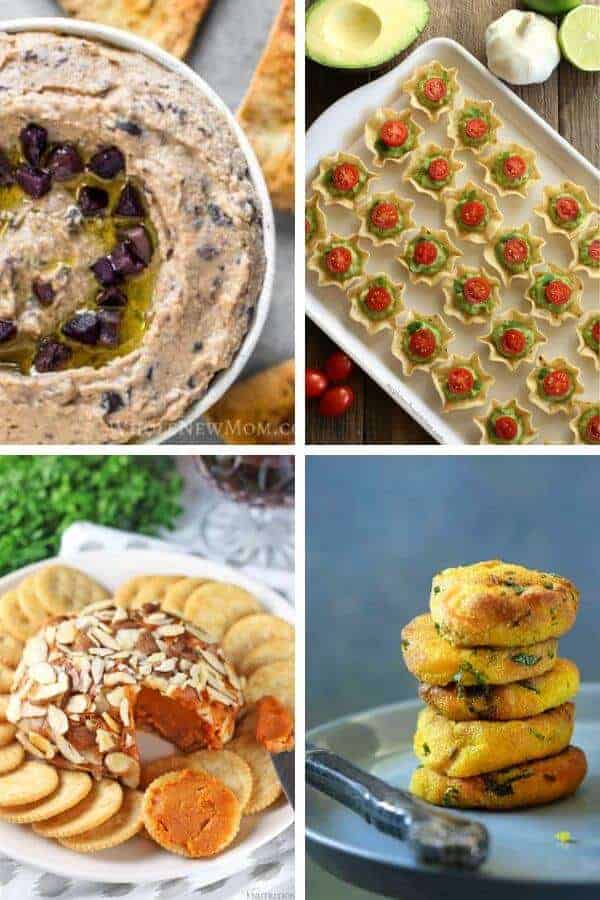 Spicy Olive Hummus (Vegan, Sesame-free) from Whole New Mom
Gluten-Free Chip and Guacamole Bites from My Gluten-Free Kitchen
Vegan Port Wine Cheeseball from V Nutrition
Savory Potato Patties (Vegan) from Two Sleevers
Even More Easy Holiday Appetizers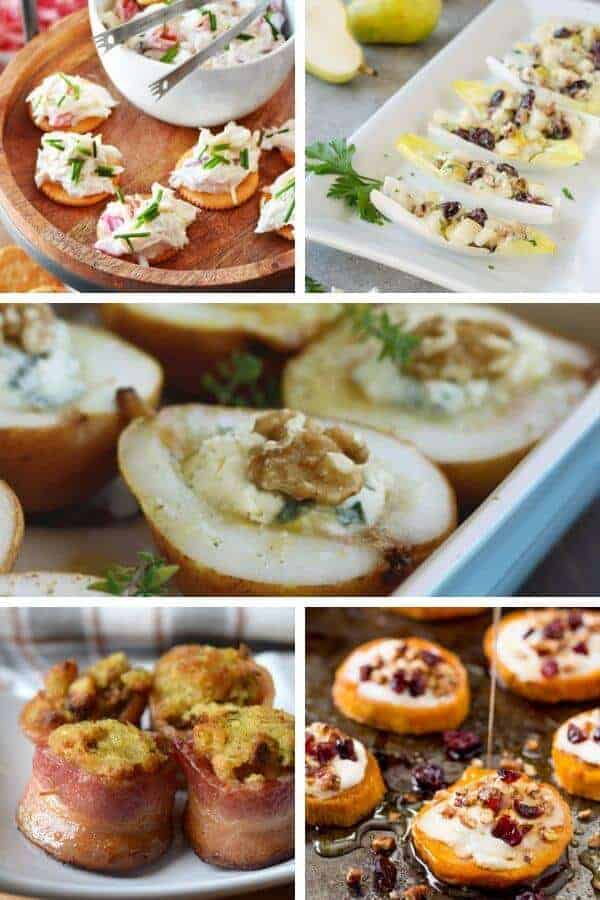 Real Crab Meat Salad Cracker Appetizer from Sizzling Eats
Endive Salad Bites with Pears, Blue Cheese, and Pecans from Flavor the Moment
Baked Pears with Gorgonzola and Honey from Happy Kitchen
Bacon Wrapped Stuffing Bites from Who Needs a Cape
Sweet Potato Goat Cheese Appetizer from Cooking on the Front Burner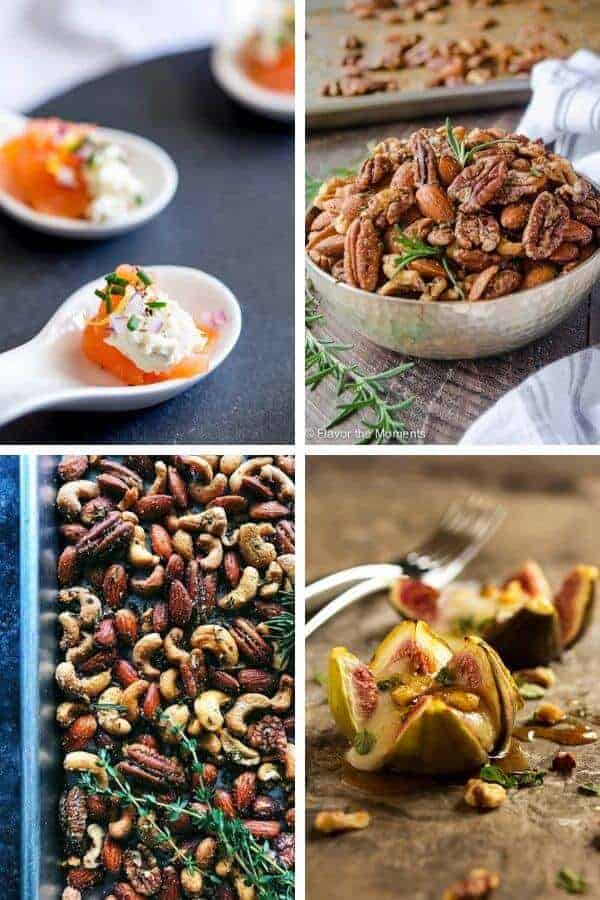 Smoked Salmon and Cream Cheese Spoons from Sprinkles and Sprouts
Spicy Maple Rosemary Roasted Nuts from Flavor the Moment
Rosemary Thyme Spiced Nuts from A Farm Girl's Dabbles
Fig Appetizer with Brie and Spiced Honey from Just a Little Bit of Bacon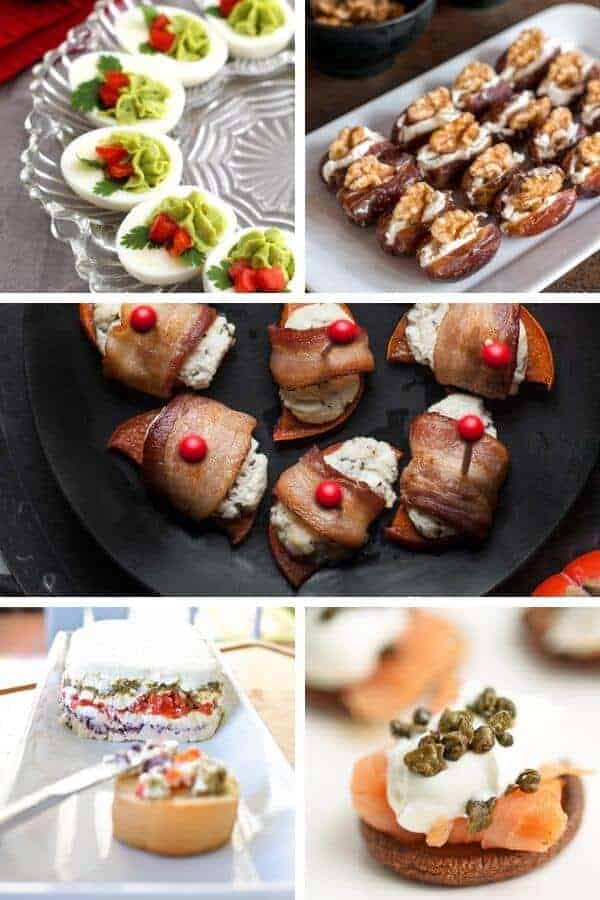 Christmas Deviled Eggs from Mom Foodie
Cream Cheese Stuffed Dates with Walnuts from Oh, The Things We'll Make
Persimmon Bacon Bites with Rosemary Goat Cheese from A Calculated Whisk
Pesto, Olive, and Roasted Red Pepper Cheese Torta from Five Marigolds
Crispy Mushroom Caps with Cream Cheese and Lox from Mighty Mrs.
If all of that goodness doesn't have your stomach growling, then I don't know what will!
What about you? What are some of your all-time favorite easy appetizer recipes to bring to a party? Leave me a comment below… I'd love to hear about your can't-pass-them-up finger foods!
And be sure to pin this post for later, when you need to make an easy appetizer recipe to feed a crowd!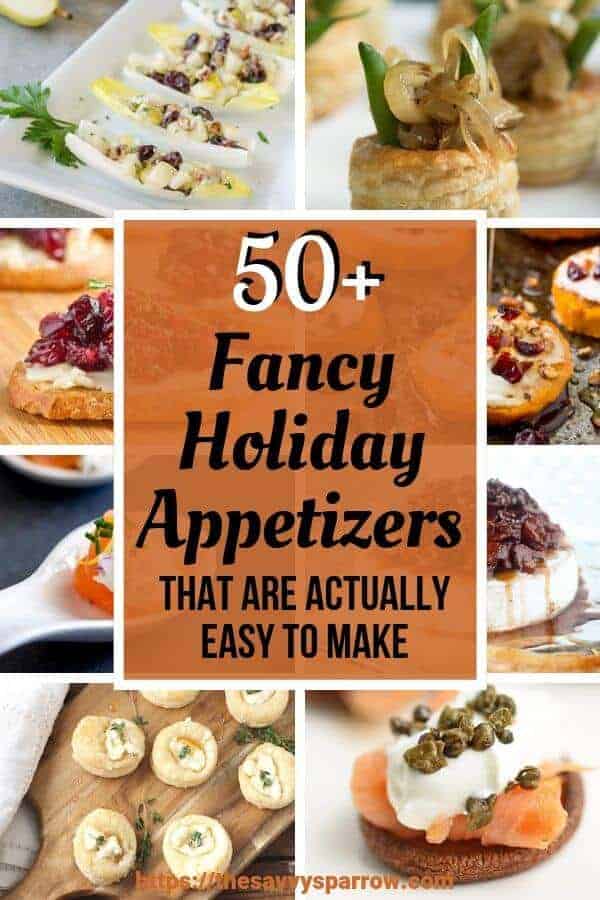 Hosting a holiday brunch? Be sure to check out 36 Best Brunch Recipes for When Cereal Just Won't Do!