Looking for an honest VIPKID review from an actual teacher? Want to learn what it's like to work from home teaching English? You're in the right spot… Read on for my HUGE VIPKID review including everything you need to know about working for VIPKID, how to pass the interview, when you can schedule classes, and how much money you can really make!
UPDATED: August 23, 2019
So, I just passed the 750-class mark as a VIPKID teacher. According to my handy VIPKID app, I have been a VIPKID teacher for 395 days, taught 153 different students, and had 777 classes.
And I've loved every minute of it.
Not only do I get to set my own schedule week to week and work when I want to, but I also get the satisfaction of knowing that I am helping a child halfway around the world to learn something that comes naturally to me.
Plus, since I work from home teaching English, I get to stay in my pajama pants ALL day. Don't laugh… that's an introvert's dream!
Want to know about the amazing company I work for? Read on for my full VIPKID review for everything you need to know about VIPKID, including tips to pass your interview and must-haves for your classroom.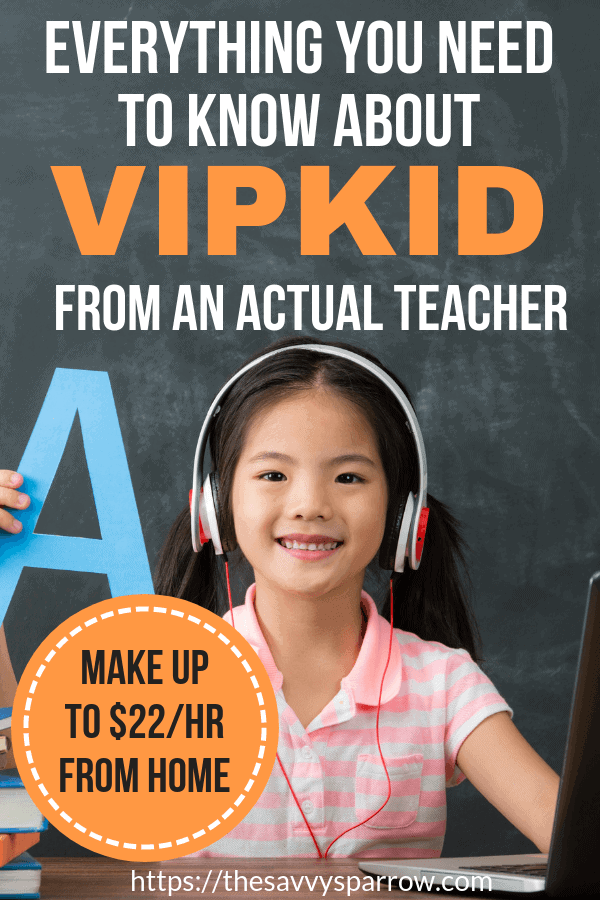 *This post contains affiliate links, which means I may earn a small commission from these links at no additional cost to you. Read my full disclosure here.
*Disclaimer – I am NOT an employee of VIPKID. I am, however, an Independent Contractor/Teacher with VIPKID. The opinions in this VIPKID review are 100% mine and a direct reflection of my experience with VIPKID.
A VIPKID Review from an Actual VIPKID Teacher:
Yes, I Want to Work From Home Teaching English… But what is ESL?
ESL stands for "English as a Second Language". So, an ESL teacher is someone who teaches English to people who are not native English speakers.
Wait… You've Never Heard of VIPKID!
VIPKID is an amazing, fast-growing company that offers English-language classes taught by native English speakers to children in China. No, VIPKID is not a scam. Yes, you will get paid to work from home teaching English. And, yes, Forbes did give them the #1 spot in their list of Top 100 Companies for Remote Jobs in 2018. You trust Forbes? Me, too.
Honest VIPKID Review – The Pro's
VIPKID is a growing and thriving company!
That means job security for you! They are constantly bringing on new students, and they are constantly offering GREAT bonuses to teachers that open up more peak time slots in their schedules to help offset their growing demand.
Just how big of a company are they?
According to Business Wire, and as of August 2018, VIPKID had over 60,000 teachers and 500,000 paying students. When I was hired, my Welcome Email said that I was joining 164 teachers from Knoxville (my home city) alone. Wowza!
The work is very fun and fulfilling!
I can honestly say that teaching with VIPKID is my most favorite job that I have ever had. It doesn't even feel like work! And it is super fun, especially after you build up a base of students that book you over and over again.
In a one-on-one environment a few times a week, you can quickly build a relationship with each student. And some of these kids are flat-out hilarious, which makes my job even more fun.
One of my students was so excited to show me his pet birds after a class recently, that he jumped out of his seat, ran down the hall, and came back with a GIANT bird cage to proudly show off his new pets. He held the cage up in front of his webcam as I said, "Hi, birds!".
One of my older students loves to try to mimic different emoji faces (one of my reward systems is emoji-themed), and another student always lets me say a quick "hello" to her baby brother.
And when you can get a tough cookie to crack a smile by being a little goofy, it's the best! I'm naturally a happy-go-lucky, smiley person, and I can really tell that my students appreciate my energy and enjoy my classes.
The lesson plans are already done for you!
No need to take up your own time preparing a gazillion lesson plans. VIPKID has already prepared power point style lessons for each class, and they are already installed on the online teaching platform. So, when you start a new class, the appropriate power point for that student is ready to go for you.
I do recommend briefly reviewing the slides before you start your classes so that you have time to gather your props and you have a general idea of what you will be teaching.
All of my props (flash cards, rewards, stuffed animals, etc.) are in a basket under my desk, so that I can quickly go through each lesson that I will be teaching for the following day and gather the necessary props. I also make myself a quick schedule of times, student names, lesson names, and a few key lesson concepts for each class that I will be teaching.
All of this prep takes less than 3 minutes per class.
You get to set your own schedule!
You can open up as many or as few 30 minute time blocks as you want, and students typically book your available time slots a week in advance. There is a booking frenzy every Sunday night at midnight eastern time (Monday at noon in China) for the following week, and all of my time slots usually get filled during that time.
You can open time slots anytime between 8:30PM – 10:00AM eastern standard time, though this will be changing in a few weeks because China does not observe Daylight Savings Time.
The highest demand for classes is during "Peak Times" which are from 6:00AM – 9:30AM.
I have 2 elementary school-aged kids to get ready and on the bus in the mornings so I teach between the hours of 7:30AM-10:00AM four days a week. Occasionally I will open a 6:00AM slot and teach one class before I wake my girls up for school, depending on how ambitious I'm feeling. 🙂 I don't work on the weekends or at nights out of personal preference.
Great pay!
I hate to say it amidst the debates of jobs being outsourced to overseas companies, but I make almost double working for VIPKID as I did working in a local preschool. I make $20 per hour minimum as a VIPKID teacher.
Do the math… I make $200 each week for working 10 hours.
I'll go into more detail about how much you can actually earn when you work from home teaching English in just a minute.
The online teaching platform is super easy to use, and VIPKID has a great app!
The "Teacher Portal" is A-Maz-Ing! You can find everything you need there including available training resources, FAQs, a handy forum to bounce ideas off of other teachers, all of your feedback from parents, your up-to-date earnings for the month, your schedule, and more.
And, you enter the online classrooms (which are a breeze to learn) from the Portal, so everything is easily accessible in one place. Plus, they have a really useful and easy-to-use app that allows you to quickly see new bookings, parents' feedback, payments, and more on the go.
I check my app a couple times a day to check for new bookings and new parent feedback. BTW – I'm proud to say that I've never received anything less than "5 Apple" parent feedback (the highest that you can get!).
Honest VIPKID Review – The Con's
It can take a while to get bookings and fill your schedule.
I was officially hired on July 25, 2018 and I had my first class on July 27th. Then, I went a full THREE WEEKS with NO classes. Towards the end of August the VIPKID floodgates opened for me, and I started to get booked solid every single week.
Want to know what I did to increase my bookings from ZERO to FULLY BOOKED? If you sign up for VIPKID through my link, I will email you a detailed PDF explaining the exact steps that I took to increase my VIPKID bookings. Plus, you can email me with any questions that you have during the hiring process.
You're technically not an employee.
You're an Independent Contractor, which means you don't have access to employee benefits and you're responsible for paying your own quarterly taxes.
For me, that's not a big deal… my husband is also an Independent Contractor, so I'm very familiar with how to calculate and pay quarterly taxes. Your accountant will be able to help with this if tax stuff is scary for you.
Are You Qualified?
In order to qualify to be a teacher with VIPKID and work from home teaching English you MUST HAVE: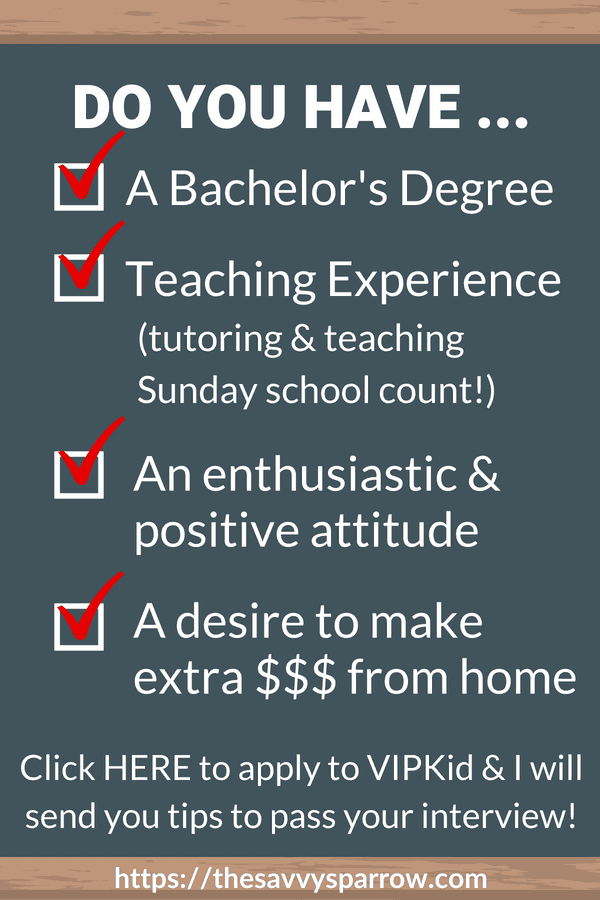 A Bachelor's Degree or higher – You will need to upload proof of your degree!
1 Year of teaching experience of any kind including tutoring, coaching, or mentoring
Eligibility to work in the U.S. or Canada
A computer and headset (This is the headset that I use and LOVE)
A high-speed internet connection (My connection is only up to 25 mbps which I think is turtle-paced in this day and age, but it works just fine)
How Much Can You Really Make When You Work from Home Teaching English with VIPKID?
You can make anywhere from $14-$22 or more per hour with VIPKID. Here's how it breaks down:
Class Rate – Anywhere from $7 – $9 per 25 minute class
Doing a quick prep and leaving student feedback takes me about 5 minutes total, so it's really 30 minutes of work.
Your class rate is determined based on your teaching experience and how you perform in your initial interview. My current class rate is $8, but I'll be eligible for a raise when I renew my contract. I've never heard of a teacher starting at the maximum rate of $9 per class, so I'm happy with my 8 bucks. 🙂
Participation Bonus – $1 per 25 minute class
For every class that you start and finish on time, you get an extra $1 bonus.
I have never not gotten this bonus. The online classroom has a timer so that you can easily keep track of your timing in class and speed up or slow down if needed.
Finished Classes Bonus – $0.50 – $1 per 25 minute class
Once you teach a certain number of classes each month, you automatically get an extra bonus for EVERY class that you teach that month. Finish 30-45 classes for the month and get an additional $0.50 for each class that month. Finish more than 45 classes in a month, and you will earn an extra $1 for EVERY class that you finish as scheduled that month.
I always teach more than 45 classes for the month (plus I always get the Participation Bonus) so my $8 per 25 minute class rate is actually $10.
Short Notice Booking Bonus – $2 per 25 minute class
If you don't mind having a class booked less than 24 hours in advance, then you can designate an open time slot as "Short Notice". That means that the time slot can be booked at anytime 1-24 hours ahead of time. If the slot is booked on short notice, then you receive an additional $2 bonus for teaching that class.
New VIPKID Sign Up Bonus – $5 for each signup
As a new teacher, you are pretty much guaranteed to teach some trial classes. Each Chinese student is allowed to take up to 3 FREE classes (called "trial classes") to test out the company before they commit to classes and convert to a paid student.
For every trial student that converts to a paid student after taking your trial class, you earn a $5 bonus.
Additional Bonuses – $$ Varies
As I mentioned before, VIPKID is growing and they are in need of new teachers to keep up with demand. That means, they also offer incentives periodically for their current teachers to open up more availability. I recently made a $23 bonus for one week because I added an additional 4 classes to my schedule for that week, plus I earned $40 from teaching those 4 classes that I otherwise would not have scheduled.
You can also refer other teachers, and you get a super sweet referral bonus for each of your referrals after they successfully teach their first class.
What if I'm sick or I need to cancel a class?
I have never had to cancel a class, and I highly recommend that you don't either, unless it's an absolute emergency. Wanting the day off to go shopping doesn't constitute an emergency. 🙂 However, if you must get in some retail therapy, just give yourself the day off in advance by not opening any time slots.
If you already have classes scheduled, and you get really sick or have a personal emergency, it's best to cancel your classes as early as possible. A class that is cancelled within 2 hours of the start time is considered a "Teacher No Show" and if you have too many no shows, you risk termination.
VIPKID categorizes cancelled classes as "Medium" and "Soft" based on the circumstances surrounding the cancellation. You can submit supporting documentation for serious illnesses, natural disasters, emergencies, and deaths of immediate family members to be considered for a "Soft Cancellation", in which case you would not face risk of termination.
Each teacher is allowed a maximum of 6 "Soft" and "Medium" cancellations per 6 month contract. After the seventh, VIPKID will review your contract and they may decide to terminate it.
When my girls (who are ages 6 and 9) have gotten sick and had to miss a day of school, I have still been able to teach my classes as scheduled. Since each class is only 25 minutes long, I had a few minutes in between each class to check on them.
The VIPKID Interview Process
*Disclaimer – This is how the process was for me, as of July 2018. As a growing company, VIPKID is also changing their hiring process, so your experience may be different than mine.
Yes, this VIPKID Review includes tips for how to get hired! But first…
It's super easy to apply for VIPKID. Just CLICK HERE to go to their site and fill out the simple application. If you meet all of the requirements stated above, then you'll be contacted with info about what to do next.
The First Interview
Once you've made it past the initial application, you'll receive an email with directions on how to access the "Teacher Portal" and schedule and prepare for your first interview.
Inside the Portal you'll be able to download the "Demo Class" power point slides, helpful YouTube videos for how to teach the Demo Class, and the interview rubric.
Don't worry… it sounds scarier than it actually is! The Demo Class is just a 10 minute timed, abbreviated version of a full lesson.
After you've downloaded all of the info and familiarized yourself with the online classroom set up, be sure to prepare, prepare, prepare.
You'll have two options for your first interview:
You can record a video of yourself. First, you will introduce yourself and tell a bit about your education and teaching experience. Then, you will immediately start teaching the Demo Class as if you were teaching it to an actual student.
You can schedule a live interview with a VIPKID employee in China. You pick the date and time from a list of available options, and then your scheduled interview will take place in the Portal.
I chose the live interview. This is basically what happened in my interview:
First, the interviewer introduced herself and asked me a few questions including: 1) Can you tell me about your degree? 2) What type of teaching experience do you have?
Next, she explained that we would be starting the Demo Class and to speak to her as if she were a 5 year old, beginner level English student.
I taught the Demo Class as I had practiced, but I ran out of time to finish all of the slides in the lesson! My headset kept going in and out, and the interviewer could not hear me at times (turns out I had forgotten to use the USB adapter and instead I had just plugged my headset into the headphones jack of my computer – oops!). Don't worry if you run out of time and don't get to finish all of the slides… it's not the kiss of death! It's way different when you are actually in the classroom because you have to give the student time to speak. Remember, they are learning a new language so they may not always be quick to respond.
When my time was up, the interviewer gave me some good feedback and tips to help me improve.
She then asked me what I wanted to make as my per class rate! This kind of through me for a loop… She was asking me how much I wanted to start at. Of course, I told her that I wanted to make $9 per class ("You miss 100 percent of the shots you don't take", right?!). She told me that my starting pay rate would be $8 per 25 minute class… hey, I tried! 🙂
She told me that I had passed the first interview and that I would receive an email with the next steps. Woo hoo!
Tips to Pass Your First Interview and Demo Class with VIPKID
Review all of the preparation materials available to you! Practice teaching each slide in the Demo Class until you feel 100% confident. Know what you will say for each slide, and don't use a lot of extra language (called "incidental language") beyond what is on each slide. For instance, to introduce the lesson DON'T SAY "Okay, now we are going to talk about My Feelings! Are you ready to start?". Instead, JUST SAY "Today, My Feelings!" and click to the first slide.
Dress appropriately. Wear a plain orange t-shirt (no patterns or writing). The VIPKID brand color is orange and, though not required, it is appreciated.
Also, be sure that your general appearance is neat and professional-looking. No bare shoulders or low-cut shirts.
Prepare your environment. Set up an area that is quiet with no distractions. Make sure that your background is done and looks educational (map poster, sign with your name, numbers poster, etc.).
Also, ensure that your space has good lighting and that there are no shadows on your face. I'll give you a sneak peak of my background at the end of this post.
Give the "student" stars! Reward your interviewer/pretend student with stars for correct answers and good participation. To do so, simply click on the empty stars at the top of the online classroom. Praise enthusiastically and often!
Practice with a timer, and set your own timer when your Demo class starts, not at the start of the interview! The online classroom does have a built-in timer, but the time will start when your interview starts. Your demo class will not start, however, until at least a few minutes into the interview.
I did not start my own secondary timer right when I started the Demo Class, so while I was teaching I was trying to do the quick math in my head to calculate how much time I had left.
Just set a timer on your phone so that you can glance at it during the Demo Class and pace yourself.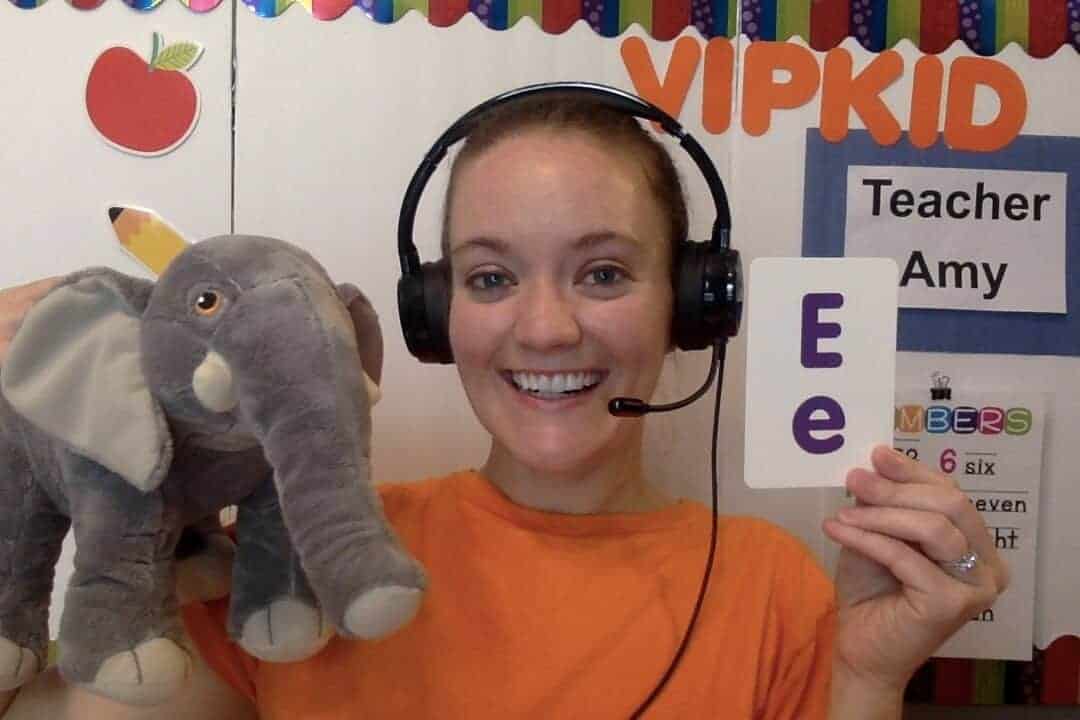 Use at least 2 different props. I would recommend flash cards and a small dry erase board, at minimum. You can use the white board to write out blending words (" b + at = bat") or draw pictures to explain concepts and/or keep your student engaged. Stuffed animals, toys, and puppets that are relevant to the lesson also work well.
50/50 or 70/30. VIPKID emphasizes these "output" rations: 50% student talk to 50% teacher talk for lower level students and 70% student talk to 30% teacher talk for higher level students.
That means, don't talk too much! Your student is the one learning a new language, so they need to be doing at least half of the speaking during class time.
Learn Online ESL Teaching Best Practices and use them! Here are just a few ESL teaching tips:
Encourage student to speak in full sentences. Say one word at a time and give them time to repeat if necessary.
Use TPR (Total Physical Response). This includes hand gestures, actions and body language to illustrate directions and what you want the student to do. For instance, cup your hand over your ear when you want the student to repeat or respond.
Speak slowly, but not too slowly.
Be gentle when correcting mistakes. Avoid saying "no, that's wrong…". Instead, just repeat the correct answer/pronunciation and cup your hand over your ear for them to respond.
VIPKID will give you more best practices in your interview prep materials.
VERY IMPORTANT! Check your equipment first! And leave yourself enough time to run to an electronics store if needed!
True Story – I was at Best Buy the night before my interview because I realized at the last minute that my computer did not have an ethernet port. (I recommend that you are hard-wired to your internet modem to avoid any "Teacher IT Issues"). I have an Apple MacBook Air computer, and I had to purchase this adapter. It works like a charm, and I have NEVER had an issue with my equipment in the middle of a class.
Mock Class #1
After you pass your initial interview/Demo Class, you'll be invited to move on in the process and schedule your Mock Class. Just like the Demo Class, you will have access to the power point slides for the Mock Class. *This is where things have changed a bit since I was hired.
According to the Teacher Portal, now applicants will choose which levels they want to be certified to teach, and the 30 minute Mock Class will only focus on the specific level a teacher selects. Applicants can still apply to teach more than one level. Also, if you don't pass your Mock Class, don't be discouraged!
According to the Teacher Portal, if you fail the Mock Class you will receive additional training materials to help you improve and another opportunity to pass. Teachers can try and successfully pass the Mock Class as many times as they want. However, if you do your homework and you're well-prepared, you should pass on the first go-around. I passed the Mock Class on my first try, and I was given certificates to teach all 5 levels.
How did I breeze through the Interview and Mock Class? I had all of these things before my initial interview:
Must-Haves for Your Interview and Mock Classes
Orange Shirt – It's not required, but the VIPKID brand color is orange so it is appreciated!
Nice Background – It doesn't have to be anything fancy. You can check mine out below.
Good Lighting – No shadows on your face.
Ethernet Adapter – If your computer does not have an Ethernet port. This is the one I use and Love!
Secondary Reward System – I got all of my reward systems for FREE from Teachers Paying Teachers and printed and laminated them at FedEx Office. Just search "VIPKID rewards". More on the rewards systems down below.
Two or More Props – At the minimum, I would recommend a dry erase board and alphabet flash cards. A lot of teachers also recommend using a puppet, but I didn't want to spend the extra money to buy one and I've been just fine without it. Instead I use a few of my daughters' toys to illustrate different vocabulary and concepts.
Want Insider Tips from a VIPKID teacher including: 1) Tips for after you get hired and 2) What I did to increase VIPKID bookings from 1 class per week to 20 classes per week?! Use My Referral Link HERE to fill out the application, and I will send you my tips!
A Behind the Scenes Peak at My "Classroom"
This VIPKID review wouldn't be complete without giving you a peak at the behind the scenes of my "classroom".
Yes, I have "classroom" in quotation marks because my teaching space is far from a traditional classroom. It's actually my home office that is just off my bedroom. And my backdrop is actually just a few foam boards from the Dollar Tree that are taped together and hung on a wall to block all of my husband's US Navy photos and memorabilia. Sorry, husband!
See what I mean: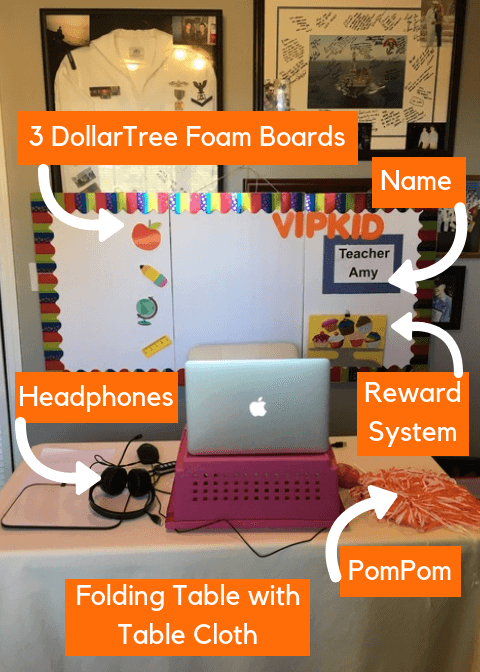 When I'm sitting in front of my desk, only the white boards are visible on camera.
The total cost of my backdrop was less than $10. Three foam boards, some bulletin board trim and letter cut outs, plus some school-themed die cuts were all it took… and everything was from Dollar Tree.
Here's what's behind my desk: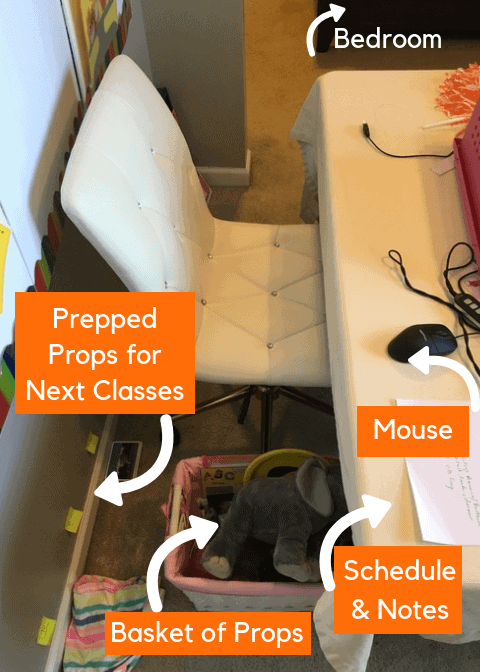 See the little yellow post-its on the wall behind my desk? They say "7:30", "8:00", etc. The night before my next classes, I quickly go through the slides for each class, gather a few props, and organize them by class time. Then all of my props are ready to go and within arm's reach when I need them. Plus, I keep a basket of all of my props under my desk just in case I want to use something else on the fly.
Curious about the "Reward System"?
VIPKID likes their teachers to have a secondary reward system to encourage students (the first reward system is the stars in the online classroom). Here's a peak at the rewards that I use:
When a student is doing a great job participating or answers a question correctly, I reward them with a cupcake/emoji/fish/etc. Hold the "reward" up close to the camera so they can see it, and then place it within the camera frame in the background.
You can go here for lots of free VIPKID reward systems, or come up with your own.
Ready to apply to work from home teaching English? Just click my Referral Link here! Plus, when you use my link I'll send you The Steps I Took to Increase My Bookings from ZERO to FULLY BOOKED, plus tips for after you get hired! Just be sure that you have at least a Bachelor's Degree and 1 Year of teaching/tutoring experience (or something similar like Sunday School teaching).
Y'all… I seriously can't say enough good things about this company!
Don't let the interview process (which may seem a bit daunting) scare you away! Trust me, once you get into a groove and get a few classes under your belt, you'll be glad you put in the effort!
Work from home teaching English in your pajama pants for a few hours a day to make an extra couple hundred bucks a week. And have fun doing it!
And that's my full VIPKID review! If you made it to the end of this post (I know it's a long one!), then you must be serious about wanting to work from home teaching english.
I'd LOVE to help you through the process! Just click on one of the links in this VIPKID review post to apply, and I will officially be your mentor! 🙂
Related Posts: