It's the never-ending Stay at Home Mom struggle… You want to contribute to your family's income, but you don't want to send your kids to daycare. You want to have a front row seat to your child's many milestones, but you don't want to put the full weight of making money on your husband's shoulders. I struggle with this on a daily basis… or at least I did, until I discovered low stress ways to make money as a stay at home Mom.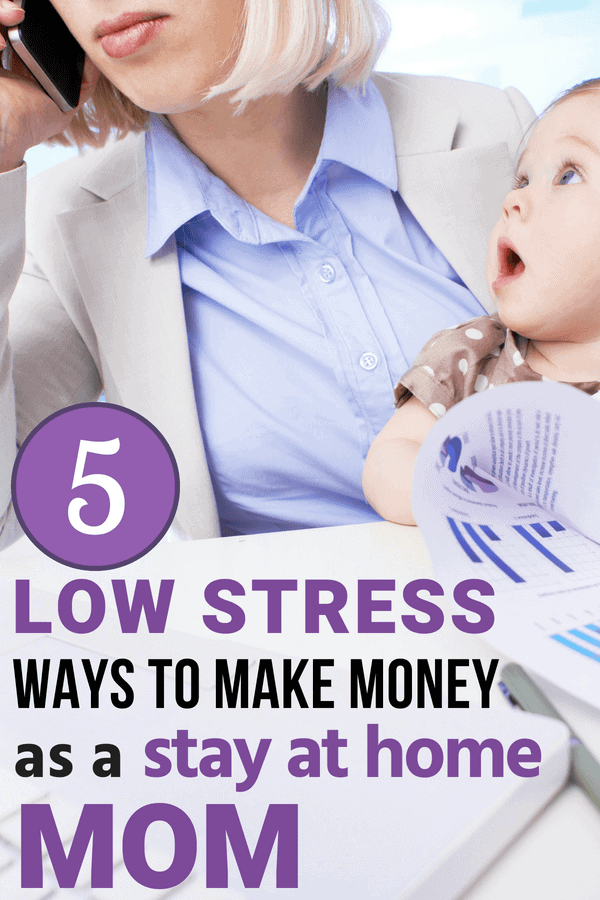 *This post may contain affiliate links, which means I may earn a small commission from these links at no additional cost to you. Read my full disclosure here.
I never had to go to daycare as a child. And neither did my husband.
So, when we had kids of our own, we knew that we wanted to avoid sending them to daycare. Don't get me wrong, I have nothing against daycares. My Mom actually ran one out of our home when my siblings and I were growing up. And I know that many families rely on two incomes and have no other choice but to send their kids to daycare. If you're a full-time working Momma, I know your job is much harder than mine, and I tip my hat to you! 🙂
But our decision to avoid daycare was based mainly on two factors:
The super high price of daycare – Where we live, a reputable daycare can easily cost $800-$1,000 per month (for just one child – and we have 2!).
Giving our kids an actual summer break – We didn't want our daughters to have to get out of school, have the weekend off, and then immediately start summer daycare the following week because Mommy and Daddy had to go to work. We wanted them to be able to enjoy playing outside, doing crafts, and going on fun summer outings with me!
So, we ultimately decided that I would stay at home at home with our girls.
And I thank God EVERY DAY for such a wonderful husband who is willing to work hard for us so that I can do that!
But, I also wanted to contribute financially, so I started digging through the "Make Money from Home" scams and found some easy and low stress ways to make money as a stay at home mom, legitimately.
Ways to Make Money as a Stay at Home Mom – Things I Actually Do Myself!
All of the stay at home Mom jobs that I mention here are things that I have actually done in the past and/or am still doing now to make money as a stay at home Mom. (Because you wouldn't want to trust the word of someone who doesn't have actual experience with a company and is just throwing a bunch of referral links into a blog post in hopes of earning a commission – it happens!).
Teach ESL Online – Up to $22/Hr – VIPKID
This is one of the ways to make money as a stay at home Mom that I am currently doing. (I actually just taught a class earlier this morning before I woke my kids up to get ready for school).
What is ESL? ESL stands for "English as a Second Language". And, no, you don't have to be fluent in a foreign language to teach English online. Most Chinese parents want their kids to learn English, and they want them to learn from a native English speaker, so they use online ESL companies to find English classes for their kids to take after school.
The company that I contract with is called VIPKid. Forbes ranked them as the #1 Work from Home Company for 2018, and I trust Forbes more than Joe-Shmo on the internet, so I thought they would be a good place to start.
I had two years of teaching experience from working in the preschool that my youngest daughter attended, and I have a Bachelor's Degree, so I was qualified for the job. After filling out the simple online application and uploading my resume (which I updated to include my teaching experience and a relevant summary of skills), I was invited to move on in the hiring process.
I had to successfully complete two demo classes (one with a VIPKid employee in China and one with an experienced VIPKid teacher) before being offered the job. If you sign up with my referral link here and pass the initial application phase, then I'll be happy to email you some tips for getting hired! Just send me an email to [email protected] and let me know that you're moving on to the demo class phase!
BTW, you don't have to have formal teaching experience to be considered for this work from home position. Any informal teaching experience will work, including teaching Sunday School at your church, tutoring kids at a local Boys and Girls Club, etc.
This is me in my "classroom", which is actually just 3 white foam boards from the Dollar Tree that I taped together, decorated, and hung on a wall in my office.
I absolutely LOVE teaching with VIPKid. All of the lessons are taught with a power point that is prepared for you, with helpful tips on each slide for teacher directions. And very little prep is needed for each class. I just quickly review the slides that I will be teaching and gather a few props (from my daughters' playroom) and I'm good to go!
And the available hours are perfect for a stay at home Mom job. You can set your availability in 30 minute time blocks anytime between the hours of 8:30pm – 10:00am EST. I don't want to work late at night, so I set all of my availability for before I wake my kids up for school and after I get them on the bus.
My base pay rate is $8 per 25 minute class, which was determined during my demo classes. Base pay rates are anywhere from $7-$9 per 25 minute class, but I haven't heard of a single VIPKid teacher starting out at $9. Plus, if you start and finish a class on time, you get an additional $1 per class. And if you teach more than 45 classes in a month you get an additional $1 per class for every single class that month. Add it all up and you could earn up to $22 per hour.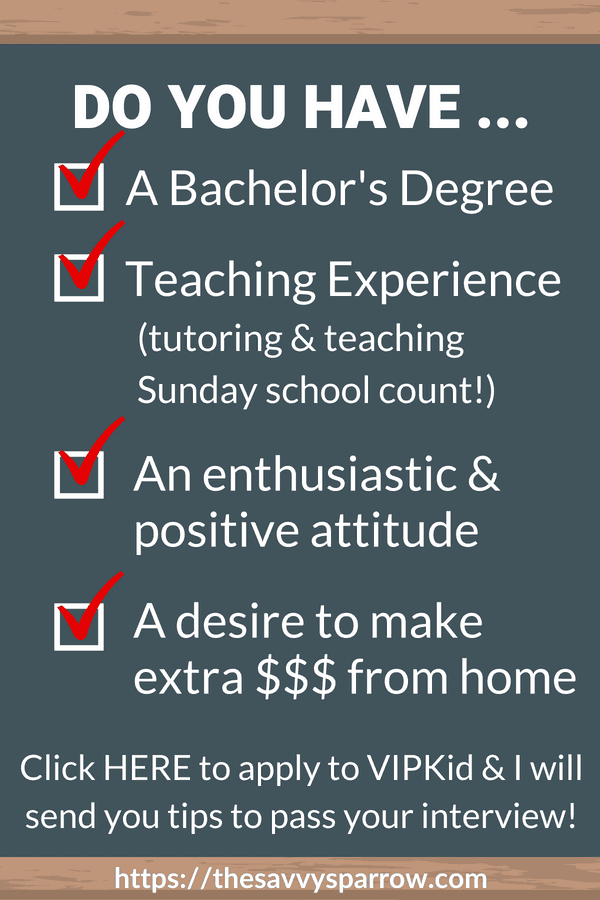 If you have a Bachelor's Degree and any type of teaching experience, click here to apply!
Go HERE for Everything You Need to Know about VIPKID, including tips to pass the interview and mock classes!
Test Websites – Up to $30/Hr
If you're interested in providing feedback on new websites, then these ways to make money as a stay at home Mom may be for you.
Companies with an online presence are always looking to get feedback on their websites from actual consumers. And they pay well for that feedback – up to $30 per hour!
I test websites through a company called UserTesting. It's super easy to sign up, and you'll probably see available tests pop up in your account the very first day. However, you won't qualify for every test. Most available tests require you to take a "screener" to see if the website that is being tested applies to your demographic. This "screener" usually takes less than a minute, and if your answers match the test parameters, you'll be invited to take the test.
UserTesting also offers tests that you can take on your compatible cell phone through their mobile app, though the majority of available tests seem to be for a PC or Mac.
To take the test, you'll have to download a special program that records your voice and your computer screen. Then, you'll complete a series of simple tasks on the website that you are testing. The software will record how you interact with the website (what menus you click on, etc) plus your voice as you speak your thoughts about the website out loud.
The website tests are easy to complete, plus I find it interesting to discover new websites. And the $10 you'll make from a 20 minute test isn't bad either!
Be warned though, tests are assigned on a first come-first serve basis. To better increase my chances of getting new testing jobs, I just keep a tab open in my browser and stay signed in to my UserTesting account while I'm doing other things online. Then, when a new test is available, I get a little "ding" and my open tab shows that there is a new test.
I usually see about 6-8 tests pop up in my account each day, but I typically only qualify for 1-2 of them. You won't qualify for every test, and you won't know what type of tester each test is looking for – that way you can't fudge your answers on the screener.
Website testing is one of the lowest stress ways to make money as a stay at home Mom, and it's actually fun!
Become a Mystery Shopper
If your looking for ways to make money as a stay at home Mom, and you want some free meals and shoes at the same time, then why not become a mystery shopper?!
You won't get rich doing this, but you can make a few extra dollars plus get some amazing perks.
Here are just a few of the great perks I've gotten for FREE as a mystery shopper:
Free restaurant meals for my whole family
Free Chaco sandals for my daughter
Free cell phone screen replacement for my cracked iphone screen
Free dry cleaning services
And get paid to shop?! Hello! Dream job, anyone?
If you think you might want to try your hand at mystery shopping, click here for my full post with Everything You Need to Know About Mystery Shopping!
Make Money by Getting Cash Back on Things You're Already Buying
You go to the grocery store and spend money. You go to Target and spend money. You go to the gas station and spend money. Why not get cash back on that money that you are already spending? It may not be a huge amount, but it takes very little work and no stress to get cash back on things you're already spending money on. These are my favorite ways to get money back:
If you shop online, you need Ebates in your life.
What is Ebates? Go HERE to read my full post on why I LOVE Ebates and how you can use it to get cash back!
Ebates is one of my absolute favorite cash back rebate websites because it is so freakin' easy to use. All you have to do is go here and sign up for an account. Then, add the extension to your browser (not as technical as it seems – they have super easy directions to walk you through it). Then you will have a small yellow "E" somewhere near your address bar while you are browsing the internet. You can click on the "E" at any time while your browser is open, and a little box will pop up telling you if the site that you are on has a cash back offer.
For instance, a quick click on my "E" tells me that I can get 10% cash back on Orbitz.com, 9% cash back on FinishLine.com, and 12% cash back at 1800Contacts.com, just to name a few. If you see an offer that interests you, all you have to do is click on it and make your purchase.
Ebates is a no-brainer if you're looking for low stress ways to make money as a stay at home Mom, because you're getting money back for making purchases that you would have made anyways. Click the button below to sign up for Ebates:
As far as free cash back apps go, Ibotta is my favorite.
I use Ibotta mostly to get cash back on groceries, but you can get cash back rebates at online retailers as well. All you have to do is go grocery shopping and add the rebate offers that interest you to your Ibotta account through the app. Then, you snap a quick picture of your receipt and submit it for your rebate.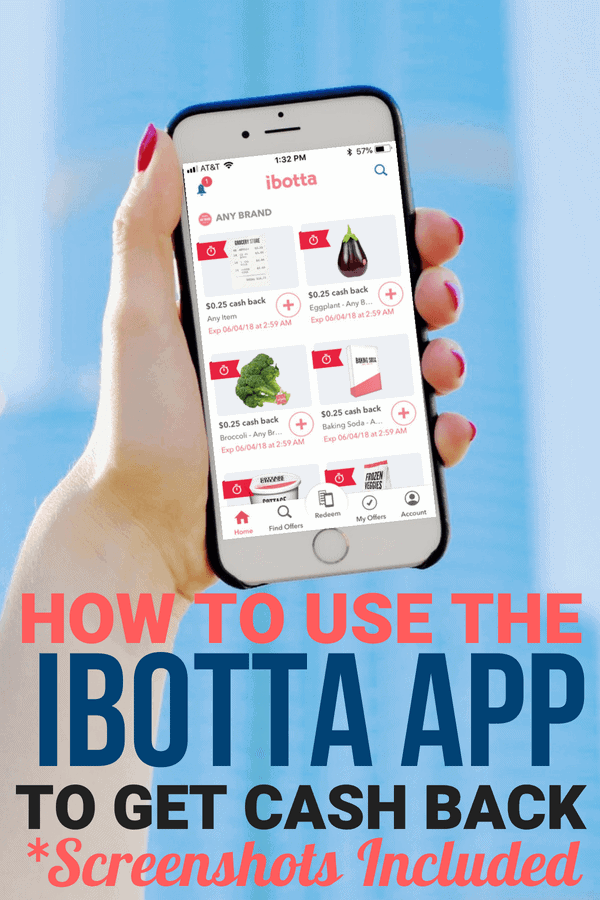 I have a super detailed, step-by-step guide on Ibotta: 3 Ways to Earn Cash Back on Groceries and More! if you want to learn more about the app. Plus, you can click here to sign up and you'll get a $10 Welcome Bonus!
Cash Back Credit Cards
If you're disciplined enough to pay your credit card off frequently to avoid paying interest, then why not put all of your purchases on a cash back credit card? We use our cash back credit card for EVERYTHING. But, we never pay a penny on interest. Click here to read my post about how we do it. We've earned thousands of dollars over the last few years on purchases that we were going to make anyway. No brainer.
Start a Blog
Obviously blogging is one of the ways to make money as a stay at home Mom that I'm doing right now. And I love it! Blogging gives me a creative outlet, plus allows me to contribute financially without ever leaving the house. I'm actually "working" in my pjs as I type this! If you can type and have good writing skills, and you have a bit more time to devote to developing and building a website and an audience, then blogging may be for you.
But how do you make money blogging?
There are 4 main ways that bloggers make money:
Affiliate Links – Bloggers can promote products and services through affiliate links that they put in their posts. Then, they earn a commission if their readers click on those links and make a purchase. There are thousands of retailers and service providers that belong to various affiliate networks and partner with bloggers (like me) to attract new customers. If there's a specific product or service that you absolutely love, chances are it has an affiliate program and you can promote it on your blog in exchange for a commission.
Ads – Most blogs that you visit will have some sort of ads in the side bar or embedded in posts. Bloggers earn a set amount of money based on the number of people that see those ads. As your blog grows, you can apply to better and better ad networks and increase your ad revenue.
Creating Their Own Products – I haven't reached this stage of monetization yet, but it is on the horizon. Many bloggers opt to create digital products such as ebooks or printables, or offer coaching services or online classes in their areas of expertise. Then, they sell those products on their blogs or other websites such as etsy.
Sponsored Posts – Once you have a well-established blog and an engaged group of readers, you can start pitching companies for sponsorship opportunities. For instance, if you're a food blogger and you love a specific brand of pasta sauce, you can contact that brand and see if they would be interested in paying you to write a post with a new recipe that uses their product.
*If you do decide to try your hand at blogging, you need to be aware that there are some upfront costs and seeing any income could take months (or even years – based on your level of commitment).
The basic minimum costs of starting a money-making blog are:
Hosting – Yes, this is a relatively small cost – just $3.95 per month.
I use Siteground and absolutely LOVE them! I chose Siteground because they are 4 times faster than the industry average for page load times, and they can handle 3 times more traffic.
Plus, they make it super easy to set up a new website, especially if you know nothing about tech stuff. When I was going through the steps to set up this blog and ran into a tech-y issue that I wasn't sure about, I just sent them a quick chat message through their site and someone responded immediately to walk me through what I needed to do.

Blog Theme – The "theme" of your blog is basically what it looks like. It's all of the pretty colors, fonts, icons, header, and overall layout. You can find thousands of different blog themes and graphic design elements on etsy for very reasonable prices. I purchased my theme from an etsy shop called Lovely Confetty for $60. Most blog themes from etsy will be delivered to you electronically with step-by-step directions on how to install your theme on your site. Or if the tech part freaks you out, many theme developers will install your theme for you for an additional fee.
What are Your Favorite Ways to Make Money as a Stay at Home Mom?
I am always on the look out for low stress (and low time commitment) ways to make money as a stay at home Mom. I LOVE the flexibility of these work from home jobs that allow me to set my own schedule and work when I want to. For a Momma, that's the best of both worlds. You get to make a little money, plus be you get to be there whenever your kids (or husband) may need you. And you don't have to worry about calling in sick to your traditional job if your kids wake up with a stomach bug.
What ways to make money as a stay at home Mom do you love? I'd love to hear your ideas and what has worked for you! Leave a comment below, and let's share the love!
Related Posts: