If it's football season, then chances are we have a plate of this Game Day Taco Dip in our fridge. This is my husband's go-to snack for Football Thursday, Football Saturday, Football Sunday, and Monday Night Football. Question: Why do men get to watch new football games four nights a week, and us women only get to watch The Bachelor one night a week? Hmm. But back to this easy taco dip recipe. This dip is so delicious that I will actually watch a few plays of a football game to sneak a bite or two off my husband's plate, usually while he's jumping up and down yelling at the tv. 🙂 Want to make a delicious and super easy football snack for your own husband? Try this Game Day Taco Dip, that's sure to become your new favorite easy football party food!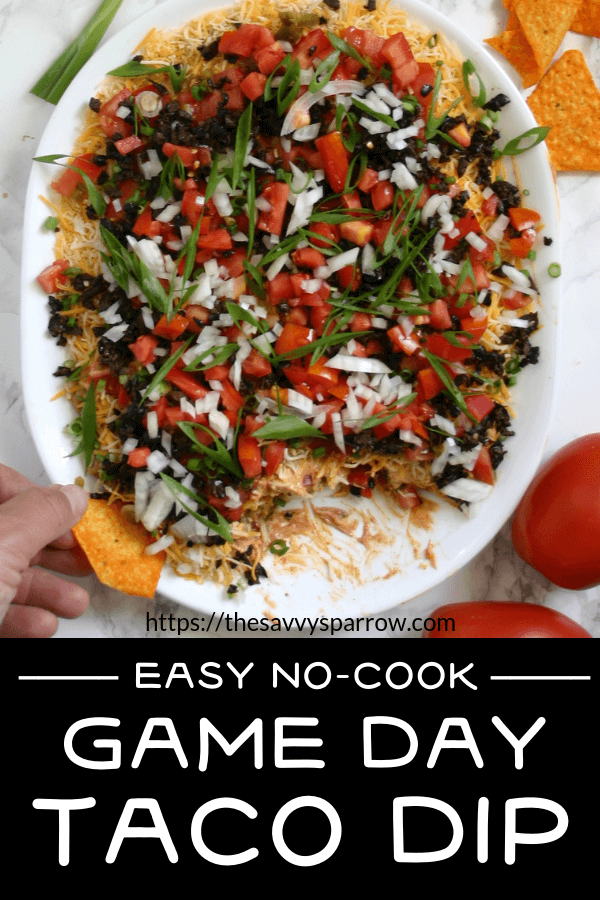 The absolute best thing about this Game Day Taco Dip, besides the delicious flavor?
It is a cinch to make!
Like, it literally couldn't get any easier.
Just a handful of pre-made ingredients, a little mixing, and minimal chopping and you're on the way to taco dip-town.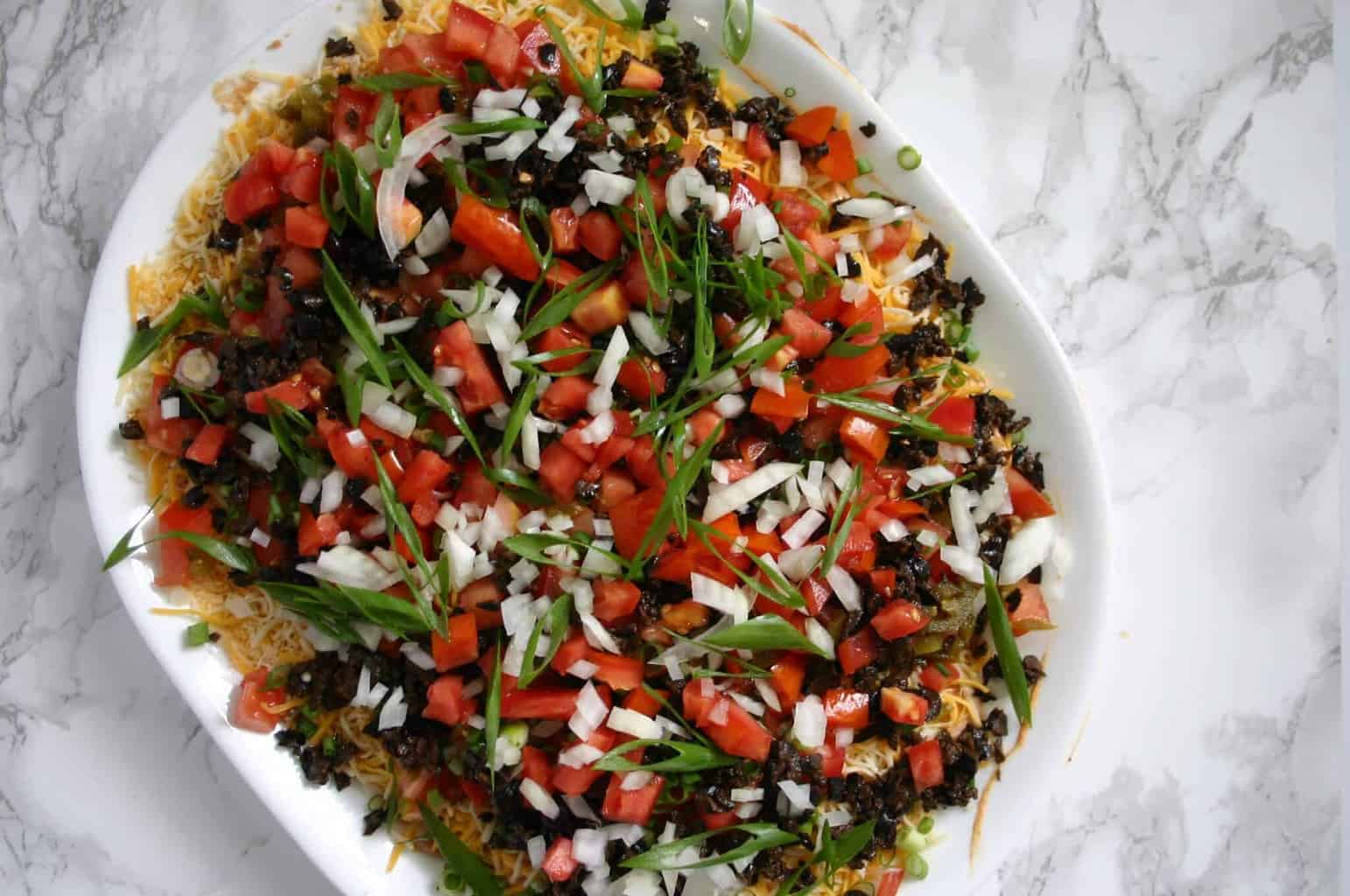 Isn't this easy taco dip recipe just beautiful?! It's just begging to be enjoyed.
And the only real work involved in this easy taco dip is chopping tomato and onion, if you can call that work. Even harder than the chopping is keeping your hubby's hands out while you're trying to finish it.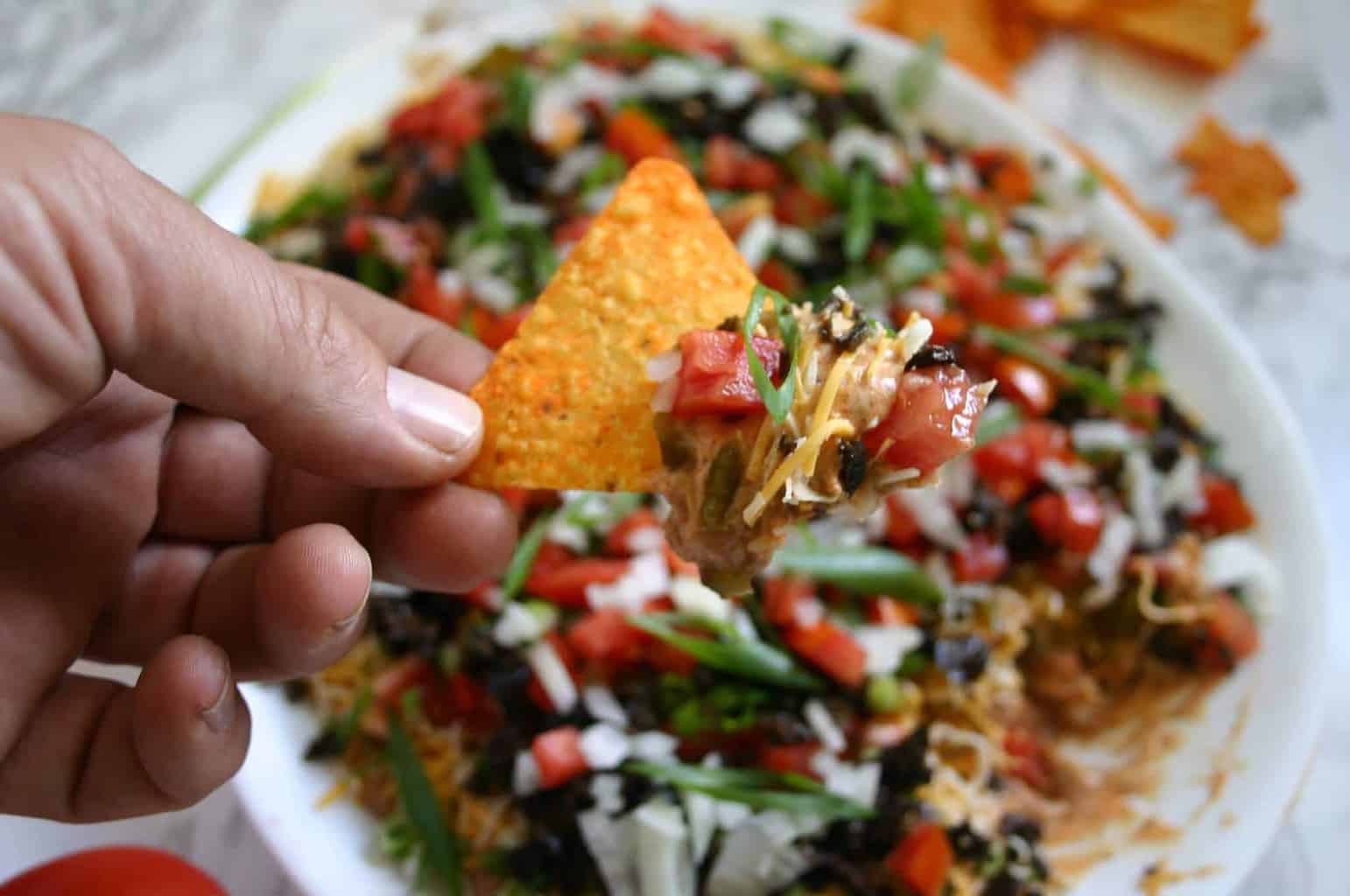 And, yes, as you can see, my husband absolutely insists on eating this delicious dip with Nacho Cheese Doritos. Always has, always will.
But, it's just as yummy with regular tortilla chips.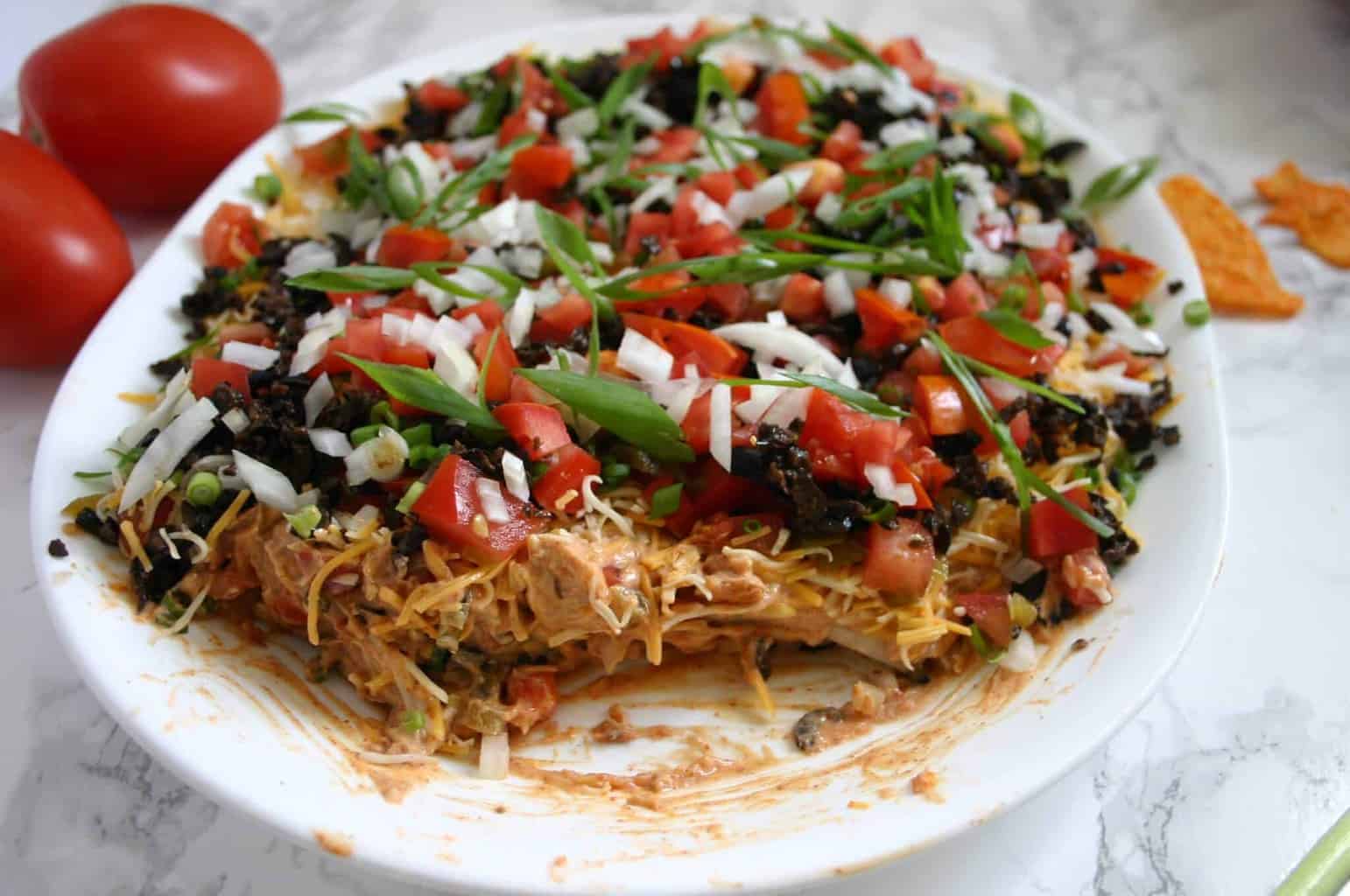 Confession: This was one of my favorite recipes to photograph and post.
You know, 'cause it was hard work eating the taco dip to get a photo of the center Mexican-goodness. And, because all of the colorful toppings make it just so darn pretty. Almost too pretty to eat… almost!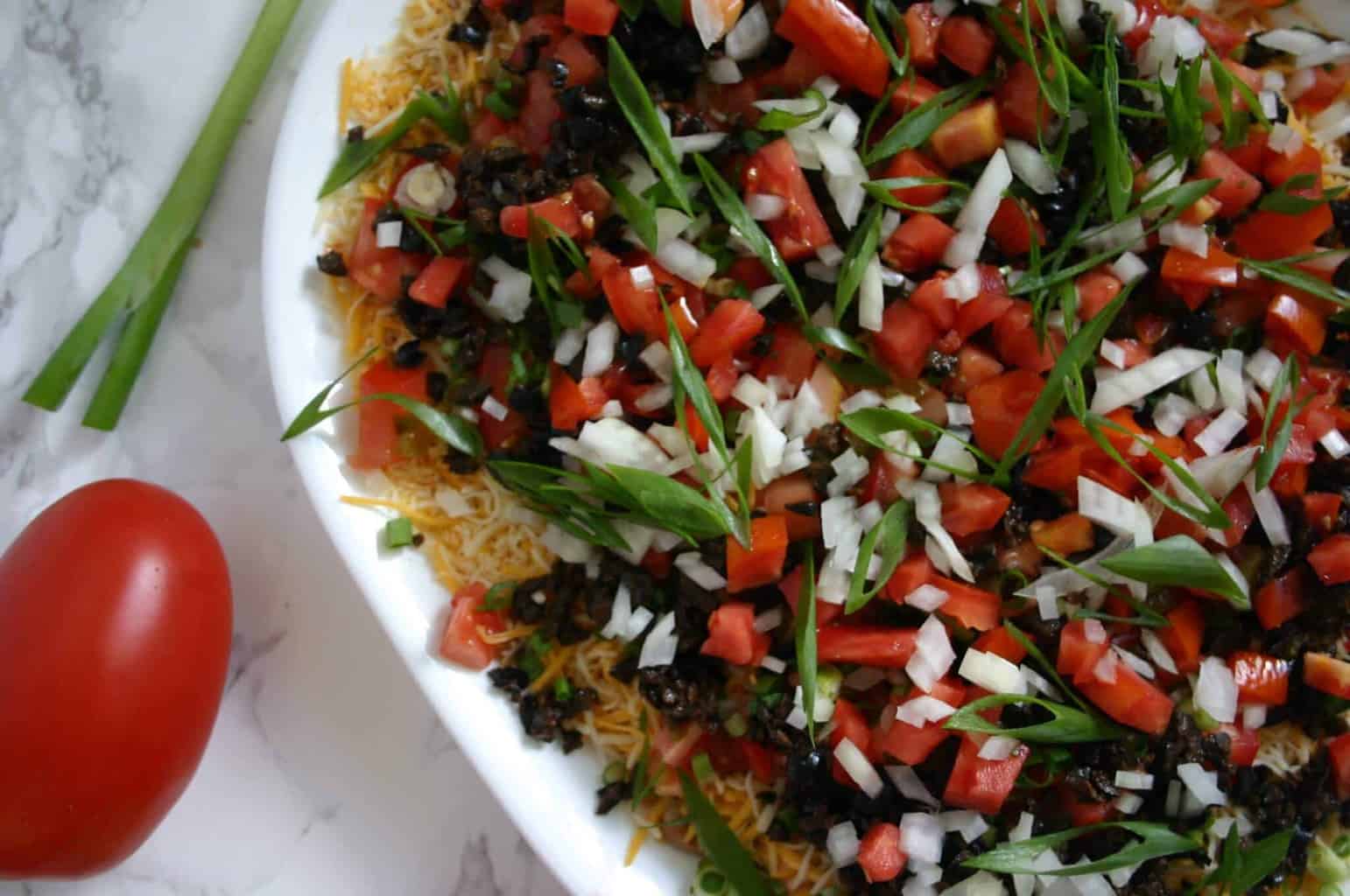 Try it for yourself! And be everyone's best friend at your next football party!
Yield: 8 Servings
Game Day Taco Dip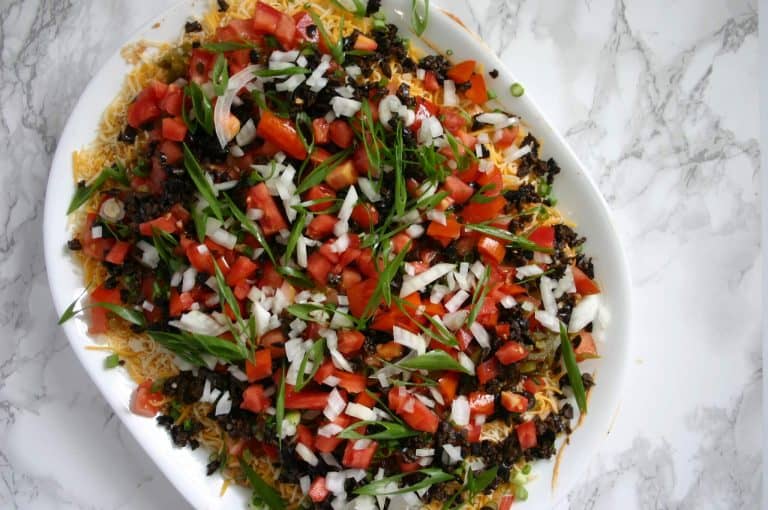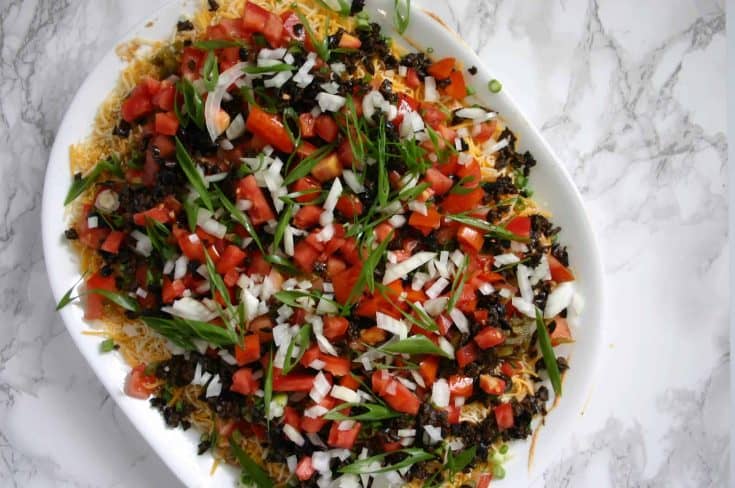 This yummy and easy taco dip recipe is the perfect football party food! No cooking and very little chopping make this delicious dip a cinch to whip up. Serve with Nacho Cheese Doritos (my husband insists!) or tortilla chips.
Prep Time 10 minutes
Total Time 10 minutes
Ingredients
1 can refried beans
1 8 oz container sour cream
1 1 oz package taco seasoning (we like Old El Paso)
1 8 oz bag shredded cheddar cheese
1 medium tomato, chopped small
1/2 onion, diced
2-3 oz chopped black olives
sliced green onion (optional)
diced jarred jalapenos (optional)
Instructions
Spread refried beans over base of your serving dish. We used an oblong plate about 10" x 12".
In a small bowl, mix taco seasoning packet into sour cream until well combined. Layer mixture on top of refried beans.
Sprinkle shredded cheese on top of sour cream layer.
Sprinkle chopped tomato, onion, and black olives on top of cheese.
Top with green onions and jalapenos, if desired.
Notes
This recipe is easily customizable to your own taste. Use as much or as little of the toppings as you wish. Also, add your own toppings like taco sauce or avocado.
Nutrition Information:
Yield:
8
Serving Size:
8 Servings
Amount Per Serving:
Calories: 263
Total Fat: 18g
Saturated Fat: 9g
Trans Fat: 0g
Unsaturated Fat: 7g
Cholesterol: 45mg
Sodium: 857mg
Carbohydrates: 15g
Fiber: 4g
Sugar: 3g
Protein: 11g
Nutrition information isn't always accurate.
Related Posts: