If the perfectly sweetened chocolate cake and the best frosted brownies had a baby… you'd get my Mama's Blue Ribbon Chocolate Sheet Cake. (My recipe name not hers 🙂 ) . It's the perfect no-fork-required, not-too-sweet mash-up of Cake/Brownie/Heaven. And it's one of my all time favorites. The kind of recipe that's been passed down from home cook to home cook. The kind of recipe that will one day be framed and hung on my kitchen wall. And the kind of recipe that… *gasp* uses Crisco AND margarine! Just like they did in the good ol' days.
The good ol' days… When "oleo" was a pantry staple. I mean, what the heck is oleo? I had to call my Mom after she sent me the recipe, because I thought that I was misreading it. Come to find out, oleo was another term for margarine back in the day. Who knew? But back to the deliciousness of this Chocolate Sheet Cake…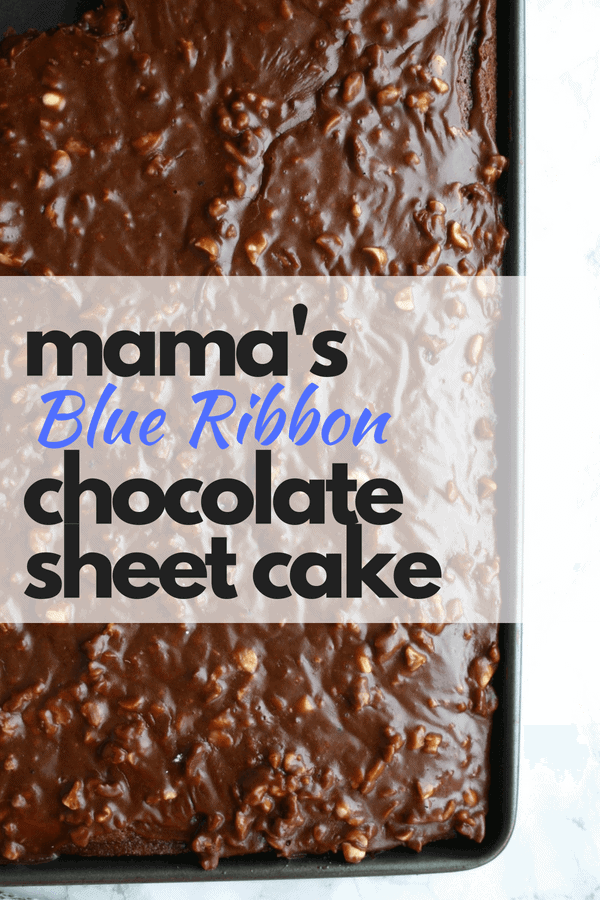 Did you notice the chunk taken out of the cake in the upper left corner of the picture? This Chocolate Sheet Cake is so good that I couldn't even resist digging my fork in, even if it meant ruining my otherwise picture-perfect Pinterest graphic! 🙂
I mean, seriously, if the actual recipe looks like this, it's got to be good: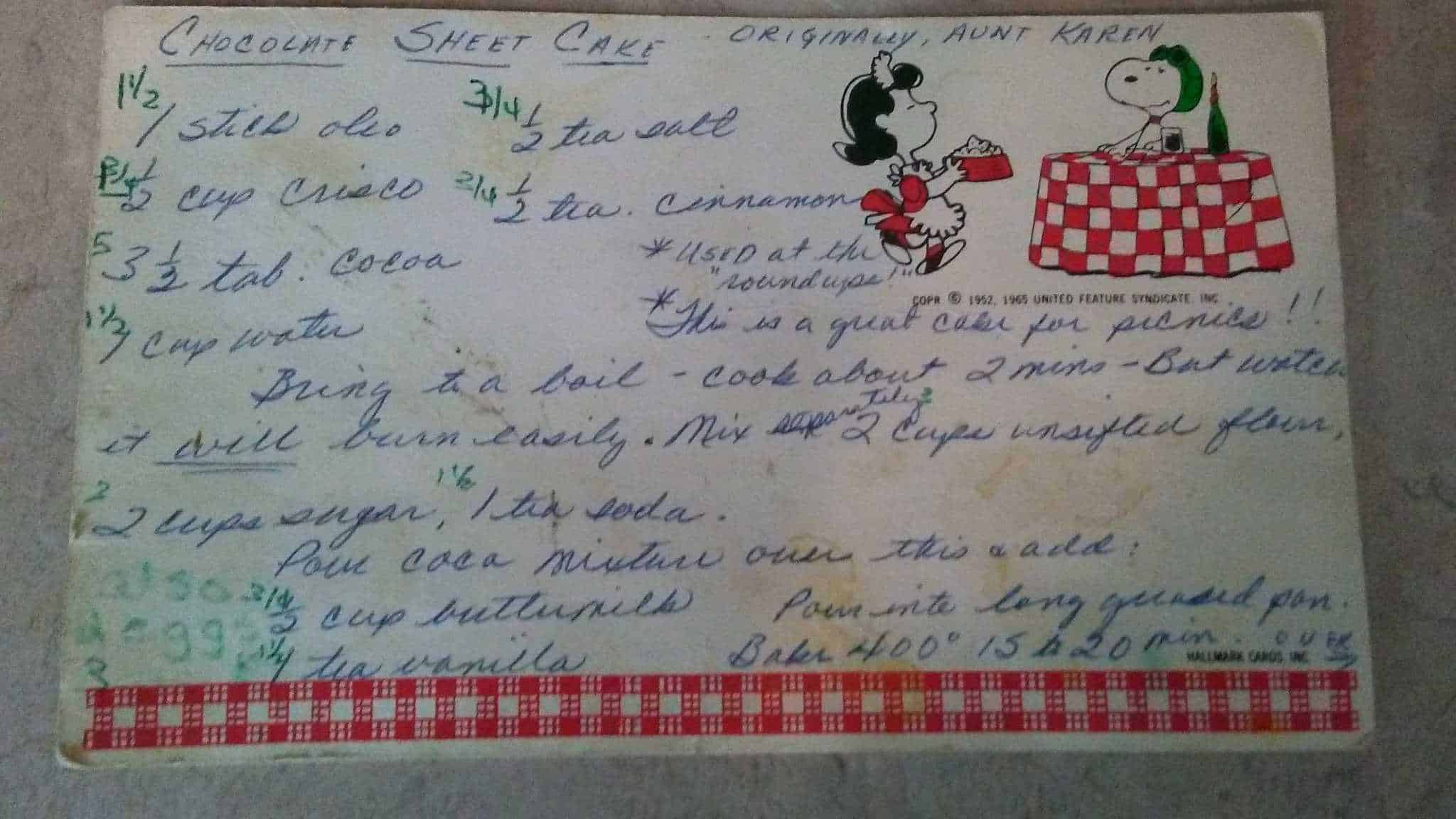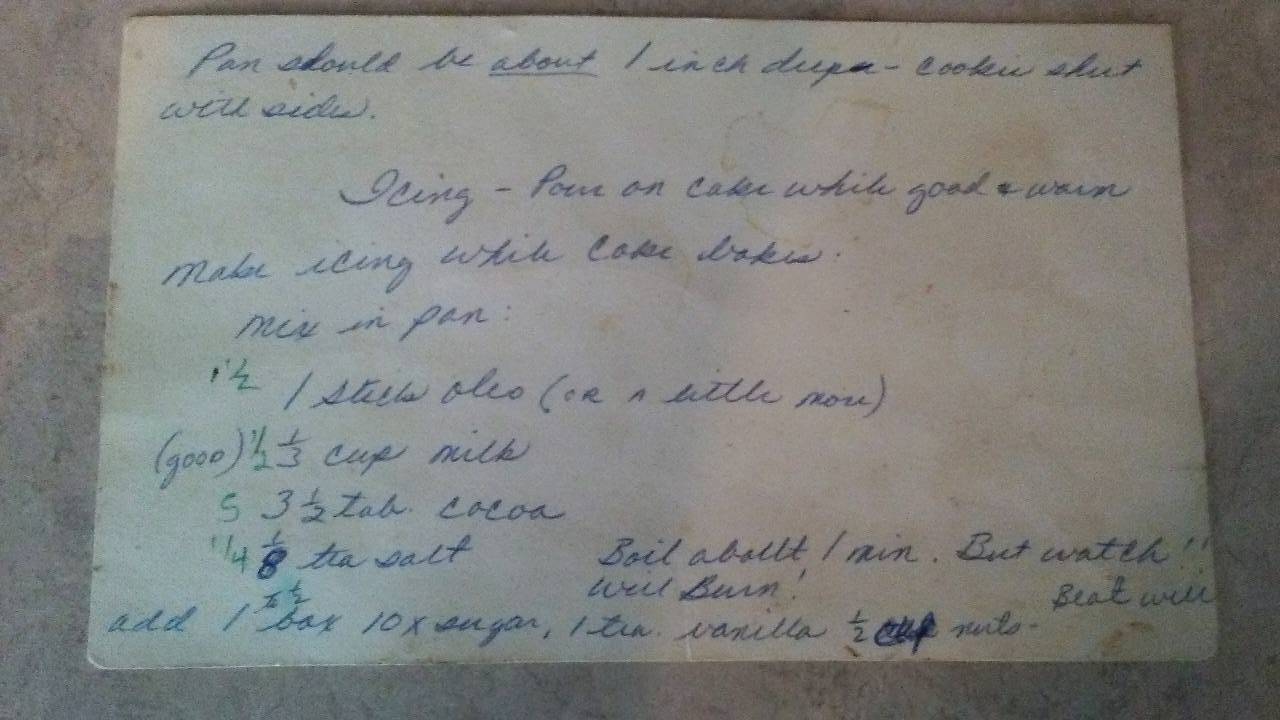 So, a little back story:
My Mama made this recipe, originally her Aunt Karen's, for the Central Florida Fair when she was 7 years old. She won a blue ribbon. And she's been making it ever since for birthdays and holidays and just because.
Confession – I did substitute unsalted butter for the margarine. I knew that my former-chef and all-around culinary genius husband would disown me if I dared to bring a box of margarine into the house. But, I didn't cut out the Crisco, so I was only half cheating. Either way, the finished Chocolate Sheet Cake tasted just like I remembered it. So feel free to use butter or margarine, which ever you prefer… the measurements stay the same.
And, can we discuss this icing?! It's pourable. You cook it on the stove, and then pour a beautiful chocolatey-nutty waterfall onto the fresh-from-the-oven cake. And then, just like a magic chocolate-goodness shell, the icing hardens… but not too hard. Like the perfect amount of stiffness so that you still get the soft fudgy-ness, but you can also cut the cake into squares and stack them in a Tupperware. Which also makes this cake great for picnics… as noted by my Donda (Grandma) on the original recipe card.
*Side Note – Be sure that your cookie sheet has sides that are about 1″ deep. Don't have the right sized cookie sheet? Check out these great options on Amazon, all of which are the same size cookie sheet as I used: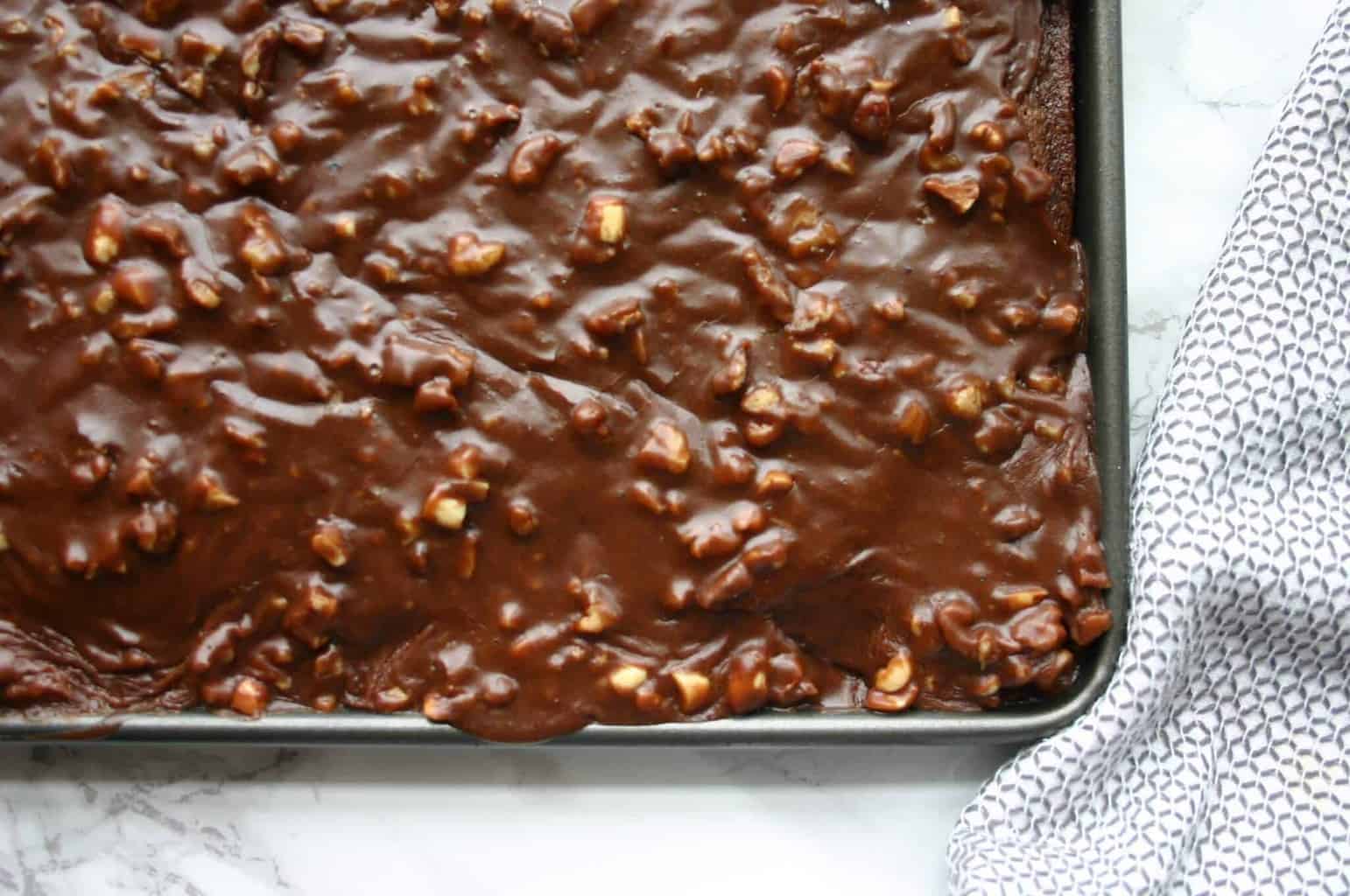 So, you want to try it out for yourself?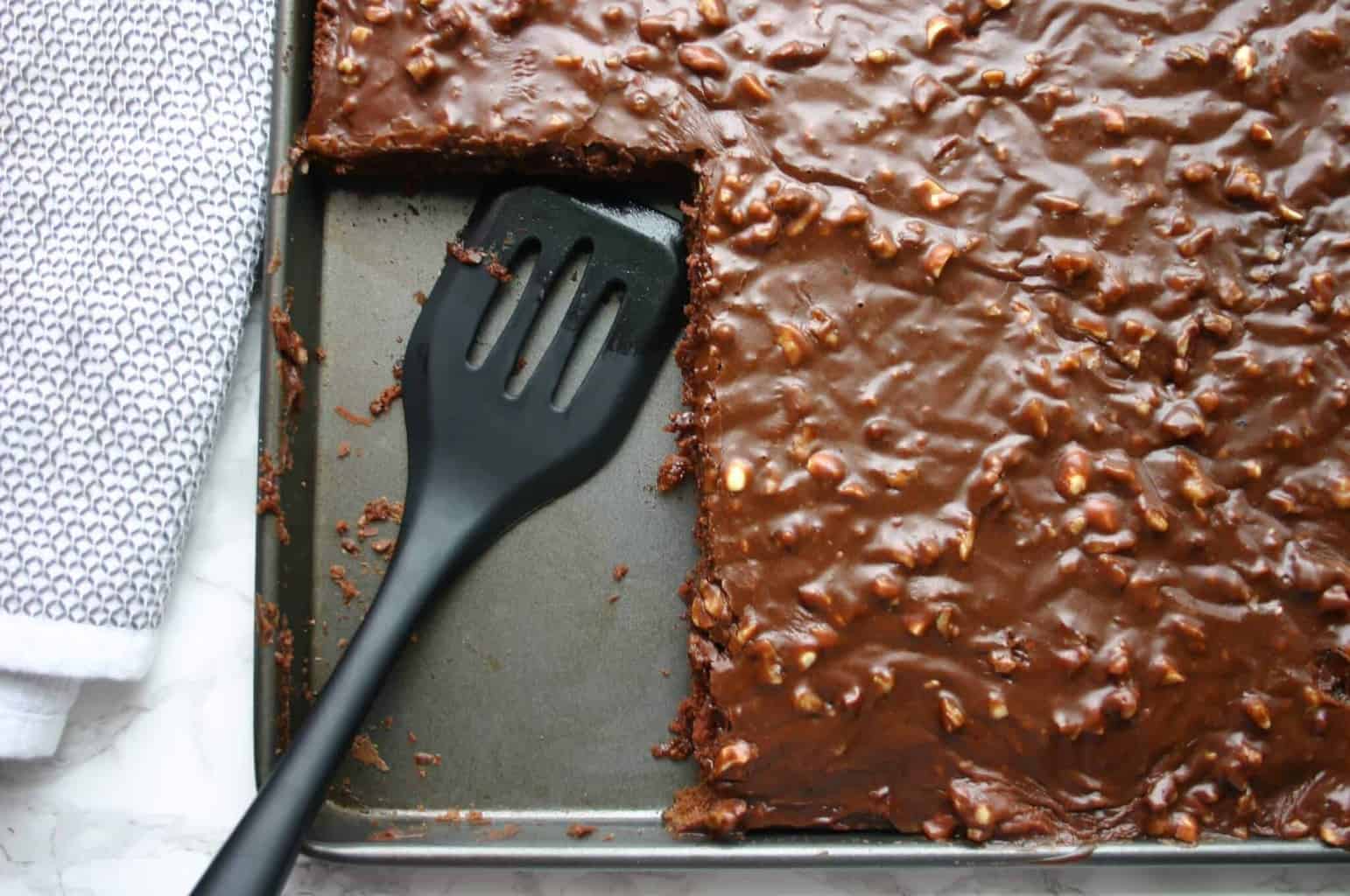 How about now?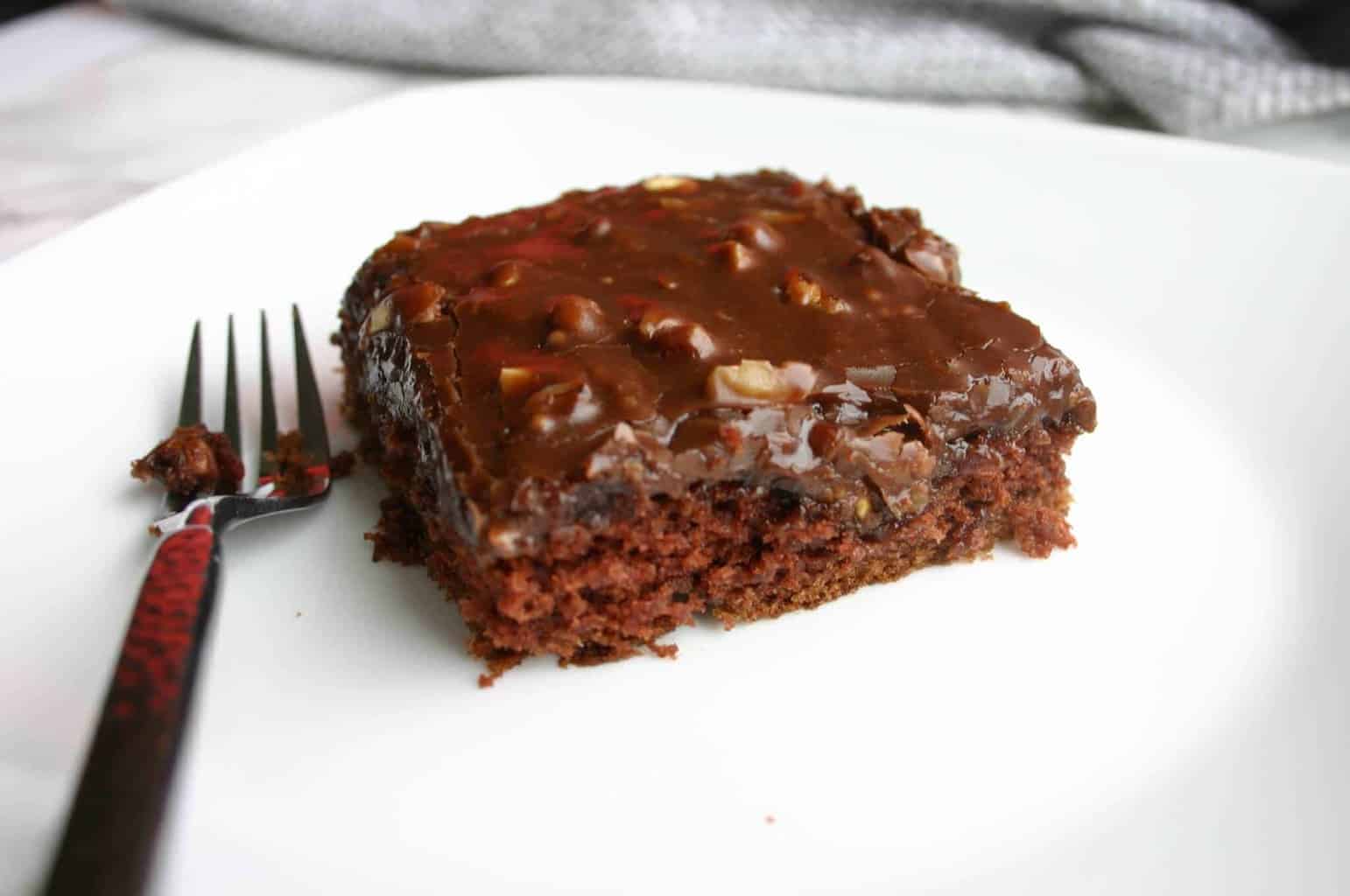 Okay, I won't keep you waiting any longer… Here's the recipe that will surely be a hit with your crowd:
Yield: 18 servings
Mama's Blue Ribbon Chocolate Sheet Cake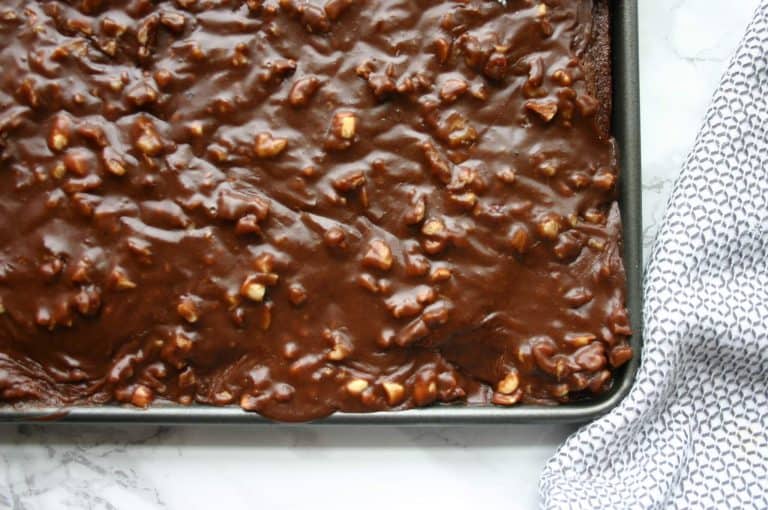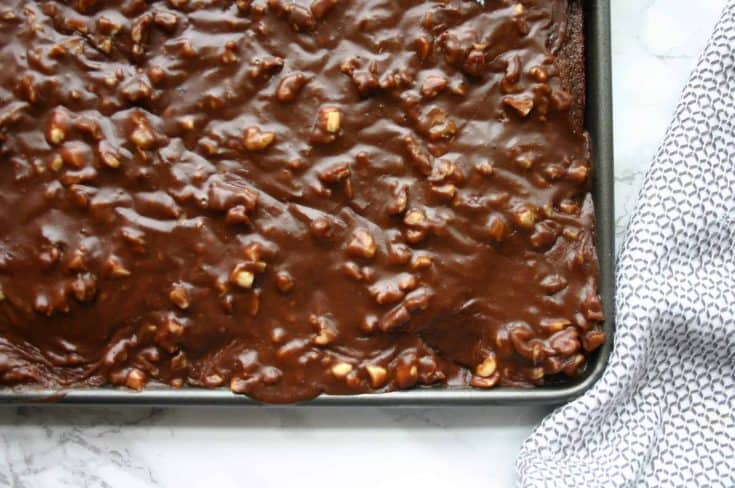 The perfect cross between a chocolate cake and fudge brownies. This chocolate sheet cake recipe was passed down to me from my Mama, who won a blue ribbon at the fair with this cake when she was a little girl. The cake is made in a cookie sheet (with 1" sides) and has the most decadent pourable chocolate frosting. Enjoy!
Prep Time 10 minutes
Cook Time 20 minutes
Total Time 30 minutes
Ingredients
For the Cake
1 stick unsalted butter or margarine
1/2 cup Crisco
3 1/2 tbsp cocoa powder
1/2 tsp salt
1/2 tsp ground cinnamon
1 cup water
2 cups all-purpose flour, unsifted
2 cups sugar
1 tsp baking soda
2 eggs, beaten
1/2 cup buttermilk
1 tsp vanilla extract
For the Icing
1 stick butter or margarine
1/3 cup milk
3 1/2 tbsp cocoa powder
1/4 tsp salt
1 box powdered sugar
1 tsp vanilla extract
1 cup chopped nuts, (walnuts, pecans, or peanuts)
Instructions
For the Cake
Preheat oven to 400 degrees.
Mix the unsifted flour, sugar, and baking soda in a large bowl. Set aside.
In a saucepan, add stick of butter or margarine, Crisco, cocoa powder, water, salt, and cinnamon. Bring to a boil while mixing.
Boil cocoa mixture for about 2 minutes, being careful not to burn it.
Pour cocoa mixture over your dry ingredients from Step 1, and mix to combine.
Add beaten eggs, buttermilk, and vanilla extract, and mix to combine.
Pour batter into a long greased cookie sheet. Cookie sheet should be approximately 1 inch deep.
Bake at 400 degrees for approximately 14-16 minutes.
For the Icing
While the cake is baking, add stick of butter or margarine, milk, cocoa powder, and salt to a saucepan and boil for 1 minute.
Remove from heat and add powdered sugar, vanilla extract, and nuts. Mix to combine.
Pour icing onto cake while cake is still warm.
Nutrition Information:
Yield:
18
Serving Size:
1 Servings
Amount Per Serving:
Calories: 320
Total Fat: 15g
Saturated Fat: 7g
Trans Fat: 0g
Unsaturated Fat: 7g
Cholesterol: 48mg
Sodium: 292mg
Carbohydrates: 43g
Fiber: 1g
Sugar: 29g
Protein: 4g
Nutrition information isn't always accurate.
Related Posts: