Eating clean is hard! Why reach for a bunch of carrot sticks when last night's chocolate cake is sitting on the counter, silently calling out to you? What's more… Eating clean is expensive! At least it can be, if you don't know how to save money on produce. We all know that clean eating is better for your waistline, and here's my best money-saving hacks to make eating fruits and veggies easier on your wallet also.
**I may earn a small commission from affiliate links in this post, at no additional cost to you. Read my full disclosure here.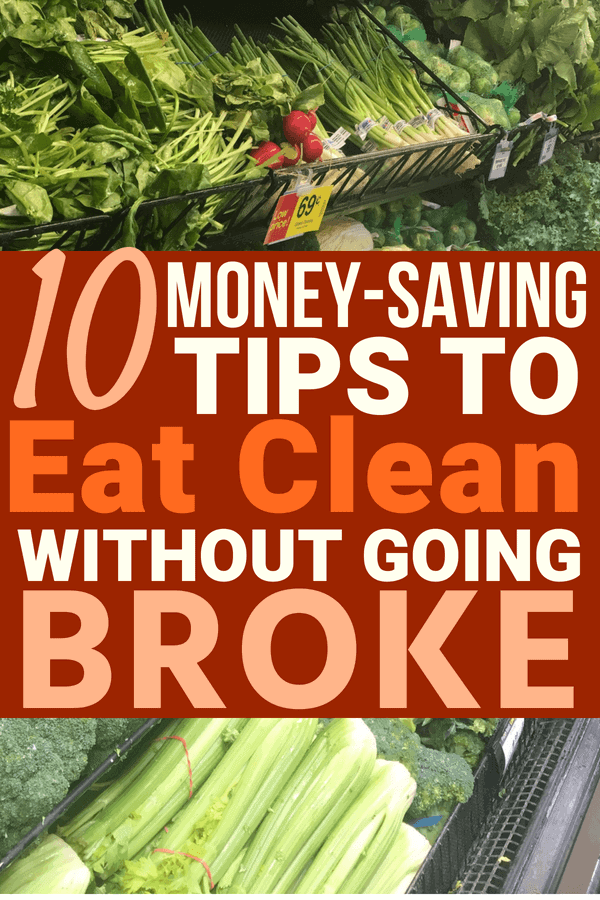 Buy In Season to Save Money on Produce
This may seem like a "Duh" tip. But, how many times have you gotten your heart set on a specific recipe, only to discover that the required ingredients were not in season? If I have a hankering for chocolate covered strawberries in November, I have to find something else to satisfy my sweet tooth. Know what's in season, and meal plan around fruits and veggies that are cheaper during specific times of the year.
Need some help? Reference my handy seasonal produce guide to save money on produce!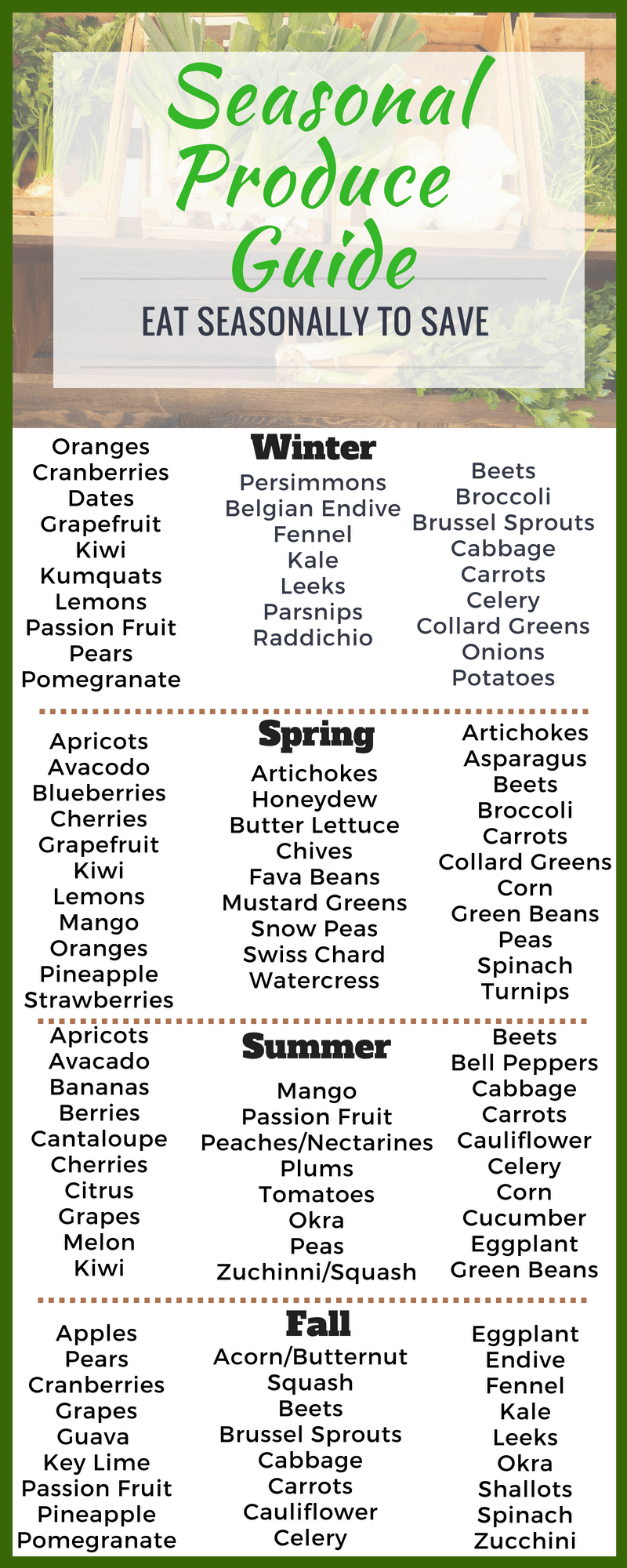 Shop Your Store's Weekly Ad
Another "Duh" tip… Buy the produce that is on sale. Here's a general rule of thumb: If it's pictured on the front page of your store's weekly ad, chances are that it's a good deal. That's because stores often put their "loss leaders" smack dab on the front page of the ad to entice savvy shoppers like you to come into their stores. What are "loss leaders"? They are products that the store sells for a loss (i.e. the price they charge customers for a particular product is less than what they paid for it) in order to attract customers.
So what are some of the fantastic deals you can get on produce? I live in the Southeast, and I do the bulk of my grocery shopping at Kroger. Recently, I've scored strawberries for 99 cents a pound, avocados for 59 cents each, and whole pineapples for 99 cents each. Save money on produce without having to do any extra work!
Don't Be Afraid of the Markdowns
Some of the best produce deals can be found on premium pre-washed, pre-sliced, pre- work-done-for-you items that are nearing their expiration dates. I often buy these quick and easy produce options when I catch them on "Manager's Special". Usually, the expiration date is still a day or two out. And, you could have bought the exact same item one day earlier for full price. If it's a salad mix, or other item that will perish quickly, just be sure to eat it soon.
Be on the lookout for the bright stickers plastered onto the sides of packaging. Here are a few examples of marked down items at Kroger and Target: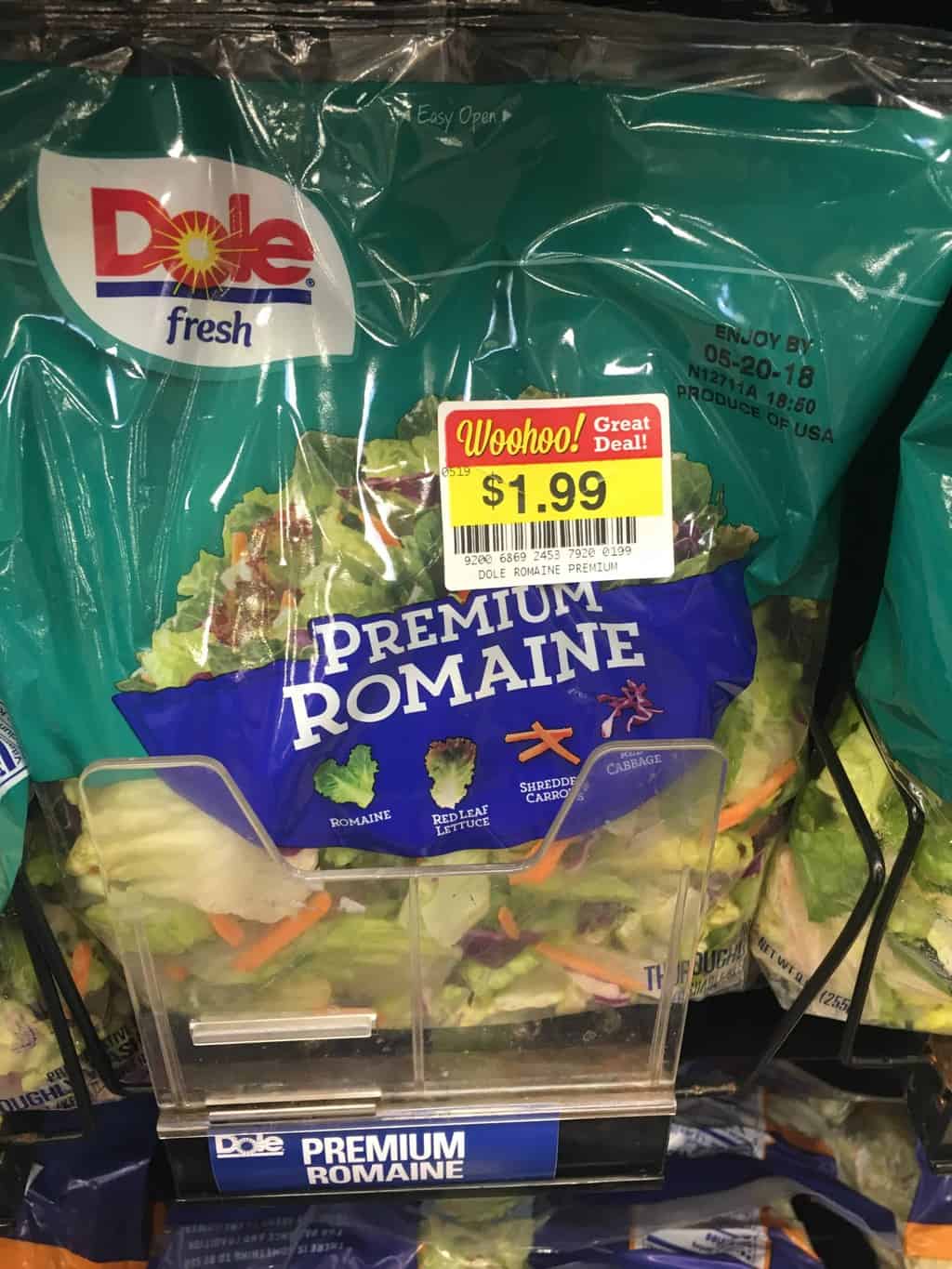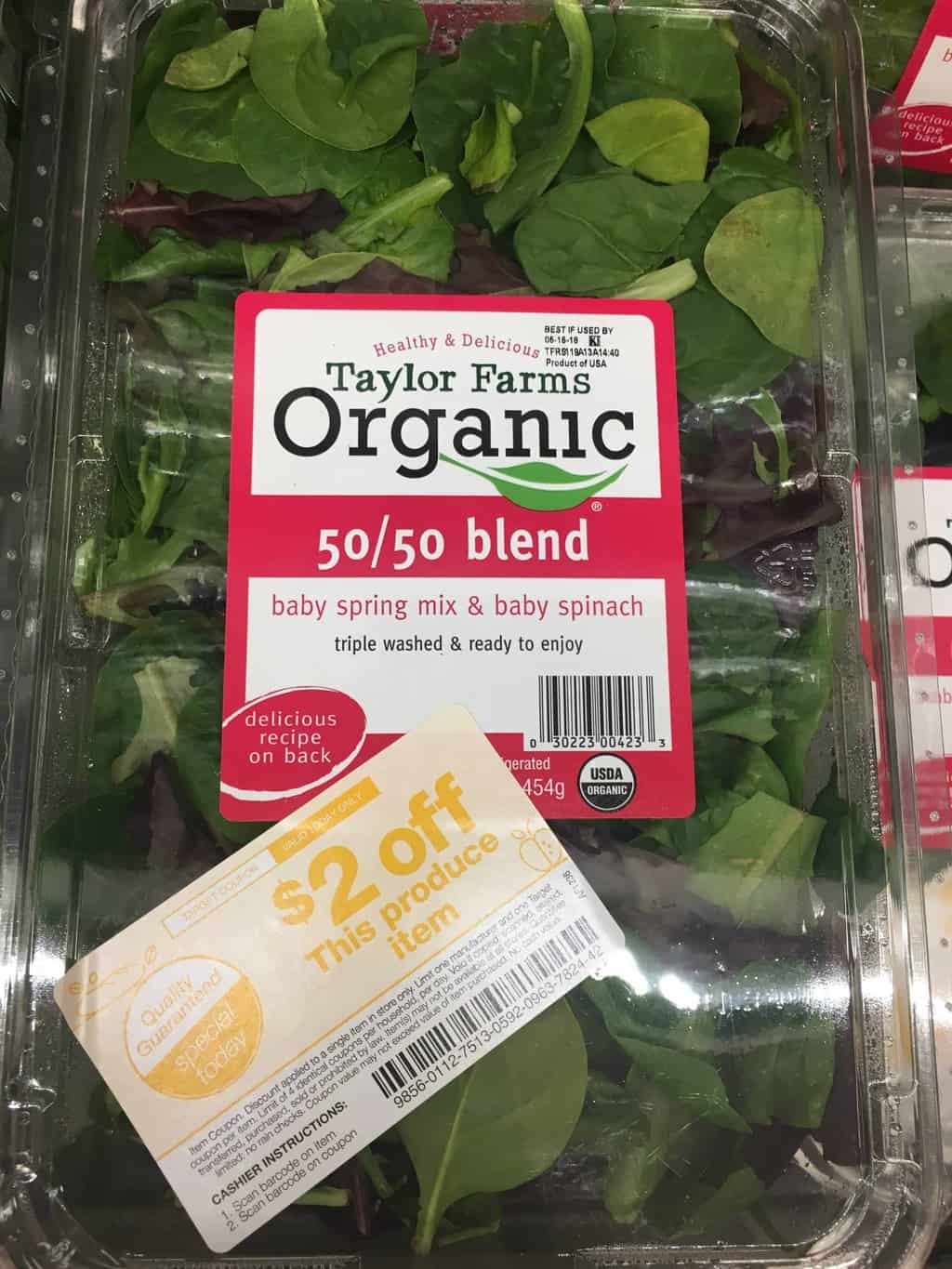 Also, your store may have a dedicated section for bulk produce that is bruised or otherwise not picture-perfect. My local Kroger bags like items that are "scratch and dent" and sells a whole bag for 99 cents. In the past I've gotten 99 cent bags of 5 Honeycrisp apples and 99 cent bags of 4 multi-color bell peppers. Shopping the markdowns is my favorite way to save money on produce!
Use Your Phone
Have you heard of Ibotta? It's one of my favorite apps for earning money back on groceries. And it's super simple to use. Sign up here for free and get a $10 Welcome Bonus! Ibotta pays you for purchasing certain brand name items and uploading pictures of your receipts. But, what you may not know is that you can also use it to save money on produce. Check out this screen shot from Ibotta:
Ibotta pays cash back for many brand name products, but they also offer cash back on a wide variety of "Any Brand" products. Here's where you'll find most of your produce offers. And the offers change each week, so be sure to check the app often!
Buy (Some) in Bulk
Save money on produce by buying at Costco and Sam's Club… sometimes. If there are certain items that you tend to eat a lot of, check out your local wholesale store. For me, it's romaine hearts. I love how quick and easy it is to prep hearts of romaine for yummy salads. And my Costco sells a bag of 6 romaine hearts for $3.99… much cheaper than the 3 count $2.99 bag that I can get at the regular grocery store. Just be sure to do a little math to figure out if the smaller quantity would actually be cheaper. And be sure to eat your produce (or freeze it) before it spoils.
Extend Produce Life with a Produce Saver
Help your fruits and veggies stay fresh longer with a Produce Saver
. I don't know how many times I have reached in to my refrigerator's produce drawer and grabbed out frozen celery or carrots. Celery popsicle, no thanks! No matter how many times I adjust the fridge temp, somehow random pieces of produce still end up freezing. Combat that problem, plus keep your produce from spoiling too quickly with one of these great tools:


Join a Food C0-Op
If you're lucky enough to live in an area serviced by a Food Co-Op, take advantage of this little known opportunity. I was introduced to Bountiful Baskets while living in Wyoming, and nearly all of our fresh produce came from this amazing Food Co-op.
How does Bountiful Baskets work, and how does it help you save money on produce?
Bountiful Baskets is a co-op that offers a mixed basket of fresh produce (usually half fruit and half vegetables) at a fraction of the cost of grocery stores, delivered to a central pick up point every other week. A large basket of fresh produce costs $15 and is valued at about $50 retail price, while organic baskets are $25. Here is a picture of one of the produce baskets that we received from Bountiful Baskets: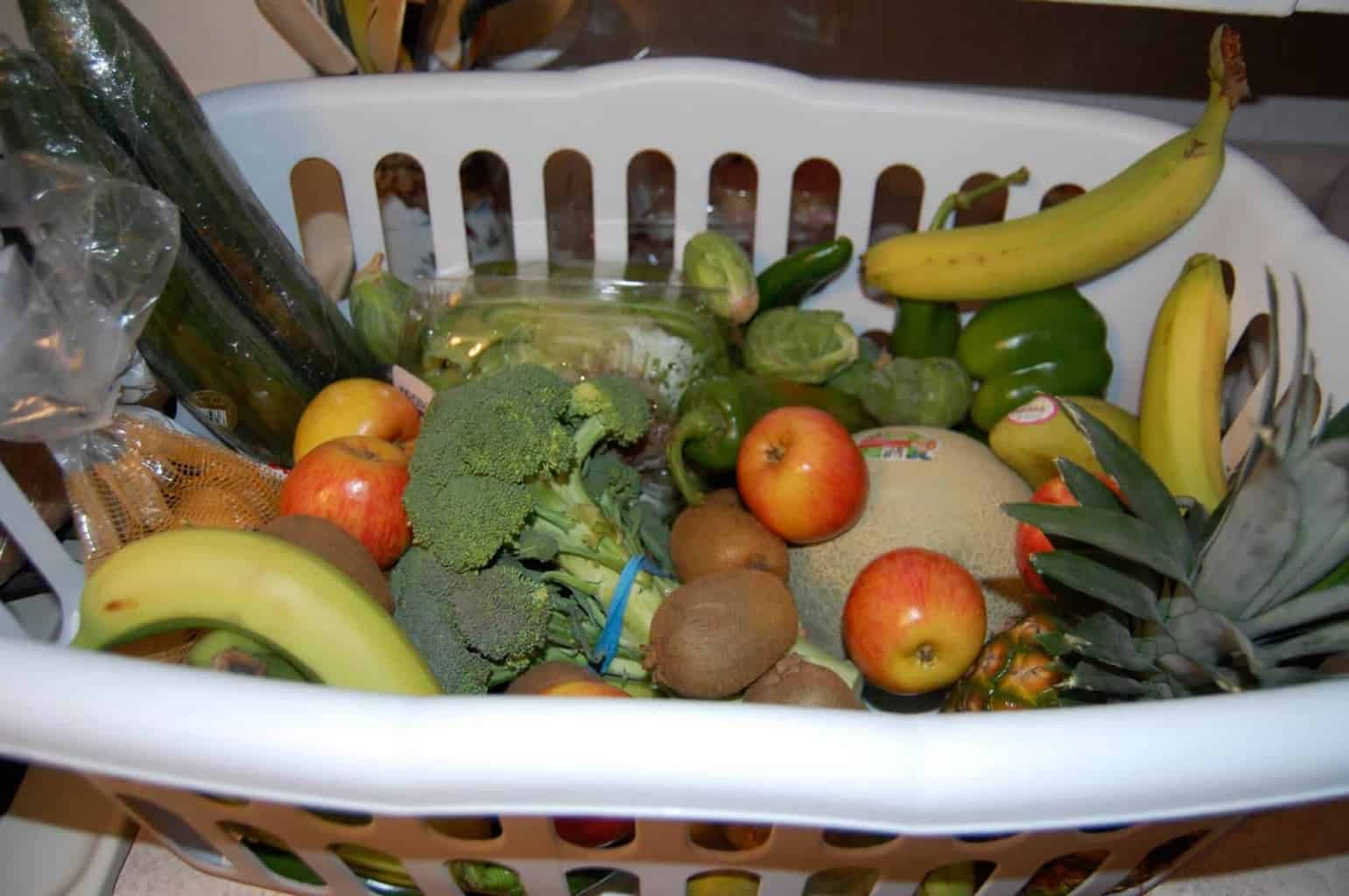 Broccoli, kiwi, pineapple, cucumber, apples, butter lettuce… and on and on. And all of this for only $15!
For a listing of areas serviced by Bountiful Baskets, go HERE.
If Bountiful Baskets doesn't service your area, just do a Google search for "Your City" + Food Co-op.
Don't Throw it Out… Freeze It
The biggest rule to save money on produce, and food in general, is to NOT THROW IT OUT!
Your freezer is your best friend when it comes to produce that is nearing its last leg. Before it gets to the point of no return (hello, green pepper leaking yucky fluid in the bottom of my fridge) be sure to prep it and throw it in the freezer. Plus, those neatly packaged baggies of frozen produce will come in super handy and cut down on prep time for future meals.
But what produce freezes well?
Fruits – Most fruits are prime candidates for the freezer. Just wash, cut (if needed), bag and freeze. When thawed, however, fruits tend to get a bit soggy, so plan on using them in smoothies or baked goods. I've been known to stock up on strawberries when they are 99 cents per container and pop them in the freezer for delicious smoothies. Buying these fruits when they are on sale and in season is much cheaper than buying the mixed bagged fruits for smoothies in the freezer section.
Veggies – Peppers, onions, broccoli, cauliflower, carrots, peas… and the list goes on and on. If you can buy it in the freezer section of your grocery store, chances are that you can freeze it yourself at home. Just be sure to blanch your veggies first to retain the bright colors and good-for-you vitamins. Go HERE for a great tutorial on prepping and blanching produce for the freezer.
Comparison Shop
I am the queen of comparison price shopping! What exactly is that, you ask?
It's basically exactly what it sounds like… I go to different stores to find the best price on similar items. For example, I know that one grocery store chain in my area has super expensive produce, so I never buy my fruits and veggies from them. Even the produce on the front page of their ad is more expensive than non-sale prices of other stores. You can literally compare apples to apples 🙂 (clever, huh?) to make sure you're getting the best deal.
Pick Your Own
If you have a Pick Your Own farm nearby, you MAY be able to save money (and entertain your kids) by going to harvest your own fruits and veggies. I say "MAY" because these farms are not always the most cost-effective. Currently, my local PYO farm is offering strawberries for $1.50/lb which is cheaper than the current grocery store prices. However, I have seen prices at PYO farms as much as double that of grocery stores on similar products. Be sure to call first to verify the prices if you decide to pick your own produce. Or just visit a farm anyway for a great Summer Activity for Kids.
Plant a Garden
If you have the space, and the time and patience to pull weeds for hours :), consider planting your own produce. We bought our current home from a couple with some very green thumbs, and when we moved in we had a whole produce section in our backyard. Beets, corn, tomatoes, peppers, watermelon, pumpkin, strawberries, okra, acorn squash… and the list goes on. We were super excited to be able to walk outside and pick whatever we needed for dinner that night. And the kids love it too!
When the seasons changed recently, we replanted everything to customize the garden to our own tastes. We chose to focus on the produce that we love that is also more expensive to buy in the store such as cauliflower, colored bell peppers, and spaghetti squash. And I have to say, I'm pretty darn proud of our first ever attempt at gardening. Here's a look at our little backyard produce store pre-harvest time: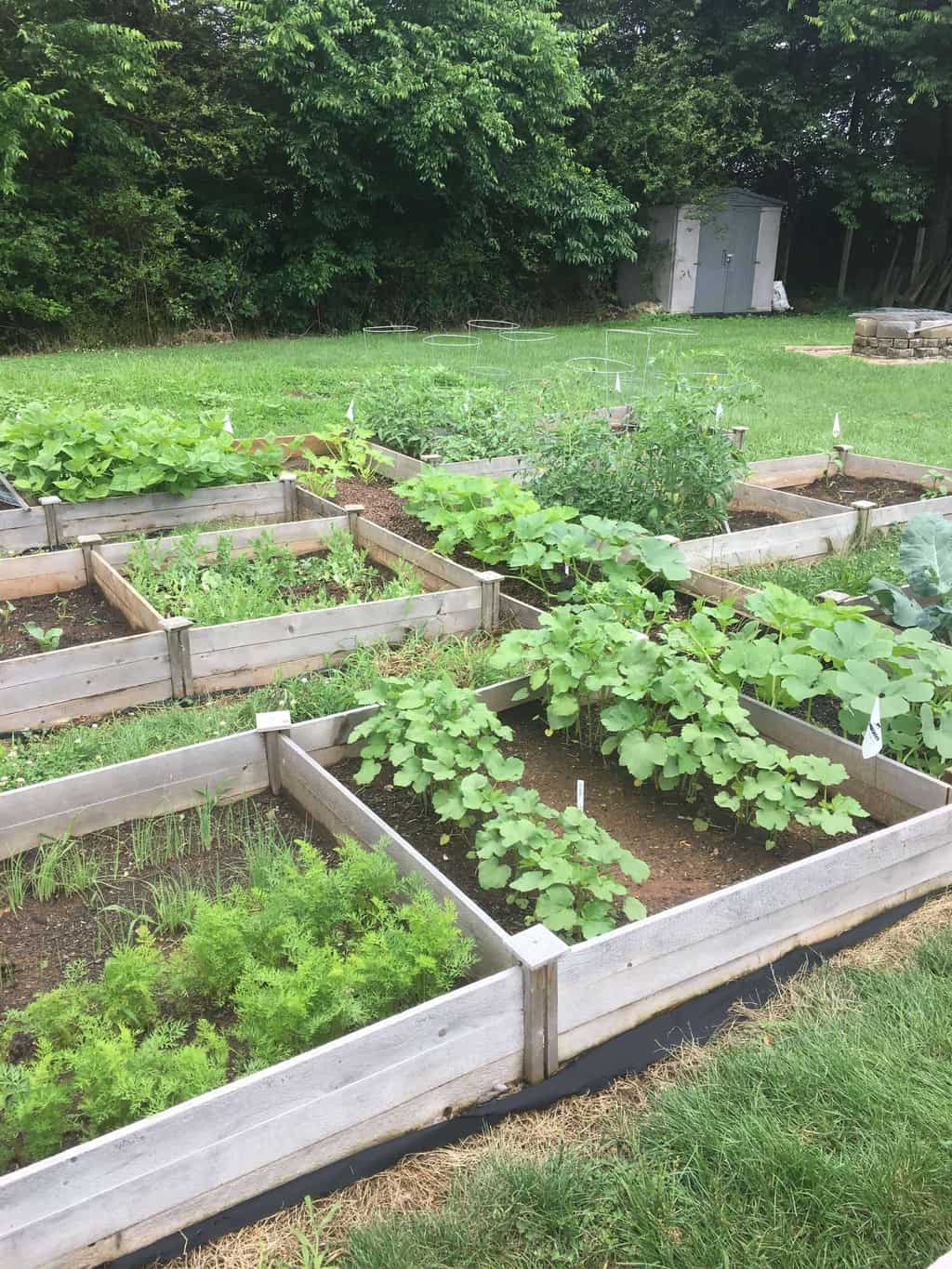 And there you have it! My best secrets for saving money on produce.
If you're like me, you try to eat healthy and clean most of the time, which means stocking up on fruits and vegetables. And let's face it… clean eating is not always the most economical choice (unless you factor in all of the potential health care savings from eating a balanced diet). When a box of mac 'n cheese is 50 cents, it can be hard to justify paying more for a big salad. But with these tips to save money on produce, eating clean can be better for your wallet AND your overall health.
Related Posts:
Now go eat your veggies! — That's for my kids…they tell me that's all I say, so apparently I'm very one-dimensional. 🙂