Creating a school memory box for your child is a super easy way to keep all of their papers and projects organized and in one place! Grab the free printables at the end of the post to make your kid's school keepsake box today!
When my girls were just starting school, I tended to save EVERYTHING. I mean every worksheet where they wrote their own name, all their art projects, every single test…the list goes on and on.
What I quickly learned, however, was that those papers took up A LOT of space. Closet shelves and counters became super cluttered, I got cranky because things were messy…it wasn't good. No one wants that life!
What's more, I didn't really need to keep all of those papers. Was I really going to take out my daughter's math pop quiz in 20 years and tear up over it? Possibly, but hopefully, you get my point – all school memories are not created equal.
Instead, I organized and created a school memory box for each child. Now, whenever someone brings home something I want to keep, I just open up the box, find the correct grade, and pop it in. Easy, peasy! And, BONUS, a school keepsake box is the perfect place to store those first day of school photos and last day of school interview questionnaires!
You can create your own inexpensive school keepsake box with just a few supplies and my FREE printables. Read on to learn how!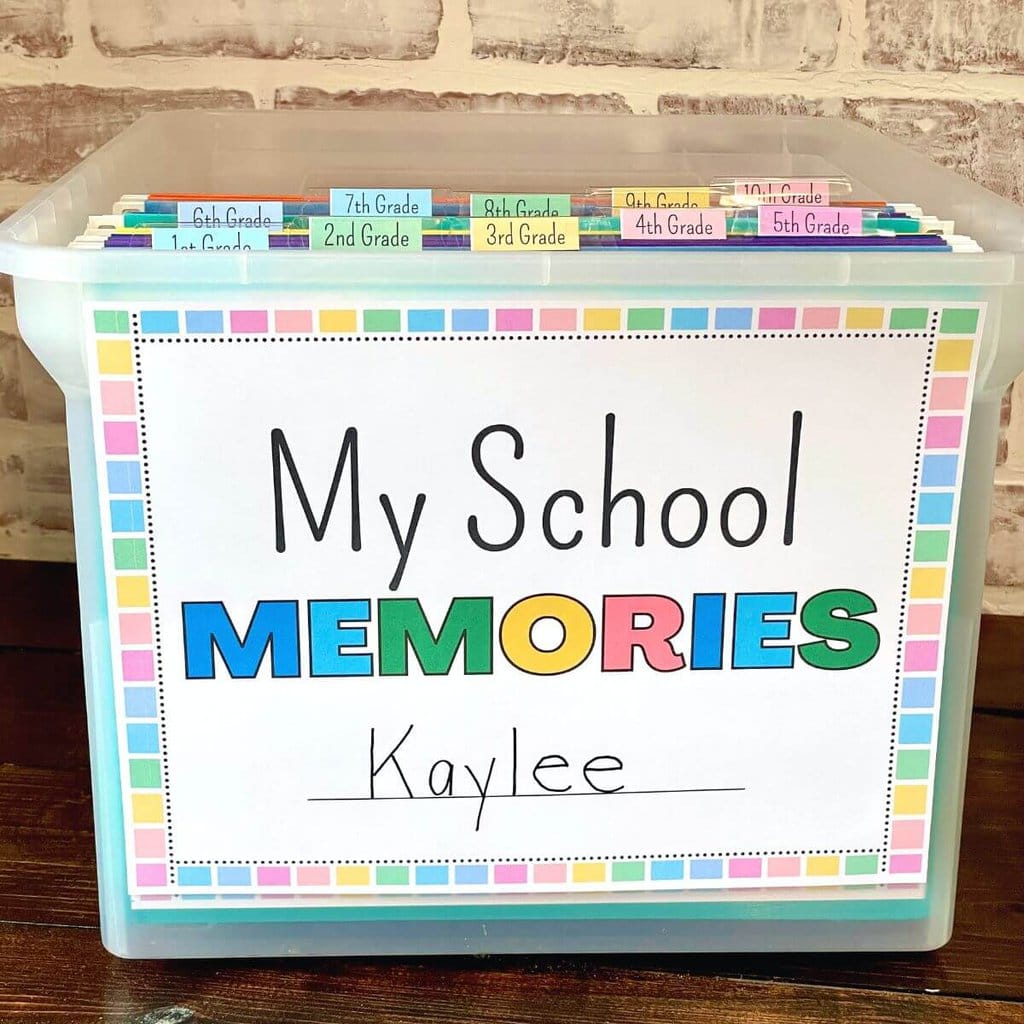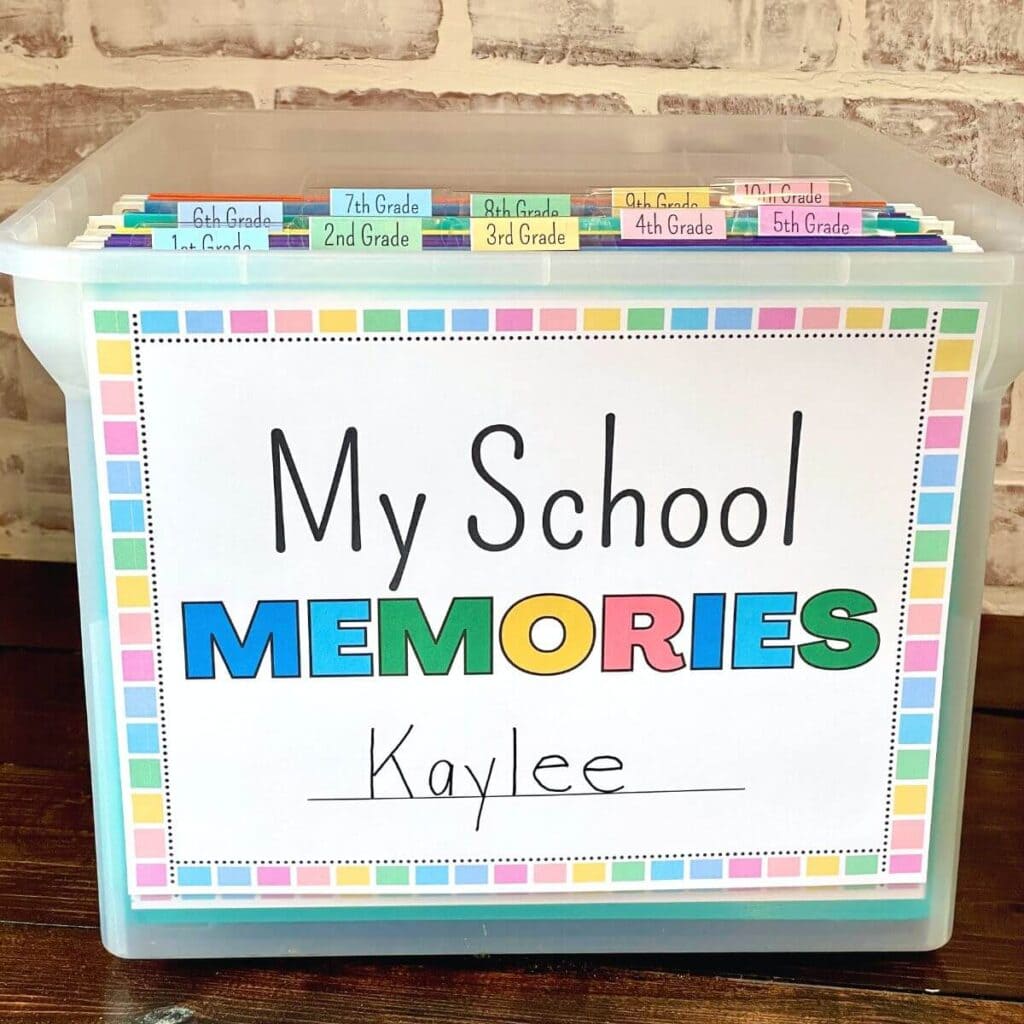 *This post contains affiliate links, which means if you click a link and make a purchase, I earn a commission at no additional cost to you. Read my full terms of use for more info.
What is a School Memory Box?
A school memory box is a nifty way to keep your child's most cherished academic memories and achievements all in one place. You can organize their most important school documents and keepsakes by grade and save your counter space (and sanity) in the process!
There are lots of school memory box ideas out there, but I prefer using a plastic file folder box with a lid. It's easy, inexpensive, and a snap to put together! And my free kids memory box printables make the process super simple, making it a fun activity for you and your child to do together.
However, I also won't judge if you'd like to knock this one out solo while they're at school!
Why You Should Make a Kids Memory Box for Keepsakes
Here are just a few reasons why you should add "create a kids memory box" to your to-do list today:
A school memory system reduces clutter
Have you ever spent a solid chunk of your day cleaning your kitchen counters, only to have your kids clutter them up with countless school papers once they get home? It's frustrating, to say the least!
A school memory box is a fabulous way to sort through ALL those worksheets, projects, and tests and only keep what's most important. The rest can go in the trash bin and off your freshly wiped countertops.
You can store more than just photos
Photo albums are an excellent way to store treasured family memories, but they're not so great for keeping science fair ribbons, track medals, and bulkier items. A school keepsake box, on the other hand, allows you to store much more than flat pieces of paper and photos. Just open the file folder, pop them in, and go on with your day!
Helps you track your child's progress
A kids memory box is also a valuable way to track your child's academic progress. If they're struggling with a specific subject, saving standardized test scores and other important exams can be helpful. This way, both you and your child can reflect on their improvement over the year and beyond.
Preserves your child's favorite school memories
Your child's school years will be filled with so many fun, exciting, and memorable experiences. A school memory box is an easy way to gather all those highlights together in one place! You can save the box to look through when your adult kids come to visit, give it to them as a wedding or graduation gift, or keep it for a rainy day.
And how fun is it to look back on your kids' old first day of school photos so they can cringe at the outfits that they picked out?!
*By the way, you can grab my FREE printable first day of school signs to match the memory box printables here!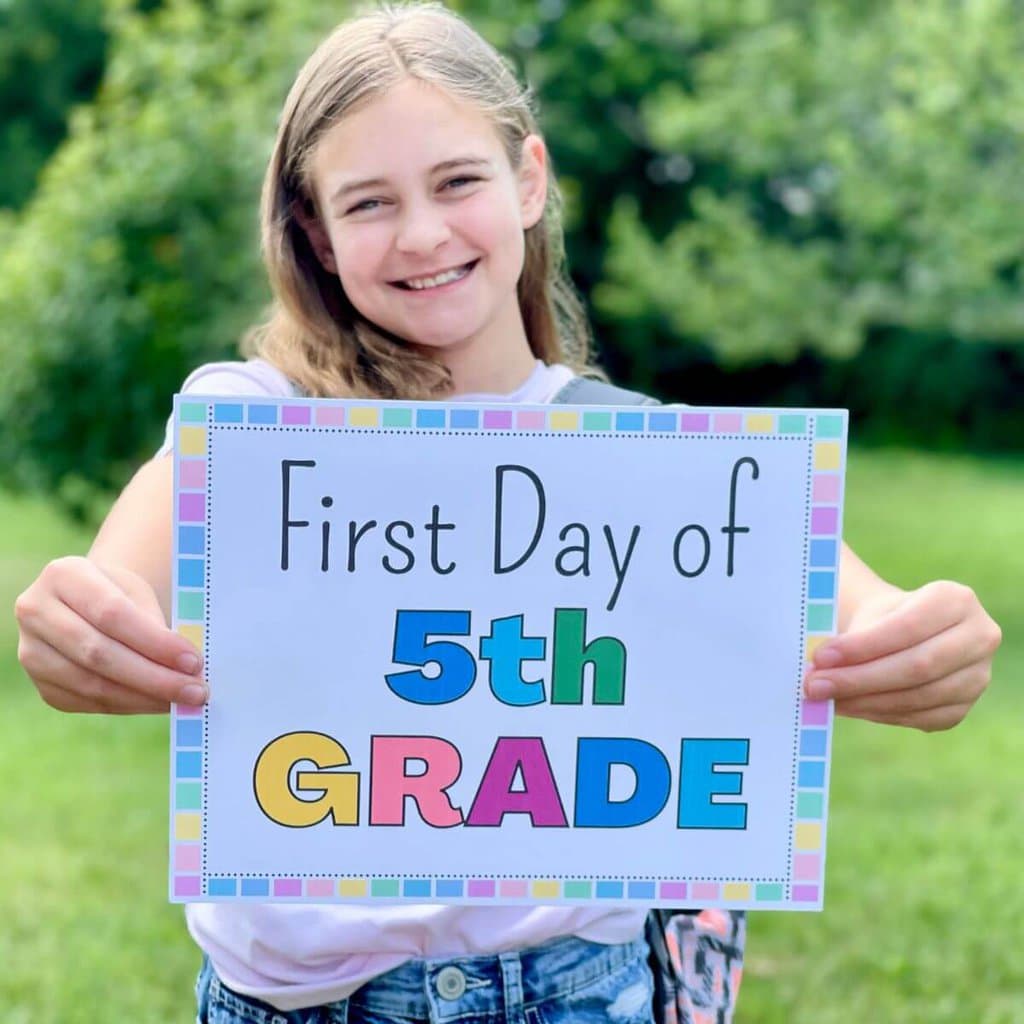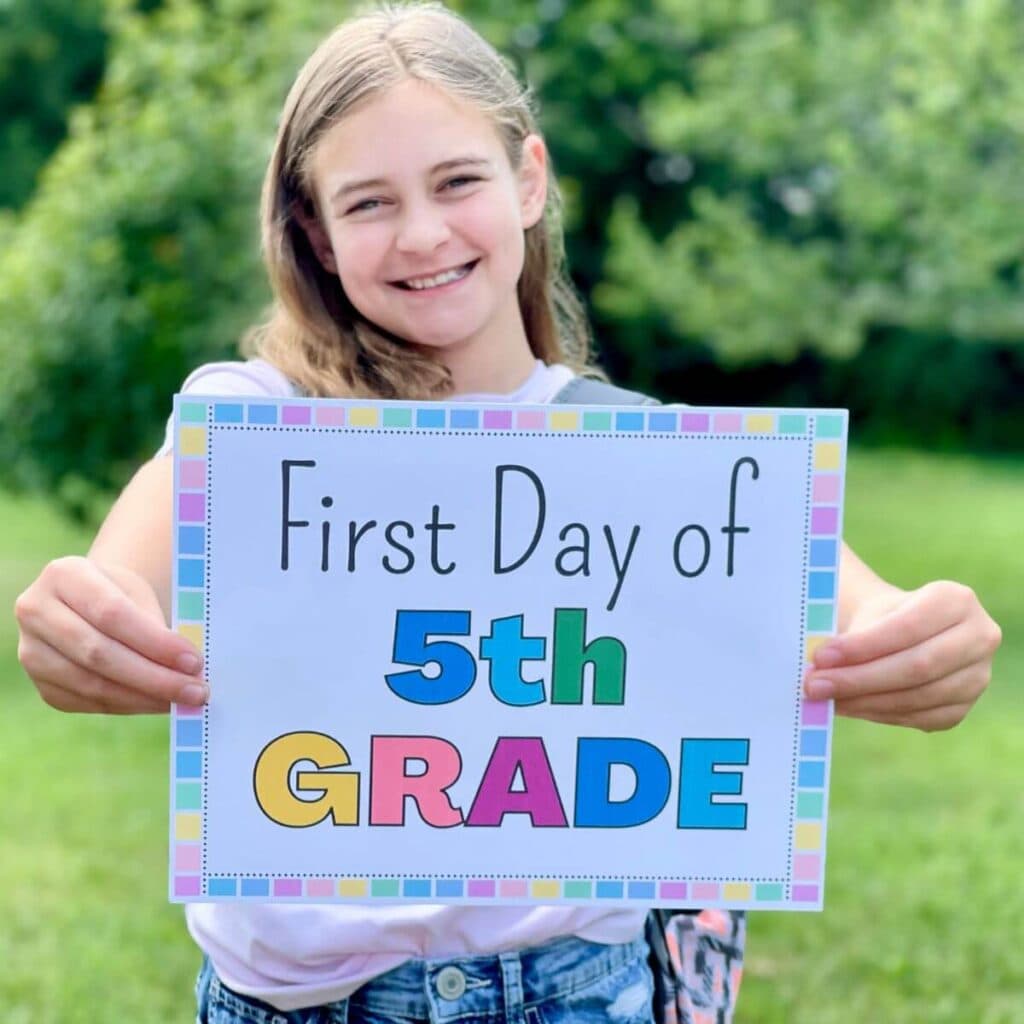 Supplies for a School Memory Box
Here are the supplies you'll need to create your own school keepsake box:
plastic file folder box with a lid – You can find these at any office supply store or Target.
hanging file folders
FREE school memory box printables – You can grab my free printables to make your own school memory box OR binder at the end of this post!
label maker (optional – to label each grade) – Or use the free printable binder divider tabs down below!
Want to make a kids keepsake binder instead?
If you don't have room to store a large plastic file box for each of your kids, then you can create a 3-ring binder memory system instead! To create your own school memories binder you will need: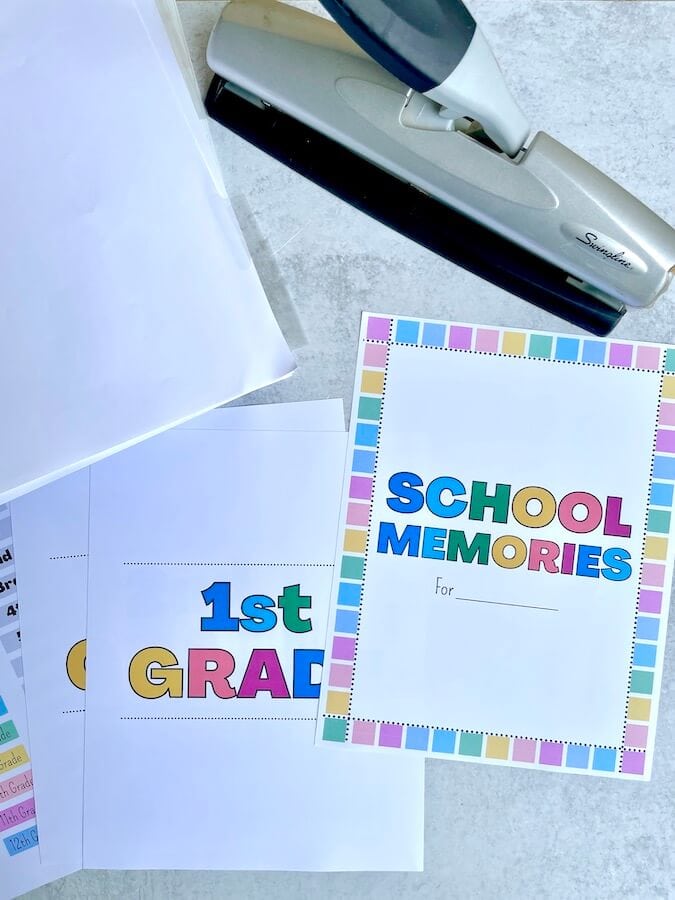 a 3-ring binder – I recommend this one that is 4″ wide so that you can fit 12 or 13 school years' worth of memories inside!
these Avery 8 tab dividers – The printable divider tab templates that I have for you below are perfectly sized to fit in these dividers.
a 3 hole punch – This is the one that I've had for years and LOVE!
the free printable school keepsake printables that I made specifically for 3-ring binders – Grab them at the end of this post!
What to Put in a School Memory Box
Need suggestions for what to put in your school memory box? Here are a few school memory box ideas: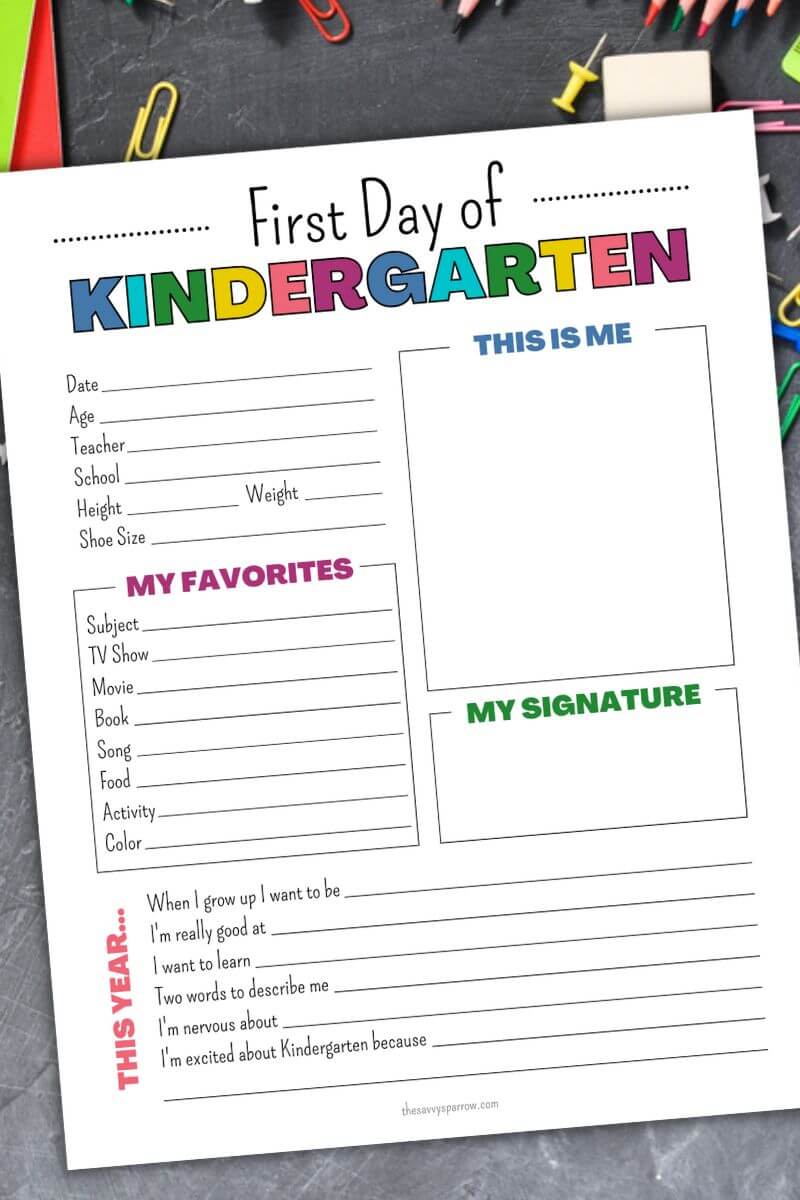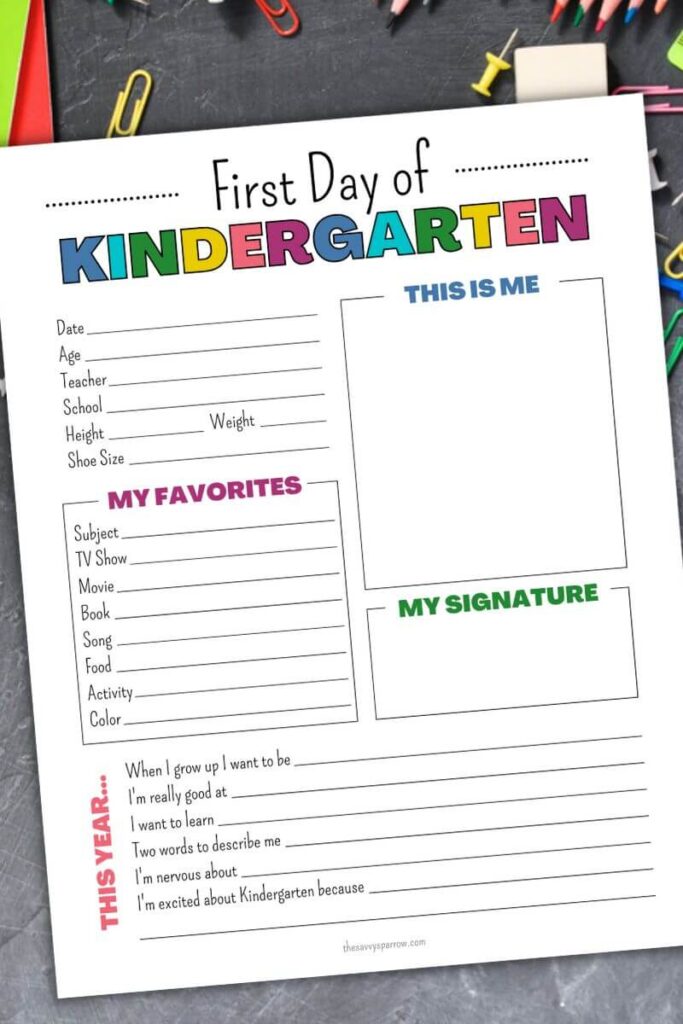 Photos of important school events
Achievement awards for sports and academics
Testing scores (If you're tracking your child's progress)
Stories and other written work
Notes from teachers
How to Make a Memory Box for Your Kids
Step 1: Print the school memory box free printables
Print the school memory box cover sheet and divider pages on the paper of your choice. If you have multiple kids, you can even print the cover page on different colored paper, or let each child pick what templates they want to use for their own box.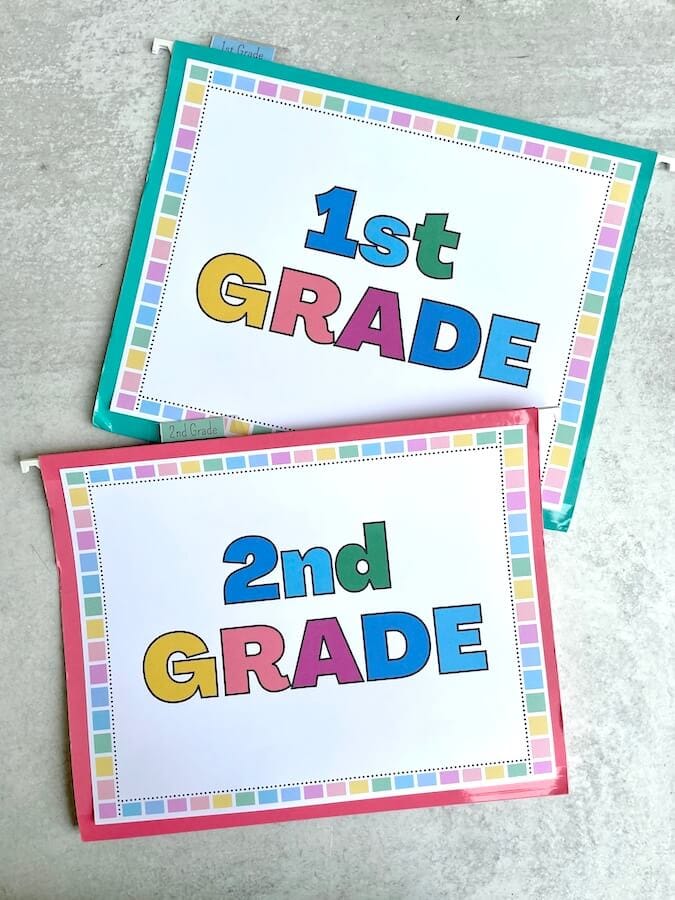 Step 2: Make your file folders
Next, you need to assemble your file folders. You can use a label maker, handwrite grade levels on each folder, or use the binder divider tabs that are included in the FREE school memory box printable pages!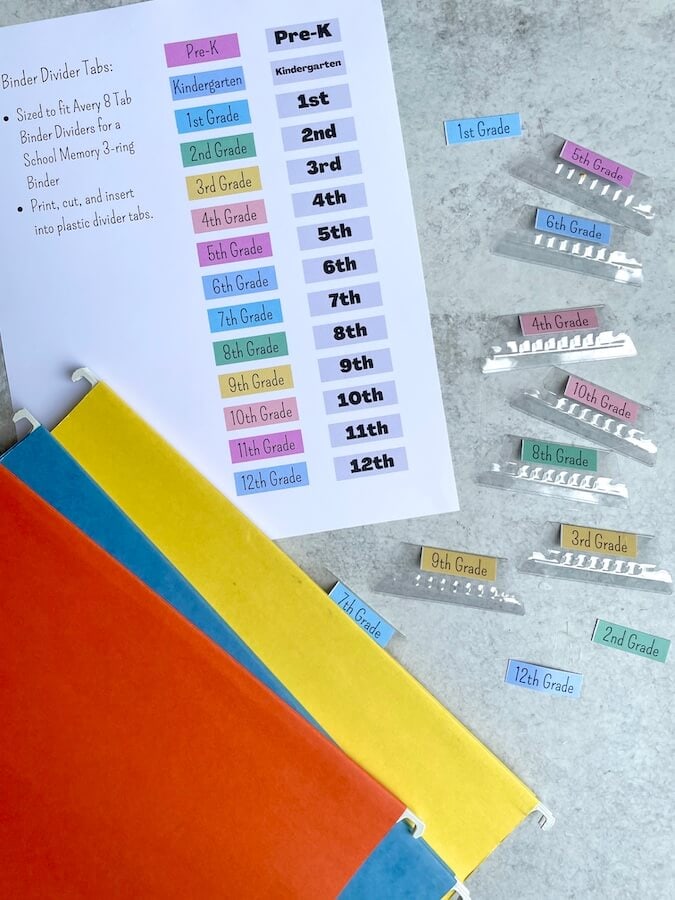 *These printable tabs can be used for the plastic tab inserts that come with your hanging file folders (pictured above) or they can also be inserted in to the Avery 8 tab dividers if you're making a binder.
Step 3: Fill the school memory box with your kids' keepsakes
Now for the fun part! Fill your child's school memory box with all of the school keepsakes you've collected over the months and years. I suggest putting each grade's papers in first before adding bulkier items like ribbons and art projects.
You can also feel free to breathe a huge sigh of relief that all those things are decluttered, organized, and off your valuable counter space!
Alternatives to a Keepsake Box
There are many other ways to organize your child's school memories if a keepsake box isn't your thing. Feel free to check out these other ideas:
Three-Ring Binder
A school memory binder is another popular way to organize your child's academic highlights. You can add everything to a three-ring notebook and use tabbed dividers and cover sheets to separate each grade. You can also add zippered binder pockets like these for bulkier items and photographs (affiliate link).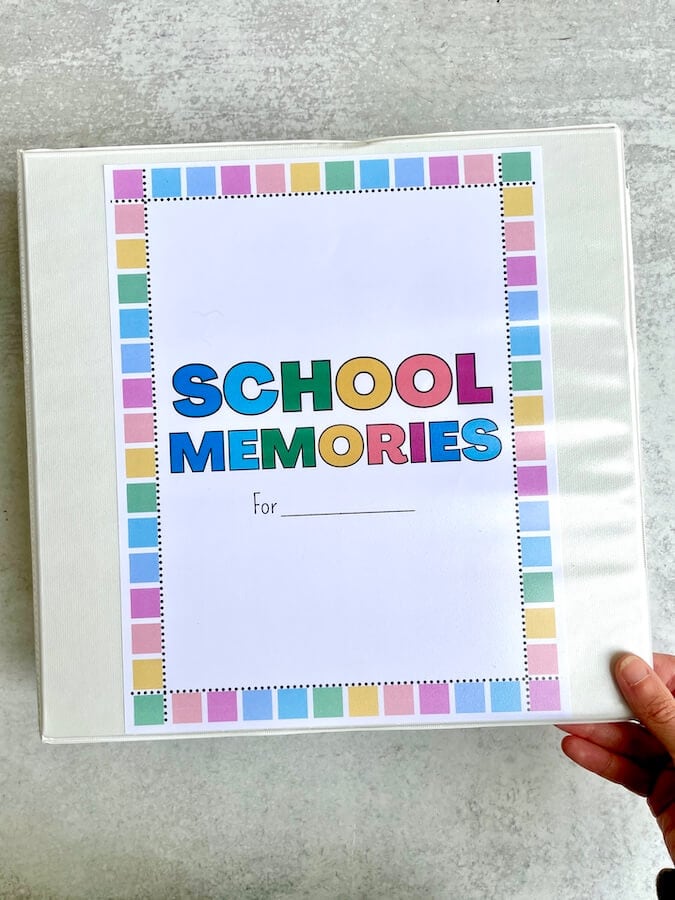 Creating Videos of Important Events
Do you want to skip the physical memory boxes altogether and go totally digital? Instead of making a school memory box, try creating videos of important school events instead. These can include:
School performances
Video of the first day of school
Field days
School trips
Sports events
Proms and dances
Once you've wrapped up filming for the year, you can create a video montage of all the highlights! Then, store the video files on Google Drive or iCloud and organize the folders by grade.
Expandable File Folder
If you like the file folder idea but want to skip the box, you could also invest in an expandable file folder like this one (affiliate link). You can label the tabs by grade and store bulkier items in the empty slots towards the back. You get the same benefits, but the expandable file folder might be easier to compress and store.
Free School Memory Box and Binder Printables
Want to make your own keepsake box or binder for your kids' school memories, photos, and certificates? I've got TONS of different free memory box printables for you to choose from! Whether you want to create a 3-ring binder or a clear tote box, you can find some printable PDF templates to make it super easy!
Just click the dark teal links below the school memory box printables that you want to use… and don't forget to grab the printable divider tabs, too!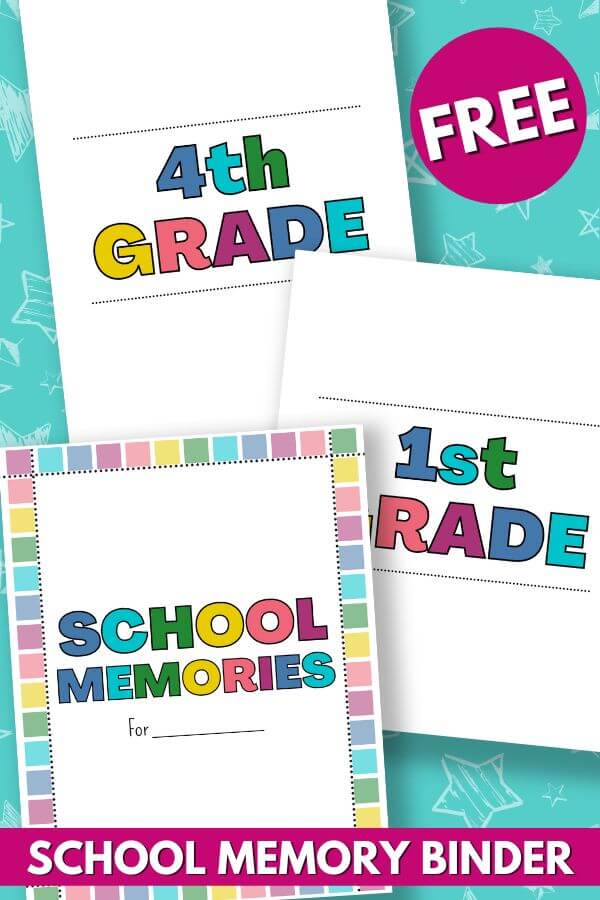 Colored School Memory Box PDF for Pre-K through 12th Grade – CLICK HERE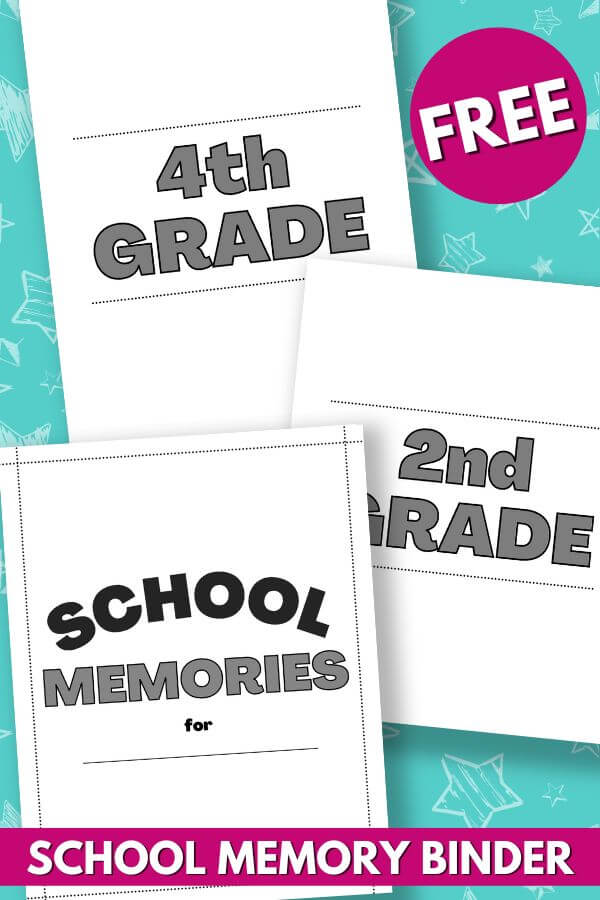 Black and White School Keepsake Box PDF – CLICK HERE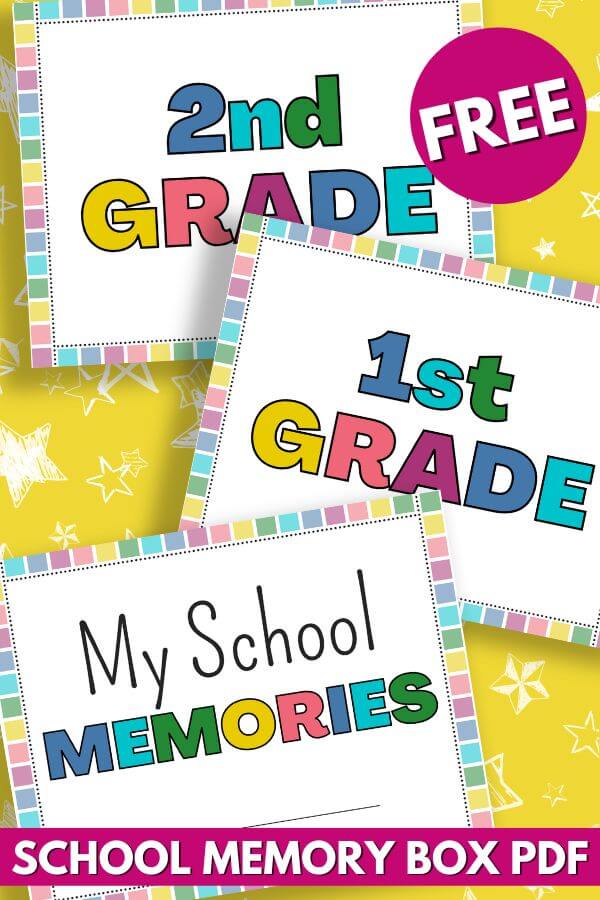 Colorful School Memory Box Printables – CLICK HERE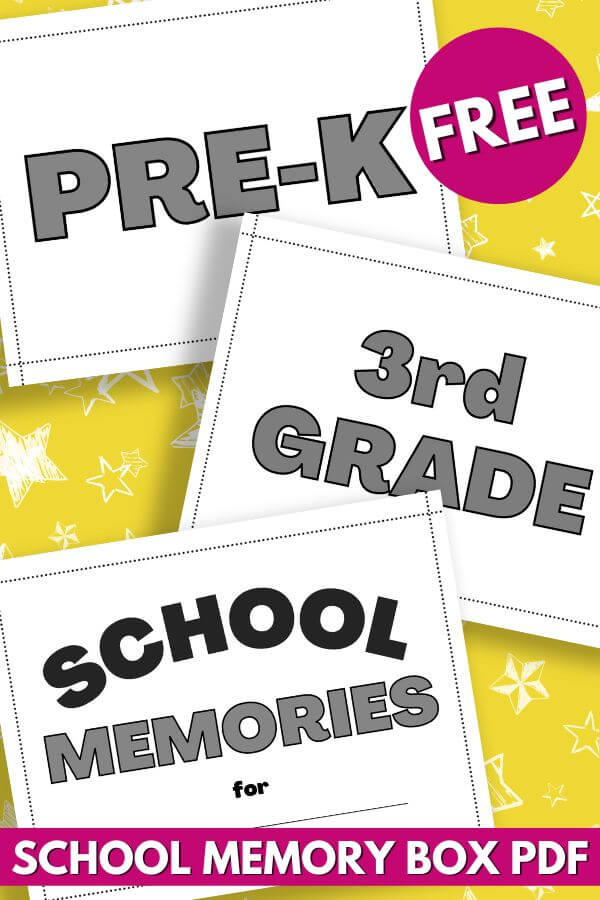 Black and White School Memory Box PDF – CLICK HERE
Printable Grade Level Divider Tabs – CLICK HERE
I hope you LOVE the free printables to create your own kids memory box! How do you like to preserve your child's school memories? Tell me in the comments!
And be sure to check out some of my other free school printables for kids:
And don't forget to PIN this post for later: