Doing a last day of school interview is a great way to record all of your kids memories and the fun facts they learned each year. Grab the free printable end of the school year questionnaire now!
Sometimes when you're in the middle of motherhood, it feels like a day goes on forever.
But, if you have teens or tweens, you know that your kids grow up in the blink of an eye. And honestly, nothing makes you feel this way more than when your kiddos start going to school.
One of my most favorite school-related moments was always walking my daughters to their classrooms on their first day of school. But last year, when my youngest daughter told me it was okay for me not to walk her all the way in, I just about cried my eyes out.
I mean, it's good that she is coming into her own and gaining her independence. But at the same time, it leaves me wondering where the time has gone? The good news is, just because it feels like time is flying doesn't mean there isn't plenty of time to document special moments with your little ones.
And trust me, I'll be taking this opportunity for as long as the kiddos will let me.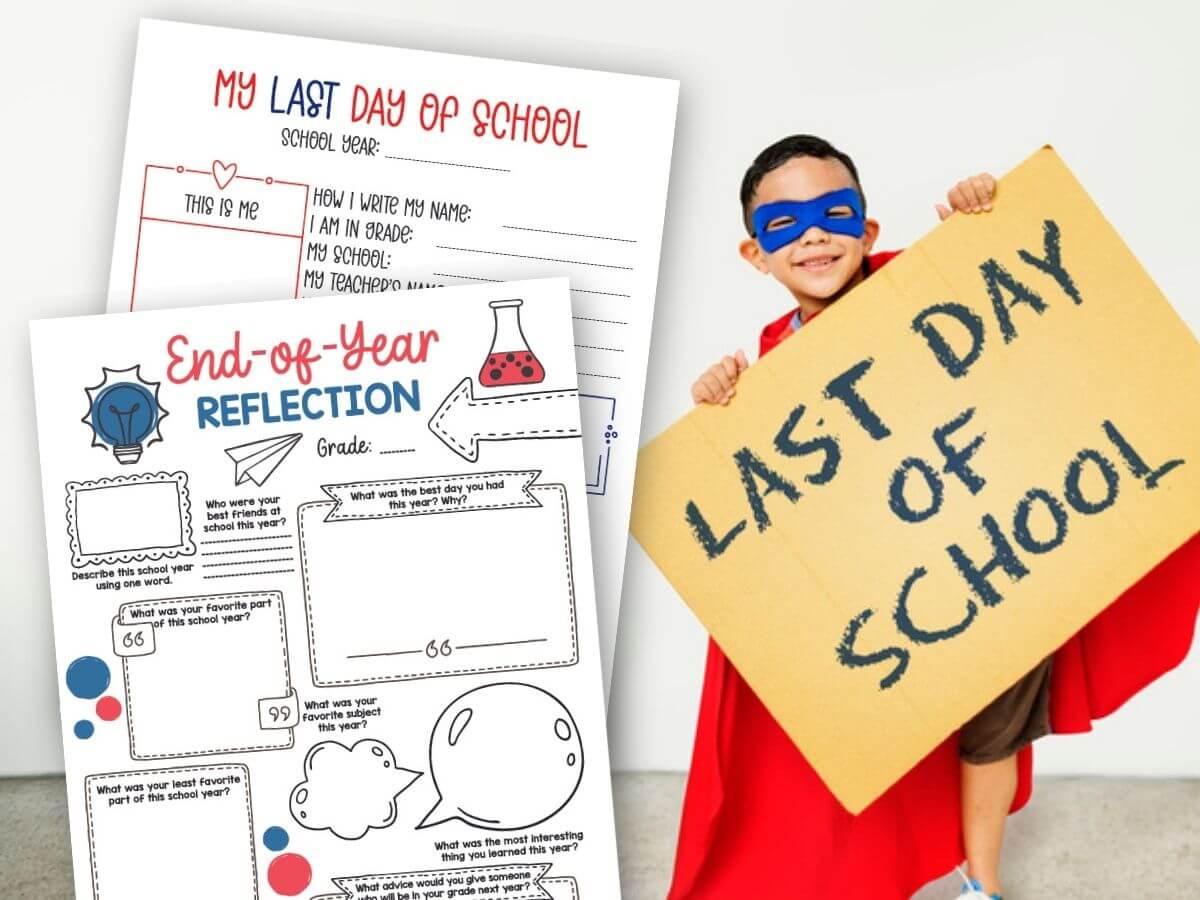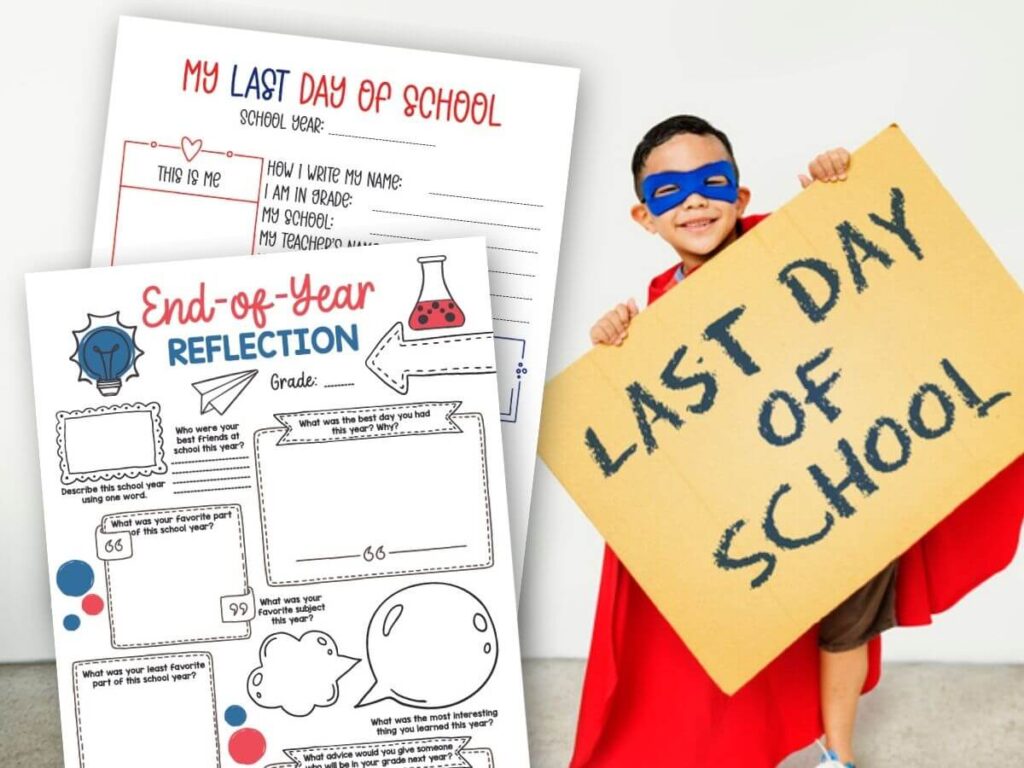 One of the most fun ways to do this is to complete the last day of school interview.
If you've never done one before, get ready to have a blast, learn a little something new about your kids, and create memories you'll look back on for years to come.
Why You Should Add an Interview to Your End of the School Year Activities
There are many different ways to kick off the summer and get ready for some fun in the sun. But one of the best? Have the kids get in on the last day of school interview to celebrate another year of being older, wiser, and leveling a grade up!
Sure, our daily dinner table conversations include questions about the kids' school days. But most of the time when we ask how their days were, they respond with a half-hearted, 'it was fine' before begrudgingly scooping up another bite of peas.
But by asking your kids questions from the last day of school questionnaire, you make space to hold all the memories: the mundane, the exciting, and lessons learned.
Honestly, this is just another great way to make your kid feel more loved and valued. I mean, who doesn't like to be asked about all their favorite things? But it's not just questions about colors, teachers, and friends. It allows them to reflect on their year and recall moments they may have otherwise forgotten.
Ideas for Your Last Day of School Interview
So, Amy? How do I get my kiddo to work with me on this printout that looks an awful lot like homework? Never fear my fellow mamas.
This printout doesn't have to just be a one-and-done. Instead, use it as a part of a fun, hands-on activity with your kids to create and record memories you'll never want to forget!
Create a School Memory Box
Don't get me wrong, I know as parents we already have 1,002 art projects, notes, and graded homework covering out refrigerators and kitchen walls.
But this printable last day of school interview is one you're going to want to make special space for. In fact, creating a school memory box (or binder) might just be the answer you were searching for to finally get things organized.
A year or two ago, my daughter's teacher sent her home with a binder filled with all the wonderful works of art and activities that didn't come home during the year. And I've got to tell you, I love looking at those papers and seeing how my daughter's writing and art skills have changed over the years.
And she likes going through the binder and reminiscing about her "younger days" too!
And, you can grab a matching set of FREE printable first and last day of school interviews for Pre-K through 12th grade at the end of this post! A perfect addition to your school memory box!
Interview and Donuts
What's better than brunch? Coffee for you and donuts (or another treat) for the kids! Lord knows, at the end of the school year, you've both earned it!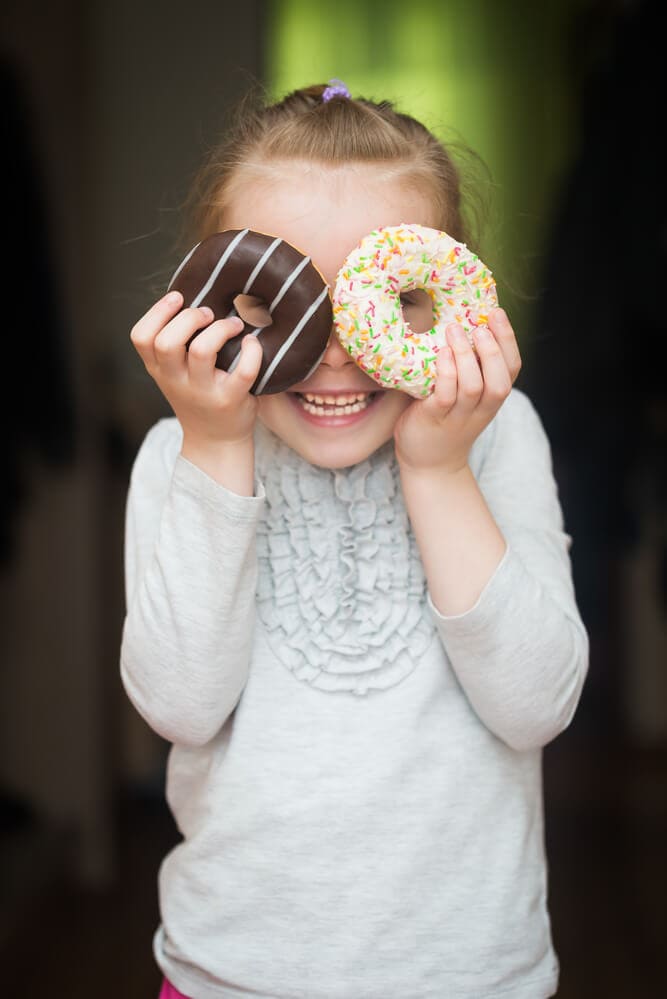 Taking the kids out for a fun breakfast treat for the last day of school to do their interview will be even more special than hanging out at home. You can even make the last day of school interview a real-life interview experience.
I don't know about you, but there's something about a tasty treat that gets the kids chit-chatting away. If you both enjoy it enough, maybe make it an annual thing and start a new tradition.
Create a Scrapbook Page
Get your kid's creativity flowing. Try using this printable last day of school interview as the inspiration to create a school scrapbook with one page for each year.
Use the printable as the main page focus, and then hit up your favorite craft store with different stickers, decorations, and pages to theme each new year.
Maybe there are photos from special days at school like a holiday recital or the 100th day of school that can be added to keep the memories fresh in their mind. At the very least, make space for that year's school photo.
You're both going to love being able to flip through these pages as the years go by and reminisce on all the good old days.
Video Your Last Day
In the age of technology, there is nothing you can't do, including vlogging (video logging) your kiddo's interview experience. This is a fun way to commemorate your kid's last day of school by having all eyes on them. Or at least your phone camera.
It's one thing to see how your kids change throughout the years on paper, but to be able to look back and watch a video recording is something really special. Who knows, maybe you'll use it for a future graduation slide show or a mildly embarrassing (but adorable) future wedding tribute.
I mean, come on, who doesn't love behind-the-scenes bloopers?
Last Day of School Interview Questions
Want to interview your kids on the last day of school this year? You can use the free printable questionnaire worksheets below, or if you want to do a video interview, here are some awesome questions you can use:
End of the Year Questionnaire for Elementary School Kids
These questionnaire ideas are great for younger elementary-aged kids, because most of them only require a one-word answer. You can even let your kiddos fill in the interview questionnaire themselves to document how their handwriting changes from year to year: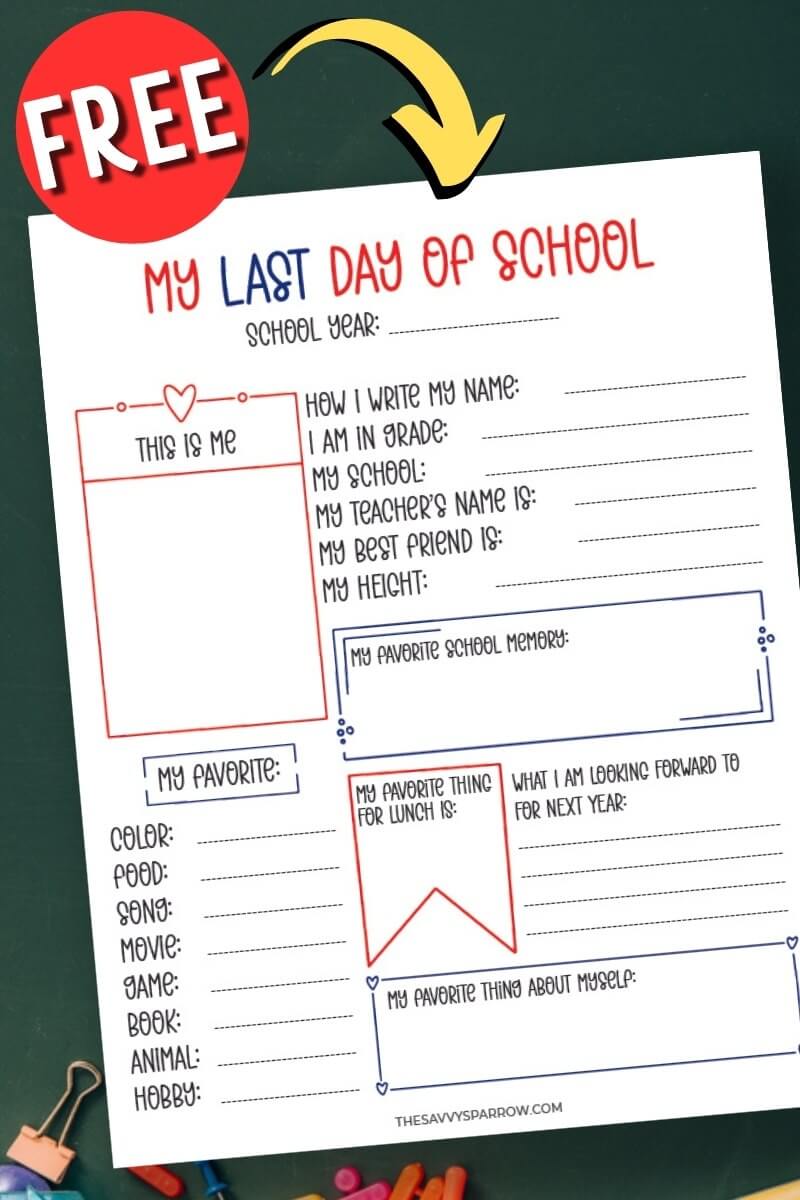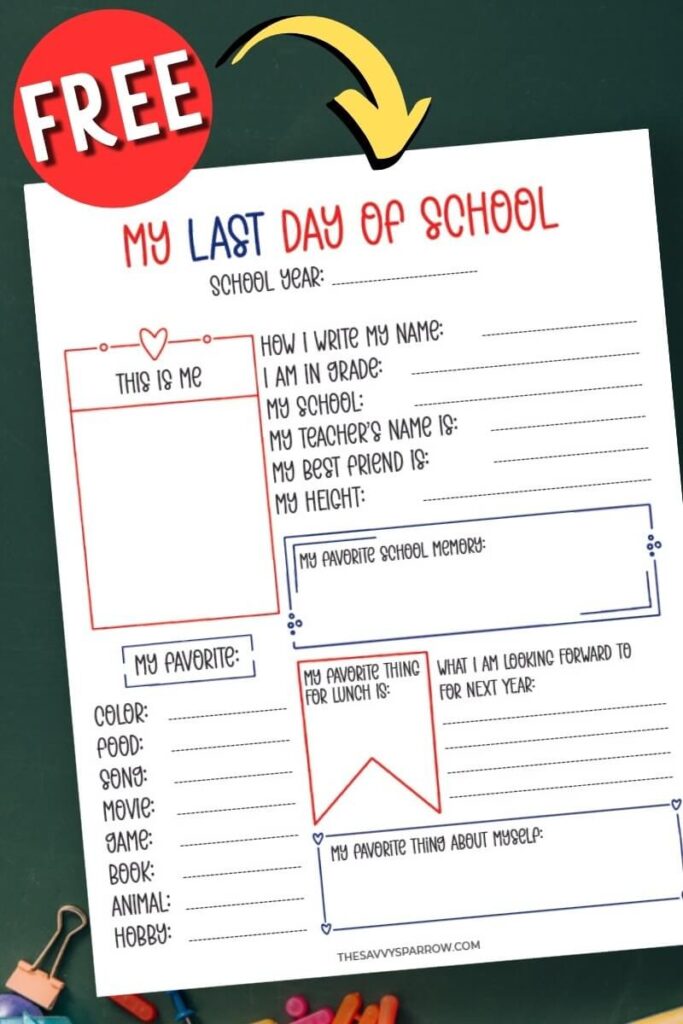 How I write my name
I am in grade
My school
My teacher's name is
My best friend is
My height
My favorite school memory
Favorite color
Favorite food
Favorite song
Favorite movie
Favorite game
Favorite book
Favorite animal
Favorite hobby
My favorite school memory
My favorite thing for lunch is
What I am looking forward to for next year
My favorite thing about myself
End of the Year Reflection Questions for Kids
As your kids get older, you may want to dig deeper with your end of the year questions. Rather than focusing on their favorite color or hobby from that year, try asking questions that require a bit more thought.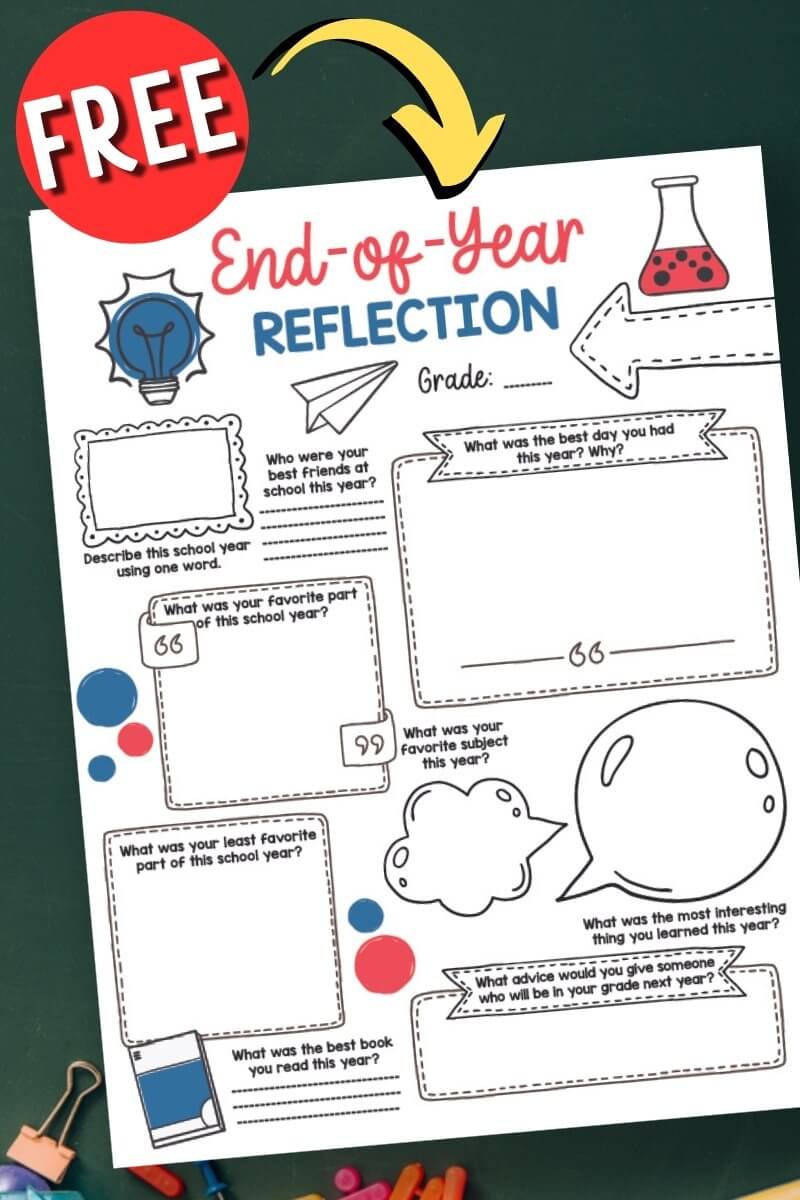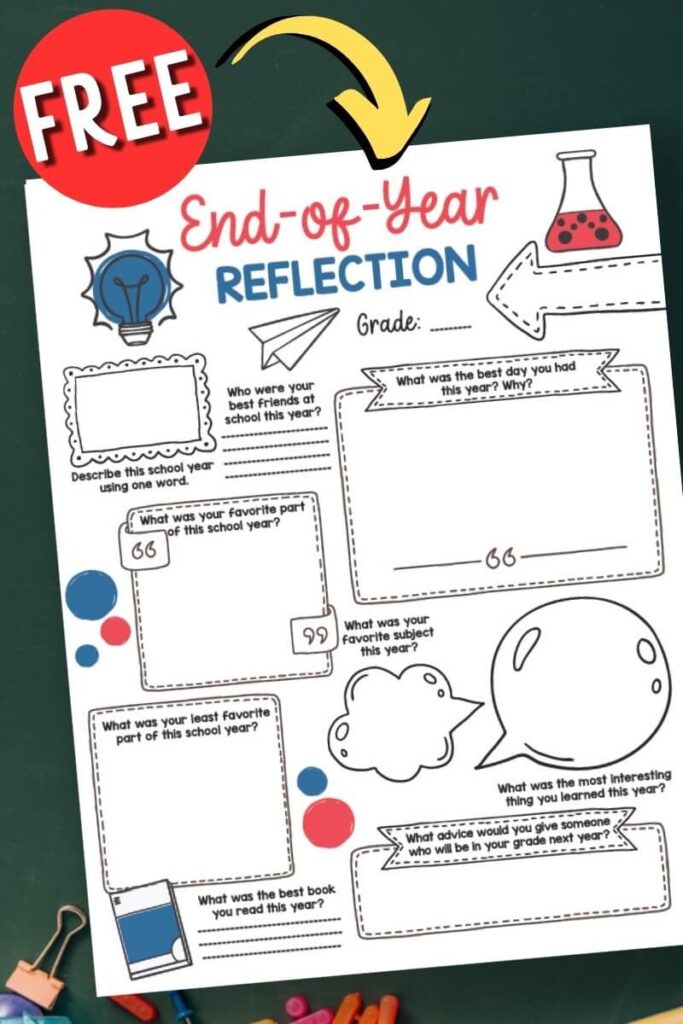 Here are some awesome end of the year reflection questions for your interview:
Describe this school year using one word.
What was your favorite part of this school year?
What was your least favorite part of this school year?
What was the best book you read this year?
What was the best day you had this year? Why?
Who were your best friends at school this year?
What was the most interesting thing you learned this year?
What advice would you give someone who will be in your grade next year?
What is one thing you wish you would have done differently this year?
What is the most valuable lesson you learned this year?
Free Printable Last Day of School Reflection Worksheets
Want to grab some awesome free printable last day of school interview worksheets? You can download these cute questionnaire PDFs to add to your school memories! Just click the link down below to download and print your own end of the year interview PDF!
Get the Free Printable Last Day of School Interview Worksheets HERE!
Matching First and Last Day of School Interview PDFs for PreK to 12th Grade
If you're looking for more of a matching set of first and last day of school interviews, then I've got this super cute set available for FREE in my freebies library!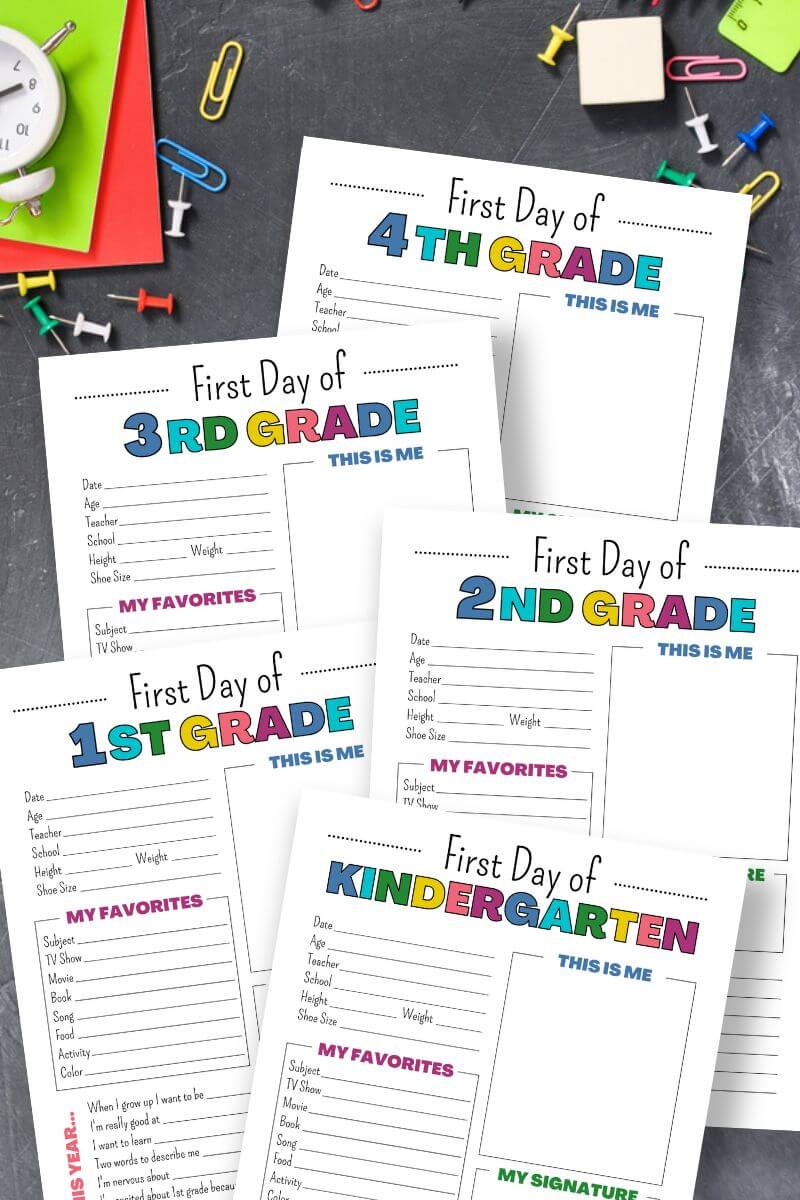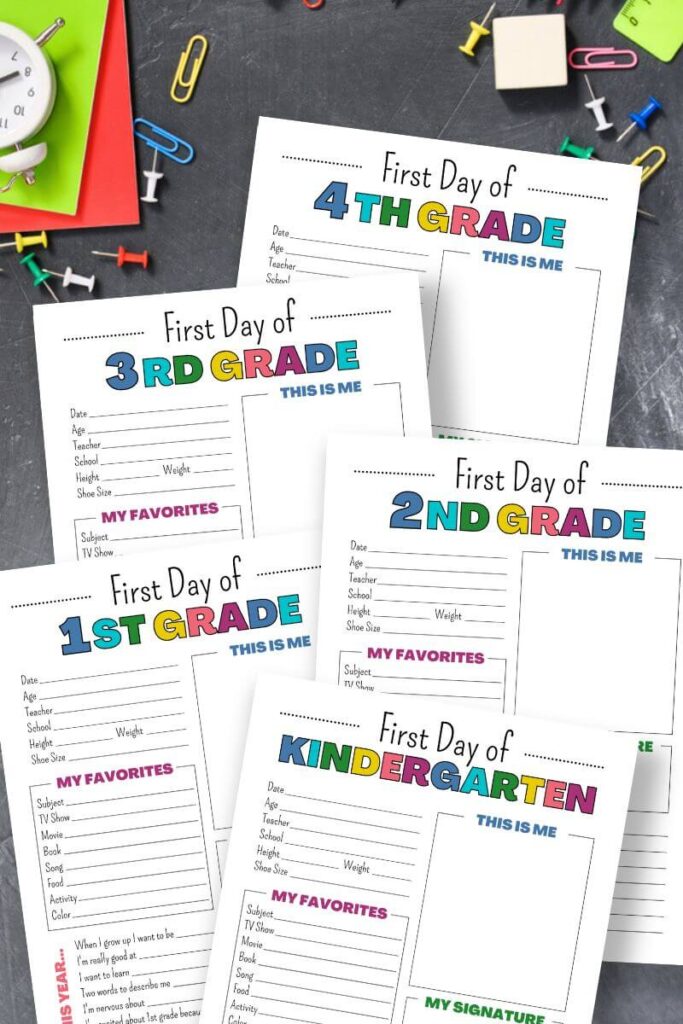 When you sign up for my free email newsletter, I'll send you the link to my entire FREEBIES library as a gift! There's over 60 free printables in there to help you with home management, planning, kids' activities, holidays, and more!
Just use the form below to sign up for the newsletter and then check your email inbox to confirm your subscription to the email list!
Have you ever done a last day of school interview with your kids? Or maybe you've only done first day of school interviews for kids? What are your favorite questions to ask? Drop me your ideas in the comments down below.
And if you loved this interview printable, then be sure to check out my printable questions to ask kids! These make awesome dinner table conversation starters or fun road trip games to pass the time in the car!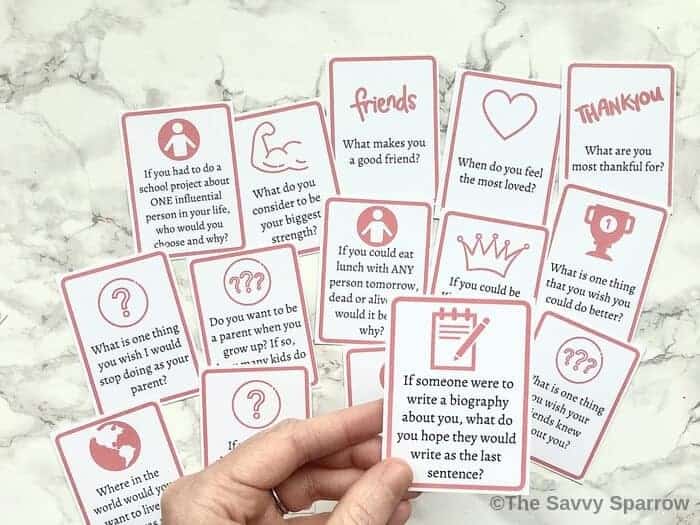 And don't forget to PIN this post for later: