This is my true story about the life-changing, near death experience that taught me about not sweating the small stuff…
A big pile of dishes in the sink.
Dirty laundry overflowing from the hamper, even though you just managed to finish all the laundry yesterday.
A flat tire on your way to drop the kids off at school.
Stepping on 2 Legos that you asked your kids 5 times to pick up.
The grocery store being out of the one item that you needed to finish baking your husband's birthday cake.
Still sitting in the waiting room of your doctor's office at noon, even though your appointment time was 11:15am.
I can go on and on about the little stresses that you may encounter every single day.
And, for some people, it's easy to fly off the handle or get upset about each and every one of life's small setbacks.
But I don't.
I learned a long time ago about not sweating the small stuff.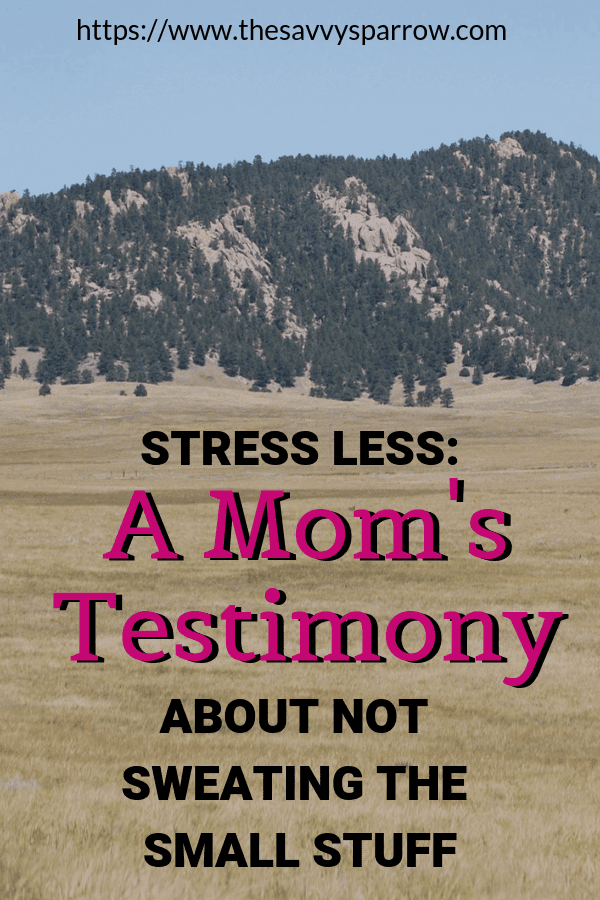 Here's my story:
A Mom's Testimony About Not Sweating the Small Stuff:
I Should Be Dead.
I had just given birth to our second daughter, Kenzee. Two healthy and beautiful girls, praise the Lord! The plan for our family of 5 was coming along nicely. Then, about 2 weeks postpartum, I started feeling off.
I had a chronic headache that lasted about four days and just would not go away no matter how many ibuprofens I took.
I was dead tired. Yes, I had a newborn baby and was not getting near enough sleep, but I was completely devoid of energy. All I could manage to do all day was sit in a recliner, rocking and nursing my brand new baby girl.
I started seeing black fuzzy dots. You know when you stand up and feel faint and dizzy? That's how I felt periodically for four days. I just assumed that I was not consuming enough calories to make up for all of the calories that I was passing on to my baby, so I would chug orange juice. I actually fainted for just a few seconds one time.
I had an extreme case of the chills. It was like nothing that I had ever experienced before…
Multiple times a day for those four days, I would start shaking uncontrollably for a period of about 10-15 minutes. I was FREEZING. And it wasn't even cold. I would literally shake so bad that I could not steady my hand enough to hold a cup of hot tea. I know because I tried.
My Mom chalked it up to my postpartum hormones being out of wack, which seemed logical to me. After all, I remember thinking to myself that this must be what menopause is like, only instead of getting hot flashes I'm getting cold chills.
In fact, for four days I explained away all of my own symptoms.
Of course I was tired and had no energy… I had a newborn baby.
Of course I had a chronic headache… that's what happens when you don't get enough sleep.
Of course you're getting dizzy and weak… you're not eating enough to keep up with all of that nursing.
Of course you're having chills… your hormones are in overdrive since you just had a baby.
To me, all of my symptoms made sense.
I was healthy as a horse, and I always had been. I didn't want to admit that something could be wrong with me, because I had always been such a strong person. I just figured that I wasn't doing something that I should be doing, and that I could fix how I was feeling myself.
I didn't know what to do with weakness, and I was not used to failing.
But, at the suggestions of my family, I called my Doctor anyway.
It was 4:00pm on a Thursday when I left a message on the nurse's line, explaining the symptoms that I had been having the previous four days. I received a call back almost immediately.
The nurse told me that I should get to an Emergency Room right away. What? Why? "Because based on the symptoms that you've described, you could have kidney failure or need an emergency hysterectomy", she said.
What?
I'm 27 years old, and you're telling me that I might need a hysterectomy.
But, do I really need to come in right now, or can I just wait until tomorrow when I have to bring my daughter in for her 2 week checkup? Kill two birds with one stone?
After all, the hospital was a 90 minute drive away in a different state.
Ultimately, we decided to heed the doctor's advice and make the long trip to the hospital.
It was 6:30pm before we arrived at the ER. I was quickly checked in and taken to a room. After explaining all of my symptoms, I was barraged with tests, CT scans, and IVs.
Well past midnight, and after a lot of inconclusive tests, they decided to perform a gynecological exam (which was a last resort since I was only about 2 weeks postpartum and you're not really supposed to mess with that area until 6 weeks after baby).
As I was laying on the table, feet in the stirrups, I suddenly felt another chill coming on. Just like the four days prior, my body starting shaking uncontrollably and I felt like I was standing naked outside in the middle of a blizzard.
The nurse took my temperature.
I had never thought to do that during my cold spells.
She looked at the thermometer… showed it to the doctor… took my temperature again.
It wasn't until days later that I found out my temperature had been 110 degrees. No, that's not a TYPO. 110 degrees.
Next thing I know, two nurses and a doctor are pushing me up to the ICU.
It's now 2:00am.
My husband and two daughters have been at Motel 6 down the street since 8:00pm. Not knowing how long it would be until I had a diagnosis, and wanting our two girls to get a good night's sleep, we had decided that was best.
I expected to be back in the motel with my family by this time.
But, no…
"Amy, we need to bring your temperature down, so we're going to wrap these arctic pads around your body."
I remember thinking, "Yes! These will help warm me up!".
I was equating the word "arctic" with heat. (This was the only instance in which I was aware of my brain shutting down due to my dangerously high temperature.) I was fully alert during the entire time.
It turns out that arctic pads are actually giant rubber bags that are attached to a water hose to consistently circulate ice-cold water through them.
"Nope, brain, these will not warm you up."
And they were wrapped all over my entire body.
I laid there for exactly 38 minutes. I know because I was watching the clock on the wall in front of me.
And then it was over.
And I finally fell asleep.
God is GOOD.
It wasn't until the next morning that I realized the severity of my situation.
My husband and daughters were there.
The nurse had told my husband that I was not doing well, and that he needed to come in so that we could "get our affairs in order".
He had just spent the night in a nearby motel with our two year old and two week old daughters. He had quickly learned that he could brew hot water in the coffee maker to heat up bottles of formula. He was washing bottles in the tiny bathroom sink. He was single-handedly taking care of our toddler and newborn.
And now the nurse was telling him we needed to "get our affairs in order".
More doctors…
More tests…
More needles.. A PICC line.
I made it through the next several days, my ailments slowly getting a bit better with each passing day…
Eventually I was told that I had gone into septic shock and had heart failure. My temperature was the highest that the doctors had ever seen before.
My doctor used the word "miracle". He said that after having a temperature that high, I should have at the very least had severe and permanent brain damage.
He didn't say the words "You should be dead right now", but he didn't have to. I could tell in his voice and how he skirted around using that exact phrase.
I was truly blessed to be alive.
I had peripartum cardiomyopathy, a rare form of heart failure that occurs in previously healthy women at some point during pregnancy or soon after delivery. My heart muscle had become enlarged and was no longer efficiently pumping blood to the rest of my body.
I had sepsis.
I had anemia.
I had hypertension.
I had a temperature of 110 DEGREES.
And yet, after 8 more days in the ICU, I was able to walk out of the hospital.
Well, technically they pushed me out in a wheelchair.
On day 7, when I was finally able to get out of bed on my own and actually take a shower, I was in tears.
I remember sitting on the shower floor with the hot water beating down on me and sobbing and singing these words (from "Whom Shall I Fear" by Chris Tomlin):
"I know who goes before me,

I know who stands behind.

The God of Angel Armies

is always by my side.

The one who reigns forever,

He is a friend of mine.

The God of Angel Armies

is always by my side."
It was the purest moment of praise that I had ever experienced.
Not Sweating the Small Stuff…
At that moment, it didn't matter that I had a pile of dirty dishes waiting on me when I got home, or if my daughter's room was too messy to see the floor.
All that mattered was that I could take a breath…
And another one…
And another one.
Thanks to God.
Going through an experience like that changes you. It changes the way you view the world. And it changes the way you view the "small stuff".
I remember the long drive back home from the hospital (remember we lived an hour and a half away)…
When we finally turned off the main road and on to our little dirt road, the mountains behind our property came in to full view and, I swear, the sun had never bounced off of them so beautifully.
I was overcome by the majesty of our surroundings and by God's grace in preserving my body and brain, and I burst in to tears.
You see, throughout my whole time in the hospital, and even after finding out that my body was shutting down, I was never afraid of death.
And I'm still not afraid to die.
Yes, it does make me incredibly sad to think about one day leaving my family behind.
But I am not afraid of dying.
The idea of death does not make me stressed.
So, if I'm not stressed about death, then why would I stress about something as small as a hamper full of laundry.
God's got me.
And He's got you, too.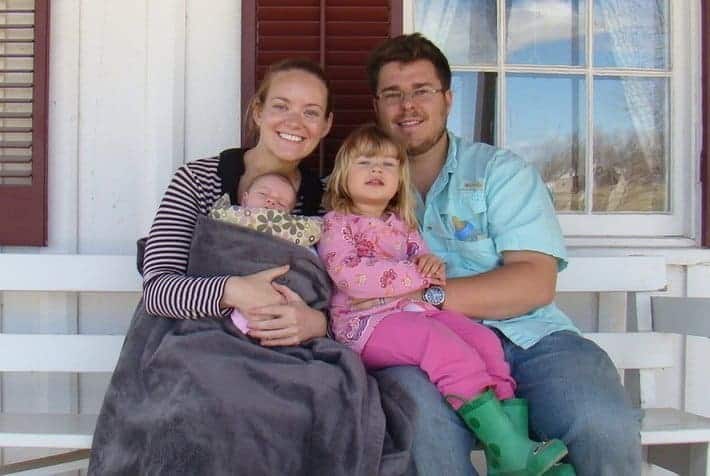 *If you enjoyed reading my story, please use the buttons down below to share it with someone who does stress too much!
And, you can check out this post about the 7 Life Lessons I Learned While Living in the Middle of Nowhere… another post about the unique circumstances of my life that helped me learn about not sweating the small stuff.