I used to live in the least populated county, in the least populated state in the US. Middle of nowhere, Wyoming. Right smack dab in the middle of a 50 mile radius where Verizon had no cell phone service. No, I do not hear you now. The tiny town that we called home had a population of 72 people. And you know what, I loved it. Living on the edge of the grid was a drastic change from the city life that I was used to. But I am forever grateful for the experiences that I had and the life-altering lessons that I learned from living in the middle of nowhere.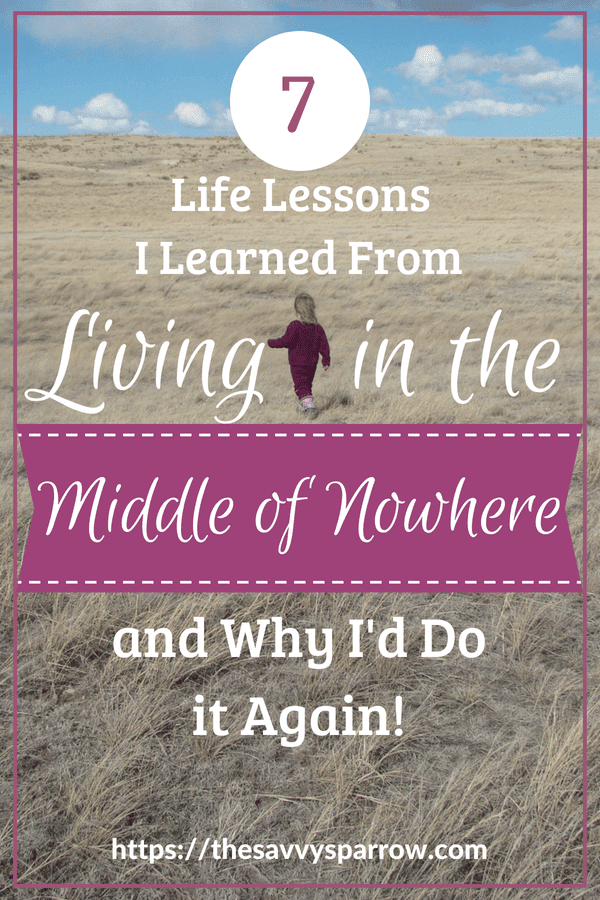 *This post may contain affiliate links, which means I may earn a small commission at no additional cost to you. Read my full disclosure here.
Yes, I learned how to kill a rattlesnake (cut its head off with a shovel and then bury it in the ground) and how to stretch barbed wire, but I also learned some invaluable life lessons. For those of you that haven't ever had this unique experience, let me share with you some of the most important nuggets of wisdom that I took away from my very rural existence.
The Jones's Don't Matter
Who are the Jones's anyway? And why is everybody so worried about keeping up with them?
If you live in a very rural area, your answer to those questions will probably vary greatly than that of someone living in a more urban area. When I was living in Wyoming, I didn't know the Jones's. They didn't exist. There is not one single person or family that I can recall that seemed to be the benchmark for success. Instead, everyone was on a level playing field, no matter the size of your bank account (or the brand of your tractor 🙂 ). Neighbors helped neighbors without judgement. It was refreshing.
Living in the middle of nowhere, there is no pressure to drive a nice car or have the best wardrobe. In fact, the car that I drove while living in Wyoming was a 25 year old Toyota Camry station wagon. Blue book value: $850. Not kidding. It ran great and got me from Point A to Point B, which was often an 18-mile drive down a dirt road. It survived gravel the size of small boulders, and the hood withstood the weight of two very defiant goats. And not one person looked down on me.
That experience was a complete 180 from Knoxville, where we now call home. I no longer have my 25 year old station wagon (it didn't survive the cross country trip). And the pressure to be wearing the right outfit and carrying the right handbag is back. Though now, after experiencing life without the Jones's, I am much better at thumbing my nose to them.
Social Media Isn't Everything
Internet was a privilege in the middle of nowhere. And it wasn't fast or reliable or in unlimited supply. Our internet access was confined to satellite providers. There was no cable internet available for miles. And our usage was completely cut off when we reached our monthly limit, which was less than 1 GB of data. Eeek!
So naturally, one of the first things to go was social media. Okay, we didn't completely give up Facebook and Instagram, but we didn't spend hours on social media like so many people do now. When we did get on Facebook, it was to connect with people we truly cared about. People that we had a real interest in. We didn't have the luxury of scrolling through hundreds of posts from hundreds of "friends". We unfollowed just about everybody to be able to focus on those with which we had true and real relationships.
And you know what, we survived.
Be Grateful for What You Have Even if it isn't Much
True story: It took me two full weeks to get telephone service at our middle of nowhere house. I went back and forth with two different phone companies, each of them telling me that the other serviced our address. Neither really knowing where the heck we actually lived. And remember, we lived right in the middle of a Verizon no-fly zone, so I had to drive to the outskirts of the nearest town (about 15 miles away) each and every day to call these companies and try to figure out who actually provided the telephone service. When we finally got a working landline, we rejoiced!
Silly, I know. Most people don't even have land lines now. Cordless home phones have been replaced by $1,000 iphones. But when all you have is the bare essentials, you learn really quickly to be grateful. We weren't worried about upgrading our 6 month old cell phones to the latest and greatest model, living in the middle of nowhere we were overjoyed just to have a phone that hooked into the wall and made outgoing calls.
Don't Just Live Life, Cherish It
About six months after we moved to Wyoming, I almost died, literally. Sepsis and heart failure and a myriad of other conditions hit me all at once…
You can read more about my near-death experience and how it taught me to not sweat the small stuff here.
When I got out of the ICU after a nine day stay, and we finally turned off the highway onto our little dirt road, I burst into tears. The Doctors had told me that it was a miracle that I had survived the previous few weeks. They had no other explanation. Just that it was a miracle. So when our tires touched down on our home turf, I was overcome by gratefulness and the beauty of life. And the beauty of the middle of nowhere and the nothingness that comes with it. I looked at the sun shining on the mountains and the smiling faces of my family and I was completely overcome with joy.
Because we were living in the middle of nowhere during my sudden and extreme health scare, there was no social event or fast-paced life to rush back to. I was able to really slow down and focus on what matters most in life. And I was able to recognize that life is truly a gift.
A Slower Life is a Better Life
Slow down and enjoy life. So many people are busy rushing from one place to the next, that they don't ever have time to stop and look around at what is passing them by. People that live in the middle of nowhere have one speed: slow as molasses. There is no Target or McDonald's down the street to run and grab toiletries or a quick lunch. The kids don't have dance class followed by Girl Scouts followed by guitar lessons. Time is enjoyed because there's really not too much to do with it.
I think that's why I don't enroll my kids in a gazillion different activities each semester. Living in the middle of nowhere taught me how to just be still. School and work already take up so much time. Why schedule your already limited time to the hilt? Hit the pause button. Read a book. Go for a bike ride. Stop and smell the flowers.
Don't Get It Twisted!
Your priorities, that is.
Living in an urban area surrounded by "stuff", it's easy to let your priorities shift to things that don't matter, without even realizing it.
Family, Friends, and Faith can easily be replaced by Money, Money, Money. Driving by clothing store after restaurant after car dealership can easily distract you from what truly matters in life. Living in the middle of nowhere there are no distractions. There's just you and your family and a whole bunch of land and, in my case, antelope. Yes, in Wyoming the antelope outnumber the people (or so I was told!).
In Wyoming, it was easy to drown out the distractions and keep my priorities straight.
What You Need vs. What You Want
Living in the middle of nowhere, you learn quickly the difference between a need and a want. (Plus, you're not exposed to a lot of advertisements and store fronts, so it's easy to naturally want less).
True story: While living in Wyoming one April, I got stuck at home in a blizzard alone with my two kids. Just me, my 2 year old and my 4 year old, and a bunch of animals that I was responsible for keeping alive. The rest of my family was away at a convention in sunny Las Vegas. Fair? I think not. 🙂
We didn't have any power for 3 days and the snow was 22 inches deep. And with my 25 year old Toyota Camry station wagon and snow drifts taller than the house, I wasn't going anywhere.
At that moment, I didn't need a fresh pizza delivered to my door (though my kids would disagree with me!). I just needed to be able to feed us something, and I was super grateful for the gas stove that I could manually light to heat up canned soup. And I didn't need a tv with 300 different channel options. I just needed to stay warm, and thankfully there was one room in our house that had forced-air heat, so that we were able to keep warm even without power.
I learned very quickly in those 3 days what you actually need in life. Everything else is just a want.
Living in the Middle of Nowhere – Give it a Go!
You would think that such a drastic lifestyle change would have you missing all of the conveniences of urban life – A huge selection of restaurant choices, multiple different clothing store options, same-day delivery on just about anything you could ever order online, cell phone service.
But it doesn't.
You adapt very quickly.
And the super rural life changes you. If you feel like you're in need of a reset… If your priorities are screwed up… If you feel like you're trapped on a hamster wheel in a never-ending rat race… try living in the middle of nowhere!
Even now back in city life, I find myself itching to return to the vast nothingness on some days. New Zealand was giving away acres and acres of farm land to foreigners to come and work a few years back, and I was tempted. The crazy, off-the-wall, uproot-your-life adventure bug bit me, and now I'm hooked. For now though, I guess it's just working hard and saving for an RV to live the nomad life in retirement!
One piece of advice, though: Make sure that there are enough work opportunities wherever you decide to settle. (Lack of employment and income is what ultimately drove us back to the city).
Related Posts:
Do you have any experience living in the middle of nowhere? I'd love to hear about your rural existence! Drop me a comment below so we can compare notes! 🙂 . And be sure to subscribe to my newsletter to keep up with what's happening here at The Savvy Sparrow!
Want to read more about living in the middle of nowhere? Check out these highly rated books on life in rural America
: