We recently moved to a new home and did a complete furniture swap. I'm talking new beds, dressers, couches, coffee table, and an office desk. The only furniture that made the new-home cut was our existing master bedroom furniture and dining table. And we did it all on a budget. We didn't walk into an overpriced furniture store and rack up a bunch of debt. No, we got creative. We shopped for gently-used and new furniture online, updated some fabulous garage sale finds, and even broke out the power tools to build a beautiful piece from scratch, all of which resulted in a savings of over $5,000! How did we refurnish our home without blowing our budget? Read on for my tips on how to save money on furniture.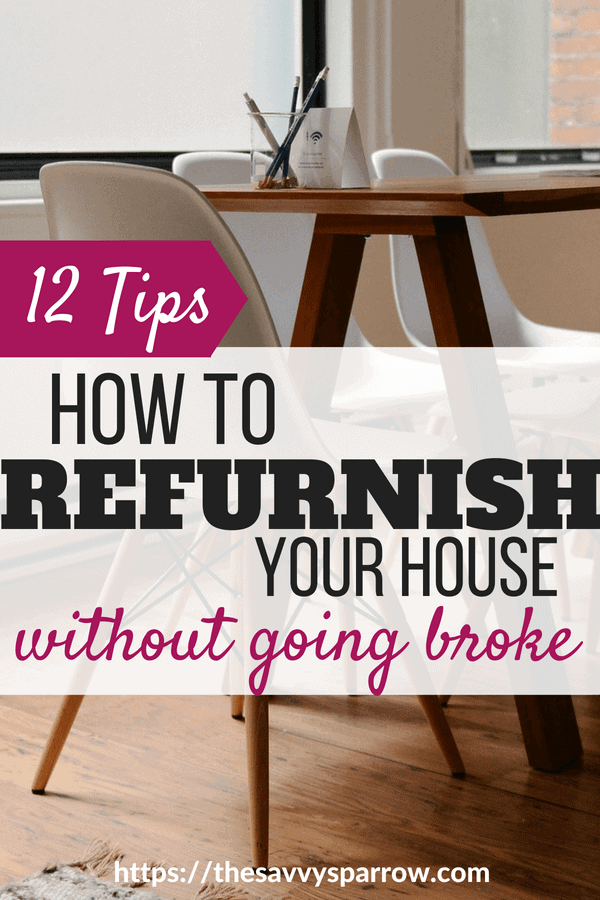 *This post contains affiliate links, which means I may make a small commission at no additional cost to you. Read my full disclosure here.
Buy Gently-Used to Save Money on Furniture
Craigslist
Craigslist is a great place to find used, quality furniture for cheap! Prices and selection vary depending on your market, but I've been super successful at scoring some beautiful pieces from Craigslist. Like this trundle bed and matching dresser that we recently bought for my youngest daughter: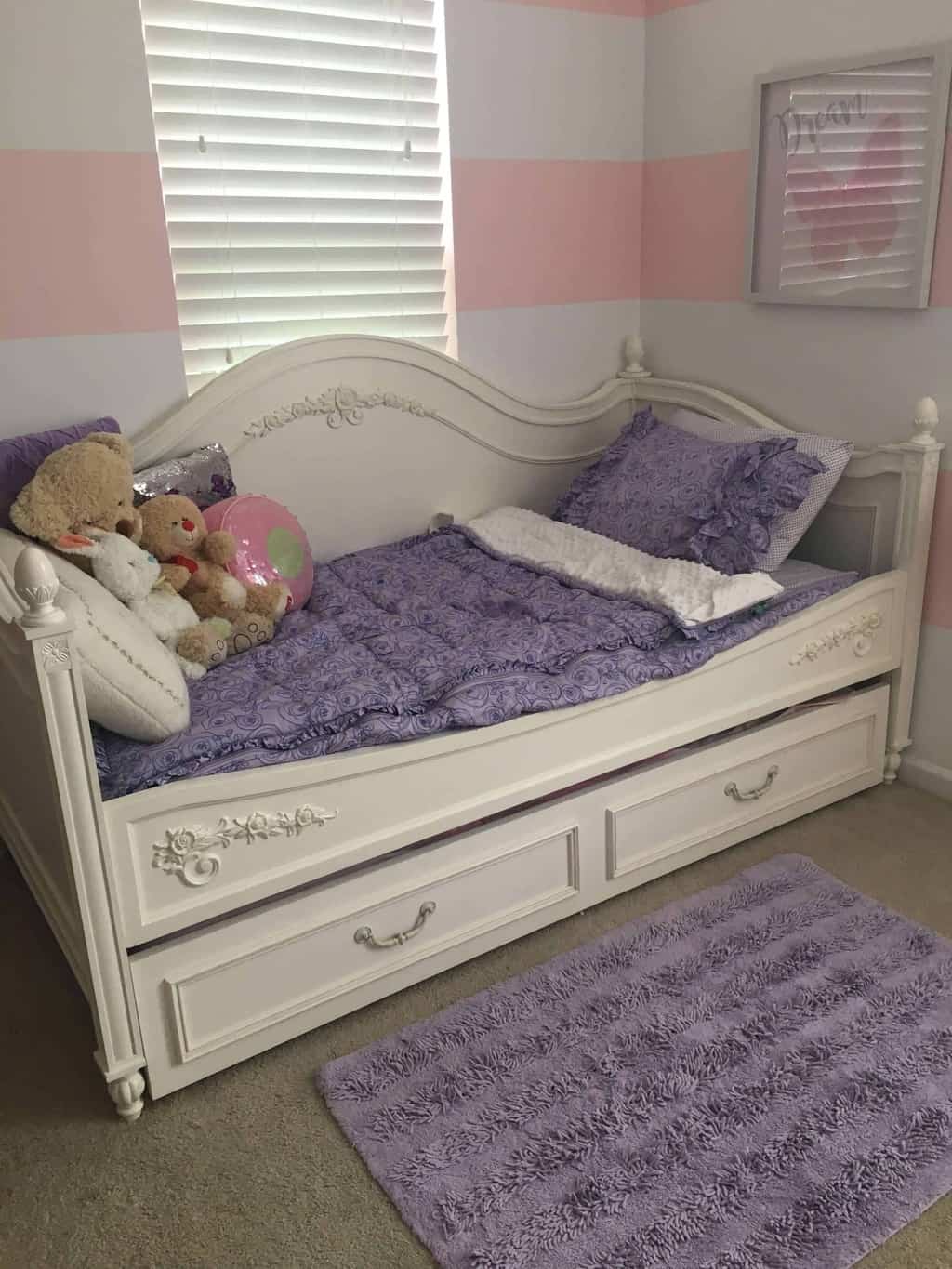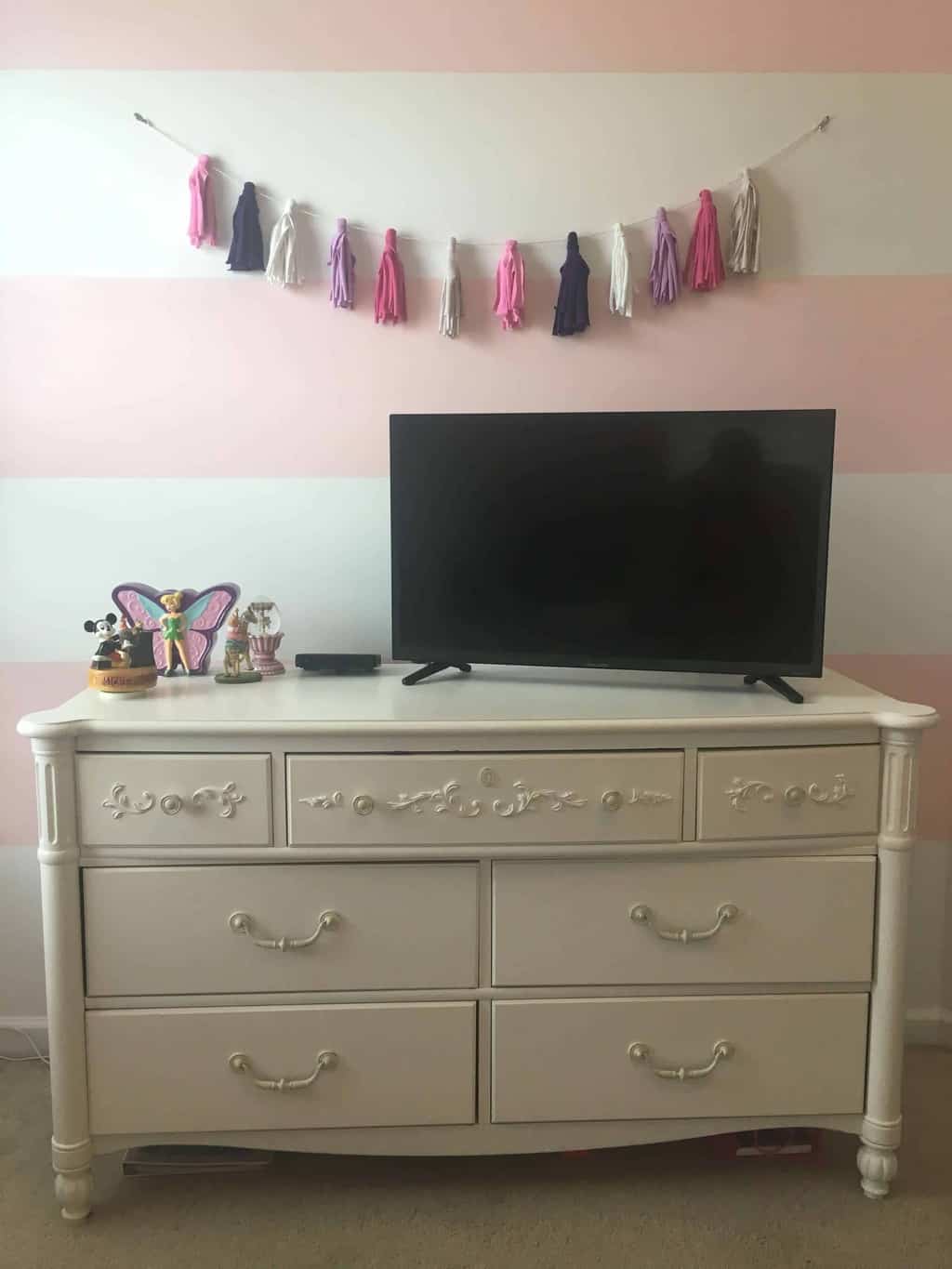 We scored the trundle bed with mattress, dresser, and mirror for $500! And the same exact set was still selling online for over $1,500. It's super high quality (dovetail drawers, solid wood, etc), and my daughter absolutely loves it. And we love the savings of $1,000.
Want to make your own fabric tassel garland like the one shown above? Go here for my full tutorial!
Facebook Marketplace
Just like Craigslist, you can find some amazing furniture deals on Facebook Marketplace. Search for your favorite brand names or for more general search terms like "loft bed". That's what I did for about 4 months before coming across this amazing full size loft bed with built in desk and vanity. And, did I forget to mention it's Pottery Barn!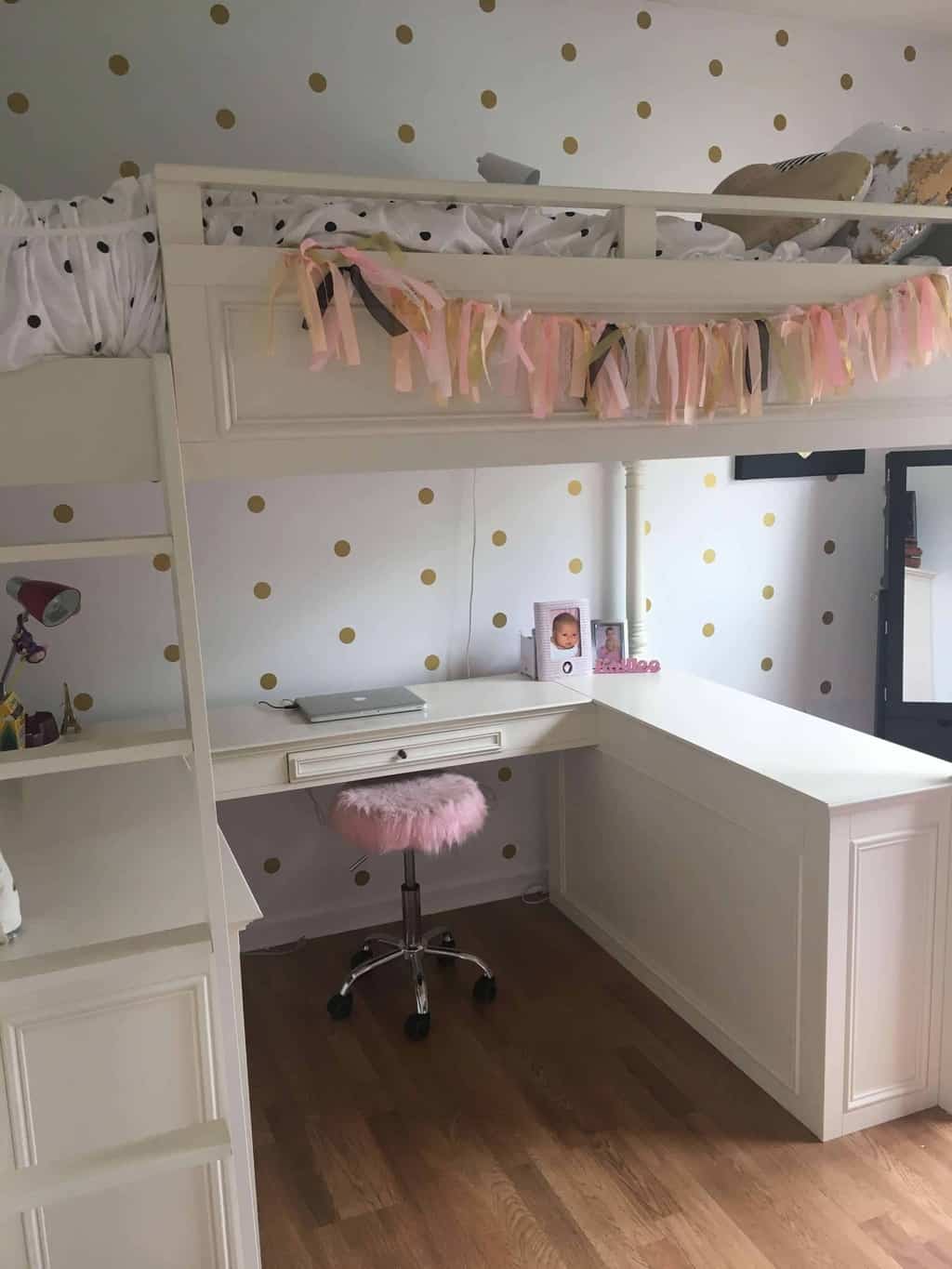 When we bought this loft bed the exact same one was still listed on the Pottery Barn website for $2,299. We paid just $1,000. Plus, we saved shipping costs of $399 and 9.25% in tax, which comes to a savings of $1,947.
My oldest daughter had been wanting a loft bed for a while and when I saw this one I knew that it was a great deal… Only problem was it didn't come with a dresser (and Pottery Barn has a unique "white" paint color that is hard to match). So, what did I do? I scoured Amazon
and found a close match!
Love the polka dot walls? Go here for my wall decal tutorial to learn how I applied them in perfect rows!
Garage Sales
You know what they say, one man's trash is another man's treasure. And you can find some great treasures at garage sales to save money on furniture. You may not find exactly what you're looking for, but keep an open imagination and visualize what you can do to a cheap furniture piece with a little bit of elbow grease.
We recently found a beautiful oak 4-poster headboard and footboard at a garage sale for only $15. We didn't need a queen sized bed, but we did need 4 wooden balusters to use on a DIY coffee table (which are about $100 each!). So, we bought (for a steal) the $15 bed and cut off the tops of the 4 posters to use on our coffee table build. Voila! We saved $385!
DIY to Save Money on Furniture
Build Your Own
If you're handy (or you have a husband who knows his way around a power tool!) you can build your own furniture! We have a beautiful antler chandelier hanging in our living room, and we needed a grand coffee table to stand up to the scale of the chandelier. We searched furniture stores and, let me tell you, large-scale coffee tables are ex-pens-ive! We couldn't find one for under $699! So, we searched online for "DIY coffee tables" and found plans to build our own.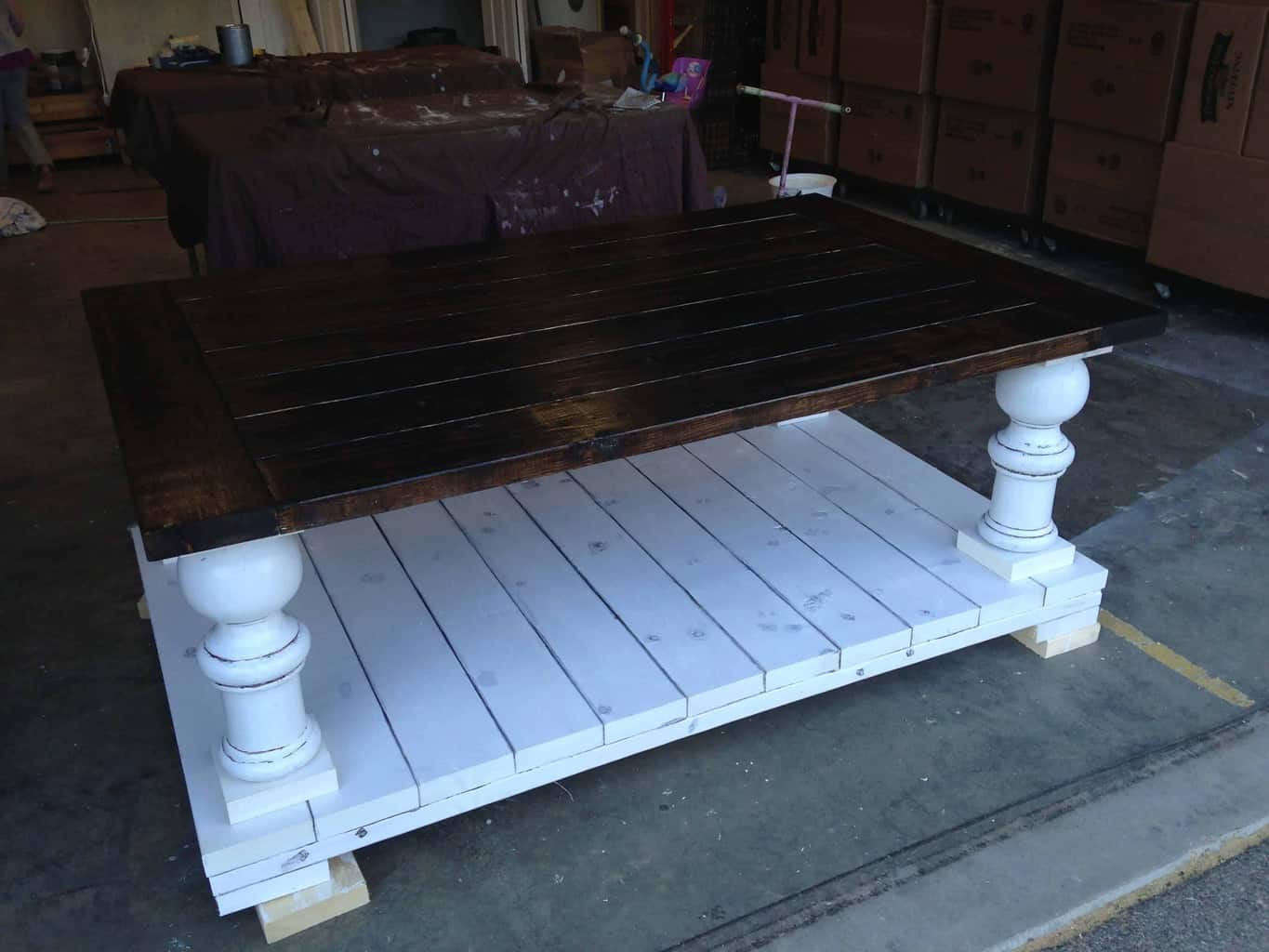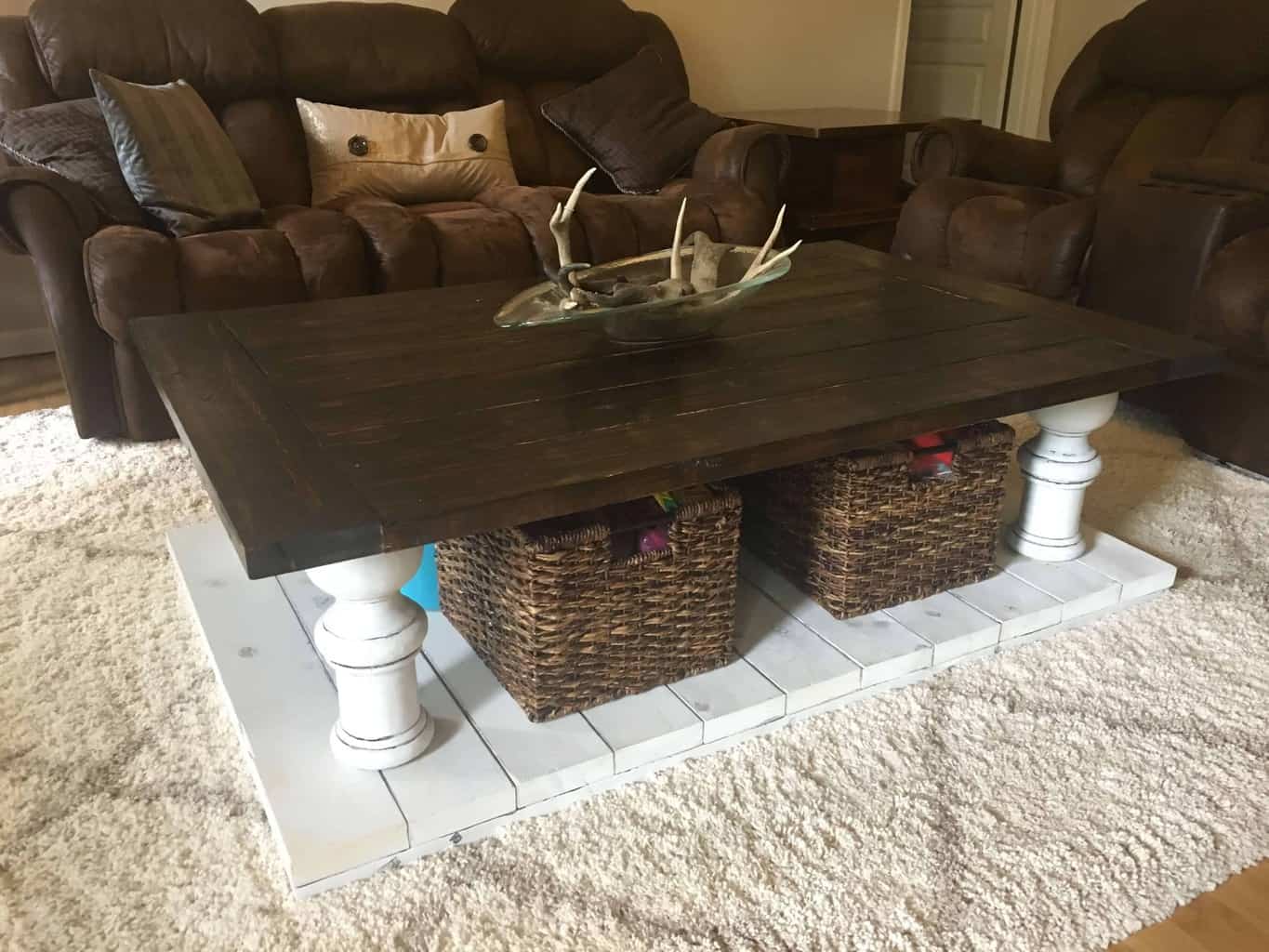 My husband did a great job, don't you think! And the cost of the finished project was less than $200.
Here are the plans that we used to DIY this beauty.
Cost savings of our DIY coffee table: about $400.
*Notice our adorable rug? It's one of my most favorite things in my living room. Oh-so-soft! And for such a HUGE rug it was a great value at under $250! You can check it out here!
Switch Out Handles for a Quick and Easy Update
Love a furniture piece, but not crazy about the hardware? No problem! You can quickly and easily switch out drawer pulls and other hardware on inexpensive pieces to create a richer look. That's exactly what we did with our Amazon Dresser
: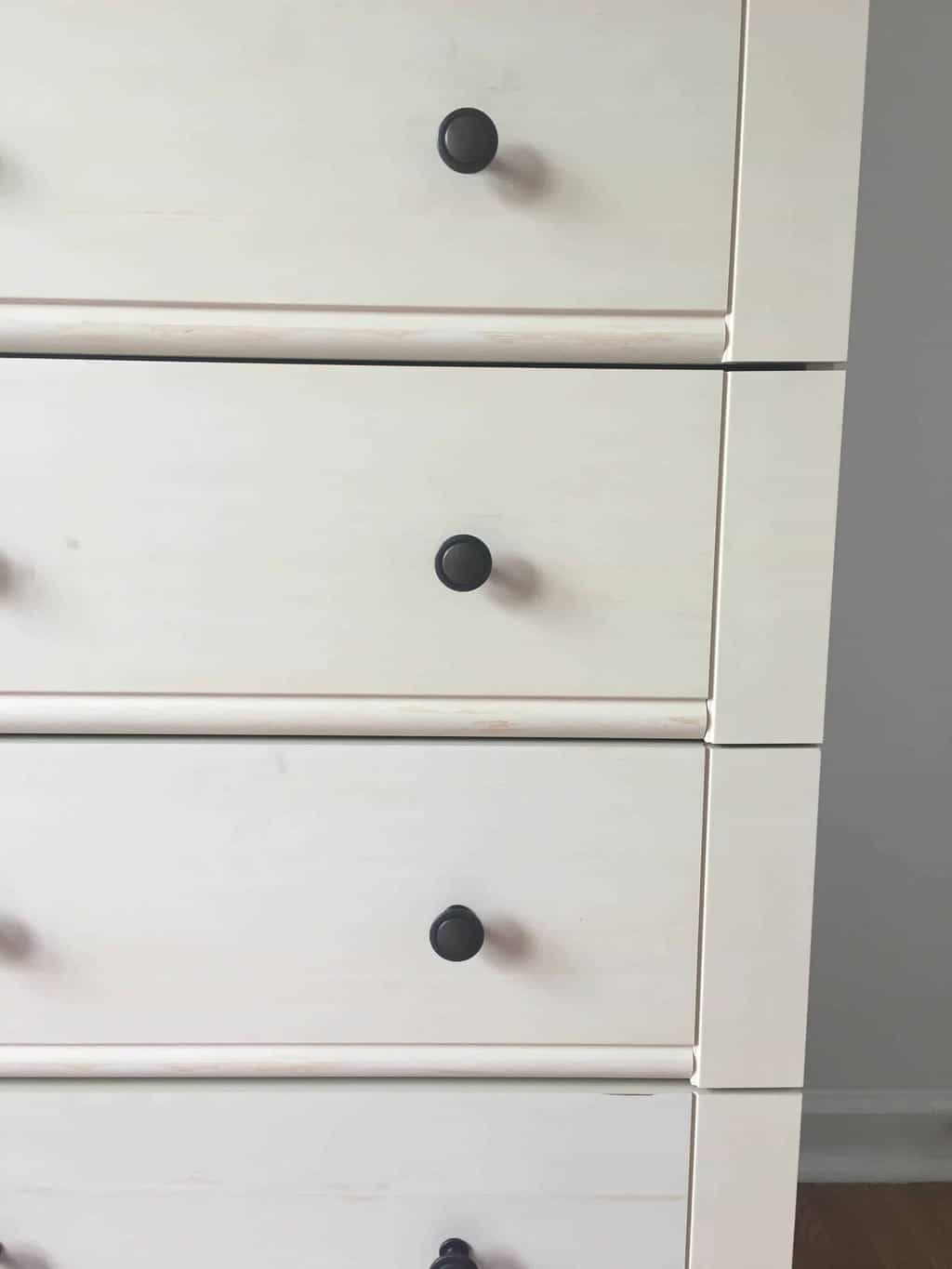 It originally came with plain painted wood knobs, but we wanted drawer pulls
to match my daughter's Pottery Barn loft bed, so we found a close match on Amazon
. A screwdriver and 10 minutes was all it took to switch the knobs ourselves.
Repurpose Inexpensive Finds
My husband's job requires him to keep a TON of paperwork. I'm talking 10 invoices a day that we have to hang on to for 6 months. That's a lot of papers that need to be filed and organized, so I knew that I needed sufficient file cabinet storage. But, since it's in my home (and not a commercial office), I wanted something that would look nice.
Enter Pinterest.
I searched for ways to DIY large filing cabinets into a desk and started searching for used drawers. I came across these matching bilateral filing cabinets for only $75 for the pair. (By the way, if you've ever shopped for quality bilateral filing cabinets, you know that they can easily run you $300 for one!).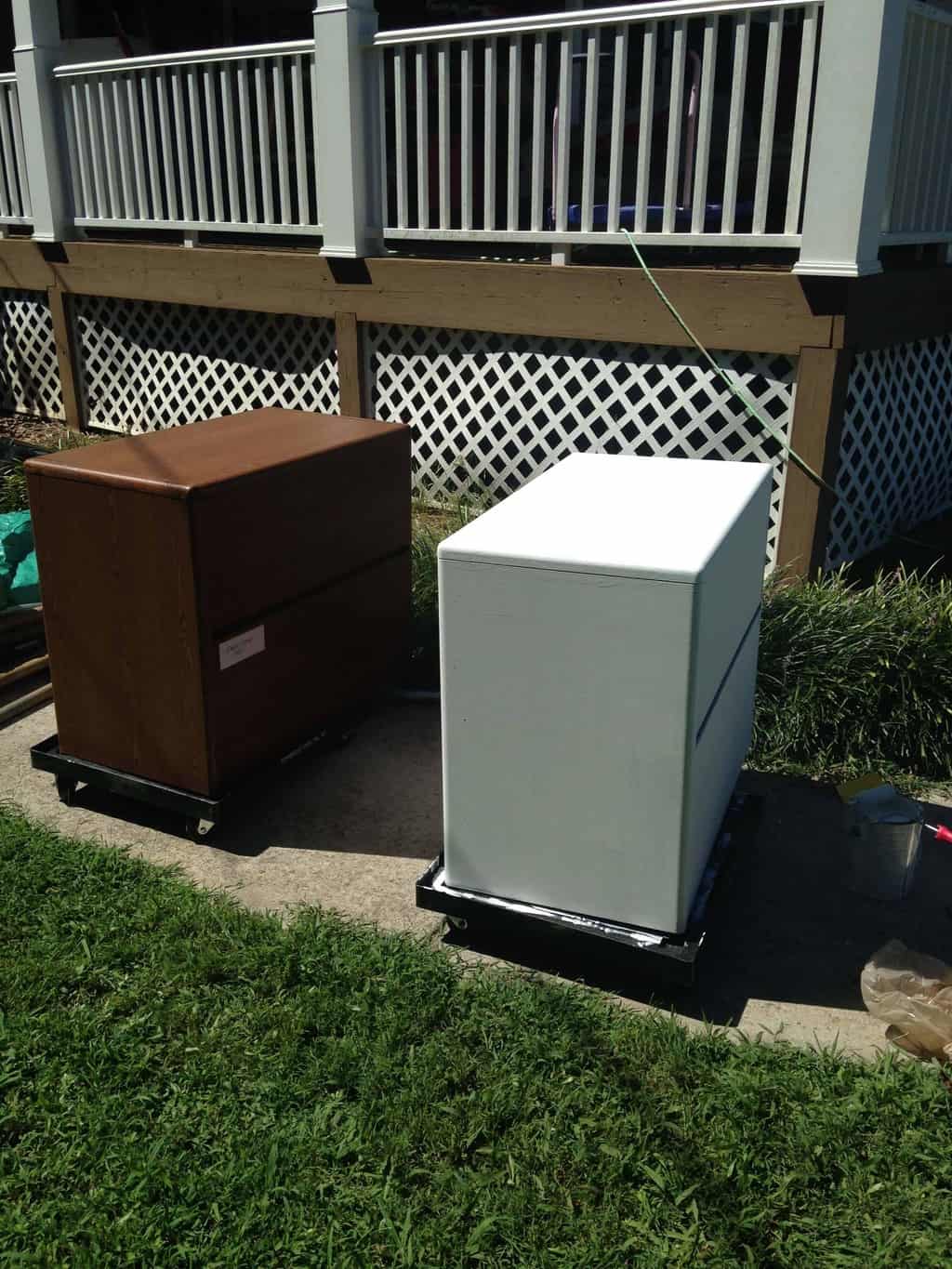 A few coats of paint, some wood trim, and industrial-style handles and I had a great desk base with ample storage! Then a DIY desk top from sanded and stained 2″x6″s and I was in business. Total cost of my redone filing cabinets: $150! So, a savings of $450 vs buying two heavy-duty bilateral cabinets!
Here's the finished product: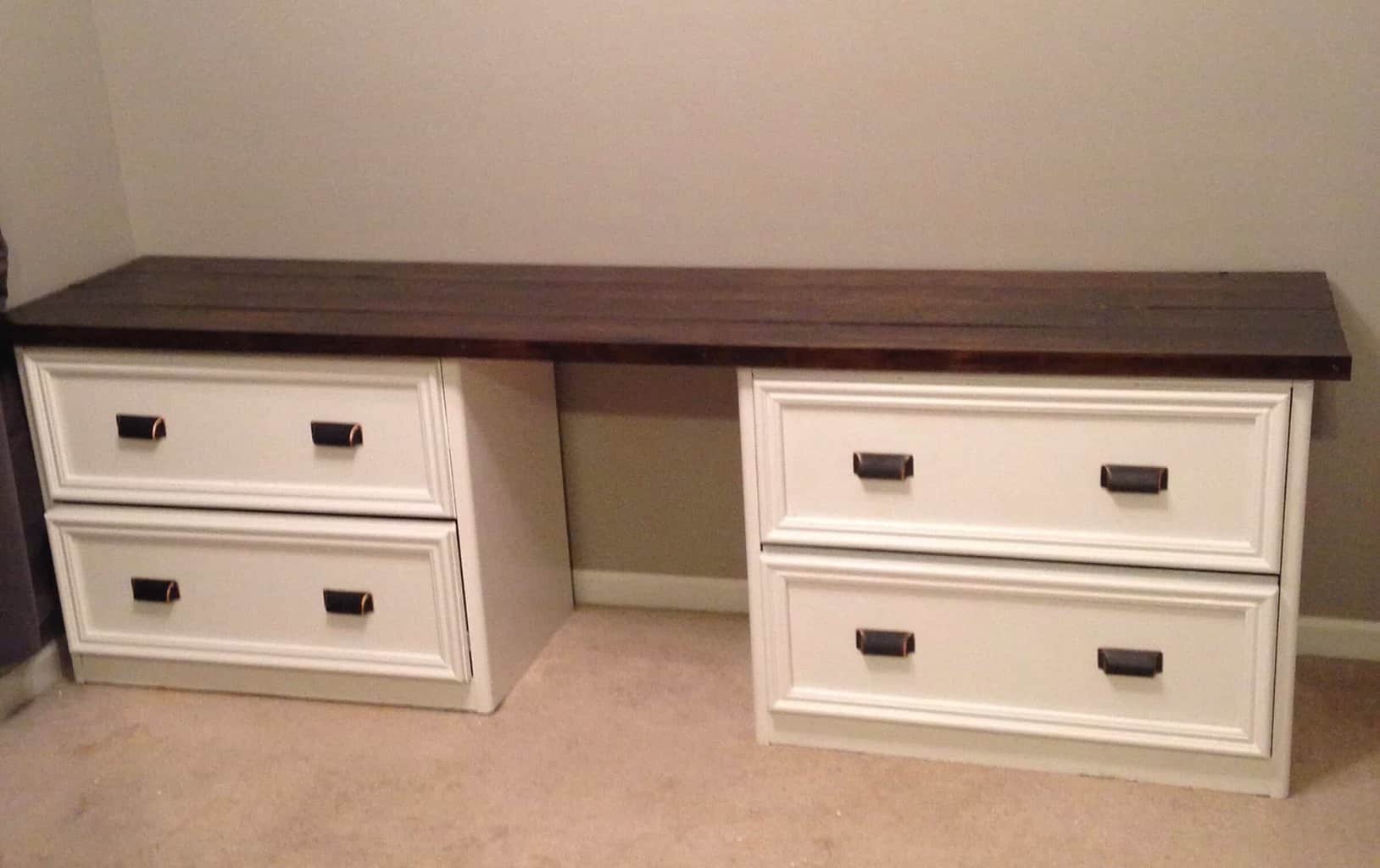 Shop Online to Save Money on Furniture
Yes, you can buy furniture from Amazon
(along with everything else you could ever possibly need to live, am I right?). And you can get some great deals! I wanted a tall dresser to match my daughter's new (used) Pottery Barn bed. But I needed something that wasn't white and wasn't ivory. I needed like a creamy white/ivory hybrid. So I searched Amazon and, voila!, I found this baby for cheap:
Yes, we did have to assemble it ourselves, but we didn't mind considering the substantial cost savings. The Pottery Barn dresser that matched the loft bed was listed for $1,099 (not including tax and delivery), and I wasn't about to spend that on just a dresser! Plus, the color was pretty close to Pottery Barn's white, and the details on the legs were similar to the details on the loft bed. Final cost of the dresser with tax – under $250, so a savings of $1,275 compared to the Pottery Barn dresser.
Plus, not exactly furniture, but we also got this amazing rug from Amazon. Super high-quality and oh-so-soft! And less than $250 for a huge 9 foot x 12 foot, brand new rug.
Wayfair is another great discount online furniture retailer. If you haven't been to browse around their website, go now! They are always having amazing sales on a huge variety of furniture pieces. Plus, you can enter your email address for an additional 10% off coupon!
Other Ways to Save Money on Furniture
Get Cash Back on Your Purchase
If you plan to shop online for your furniture, be sure to go through a site that gives you cash back on your purchase. There are a few sites where you can earn anywhere from 1-10% cash back on your online furniture purchase, depending on the retailer. Here are three of my favorites:
Ibotta –The Ibotta app is amazing for earning cash back on everyday purchases! You may think it's just for grocery rebates, but Ibotta has a bunch of online retailers that they partner with to give you cash back also. Right now, you can get 3% cash back on your Amazon purchase.
Go here for my full tutorial on how to use Ibotta to get cash back on things you buy everyday!
Ebates – Ebates is another great deal website for finding online sales and earning cash back on your purchases. And it's super easy to use. Just go here to sign up (it's free), and then start at the Ebates homepage when you have some shopping to do. Or, you can add a handy little icon to the top of your internet search bar and click it when you are shopping online to see the available cash back at that retailers. Ebates recognizes that you have made a purchase through their link, and they automatically credit your account with the amount of cash back that you earned. There are no forms to fill out, and no tracking down your own rebate.
Swagbucks – Not just for earning points for online surveys and video watching! Swagbucks also rewards you for shopping online at your favorite stores! The company has already paid out over $250 million, in the form of paypal deposits or gift cards to its members. Join for Free today!

You Can Get Free Gift Cards For Shopping, Searching and Discovering What's Online at Swagbucks.com
Take Hand-Me-Downs
Want free furniture? Ask friends and family if they have any furniture pieces that they want to get rid of!
And there you have it! How to save money on furniture, and how we refurnished just about our whole house without blowing our budget! By using the tips above our savings came to over $5,400! How much will you save?
Don't forget to pin this post so you can come back to it when you need a furniture update!
Related Posts: