Want to know how to get cash back on online purchases with just a click of a button? Learn about my absolute FAVORITE cash back app in this Rakuten Review! And start using it before you make your next online purchase!
We're all looking for ways to earn a few extra dollars with very little effort, right?! And chances are that if you're reading this post, then you have some working knowledge of technology and you've recently made an online purchase.
Let me ask you this… Did you get cash back for that online purchase? If not, then you are missing out on one of my favorite (i.e. – NO EFFORT) ways to get cash back for shopping online. It's all thanks to a company called Rakuten, and it literally takes ONE CLICK of the mouse.
Intrigued?
Here's a breakdown of everything you need to know to get cash back on online purchases with the ebates cash back site known as Rakuten…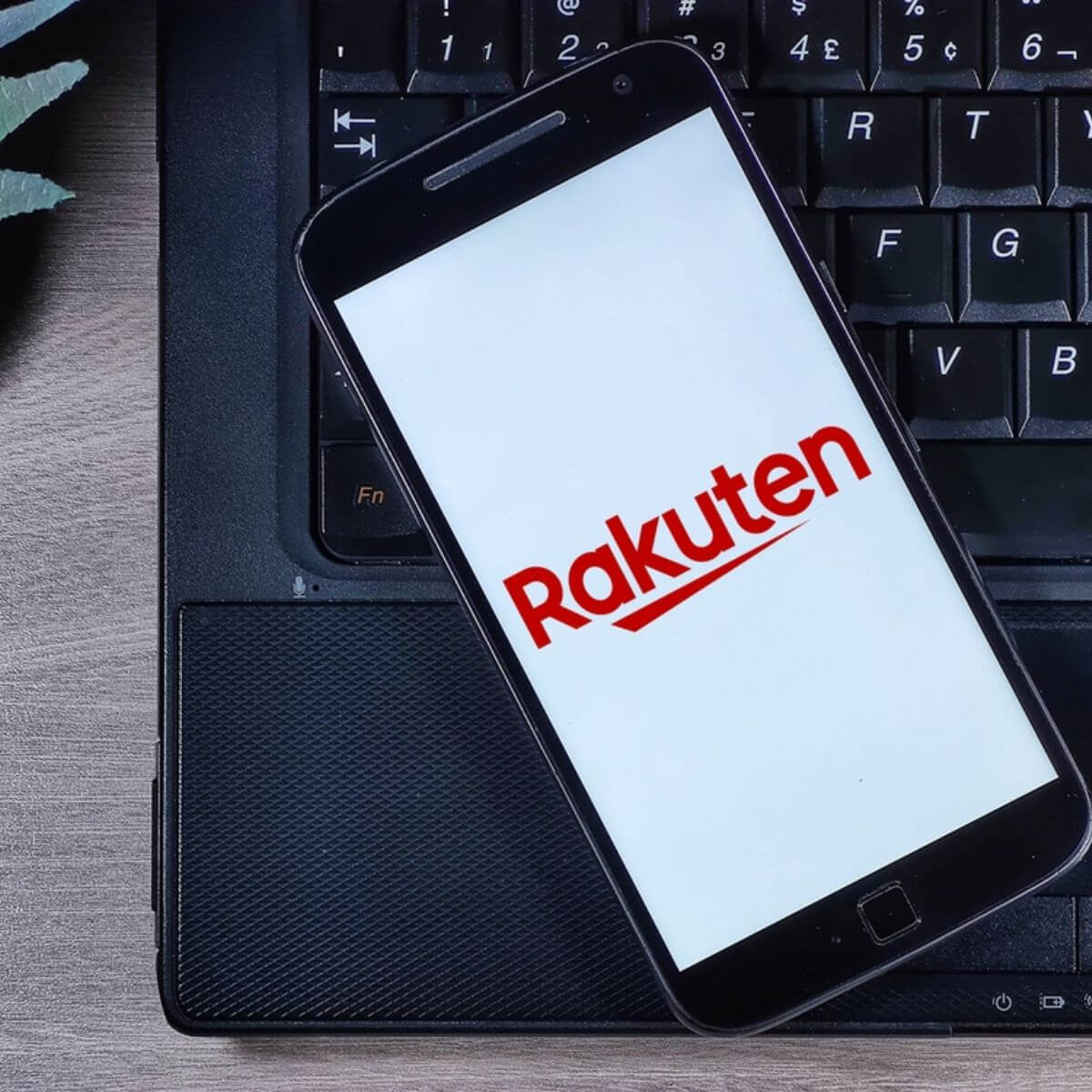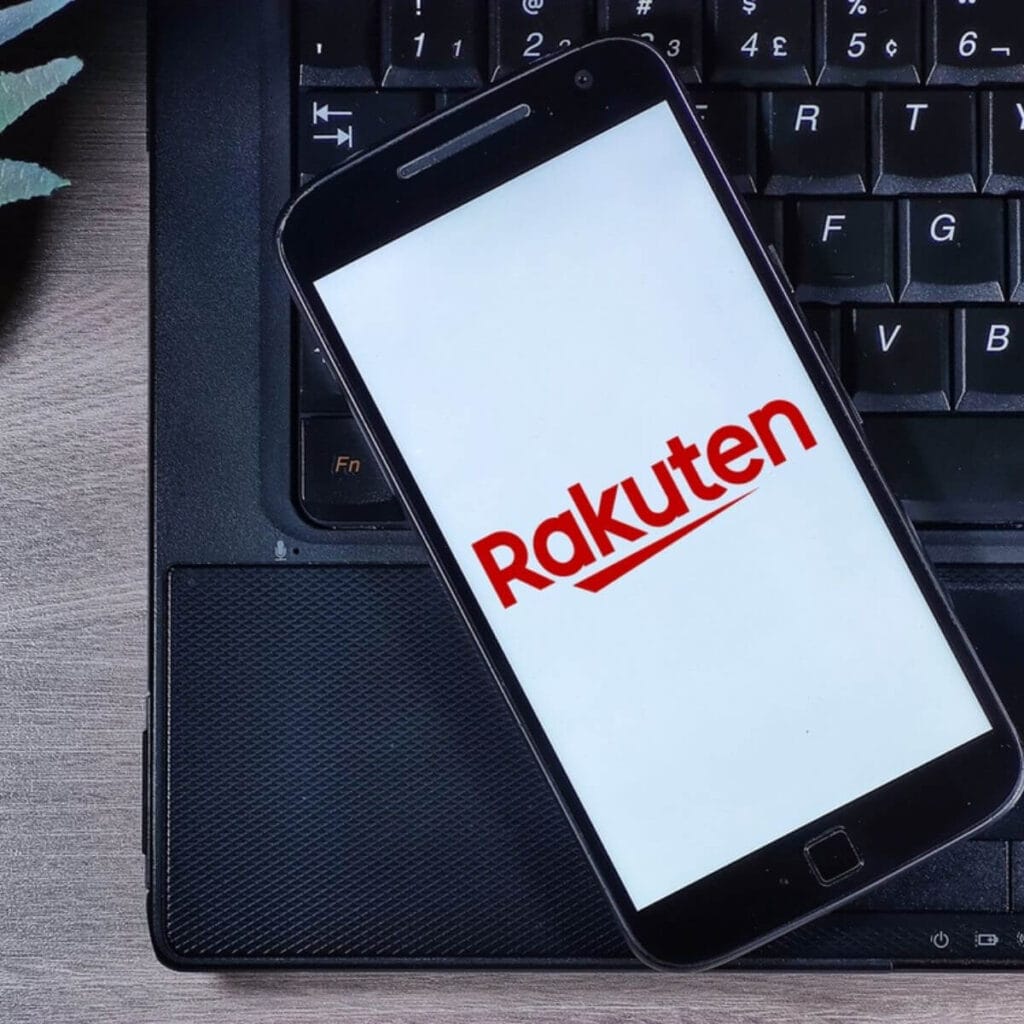 *This post contains affiliate links, which means if you click a link and make a purchase, I earn a commission at no additional cost to you. Read my full terms of use for more info.
First Off, What is Rakuten?
Rakuten is a cash back rebate site that offers its members cash in exchange for them making a purchase through their affiliate links. Rakuten used to be called Ebates, but they recently changed their name.
Rakuten earns a commission from thousands of different stores for sending customers their way, and they share that commission with you. In addition to cash back rebates, you can also find lots of great coupon codes on their site so that you can stack a coupon with a rebate to maximize your savings.
And you can even earn cash back for in store purchases also by linking your credit card on their app!
How Much Money Can I Make with Rakuten?
That depends on the retailer. You can earn different rebates, usually as a percentage of your purchase price.
Currently, the highest rebate that I see available on the Rakuten website is 50% cash back at a health supplies store. Not bad for one click of the mouse!
Most popular retailers offer a cash back rebate of around 2-5% which may seem small, but it can really add up if you do a lot of online shopping!
Here is a screenshot of my personal Rakuten account showing you how much you can expect to earn with your cash back rebates: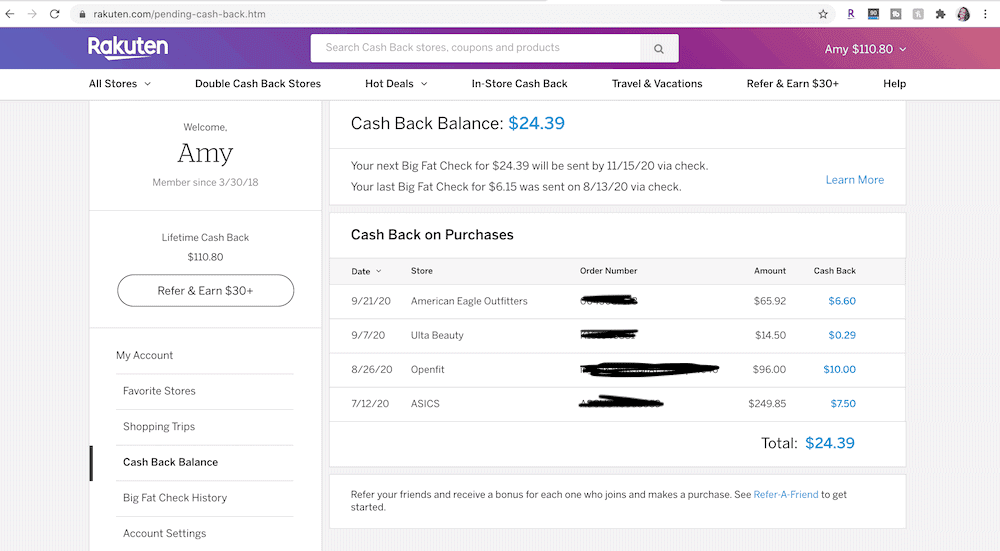 As you can see, I earned about 10% cash back on my American Eagle Outfitters purchase, and about 3% cash back on my Asics purchase.
Some websites (like Openfit, SiriusXM, AT&T, etc) also offer flat cash back rates for signing up for services. At the time of writing this post, Verizon is offering up to $75 cash back and SiriusXM is offering $12.50 cash back, just to name a few.
If you're planning on making these purchases anyway, why not just click one extra button to get a cash back rebate?!
When and How Will I Get My Cash Back from Rakuten?
Rakuten will send you a check by mail or you will be paid through Paypal once each quarter, if your cash back balance is greater than $5.00. If your balance is less than $5.00 for that quarter, then your cash back will be rolled over to the next quarter.
Payments will be sent according to this schedule:
| | |
| --- | --- |
| Posting Period | Payment Sent |
| Jan 1 – March 31 | May 15 |
| April 1 – June 30 | August 15 |
| July 1 – Sept 30 | Nov 15 |
| Oct 1 – Dec 31 | Feb 15 |
And, no, Rakuten is NOT a scam! You WILL actually get a check in your mailbox for the amount of cash back that you have earned. I can personally attest to this, as I've received a handful of checks so far!
How Do I Use Rakuten to Get Cash Back on Online Purchases?
If you're ready to try Rakuten for yourself, then it's super easy to sign up! Here's what you need to do to get started:
Step 1: Go HERE and Sign Up for a Rakuten Account (It's FREE!)
You'll be redirected to the Rakuten site where you will need to enter your email address and create a password. It looks like this: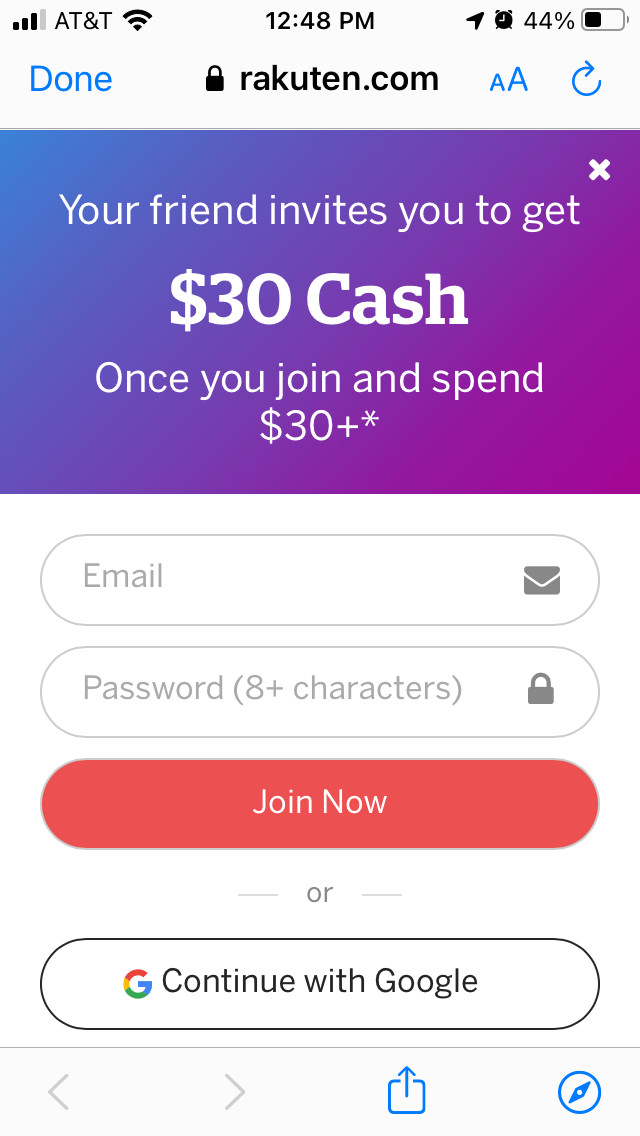 Notice the $30 Welcome Bonus, too! You get that when you make your first qualifying purchases totaling $30 within 90 days. Sweet!
Step 2: Download the Browser Extension and Activate Cash Back When You Shop
But first, what the heck is a browser extension? A browser extension is a handy little button that you can add to your internet browser to make different activities that you do online easier. For instance, you may have a Pinterest browser extension installed on your computer right now to make it easier for you to save different ideas that you find while surfing the internet to your Pinterest boards.
The Rakuten browser extension is officially called the "Cash Back Button" and, boy, is that little thing handy. I downloaded the browser extension (sometimes called an add-on or plug-in) and now I have a little "R" icon to the right of my web address bar. See what I mean…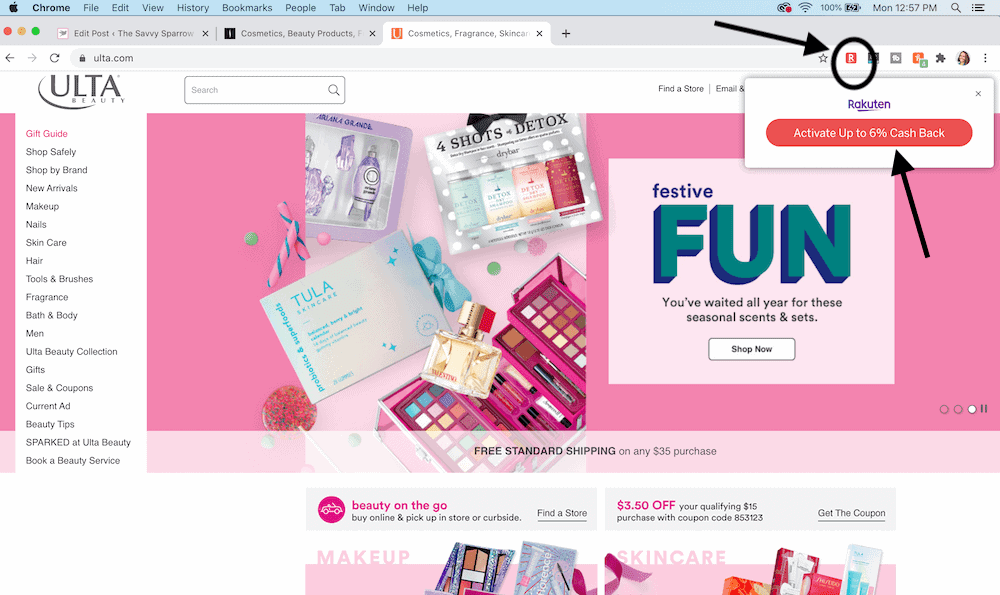 My little Rakuten "R" starts blinking when I am on a site that has a cash back offer (which is quite frequently!). Then a little pop-up box of cash back goodness appears telling me that I can get cash back on online purchases from that site.
*You can see from the screenshot above that Ulta is currently offering 6% cash back on purchases!
I just simply click the "Activate Cash Back" button from the popup and if I choose to make a purchase the rebate will be automatically credited to my Rakuten account. I told you… just one click of the mouse!
Note – This Browser Extension is my preferred method to get cash back on online purchases… but if you don't want to add a plug-in to your internet browser, you can still use Rakuten to earn cash back. Just see the Alternate Step 2 below...
Step 2: (Alternate Method) Go to Rakuten.com and Search for Your Store
Go to Rakuten.com and search for the online store that you want to shop. You can get cash back on online purchases at over 3,500 online stores, and Rakuten makes it easy to find the stores you love. You can search by name or category for the store you want to shop, and you can also sort by cash back to see the stores with the biggest rebates first.
Once you find your store, simply click "Shop Now". You will be redirected to that store's site and if you make a purchase, your rebate will automatically be applied to your Rakuten cash back balance. Cha-Ching! It couldn't be easier!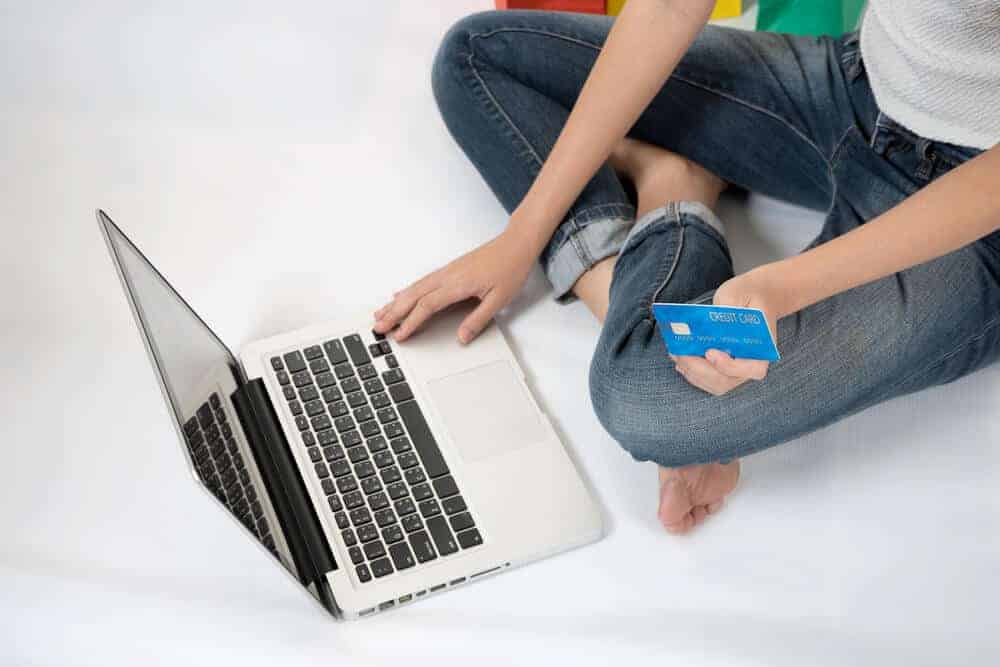 Step 3: Make a Purchase and Get Cash Rebates Automatically!
After you make a purchase, and assuming that you clicked on the Rakuten "R" in your browser OR activated the cash back offer from the Rakuten website, then your cash back will automatically be applied to your balance.
It is literally the easiest way to get cash back on online purchases! No scanning in receipts or filling out forms. Just one click of the mouse and you can be getting cash back, too. And if someone is going to give me FREE money for buying something that I was going to already buy anyway, I'm not going to turn it down. 🙂
I've been using Rakuten for less than a year to get cash back on online purchases, and I've already made over $56.00.
That's FREE MONEY that they've given me for pretty much doing NOTHING. It's a no-brainer if you shop online.
Go HERE to sign up for your own Rakuten account and get cash back on online purchases!
*Remember, if you want the $30 Welcome Bonus, you'll need to make $30 in qualifying purchases in the first 90 days of signing up!
Want more of my favorite money-saving hacks? Check out these posts:
Or learn about other cash back apps here!
Hope you enjoyed this Rakuten review, and I hope you can see how easy it is to earn cash back on purchases that you're already making!
And don't forget to PIN this post for later, so you can refer back to it before you make any big online purchases: