These small bedroom decorating ideas on a budget are perfect for maximizing space and making a tiny room feel bigger! You don't have to spend a fortune to decorate your small bedrooms… By implementing these design tips for small spaces, you can DIY your small bedroom decor and get rid of the "sleeping in a sardine can" feeling.
The night before we closed on our house two years ago, we were in tears… literally.
And they weren't happy tears.
We were about to spend hundreds of thousands of dollars on a new home, and we couldn't get exactly what we wanted… We couldn't afford the acre of land in the prime area of town, or more square footage, or a fancier kitchen.
We had to settle. And it didn't feel good.
Don't get me wrong… our house did check off a lot of the boxes on our wishlist. It has a super long and flat driveway with plenty of space for my husband's work trailer and boat – check. It's one story – check. It has an open floor plan – check.
But, that day before closing, my husband and I were both emotional wrecks.
When we had done our final walk-through the day before, the house was empty and the rooms felt TEENY-TINY! Isn't it funny how putting a giant sofa in a space can actually make the room feel bigger?! But since the previous owners had already moved all of their stuff out, we were confronted with an empty space that looked WAY different than it did furnished.
One of the biggest drawbacks of our home is the small bedrooms. The master bedroom is perfectly-sized with a home office and a giant closet, but the two other bedrooms barely fit a bed and a dresser.
Our oldest daughter's bedroom measures 11 feet x 11 feet, or 121 square feet. That may not sound small… until you realize that a full size bed takes up about 28 square feet. That's not a lot of room left to walk around.
Here is her room "BEFORE" these small bedroom decorating ideas: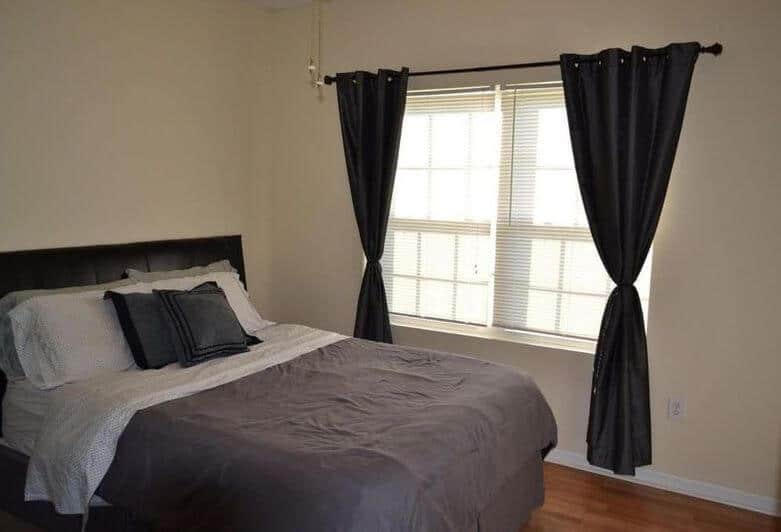 Our younger daughter's room is a mere 10 1/2 feet x 10 1/2 feet. Here is a "BEFORE" picture of her room: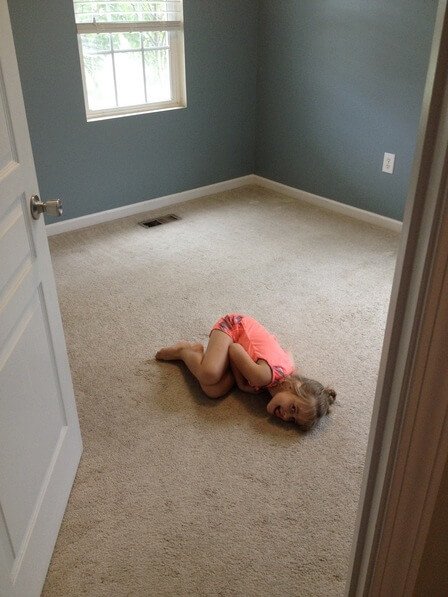 Yes, this is the only "before" picture that we have because this was pre-blogging… back when I didn't have to take 62,000 before and after pictures. 🙂
We knew that it would be a tight squeeze for our daughters before we bought the house but, like I said, we couldn't get everything on our wish list.
So we had to get creative…
If you're in the same boat… well, maybe "boat" is too big… Canoe… then read on for 12 small bedroom decorating ideas on a budget to make your small rooms feel bigger, too!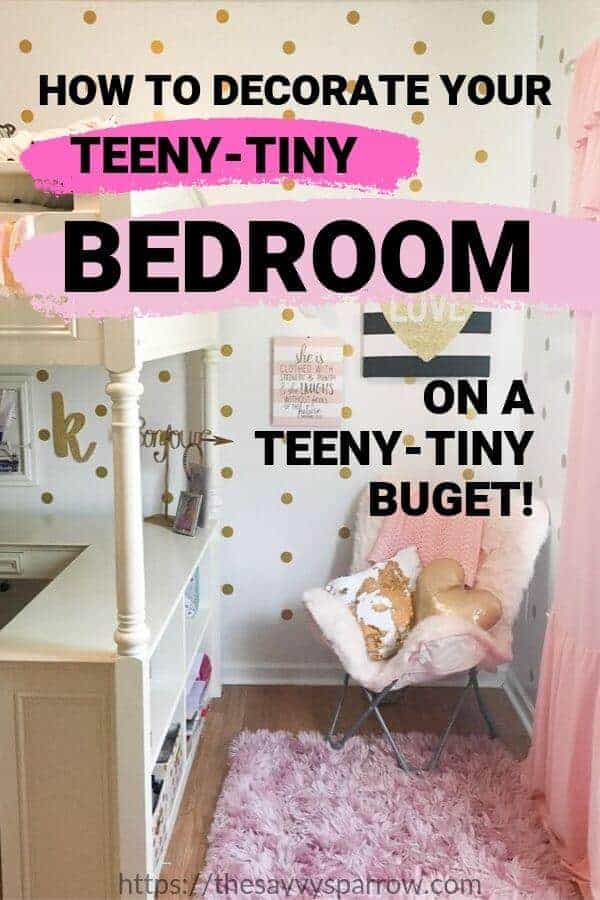 *This post contains affiliate links, which means I may earn a small commission from these links at no additional cost to you. Read my full disclosure here.
13 Small Bedroom Decorating Ideas on a Budget
Remove closet doors and install closet organization systems.
This is the VERY FIRST thing that we did to our daughters' rooms, and it made a HUGE difference!
Actually, this is the VERY FIRST home project that we did once we had all of our stuff moved in. I knew that removing the closet doors would instantly make their small bedrooms feel larger because it would basically extend the bedroom into the closet area.
Yes, you may think I'm crazy removing the doors from my GIRLS' closets… emphasis on GIRLS… and loads of clothes and shoes and accessories.
But, by adding these built-in closet organizers, both of our daughters have done a great job keeping their closets neat and organized.
If you do remove the doors from your closets though, I would suggest getting rid of all of your wire and mismatched clothes hangers and use the white plastic tubular ones… The ones that come in a pack of 12 for about $1.50. That way your closet looks neater and more uniform, since it will be constantly visible.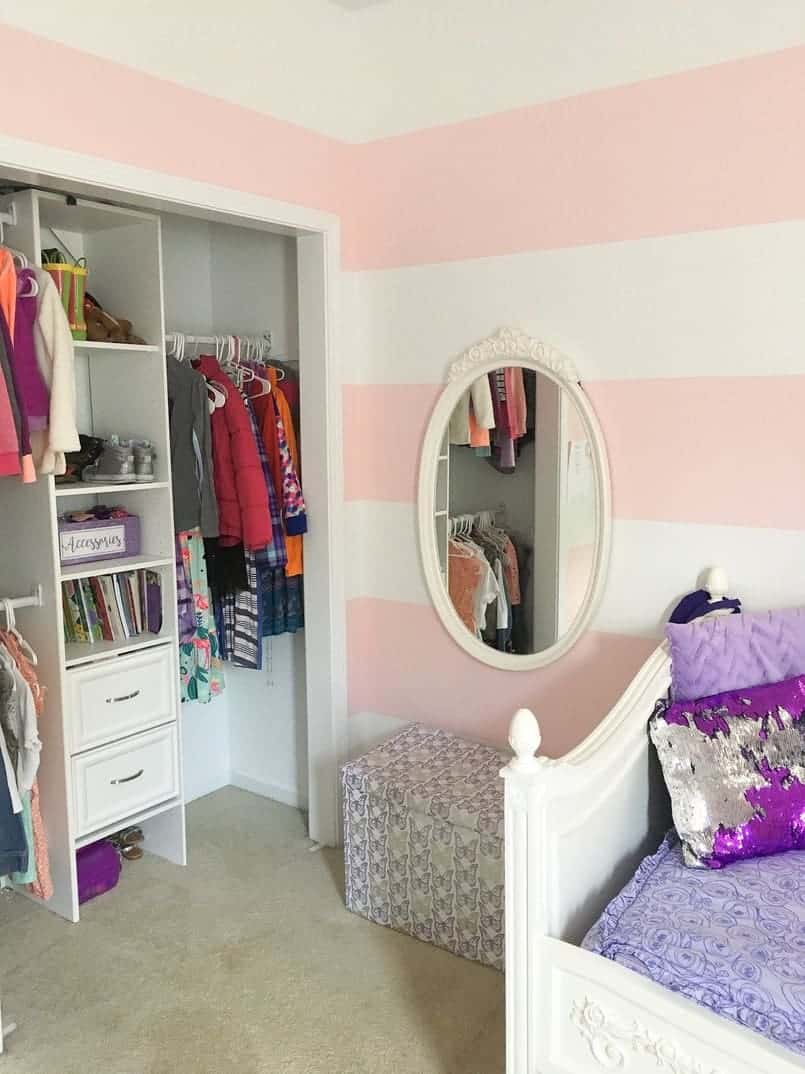 Lighten up the wall colors.
If you need small bedroom decorating ideas on a budget, then a fresh coat of white or very light colored paint can work wonders.
Dark walls tend to make a space feel more closed in, which can be great if you have a large room and you want a cozy feel… not so much if you are trying to make a small bedroom feel larger.
When we moved in to our house, the two smaller bedrooms were painted a dark, dusty blue and a dark tan color. We changed the paint colors to light and airy white and baby pink, and the small bedrooms immediately felt more spacious.
Paint horizontal wall stripes to make a small bedroom feel bigger.
If you've got a level and a little bit of patience, then this is one of my best tips for decorating a small bedroom on a budget!
Especially if you're strategic about the colors and sizes of your painted wall stripes.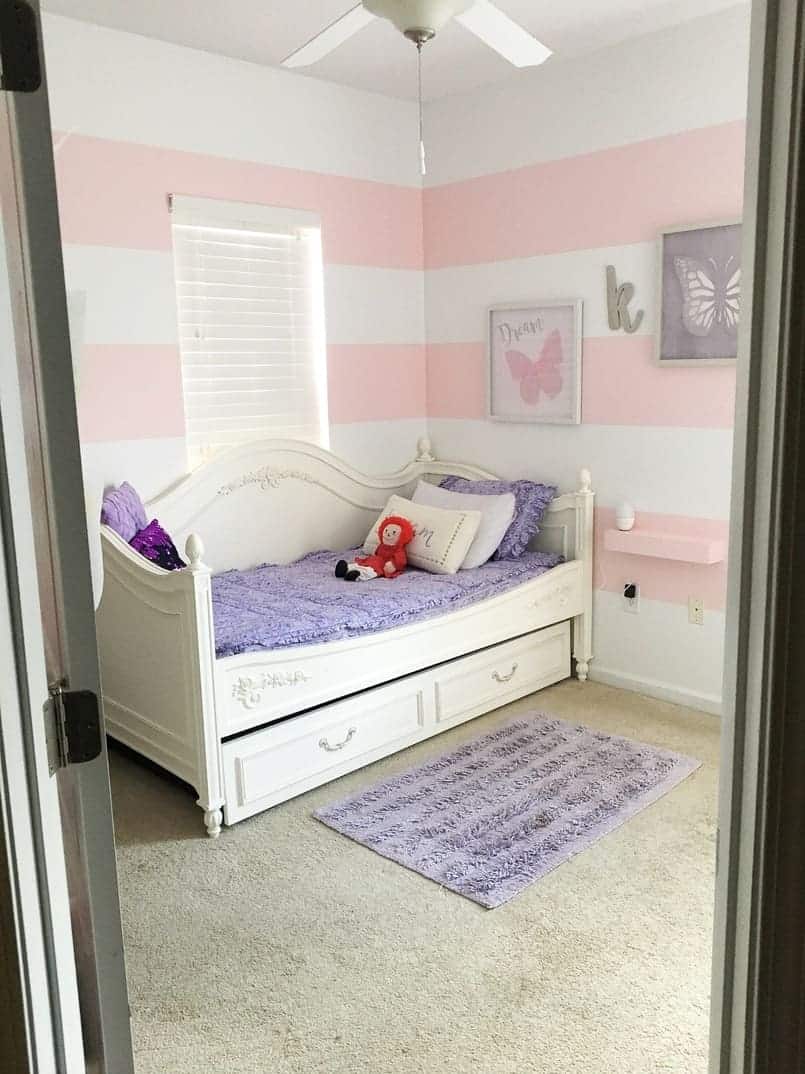 By painting our top and bottom horizontal stripe the same bright white color as the ceiling and baseboards, our small bedroom feels much taller and grander than it actually is.
Check out this post for how to paint horizontal wall stripes in your small bedrooms too!
Get strategic with furniture… Try a daybed or a loft bed to maximize space in your small bedroom.
When we started to look for furniture for our youngest daughter's room, I knew that we HAD to go with a daybed.
A daybed is perfect for decorating a small bedroom because it is actually supposed to go up against a wall, creating more floor space. Plus, a daybed can double as a sofa for lounging in an office space, and you can easily add a trundle underneath for sleepovers.
We got my daughter's daybed with the trundle and a matching dresser and mirror for a steal! Go here to find out how we furnished our whole house and saved over $5,000!
If daybeds aren't your thing, then consider a loft bed!
Our oldest daughter wanted a desk area in her room, which would have been a no-go had it not been for this amazing loft bed that we found on Facebook Marketplace.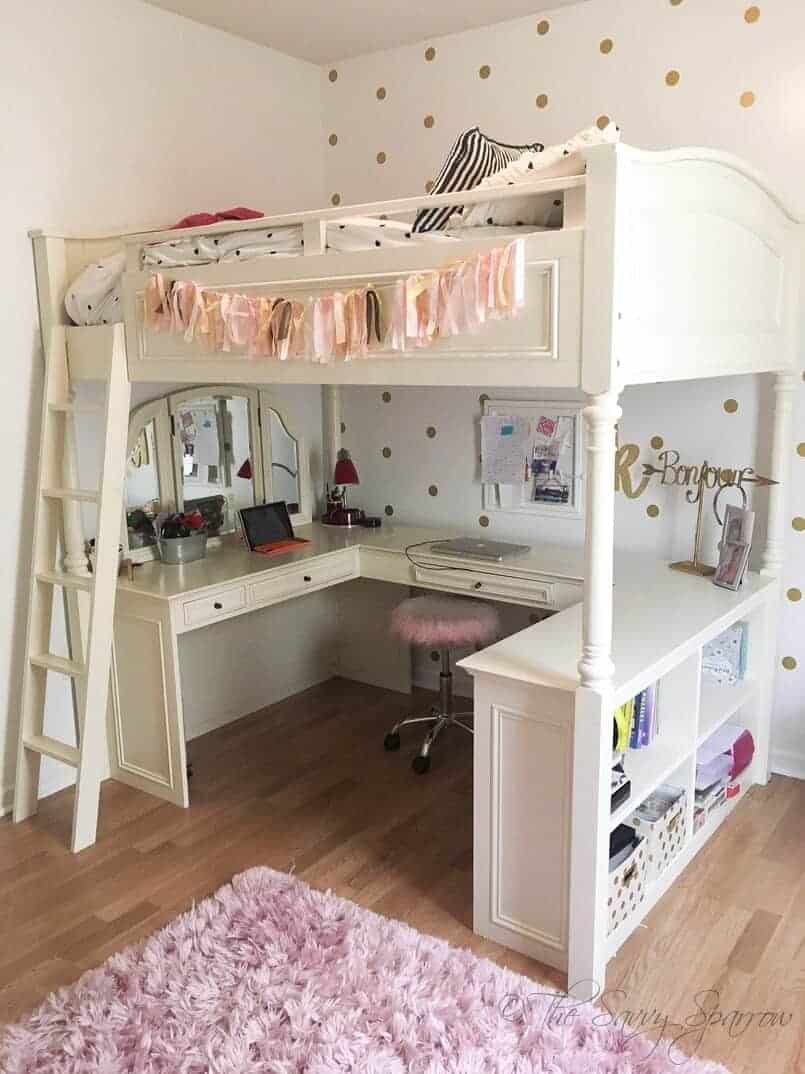 The full size loft bed frees up more floor space so that she can have a desk, a vanity, bookshelves AND a cute reading nook in her teeny 11′ x 11′ room.
Hang curtains higher.
Draw the eye upward and make a small bedroom appear taller by hanging your curtains higher and making sure that they go all the way to the floor.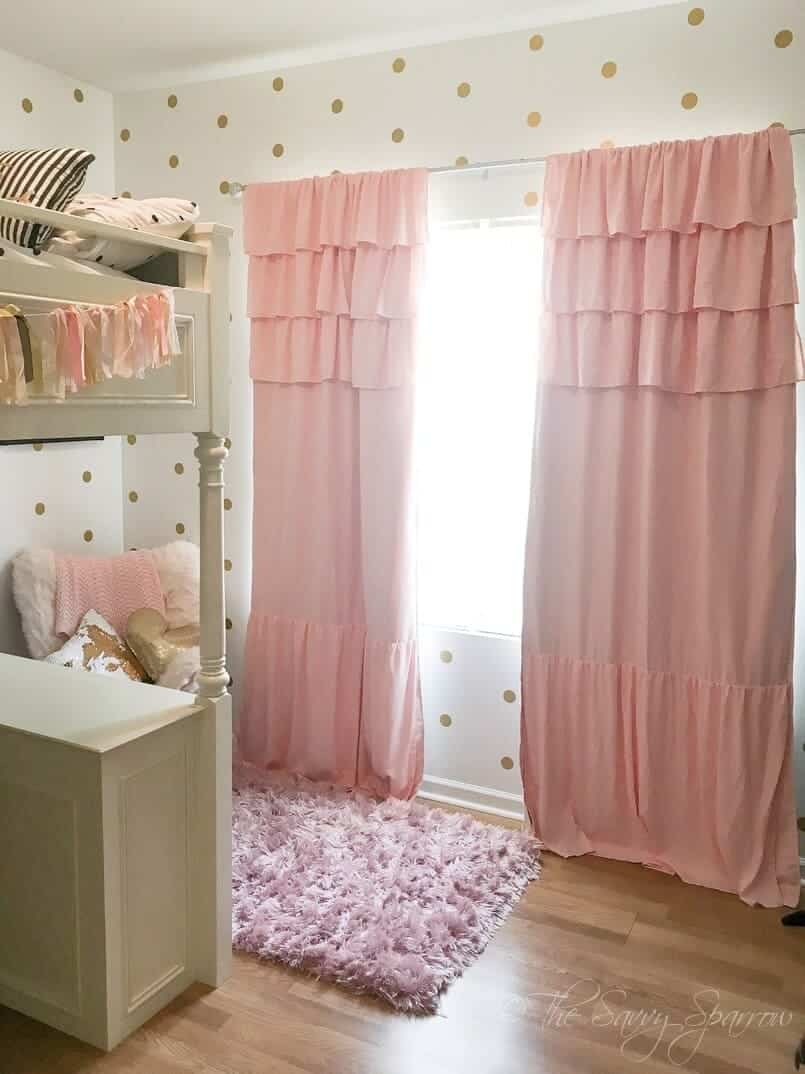 We hung the curtain rod for these 96″ curtains 7″ above the top of the window. Hanging your curtains too low can make your room look short and stout… not good for a small bedroom!
Remember, this is what the curtains looked like before: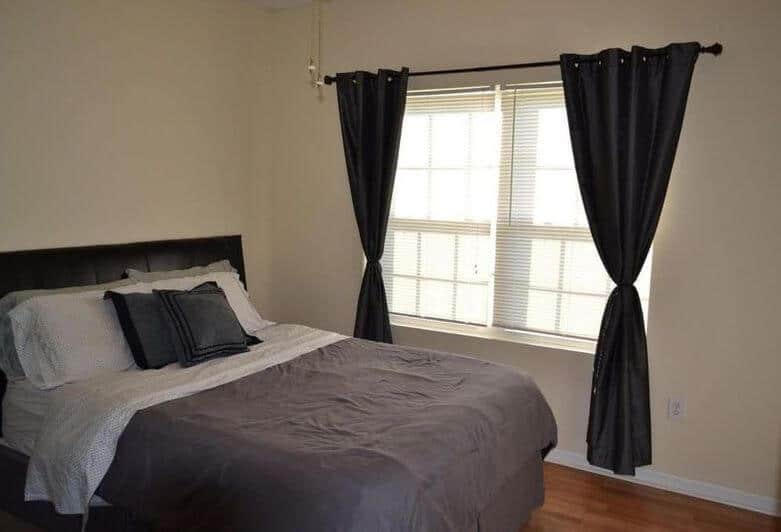 See… just by purchasing longer curtains, hanging them higher, and making sure that they go all the way to the ground, this small bedroom looks much larger.
Stick with small patterns to make a small bedroom feel bigger.
Small, repetitive patterns are great for making a small bedroom feel larger.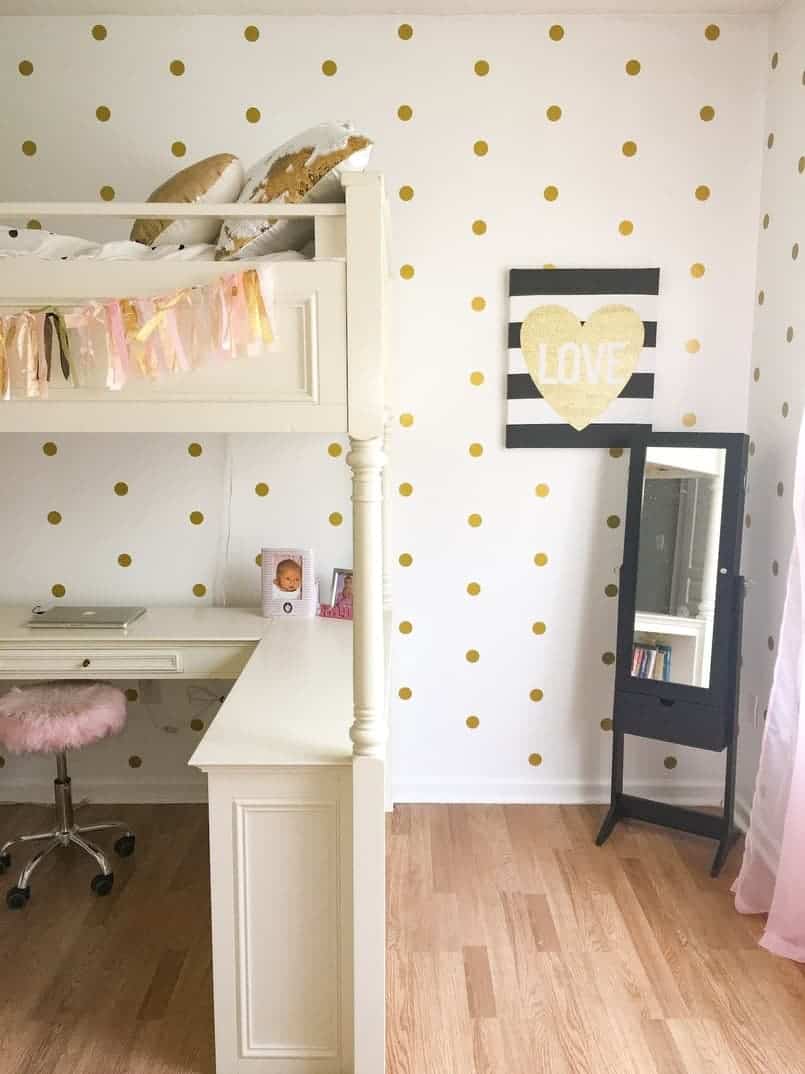 And for small bedroom decorating ideas on a budget try WALL DECALS!
If you don't want to commit to wallpaper or painting designs on your walls, then wall decals are perfect because they can easily be removed and switched out for different designs.
Plus, wall decals are a great budget decorating hack! I HIGHLY RECOMMEND these polka dot wall decals… At just $12 a pack, they are a bargain for decorating a small bedroom on the cheap!
If you want to go with a uniform pattern like we did with these gold polka dot wall decals, then check out this post!
Repurpose items for small bedroom decorating ideas on a budget.
Sometimes if you want to decorate on a budget, you need to get creative with the things that you already own.
And that's exactly what I did on one of my youngest daughter's bedroom walls…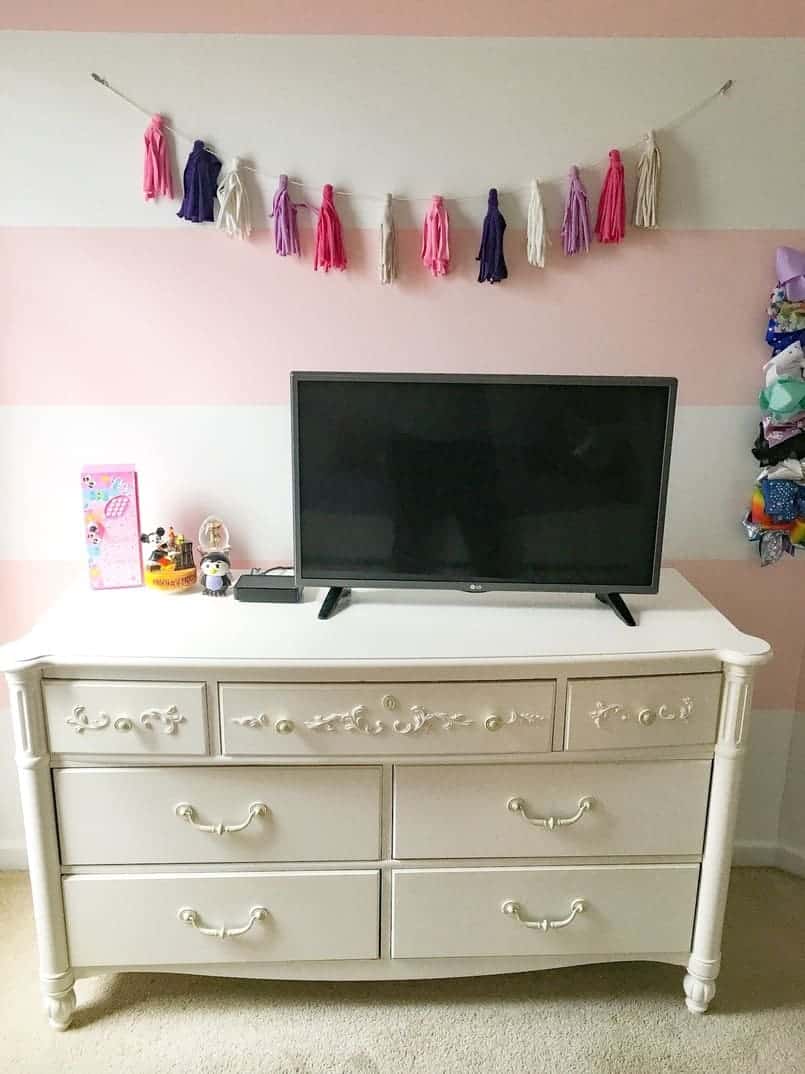 This super cute (and super cheap!) fabric tassel garland is actually made out of…
OLD KID'S CLOTHES!
And if you have kids, then chances are that you have boxes and boxes of old clothes laying around. Why not turn them into a beautiful piece of art?! And you can use your child's old baby clothes for a sentimental treasure.
Get rid of clutter in your small bedroom.
Clutter can make a small bedroom feel, well… cluttered!
Go through your small bedrooms with a fine tooth comb and Marie-Kondo the heck out of them.
If tackling your clutter sounds like climbing Mount Everest, then check out this post for a FREE 19 page Decluttering Checklist!
Add a light and bright wall treatment to your small bedroom.
So, if you're not in love with the wall decal idea, and if you don't have the patience to paint stripes on your walls, then try a different kind of bright wall treatment to make your small bedroom look bigger…
Like this reverse shiplap!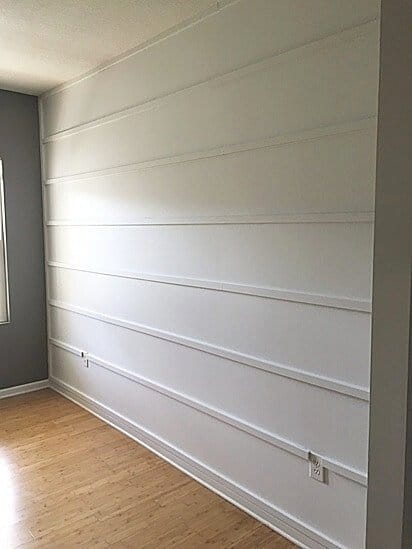 Okay, so technically this isn't a bedroom, but this easy (and budget-friendly!) wall treatment DID make our dining room look larger. Head over here to see how we completely transformed the look of our dining room for less than $75 with this bright white wall decor idea!
Add storage for small pieces and knick-knacks.
Corral your "stuff" by hiding it away in opaque storage containers.
Toy boxes and lidded decorative boxes are great for storing small items that, if left out, make a small room look cluttered.
Stay away from transparent and semi-transparent colored plastic storage (like the popular three drawer rolling carts) because then you see all of the junk that's stored inside.
I found my youngest daughter's purple butterfly toy box at HomeGoods for just $19.99, and it's the perfect size for her small bedroom.
Create a collage wall with properly-scaled artwork for your small bedroom.
If you are decorating a small bedroom, then it's important to pay attention to scale.
You don't want to overwhelm a small space with giant wall decor, but at the same time, you don't want to just hang a few teeny-tiny pieces making the room look empty.
I created this perfectly-scaled collage of cheap wall decor that I found at Hobby Lobby.
This cute wall collage also helps to define a small reading nook that I created for my daughter with a butterfly chair and a fluffy rug.
I got all three of these cute wall art pieces for less than $35 total! Love those 50% off sales at Hobby Lobby!
Use floating shelves to get items off the floor.
Floating shelves are a great way to get stuff off of the floor and make a small bedroom look larger.
My youngest daughter needed somewhere to put her nightlight, remote control, and her water cup. Rather than buying a small nightstand (which would have been pricey and bulky), we built this simple floating shelf.
And, to make her small bedroom look larger, we even painted it the same color as the wall so as not to add any visual bulk to the space.
If you want to try this small bedroom decorating idea, then here is a great tutorial for how to build a floating shelf.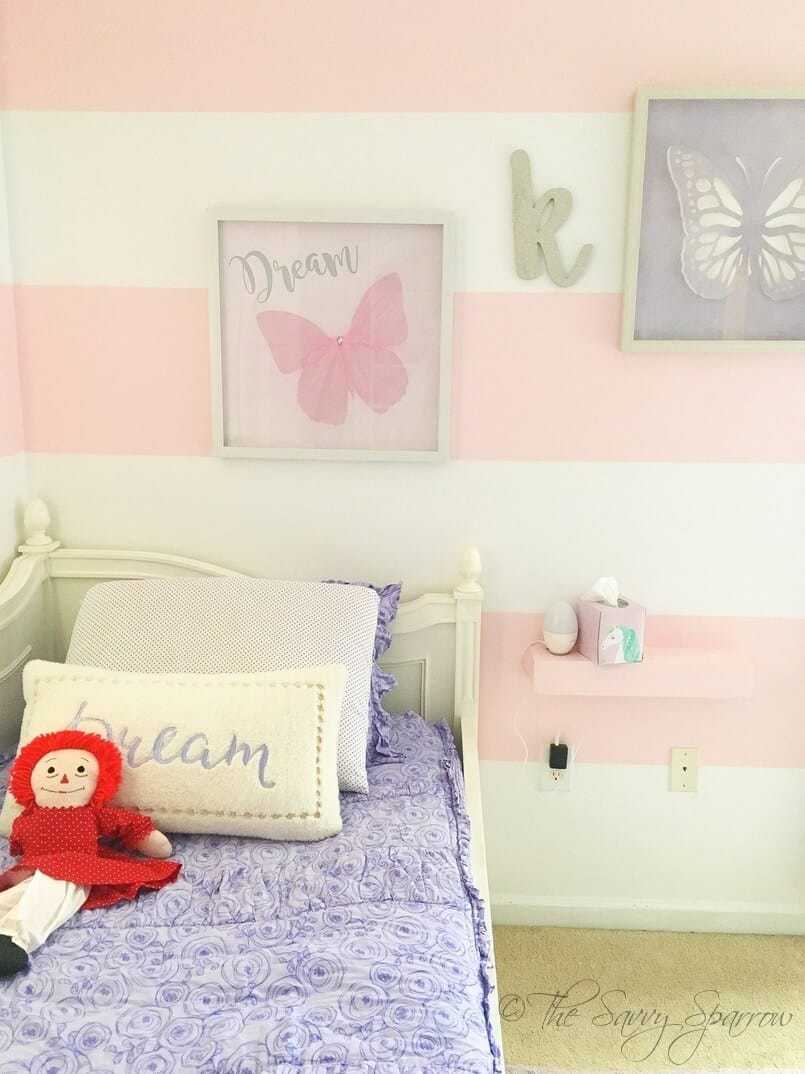 The floating shelf blends into the wall and doesn't distract the eye. Plus, it allows us to easily access her trundle bed when she has a friend sleepover.
Do away with bulky bedding.
Giant, fluffy comforters that hang to the floor may be comfy, but they can add a lot of visual bulk to a space making it feel smaller.
Go with streamlined bedding that tucks into place to make a small bedroom look larger.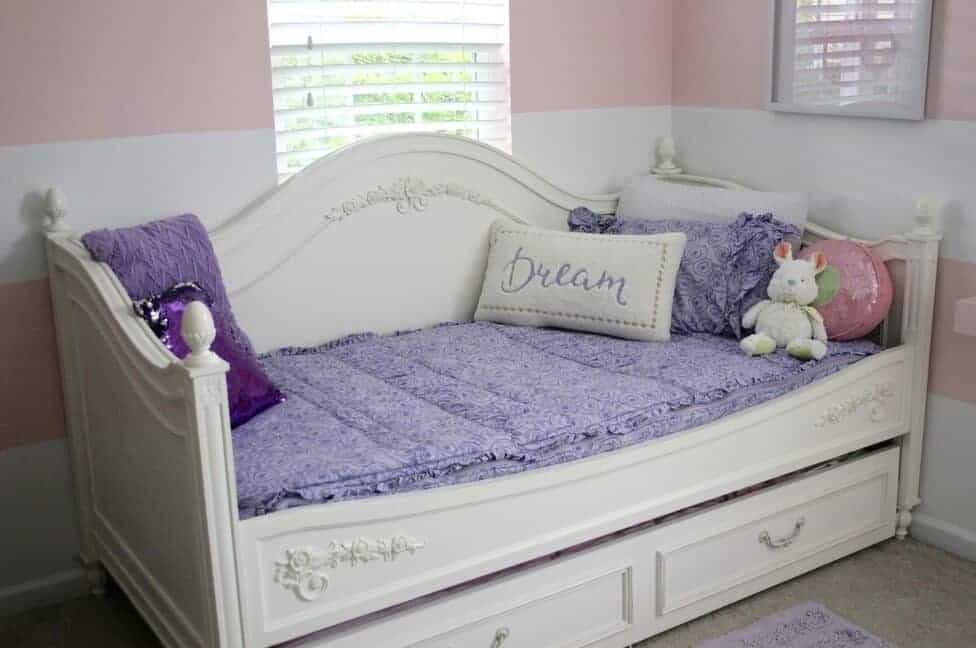 If you have kids, then I HIGHLY RECOMMEND Beddy's zip up bedding systems. My daughter's all-in-one Beddy's is legit my favorite thing in her room… so much so that I wrote a whole post on the many reasons why I LOVE Beddy's!
Click HERE for 20% OFF Beddy's zip-up bed sets!
And there you have it… My best tips for how to make your small bedrooms feel larger!
If your home has small bedrooms, too, I'd love to hear how you decorated your spaces! Leave me a comment down below!
And happy nesting!