Want to make your own tobacco basket wreath for your DIY fall decor this year? This DIY tobacco basket wreath is cheap AND super simple to make! You can make this easy farmhouse fall wreath in under 20 minutes for less than $15… That's my kind of DIY fall wreath!
I'm sure that you've seen the cute tobacco basket wreaths lining the walls of Hobby Lobby, Michaels, or your local craft store. Is it just me, or are retail craft stores selling wreaths made from all sorts of things these days?
You can buy a bicycle wheel wreath, an embroidery hoop wreath, or a tobacco basket wreath from pretty much any big craft store now….
If you want to dole out about $60!
Truth – I didn't even know what a tobacco basket was until we bought our house two years ago. The previous owner had a HUGE tobacco basket hanging over the fireplace. At the time, I had NO idea that it was even called a tobacco basket, but I knew that I liked it… whatever it was.
Fast forward a few years, and now tobacco baskets seem to be a permanent fixture in farmhouse decor. Even Walmart has gotten in on the trend.
So, I thought I would jump on the tobacco basket wreath bandwagon, too. (Say that 3 times fast!) Only, I wasn't about to spend a ton of money, so I figured out how to make my own DIY Tobacco Basket Wreath for Fall.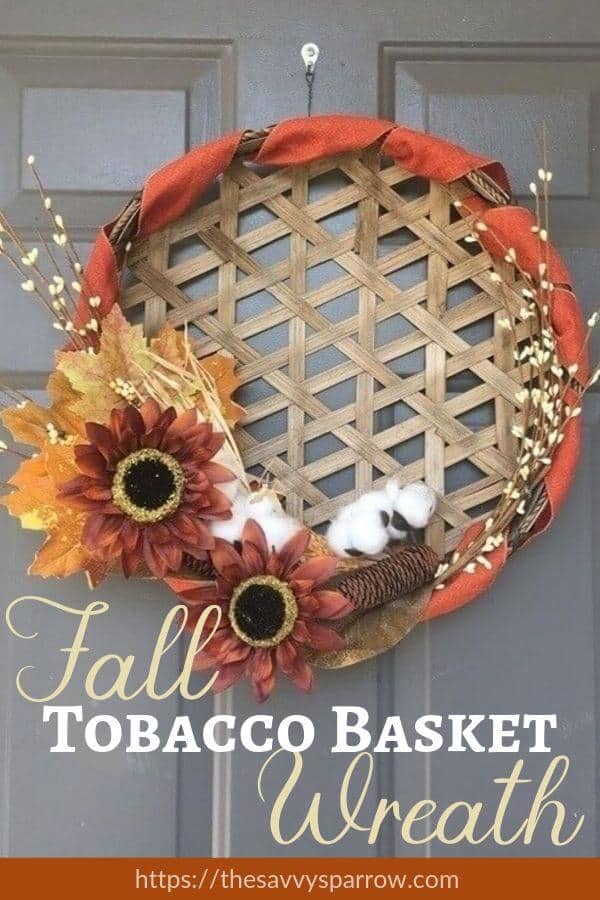 And this beauty was under $15!
If you love a good cheap and easy DIY wreath project too, then this one's for you:
How to Make a Tobacco Basket Wreath:
Step 1: Gather your supplies
This tobacco basket wreath only takes a few inexpensive supplies. I lucked out and scored all of my wreath-making supplies at OVER 50% OFF!
Here's what I used:
Tobacco Basket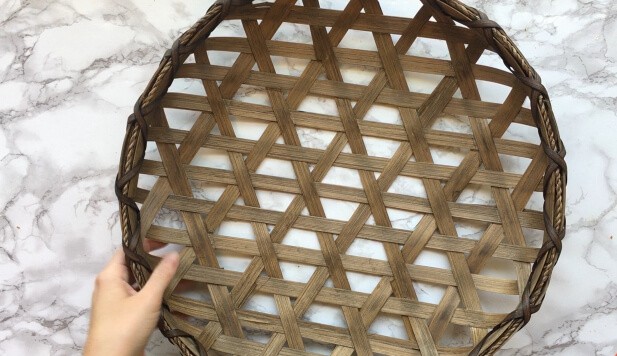 I found my tobacco basket at AC Moore for just $5! I've also seen them at Michael's and Hobby Lobby, both of which often have coupons available for 40% off or more.
Floral picks
My floral picks were also a fab and cheap find from AC Moore. The sunflowers and ivory bud sprays that I used were all $1 each (over 60% OFF!), and the leaf/pinecone/cotton picks were only $1.50 each.
Ribbon
Since my floral picks and tobacco basket were pretty neutral, I knew that I wanted to add a punch of color to my tobacco basket wreath. Hence, the addition of wide ribbon.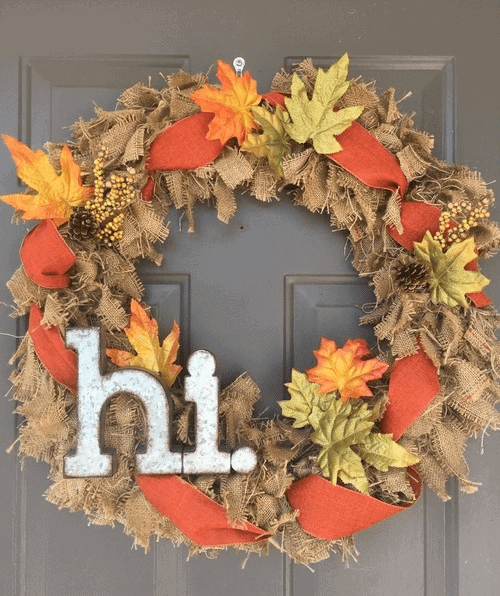 I had ribbon leftover from my DIY fall wreath that I made last year, and it just happened to match perfectly with my floral wreath picks. Love when that happens!
Floral wire
I used floral wire to make a simple hanger on the back of my tobacco basket wreath, but you can also use butcher's twine, jute rope, or whatever you have on hand.
Step 2: Weave ribbon around the frame of the basket
This step needs no explanation… told you this was a cheap and EASY wreath for fall!
Step 3: Insert floral picks into the frame of the tobacco basket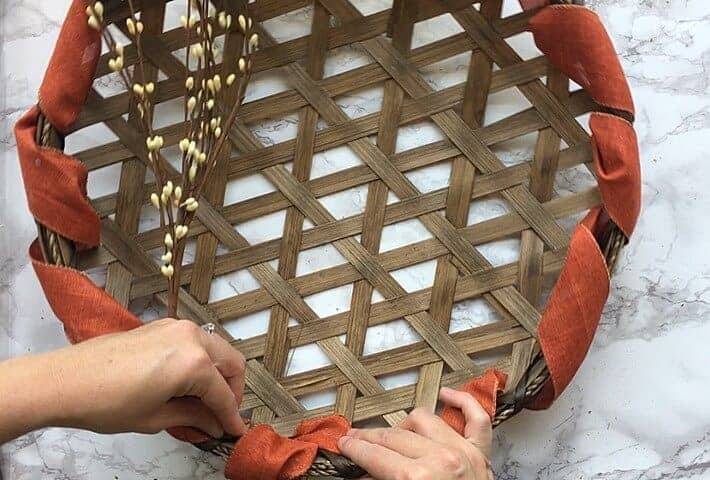 The frame on my tobacco basket has dark brown reed pieces that criss-cross around the basket. I just pushed the ends of my floral picks through those pieces.
It was super simple and the dark brown pieces acted as a wire, holding the picks in place. If your tobacco basket doesn't have a similar frame, then you can attach your floral picks with floral wire. However, I would recommend using brown taped floral wire so that it blends seamlessly with the tobacco basket.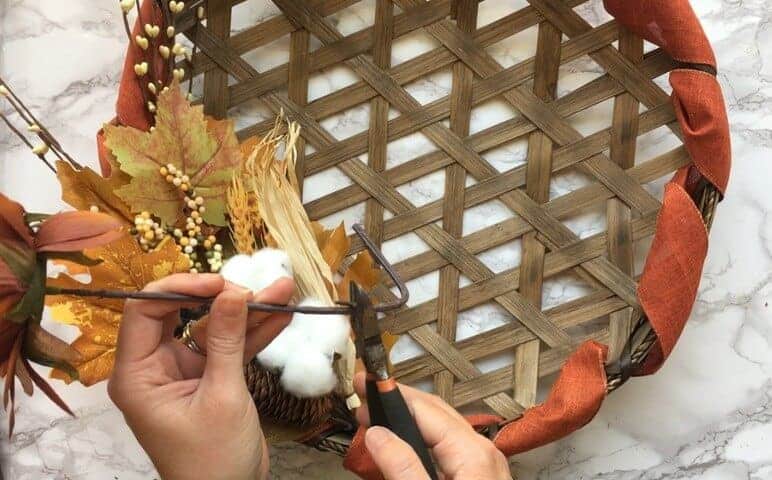 You may also have to use a pair of wire cutters to snip the ends of your floral picks.
And the great thing about this wreath is that I didn't use a single drop of glue on the entire thing! So after fall is over, I can just swap out the leaf picks and orange ribbon for some evergreen sprigs and Christmas picks.
Then, you can have a whole new wreath to use for Christmas for just a few dollars!
Step 4: Attach a loop of floral wire to the top of your tobacco basket to use as a hanger
I just folded a piece of wire in half and wrapped the ends to make a loop. Then attach it to the top of your DIY fall wreath.
In the past, I have also used jute rope to make simple loops to use as a hanger, so don't feel like you have to run out and buy floral wire if you don't already have it.
That's the beauty of DIY… you can keep the cost low by getting creative with supplies that you already have on hand!
Step 5: Hang your tobacco basket wreath and enjoy!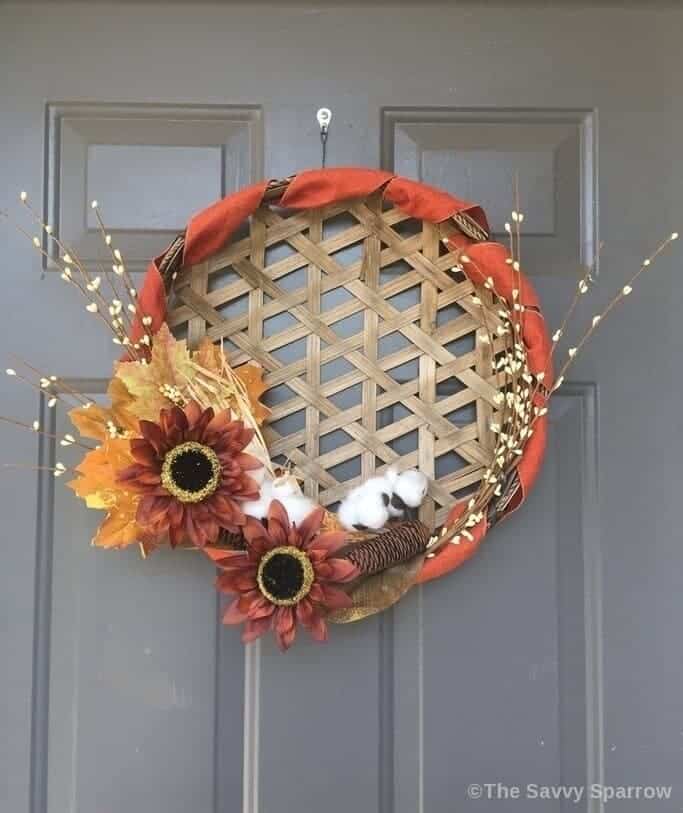 And that's it! If you LOVE farmhouse style, but you need farmhouse decor on a ramen budget, then you will love this fall tobacco basket wreath!
This project is so easy that you can do it while the kids nap… or even with a toddler hanging off your leg. 🙂
Or, if blush tones and pinks are more your thing, then check out this tobacco basket wreath for fall from Positively Splendid.
And for those of you visual learners, I made a video! Check it out:
PS – I LOVE it when you leave me comments and pin my posts! Just saying. 🙂