If you're looking for a great gift for yourself or a Christmas present for your sister or best friend, then this FabFitFun review is for you! Want to know if the FabFitFun box is worth it and how the FabFitFun subscription box works? Read on to find out why the FabFitFun membership is my favorite way to treat myself!
But before I jump into the FabFitFun review, a little back story…
I buy my own Christmas gifts. I'm not ashamed to admit it. I'm an awful gift recipient, especially when it comes to getting gifts from my husband.
Since I manage all of our finances (using this simple method that takes me 5 minutes a day!), then I'm well aware of our budget and monthly expenses. So I really keep a close eye on how much money my family spends. And if my non-deal-finding husband buys me a gift that I think is too expensive or that I can find for a better price, then I return it.
Yes, I know… it drives him crazy!
The majority of my wardrobe is from consignment stores or garage sales, and I don't spend money on things like spray tans, manicures, or expensive salon treatments. In fact, besides the occasional Starbucks latte, I really don't treat myself. And when I do, it's something that is a super good, can't-pass-it-up deal.
But, I finally broke down and ordered myself a FabFitFun subscription box about a year ago. I love luxury beauty products and cute accessories, but I don't normally spend money on things like that. So, naturally a subscription box curated for women with all the cute things at a discount of at least 75% off peaked my interest.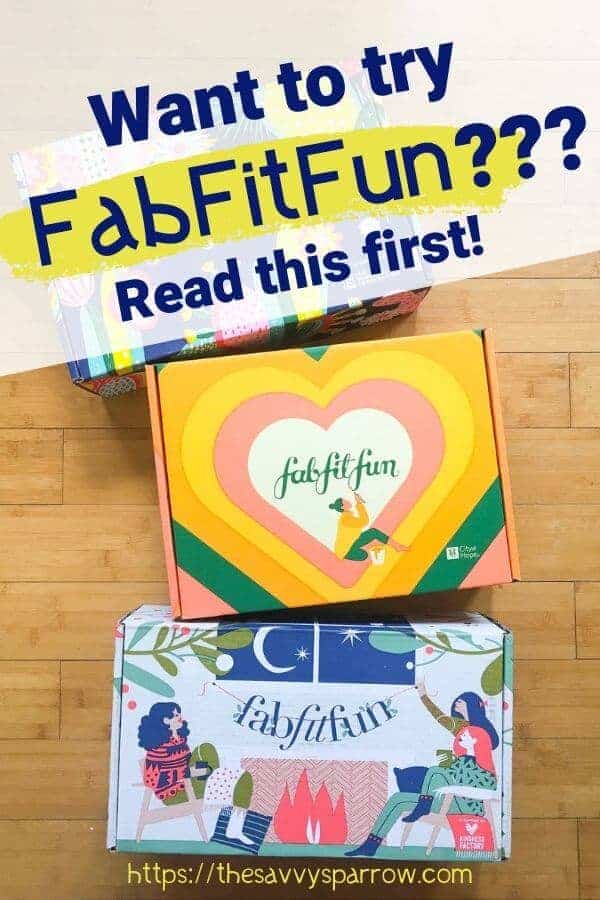 This post contains affiliate links, which means I may earn a small commission from these links at no additional cost to you. I only promote products that I use and love! Read my full disclosure here.
Maybe you've seen former reality TV stars, wives of athletes and musicians, and instagram influencers showing off their latest FabFitFun boxes on your social media feeds…
And you've wondered, if everyone and their mother seems to be posting FabFitFun reviews, then maybe FabFitFun is worth it after all?
Or maybe you're a subscription box newbie… or you have no idea what FabFitFun is…
If FabFitFun has peaked your interest, too, then check out my own honest FabFitFun review to find out more about this awesome gift to buy for yourself!
Here's my Honest FabFitFun Review:
I signed up for FabFitFun about a year ago. I had experimented with a few monthly beauty subscription boxes before, but those two (Allure Beauty Box and Birchbox) just offered trial sized products.
Yes, I did find some new AWESOME beauty products from those monthly subscription boxes, some of which I still use to this day, but I was paying for sample sizes, and you can get FREE samples at many beauty stores.
So that got me thinking… why am I paying $15 a month for 5-7 sample sizes when I could be paying $49.99 per quarter for FULL SIZE products?
Maybe because of pricing psychology and the fact that $15 sounds a lot better than $50…. but do the math…
If you divide $49.99 by 3 months (because FabFitFun is a quarterly box), then you come out with a price of $16.66 per month. It sounds a lot more affordable now, doesn't it?
So for $1.66 more per month than the other beauty subscription boxes with trial size products, you can get FULL SIZE products.
That's what sold me originally. So besides the GREAT VALUE compared to other beauty subscription boxes, here's what you need to know about FabFitFun boxes:
How Does FabFitFun work?
This FabFitFun review wouldn't be complete without telling you what the heck FabFitFun actually is. So let's start with the basics…
FabFitFun is a quarterly subscription box for women that delivers FULL SIZE beauty, fashion, fitness, and lifestyle products to your door. The cost of the box is $49.99 per quarter, but the value of each box is well over $200.
And, you can get your first box for only $39.99 if you sign up HERE and use the promo code RAINBOW.
My most recent FabFitFun box had a value of $288 as you can see below: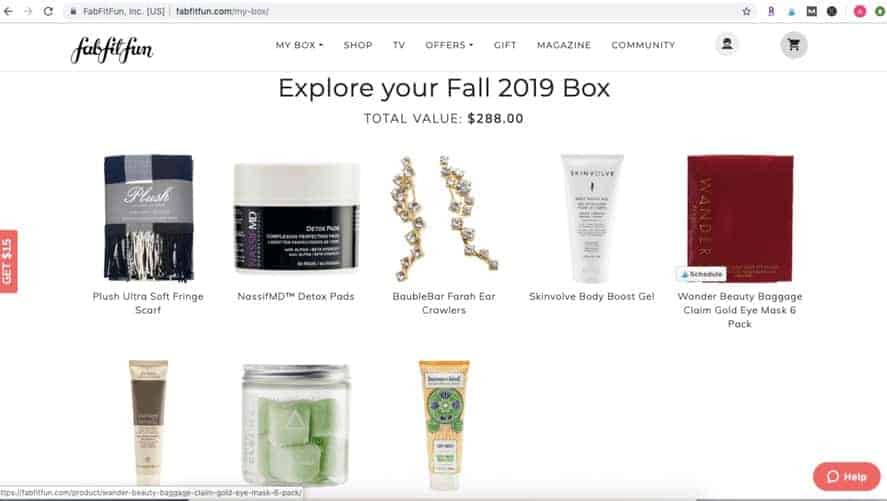 New FabFitFun boxes are released each season… so there is a FabFitFun Fall box, FabFitFun Winter box, and so on. If you join in between seasons and the current seasonal box is sold out, then your first box will be a FabFitFun Editor's Box.
The Editor's Box is still awesome and features products and brands that are Editor and subscriber favorites. Just like the regular FabFitFun boxes, the Editor's Box is valued at over $200 and changes each season.
An Honest FabFitFun Review: My Favorite Things about FabFitFun Boxes
You get to customize your box!
This is my absolute FAVORITE thing about FabFitFun, and no FabFitFun review would be complete without talking about the ability to actually choose what you want to receive!
At the beginning of each season, FabFitFun will send subscribers an email saying that customization is open. That means that you can sign in to your FabFitFun account online and choose some of the items that will be included in your FabFitFun box.
Seasonal members (those that pay each quarter) typically get to pick 3 different products from the available choices, while Select members (those that upgrade to an annual membership and pre-pay for 4 boxes) get more customization options. FYI – if you think that you will really enjoy FabFitFun, then a Select membership is your best value because you get 4 boxes for $179.99, which is $20 off.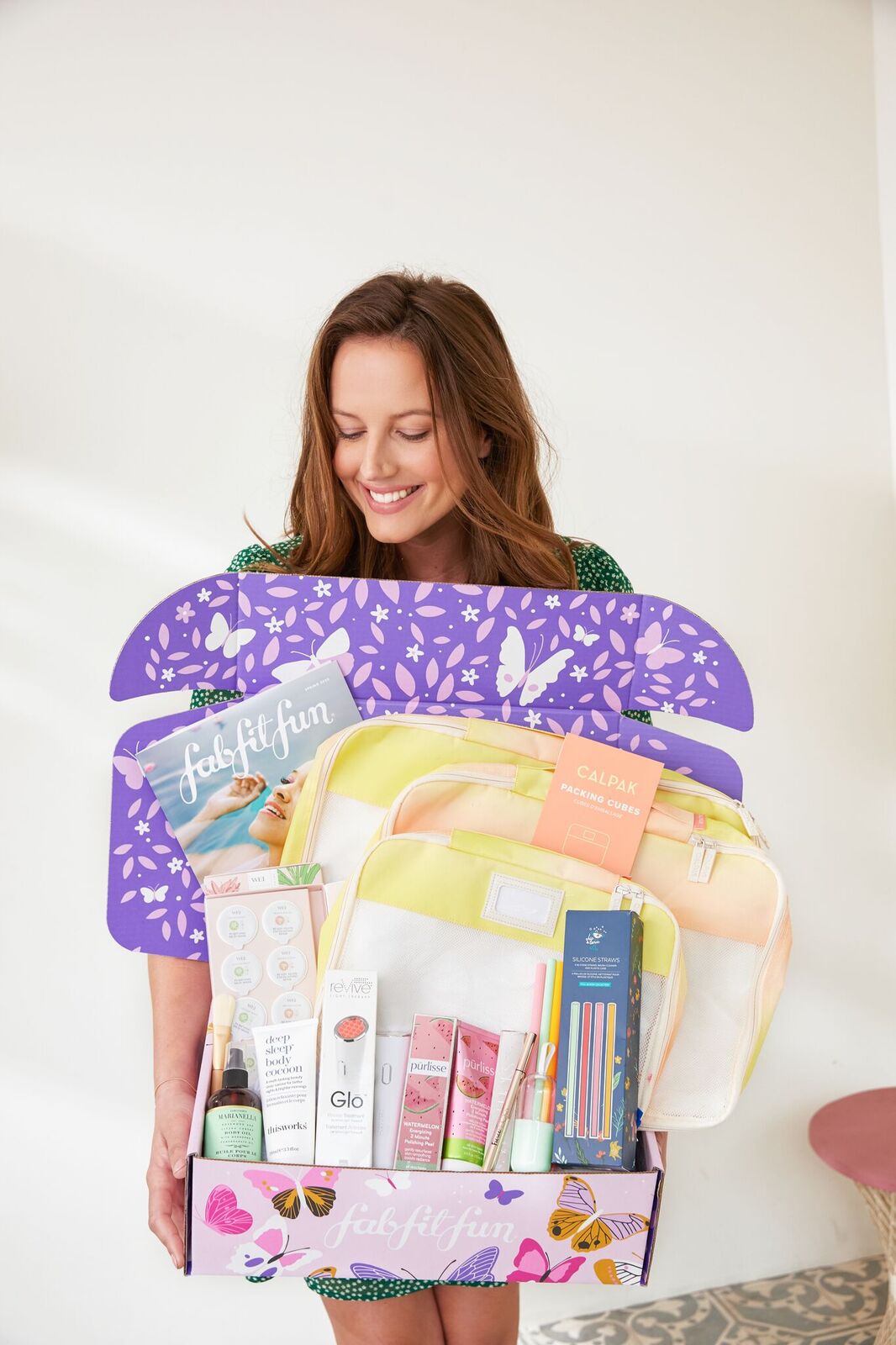 You can purchase Add-Ons at a deep discount!
Add-ons are products from past boxes and Editor favorites that you can purchase at discounted prices (as much as 70% off!). You can purchase these extra products to be shipped in the same box as your regular FabFitFun box. And, because they are shipped together, you don't pay any additional shipping charges for add-on products.
So, why are Add-ons one of my favorite things about the FabFitFun boxes?
Because if you try a product in one of your boxes that you absolutely fall in love with, then you may have the option to purchase another one at a great discount!
Members that purchase Add-ons also get their boxes shipped earlier than seasonal members that don't purchase any add-ons. So, yes, I have been known to add a $5 product (that was valued at $19) to take advantage of the early shipping.
You get introduced to new products!
I definitely wouldn't call myself a "product junkie", but I do LOVE trying out new beauty products. I have found some of my absolute favorite, can't-live-without products (I'll tell you about some of them below) thanks to FabFitFun! Products that I never would have bought for myself otherwise.
And if fashion, fitness, and lifestyle products are more your thing, then you'll love the FabFitFun box, too.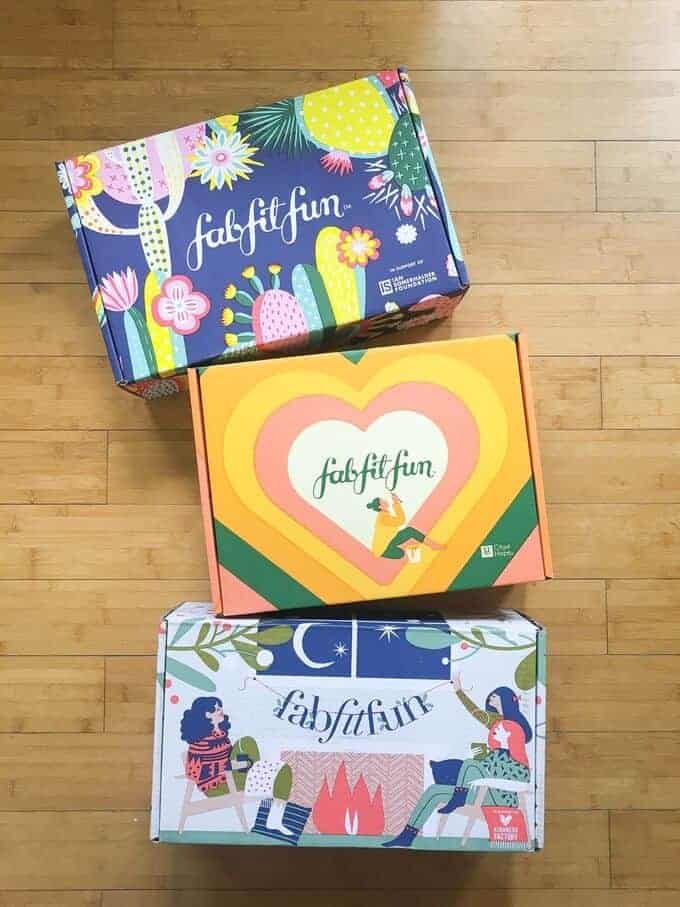 I just got the cutest and comfiest buffalo check scarf and ear climber earrings in my FabFitFun Fall box. These are things that I definitely wouldn't have bought myself in the store, because I typically don't spend ANY money on accessories. So, it was nice to get those items in my box to add to my small accessories collection.
An Honest FabFitFun Review: The Negative
In the interest of being completely honest with you… yes, there is one negative thing that I can tell you in this FabFitFun review…
You are bound to not like something in one of your boxes… eventually. Maybe it's an accessory that you're not crazy about, or a beauty product that doesn't deliver.
If you do get something that you don't want to keep, you can gift it to a best friend or even sell it! I've seen FabFitFun products at garage sales and on Facebook Marketplace.
I got a mini canvas backpack in one of my past boxes that I didn't love. Even though I chose it as one of my customization options, it just didn't speak to me when I actually received it in person. Fortunately though, my 9 year old daughter had been talking about wanting a "more grownup" mini backpack to use instead of her flip-sequin Justice one, so I gave it to her instead.
Even if you absolutely HATE one of the products in every single box, I still think the FabFitFun box is worth it. The value of all of the other remaining products will still far outweigh what you paid for the box.
Which brings me to a FabFitFun FAQ…
Is the FabFitFun Box Worth It?
In one word… YES!
At about 55 cents a day, or $16.66 per month, I would say that the FabFitFun box is worth it. That's the price of about 3 Starbucks drinks…
Or you can think about it this way… If you're shopping at the mall and you see a rack that says "75% OFF", are you going to make a beeline for it, or are you going to skip over it and just shop the full price racks?
That's what I thought… I love a good bargain, too! And remember, you pay $49.99 for a box of goodies that is valued at OVER $200… so it's like getting everything in your box for OVER 75% off retail price.
And, you can get your first box for only $39.99 if you sign up HERE and use the promo code RAINBOW.
Or, think about it this way… if you end up finding a beauty product that you absolutely LOVE that totally transforms the look of your skin (or hair, or lips, or nails), then wouldn't it be worth it to you?
But the question of "Is the FabFitFun box worth it?" has a different answer for every person, because "value" has a different meaning for everyone. If you're struggling to pay your bills on time then, no, it's not worth it for you.
But if you have some extra money each month… like you can indulge in your Starbucks obsession AND treat yourself to some new goodies, then I say go for it.
How Many Items are in the FabFitFun Box?
Each FabFitFun box typically includes 8-10 full size products! Considering that many of the other beauty subscription boxes only include 5-6 sample sizes, I think that's a great deal.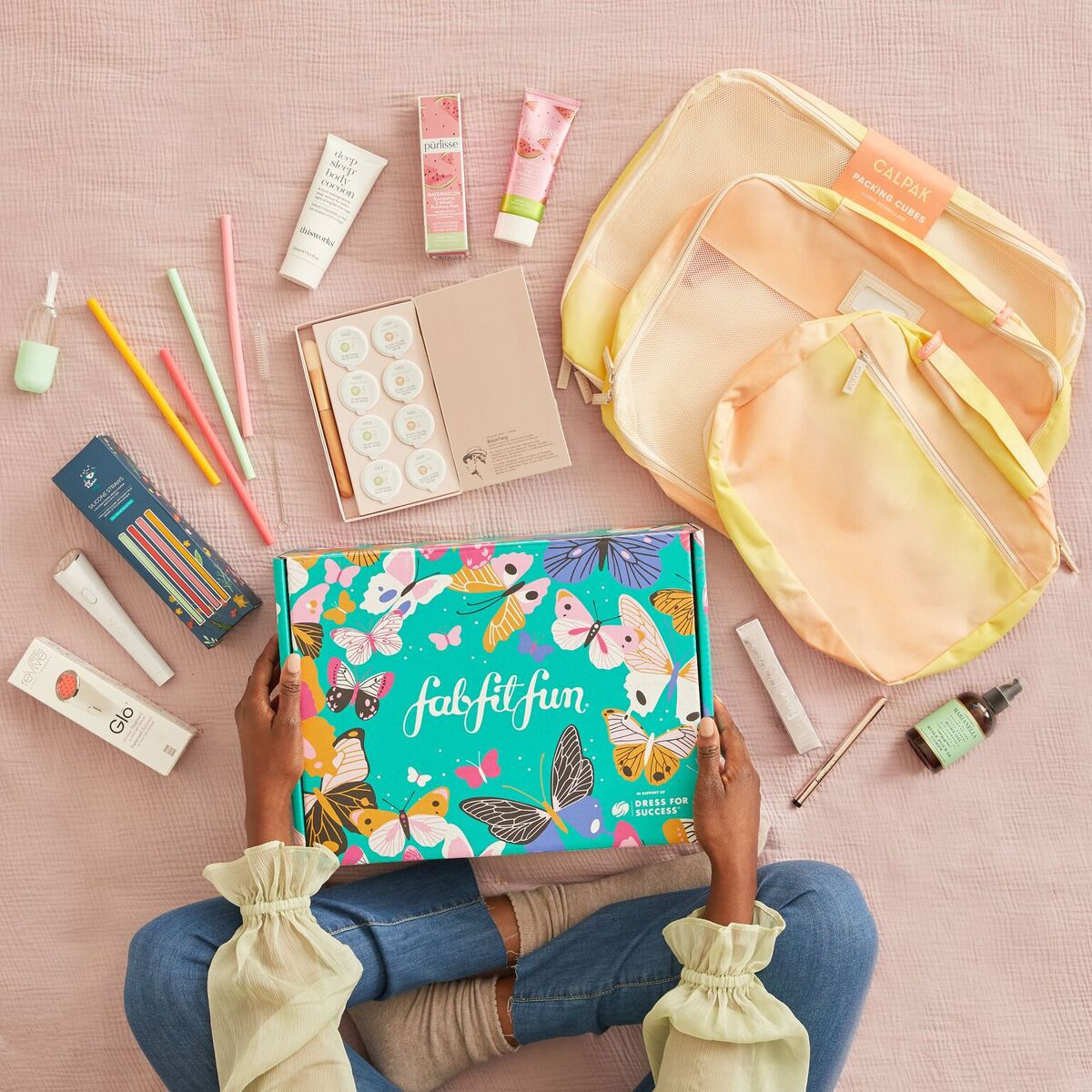 You can find examples of past FabFitFun boxes on their website HERE! And don't forget to use the code "RAINBOW" to get $10 OFF your first box!
Can You Cancel FabFitFun?
Yes! If you are a Seasonal member (meaning you pay each quarter), then you can cancel anytime by logging into your online account. However, you will need to cancel your membership BEFORE the billing date for the next box.
If you don't cancel, then you will automatically be billed for and receive the next season's box. You will also get "spoiler" emails of some of the products that will be in the next box, so if you don't see anything that you like, you can cancel your membership and then reactivate it later.
I have done that once before. I wasn't really interested in any of the products in last winter's box so I just cancelled before the billing date for that box, but then reactivated my membership for the spring box.
It's easy-peasy and there are no cancellation fees.
Want to get your own FabFitFun box or give one as a gift?! Go HERE to get your first box for only $39.99 with the promo code RAINBOW.
Some of My Favorite FabFitFun Products from Past Boxes…
As I mentioned before, FabFitFun has introduced me to some of my most favorite beauty products ever! Here are just a few of my favorite items from past FabFitFun boxes with their retail values so that you can see what a great deal the FabFitFun box really is…
NassifMD Complexion Perfecting Detox Pads – Retail value $45
Yes, this one product (out of 8 in that box) almost paid for the entire box.
I have struggled with acne for the last 20+ years… ever since I was 15 and my oil glands went into overdrive. My parents spent thousands of dollars on dermatologist appointments, prescription medications, Proactiv, etc. If there's an acne treatment out there, chances are I've tried it! And decades of acne has left me with skin discolorations and uneven texture.
I have only been using the NassifMD Detox Pads for about ten days (they were in my most recent box!), but I have already noticed a HUGE improvement in my skin! I'm hoping that they show up as an Add-on option in the next box so that I can stock up at a good discount, but even if they don't I'll still be purchasing them at full price because they work that well.
Want to get your own FabFitFun box or give one as a gift?! Go HERE to get your first box for only $39.99 with the promo code RAINBOW.
Plush Ultra Soft Fringe Scarf – Retail value $75
I wouldn't have ever considered myself a scarf person (remember, I don't spend money on accessories), but this scarf has converted me. It is ultra soft (aptly named!), and the navy blue buffalo check goes with everything!
Ouai Leave-in Conditioner Spray – Retail value $42
This is another one of those luxury beauty items that I never would have spent the money to buy for myself (noticing a trend here?!). It's just hard for me to spend over $40 on a hair product… which is why I love the FabFitFun box so much! The best gifts to get are things that you LOVE that you would never in a million years buy for yourself, right?!
And this conditioner spray is no different! It makes my hair smell fabulous and leaves it smooth without weighing it down or making it feel greasy. Yet another amazing product that I never would have tried had it not been for FabFitFun.
Quay Australia Aviator Sunglasses – Retail value $65
I honestly have never spent more than $15 on a pair of sunglasses. In fact, the ones that I had before I got these awesome aviators were just $1 from the dollar spot at Target.
So, this is another item that I LOVE that I NEVER would have bought for myself! And that's the true beauty of giving yourself a FabFitFun membership! You get a cute box of awesome goodies on your doorstep at the beginning of each season… Cute things that you would LOVE to buy for yourself in the store but that you just couldn't justify spending money on.
And the value of just one item in each box usually covers the cost of the ENTIRE box.
Want to see more? Check out the video below for my latest unboxing!
FabFitFun Unboxing Video!
Here's my LIVE unboxing of my most recent FabFitFun Fall 2019 box so that you can see the sizes and variety of products that you can expect to receive with a FabFitFun membership:
Want to get your own FabFitFun box or give one as a gift?! Go HERE to get your first box for only $39.99 with the promo code RAINBOW.
Or, you can click HERE to check out more awesome subscription boxes for women!
And if you enjoyed this FabFitFun review, then be sure to check out some of my other posts…