If you need Thanksgiving place card holders for your DIY fall table decor, or if you're looking for fall place card holders for your fall wedding, then this super easy DIY is for you!
I've got another 5 minute fall DIY project for you today!
Don't you love when you can create something beautiful and functional in less time than it takes you to clean out the dishwasher?
If you answered "Heck, yes!", then be sure to check out my ridiculously easy 5 minute fall burlap banner, too!
And this easy DIY idea is just in time for Thanksgiving, when you're already running around like a crazy turkey, trying to prep a feast for 35 people, clean your house, and not burn the pie crusts.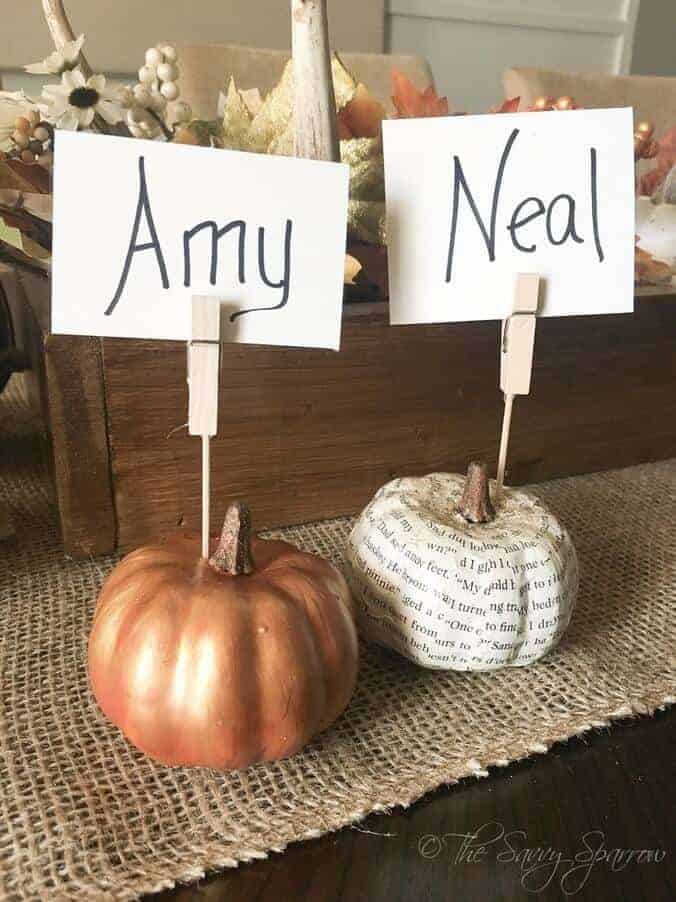 Yup, these DIY Thanksgiving Place Card Holders are super easy to make so you don't add a lot of stress to your Thanksgiving plate.
You can literally fire up the glue gun right before your Thanksgiving guests arrive, and still have these cute Thanksgiving place card holders ready for your big dinner party.
Just take some inexpensive pumpkin decorations, add toothpicks and mini clothespins, and Voila!… the easiest ever DIY Thanksgiving place card holders: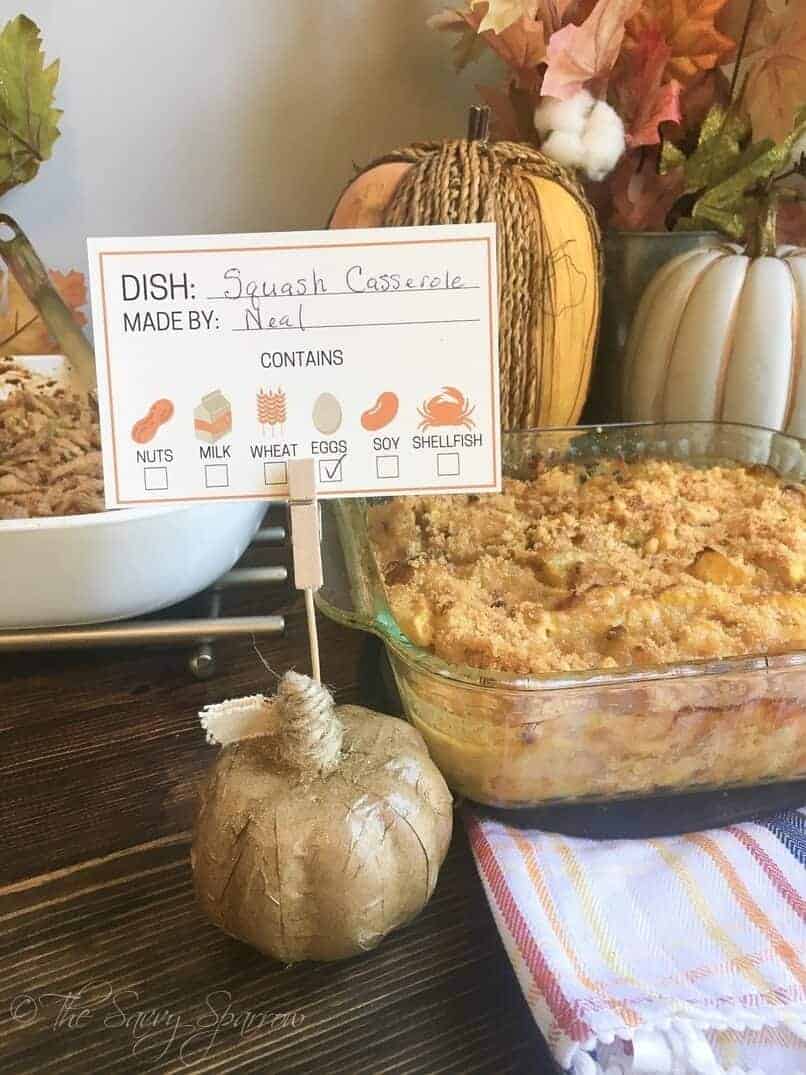 As you can see, I used my place card holders to display dish labels for my Thanksgiving side dishes…
Our Thanksgiving dinners are just family members… a whole TON of family members… so I don't go to the fuss of assigning everyone a seat.
If you're having a formal Thanksgiving dinner, or if you happen to need place card holders for a fall wedding, then these are perfect for you!
I even made a video to show you just how easy this Thanksgiving table decor idea is:
How to Make Thanksgiving Place Card Holders
Step 1: Gather your supplies.
These easy Thanksgiving place card holders only take a few supplies that you can easily find at most major craft stores:
Pumpkin Decorations
I got my mini pumpkin decorations from Hobby Lobby. They came in a box of 12-14 for less than $10.
The pumpkins are a hard styrofoam type material, which is perfect for this project, because the toothpicks just stick right in the tops of them.
Toothpicks
Mini Clothespins
My mini clothespins are from Walmart, and at about 1 3/4″ tall, they are the perfect size for these cute fall place card holders.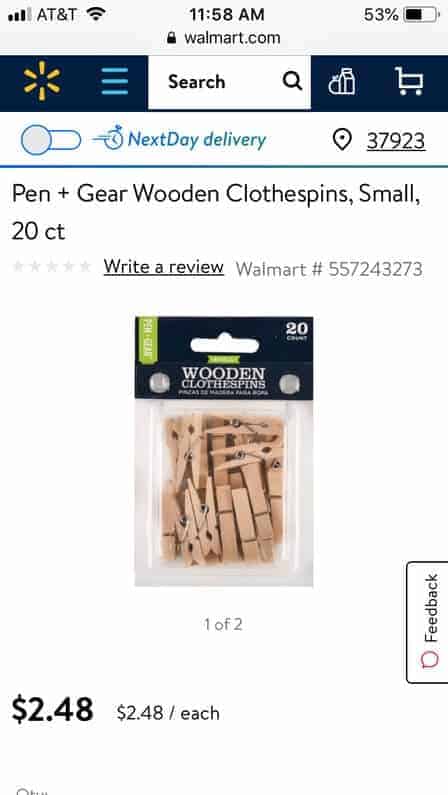 Glue Gun and Glue Sticks
Step 2: Insert a toothpick into the top of the mini pumpkin.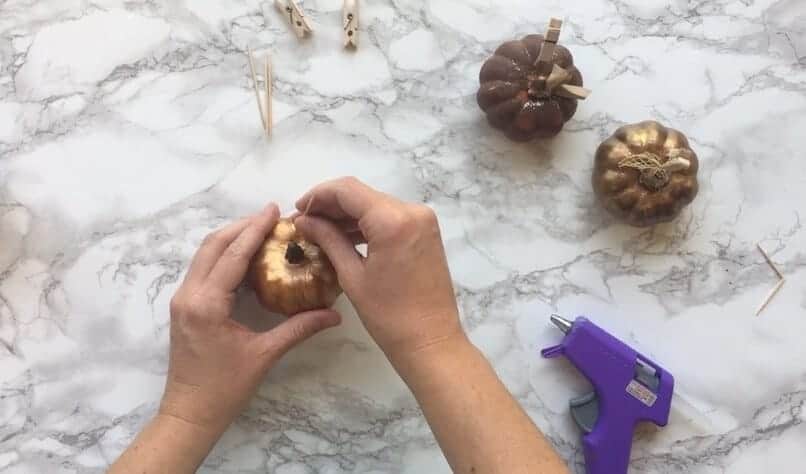 Just push a toothpick into the back side of one of your mini pumpkins, right behind the stem. It may take a few tries to get the toothpick in, depending on the density of your foam pumpkins.
Step 3: Hot glue a mini clothespin to the top of the toothpick.
Using your hot glue gun, glue a mini clothespin to the end of the toothpick so that the opening of the clothespin is facing upward, like so: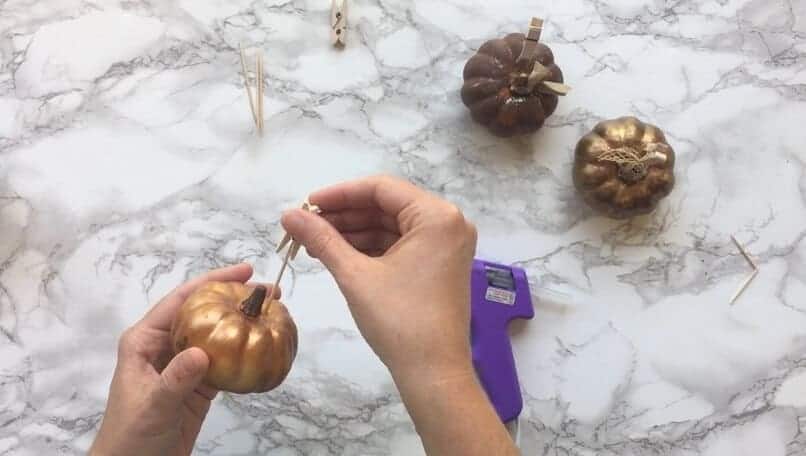 Step 4: Clip place cards to your cute Thanksgiving Place Card Holders!
After you give the hot glue a few seconds to dry, you're ready to clip on your Thanksgiving place cards! Told you these DIY fall place card holders were super easy!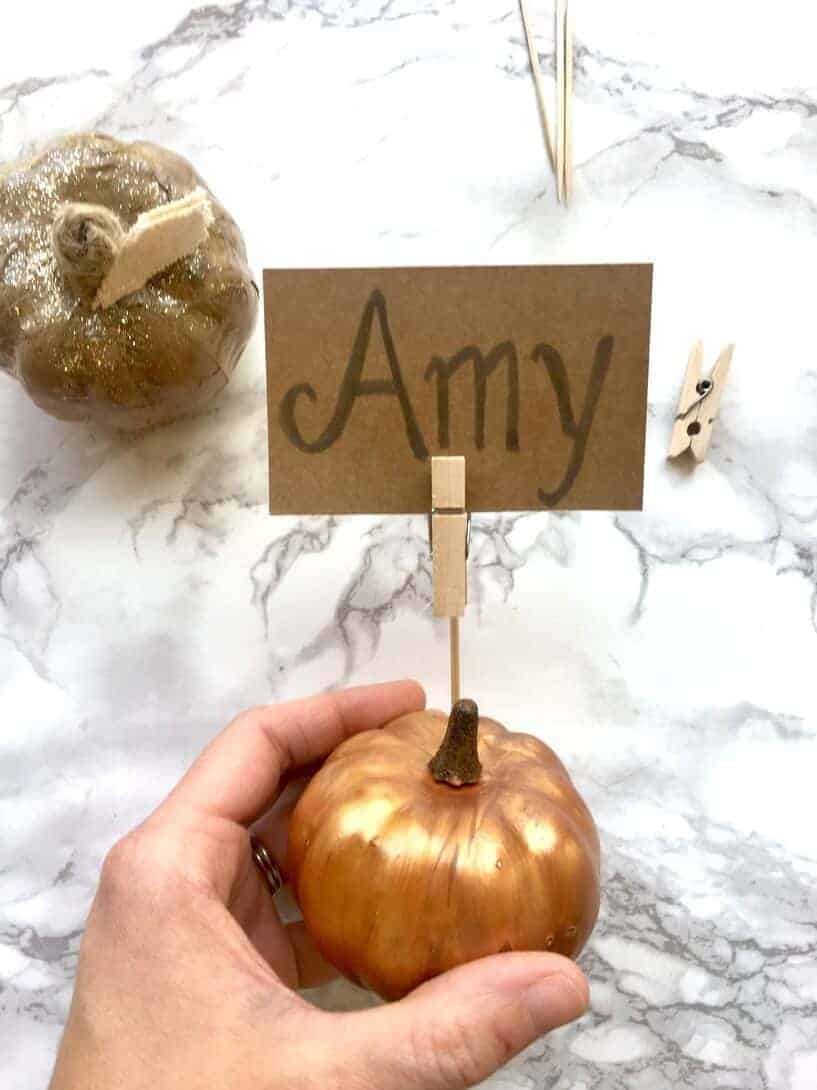 If you're really crafty and you've got some extra time to spare, you can even decorate your pumpkins!
I used acrylic paints on some of my pumpkins (the ones that were black and orange from Halloween decorations). I also used Mod Podge and old book pages and butcher paper to cover some of them for a little variety…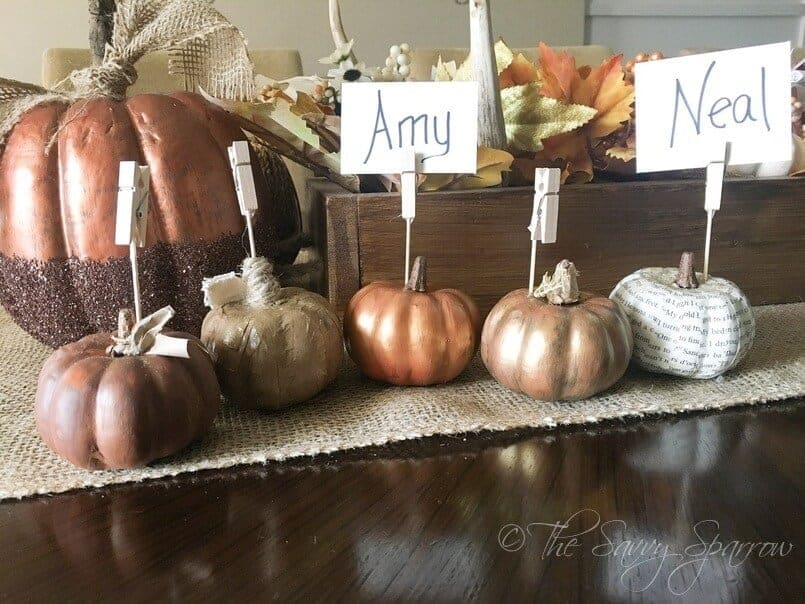 Aren't they adorable!
And, when they're not in use on your Thanksgiving table, these could also double as picture holders for your fall home decor!
And if you loved this easy fall decor idea, then hop over and check out these other fall decor posts:
DIY Fall Tobacco Basket Wreath
Happy nesting!