Nothing says "boring" like a large blank wall. No photos, no framing, no life, no fun. But figuring out how to decorate your large walls can be tricky. You want something that's not overpowering, yet not too understated. Something that's bright, but not distracting. So, how do I decorate large walls? Wall decals! I love wall decals because they can easily transform large walls from boring and blank to modern and interesting. However, it can take a while to get them perfectly straight if you don't know what you're doing. So I'm going to save you the time and let you in on my tips for how to apply wall decals in rows.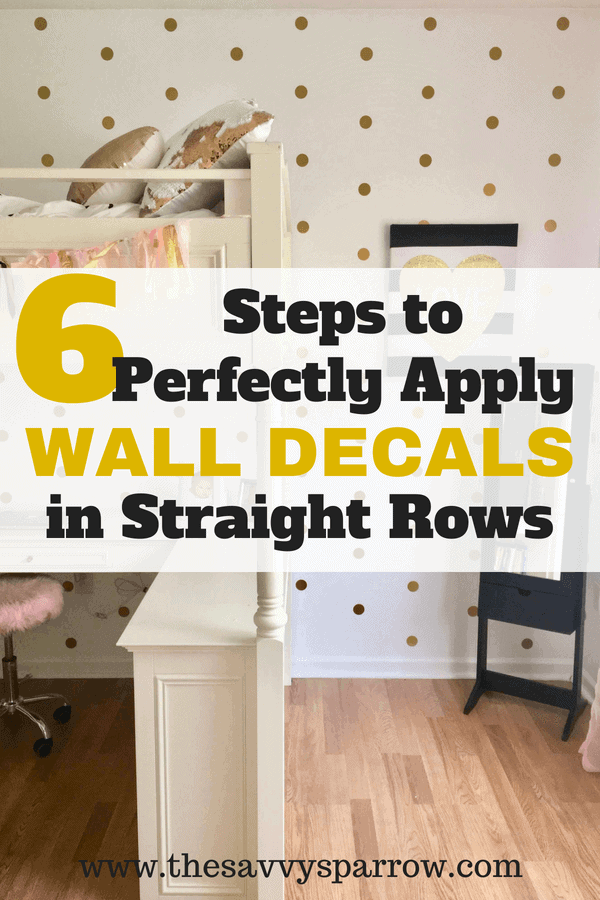 First, let's take a look at my oldest daughter's room.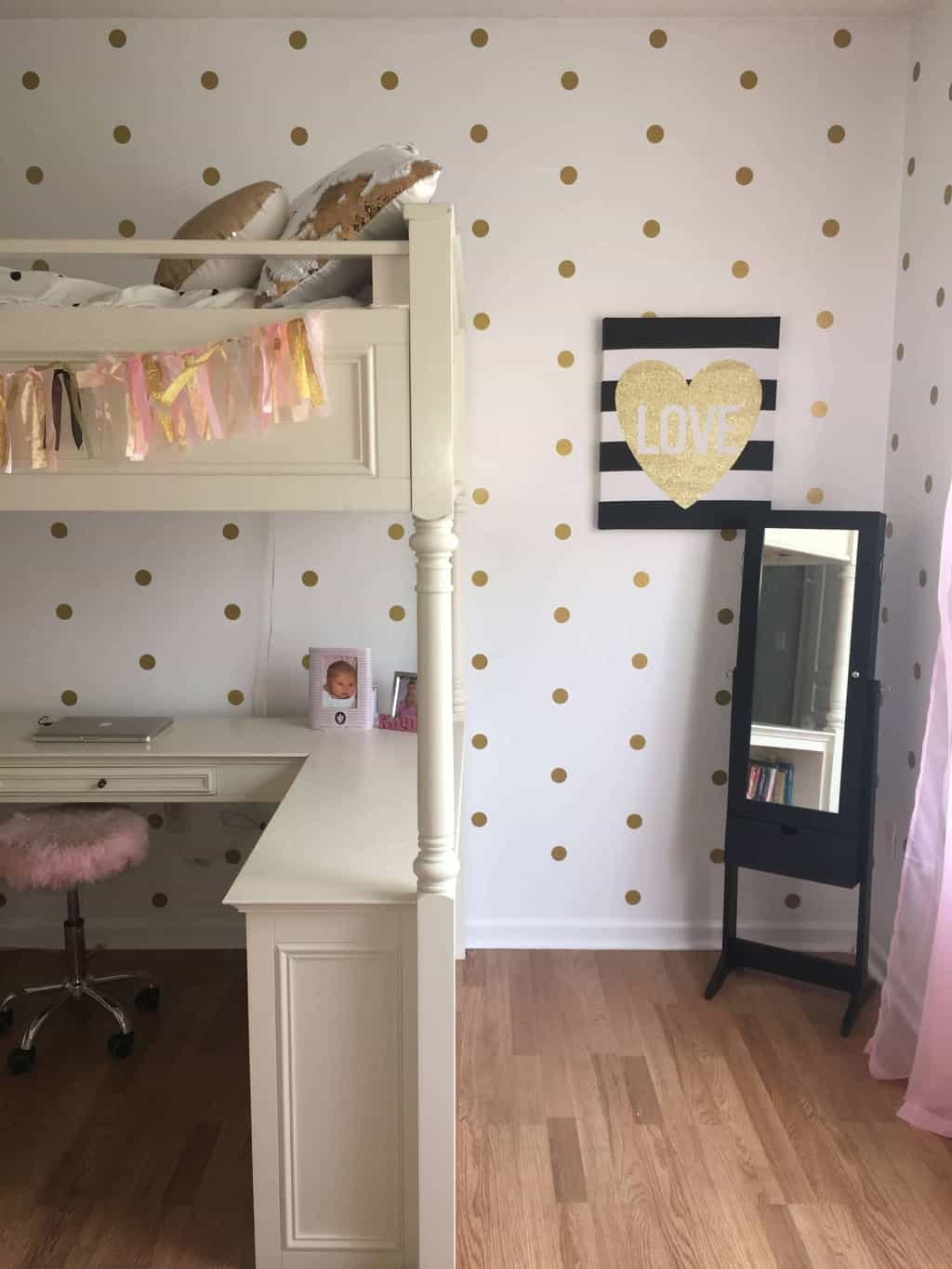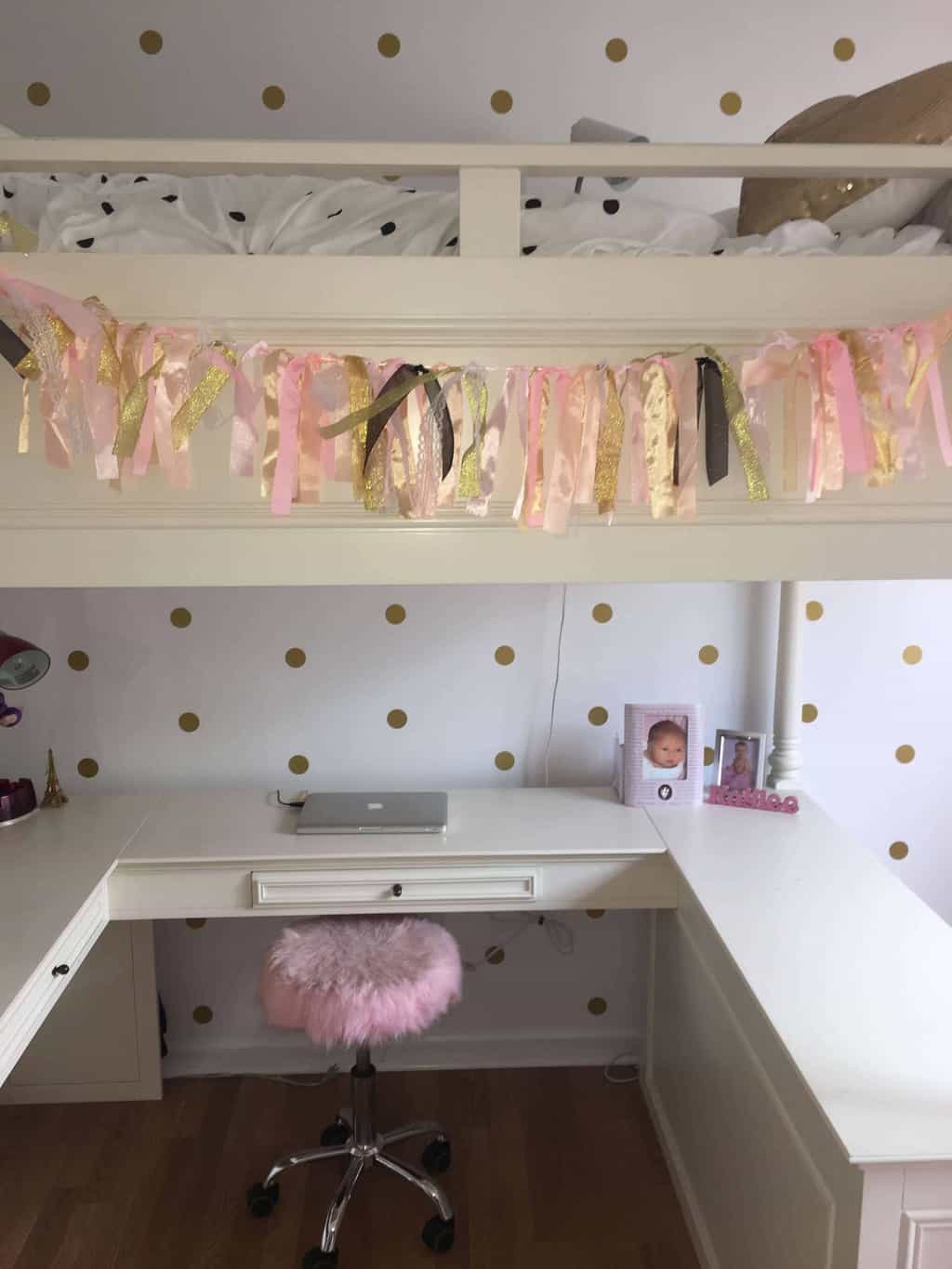 These are my absolute favorite decals. I had seen pictures of adorable little girls' rooms on Pinterest, covered in sparkly but subtle gold dots, and I knew I wanted to do the same thing for my daughter's space. So, I headed to trusty Amazon and found the wall decals that I felt were the best for the money. I ended up settling on these gold dots and, boy, am I glad that I did. I seriously cannot recommend them enough. Here is the link to buy the exact ones that I used:
These wall decals were easy to remove from the paper backing, and they went on the wall smoothly with no bubbles. Plus, if I didn't get them just right on the first try, they were easy to reposition. Which was great since I'm a perfectionist and I was trying to apply the wall decals in straight rows. And, they were a great value too! The pack comes with 200 dots, which was plenty for my project. That's a huge impact for any room for less than $10!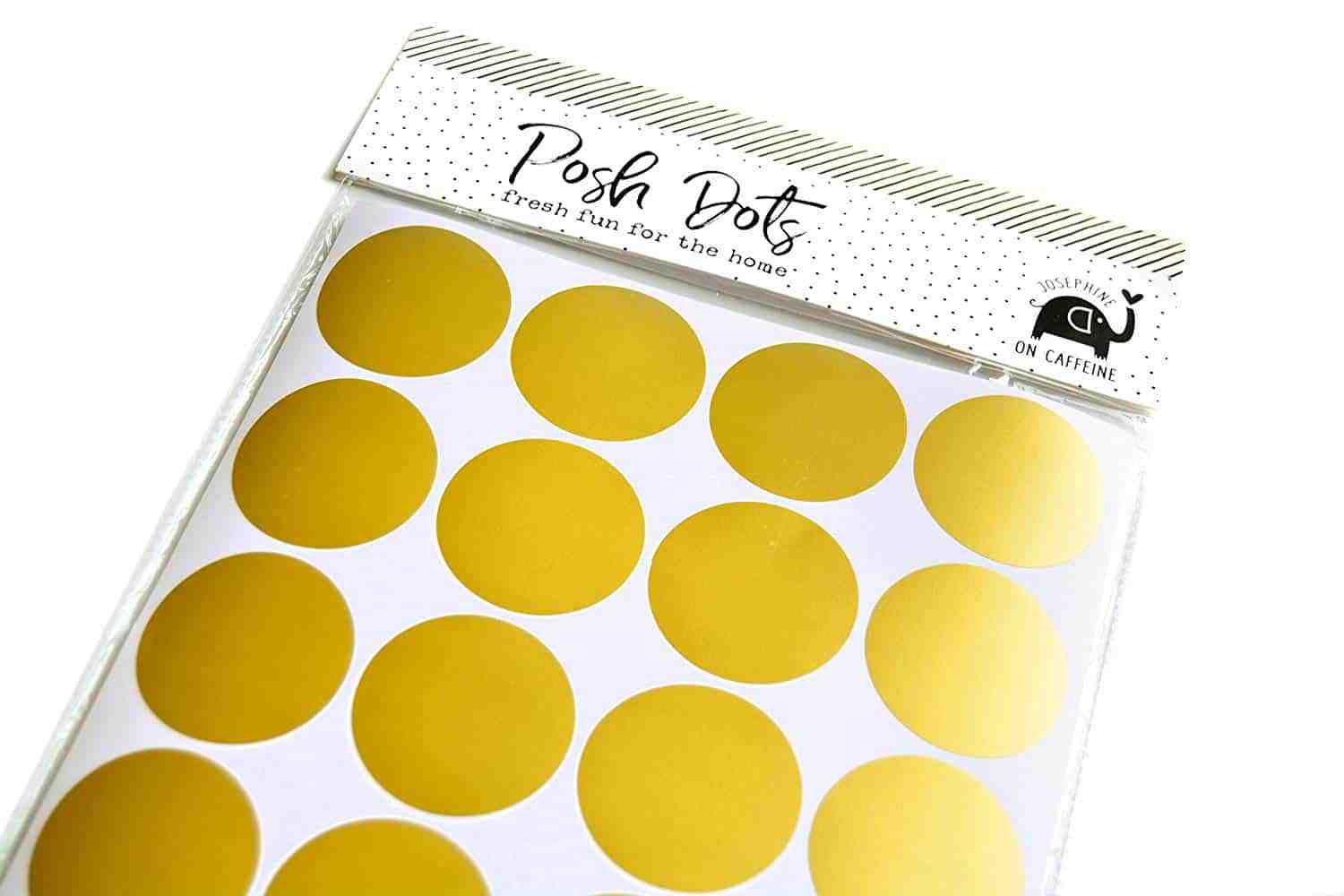 So, how did I apply my wall decals in straight rows?
First, make sure you have everything you need:
Items Needed to Hang Wall Decals
4 foot level
DIY plumb line and plumb bob (See Step 4) – String and kid's scissors
Pencil
Scotch tape (to attach your plumb line to the wall)
Step stool
Step 1: Prep Your Walls
Before you jump in and start stickering, you want to make sure that your walls are free of dust and dirt. The quickest way to do this is to wipe them down with a clean lint-free cloth.
Step 2: Decide On Placement/Pattern
Place a few decals on the wall in different spacings and patterns. Then take a step back from the wall and look at what you like best.
Ultimately, we decided to do our polka dot decals in rows that were 10 inches apart and staggered. Our dots are 10″ apart vertically and 20″ apart horizontally, in order to stagger them.
I recommend placing at least 10-15 dots in a trial pattern to get a clear picture of what looks best. At first, I only placed 5 dots on the wall (in the shape of a 5 on dice) and thought that 8″ apart would look best. We did half of the wall before I decided I wanted to take all of the wall decals down to make them farther apart. Don't do what I did! Save yourself some time (and your husband's patience!) and make sure that you are 100% happy with the pattern before you start!
Step 3: Make a Plumb Line and Plumb Bob
Shout out to my husband for this handy little DIY plumb line.
First, what the heck is a plumb line/bob, right?! When I first started this project I had no idea either. Come to find out a plumb line is kind of like a vertical leveling tool that uses gravity to determine what is level on an upright surface. A plumb bob is a heavy object at the end of the plumb line that acts as the weight so that your plumb line is level.
So, how is all of this plumb mumbo-jumbo helpful in applying wall decals in rows?
Well, instead of having to use your big 4 foot level horizontally and vertically to figure out what is level for every singe dot, the plumb line takes care of all of the vertical dot placements for you.
So how do you DIY a plumb line?
Simple. Just take a piece of string that is longer than the height of your walls (we used butcher's twine because that's what we had on hand) and tie a pair of kid's scissors to the bottom. Then, use scotch tape to attach the top of the string to the very top of your walls. The scissors should be hanging just above the floor. There's your gravity-powered level!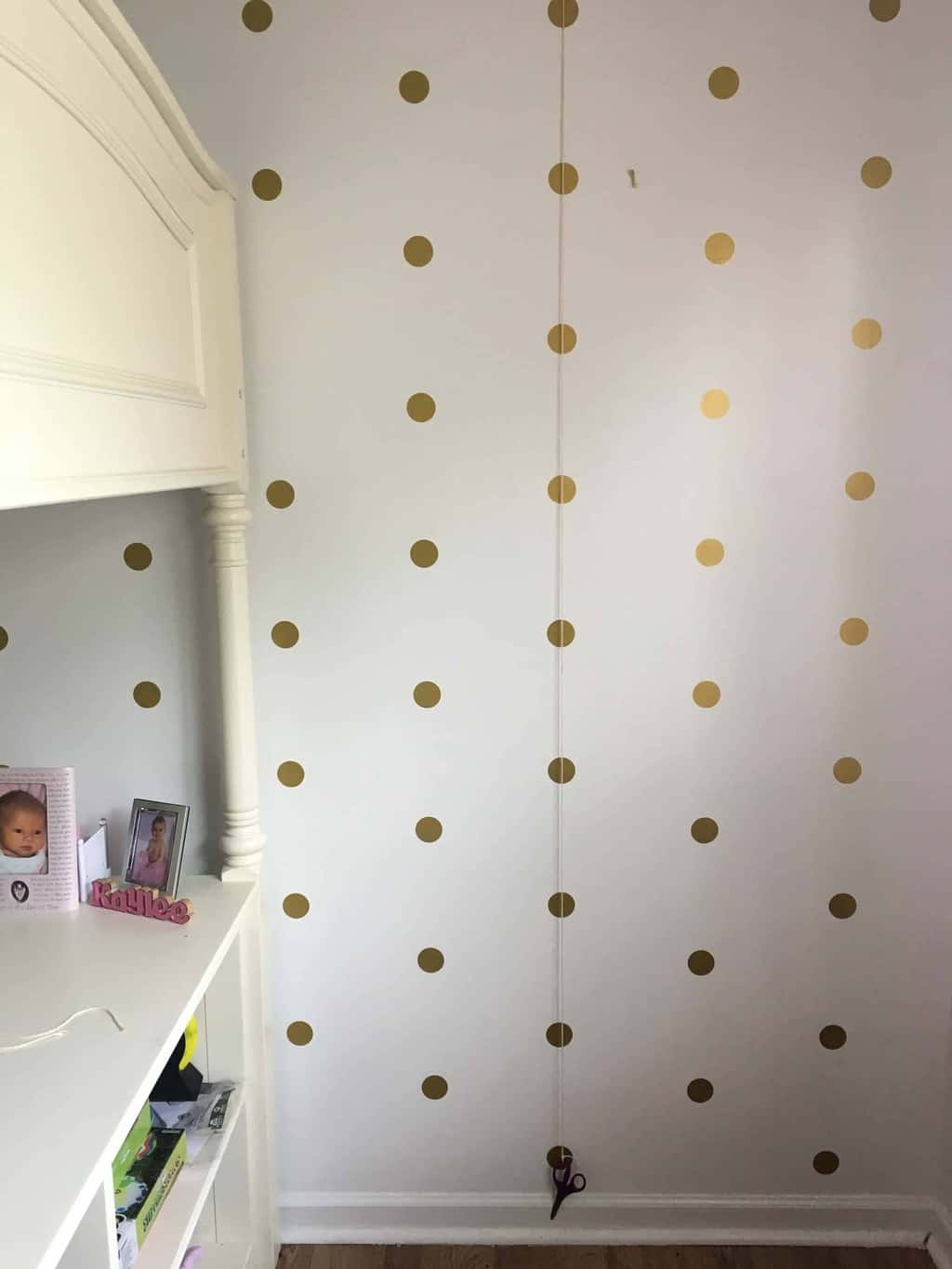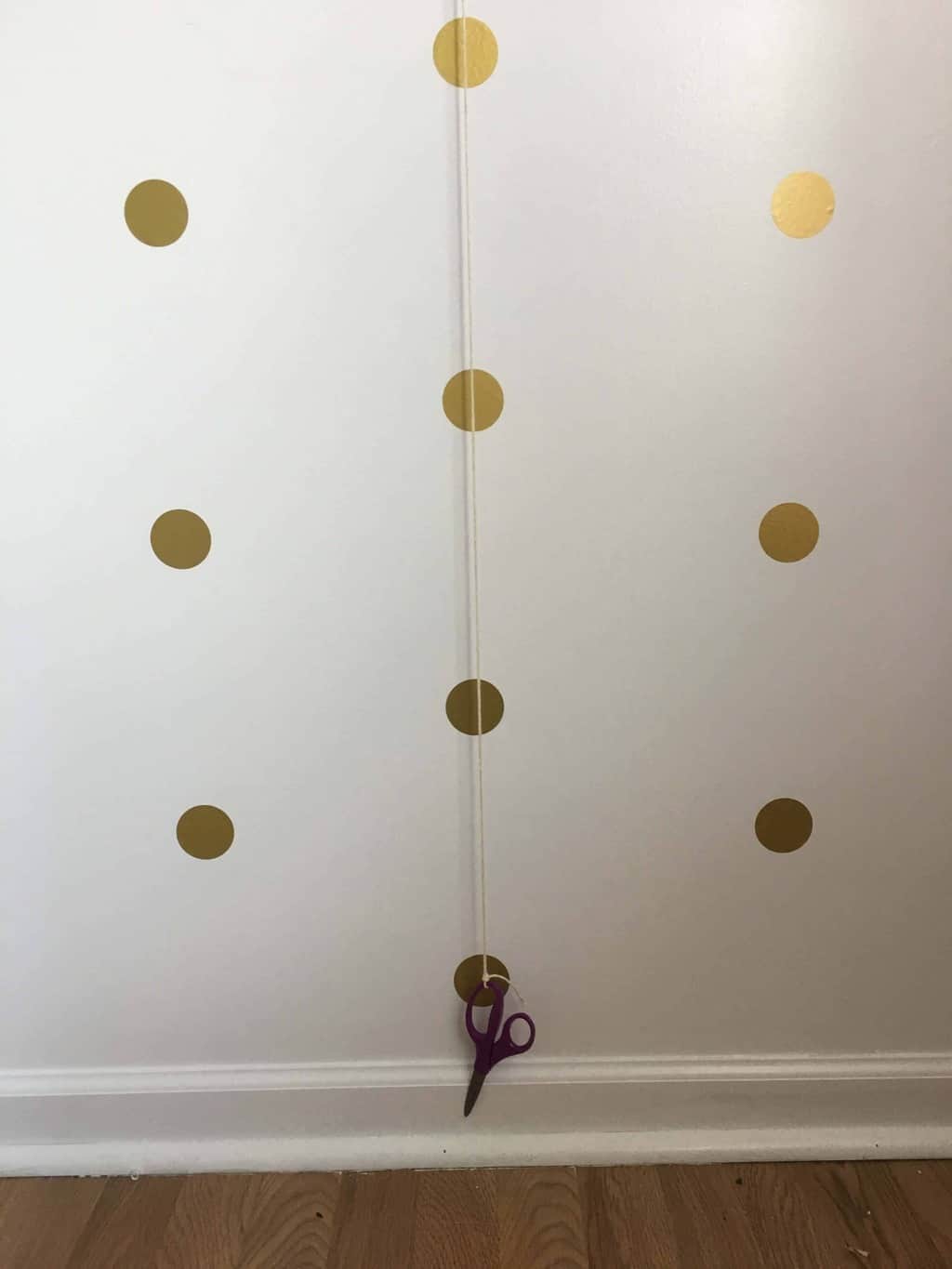 **Sorry! I didn't take pictures of this project in progress! Obviously, when I taped my DIY plumb line to the top of the wall, there weren't any dot decals already there. 🙂
Step 4: Mark the Vertical Placement of Wall Decals and Apply in a Row
Starting from the top of the wall, use a pencil to lightly mark where you want your top decal to go. Then, using the ruler on the side of your 4 foot level, measure down and mark where you want your next decal to go.
We put our pencil marks 10″ apart down the level, and then we placed the dot decals so that the top of the circle just barely covered the pencil mark.
Continue this process until you have completed the entire first row.
Step 5: Reposition Plumb Line and Apply Next Row
Before you move on to the next row, you need to reposition your plumb line. Simply remove the tape and re-tape the line where you want your next row to go. For us, that was 10″ apart.
Then, using a pencil, mark where you want the dots in the 2nd row to go. Since we staggered our dots, the top dot of the 2nd row was down 5″ farther than the top dot of the 1st row. We started the 2nd row down 5″ lower, but each of the dots was still 10″ apart vertically.
Here's a visual of the measurements that we used: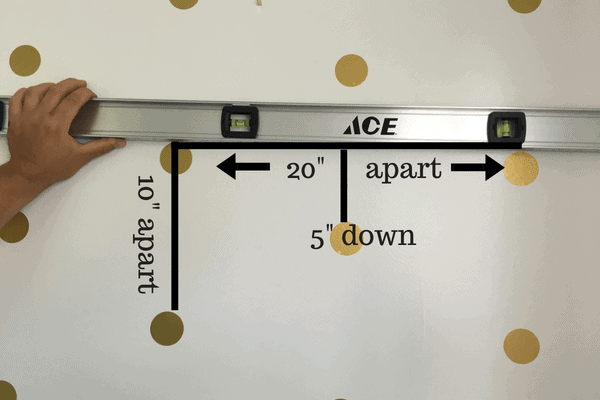 Step 6: On All Additional Rows, Use Level to Verify Horizontal Placements
The DIY plumb line is a great tool to make sure that your dots are level vertically. But it's still a good idea to check the placement of your dots horizontally with a level.
For us, that meant making sure that the tip top of our dots was hitting the level exactly 20″ apart, and that when we held the level up so that it just hit the top of our dots, the level's bubble was perfectly in the middle.
Apply your 3rd row, reposition plumb line, mark next row's dot placements, apply dots, reposition plumb line…
You get the idea.
Keep going until your room is beautifully decal-ed!
*Tip – Don't be in a rush… and don't expect to finish in an hour. Start this project when you have plenty of time (at least 6 hours depending on the size of your room), or plan to finish it over several days.
And that's it! It may seem a bit difficult but, trust me, if I can do it, then you can too! The only problem is… Now I'm kind of obsessed with these cute little decals and I want to decorate even more rooms!
I love these little triangle and plus sign decals, too. They'd be super cute in a bathroom or boy's playroom.
Want to jazz up your own space with some decals?! Be sure to pin this wall decal tutorial for later! And thanks for stopping by!
Related Posts: