Creating a monthly to-do list is a great way to stay organized and to remember important monthly tasks. Learn how to make a first of the month list and get ideas for what you should include, plus a free printable to get you started!
Lists are one of the keys to success. Take it from me, a work from home Mom of two daughters managing three different businesses. I would be lost without my to-do lists, and important bills, meetings, and monthly tasks would fall through the cracks.
I even went as far as to create this giant wall calendar that hangs in my office so I can see my most important work-related due dates for the entire year and plan ahead. And I also use these printable weekly plan templates, because when your to-do list is literally never-ending, there's no such thing as being too organized.
You may even have a monthly to-do list without even realizing it. If there are certain things that you do every month or on the first day of the month, like changing your air filters or swapping out your contact lenses, then you're already halfway there! Why not make it official with a nice and organized printable to do list template?!
Here's everything you need to know about getting organized with a monthly to-do list of your own: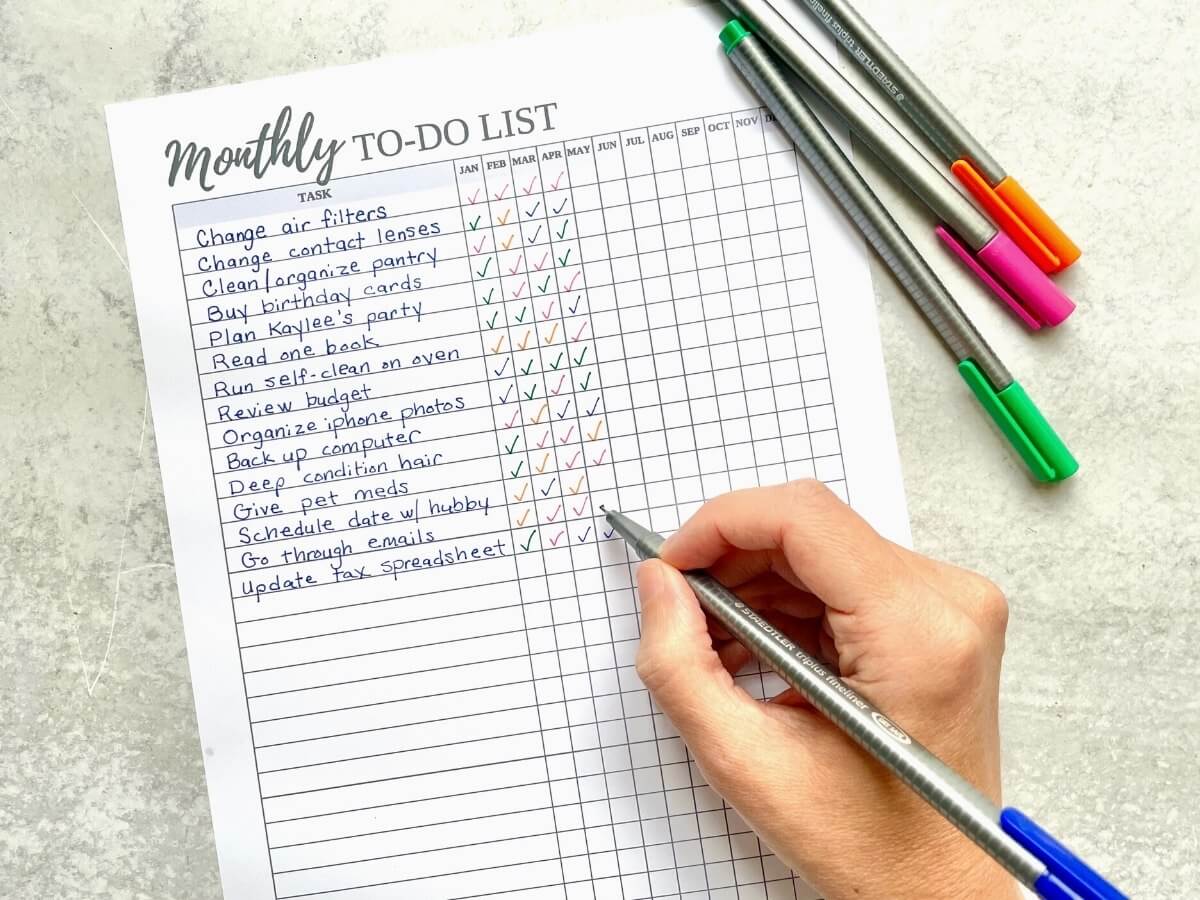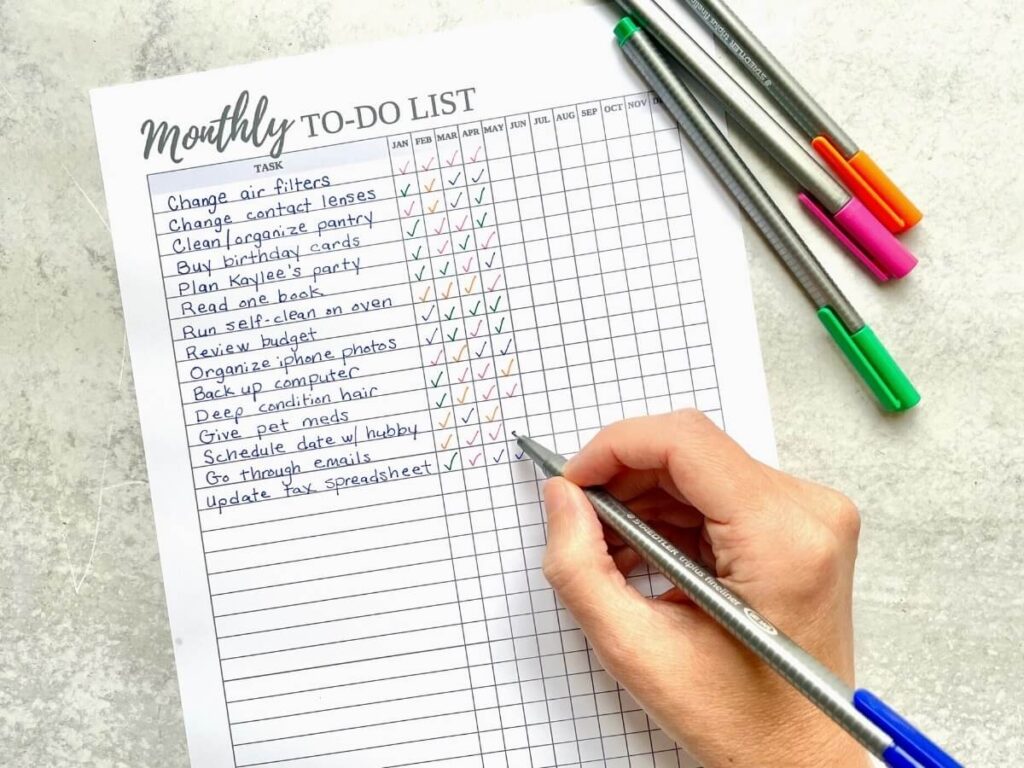 How to Create a Monthly Checklist
Your monthly checklist will obviously be different than mine, but you can follow a few basic steps to create your own list that's specific to your needs. Here's what you can do to get started:
Step 1: Brainstorm a list of everything that you have to get done for the month.
Remember, when you're "brainstorming" there are no bad ideas. Just write down anything and everything that comes to mind, similar to doing a brain dump. This could include specific doctor's appointments you have for the month, your kids' school events, monthly home maintenance that needs to be done, or switching out your disposable contact lenses.
If you use a digital or paper planner, you may want to reference that as a starting point. Then, you can go day by day thinking about other to-do's that aren't necessarily included in your planner.
You can also reference the monthly to-do list ideas later on in this post for things that you may have forgotten to add to your list.
Step 2: Separate your brainstorm list into two lists: Must Do's and Nice to Do's.
Keeping up with household chores, taking care of your kids and husband, and working a full time job is basically like having three full time jobs! So it's inevitable that not everything on your list will get done… and that's okay! As long as you prioritize the tasks that are most important.
I like to separate my monthly to-do list in to two main lists:
the tasks that absolutely MUST get done before the month ends
the tasks that would be nice to accomplish if I have extra time
For me, this eliminates some of the overwhelm that can come with staring down a mile-long list of difficult or time-consuming tasks that really could be pushed to the back burner if need be.
Step 3: Transfer your to-do list to a monthly calendar, printable checklist, or app.
Once you have good, detailed lists of things that you need to do for the month, then it's time to take those items and transfer them to your final to do list. You have a couple different options for this:
Use a monthly calendar or planner.
If you already use a monthly calendar or a paper planner like The Happy Planner, then it makes sense to add your to-do list to one of those.
And if you're afraid of running out of room to write in the tiny boxes, then you can also use post-it notes. Simply write out your to-do's on a sticky note and stick it right to your calendar. You can also use colored notes to color code your to do list (similar to how I color code my planner by category).
Use a to-do list app.
If you prefer to have an app for everything, then try a to-do list app to keep track of your monthly checklist. Here's a list of some of the best to-do list apps to consider.
Use a printable monthly checklist.
Want a pen and paper style reminder of everything you have to do, but don't want to mess with a full planner? A printable monthly checklist (like the ones I've got for you at the end of this post!) is a great tool to help you stay organized and get everything done!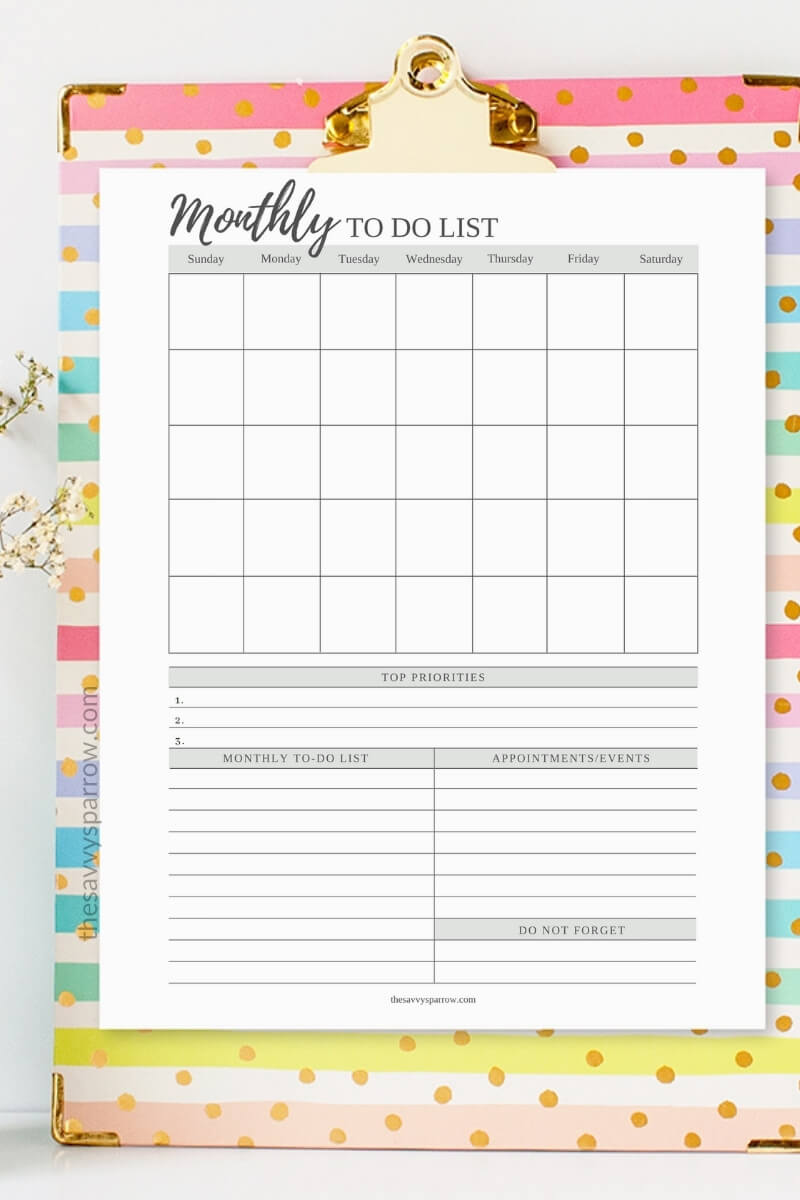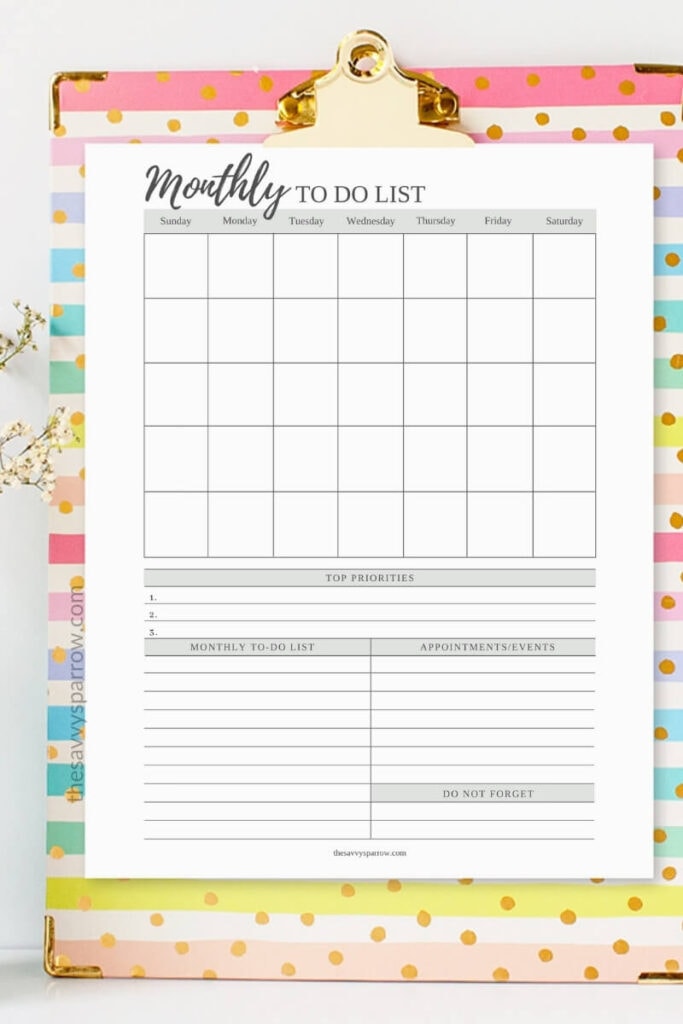 *By the way, if you want some cute new pens to use with your checklists, then check out this post for some of my favorites: The Best Pens for Planners – And I Tried Them All!
Monthly To-Do List Ideas
Here is a list of things you can do on the first of the month to set yourself up for success:
Write Down Your Non-Negotiables for the Month
Non-negotiables are things that, you guessed it, are not negotiable. They are the action items that you MUST get done, no matter what. Point blank. Period.
I like to set 3 non-negotiable items for each month, so that I know what my top priorities are, and even if I get crazy busy, I know that I'll still get the most important things done. For me, these 3 items are most frequently specific work-related projects that I want to accomplish, but your non-negotiables could also include things like organizing your family paperwork or deep cleaning the kitchen.
Print out a New Monthly Calendar
At the beginning of every month, the first thing I like to do is print out a new monthly calendar for the corresponding month. Then I have somewhere to write down to-do's, important notes, upcoming appointments, and scheduled parties and events.
I also like to note any special purchases that I need to make for the month, besides normal everyday spending like groceries and gas. That way, I can get an idea of what money I will have going out for the month, instead of having big expenses (like scheduled car maintenance or back to school clothes) sneak up on me.
I pin each month's calendar to a pin board that I have hanging over my desk, so I can easily reference it and cross things off as the month progresses.
Plan for Any Upcoming Birthdays or Special Events
If you have kids, then chances are you're a frequent party go-er… and that means lots of gifts and cards to buy. To eliminate the stress of having to rush out to the store at the 11th hour, you can set aside one day at the beginning of each month and purchase gifts and special event supplies that you will need for that month.
For instance, you can plan ahead for things like:
family member birthdays
birthday parties that your kids have been invited to
Teacher Appreciation Week
special spirit days at your kids' school
your anniversary
baby or bridal showers you've been invited to
upcoming weddings
special dance recitals
graduations
Organize Your Computer Files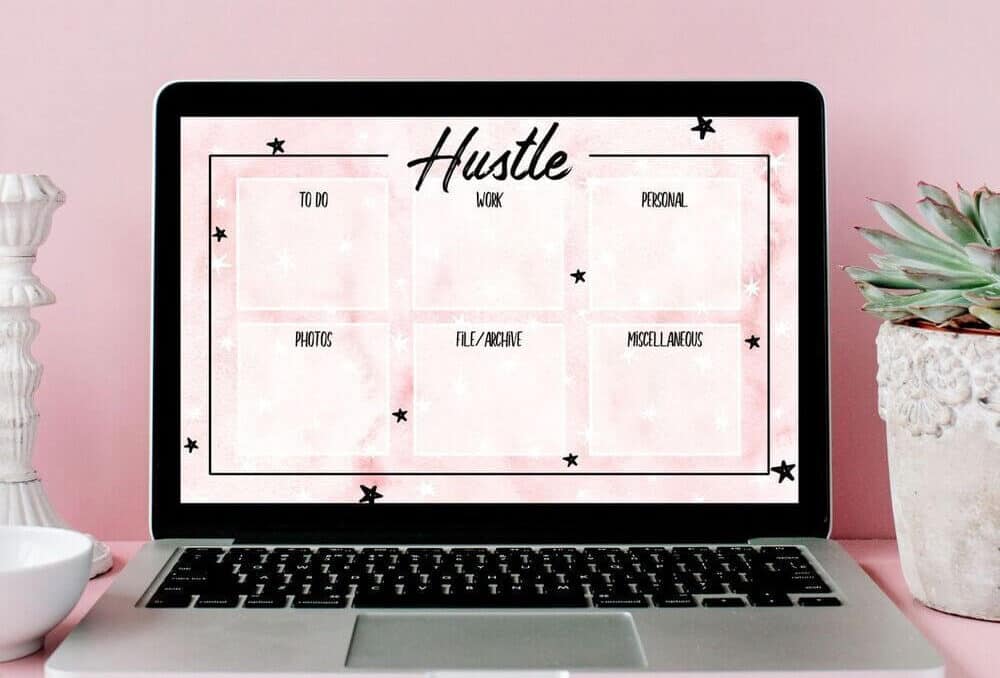 As a blogger, I upload and download probably 30-40 different files every single day, so in the blink of an eye, I can easily have 300 files sitting in my "Downloads" or "Documents" folders just waiting to be organized.
Even if you don't have a job that requires lots of file transfers, you probably have random files that you've downloaded from the internet or photos that are clogging up your desktop.
Once each month, set aside a day to organize your computer files using these tips.
Review the Previous Month's Income and Expenses
This is something that I do on the first of the every month without fail.
Keeping track of your finances is SO important, because it lets you know where your money is going, helps you to catch bank and credit card errors (my bank double charged me for a $320 preschool check one time!), and you can make sure that you're not spending more money than you make without realizing it.
I use this awesome budget spreadsheet that I created to make it super easy: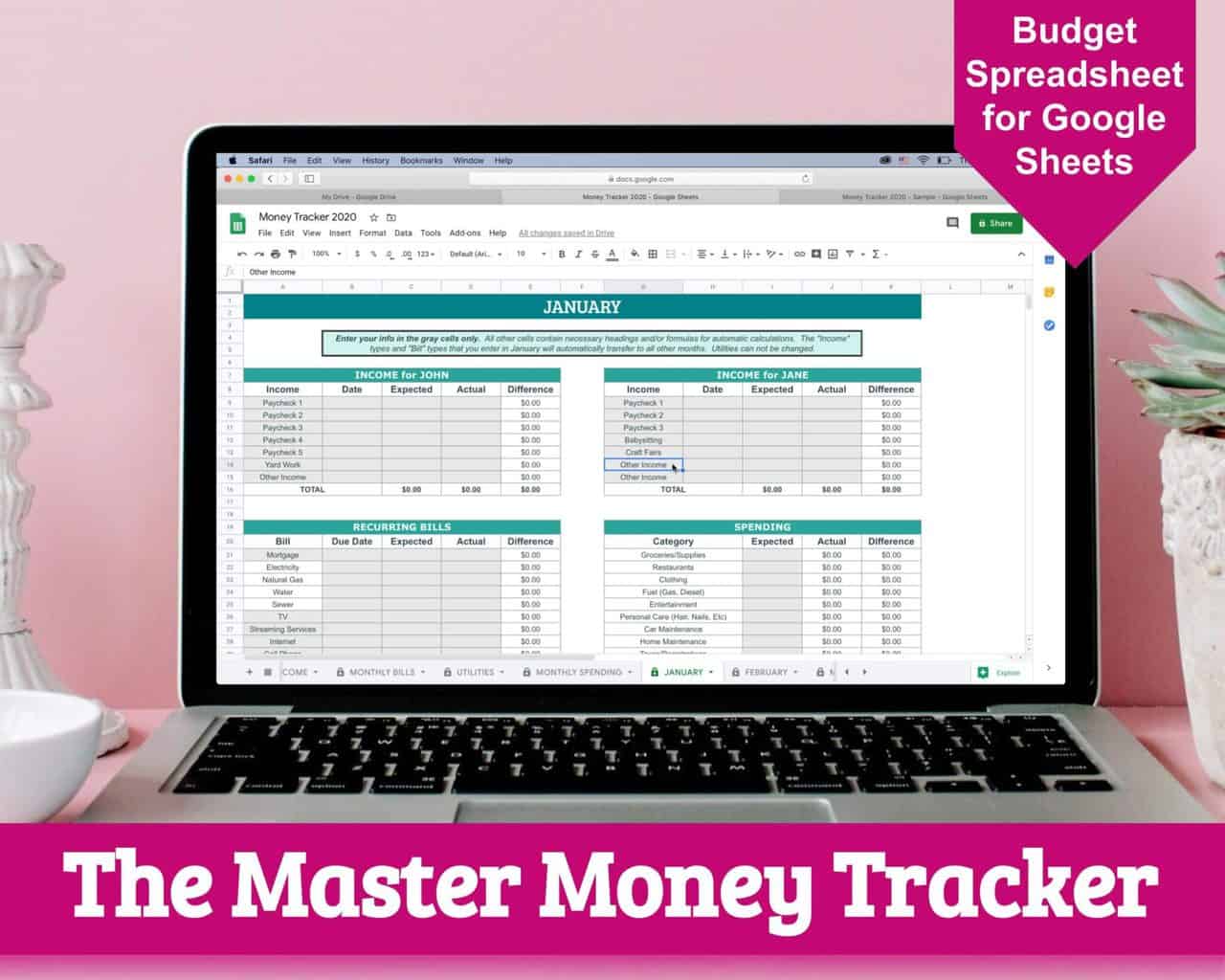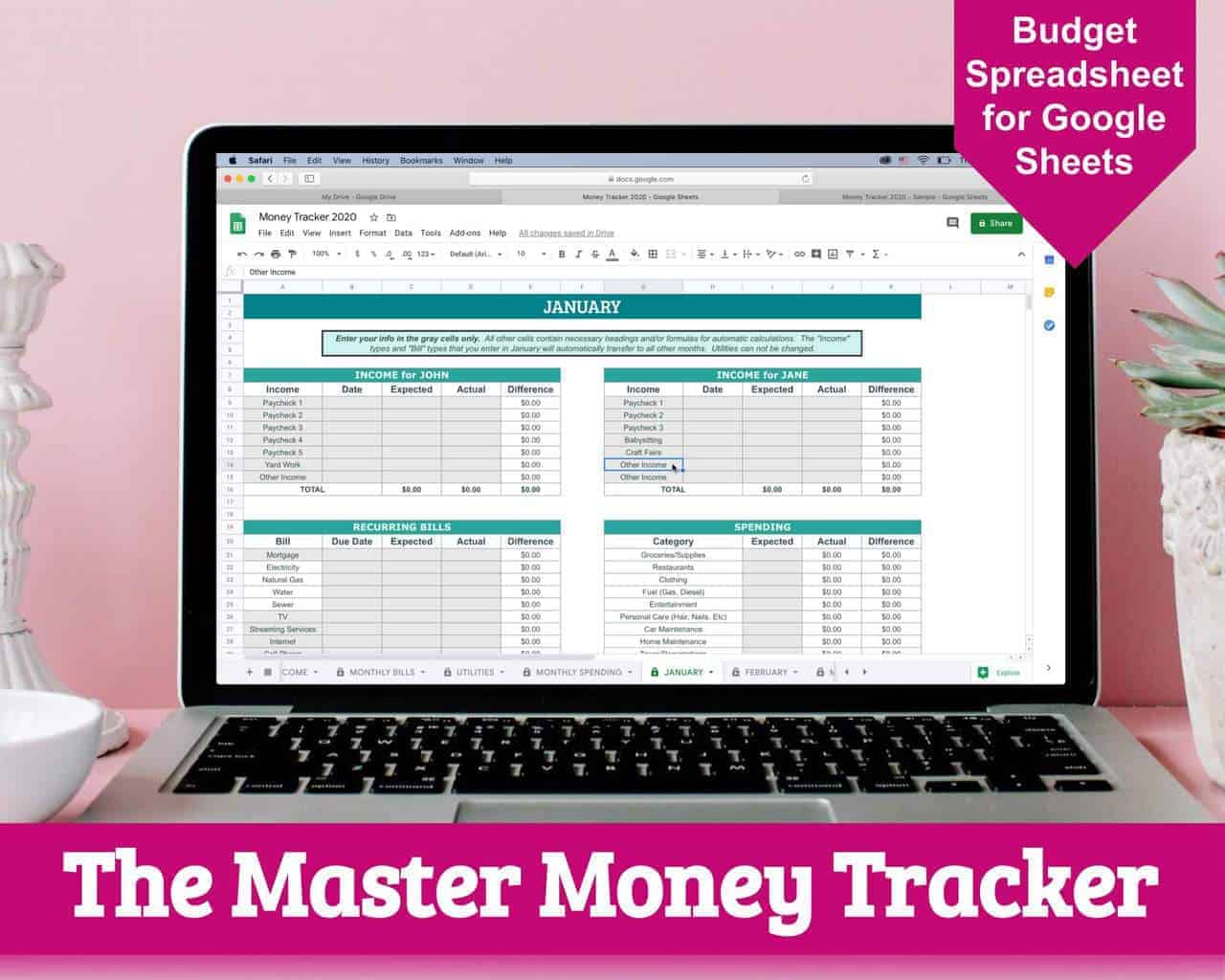 But you can also use a pen and paper or an app to track your income and expenses and review how you're doing financially.
Clean Out Your Purse
This one is pretty self-explanatory and pretty obvious (especially when you dig in your purse and find a half-eaten granola bar from 2 months ago), but so often we don't think about doing simple tasks like cleaning out our purses unless it's an item on a to-do list.
At the beginning of the month, take everything out of your purse and go through it all. File away receipts that you need to keep, organize everything, and replace the contents. Bonus – Your purse will probably weigh at least half a pound less!
Go Through Your Emails
Once a month, you should make it a priority to get rid of digital clutter, including deleting old text messages and sorting your email inbox.
You probably have at least 20 or so emails in your inbox right now that are "junk" and can just be deleted. You can also create folders in your email account to save and organize emails that you want to keep so they aren't clogging up your inbox and you can find them easily in the future.
Schedule at Least One Date with Your Spouse
Sometimes as women we get so busy with everyday household management tasks that we forget to manage our marriage… So add at least one date with your husband to your monthly to do list also!
You can even go ahead and secure a babysitter and plan some quality time with your spouse for a particular day so that you're guaranteed to get that important time together.
Plan for Monthly Home Maintenance Tasks
You probably already change your air filters each month, but are you performing other necessary home maintenance like cleaning out your gutters and getting your HVAC system serviced?
You may want to add specific home maintenance tasks to your monthly checklist so you don't forget about important upkeep and end up having to spend big money in the long run. Need ideas for maintenance jobs to include? I've got a whole post here: The Home Maintenance Planner: Why You Need One and What to Include
Declutter or Deep Clean One Room of Your Home
Let's face it… just the thought of deep cleaning or decluttering can be super overwhelming! But that's why I like to focus on just one area per month.
For instance, one month you can deep clean your entire kitchen and then the next month you can move on to cleaning your bedroom.
Schedule Time for Self-Care
I like to schedule at least a half a day each month to focus on me. Whether it's taking a good book to Panera for a few hours and enjoying some peace and quiet or spending half the day shopping at my favorite stores like TJ Maxx and Home Goods, that little bit of time helps me to recharge my Mom batteries.
Find what you like to do and make time for it in your monthly schedule.
Other Things You Can Do on the First of the Month
Here are some other ideas that you can add to your monthly list:
Switch out your contact lenses
Organize your iphone photo library – You can even order monthly photo books as keepsakes!
Deep condition your hair
Plan for or pay bills for the month
Pick one new book to read for the month
Work on one specific health goal (like walking 5 days a week for that month or going to sleep by a certain time)
Backup important computer files to a USB drive
Plan for big purchases that need to be made for that month
Get prescriptions refilled
Do a breast self-exam
Run cleaning cycles on appliances (oven, dishwasher, washing machine, etc)
Clean out the fridge and pantry… You could even do a freezer inventory with this free printable!
Free Printable Monthly To Do List Templates
Want to get started on your own monthly to do list right now? Just print these cute templates and follow the steps above to create your own list!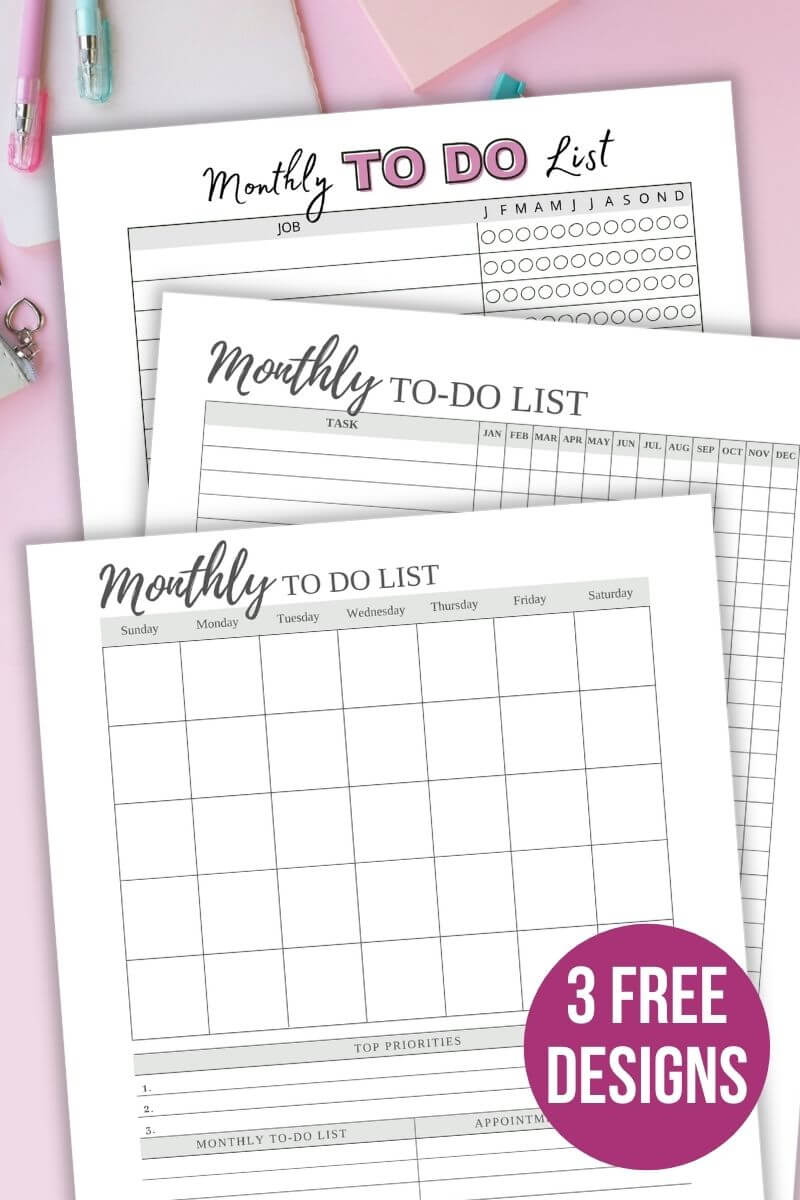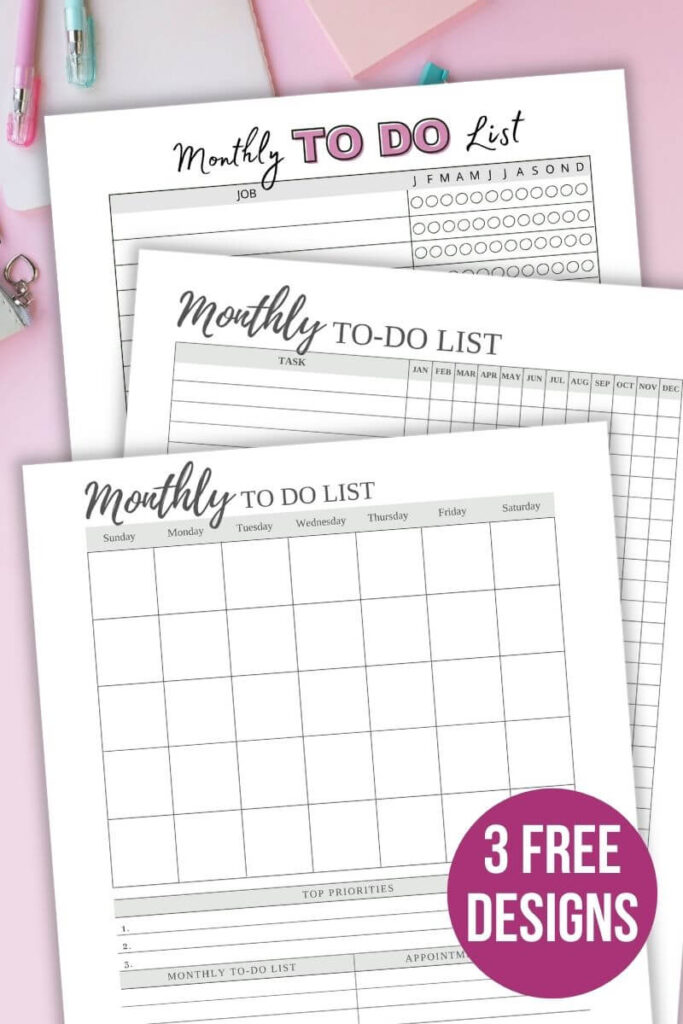 These printable monthly to do list templates are available in my FREEBIES library (along with 60+ other cute printables!), and I'll send you the link as a gift when you sign up for my free email newsletter!
Just fill out this form and check your email inbox:
And don't forget to PIN this post for later: