If you open up your laptop and feel like you want to throw it through the window, then maybe it's time to declutter your computer! Learn how to organize computer files and folders so that you can easily find what you need, and save some storage space on your hard drive.
I recently got a new computer. Woot woot! It was time for an upgrade since I spend about 8 hours a day on my laptop, and my old one was getting bogged down.
But with a new computer, comes the need to transfer all of your files over from the old one. For me, that meant over 4,000 files!
Pictures, Pinterest graphics, old resumes, important personal documents, my hubby's important work documents… I had all the junk! And all 4,000+ files were just hanging out in one of three folders… Documents, Downloads, or Photos.
It was a mess!
I could NEVER find anything that I needed.
So I finally decided to put in the effort to organize all of those computer files and declutter my digital life. It took me about 12 whole hours, but now that it's done, I am SO glad that I took the time to clear out my computer.
By the way… if you're feeling like a decluttering queen, then check out my FREE 7 day printable challenge to help you declutter your entire house in one week!
Here's how I did it, and how you can organize computer files and declutter your computer too!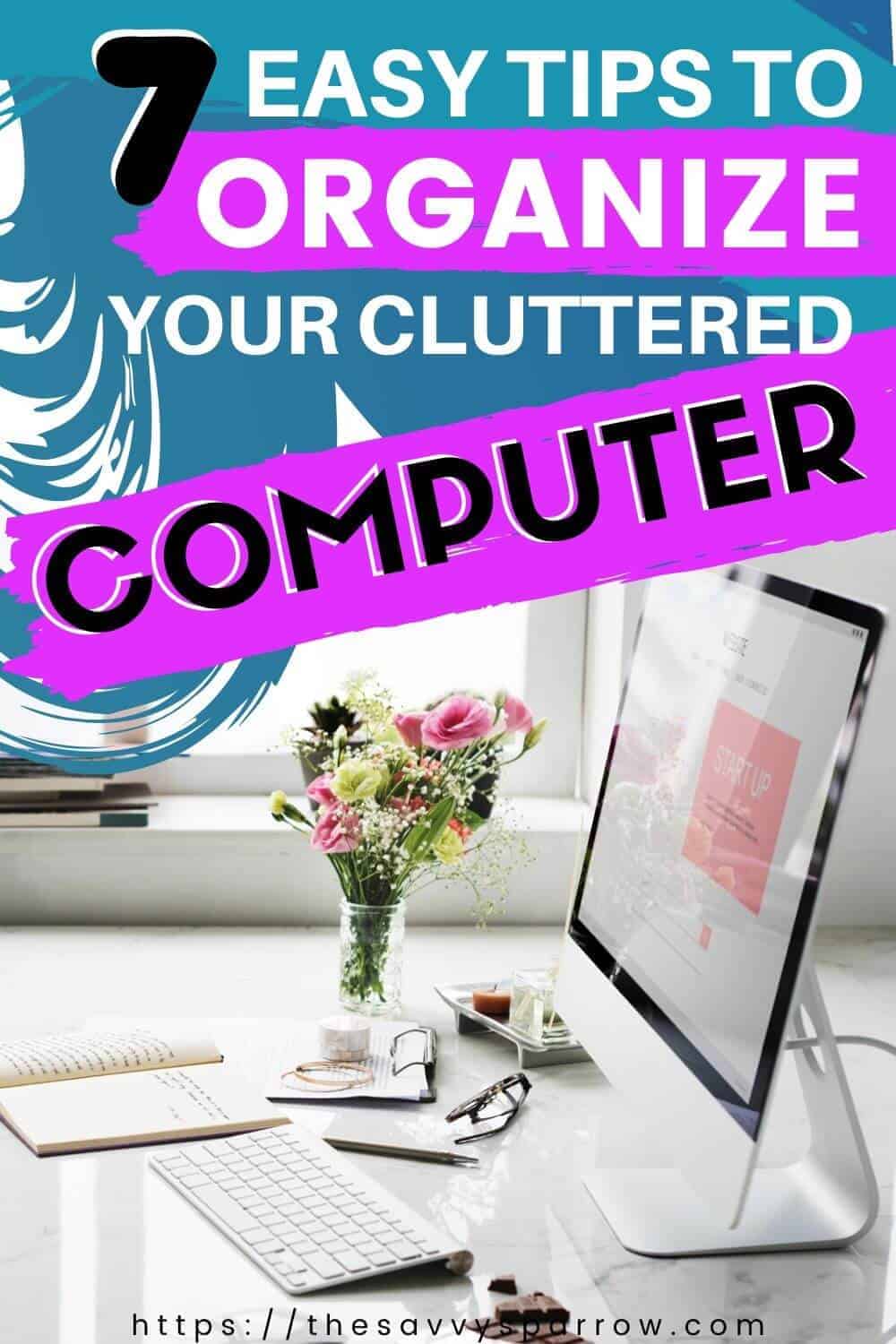 *This post contains affiliate links, which means if you click a link and make a purchase, I earn a commission at no additional cost to you. Read my full disclosure here.
Why You Need to Organize Your Computer Files
I know, I know… If it's going to take you hours on end to organize your digital files, then why should you even do it. Isn't it just easier to leave computer clutter alone?
Here's why I decided to invest the time to declutter my computer:
Clutter Causes Stress
Yup, it's been scientifically proven that clutter causes stress.
According a study done by UCLA's Center on Everyday Lives of Families, mothers especially are susceptible to higher levels of stress if they feel that their homes are cluttered or messy. And digital clutter is no different!
By the way… if your computer is the least of your worries because your entire house is cluttered then check out my FREE 7 Day Declutter Your Nest Challenge!
When I opened my laptop and saw the mess of icons on the screen, I instantly felt on edge. All of those random files and folders were just one more thing that I needed to tackle.
And I'm not the type of person that can just look past mountains of clutter…
I REALLY like it when everything is in its place, and with two young kids that's a luxury that I don't get to enjoy often. They literally drop their shoes on the floor right in front of the shoe rack!
But at least I can control the organization of my own computer. 🙂
Important Documents are Easily Accessible
I don't know how many times I've searched for one particular document in my mountain of messy computer files and just couldn't find it. Even using the "Search" feature doesn't help if your files are a mess and you can't remember the file name of that ONE thing that you need.
By neatly organizing computer files, you can easily find your important documents at a moment's notice and…
Organizing Your Computer Saves Time
Yes! I don't know about you… but I don't have much time to waste. And if I am wasting time, I at least want to be wasting it doing something that I want to do… like hiding out in my bathroom with a Food Network magazine, right?!
My new computer organization system has already saved me a TON of time because I know EXACTLY where to find the files that I need.
7 Tips for How to Organize Computer Files and Get Rid of Computer Clutter
Use a Desktop Wallpaper Organizer
I just recently discovered that a desktop wallpaper organizer is actually a thing. And of course I had to make my own super cute organizer background for my MacBook.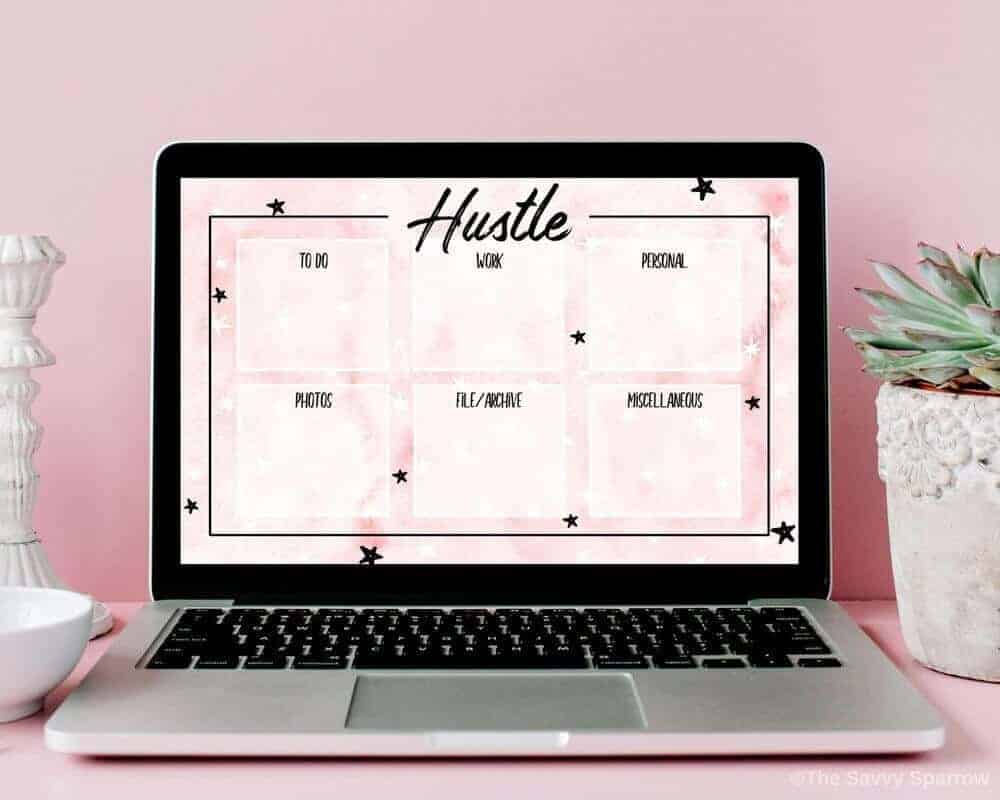 The purpose of a wallpaper organizer for your desktop is to organize frequently used files into different categories on your desktop so that you can find them easily.
For instance, you can separate your files on your desktop by things to do now, personal documents, work documents, files to archive, etc.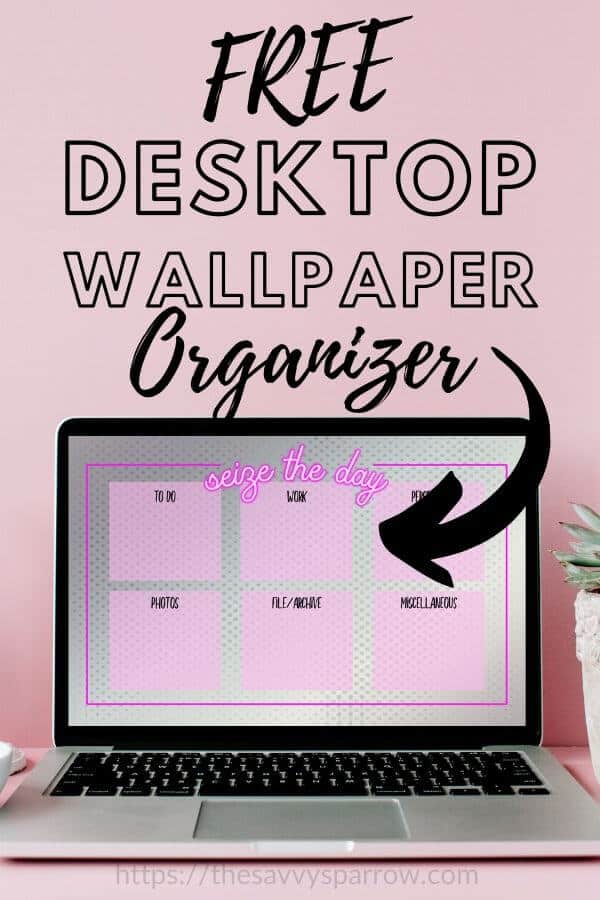 You can go HERE to check out how to install your own desktop wallpaper organizer, and get a FREE one to put on your computer!
Get Rid of "Loose" Files on Your Desktop
Does your desktop screen look like a jumbled mess of icons? If so, then consolidate all of your loose files, photos, downloads, etc into organized folders.
Here are a few computer folder organization ideas to get you started:
Family Photos – Can be organized by child, vacation, holiday, year, etc.
Work Documents
Financial Documents – Bank statements, stock statements, etc.
Personal Documents
Important Documents to Keep on File
Downloads
Work in progress – For files that you are currently working on
Things to file, archive, or move to external storage
How to create a new folder on a Mac:
Creating new folders on a Mac is easy-peasy! Just follow these steps:
Right click (or two finger tap if you have a track pad) anywhere that you want a new folder to appear. You can make new folders on a blank space on your desktop screen OR inside other folders.
From the popup box, select "New Folder".
A new folder called "untitled folder" will appear wherever you tapped.
Click on the folder title to rename it.
How to create a new folder in Windows:
Right click with your mouse on any blank area on your desktop or inside another folder.
Select "New".
Then select "Folder".
Type the name that you want to use for your new folder.
Press "Enter".
Invest in a Good Flash Drive or Upgrade Your iCloud Storage
If you have a lot of large computer files that are bogging down your hard drive, then invest in a good flash drive to clear out some of your computer storage.
Or, you can also opt to store your files in iCloud or in Google Drive. Google Drive is FREE to use (up to 15GB of storage), and it is VERY user-friendly. And, if you need more storage, you can upgrade to 100GB of storage for just $1.99 a month.
Use Amazon Photo Storage for Photos and Video Files
If you've got a TON of photos that you want to save, then consider using Amazon Photos.
If you're an Amazon Prime member (see the Amazon Prime benefits you may not know about here!), then you get UNLIMITED full-resolution photo storage for FREE! You can share the unlimited photo storage with up to 5 people, and you can easily share your photos with anyone, whether they are a Prime member or not.
Once your photos are uploaded to Amazon Photos, then you can easily access them from any device.
This is a GREAT way to get all those photos that are probably burning through your storage OFF of your computer!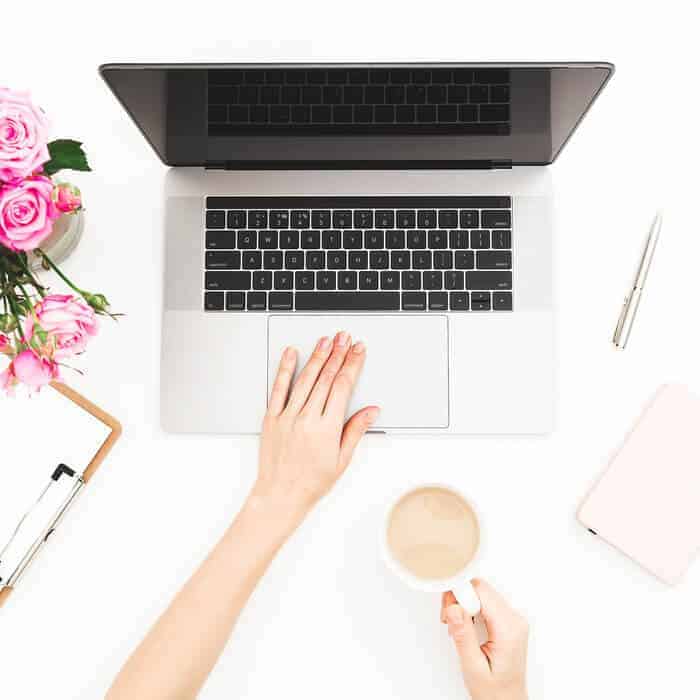 Use "Nesting" Folders
I'm probably totally making this term up, but when I was trying to think of what to call this, I immediately thought of those little nesting dolls that tourists buy in Europe. You know… how the smaller wooden dolls are inside larger dolls.
The same goes for your computer files that need to be organized.
Use broadly categorized computer folders and then separate the contents into more detailed folders.
Here are a few examples of how to organize computer files with nesting folders:
Photos

By year – 2020, 2019, 2018 etc
Vacation
Holidays
Important events – birthdays, wedding, graduation, etc.

Finances

Bank statements
Stock statements
Tax returns
Pay stubs

Child's Name

Personal documents – birth certificate, social security card, etc.
School documents – You can save school work and art work for sentimental purposes by scanning it into your computer and organizing it by grade (Kindergarten, 1st grade, etc)
Medical documents – Shot records, medical history, etc.
So for instance, inside your "Photos" folder would be a folder named "Family Photos 2019", "Disney 2018", etc.
These nesting folders make it SO much easier to find files (like photos!) that often have non-descriptive names like "IMG-9452".
Take Out the Trash
Get rid of files and downloads that you no longer need. You probably have at least a few of these files stored on your computer:
Duplicate files
Scanned files that you no longer need – drivers license copy, etc.
Blurry, duplicate, or random photos
Internet downloads that you no longer need
Go through your computer and delete anything that is not a necessity. And when you're done, empty your computer's trash can.
I was able to free up about 80% of my computer's storage space by doing this!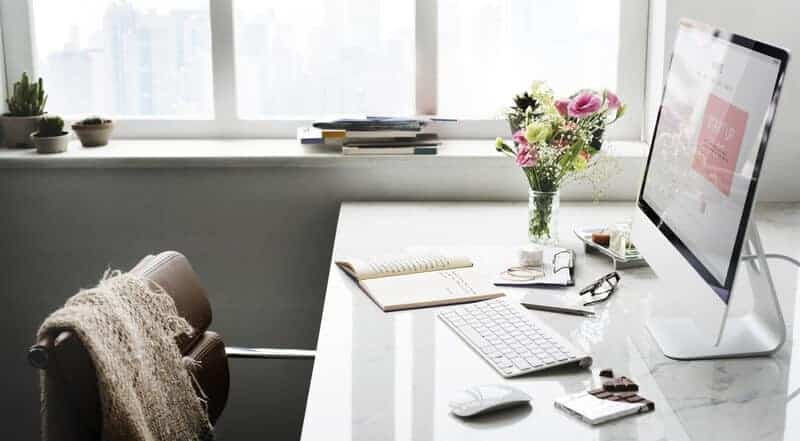 Put New Computer Files and Documents in The Proper Place Immediately
Once you've got your computer files organized, then commit to keeping up with your new computer organization system. Be sure to file away new downloads and documents immediately, or at the end of every work day.
If you take an extra 2 minutes each day to organize your new computer files, it will save you a lot of time in the long run, and you'll be able to find the items that you need more quickly.
After I tuck my kids in for the night, and I'm doing my last check of my email inbox, then I just quickly open my "Downloads" folder and move EVERYTHING in there to its proper home.
That way I don't have to spend another 12 hours in the not-so-distant future trying to re-organize everything again.
Hope these easy digital clutter tips have inspired you to organize computer files! Trust me… it may take a while, but you'll be glad you did it!
And happy nesting!