A desktop wallpaper organizer is a great way to organize computer files on your desktop. If you've got a heap of random icons on your desktop then this easy computer organization hack is for you! Keep your frequently used files on your computer's desktop without your wallpaper looking like a cluttered mess with one of these wallpaper organizers!
I recently went through the entire hard drive on my computer and organized EVERY. SINGLE. THING.
It was an incredibly tedious task given that I had over 4,000 files stored on my computer. With that many computer files, you would think that the computer was at least 5 or 6 years old but… nope… it was only TWO years old. I had amassed that many digital files in just two years.
Between 238 pictures of your dog, and countless random files that you've downloaded from the internet without even thinking about it, your computer can get cluttered quickly! Like 4,000 files in 2 years quick!
So it's important to take the time to keep it organized so that digital clutter doesn't weigh you down.
By the way… if you need to declutter your entire house too, then check out this post for my FREE 7 Day Declutter Your Nest Challenge!
After I had spent a solid 12 hours organizing my computer files, I wanted to implement a good computer organization system so that my computer didn't just revert back to the jumbled, cluttered mess that it once was.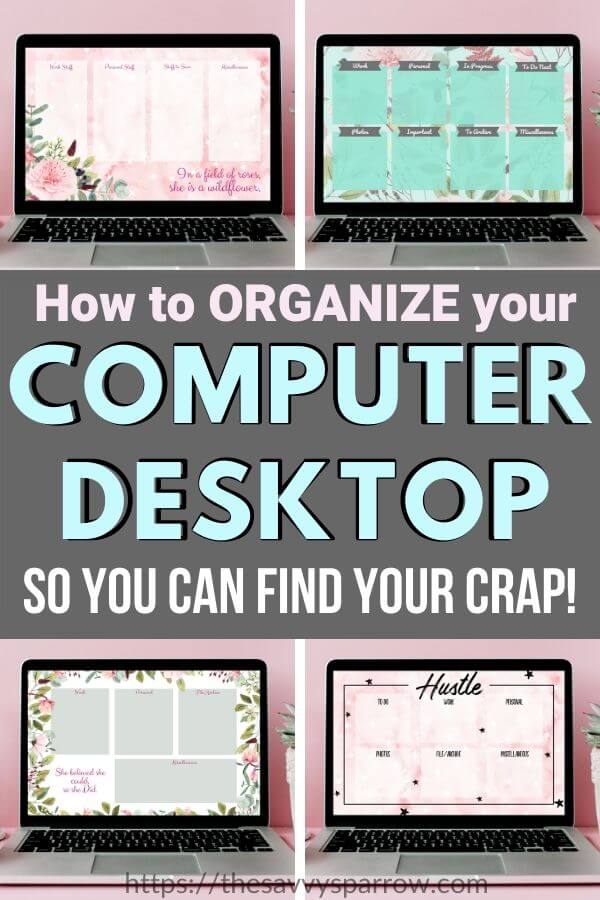 Enter Desktop Wallpaper Organizers!
What is a Desktop Wallpaper Organizer?
If you find yourself asking "Huh?", don't worry! You don't need to feel old or technologically challenged if you've never heard of a computer desktop organizer, because they're actually pretty new, thanks to Laura at I Heart Planners who (I believe) is the mastermind behind this organization system.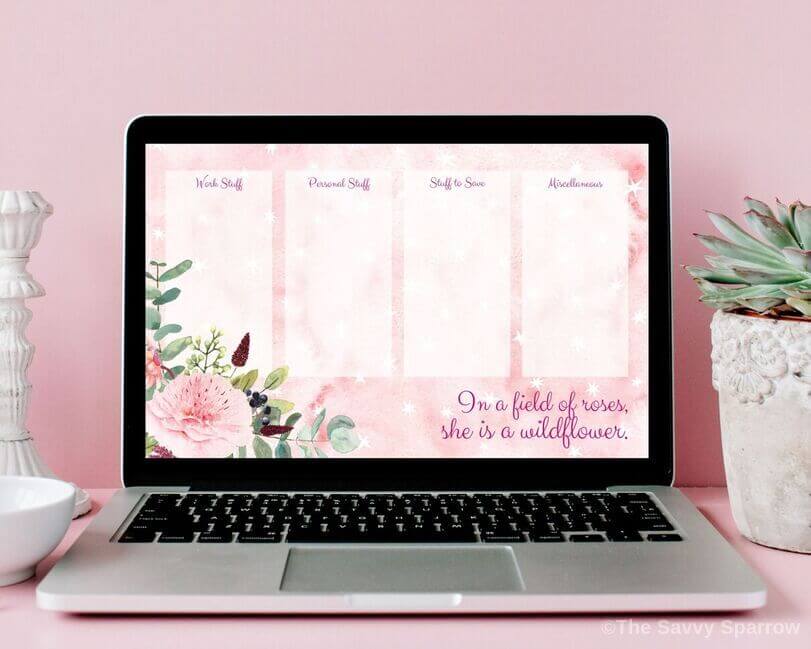 A desktop wallpaper organizer is an image that you upload as your computer's wallpaper with separated boxes or sections to help you organize your computer files.
After you set the image as your desktop wallpaper, then you just have to drag and drop your desktop icons into the correct areas.
The whole process takes about 2 minutes, and you're left with a cute and neatly organized computer desktop.
Get a FREE Desktop Wallpaper Organizer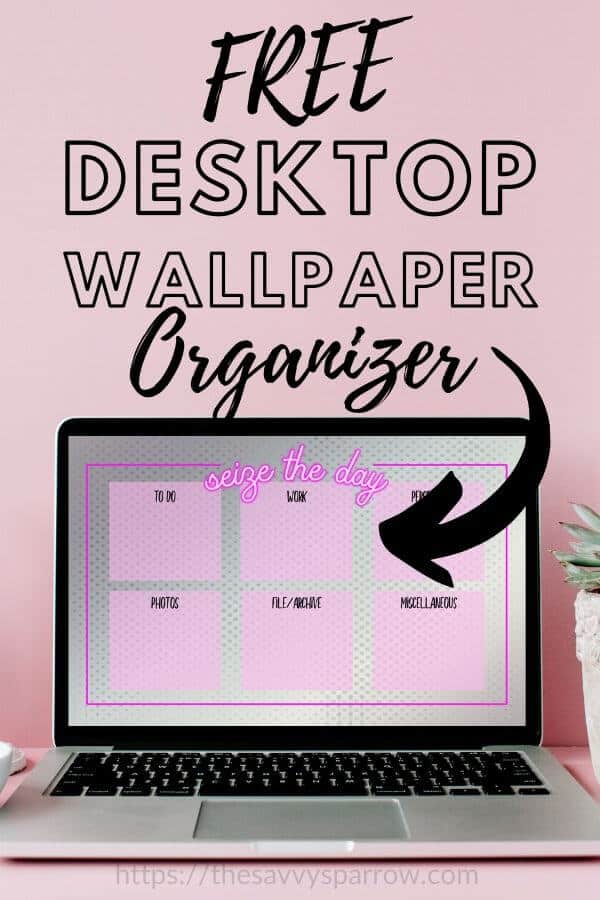 Want to try out a FREE desktop wallpaper organizer for your computer? Well, I made you one!
Just click the link below to download a cute gray and pink computer desktop organizer:
FREE Desktop Wallpaper Organizer – "Seize the Day"
How to Upload a Desktop Wallpaper on a Mac
Once you've got the organizer image downloaded to your computer, you may be wondering what the heck to do next…
If you're using a Mac, follow these easy steps to change the wallpaper on your desktop:
Go to "System Preferences" by clicking the correct icon in your dock OR by clicking on the apple icon in the top left of your screen and selecting "System Preferences".
From the "System Preferences" window, select the icon "Desktop & Screen Saver". You should see a screen like this: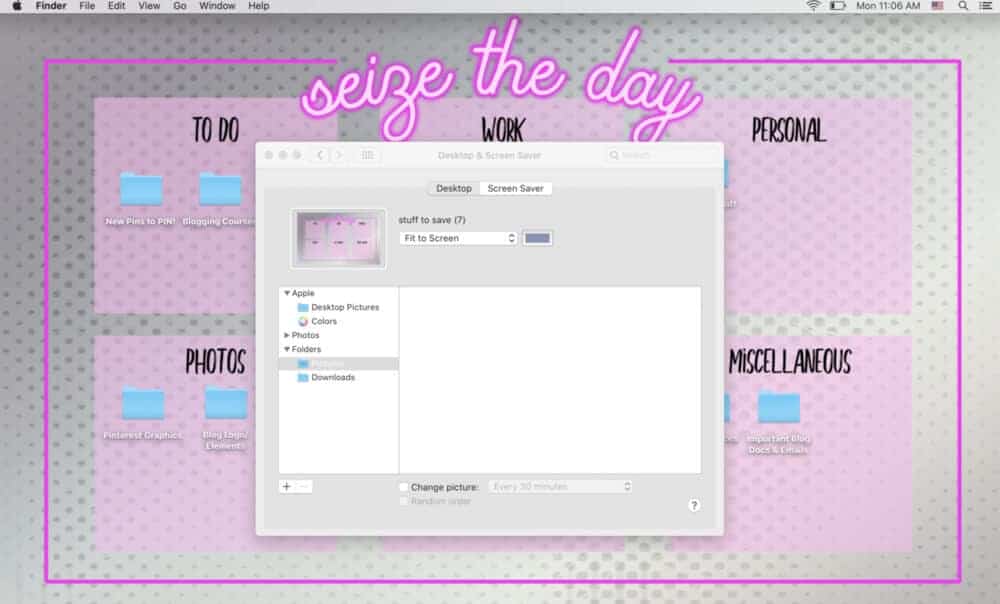 Make sure that the "Desktop" option is selected at the top of that window.
Then, click the "+" in the bottom left of the window to upload a new image as the wallpaper.
Find the Desktop Organizer Wallpaper on your computer (it's probably in your Downloads folder!), and click on it.
Your desktop wallpaper will change to the image that you selected! You may need to select "Fill Screen" or "Stretch to Fill" from the drop down menu depending on the size of your computer screen.
Then simply drag and drop your desktop icons into the appropriate sections.
If you're not a Mac user, just Google "How to change desktop wallpaper on (insert computer name here)" for instructions for your computer.
And, YES, you can use the FREE desktop wallpaper organizer on a Mac OR a PC!
Categories for your Desktop Organizer Wallpaper
Since the purpose of a desktop wallpaper organizer is to keep your computer files organized on your desktop, it's important that your category boxes reflect how you use your computer.
For instance, if you use your computer mainly for work purposes, then your category boxes probably need to include something like Work in progress, To Do Next, To File, etc.
If you know your way around some basic graphic design software, and you want to make your own image to use as your desktop wallpaper organizer, then here are a few broad category ideas for the main boxes on your wallpaper:
Personal Documents
Work Documents
To File/Archive
Photos and Images
Important Files
Frequently Used
Work in Progress
To Do Next
Miscellaneous
More Pre-made Desktop Wallpaper Organizers!
Want to see even more options for cute wallpaper organizers for your computer? Check these out: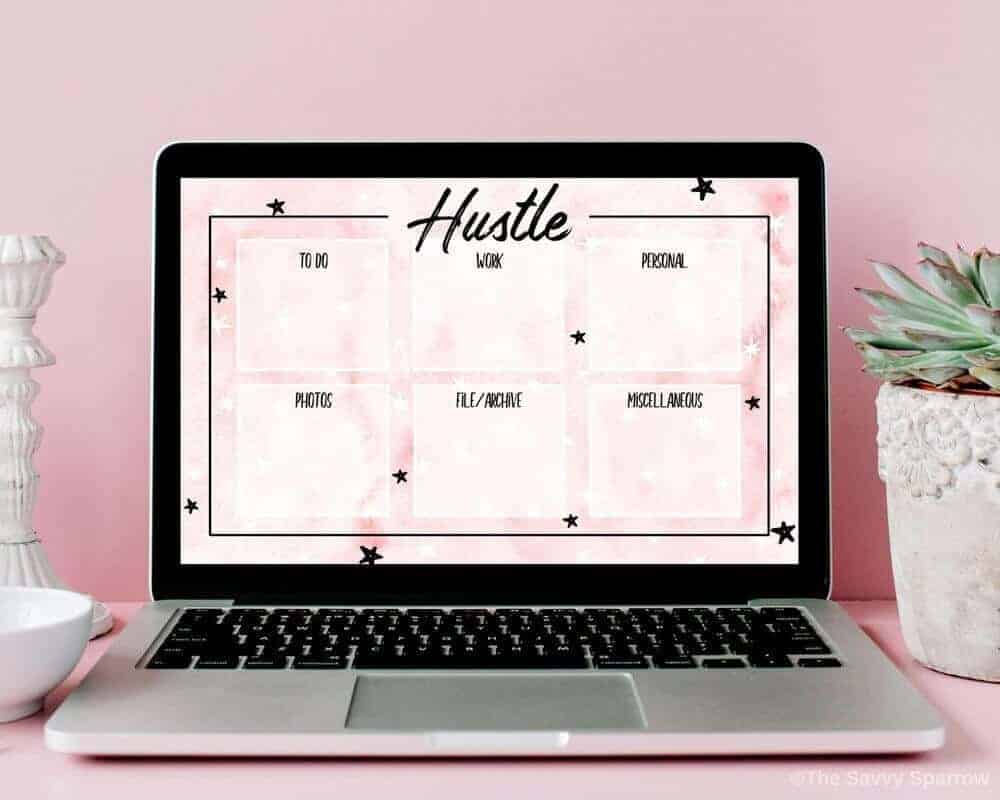 "Hustle" Computer Wallpaper Organizer
Teal Floral Desktop Wallpaper Organizer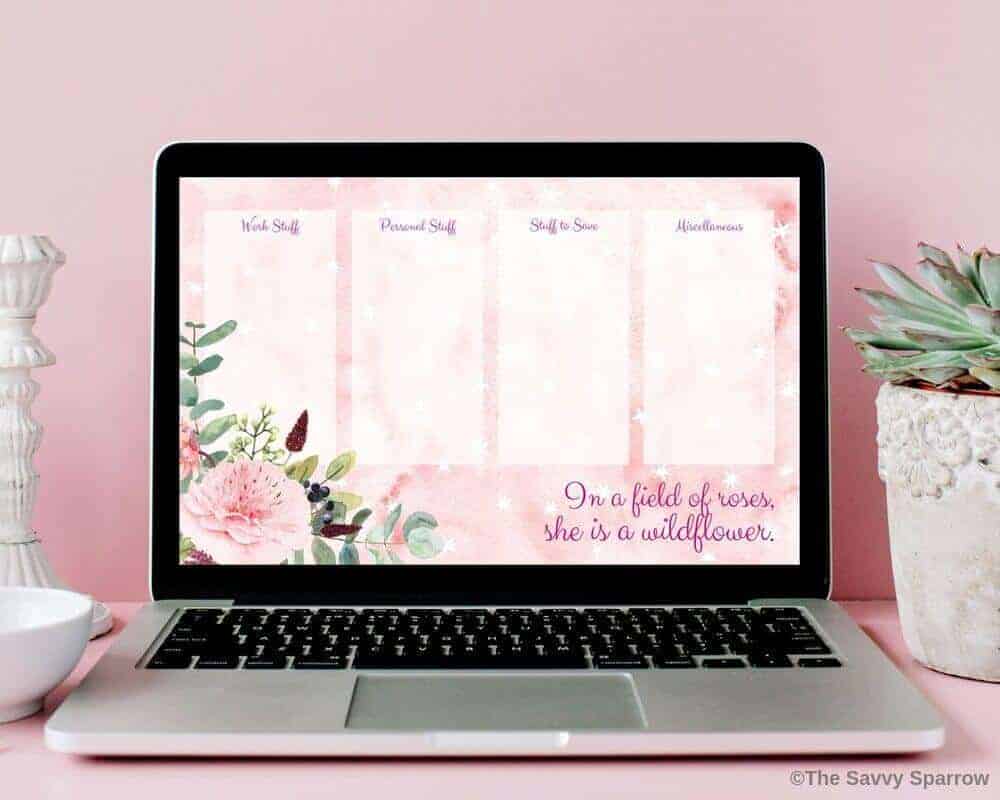 "Field of Roses" Desktop Wallpaper Organizer
Hope you enjoyed this easy computer organization hack! And I hope that I've inspired you to declutter your digital life!
Happy Nesting!