Have a long car ride with kids coming up soon? Use these fun and easy road trip games for kids to keep your little ones entertained without electronics! These easy games to play in the car are perfect for all kids, toddlers to teens.
You're 30 minutes in to an 8 hour drive and you're already hearing "Are we there yet?".
The bag of snacks has somehow already disappeared, and your kids are already bored of the games that were supposed to entertain them for the next 7 1/2 hours.
So, what's a Mom to do?
Back in the day, before 8 year olds had their own iPads and cell phones, we had to get creative with our road trip entertainment.
I remember taking road trips to Florida with my family and playing fun games that my Mom seemed to just make up on the fly. Games like "My father owns a grocery store and he sells…" – I'm sure that's not the proper title of that easy road trip game, but I DO know that it was a favorite of me and my siblings.
And I remember playing the game "Dots" with my sister in the backseat. I'm not sure who invented that easy and addicting road trip game that just requires a pad of paper and a pencil, but I'm pretty sure it was my grandma. 🙂 We used to sit around her kitchen table and play for what seemed like hours on end.
So, yes, there is such thing as non-battery powered road trip fun!
If the batteries in your kids' iPads are beyond dead, and every page in their coloring books has been scribbled on, then try one of these easy games to play in the car with kids!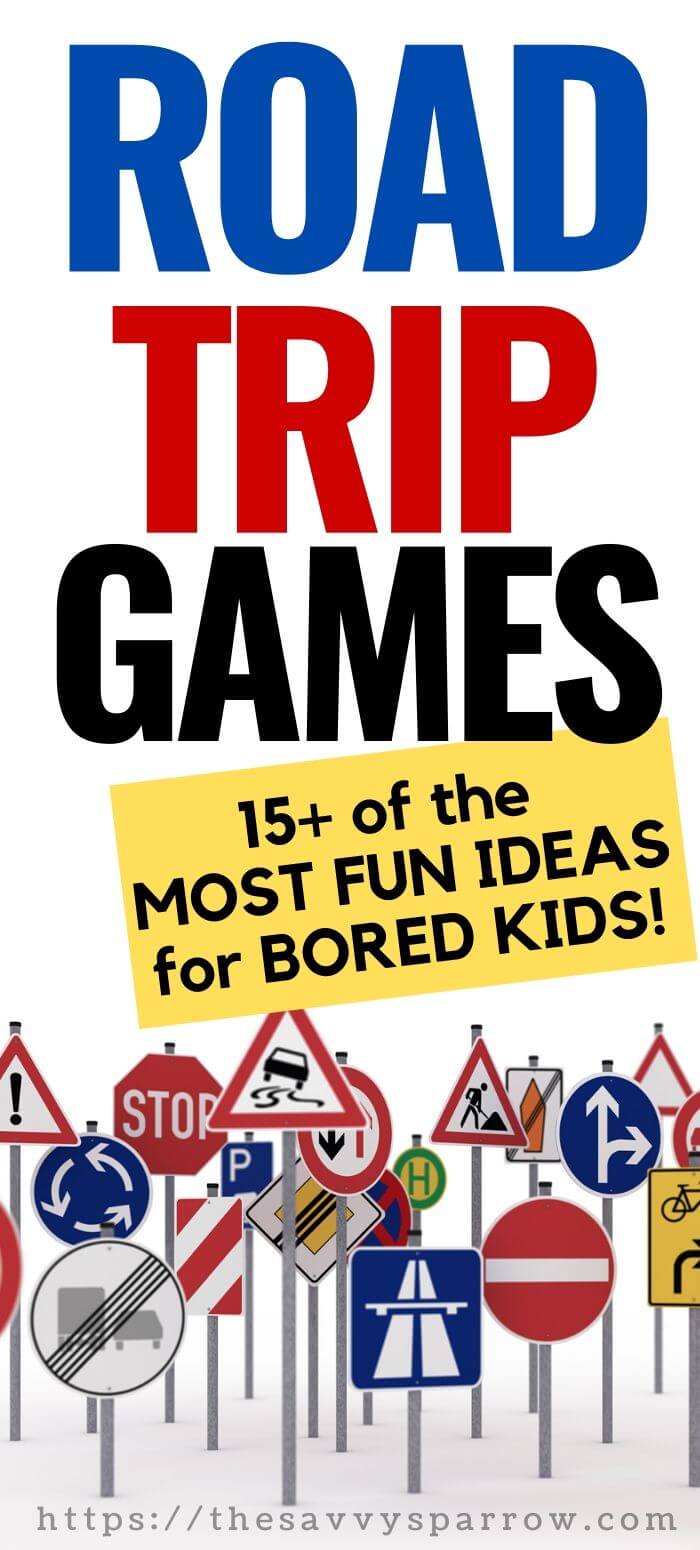 *This post contains affiliate links, which means if you click a link and make a purchase then I earn a commission at no additional cost to you. Read my full disclosure here.
Fun Road Trip Games for Kids that Don't Need ANY Supplies
Alphabet Grocery Store Game
That's what I'm calling it, anyway! Your kids will LOVE this easy game, PLUS it will help them use their brains (rather than their two thumbs like that handheld electronics device!).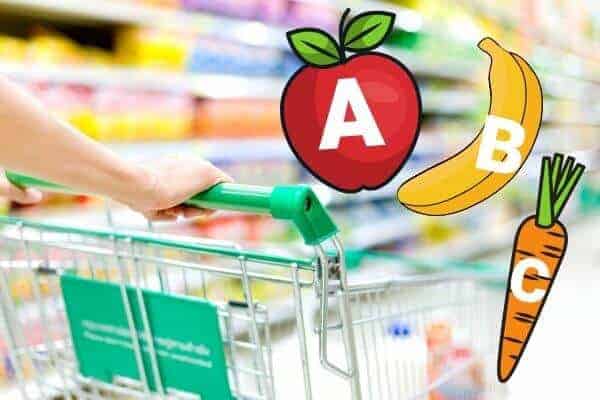 Here's how to play the Alphabet Grocery Store Game:
Pick one person to go first.
The first person thinks of something that is sold in the grocery store that starts with the letter "A". Or, if you don't want to go in alphabetical order, they can choose ANYTHING that's sold in a grocery store.
Player one says, "My father owns a grocery store and he sells something that starts with the letter _____". (Insert the first letter of whatever they are thinking of).
The other players try to guess what grocery store item player one is thinking of.
Whoever guesses correctly gets to take the next turn.
The great thing about this fun car ride game is that it requires absolutely NO prep work! No printing anything out prior to leaving the house, no pen and paper, nada!
So, when the kids start to get cranky, just shout out "My father owns a grocery store and he sells something that starts with B". If your kids are younger, it could be "bananas", but if you're playing this road trip game with teens, it could be "bouillon".
And for teens, you can use multi-word items, giving the first letter of each word as a hint… like "C-B" for "chicken breasts".
Alphabet Sign Game
This easy road trip game for kids was another one of my favorites growing up. It's fun to play, and it's GREAT for elementary aged kids that are familiar with the letters of the alphabet. This is another game to play in the car that doesn't require a road trip printable or pen and paper.
Here's how to play the Alphabet Sign Game:
Everyone starts at the letter "A".
All players look out the window for a billboard or street sign that has the letter "A" on it.
Once someone finds the letter "A", he or she points it out to the rest of the car riders, and then moves on to letter "B".
Each sign can only be counted for ONE player, so if Lucy finds the letter "A" in a Subway sign, then no one else can use a letter from that sign.
The person to get through the entire alphabet first wins!
Alphabet License Plate Game
The Alphabet License Plate Game is played the exact same way as the sign game above, except that instead of looking for the letters on billboards, you look for letters on license plates.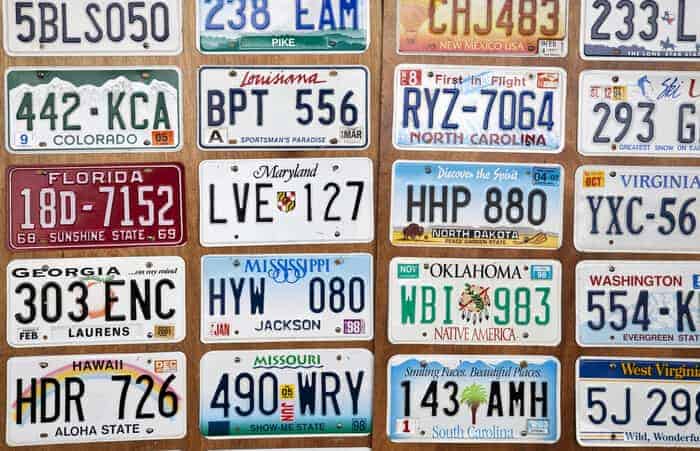 So everyone starts by looking for letter "A" in a license plate number (not the state). Each license plate can only be used by one player, or you can omit that rule to make the game easier for younger kids.
The Color Game
This road trip game for toddlers is great if your kids don't know their letters yet.
Here's how to play The Color Game:
Pick one of your kids to go first.
Say the name of a color and a number 1-5. Or, if you packed flashcards in your car ride bag, then you can draw a color and a number card.
The first player has to look out the window and find the proper number of items in that color. For instance, if you say "Yellow 3", then your child needs to find 3 yellow items.
20 Questions – By Theme
Here's how to play 20 Questions for an easy car ride game:
Pick a category – Food, animals, etc.
Pick one person to go first.
Player one thinks of something in the category, but doesn't tell everyone what it is. For instance, if the category is animals, they could pick "dolphin" as their secret item.
All other car riders ask questions Yes or No questions to try and guess what player one's secret item. For instance, does the animal live on land?
The object of this easy road trip game is to try and guess the secret item in LESS than 20 questions. Once 20 questions have been asked, player one tells what the secret item is, and the next player gets a turn at picking the secret item.
I Spy – Colors or Letters
I know you're familiar with the classic I Spy game… and it's probably a classic because it doesn't require ANY supplies, and it's perfect for kids of all ages.
You can play I Spy with colors ("I Spy something yellow") OR for a fun car ride game for older kids, you can play with letters ("I Spy something that starts with letter F").
Road Trip Games for Kids that Use a Pen and Paper
If you've packed some pencils and paper for your car ride, then you can have your kids play one of these fun road trip games.
My girls have also played these easy car ride games using a BoogieBoard (affiliate). If you've never heard of a BoogieBoard, then you need to check them out!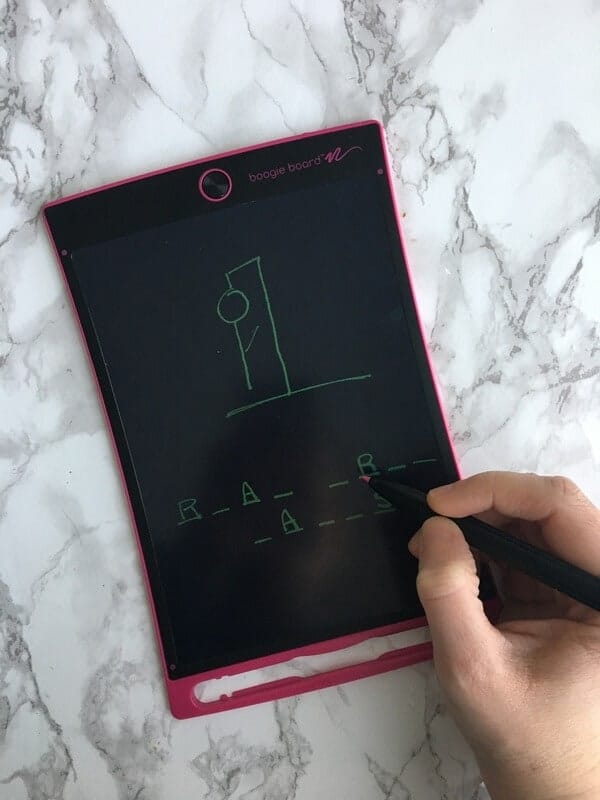 BoogieBoards (not to be confused with the surf toy!) are perfect for car rides because they can be used to play writing games, to draw pictures, etc. without worrying about your kids getting pen marks on your cloth seats.
License Plate Game
So many car ride games to pass the time can be played just by looking at license plates. If you've got a pen and paper, you can easily make up your own license plate game. Here's one variation of the classic road trip game:
How to Play the License Plate Game:
First, set the duration for the game… will the game last for one hour or the entire length of the car ride.
Set different point values for different states or license plate numbers. For instance, a personalized plate can be worth 2 points, a neighboring state can be worth 1 point, and 2 of the same letters or numbers in a row can be worth 3 points. License plates for the state that you are driving through could be worth 0 points to make the game a little more difficult.
Then, pass out pens and paper to your kids. Let them keep track of what license plates they see by writing down the state and using tally marks.
When the time has expired, add up everyone's points and the highest score wins.
Dots
This 2 person road trip game is great for older elementary-aged kids. I remember playing this game with my sister for hours on end in the backseat.
It may sound complicated, but it's actually really easy once you get the hang of it…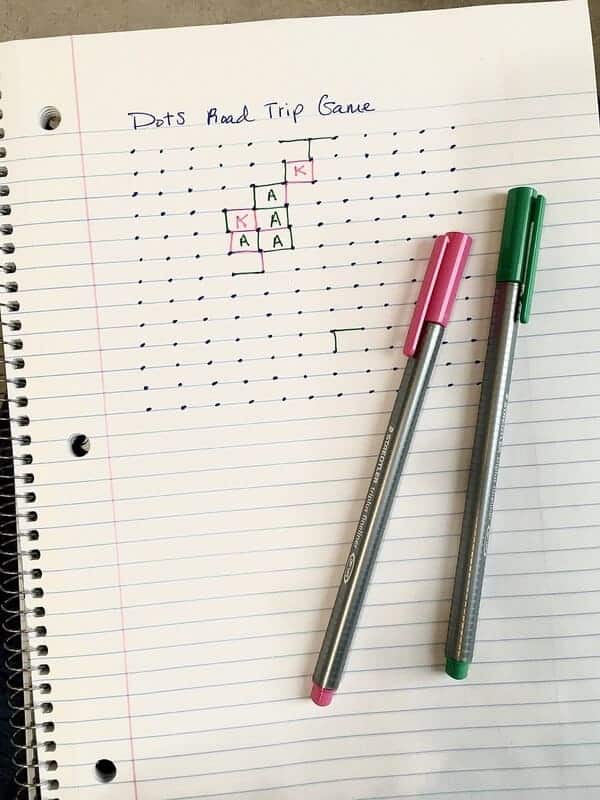 Here's how to play the Dots game on your next road trip:
Draw a grid of dots on a piece of notebook paper. Leave enough space to connect the dots to make 1/4″ to 1/2″ squares. Draw your dots on the lines of the notebook paper to help keep your dot grid straight. Or, you could easily play this game on dot grid bullet journal paper.
Pick someone to go first.
The first person draws one line connecting two dots. The line can ONLY be horizontal or vertical and it can only connect TWO dots. No diagonal lines.
Then, the second person draws a line connecting two dots. He or she can build on the first person's line, or start their own square from scratch.
The object of the game is to be the person that draws the 4th side of the square.
Whoever finishes a square by drawing the 4th line gets to put his or her initials inside that square.
The person with the most initials on the page at the end of the game (when all of the dots have been turned into squares) wins!
This is an easy game of strategy, and it's PERFECT for car rides!
Hangman & Tic Tac Toe
These classic road trip games don't take long to play, which means that your kids could end up blowing through an entire pad of paper pretty quickly. This is where the BoogieBoards (affiliate) come in handy, because once your kids are done playing one game, they just push the button to erase the screen and start another game!
Printable Road Trip Games for Kids
These printable activities for car rides are GREAT to pass the time without electronics devices! You can print these road trip activity sheets off before you leave for a long trip, and laminate them to use them over and over again with dry erase markers!
Road Trip Scavenger Hunts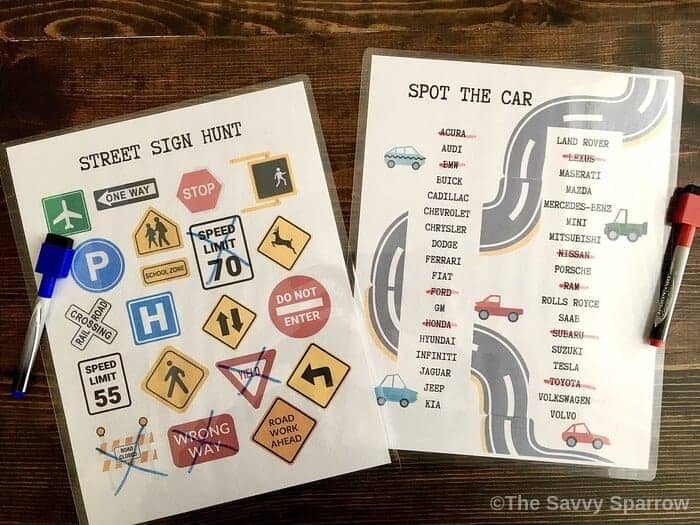 Printable scavenger hunts are a great way to pass the time on long car rides. Have kids search for specific road signs, restaurants, or cars.
You can grab my printable Road Trip Sign Scavenger Hunts and other car ride games for kids HERE!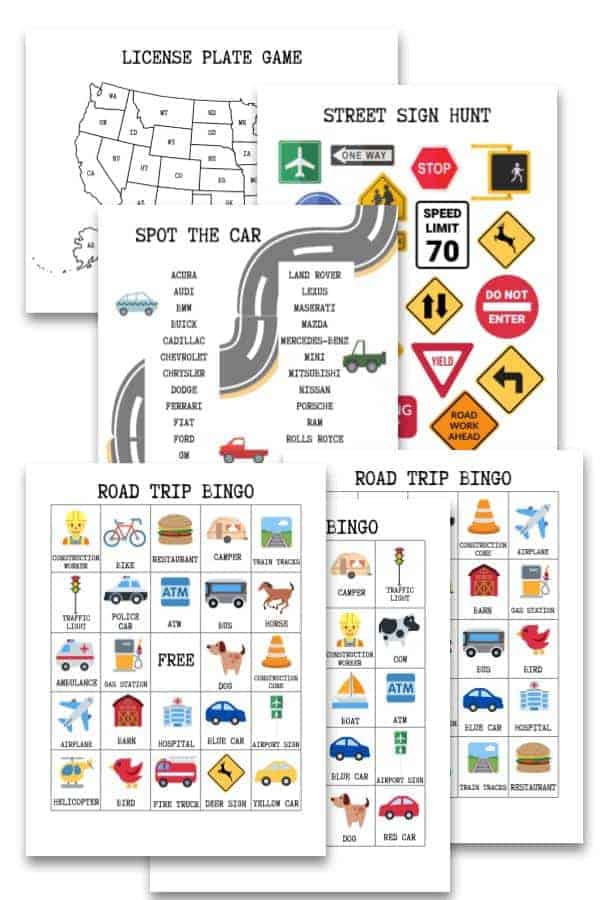 Road Trip Questions for Kids
Use the time on your road trip to get to know your kids more and encourage them to talk to you instead of burying their faces in an iPad.
You can grab my printable list of Questions to Ask Kids in my FREEBIES library (I'll send you the password as a FREE gift when you subscribe to my FREE email newsletter!)…
OR, you can check out my 100 Questions to Ask Kids Printable Cards HERE!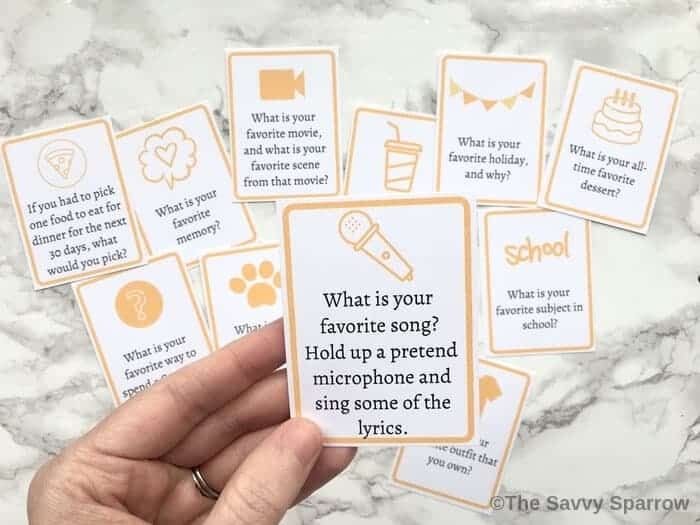 Just print out the PDF on card stock, cut into question cards, and let your kids draw a card!
We used the question cards as dinner table conversation starters recently, and my girls took 15 minutes to answer the very first question. So with 100 different question cards, this is a GREAT way to take up time and make the car ride go by a little faster.
Printable Road Trip Bingo Cards
This Road Trip Restaurant Bingo from The Suburban Mom is a fun take on road trip bingo games.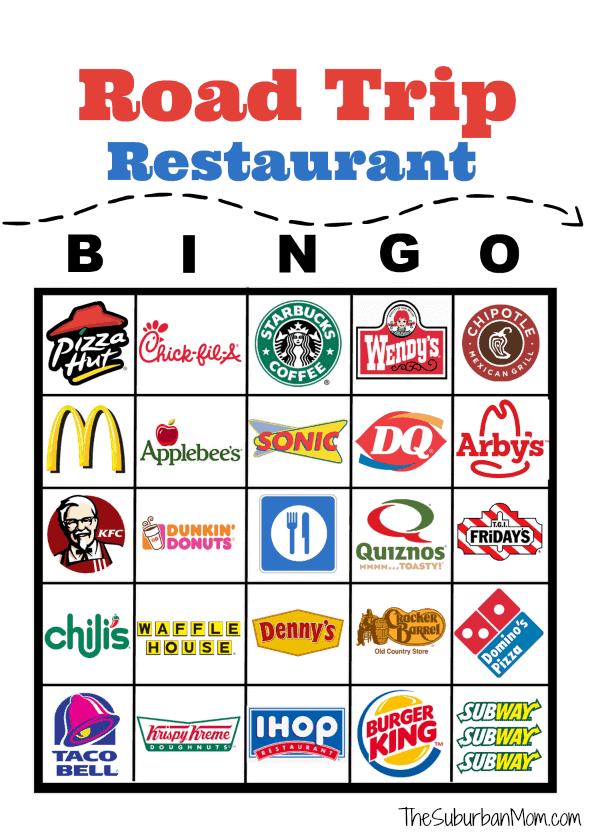 Or, you can grab my Printable Bingo Cards (with 3 different cards) in my Road Trip Games Bundle HERE!
Printable License Plate Game
I LOVE this FREE printable license plate game from The Suburban Mom! Just print it out before you leave for your car trip, and pass out the printables to your kids when the road trip boredom sets in.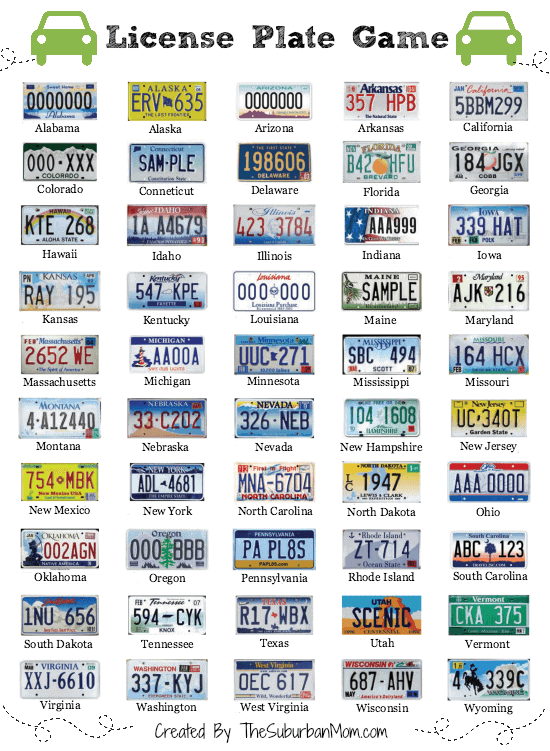 Printable Road Trip Word Search
Printable word searches are also great for car ride activities. Here's a great car trip word search you can grab for FREE from Artsy Fartsy Mama!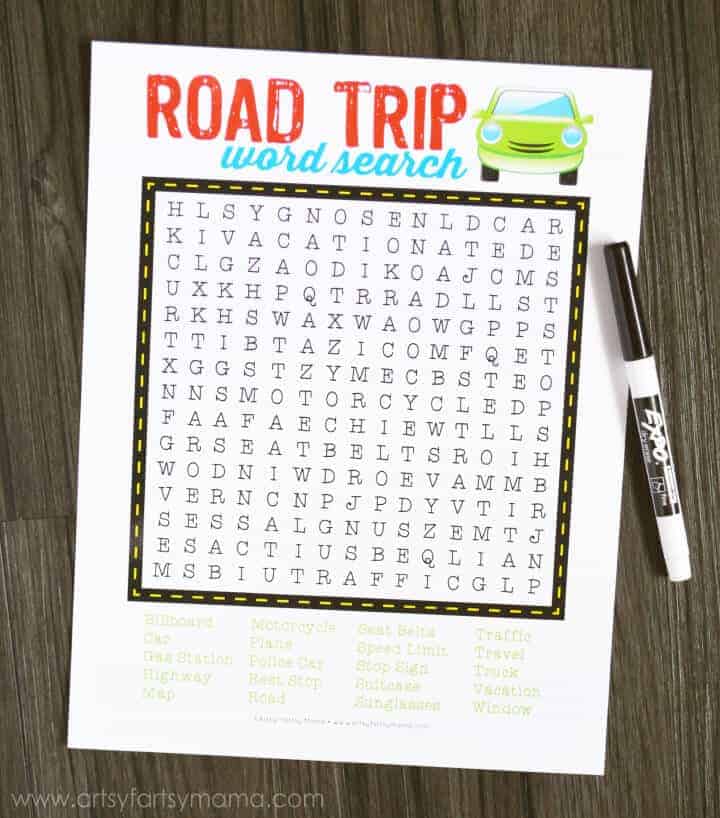 Other Fun Road Trip Games for Kids to Beat Boredom
If you're more of the Amazon Prime type of Mom (no judgement!), then here are some awesome car games for kids that you can buy. By the way, if you're NOT an Amazon Prime Mom then check out this post on How Amazon Prime Can Make Mom Life Easier!
Travel Bingo Cards
We have these travel Bingo cards and my kids LOVE them! These road trip bingo cards make PERFECT car ride games for toddlers!
Rubbernekkers – Everyone's Favorite Travel Game
Rubbernekkers is a highly-rated road trip card game for ages 8 and up. This fun game pits car riders against each other to spot the items listed on their cards.
Wikki Stix Traveler Playset
My kids used to LOVE playing Wikki Stix when we went out to eat. I remember being first introduced to Wikki Stix at a little cafe in Jackson Hole, WY, where they gave out mini packs of the fun moldable wax sticks and encouraged kids to make designs on the walls.
This Wikki Stix Traveler Playset is PERFECT for fun road trip activities for toddlers! And they're reusable so you can take them to restaurants or on road trips over and over again.
What are your favorite road trip games for kids to play in the car? How do you keep your little ones entertained when the iPad just doesn't cut it anymore? Leave me a comment down below!
And don't forget to PIN this post for when you're prepping for your next car ride!