If you're looking for beginner wood working projects, then these easy scrap wood projects are a great place to start! Raid your old wood pile in the backyard or track down some free pallets from behind a nearby retailer, and get ready to make something beautiful and functional using scrap wood!
My husband and I jumped into woodworking projects kind of by accident… We just happened to buy a house that had a HUGE woodpile in the backyard.
I'm talking weathered 2x4s, 4×4 posts, 1x6s, AND an old ratty pool deck that desperately needed to be torn down.
At first we started burning the scrap wood, but that was taking WAY too long, so we decided to organize it by size in a corner of the backyard and save it for some easy woodworking projects.
And I'm glad we did! We've created some awesome DIY wood signs, DIY Wood Block Houses, a beautiful fireplace mantel, and a farmhouse style buffet with herringbone sliding doors.
If you want to try your hand at some easy woodworking projects too, then here are some awesome and easy Scrap Wood Projects for Beginners!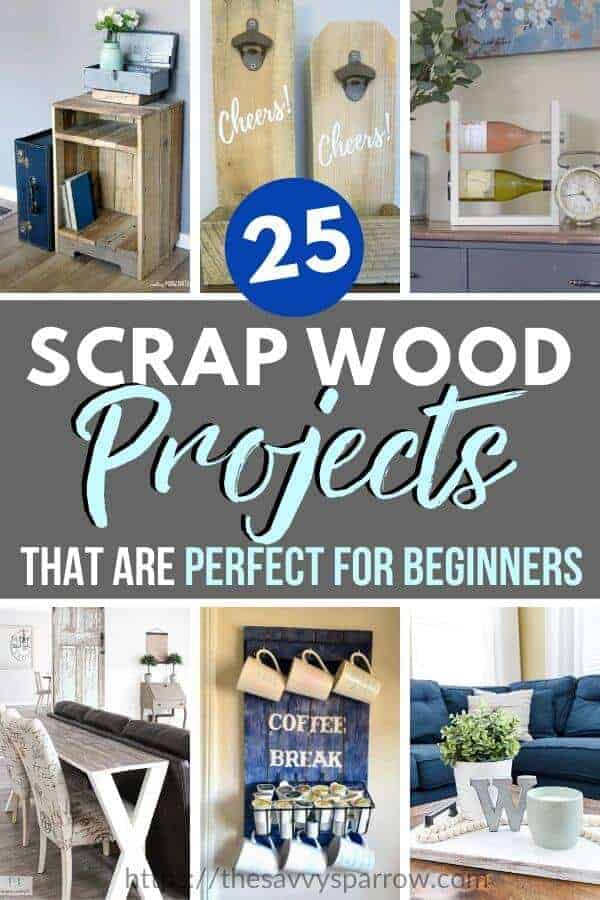 *This post contains affiliate links, which means if you click a link and make a purchase, then I earn a commission at no additional cost to you. Read my full disclosure here.
Basic tools for scrap wood projects
But first, you need to have some basic tools and supplies if you're going to attempt some of these easy scrap wood projects.
Here are some of the woodworking tools that we use and LOVE:
Drill/Driver
This is probably the most basic of tools you need to make these easy scrap wood projects. We've had the Ryobi Drill/Driver (affiliate) for over 2 years, and we use it ALL THE TIME! A drill/driver is used to drill holes in various materials AND to screw in fasteners, so it's a handy tool to have around the house, even if you aren't into woodworking.
Jigsaw
If you're going to attempt to make some of the shaped pallet wood decor projects (like pallet pumpkins or snowmen), then you will need a jigsaw (affiliate). A jigsaw has a small blade, which allows you to make detailed, intricate cuts in a variety of materials.
Starting to notice that we LOVE Ryobi? Once we started buying our own tools (as opposed to using borrowed tools), we decided to go with Ryobi mainly because of the awesome universal batteries that they have.
You can buy 1 or 2 batteries and use them interchangeably in most of the Ryobi tools. We use the Ryobi batteries to power our drill, reciprocating saw, and blower.
Circular Saw
This is the circular saw that we have (affiliate). It has a handy laser light to guide your cuts, and it's really affordable.
Speed Square
A speed square (affiliate) is helpful when making 45 and 90 degree angled cuts, but it can also be used to mark lines for basic cuts. If we're using our saw, then chances are that we've got our speed square nearby too.
Wood Glue and Filler
For some woodworking projects, you'll need wood glue AND screws or nails for extra strength. We use this wood glue (affiliate) for a variety of projects, including these Easy DIY Signs on Canvas.
Wood Filler like this one (affiliate) is also great for covering nail holes on wood frames or other projects that need to have a seamless front.
25 Easy Woodworking Projects for Scrap Wood
DIY Scrap Wood Furniture Projects
I LOVE this farmhouse style DIY X Sofa Table from Scrap Wood from Repurpose and Recycle! This is a great woodworking project for beginners that is both beautiful AND functional!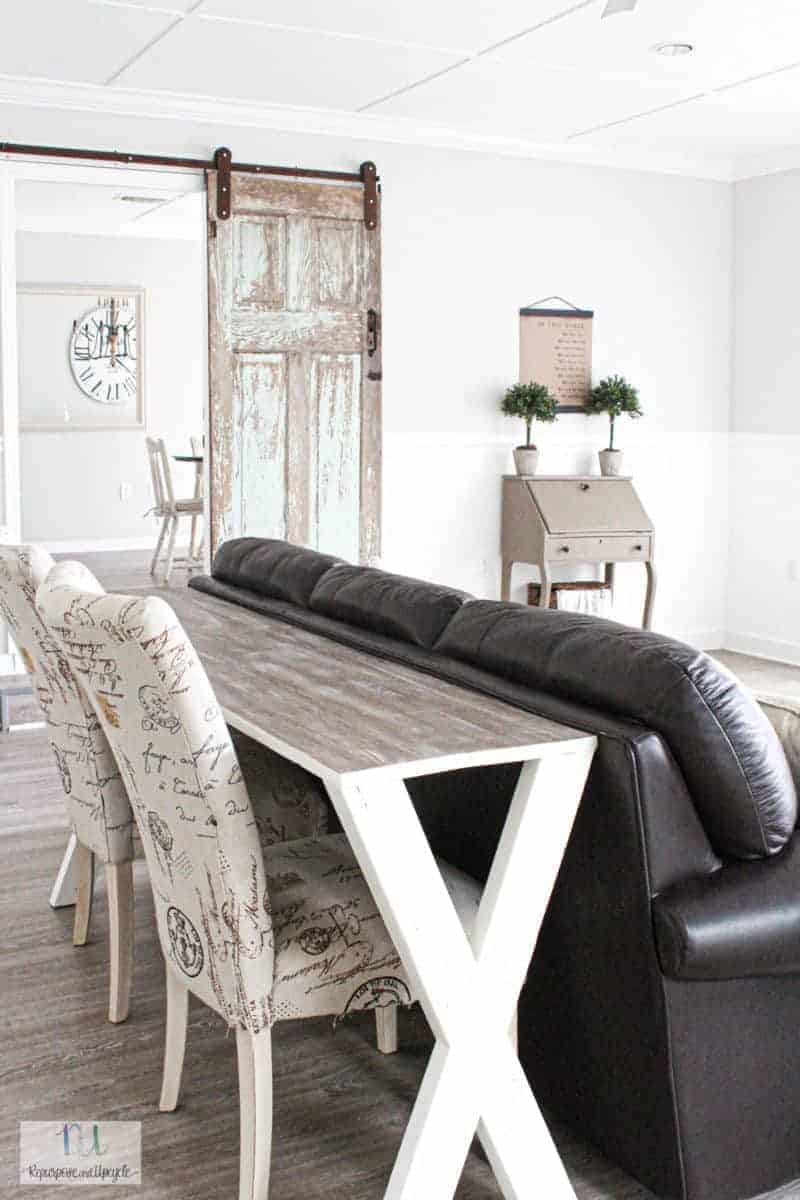 If you've got whole walls of old sheds or outbuildings to use, then this DIY Scrap Wood Outdoor Table is perfect! I LOVE how Vicky Myers Creations made this DIY Garden Table from the side panel of an old garden shed: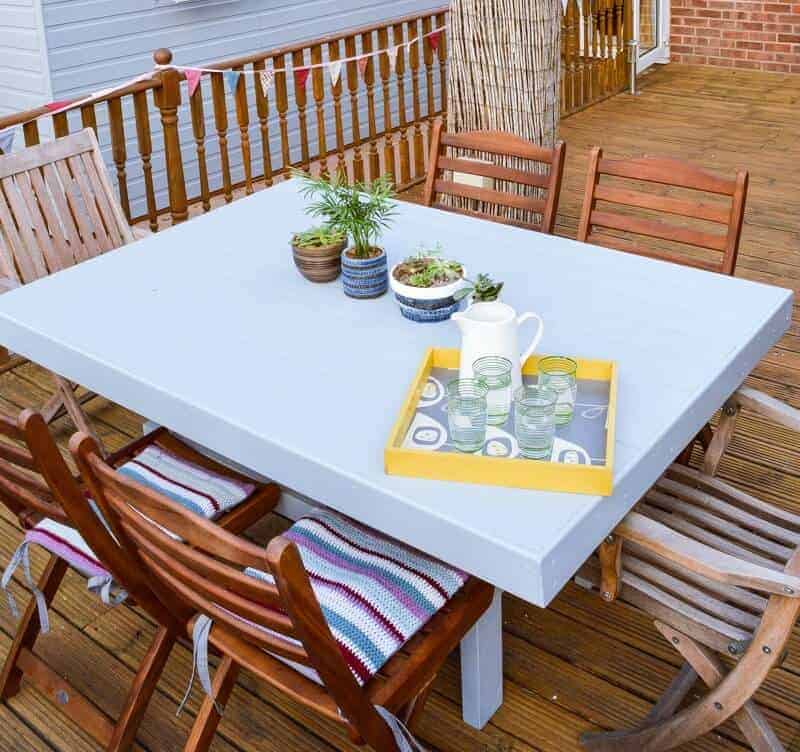 The Pallet Wood Side Table from Making Manzanita uses FREE pallet wood, so it's a great scrap wood project if you're on a budget!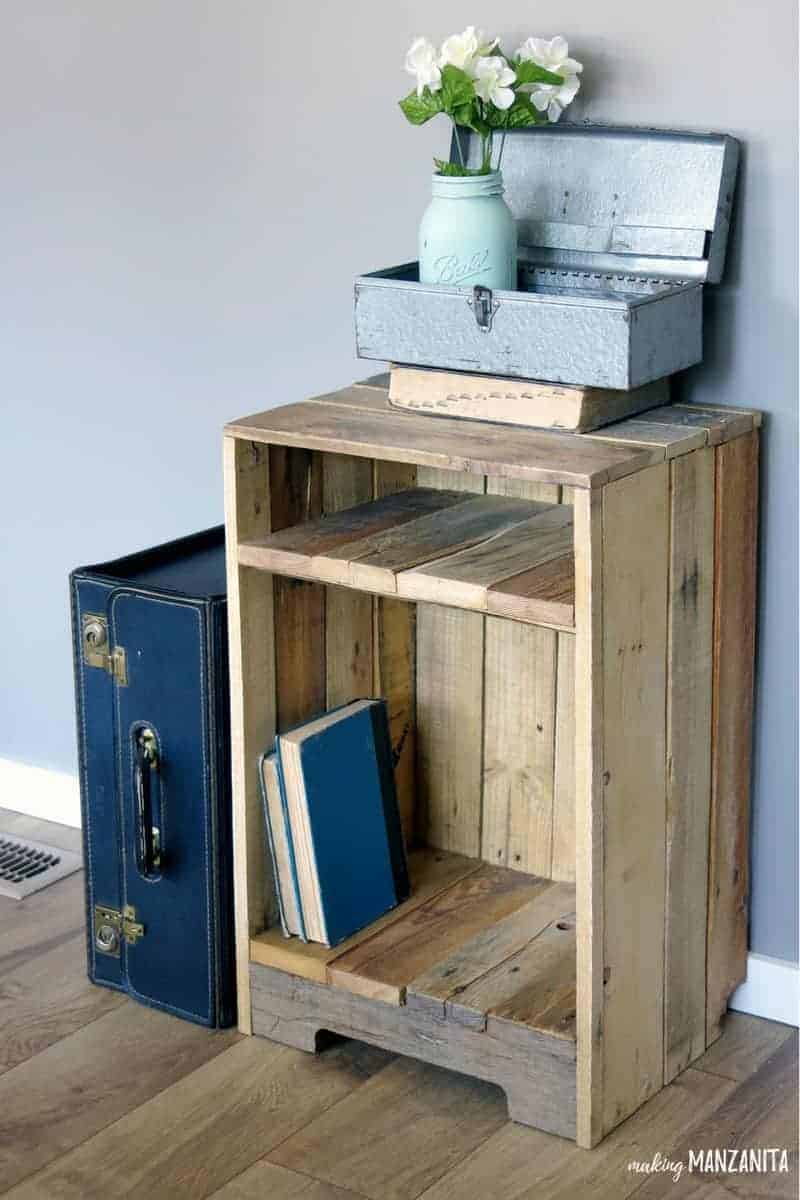 Easy Scrap Wood Projects for Home Decor
This DIY Wooden Serving Tray from Our Home Made Easy is a GREAT woodworking project for beginners because it only requires ONE cut! And it's super cute, too! This would be a great idea to add to your list of woodworking projects to sell at craft fairs, because you can make a lot of them in a short amount of time.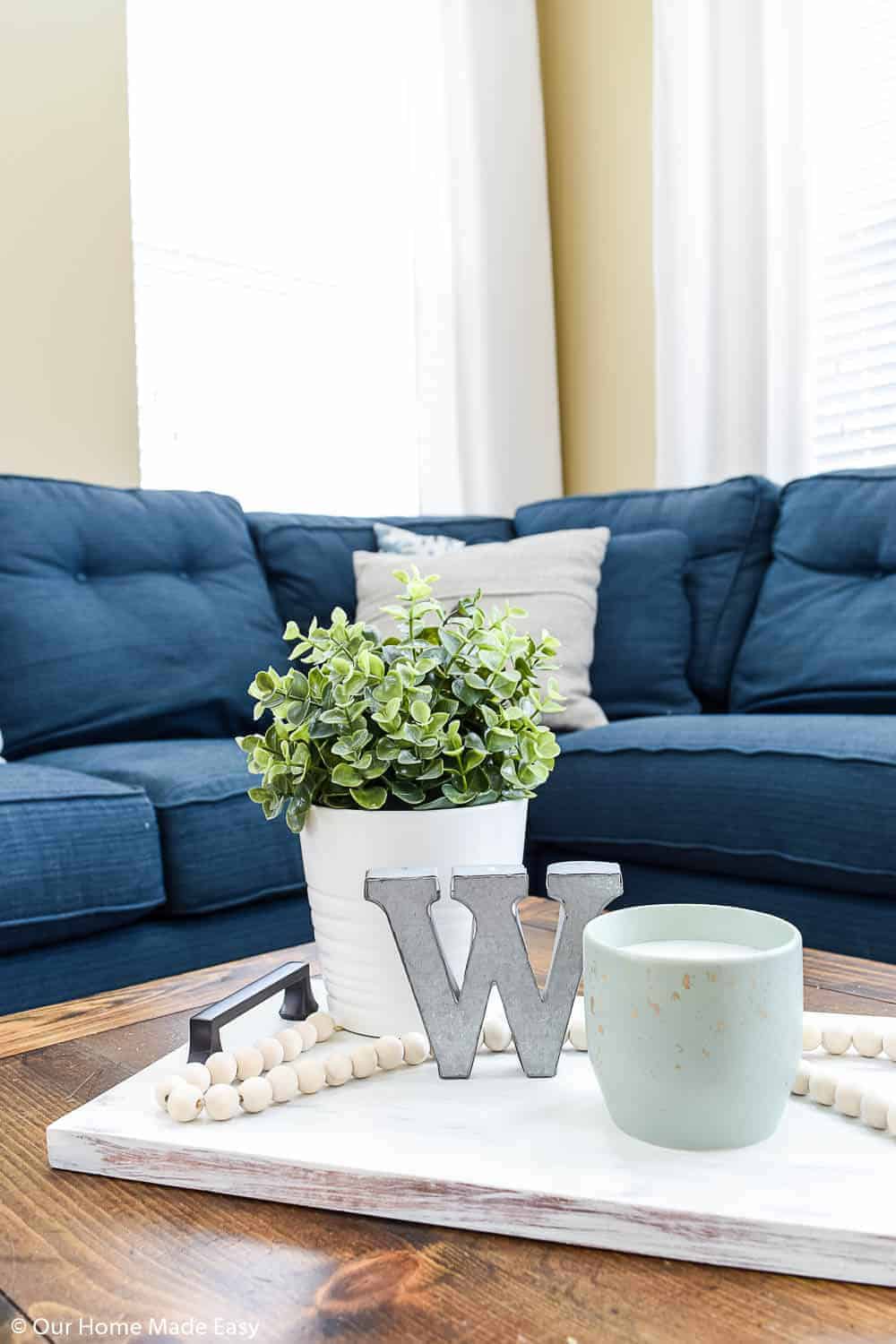 This Scrap Wood Wreath from Charleston Crafted is SO cute, and you can easily swap out the floral elements to go with each season!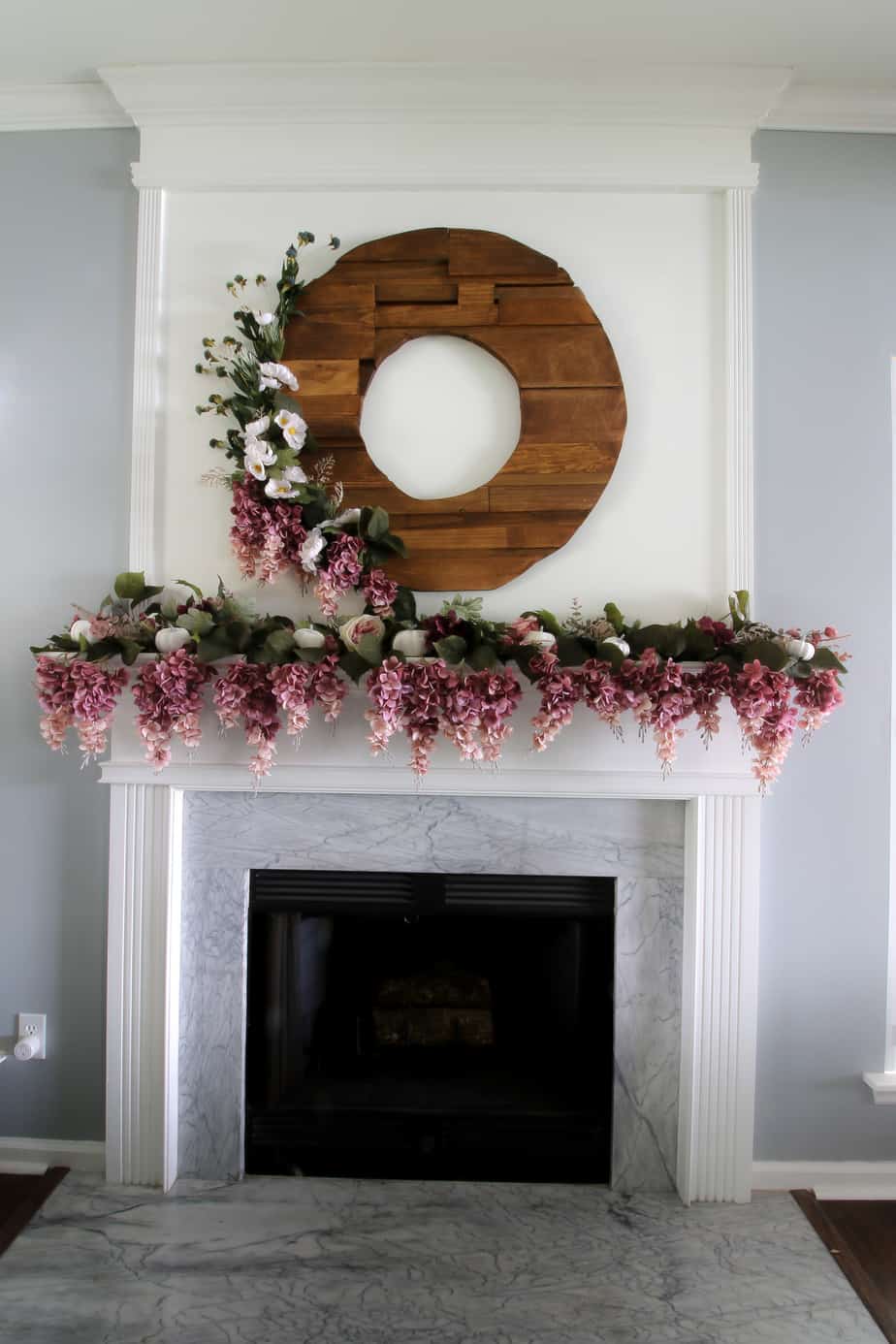 I absolutely LOVE this easy DIY Towel Rack with scrap wood from Sustain My Craft Habit. We're about to embark on a bathroom remodel, and this beautiful and easy scrap wood project is seriously insipiring!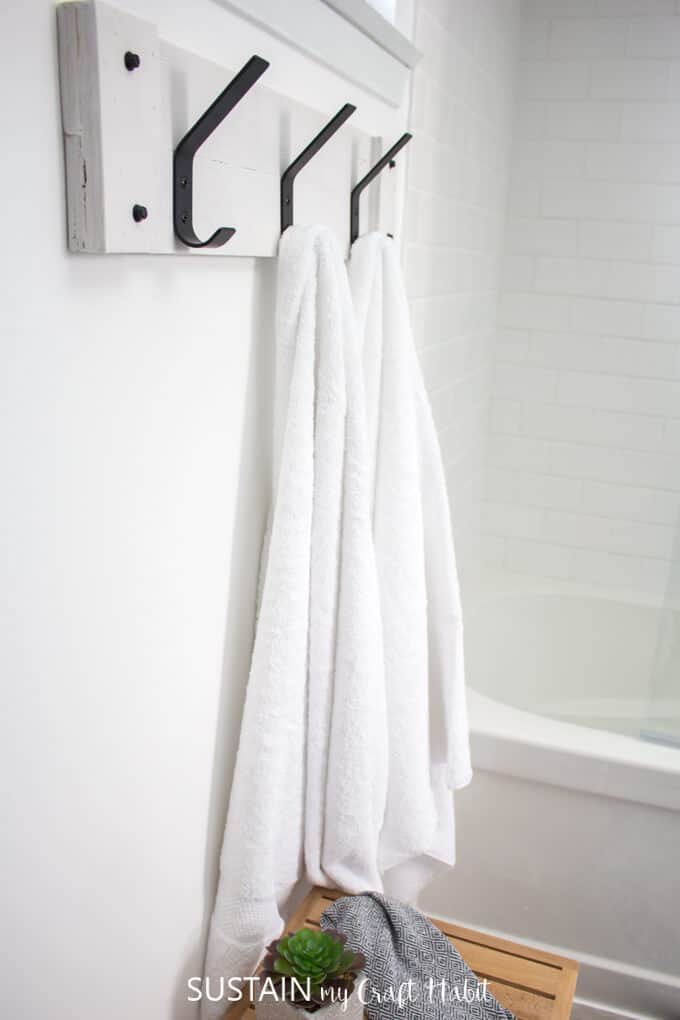 This DIY Wall Mounted Fruit and Veggie Holder from Across the Boulevard looks great AND it's a practical way to keep fruit and veggies on hand! If you have a big garden like we do, this is a great scrap wood project for beginners!
We recently made these easy DIY Decorative Houses from old scrap fence posts and I LOVE how they turned out! These cute houses make great woodworking projects for beginners to practice their 45 degree angle cuts, and you could sell them at craft fairs too!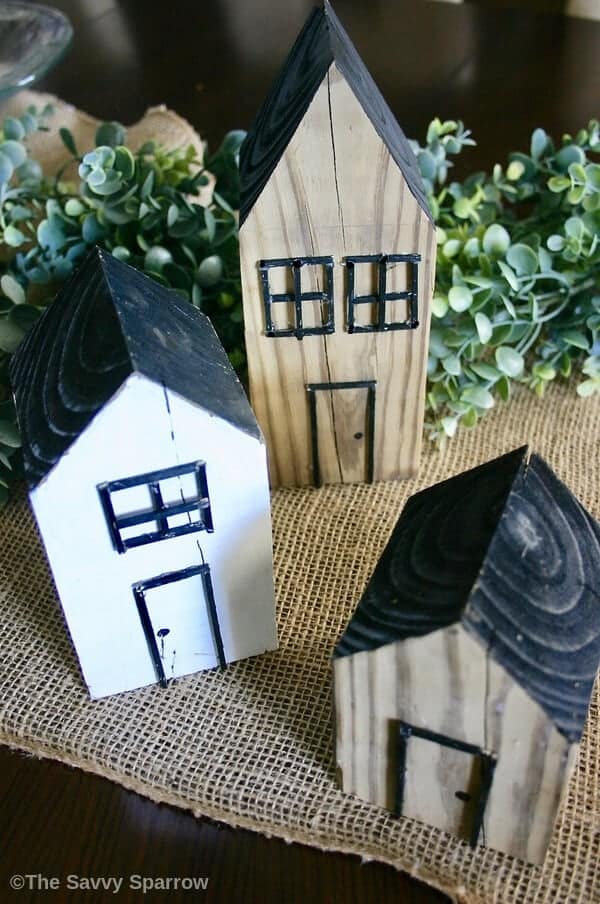 This Scrap Wood Sunburst Mirror from Lovely Etc. would look GREAT in a beach house or lake house. You could also make this easy DIY project to sell at craft fairs!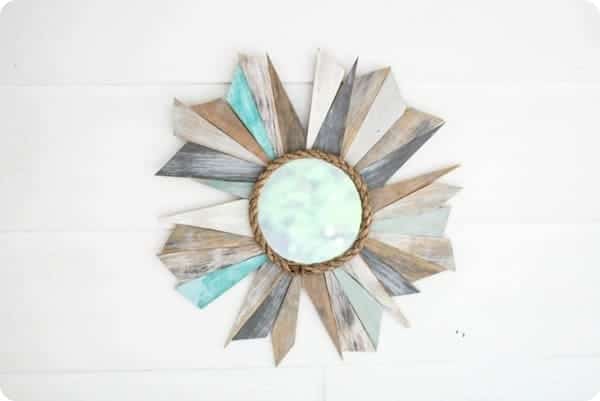 We made this DIY Front Porch Fall Sign using scrap wood from our wood pile, and an awesome design transfer method. And you can easily flip it over and add another sign to the back!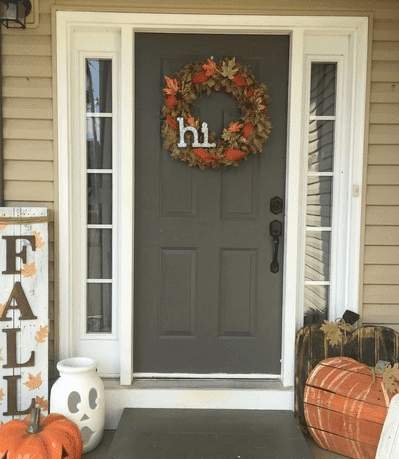 This DIY Framed Burlap Wall Hanging from Arts and Crackers is great if you have some old weathered lumber laying around. Make this simple framed burlap wall hanging with stencils and paint to display an important date in your life.
This Scrap Wood Banner from Lovely Etc. would be SO cute to make for a child's birthday or to hang across your mantel. I especially LOVE the rustic look of the wood pennants!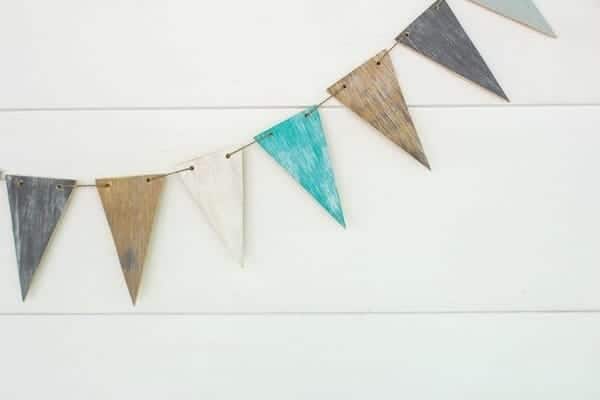 Even More Woodworking Projects for Beginners
If you're a wine drinker, or if you host outdoor patio parties, then try your hand at this DIY Pallet Wine Rack from Sweet Pea! This easy scrap wood project is a great way to use pallet wood, which you can often find for FREE behind big box retailers like Target and WalMart.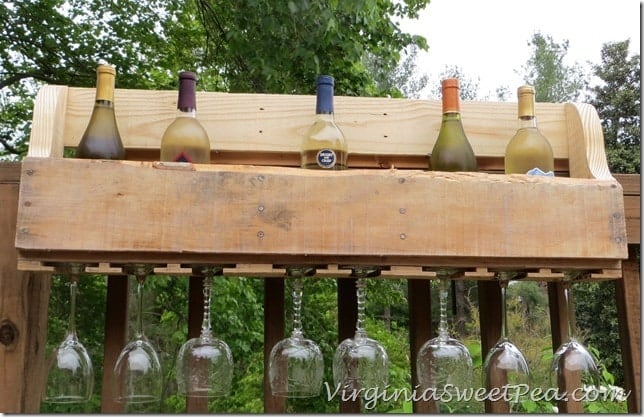 And be sure to check out these easy scrap wood projects that are both beautiful AND functional!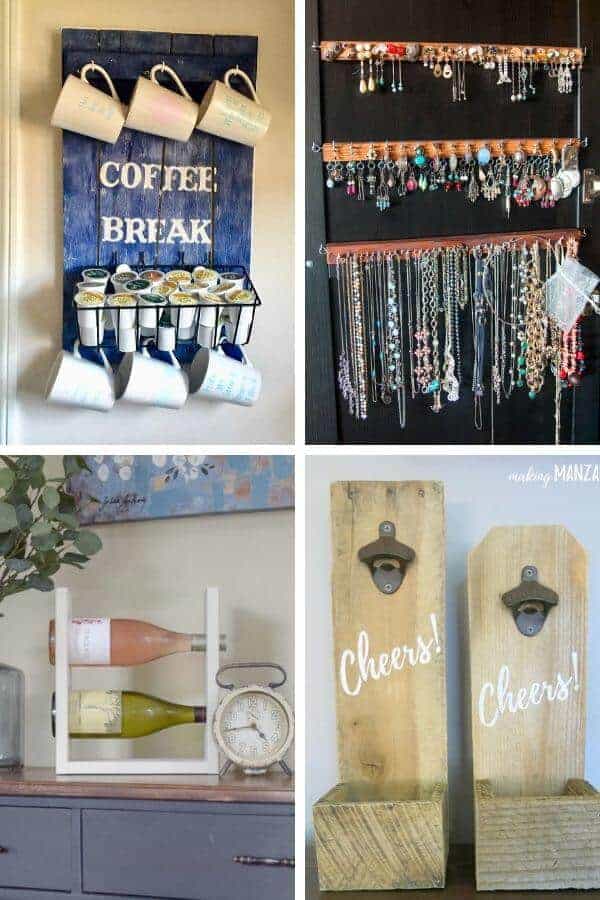 DIY Pallet Coffee Station from Our Crafty Mom
DIY Earring Holder from Oh the Things We'll Make
Easy DIY Wine Rack for a Tabletop from Our Home Made Easy
DIY Bottle Opener from Making Manzanita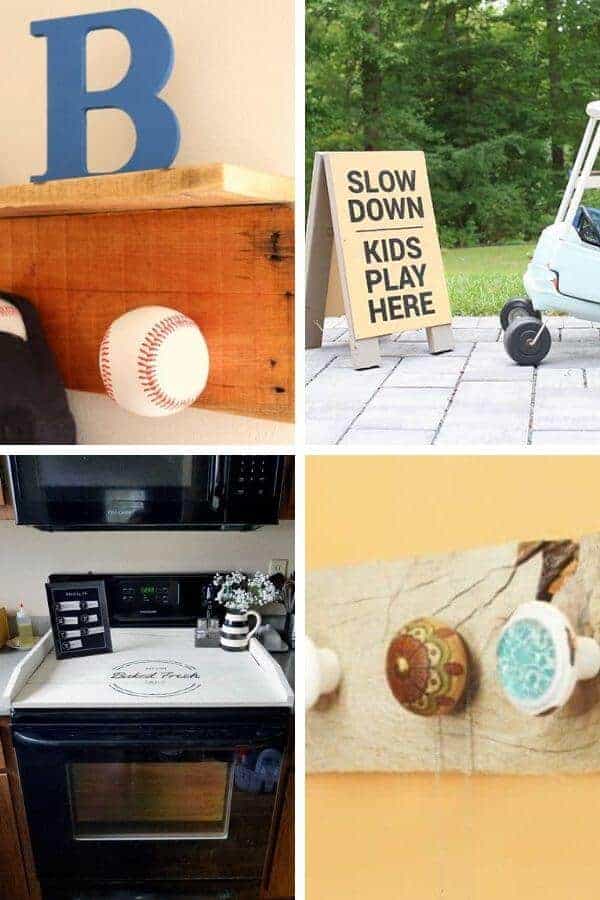 Slow Kids at Play Scrap Wood Sign from Shrimp Salad Circus
DIY Baseball Cap Hat Rack from Scrappy Geek
DIY Noodle Board from We Three Shanes
DIY Rustic Jewelry Hanger from The Flying Couponer
Easy Scrap Wood Projects for the Holidays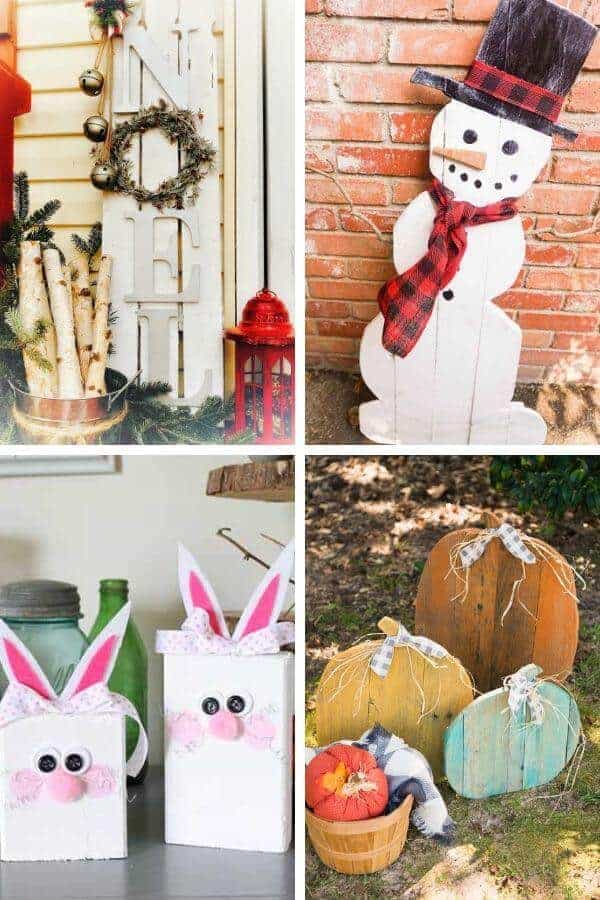 DIY Reclaimed Wood Noel Christmas Sign from A Hundred Affections
DIY Wood Snowman from Happiest Camper
Easter Bunnies from Scrap Wood from The Country Chic Cottage
DIY Rustic Farmhouse Pumpkins from Kippi at Home
And there you have it!
I hope you're inspired to create some of these easy woodworking projects yourself. There's nothing like the sense of pride you get after finishing a beautiful DIY project!
Until next time… Happy Nesting!