These DIY decorative wooden houses make fun and easy woodworking projects for beginners. Learn how to make adorable rustic wood houses using scrap wood for your DIY farmhouse decor!
So, I was shopping at JoAnn's recently… surprise, surprise… and I stumbled on these adorable decorative wooden houses that I just HAD to have…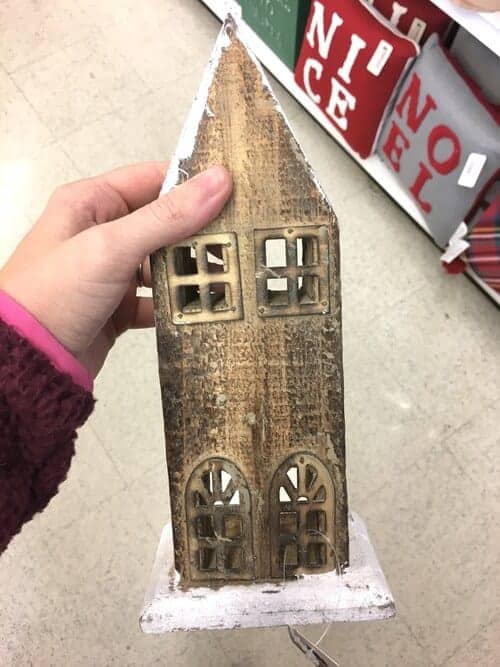 Until I looked at the price tag and realized that I could buy a small village of cute wood houses OR groceries.
And since my kids aren't too keen on fasting, groceries won out.
BUT… I couldn't get these cute little wood block houses out of my mind, so I decided to make my own version using FREE supplies that I had laying in my backyard… old fence posts!
I told my husband to break out the table saw, and I got to work on my DIY Decorative Wooden Houses… and I couldn't be happier with how they turned out!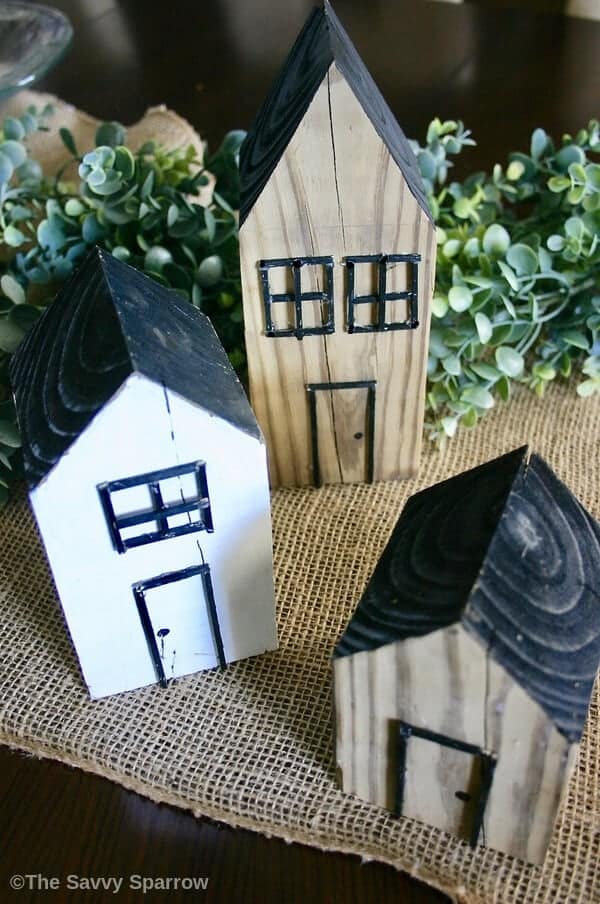 Here's how to make your own DIY wood block houses using scrap wood, perfect for your DIY farmhouse decor!
And be sure to check out some of my other easy DIY farmhouse decor projects, like these Cheap and Easy DIY Wood Signs and my tutorial for How to Paint Faux Subway Tile over your existing fireplace tile!
*This post contains affiliate links, which means I earn a commission if you click a link and make a purchase, at no additional cost to you. Read my full disclosure here.
How to Make Decorative Wood Houses for Farmhouse Decor
Step 1: Gather your supplies for DIY Decorative Wood Houses
To make your own wood block houses, you will need: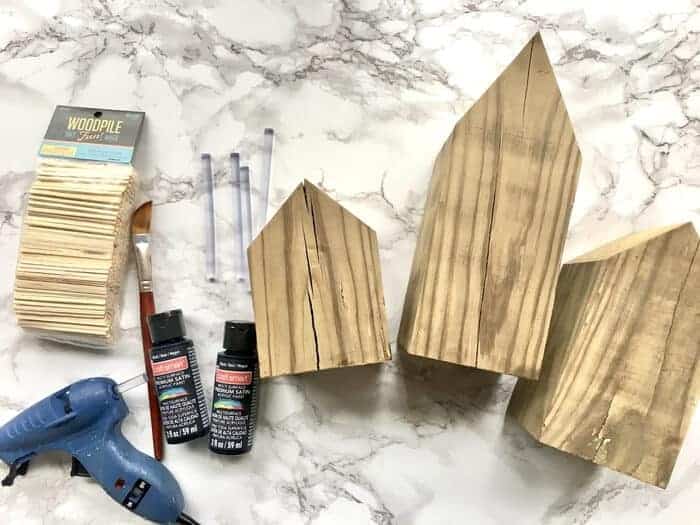 Scrap Wood Fence Posts
Our scrap wood houses are made of 4×4 fence posts, just like the JoAnn's version, but you could also make these from old 2x4s for a different look.
Sand Paper
White & Black Acrylic Paint and Paint Brushes
Thin Wood Sticks
I got my craft sticks from Hobby Lobby, but these wood craft sticks from Amazon (affiliate) are very similar.
Hot Glue Gun & Glue Sticks
Black Permanent Marker
Step 2: Cut your scrap wood
First determine how tall you want your decorative wood houses to be. Ours are 9″, 7″, and 5″ tall.
Then, use a table saw to cut your fence posts down to size and to cut the roof shape in the top. My husband used his handy speed square like this one (affiliate) to make sure that the roofs weren't lop-sided.
Step 3: Paint your DIY Wood Block Houses
Once your scrap wood is cut into house shapes, sand down the houses with sand paper until they are smooth. The great thing about using scrap wood for these decorative houses is that the cracks and imperfections add character to your finished rustic wood houses, so don't worry if your scrap wood is less than perfect.
After sanding, dust off the houses with a cloth and paint the "roofs" of your decorative wood houses. We used black acrylic paint, but a darker brown would look nice also.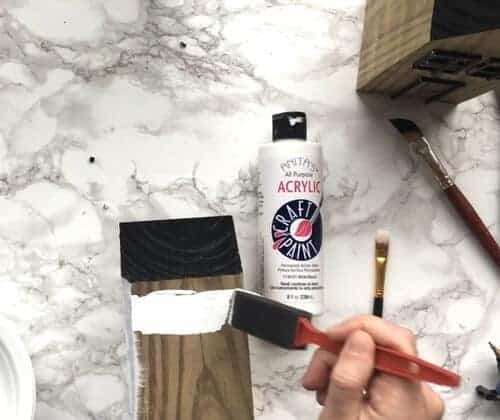 You may choose to paint all of your decorative wood houses, or leave some of them rustic and unpainted like we did.
For the white decorative house, I used regular white acrylic paint and a craft foam brush. I preferred the foam brush to the regular paint brush because it was quicker and it didn't leave any streaks in the paint.
Step 4: Paint craft sticks for windows and doors
Paint the mini craft sticks black and allow them to dry completely. There's really no clean way to do this, so be prepared to get your hands dirty. I like to use a paper plate when I'm painting with acrylic paint so that there is no clean up.
Step 5: Assemble windows with hot glue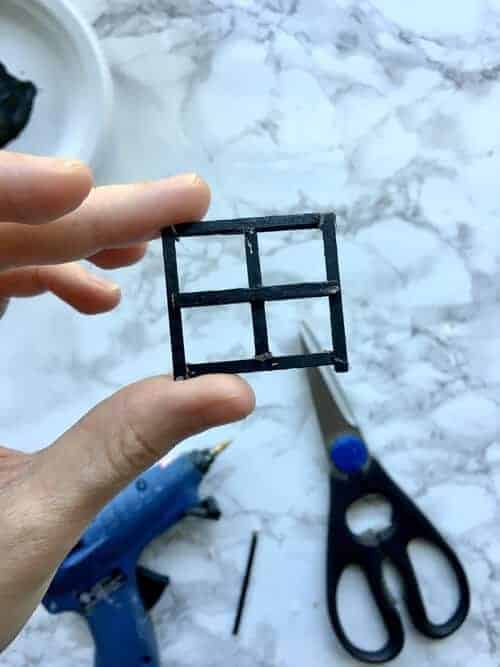 Cut the painted craft sticks using a strong pair of scissors. I used my husband's kitchen shears (Sorry, Boogie!).
Then, lay out your sticks to form a window shape before gluing them together. You can also use a black permanent marker at this point to touch up any imperfections in your windows caused by cutting the sticks.
Step 6: Hot glue craft sticks to your DIY Decorative Wood Houses
Once your windows are assembled, use hot glue to attach them to the front of your DIY decorative wood houses. Then, hot glue wood sticks in place for the door, and lastly, draw a small circle for the door handle using a permanent marker.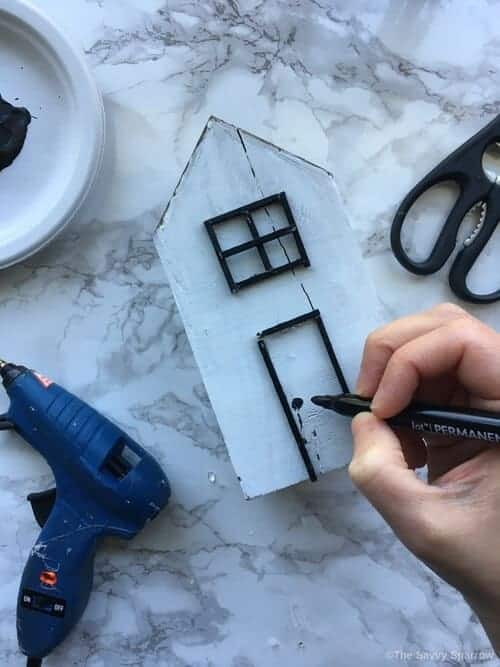 Step 6: Display your DIY Decorative Wood Houses on your mantel, buffet, or dining table!
My DIY decorative wooden houses have found a new home on my fireplace mantel, but these easy scrap wood houses would also look cute on a buffet or as a centerpiece for your dining table!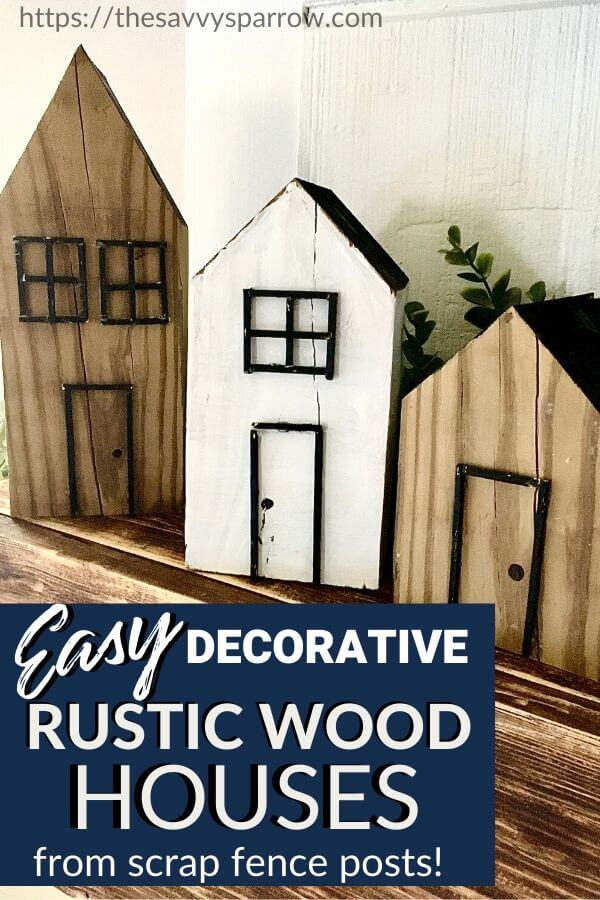 If you want to make your wooden houses holiday-ready, then brush on some glue and sprinkle on epsom salt to mimic snow. Or, you can paint your roofs white like these Modern Wood Holiday Houses!
Hope you enjoyed this easy DIY decor project! Now head on over to check out some of my other DIY farmhouse decor ideas:
DIY Large Wall Art with Drop Cloth
No-Sew DIY Curtains for Farmhouse Decor