If you need window coverings on a budget, then try these DIY no sew curtains made from a tablecloth! These easy DIY farmhouse curtains are super simple to make using iron-on adhesive. Read on for the full tutorial…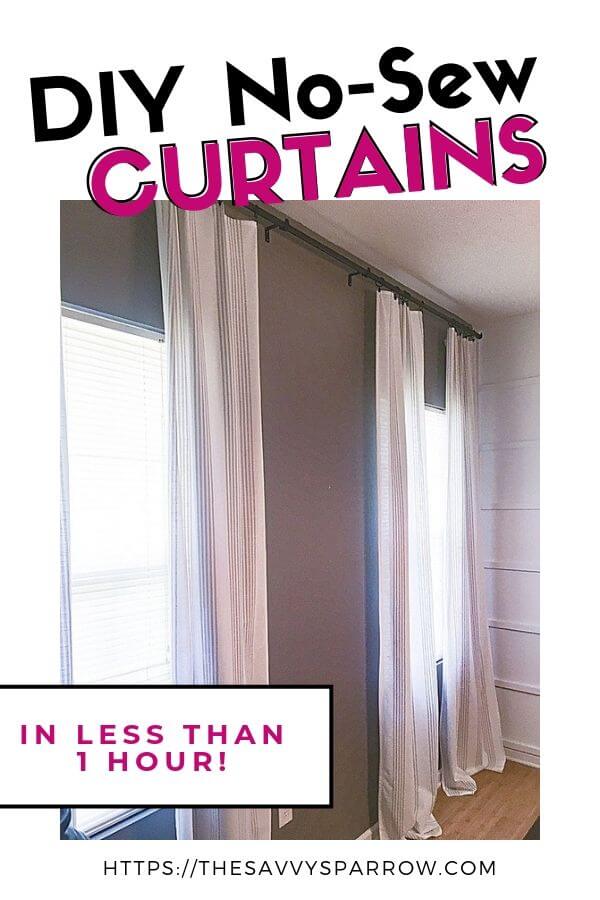 Confession: I have to give my husband 100% credit for this project…
He was at Target one day with his Honey-Do list, and he stumbled upon some amazing Threshold tablecloths. As any good blogger-husband would do, he called me immediately and said that he had found our next easy DIY home decor project.
And he was right!
We were in the middle of a budget dining room makeover, and we hadn't quite figured out what kind of window coverings we could use to dress up our windows without spending a fortune.
We had thrown around the idea of making our own drop cloth curtains, and painting some sort of design on them. But, that seemed like a lot of work. And we were already doing a DIY reverse shiplap wall and a large DIY farmhouse wall art piece.
The last thing that I wanted to do was add another big DIY project to our plates.
By the way… here's our finished dining room after our $200 mini makeover: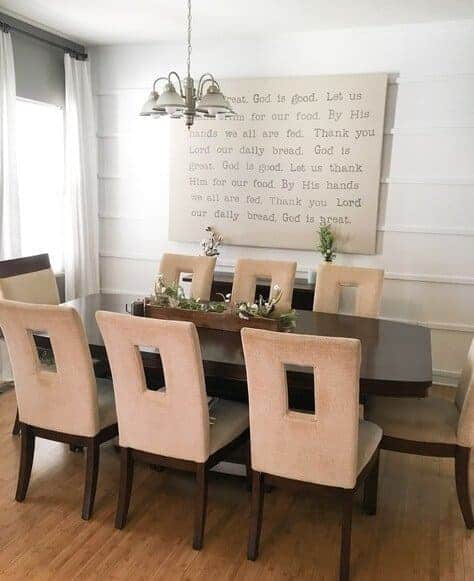 So, when my hubby said that he had a genius idea for DIY no sew curtains, I was all ears.
He texted me a photo of these Threshold Tablecloths, and it was love at first sight.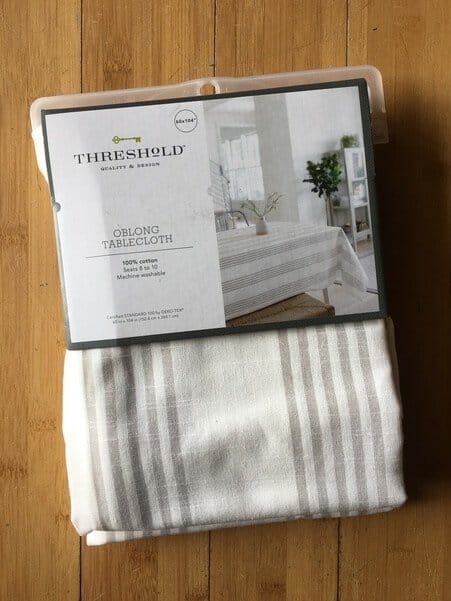 The light and airy fabric screamed "bright and cheerful farmhouse" to me, and the gray stripes were a perfect compliment to our gray walls.
Click HERE to get these tablecloths from Target!
We had no idea what we were doing, as is the case in all of our DIY projects, or how to turn tablecloths into DIY no sew curtains, but we bought them anyway. After all, we're not short on ingenuity or ambition.
We are, however, short on a big decorating budget, hence the ingenuity. 🙂
Nice curtains can be super-expensive. But, at just $16.99 each, these tablecloths made perfect window coverings on a budget. We bought 2 tablecloths to make 4 curtain panels.
Read on to see how we transformed the table linens to window coverings…
*This post contains affiliate links, which means I may earn a small commission from these links at no additional cost to you. Read my full disclosure here.
Here's how to make easy DIY no sew curtains from tablecloths:
Step 1: Gather your supplies.
Here are the supplies we used to make these DIY no sew curtains:
Step 2: Lay out tablecloth and fold in half lengthwise to find and mark the center.
Our tablecloths already had a nice straight fold-line at the halfway point from how they were packaged, which made it easy to complete Step 3. If your tablecloths don't have a noticeable center line to follow, then I recommend using a yardstick and chalk to draw a straight line down the middle of the fabric.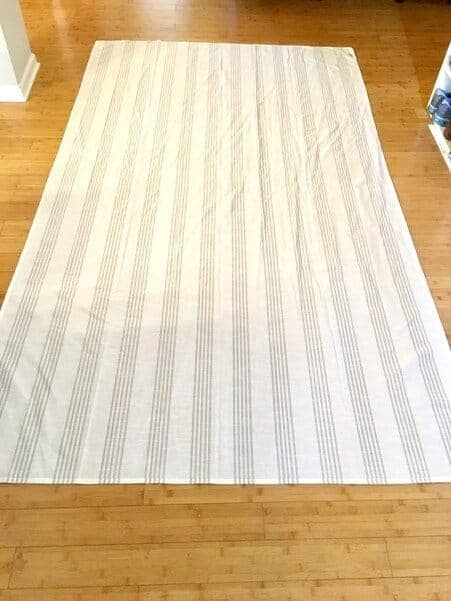 Step 3: Cut tablecloth in half along center line.
Step 4: Iron both halves to remove wrinkles.
Step 5: "Hem" along the cut line for each DIY No Sew Curtain "panel".
Using iron-on adhesive, "hem" the cut line. We used this Heatbond product and it worked really well! The finished edge looks like it was hemmed with a sewing machine.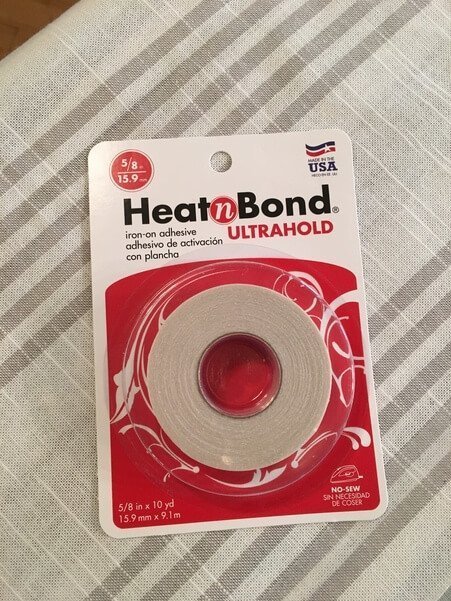 This iron-on adhesive couldn't be easier to use.
You simply remove the sticker on one side of the strip, place the adhesive strip on the area that needs to be hemmed, and iron it to the fabric. Then, you remove the paper backing on the other side, fold the fabric on top, and iron again.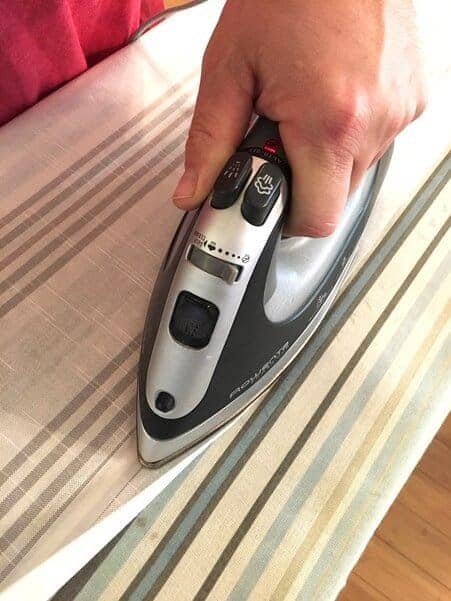 Step 6: Hang your DIY no sew curtains using curtain clips.
These easy DIY no sew curtains don't have hard-to-make grommets or rod pockets. Instead, use curtain clips (like the ones we used HERE) to easily hang your new curtains.
I pinched the fabric at the top of the curtain panel when I attached the curtain clips to give them a pleated look.
Our windows are 30 inches wide, but if your windows are wider, then these DIY curtains could be even easier! For wider curtain panels, you can skip cutting the tablecloths in half and hang them as is using curtain clips.
And yes, from start to to finish these easy DIY no sew curtains took less than one hour to make! I love an easy, no-fail DIY home decor project. 🙂
And don't forget to check out these other DIY farmhouse decor posts to transform your space on a budget: