Looking for cheap teacher gift ideas? Use this FREE donut gift tags printable to create super cute and easy teacher appreciation gifts! These printable donut gift tags are also perfect for neighbor gifts, or "just because" gifts.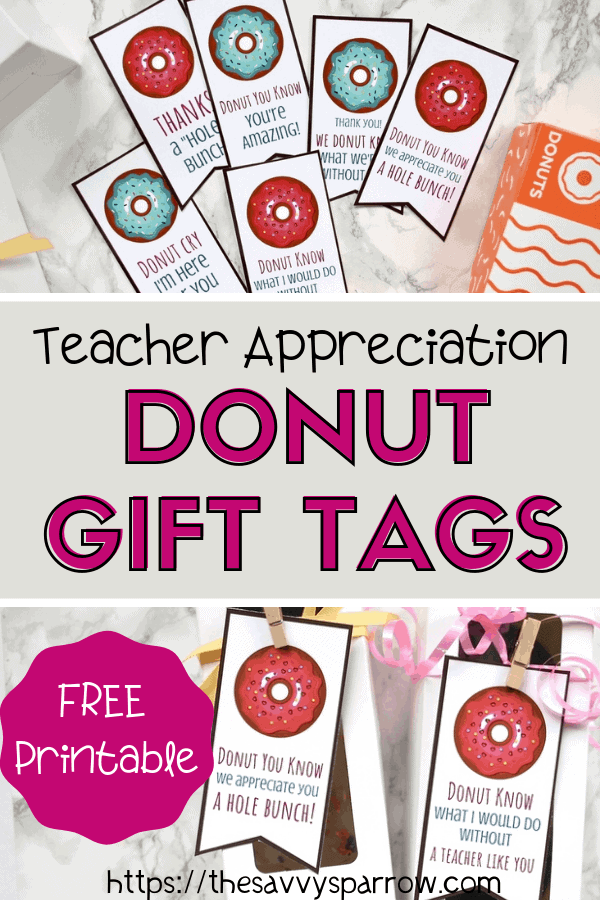 It's that time of year. Teacher appreciation time.
And as a former preschool teacher, I can confidently say that teachers deserve ALL of the appreciation, and ALL of the gifts.
But, I also know that it can get really expensive to buy multiple teacher appreciation gifts each year. I have two daughters, and my oldest daughter has two main teachers… plus a speech teacher, a music teacher, a gym teacher, a computer teacher, a bus driver (don't forget about them!), and the list goes on and on.
That's about 42 teachers to buy gifts for each year, or at least that's how my bank account sees it.
So, how can you show those teachers that you appreciate all of their hard work without taking out a small loan?
Donuts!
Who doesn't love a donut?! Or two or three?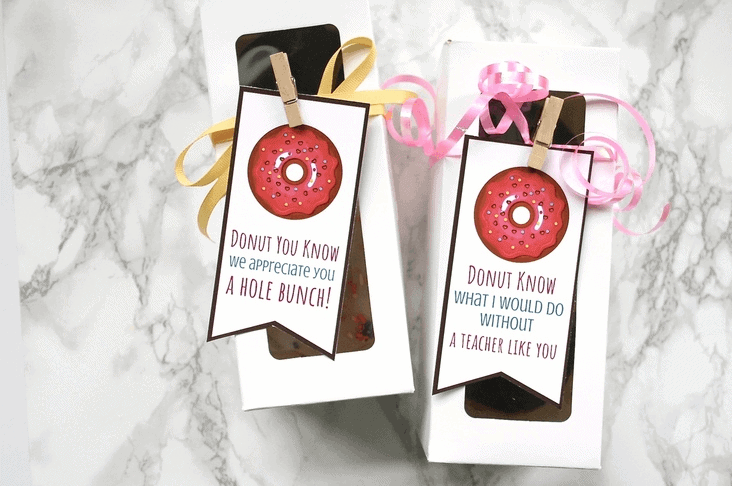 And these super cute donut gift tags make it easy to whip up an inexpensive teacher gift in no time.
Donut Gift Tags Printable – Perfect for Easy Teacher Appreciation Gift Ideas
Just print out these donut gift tags, preferably on card stock, and use some ribbon to tie them to a box or bag of donuts. Aren't they cute?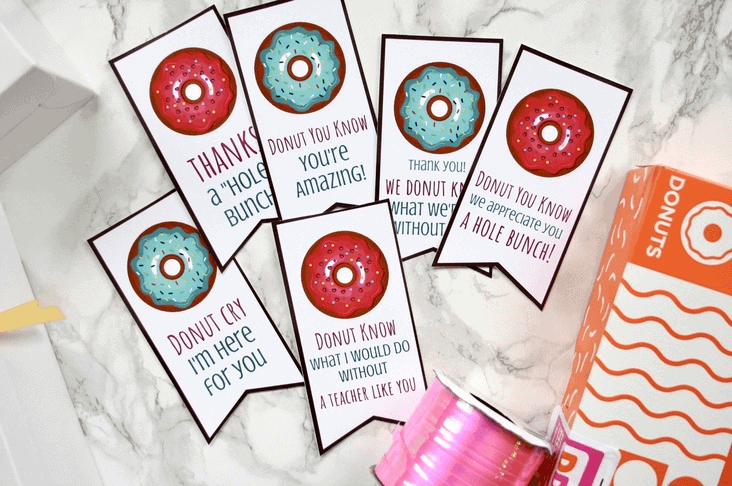 If you have a little bit of wiggle room in your budget for teacher appreciation gifts, then you can add a Dunkin Donuts gift card also.
I would have been thrilled to get this gift as a teacher!
And, if you're looking for teacher appreciation gift ideas then I HIGHLY recommend anything consumable. What do I mean by consumable?
Anything that can be used up or eaten. Or gift cards.
Donuts, school supplies, body lotions or candles, Sharpies, movie tickets, snacks, restaurant gift cards… all of these things can be consumed or used up. Yes, personalized knick-knacks are nice, but think about how many students a teacher will have over the course of a career…
If each student gifted a personalized pencil cup or "Mrs. —" sign, then eventually that teacher is going to need a much bigger desk.
And, trust me, as a teacher there are many days that you want to come home and just eat carbs.
So, easy donut gift tags it is!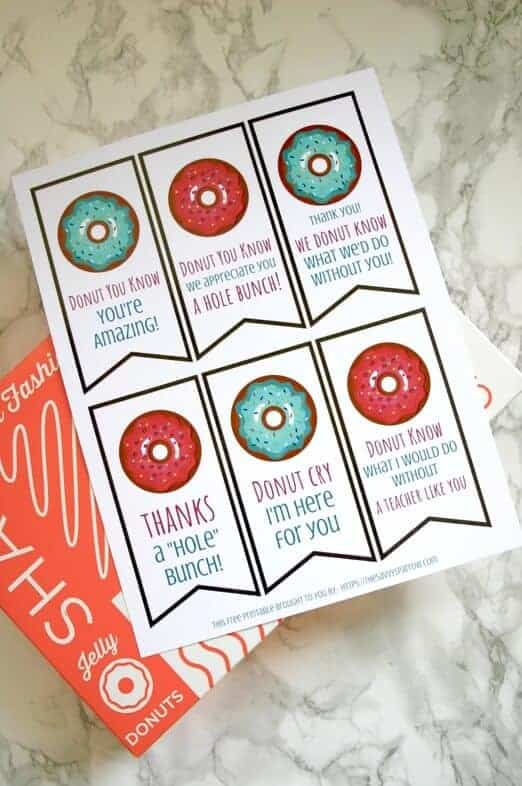 And, the great thing about these printable donut gift tags is that they come in a variety of sayings so you can use them for gifts for neighbors, mailmen, friends, pastors, bus drivers, principals, or anyone else that you want to feel appreciated.
Here are the sayings for these FREE printable donut gift tags:
Donut Know What I Would Do Without a Teacher Like You
Thanks a "Hole" Bunch! – perfect for a cute bag of donut holes
Donut Know We Appreciate You a "Hole" Bunch – great for donuts AND donut holes
Donut Cry, I'm Here for You – great if you have a friend that's going through a rough patch
Donut You Know You're Amazing!
Thank You! We Donut Know What We'd Do Without You!
CLICK HERE TO GET YOUR FREE DONUT GIFT TAGS PRINTABLE!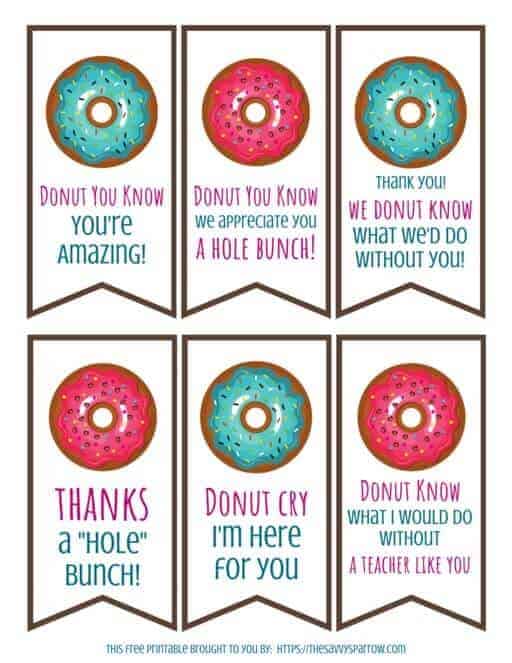 Want more easy teacher appreciation gift ideas with free printable gift tags? Check out this post from Thrifty Frugal Mom for more great ideas!
And don't forget to PIN this post for the next time you need a printable for a cute and easy gift idea!