If you're looking for fun Halloween activities for kids, then try this Halloween scavenger hunt! Just print out this fun outdoor Halloween activity, and take a walk around your neighborhood looking for the things on the list!
Neighborhood-wide "bear hunts" and printable scavenger hunts have become quite the trend… thanks to desperate Moms needing to keep their kids occupied for days on end, without resorting to electronic devices.
Even my own printable neighborhood scavenger hunts shot up in popularity over the past few months… by the way, I've got kid AND teen versions available so be sure to check them out!
So since you all LOVE those fun outdoor activities, I thought I would create a cute Halloween version also!
These printable Halloween scavenger hunts are super EASY Halloween activities for kids… and you all know that I am all about stuff that is EASY!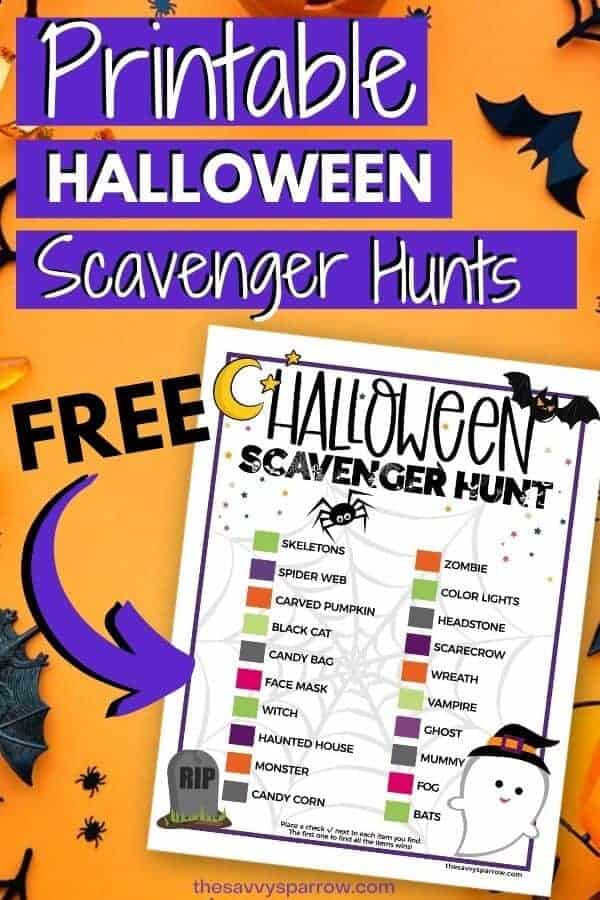 Just print out the free Halloween scavenger hunts and take a walk around the neighborhood looking for the different Halloween items. Your kids will have so much fun "hunting" for the items on their list that they won't even realize that they're getting in some exercise… and they may even forget about their tablets for two seconds, too!
Halloween Scavenger Hunt Ideas
If you want to REALLY up the fun factor, you can turn these free printable Halloween Scavenger Hunts into a super awesome activity that a bunch of neighborhood kids can enjoy!
Here are a few ideas:
Nighttime Scavenger Hunt with Flashlights
Use these printable Halloween scavenger hunts and organize a neighborhood walk with other families from your neighborhood. Have everyone bring flashlights, and set out at dusk to hunt for the items on the list!
Pumpkin Neighborhood Scavenger Hunt
Get your neighbors involved in these fun Halloween activities for kids! You can organize a neighborhood-wide pumpkin hunt for ALL of the neighborhood kids to participate!
Here are some ideas for how to organize a Halloween Scavenger Hunt in your neighborhood:
Find FREE Halloween pumpkin printables online here.
Print a bunch of pumpkin printables.
Distribute them in neighbors' mailboxes with an instruction sheet for how they can participate.
Have neighbors color the pumpkin pictures and hang them in their windows. Make some REALLY hard to find so that the scavenger hunts are fun for adults and teens, too!
Offer prizes for kids that find the correct number of pumpkin pictures that are hidden in the neighborhood.
*This idea is pretty much the same as the neighborhood bear hunts that were popular a few months back, except Halloween themed!
Our neighborhood did an Easter version of this scavenger hunt with Easter Egg printables, and it was great FUN! My family and I really enjoyed walking around the neighborhood and trying to find all of the Easter eggs.
Drive Through Scavenger Hunt
Depending on where you live, late October may be a little too cold for a long walk outside. You can also enjoy these fun Halloween activities from the comfort of your nice, heated car.
Grab some hot chocolate and donuts, print out the hunts, and take your family for a drive to complete the Halloween Scavenger hunt.
This is a GREAT activity to add to your Fall Family Bucket List, too!
Easy, No Fuss Scavenger Hunt
Or, if planning a big, extravagant activity is just another thing to have to add to your to-do list, then just keep it simple!
You can just enjoy a neighborhood walk with your own family, admiring the Halloween decorations, and letting your kids check things off their lists.
However you decide to use these printable Halloween scavenger hunts, I'm sure this will be a fun Halloween activity that your whole family will enjoy!
Grab the FREE Printable Scavenger Hunt
Want the free Halloween printable? It's available in my FREEBIES library (along with a bunch of other cool printables!). When you sign up for my FREE email newsletter, I'll send you the password to the library as a Welcome Gift, and you can enjoy ALL of my printables!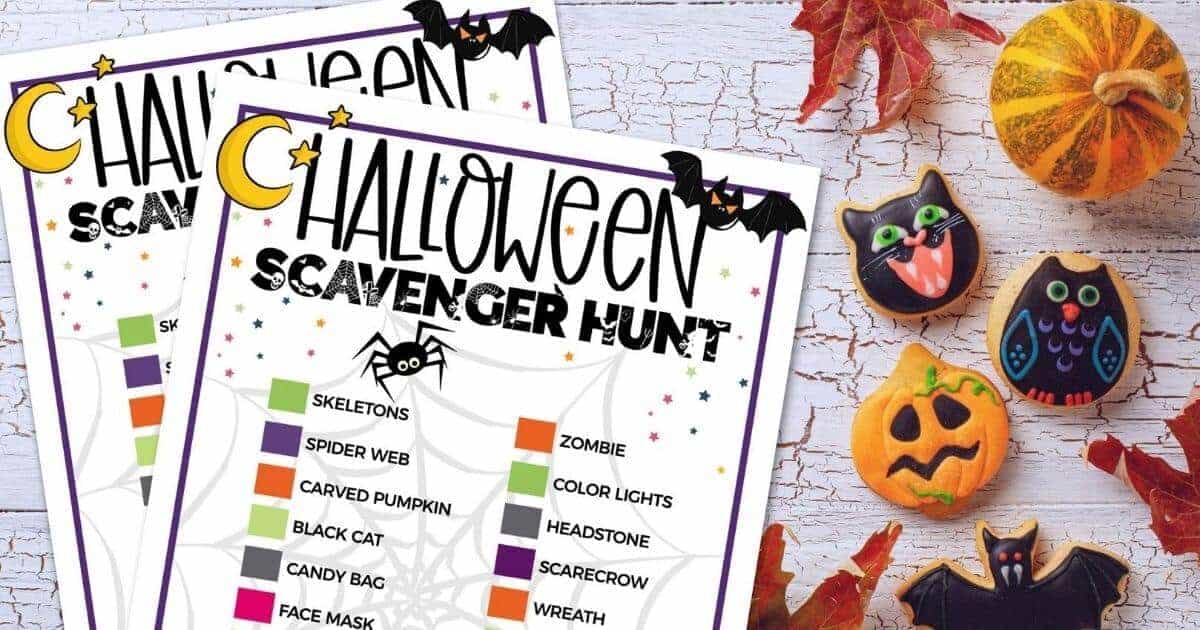 Just use this form, and I'll email you all the info!
What are some of your favorite Halloween activities to do with your kids? Corn maze, hay rides, trunk-or-treats… or just stealing the Reese's peanut butter cups out of their treat bags when they're not looking? Haha! No judgement!
Leave me a comment down below! I'd LOVE to hear from you!
And happy nesting!