Want to gift teachers or middle school girls some "scent-sational" summer gifts this year? Use these cute printable summer gift tags to create end of the school year gifts with perfume, body sprays, or candles!
The end of the school year is coming up fast, so I've been racking my brain for good summer gifts for teachers and for my daughter's middle school friends.
Yes, when my daughter entered middle school, she became the ultimate gift giver overnight. All of a sudden, she wanted to bring small gifts to all of her friends on their birthdays, for winter break, and of course, at the end of the school year to celebrate summer!
And while I love her giving heart, it really started to get expensive!
So when I got an email recently from Bath and Body Works about their Body Spray Mists being on sale for $5.95, I made a bee-line for the store. What tween girl wouldn't love a cute body spray perfume?!
And these easy end of the year gifts are perfect for teachers, too! Just add a pretty scented candle or a gift basket of body lotions, hand creams, and other scented body products for a cute and easy teacher appreciation gift for the end of the year!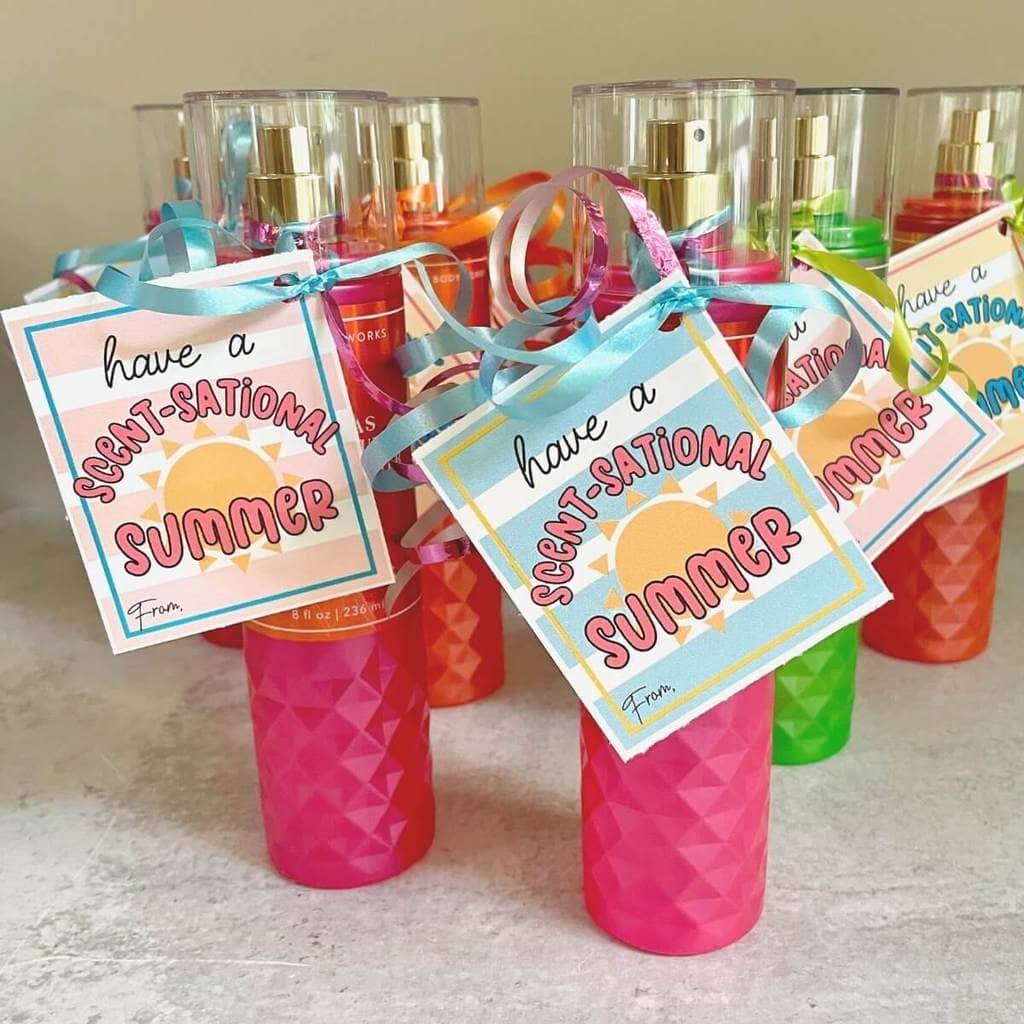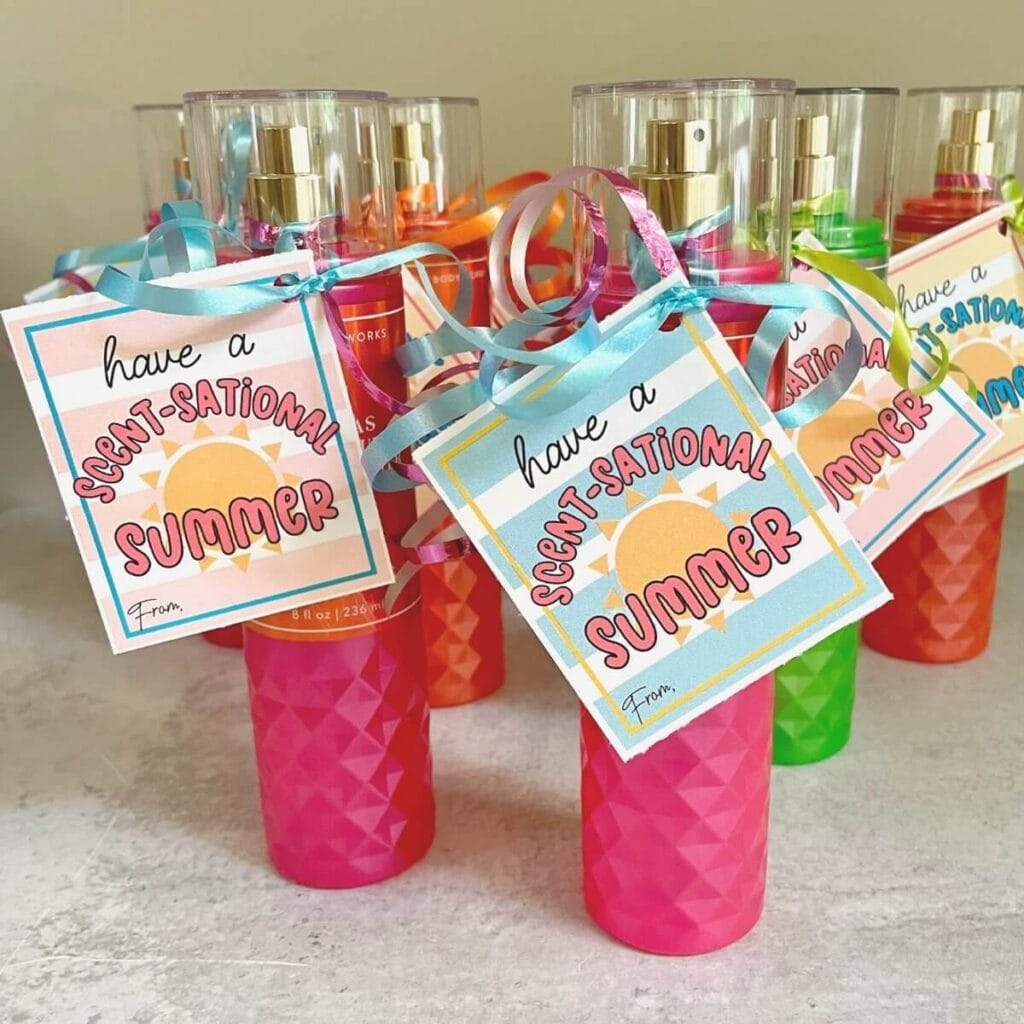 Have a Scent-Sational Summer Gift Ideas
I happened to catch these cute Bath and Body Works Body Mist Sprays on sale for a GREAT price, so I used them for my "scent" gifts, but you can also use these cute printable summer gift tags for:
3 wick candles from Bath and Body Works
candles from Yankee Candle
car air fresheners (like the cute ones from Bath and Body Works or Yankee Candle)
wax melts and warmer
Scentsational branded candles
Scentsy products
scented body lotions
scented hand soaps
scented hand cream
small gift basket with a mix of perfumed body products
any other smell good gift!
How to Make Your Own Scent-Sational Summer Gifts with Printable Tags
These summer teacher gifts or middle school girl gifts are super easy to make, and they're super cute! Here's how to make your own end of the year gifts with scent-sational summer gift tags:
Step 1: Print the scent-sational summer gift tags.
I printed my gift tags on white card stock. For a fancier tag, you can also print on a heavier weight printer paper (like 26 or 32 pound paper), and then glue the tag to a piece of colored card stock for a layered effect.
My Scent-Sational Summer gift tags (available in my shop here!) come in two different sizes – the larger size is perfect for bigger gift baskets with candles or body products, and the smaller printable summer tags are great for single candles or body sprays. Just use whichever size you need.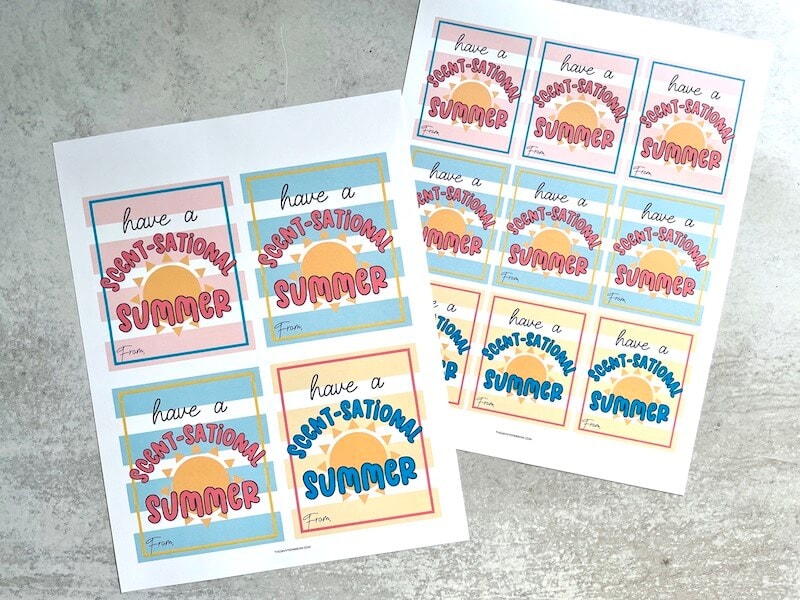 Step 2: Cut and hole punch the tags.
I recommend using a paper trimmer so that your cut lines are perfectly straight, but regular scissors will work also. After you cut out the tags, go ahead and fill in the "From" part.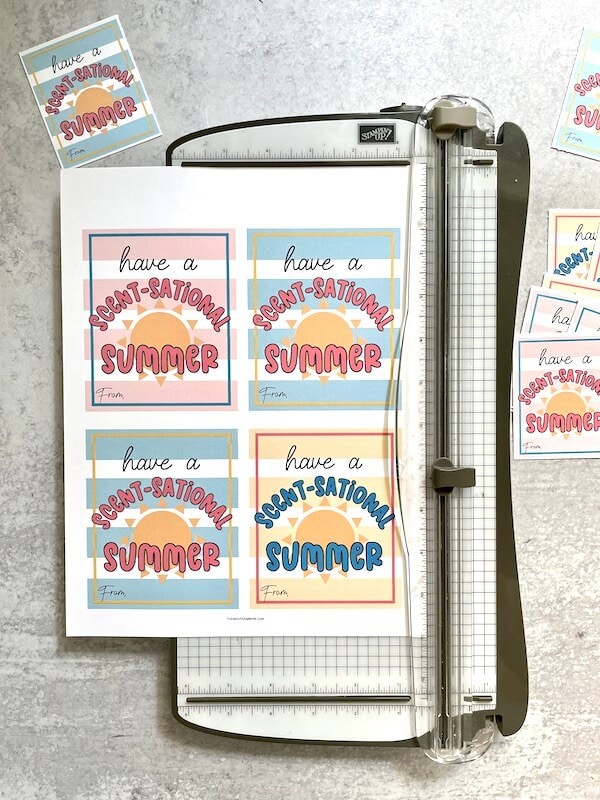 Then, use a hole puncher to make a hole in the summer gift tags so you can tie them on to your gifts. I found that the tags hung nicely when I put the hole in the top right corner of the tag.
Step 3: Attach to a candle or perfume spray with pretty ribbon.
I used curling ribbon to attach my Scent-Sational gift tags to the body sprays, but you can also use yard, twine, or fabric ribbon.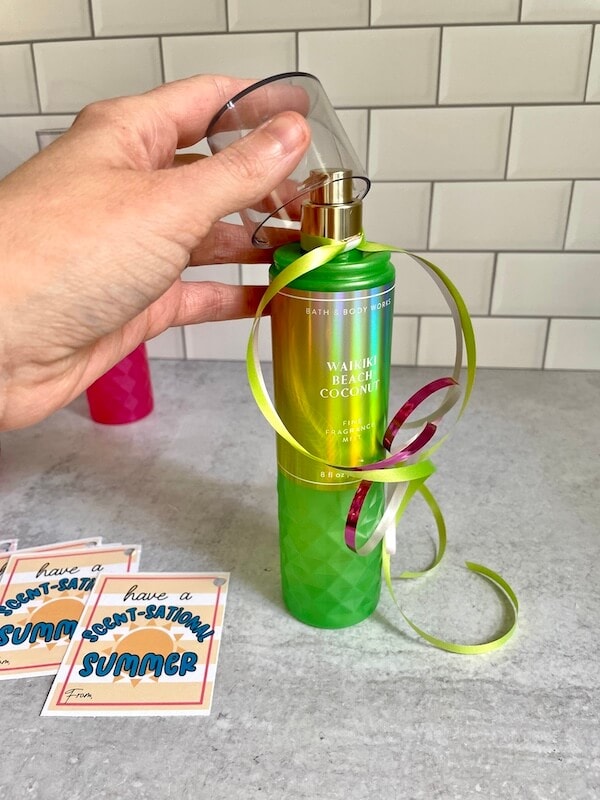 For the body sprays, I found it easiest to take the lid off the spray and tie the ribbon around the "neck" part first. Then, I put the lid back on, so that the lid held the ribbons in place.
Next, thread the ribbon through the hole of the scent-sational summer gift tags and tie a knot to hold them in place. Finish up these cute end of the year gifts by curling the ribbon.
And then your easy summer gifts are done! So cute, right?!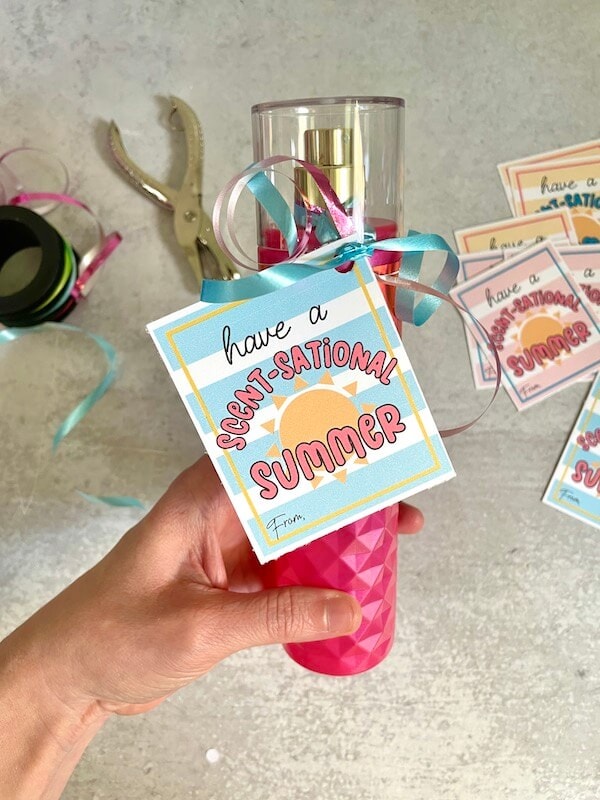 Printable Scent-Sational Summer Gift Tags
Want to make your own summer gifts using these scent-sational gift tags? You can find them in my shop! Just click the link below to check them out:
Get the Scent-Sational Summer Gift Tags HERE!
Other End of the Year Gift Ideas
If you're looking for free printable gift tags for end of the year teacher gifts, then check out these posts:
Easy Cookie or Candy Teacher Gifts (with Free Printable Gift Tags!) – Use these cute printable teacher gift tags for any sweet treat, like homemade cookies, donuts, or candy!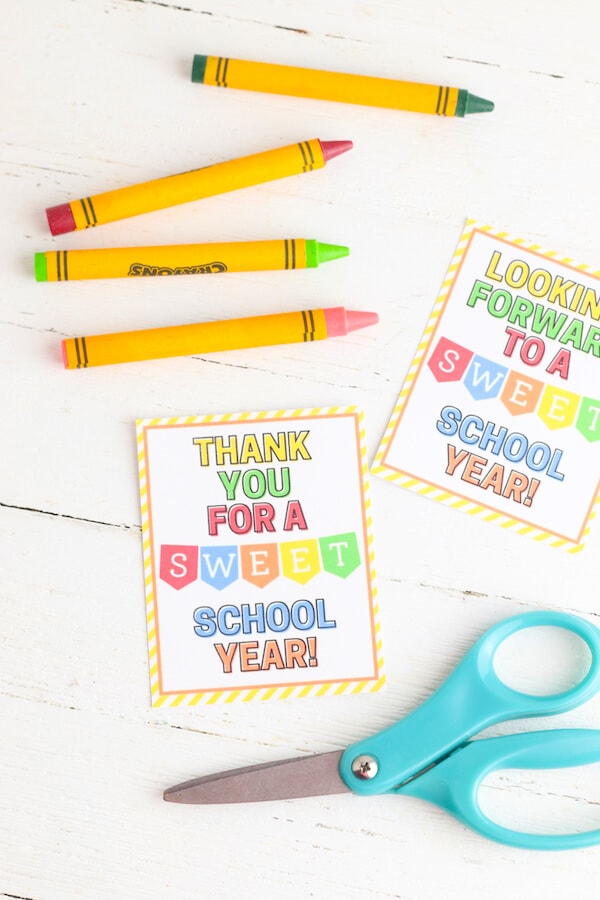 Teacher Cookie Gifts with Free Printable Gift Tags – Just tie one of these gift tags on to a tin of homemade cookies or even cutely packaged store-bought cookies for an easy and inexpensive teacher gift!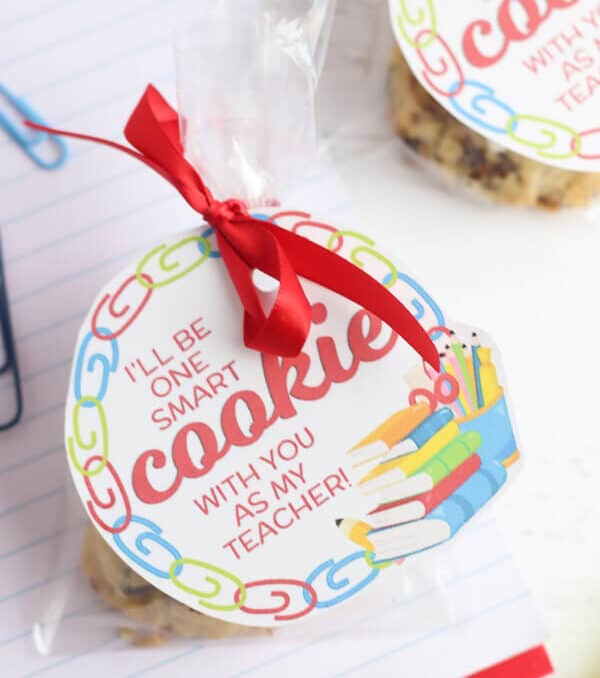 Hope you enjoyed these easy summer gift ideas for teachers or your kids' classmates! Do your kids like to give their friends end of the year gifts? If so, what are your go-to gift ideas? Leave me a comment below!
And don't forget to PIN this post for later: