Handing out screen time coupons to your kids is a great way to manage your kids' screen time and encourage them to complete their chores and get good grades in school. Grab my printable screen time reward coupons for kids to start this easy reward system in your house.
Confession time… As a work from home Mom, I'm guilty of letting my kids spend a bit too much time on their electronic devices in the interest of my own productivity. As long as my kids have a tablet, a gaming system, or a TV, they can keep themselves entertained for hours… which means that I can get hours of uninterrupted work done.
But this summer, I'm swapping out screen time for these other fun activities for kids to do at home!
And I'm using my kids' screen time as a reward instead of a crutch, with the help of some super cute printable screen time coupons! If you want to attempt to peel your kids away from their screens also, then read on for tips for using screen time coupons!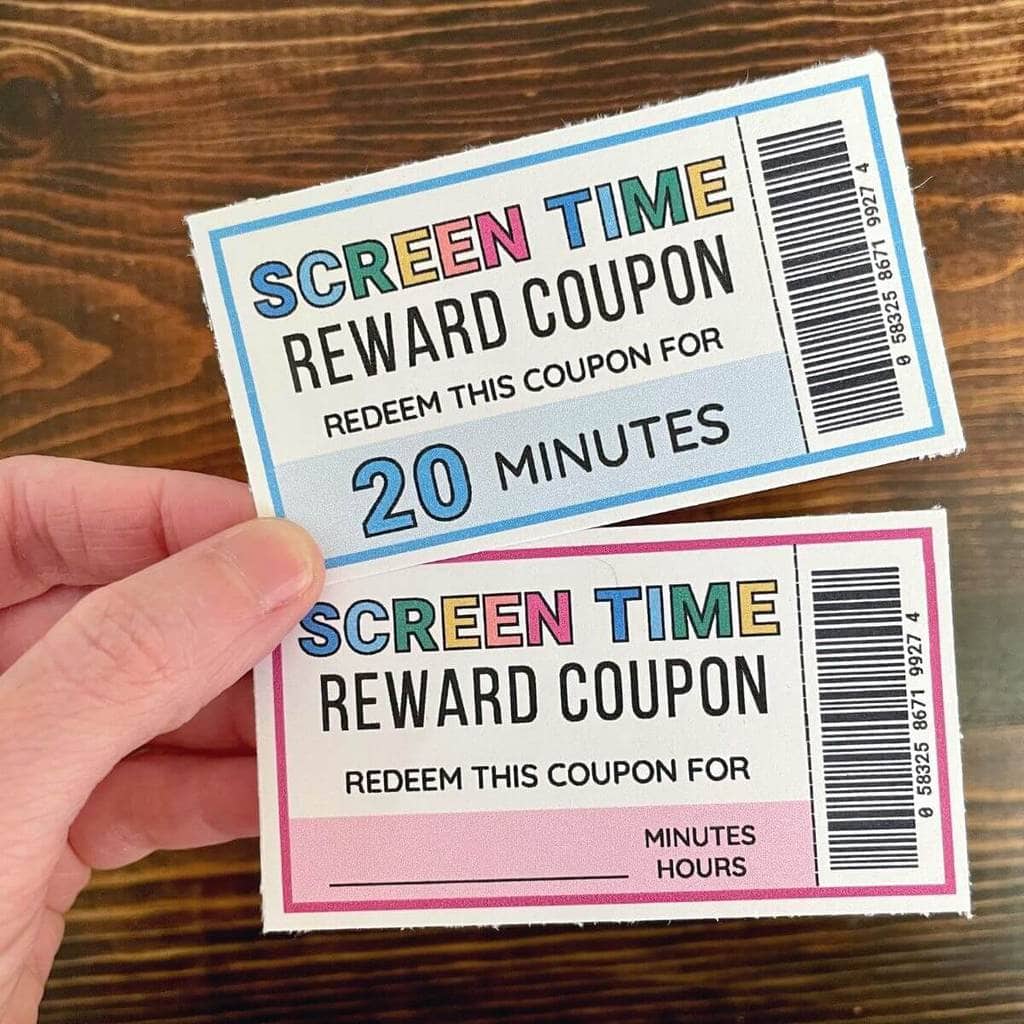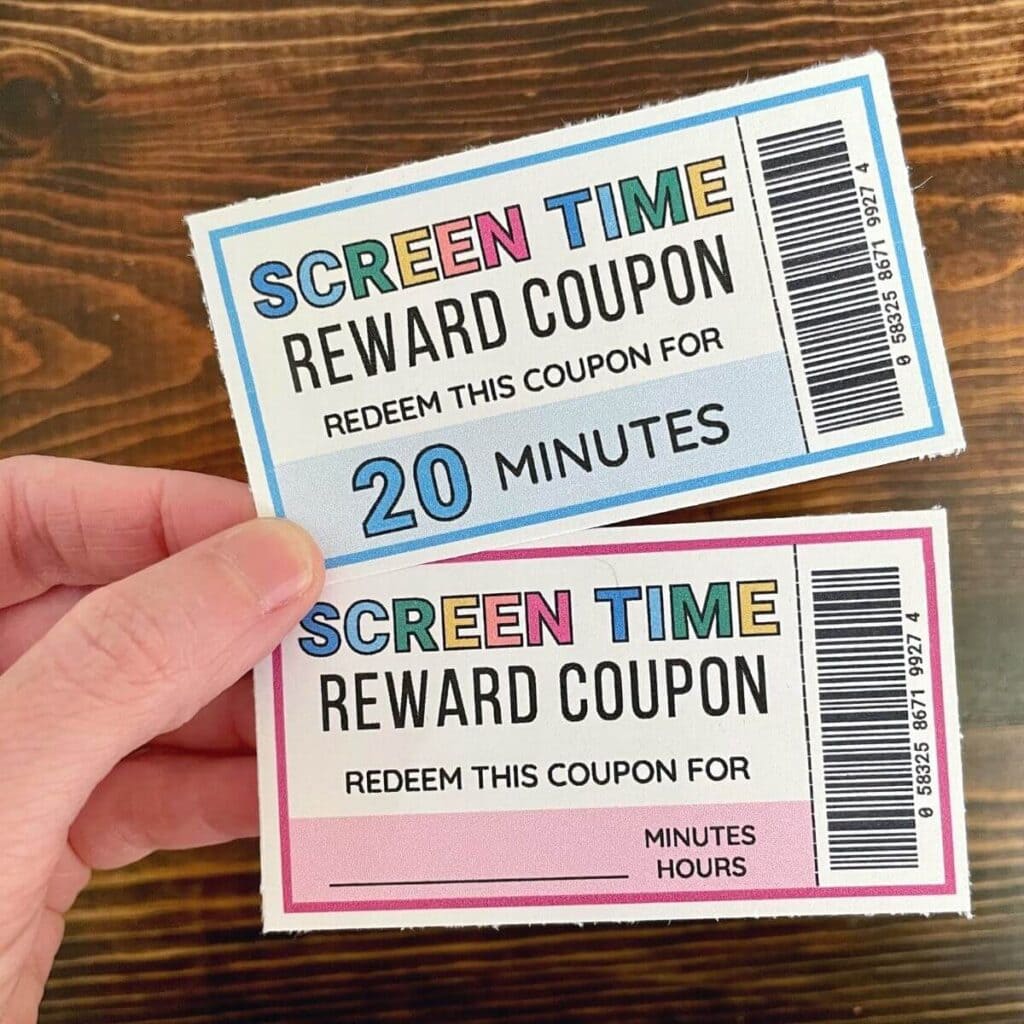 *This post contains affiliate links, which means if you click a link and make a purchase, I earn a commission at no additional cost to you. Read my full disclosure for more info.
What are Screen Time Coupons?
Screen time coupons are a tangible reward that can be used to represent an intangible – time. Kids can't see "screen time", but they know that they want to earn it, so printable screen time coupons can be used as incentives that kids can actually see, touch, and collect in their dresser drawers (or wherever your kids store their random treasures).
So basically, screen time reward coupons are pieces of paper (as fancy or plain as you want), that can be "cashed in" for electronic device usage.
Screen time coupons typically have different time intervals printed on them, or you can fill them in by hand to set your own time limits. And they can be used for a wide variety of technology, like:
iPad or tablet use
YouTube
television shows
gaming systems – like Play Station or Nintendo
cell phone use
computer games
How to Use Screen Time Coupons
The great thing about screen time coupons is that they're super easy to implement! You can create your own reward system by handing out reward coupons when you observe your child doing something positive, or at the end of each day or week if they completed their responsibilities.
Here are some tips for creating your own screen time reward system with the printable coupons:
Use screen time rewards in conjunction with a chore chart
Completing chores for a specific reward is probably the most popular type of reward system. To incentivize helping around the house, parents often attach a certain prize for kids to a chore chart. So once your kids complete their chore charts for the day or for the week, they can be rewarded with printable screen time tickets.
And if you need help with starting a chore chart system, check out this post: Chore Charts for Kids & Age Appropriate Chores – And grab the printable kids chore charts that we use in our home!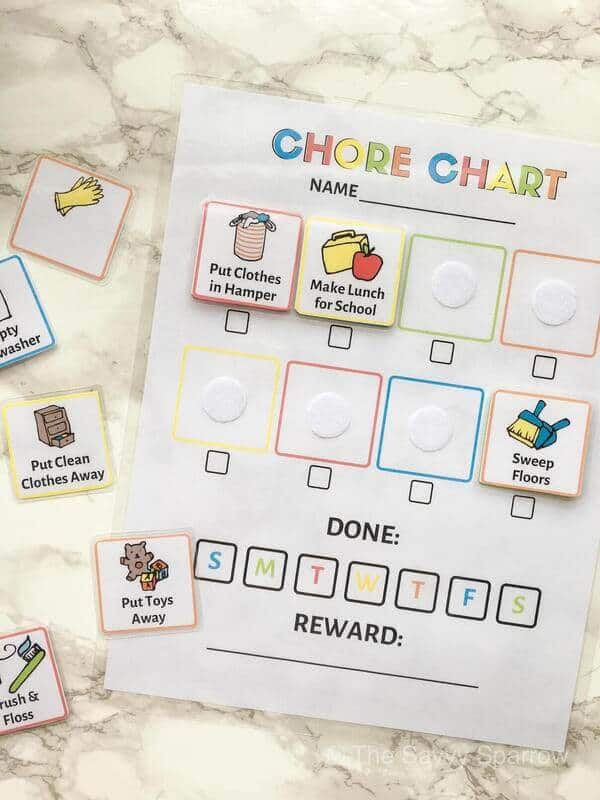 Give coupons at random
Instead of giving screen time tickets out every single time your child completes a specific task or does something good, you may want to mix it up a bit. I have found that rewards work best when your child doesn't start to expect them, but rather they're a nice surprise used to reinforce positive behavior.
That way, each chore or good behavior isn't automatically attached to a reward, which some research suggests may actually make your kids more drawn to their electronics.
Use the tickets to set screen time limits
If you don't want to use screen time tickets as an actual "reward", then you can use them to set your child's daily or weekly screen time limits instead.
To do this, simply "issue" screen time coupons each day based on your child's recommended screen time allowance. But how many screen time tickets should you give out?
The American Academy of Pediatrics recommends:
Children 18 months old or younger should not be spending time on screens. Unless, of course, they're video chatting with loved ones who are out of town.
From over 18 months until they reach about 2-years-old, kids shouldn't ideally have more than an hour of screen time per day. And the hour that they do spend should be spent with you learning. Think Daniel Tiger or Cocomelon.
When kids are older, there are more ways they can consume and interact with technology. So try limiting their access by having screen-free zones, not keeping TVs or tablets in their room, or setting some standard screen time rules.
Use a screen time rules checklist instead
If you don't like the idea of using screen time as an actual reward, then you can try a Screen Time Rules Checklist instead!
The idea of this printable chart is that kids must complete their set responsibilities each day before reaching for their screens. So for instance, you could establish the rules that kids must brush their teeth and hair, make their beds, and read for 20 minutes before turning on an electronic device.
You can go here for my printable Screen Time Checklist for Kids!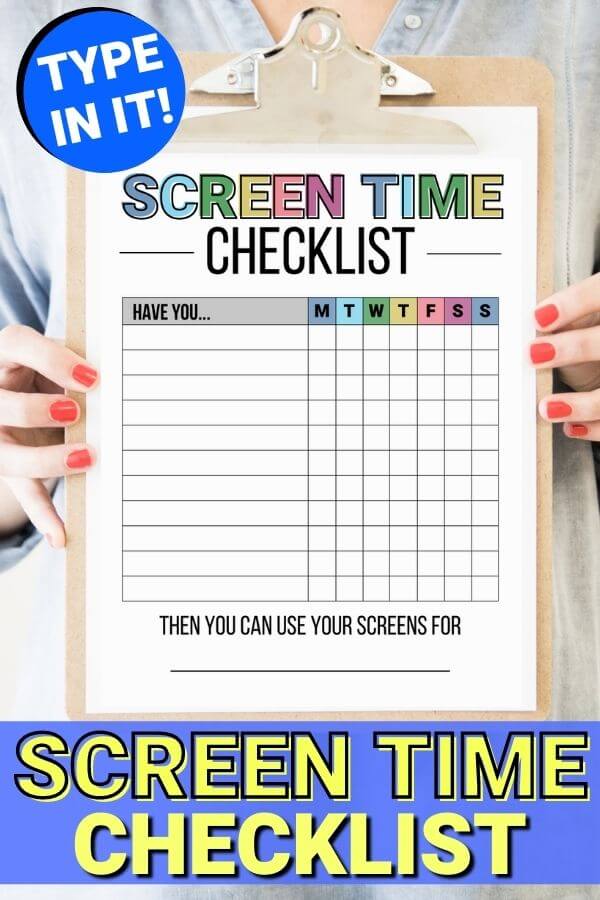 When You Can Give Screen Time Tickets to Your Kids
When you think of giving your kids screen time reward coupons, chore charts and good grades probably come to mind. But you can use screen time coupons to incentivize other behaviors in your children also.
Here are some examples of when you may choose to give your kids printable screen time rewards coupons:
For good grades on school tests
For completing all of their homework without being asked to do it
For keeping their room clean for the week
For making their beds everyday before school
For helping you with a special task
For being kind to a sibling
For offering to help with something that isn't normally their job, like offering to clean the playroom when they notice the clutter building up
For completing their chore chart each day – You could give one screen time reward coupon for each day that chores are done.
Randomly for other good behaviors
Get the Screen Time Coupons for Your Kids!
Want to grab the screen time tickets PDF to use with your own kids? These super cute coupons are available in my shop! Just click the link below to check them out:
Printable Screen Time Coupons HERE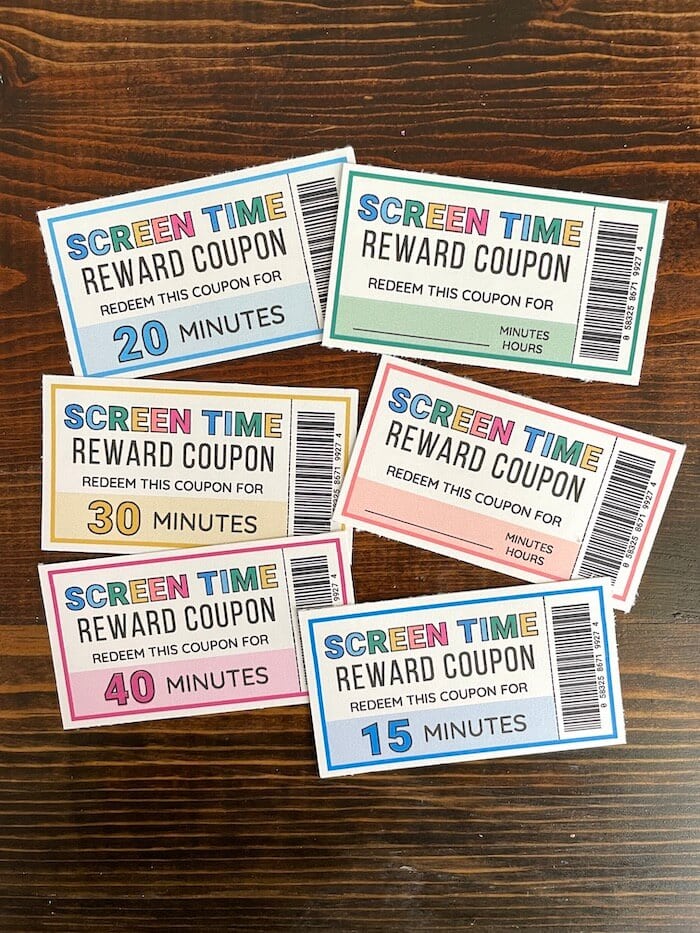 How to Make the Printable Screen Time Coupons Reusable with a Laminator
To save on printer paper and ink, you may want to laminate the screen time tickets so you can use them as rewards again and again.
But before you laminate the coupons, you'll of course need to print them. I like to print colored PDFs on a heavier weight paper like 26 or 32 lb. for a nicer result, or you can also print them on white card stock before laminating to give more of a credit card or gift card feel.
I also suggest using a 5 mil laminating pouch (I use and love these!), because the finished coupons will be much sturdier and last longer.
Here's how to do it:
Print the PDF and then cut out each individual coupon.
Place the coupons in the laminating pouch as shown in the photo below. You should leave about 1/4″ of space around each ticket so that the pouch can seal properly.
Send the laminating pouch with the coupons inside it through the laminator. I have this laminator and I HIGHLY recommend it! I've used it for so many kids charts around the house!
After the laminated rewards have had a chance to cool, cut out each individual coupon leaving a bit of clear lamination around each one.
Then your screen time coupons are ready to use!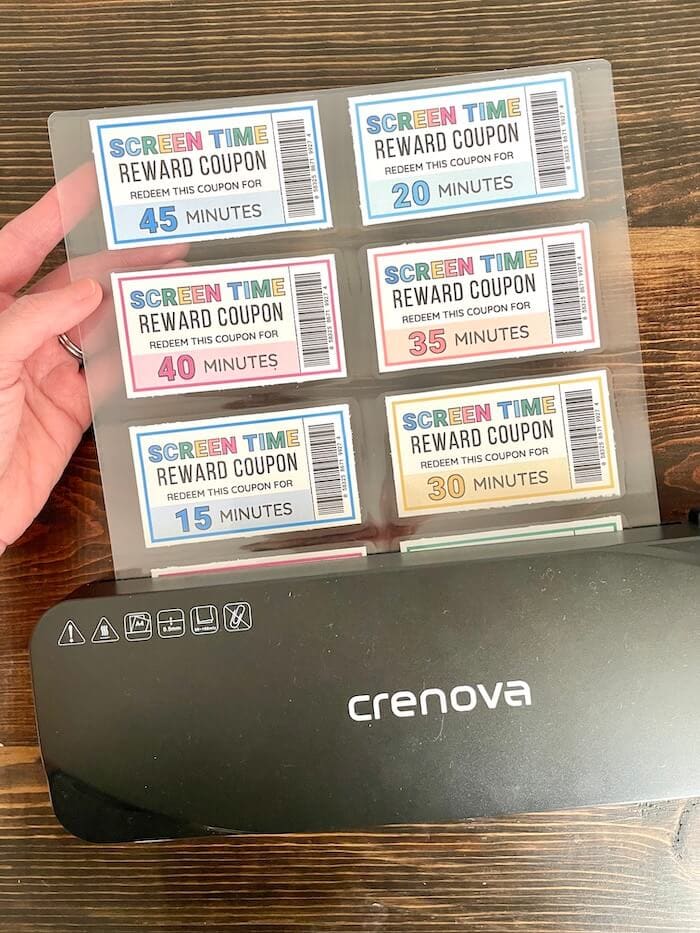 *If you want more detailed instructions, then you can check out my kids chore chart post here… This is the same process that I used to create the chore cards with pictures!
Other Rewards for Kids
If you loved these screen time coupons, but you want to reward your kids with other prizes also, then check out some of my other printable reward systems:
Printable Reward Tickets for Kids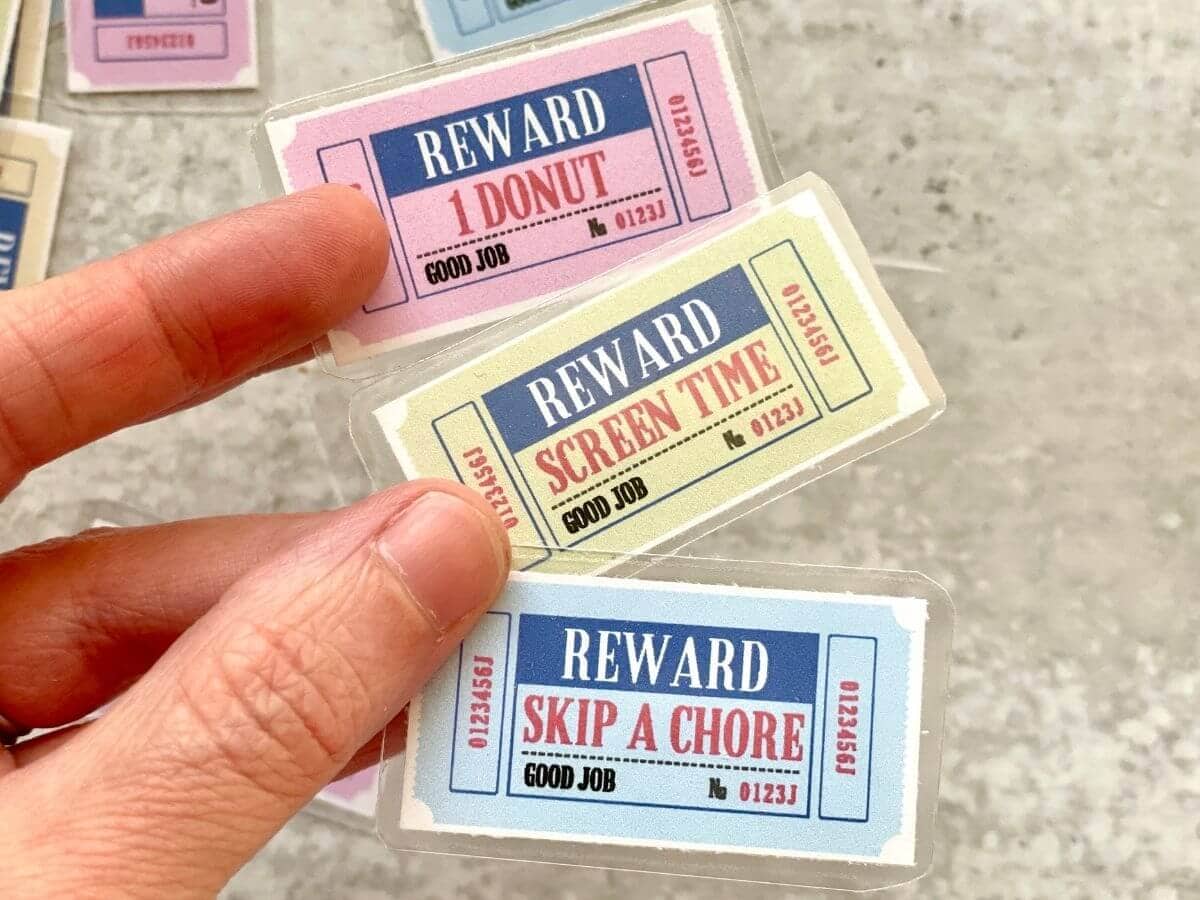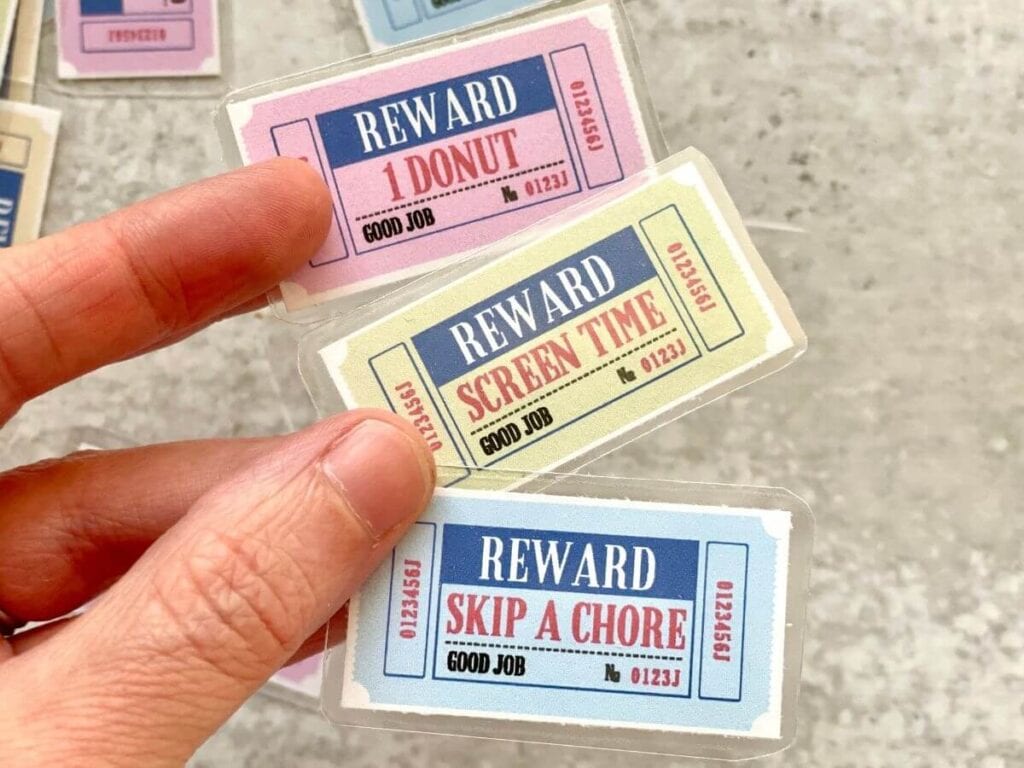 Mom Bucks Reward Coupons for Kids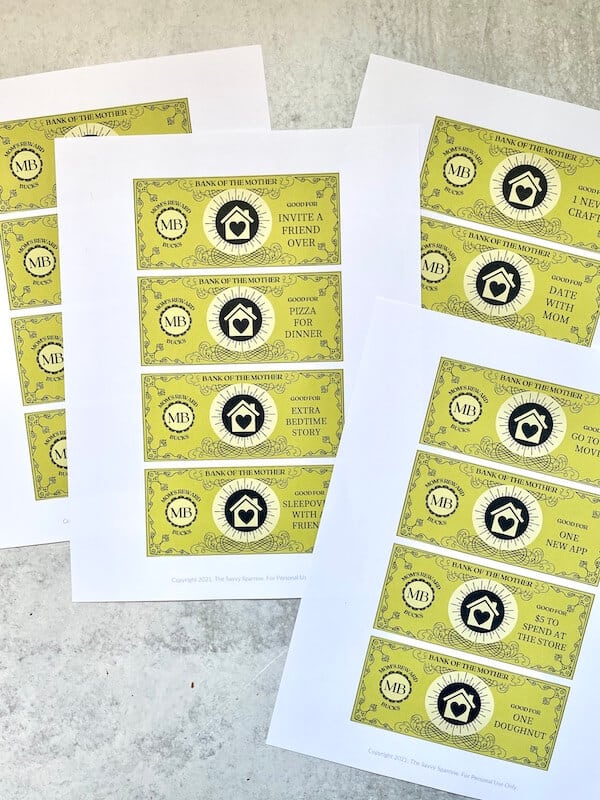 Hope you enjoyed these cute screen time tickets! What are your best tips for managing your kids technology time? Leave me a comment down below!
And don't forget to PIN this post for later: