Looking for fun things to do with kids at home? These fun at home kids activities are perfect for when your kids are home all summer or you just need ideas to keep your younger kids occupied during the school year! And be sure to check out the printable kids activity cards at the end of this post!
The end of the school year is almost here, and Mommas everywhere are frantically searching for fun things to do at home with kids, right? Well, if you're looking for fun at home kids activities that don't break the bank or require a ton of extra work on your part, then I've got you covered!
Last year, my kids and I made this super fun Summer Bucket List, and I let each of my kiddos pick five things that they absolutely 100% wanted to do during the summer break. We hung the printable bucket list on our fridge, and we crossed off items as we completed them. Not only was it an awesome way to keep track of the fun things that we all wanted to do, but since we planned the summer together, my kids really felt like their opinions mattered and they were able to take ownership of their time.
And I wasn't mad about a few planned visits to our favorite local ice cream shop either!
And since you all LOVED my bored jar ideas, I decided to give you even more fun ideas for activities with kids at home!
Read on for some awesome ideas for at home kids activities… These ideas are suitable for most preschool and elementary aged kids, so around ages 4 through 12. And there's over 80 different ideas, so you could even choose one different activity for every day of summer or one for each week of the school year!
Which at home kids activity will you try first?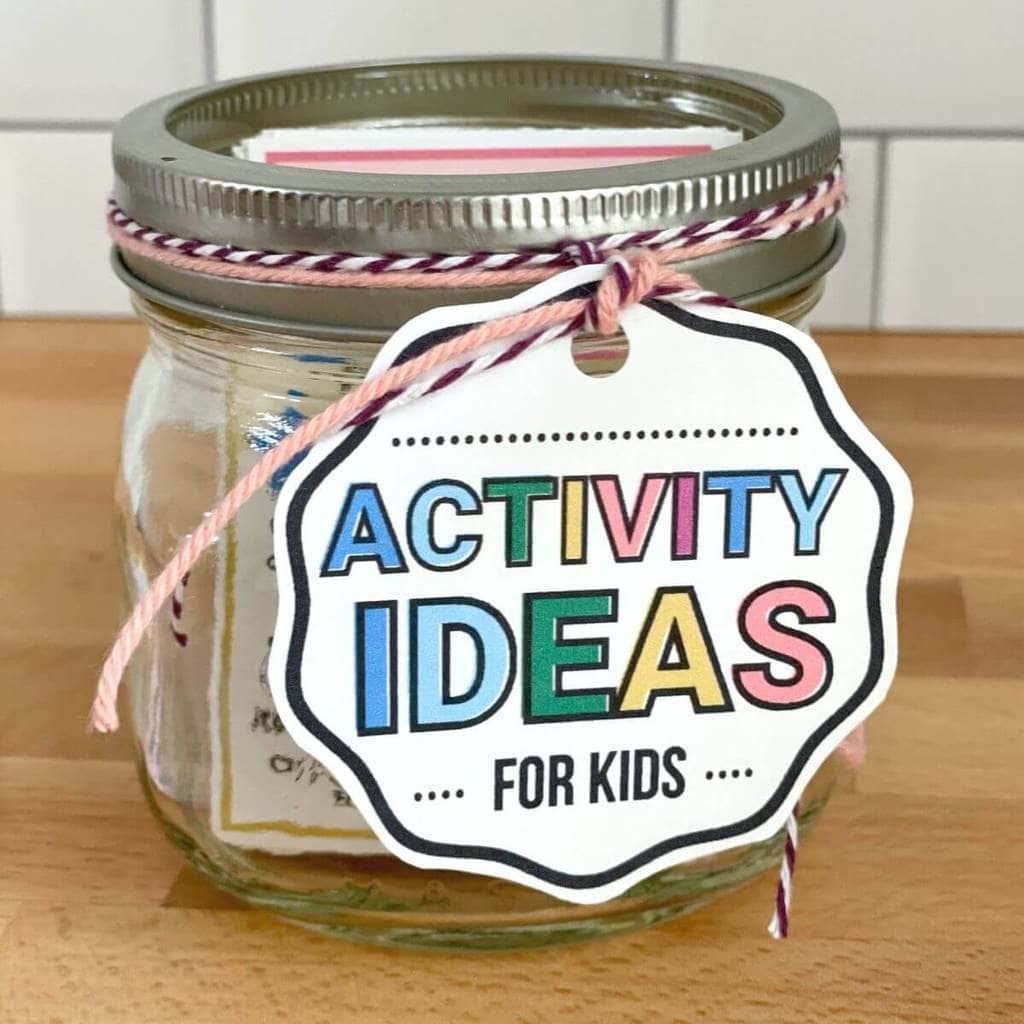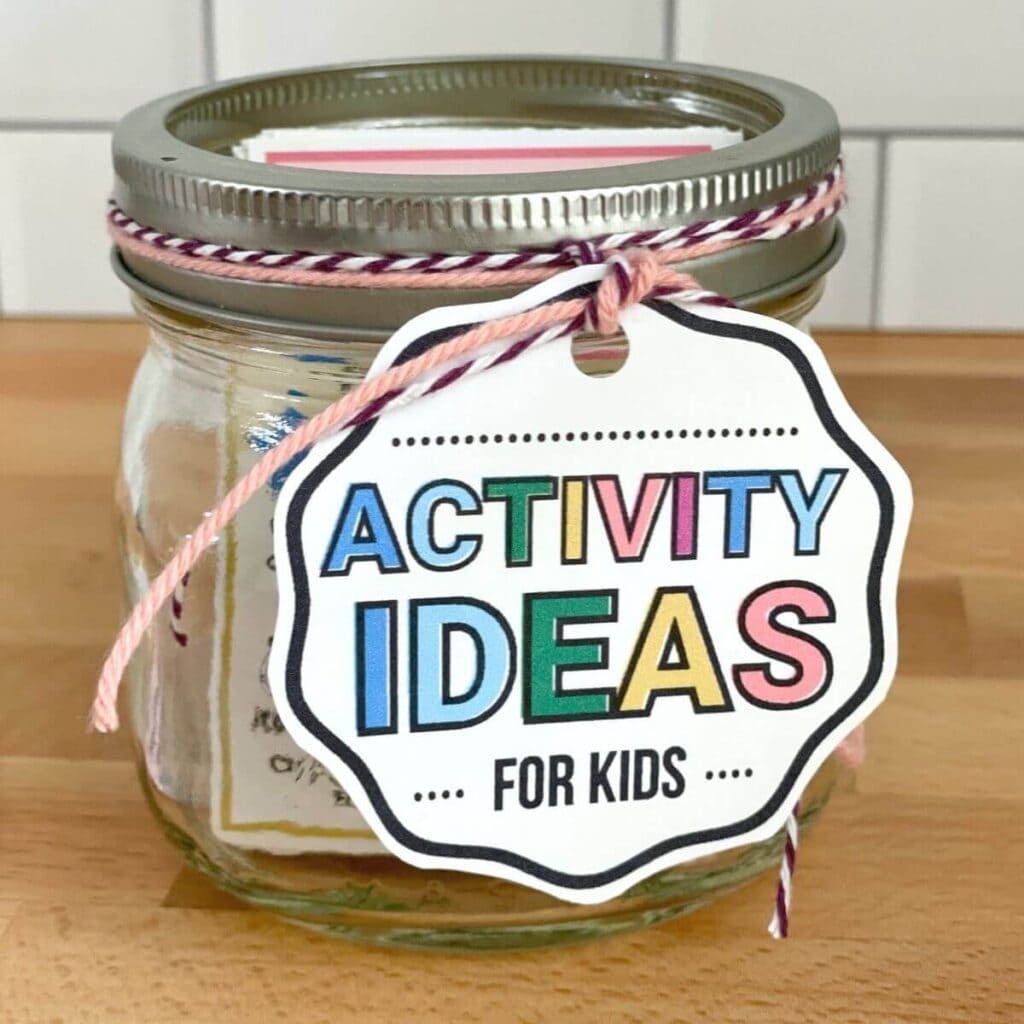 *This post contains affiliate links, which means if you click a link and make a purchase, I earn a commission at no additional cost to you. Read my full disclosure for more info.
When to Use these Fun Activity Ideas
The most obvious time to whip out your big list of fun activities is during summer break when your kids are hollering "I'm Bored!"… But you can also use these awesome ideas any time that your kids are at home and need a little extra entertainment.
Here are some ideas for how to keep the fun going even after the school year has started back up again:
Draw one of the activity cards out of the stack as part of your Sunday night routine. Then, you can have the week to prepare (if needed) and do the fun activity on Friday.
Designate one weeknight each week as your "Fun At Home Activity Night". Let your kids take turns choosing the activity for that week.
Save these fun things to do at home for school holidays or in-service days when your kids are out of school during the week.
Make an Activity Ideas Jar for kids to choose some fun at home activities whenever they're bored! Be sure to check out my printable activity cards at the end of this post!
Fun Things to Do with Kids at Home
Without further ado, here is the giant list of fun at home kids activities! Most of these ideas require very few basic supplies, like markers or crayons, paper, or household items. And these fun things to do are easy, too!
Outdoor Activities for Kids
Driveway Chalk Walk
Grab a bunch of sidewalk chalk, and create a walk-through exhibit of colored masterpieces in your driveway. Your kids can even draw a "path" to guide you through the chalk art "exhibits". Look up pictures of "chalk walk" events on the internet for inspiration!
Supplies: large variety of colors of sidewalk chalk and thinner chalk, paper towel and bowl of water to "erase" mistakes
Silly String Fight
Pass out one can of silly string to each child. Set a timer and say "Ready, Set, Go!". The child with the least amount of silly string on them at the end of time is the winner!
Supplies: cans of silly string
Balloon Tennis
Make tennis rackets using paper plates taped to the end of empty paper towel tubes or sticks. Blow up some balloons. Play "tennis" with the balloons as balls, and lay a rope or cord across the yard for the "net".
Supplies: paper or styrofoam plates, tape, paper towel tubes or sticks, balloons, rope or cord
Lemonade Stand
Make some colorful poster board signs and a big pitcher of lemonade. You can even bake some brownies or cookie to sell also, and let kids pick a charity to donate their proceeds.
Supplies: lemonade, pitchers, disposable cups, poster boards and markers, table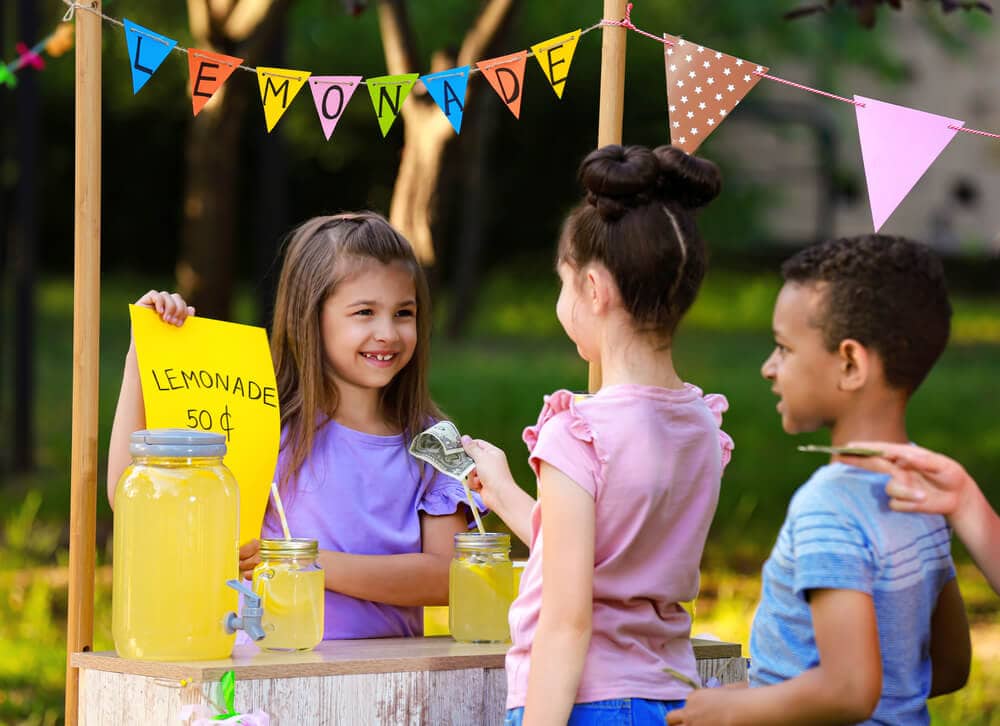 Neighborhood Scavenger Hunt
Print off a free printable scavenger hunt checklist and take a family walk around your neighborhood looking for the items on the list. You can even let your older kids use their cell phones to snap pictures of each item!
Supplies: free printable neighborhood scavenger hunt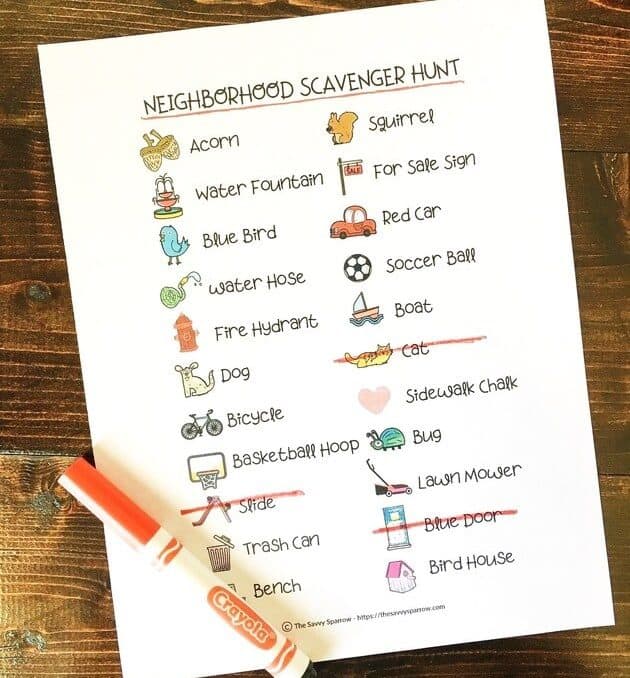 Backyard Bugs Catch and Release
Use plastic jars, tissue boxes, or shoe boxes to create your own bug cages. Then, "catch" fireflies, caterpillars, or black ants in the backyard. Observe the bugs for a bit in the cages, then release them back to their homes.
Supplies: empty jars, tissue boxes, shoe boxes, or bug cages
Chalk Roads and Toy Cars
Draw highways, roads, gas stations, and other landmarks on your driveway with sidewalk chalk. Then, play with toy cars, animal figurines, or Barbies in the chalk city.
Supplies: sidewalk chalk, toy cars, dolls, or small plastic animals
DIY Ball Game
Let kids get creative and develop their own ball game to play outdoors! Let them search the house for things like aluminum foil, foam balls, laundry baskets, brooms, etc.
Supplies: household supplies, balls, some imagination!
Sidewalk Chalk and Four Square
Draw a 4 square game area in your driveway. Let kids decorate their own "squares" using sidewalk chalk. Then play a few rounds of 4 square with a ball.
Supplies: sidewalk chalk, ball that bounces (like a basketball)
DIY Fairy Houses
Build a home for your backyard fairies or bugs. Gather sticks, rocks, flowers, or other nature items and use them to build a mini house under a tree or the porch. Make a mini sign with cardboard that says "Welcome Home".
Supplies: sticks, rocks, grass blades, flowers, other nature items
DIY Frisbee Golf
Get a few different colored frisbees. Set up large cardboard boxes, storage totes, or laundry hampers in the yard to make a frisbee golf course.
Supplies: frisbees, large household items (trash bins, hampers, boxes, etc)
Plant a Garden
Gather some old pots or jars, and fill them with potting soil. Plant flower or vegetable seeds in the pots. Kids can even paint the jars or pots before planting the seeds… maybe paint a picture of what plant is going in each pot. So, if you're planting daisies, paint some colorful daisies on the outside of the pot.
Supplies: pots or jars or plant in your garden beds, potting soil, flower or vegetable seeds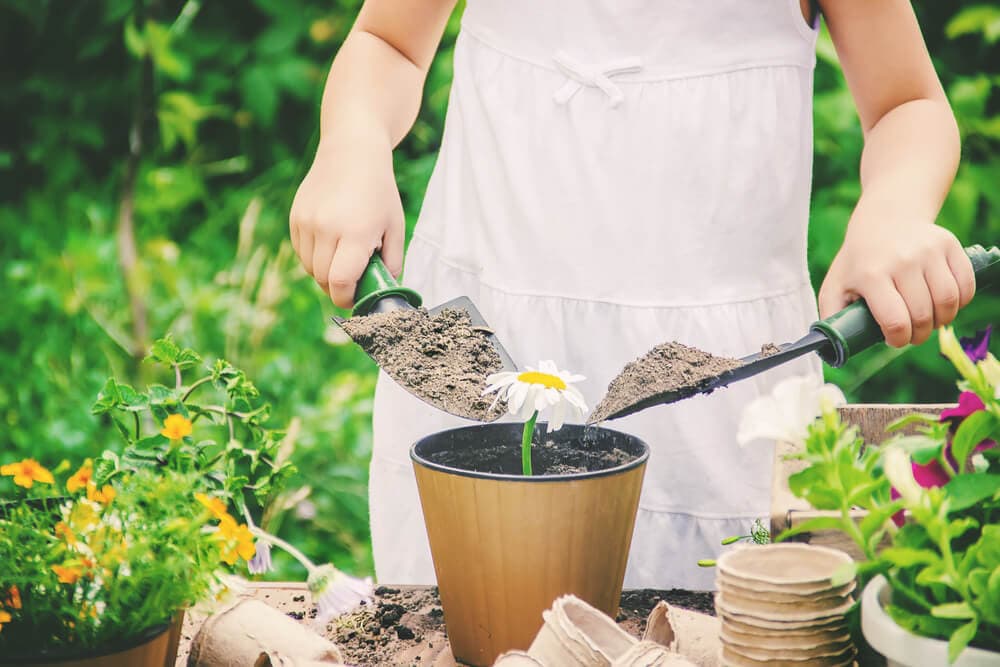 Sidewalk Chalk Scooter Maze
Draw a giant maze or "roads" on the driveway using sidewalk chalk. Then, drive scooters or toy cars through the maze.
Supplies: sidewalk chalk, scooters, bikes, etc.
Picnic on the Porch
Have kids help to make a picnic lunch. Then, set up blankets or towels on the porch for an outside lunch!
Supplies: picnic foods, blankets, towels
Catch Fireflies
Give each child a jar with small holes poked in the lid. At dusk, let them catch fireflies in the backyard. See who can catch the most in a set amount of time, then release them!
Supplies: jars with lids
Flashlight Tag
Gather a bunch of flashlights and glow sticks or necklaces. When it's getting dark, play flashlight tag in the backyard. Whoever gets "tagged" by the light is it!
Supplies: flashlights, glow sticks, glow necklaces
Sidewalk Chalk Games
Get out the bucket of sidewalk chalk, and let kids play games in the driveway. Try tic-tac-toe, hangman, or dots! Or you can even recreate your favorite board game with sidewalk chalk!
Supplies: sidewalk chalk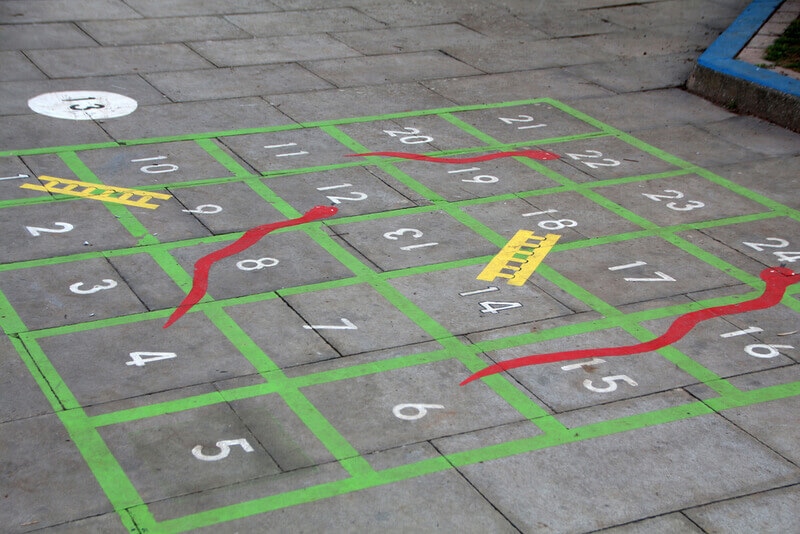 Plant Flowers for Neighbors
Brighten the day of an elderly or disabled neighbor! Offer to plant some flowers in their garden bed, or plant flowers in a small pot and drop it off on their porch!
Supplies: pots, potting soil, flowers, garden tools
Fun Water Activities for Kids
If you're looking for fun activities to do at home during the summer time, then water play activities should be at the top of your list! Not only will these fun at home activities get your kids outside and off their electronic devices, but they'll probably also wear them out a bit!
Sprinkler Day
Sometimes it's nice to just set up a sprinkler in your yard and let the kids run and play! Don't forget the sunscreen, and maybe serve some fruit popsicles as a snack!
Supplies: water hose and sprinkler attachment or fun kids' sprinklers
Water Squirter Showdown
Gather water guns or squirters, get kids in their bathing suits, and have a fun and refreshing day in the sun! Set up large buckets of water in the yard for easy refills.
Supplies: water guns or squirters, buckets of water or garden hose
Car Wash for Toy Cars
Get buckets of water, dish soap, and mini sponges and set up a mini car wash in the driveway. Let kids "drive" their water-safe toy cars through and have a mini car wash!
Supplies: dish soap, water, toy cars, sponges, etc.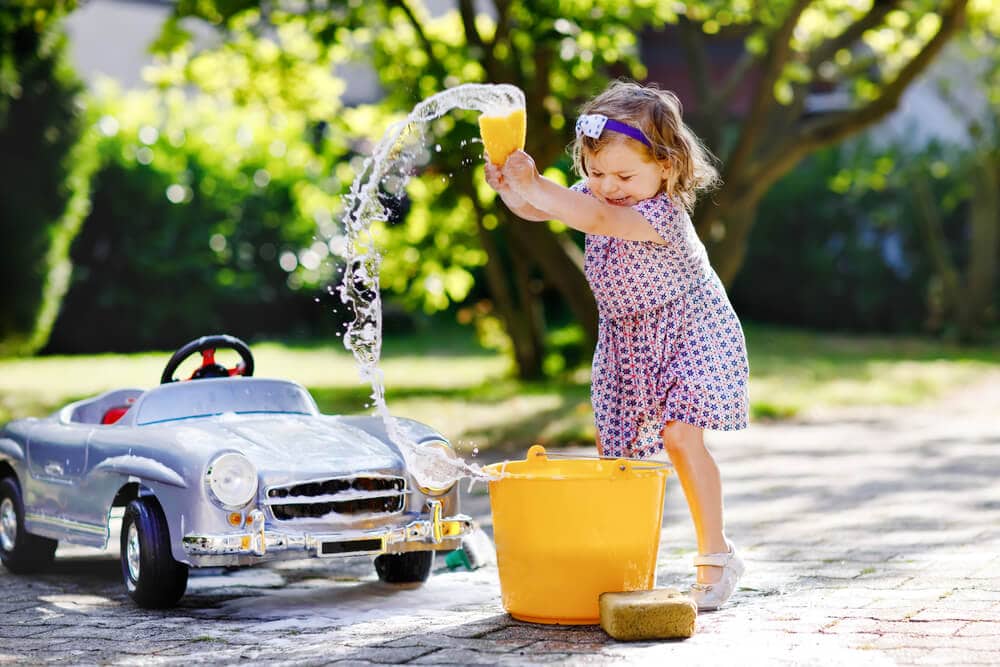 Sponge Ball Bucket Race
Make your own sponge balls or just use regular sponges. Set up one empty bucket and one bucket full of water on opposite sides of the yard. Kids race to fill their sponges on one side and wring them out on the other side.
Supplies: sponges, scissors, strings, water hose, buckets
Digging in the Ice
Fill a large freezer-safe bowl or plastic tote with water. Drop in a few water-safe toys like plastic animal figurines, toy cars, or bath toys. Freeze overnight. The next day, let kids work on "chipping away" at the ice block with kids' forks or craft sticks to get to the toys inside!
Supplies: large plastic tote or large bowl, water-safe toys, forks or popsicle style craft sticks
Mud Kitchen Fun
On a rainy day, dress kids in their raincoats and send them outside with some kitchen pots, bowls, and utensils. Let them create a "mud kitchen" and make "mud pies"!
Supplies: kitchen utensils, bowls, pots, rain gear
Water Balloon Party
Invite friends over for a big water balloon party! We did this last year on the last day of school, and my kids absolutely LOVED it!
We used the "Bunch 'O Balloons" to make filling a TON of water balloons super easy, and other neighborhood Moms chipped in with snacks like watermelon and cookies. The kids played outside for hours, and we even ordered pizza too!
Supplies: water balloons (I recommend these!), water hose, snacks, neighborhood friends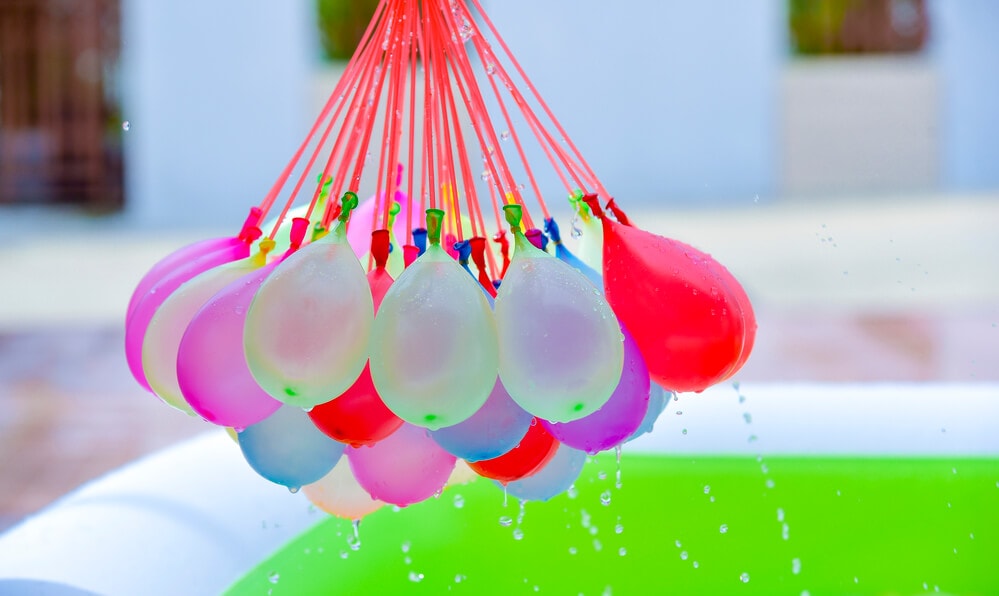 Slip 'n Slide and Popsicles Day
Set up a slip 'n slide in the yard. If you don't have an actual slip 'n slide, you can go here to see how to make your own slip and slide using heavy duty plastic sheeting and a garden hose. Serve popsicles or ice cream cones for a cool afternoon snack!
Supplies: slip 'n slide, popsicles, water hose
Homemade Water Table
Make your own outdoor water table by filling a large plastic storage tote with water. Add bath toys, measuring cups, funnels, or other water-safe toys for hours of fun!
Supplies: large plastic storage tote, water hose, bath toys, kitchen utensils, etc.
Fun Craft Activities for Kids to Do at Home
If your kids are like mine, then arts and crafts are at the top of their favorite things to do at home! These fun activities for when the kids are at home are a great way to encourage your child's creativity… and while they're busy creating mini masterpieces, you may even be able to catch up on a little work at home. Win win!
Drawing Prompts Jar
Write drawing prompt ideas on slips of paper and add them to a jar. Let kids draw out one drawing prompt and set a timer. Have the kids draw what's on their slip of paper. You can also go here for 90 awesome drawing prompts for kids and a free printable to use!
Supplies: jar, drawing prompts, paper, colored pencils, markers, other drawing supplies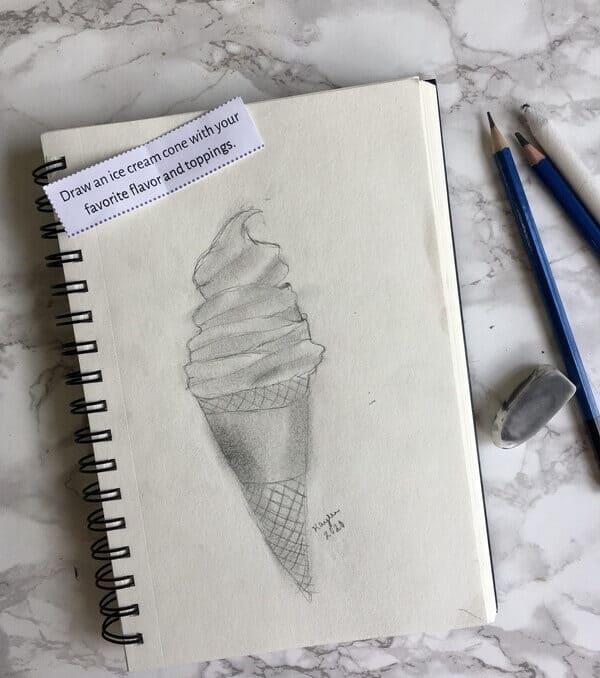 DIY Board Game
Let kids create their own board game using a piece of poster board, construction paper, and markers. Borrow dice or a spinner from another game. Play the finished DIY game as a family!
Supplies: poster board, construction paper, markers, small items to use as game pieces, dice, etc.
Cell Phone Photographer
Give kids a cell phone and let them find artistic inspiration in the backyard. Have them take artsy photos of things in nature or items around the house. You can even show them how to use filters or take black and white photos.
Supplies: cell phone with camera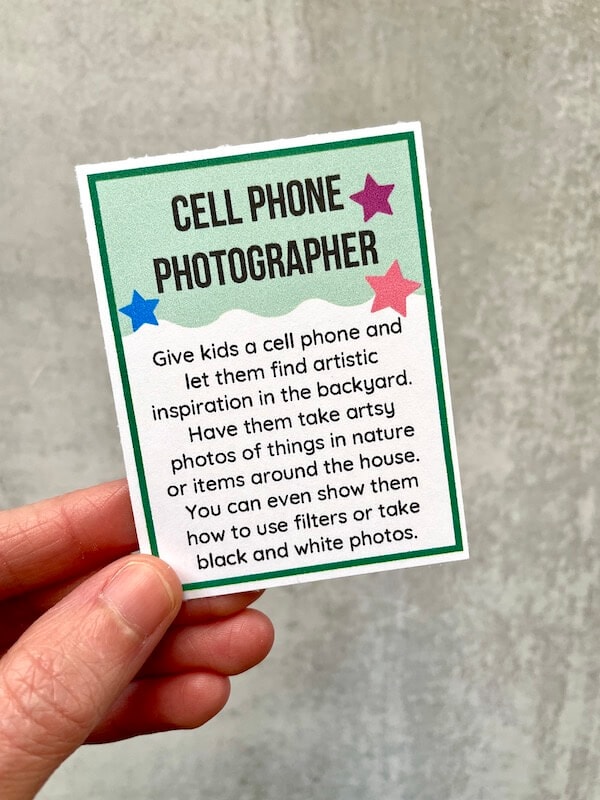 Click HERE to see the printable kids activity cards in my shop!
Rock Painting
Let kids search the yard or neighborhood for smooth rocks. Set some paints and brushes outside and let them paint designs on their rocks. Display the rock art in your own garden or hide them around the neighborhood.
Supplies: rocks, paints, paintbrushes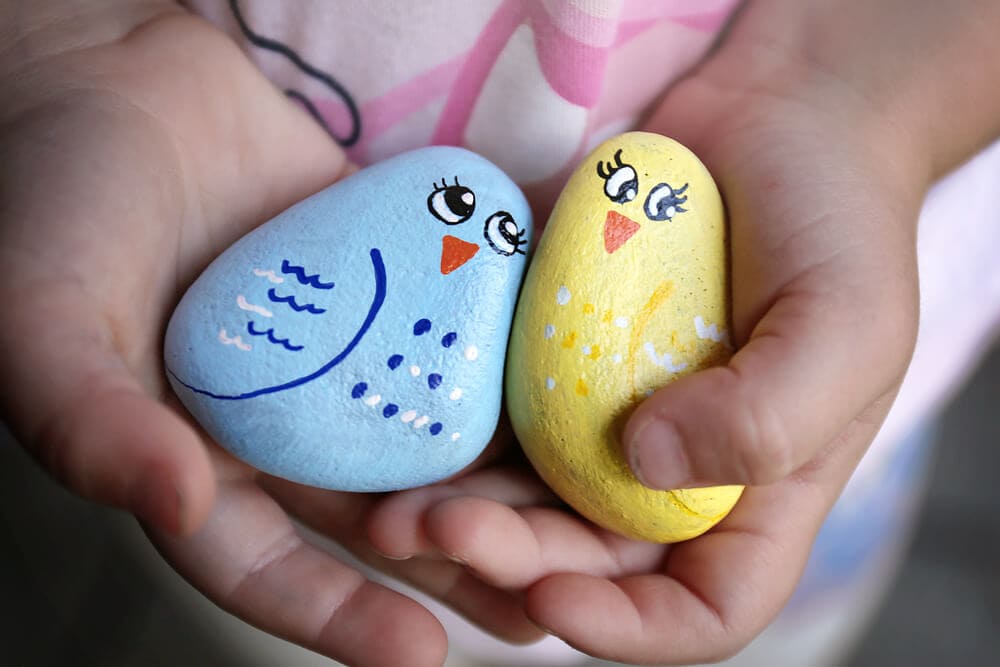 Cereal Jewelry Fashion Show
Set out bowls of cereal like Cheerios and Fruit Loops. Give kids yarn or string and let them create cereal necklaces and bracelets. Have a mini fashion show for them to showcase their creations!
Supplies: Cheerios, Fruit Loops, other cereals with holes in them, yarn or string
Coloring Competition
Print some coloring pages from online. For older kids, search "adult coloring pages". Have a friendly coloring competition, and offer a little prize for the winner!
Supplies: printer, paper, coloring pages, crayons, colored pencils, etc.
Paper Plate Animals
Give each child a plain white paper plate. Set out paints, glue, sequins, pom poms, cotton balls, and other craft supplies. Let kids make their own animal faces using the paper plates… like these Paper Plate Bunny Crafts!
Supplies: white paper plates, assorted craft supplies, glue, markers, etc.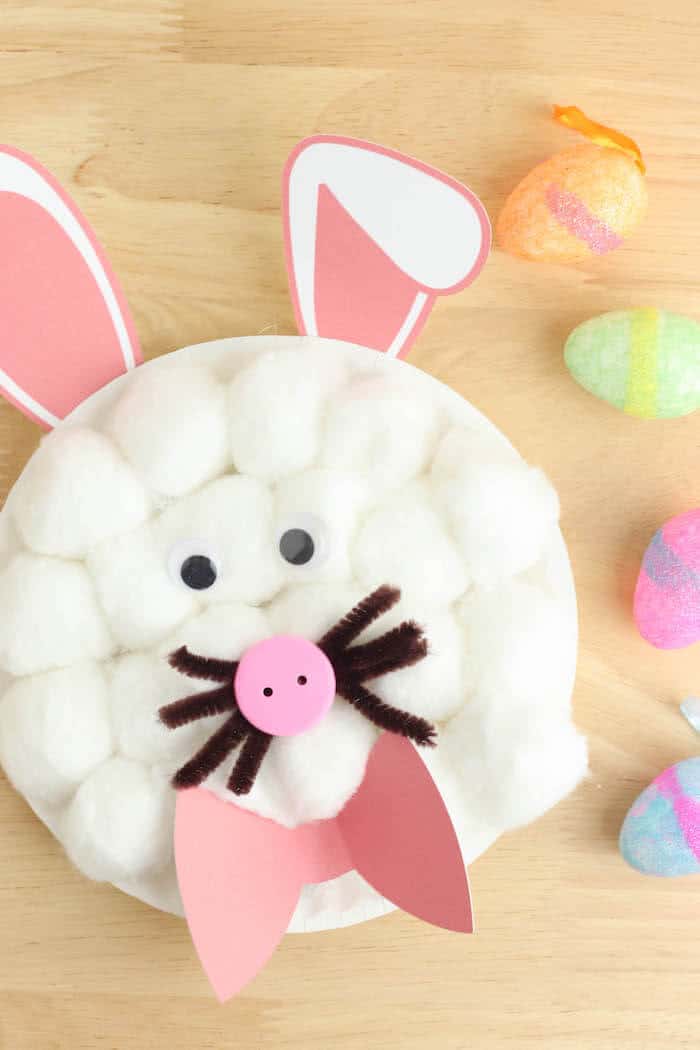 YouTube Art Class
This is one of my 10 year old daughter's favorite things to do at home! She loves the painting tutorials for kids that combine black Sharpie markers and watercolor paints!
Just search YouTube for kids' art videos. Look for watercoloring tutorials, painting videos, or "how to draw" videos. Let kids follow along with the video to create their own art!
Supplies: TV or computer, YouTube, assorted art supplies
Paper Airplane Competition
Watch YouTube videos or print paper airplane templates from online. Decorate the paper planes with crayons and markers, and see which paper plane flies the farthest.
Supplies: plain paper, paper airplane tutorials
Mandala Picture Art
Print detailed mandala coloring pages from online. Set out fine-tipped markers or colored pencils. Let kids color their mandala masterpieces!
Supplies: printer, paper, colored pencils or markers
Handmade Cards
Set out markers, crayons, and construction paper and let kids make homemade cards to send to grandparents, to drop off at nursing homes, or to give to community helpers.
Supplies: construction paper, assorted arts and crafts supplies
Playdough Masterpieces
Set out the play dough and "tools" like plastic forks, rolling pins, etc. Have kids make their own masterpieces or use free printable play dough mats like these!
Supplies: play dough, plastic "tools", play dough mats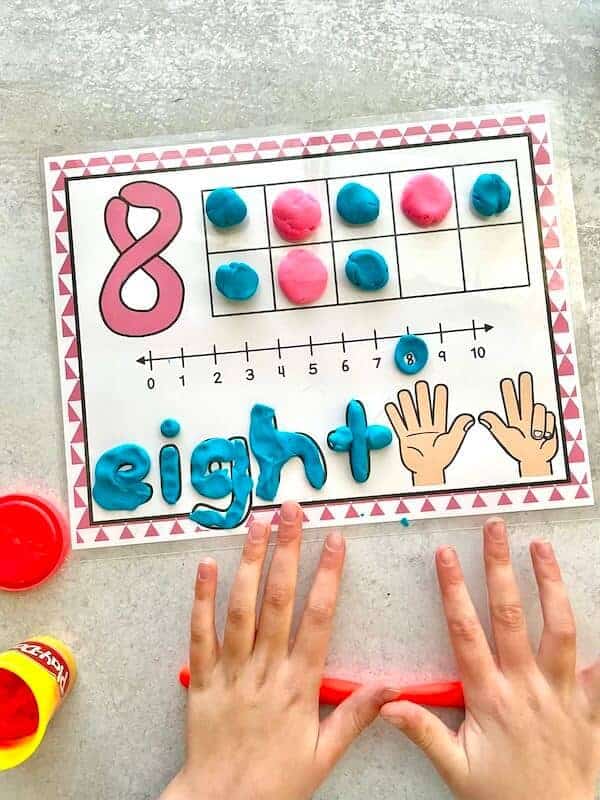 DIY Comic Strip
Have kids work together to create their own comic strip. Decide on names for the main characters and write a funny story. Have them turn their ideas into a comic, and show them photos of real comics as examples.
Supplies: paper, pencils, crayons, colored pencils
Silly Self Portraits
Give each child a piece of paper, colored pencils or crayons, and a small mirror. Let them make funny faces in the mirror and draw their own portraits!
Supplies: sketchbook or paper, colored pencils, crayons, pencils, mirror
Indoor At Home Activities for Kids
Pouring down rain and need to keep your kids busy with some fun things to do at home? These indoor at home activities are perfect for you!
DIY Putt Putt Course
Search the house for pots, cups, bowls, or other items that you can used to set up a mini golf course. Build your own putt putt course inside or even in the garage. Use wrapping paper tubes, bats, or sticks with cardboard "putter heads" taped on the ends for DIY golf clubs!
Supplies: household items like bowls, cups, wrapping paper tubes, etc.
A-Z Scavenger Hunt at Home
Give each child a paper with letters A to Z. Have them search the house for something that starts with each letter, and then write it on their paper… for example, A is for Apple, B is for Broom, etc.
Supplies: paper and pencil
Lego Building Challenge
Dump out all of the Legos and other building toys like Magna Tiles or Lincoln Logs, and have a friendly building competition! See who can make the most creative item or give kids a category as a guideline (like house, car, animal, etc).
Supplies: building toys like Legos, Lincoln Logs, etc.
Homemade Popsicles
Make your own creative popsicles with different fruit juices, fresh fruits, ice cream, sprinkles, or other fun mix-ins. You can also write ingredients down on slips of paper and draw some out of a hat to see what popsicles to make!
Supplies: popsicle molds (I recommend these!), fruit juices, fruit, other ingredients
Pajama Day
Stay in your pajamas all day for a fun and lazy day at home! Let your kids read books, color pictures, play with Playdough, or do other fun activities at home. Serve breakfast for dinner!
Supplies: pajamas and a relaxation attitude!
Homemade Ice Cream
Have kids help you choose a recipe for homemade ice cream, then make it together. No ice cream maker, no problem! Search for "no-churn ice cream recipes"!
Supplies: ice cream ingredients, mix-ins and toppings
Learn Some Card Tricks
Search YouTube or the internet and learn some new card tricks. Let kids showcase their new tricks after dinner!
Supplies: playing cards, YouTube
DIY Twister Game
No Twister board, no problem! Use masking tape to tape numbers 1-6 in lines on the floor, about the same size as a Twister mat. Then roll a dice!
Supplies: masking or duct tape, dice
Laundry Ball
Set a laundry basket or hamper on the floor and try to throw a soft ball inside it from different points in the room. Have older kids stand farther away or use balloons to make it more challenging.
Supplies: laundry basket, soft foam ball, balloons
House Hide 'n Seek
Play an old-fashioned game of hide 'n seek. Or, have one person hide a small item like a stuffed animal for others to find… like an Easter egg hunt!
Supplies: nothing!
Dinner and a Show
Have kids spend the day making up a short skit. Let them search online for inspiration and camp skit ideas. Then, let them perform their skits after dinner!
Supplies: nothing!
Rainbow Fruit Kebabs
Make rainbow fruit kebabs for a healthy and pretty snack. Use as many brightly colored fruits as you can and stack them up on skewers. Freeze leftover fruits to use in homemade smoothies!
Supplies: variety of fresh fruits, wooden skewers
Blanket Fort Picnic
Make your best blanket fort in your living room. Then make a picnic lunch and serve it inside the fort! You can even set up a tablet inside the fort to watch a cartoon while you're enjoying lunch!
Supplies: blankets, pillows, other blanket fort building supplies, picnic lunch
YouTube Workout or Dance
Search YouTube for workouts or dance videos for kids. Find one that your kids will enjoy and let them sweat it out before nap time!
Supplies: YouTube on a TV
DIY Bean Bag Toss
Make your own bean bags by filling old socks with dry beans. Set up a bean bag toss course with laundry baskets, pots, or cardboard boxes. See how far back you can stand and make a "basket".
Supplies: old socks, dry beans, laundry baskets, boxes, etc.
Learn Something New
Ask kids for suggestions on new things to learn… Then turn on YouTube for kid-friendly tutorials. Need some examples? Try how to draw a whale, how to paint watercolor flowers, or how to say a specific sentence in Spanish!
Supplies: YouTube and various other supplies depending on fun at home activities you pick
Song and Dance Party
Help kids learn all of the lyrics to their favorite song. Then, have them make up a dance to go with the song. Have a mini performance after dinner!
Supplies: music, internet to search for song lyrics
Root Beef Floats
Make your own root beer floats with soda and ice cream. Or, try Sprite and fruit sherbert for a fun flavor! Serve outside on a hot summer day!
Supplies: soda of your choice, ice cream or sherbert of your choice
Click HERE to see the printable activity cards in my Shop!
Quiet Time Activities
Sometimes kids just need some time to chill out and relax a little bit, even if they're not going to actually take a nap. It's good to mix in some quiet time activities while kids are at home all day, just to give them an opportunity to recharge their batteries.
Here are some fun and calm "quiet time" activities for kids to do at home:
Gratitude Journals
Help kids start their own gratitude journals! Get each child a blank notebook or print these free printable gratitude journals for kids. Let kids decorate their journals and write one thing they're grateful for each day.
Supplies: blank notebook or printable journal pages, pencil or pen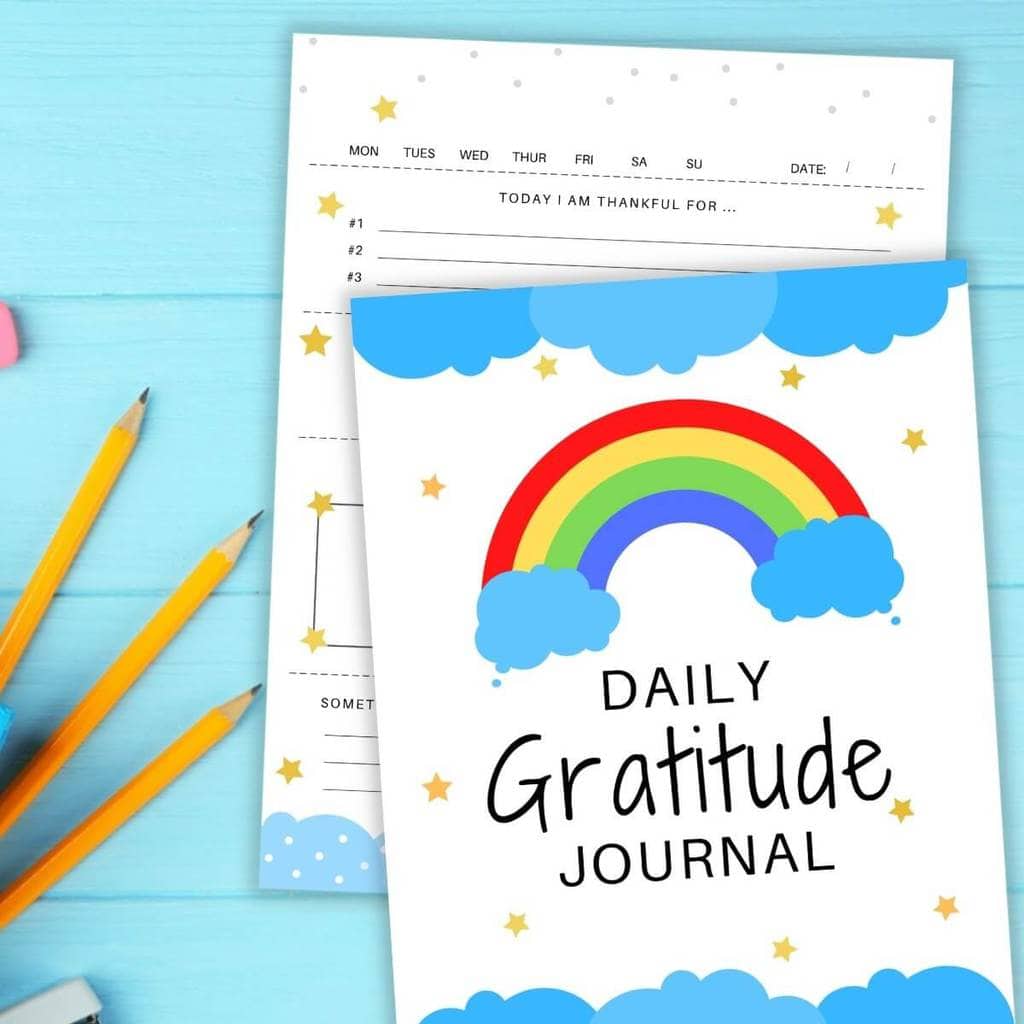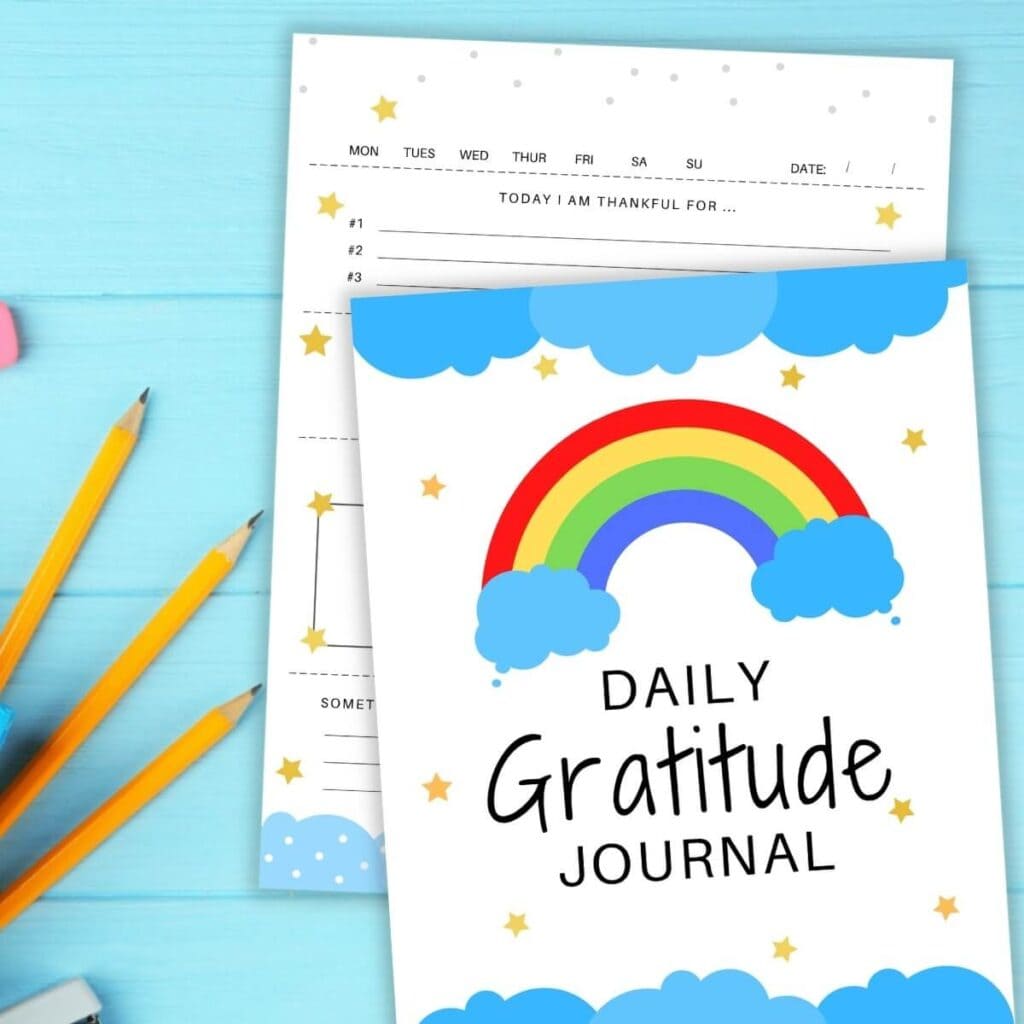 Outside Reading
Grab some books and set up a blanket and pillows in a shaded area in your yard or on the porch. Have a relaxing afternoon of reading books together outside. (Popsicle refreshments optional!)
Supplies: blankets, pillows, books
I-Spy in the Clouds
Lay some blankets out in the grass. Take turns picking out shapes in the clouds, saying "I Spy" and then the shape you see. Other kids try to spot the shape.
Supplies: blankets, imagination
Outside Sketch Drawings
Give each child a sketchbook and a pencil. Let them find a shaded spot in the yard and sketch things that they see outside!
Supplies: sketchbook, pencils, blankets
Constellation Search
Print out pictures of constellations. Then on a clear night, set up blankets in the yard and search for those constellations in the sky!
Supplies: printer, internet, pictures of constellations, blankets
Virtual Field Trips
Search online for "virtual field trips". Gather around the computer and enjoy exploring a museum or other attraction from home!
Supplies: Google and a computer
Reading Challenge
Print out some reading challenge sheets or reading logs. Start a reading challenge with your kids. Determine what the reward will be for reading 10, 25, or 50 books!
You can grab some awesome printable reading challenge sheets here!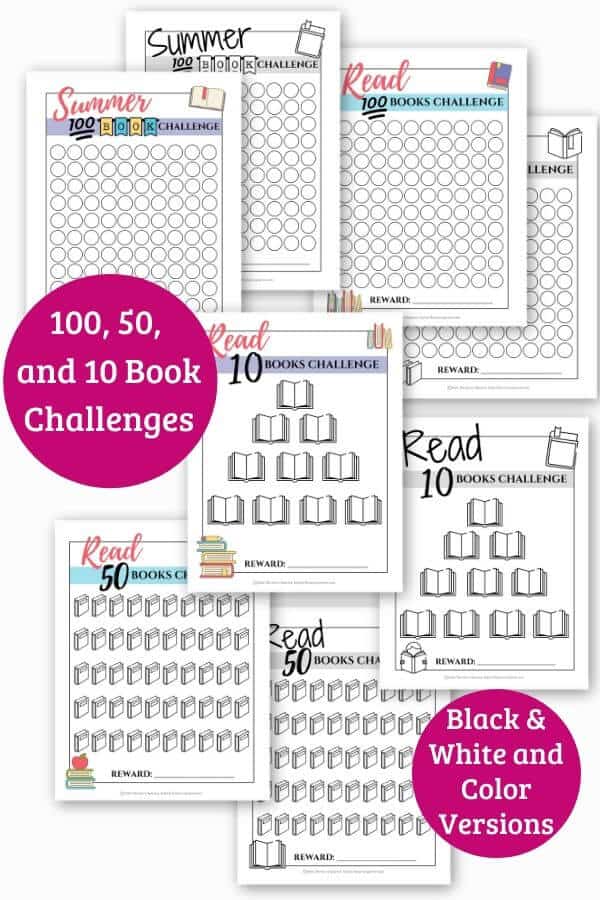 Fun Things to Do at Home as a Family
Of course it's nice to set your preschoolers down with a few cans of Playdough and some printable Playdough mats and let them play independently. But it's also nice to prioritize fun family activities that you can do together!
Here are some awesome activities that you can do at home with your kids to make special memories:
Nobody's Birthday
Pick a random day to have a mini birthday party, just because! Research what famous people were born on that day. Bake a homemade cake, decorate it together, and make your own Happy Birthday banner!
Supplies: birthday cake, birthday decorations
Family Jigsaw Puzzle
Get a new, challenging puzzle and set the pieces out on your dining table or kitchen bar. Work on the puzzle together as a family. Try to finish it all at once, or take a week and work on a little bit each day.
My family did this a few months ago with this AWESOME puzzle… Granted my kids are a bit older (12 years old and 10 years old), but it was so fun to put the QR code puzzle together and scan it to see if we won the cash prize! Highly recommend!
Supplies: jigsaw puzzle
Garage Sale Walk
Take a morning walk on a Saturday when there are garage sales happening in your neighborhood. Give each child a budget of $5 and let them search for new-to-me treasures!
Supplies: cash, good walking shoes, stroller (optional)
Midnight Madness
Let kids stay up until midnight tonight… Madness, I know! Get out some board games, crafts, or movies for a night of family fun!
Supplies: fun activities to do at home with kids, probably some caffeine for mom and dad!
Bake 'n Take
Spend the morning baking brownies, cookies, or other treats. Then, deliver them to elderly neighbors, the local firehouse, or leave in the mailbox for your mail person! Try my Momma's Peanut Butter Blossom Cookies… so easy and delicious!
Supplies: homemade cookies, cupcakes, brownies, or other treats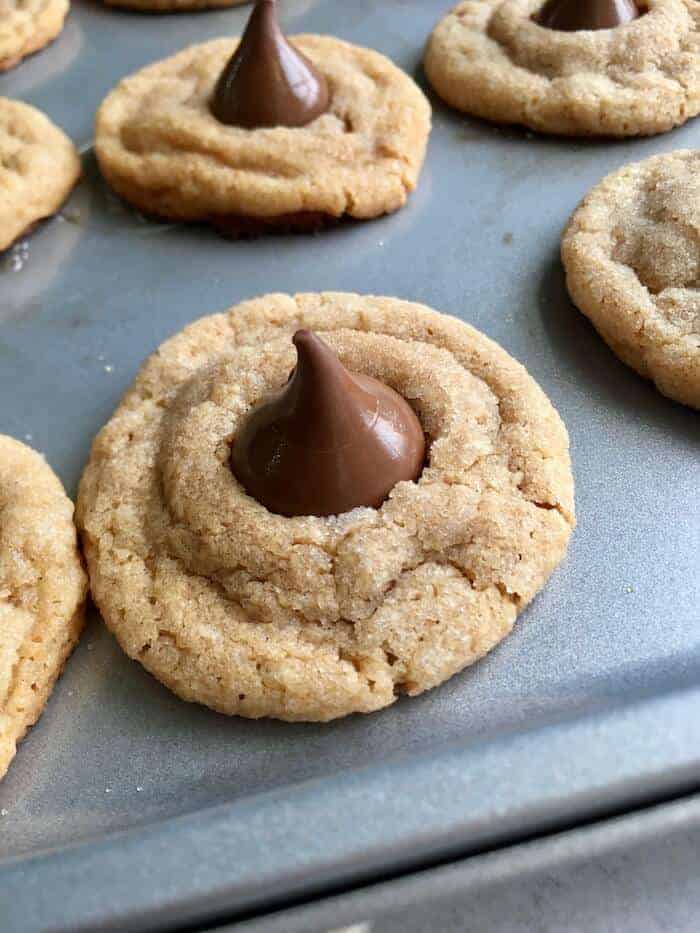 No-Bake Cookie Bake Off
Let each child pick their own recipe for no-bake cookies. All the kids makes their cookies at the same time. Try them to see which recipe you like best!
Supplies: ingredients for different no bake cookie recipes
Family Pizza and Movie Night
This is my kids' favorite fun thing to do at home! And it's mine, too! We have a weekly pizza and movie night, and it's a great way to relax and unwind as a family.
You can order pizza or make your own, and turn on a family movie. Draw a movie title out of a hat to determine what you will watch. You can even set up a pizza picnic on the floor!
Supplies: pizza, movie to watch
Breakfast for Dinner
Have kids help you in the kitchen! Make homemade chocolate chip pancakes, eggs, and your favorite breakfast foods for dinner! Then, eat dinner in your pajamas!
Supplies: breakfast foods, pajamas
Living Room Camp Out
Set up sleeping bags and pillows in your living room floor. Pop some popcorn and watch a movie. You can even set up a tent in the living room for an overnight camp out!
Supplies: blankets, pillows, tent
Neighborhood Geocaching
Download the Geocaching app on your phone and see if there are any hidden "caches" in your neighborhood. If there aren't any, hide your own! Search online for "geocaching" for more info on this fun activity!
Supplies: smartphone with GPS, geocaching app
Cookie Competition
Bake some plain sugar cookies or buy some already made. Get some different colors of icing, piping bags and tips, and sprinkles. Let kids decorate their own cookies. You can even turn it into a friendly competition for older kids!
Supplies: sugar cookies, decorating icing, piping bags and tips, sprinkles
Donations for Others
Help kids sort through their clothes, shoes, and toys. Make piles to donate to local churches or children's homes. Take kids to deliver their donations, and stop for a treat on the way back home!
Supplies: donations, treat for afterwards
Ice Cream Social
Host an ice cream social for kids, their friends, or other neighborhood families! Get a few different kinds of ice cream and lots of fun mix-ins like sprinkles, fruit, candies, whipped cream, and sauces. Make it BYOB – Bring Your Own Bowl!
Supplies: ice cream, bowls, toppings
Roast Marshmallows
Get marshmallows, chocolate bars, and graham crackers for a yummy marshmallow roast! Have kids hunt for sticks in the backyard to use. Or, you can also make microwave s'mores!
Supplies: large marshmallows, sticks, graham crackers, chocolate bar
Outdoor Movie Night
Set up a large white sheet or screen in your backyard. Borrow a projector and show a family-friendly movie. Pop some popcorn and serve a variety of candies for a Make Your Own Popcorn Mix bar!
Supplies: sheet, projector screen, or blank white wall, projector, movie, blankets and pillows, movie snacks
Make a "Fun Activities at Home" Jar for Your Kids
So how can you actually remember all of these fun things to do at home with kids? Make an Activity Jar!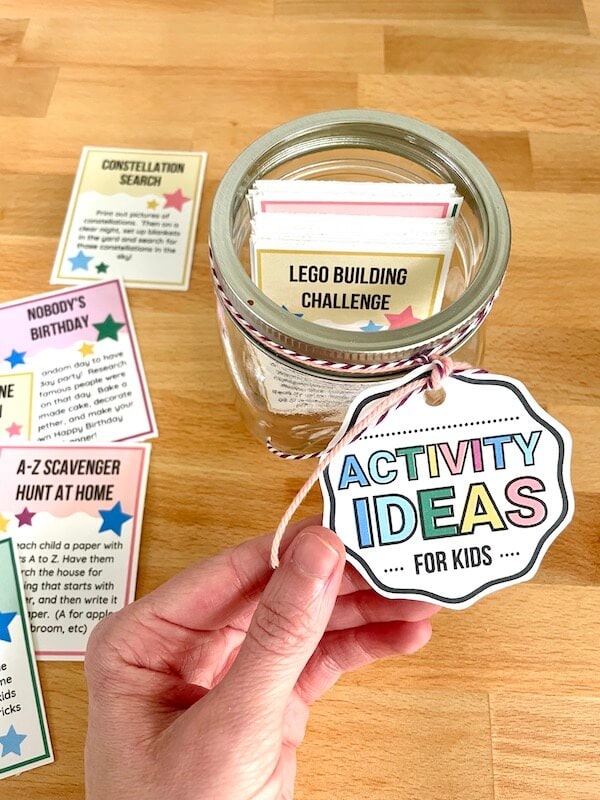 Simply write the at home activity ideas down on slips of paper or jumbo craft sticks and add them to a jar. Or, you can grab the printable Activity Cards down below to easily create a jar full of fun activities to do at home with kids!
Then, when your kids are bored or when you're planning your week of activities, you can let your kiddos draw one of the cards out of the jar! Kind of like a surprise activity for the day!
Printable Cards with Fun Things to Do at Home with the Kids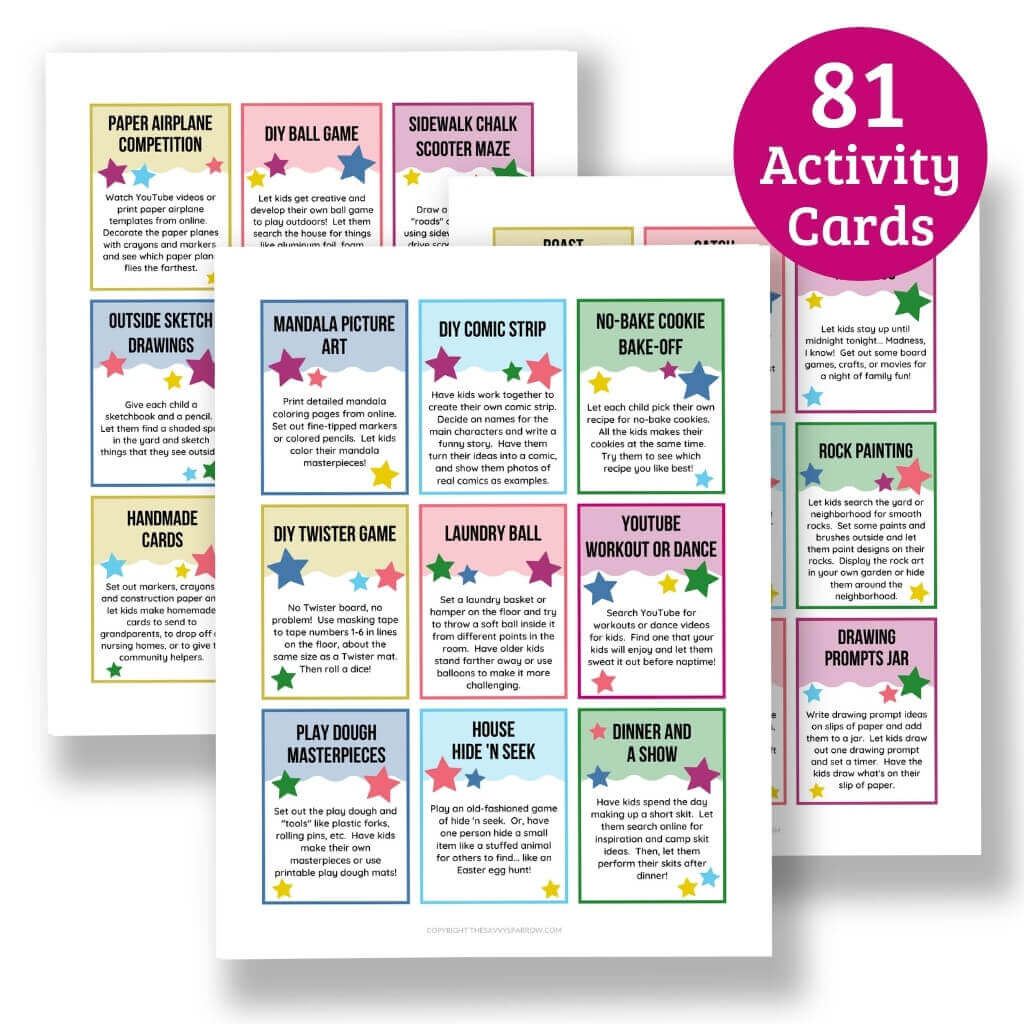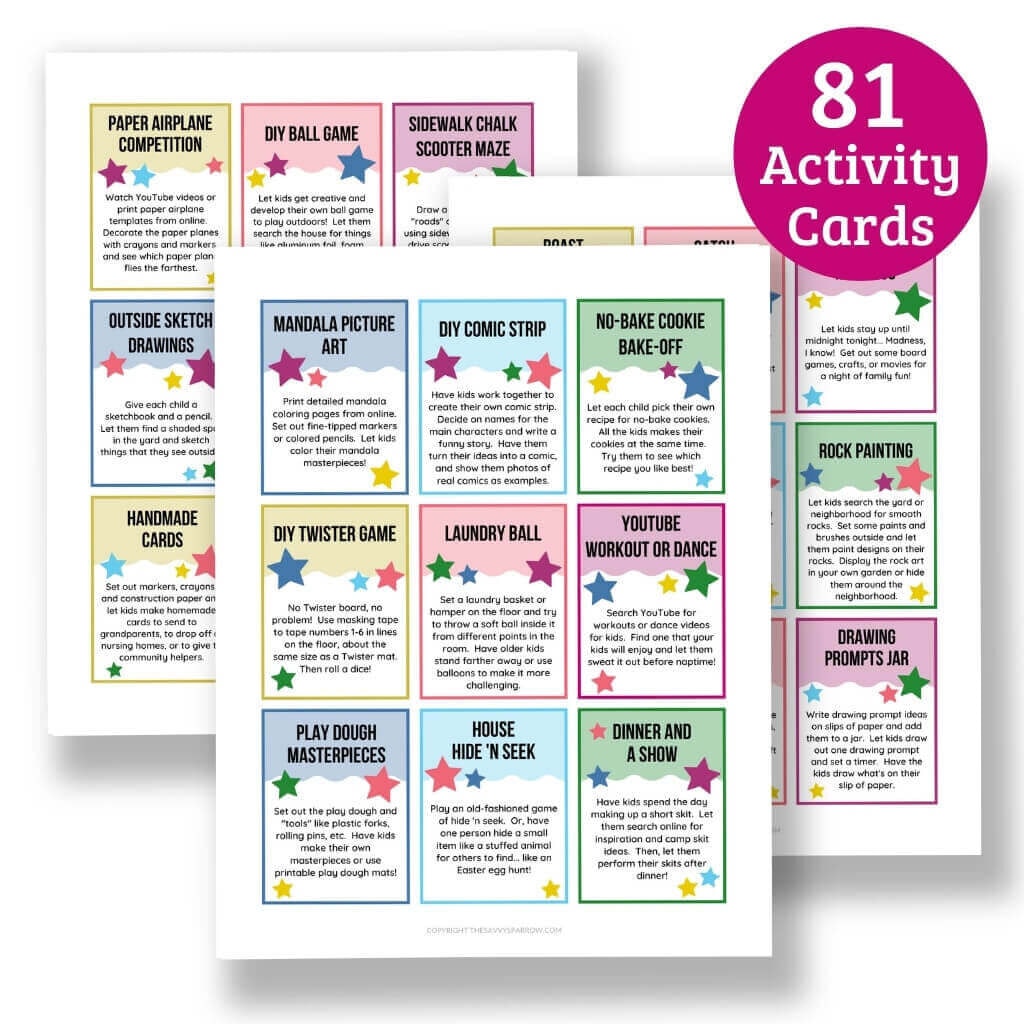 Click HERE to see the Fun Activity Cards in my Shop!
What are your favorite fun things to do at home with kids? Or which of these at home kids activities are you going to try first? Leave me a comment down below… I'd LOVE to hear from you!
And don't forget to PIN this post for later: