Use a gratitude journal for kids to encourage your kids to be grateful for all that they have. Grab free printable gratitude journal pages with prompts to get started now!
My kids are grateful for Fridays.
Every Friday they get a "Friday treat" to celebrate the end of the week. Sometimes it's a Sonic slushie, sometimes it's a McDonald's McFlurry, and sometimes it's whatever sweet treat Mom has been craving.
And even though it's something small and inexpensive, they REALLY appreciate it!
Your kids have a lot to be grateful for also… even if they don't have the latest $100 tennis shoes or an entire wardrobe from the most expensive store in the mall.
But when there's always that kid at school that has MORE, it's hard for kids to remember to be grateful for what they do have. But a gratitude journal for kids can be a GREAT tool to help with that!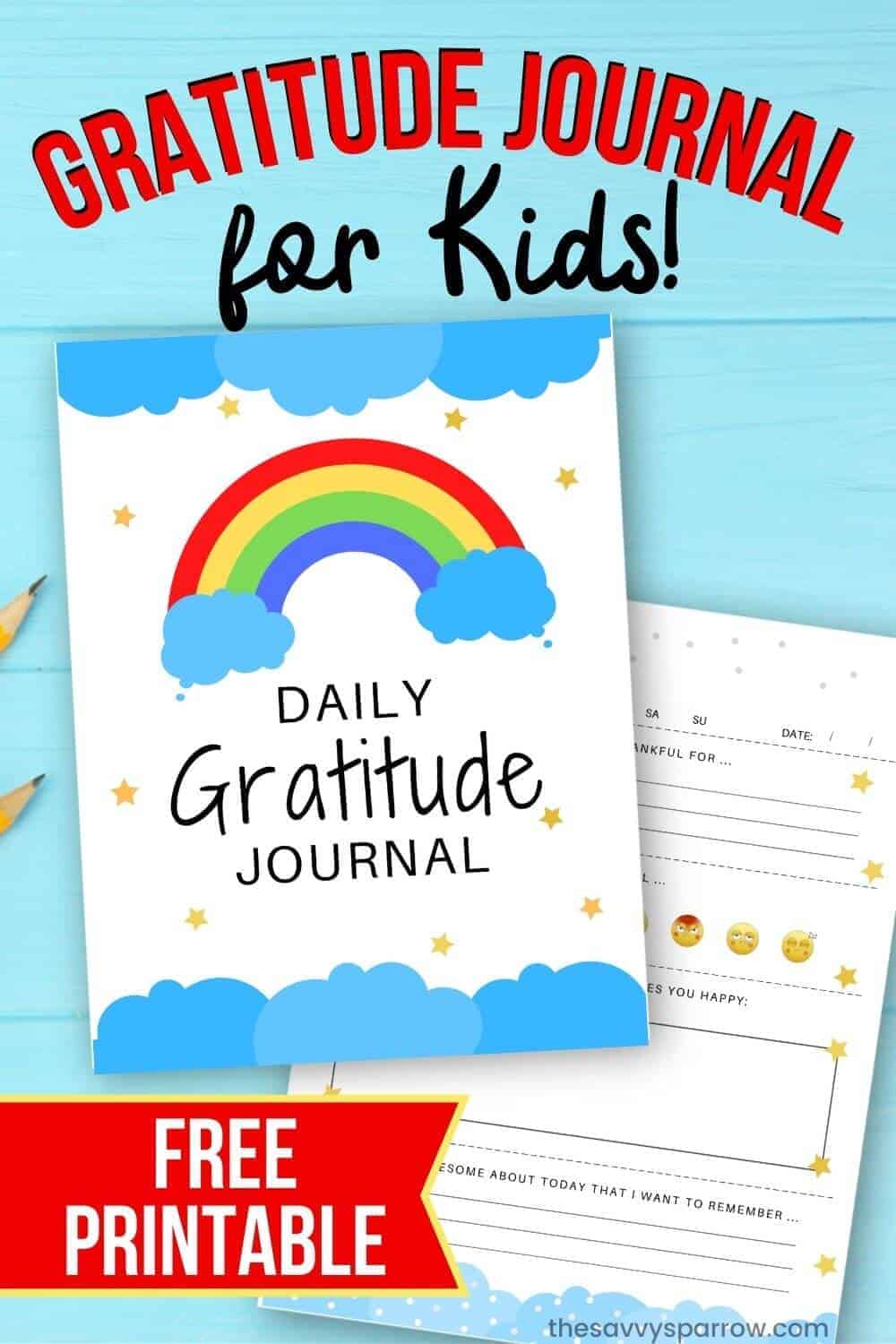 Here's why a kids' gratitude journal is a GREAT idea, and how you can get some free printable journal pages to get you started…
What is a Gratitude Journal?
Before we answer that question, it's important to talk about the word "GRATEFUL". Merriam-Webster defines it as:
"1: appreciative of benefits received, expressing gratitude; 2: affording pleasure or contentment"
Ewwww… contentment! That's not a word that is associated with kids very often…
Kids usually are not content eating their broccoli, even though there are probably children in their school that don't get to eat three meals a day.
And they're typically not content when they receive the brown-haired doll when they really wanted the one with blonde hair.
Contentment is difficult for adults, so teaching kids to be grateful and content with what they have is nearly impossible… especially when they go to school and see their friends with the latest and greatest shoes/clothes/electronics.
That's where a gratitude journal comes in…
A Gratitude Journal is simply a place to record different things in life that a person is grateful for, and it's a great way to remind you that you have A LOT to be thankful for, even though someone will ALWAYS have more than you do.
It can be an actual paper journal that you write in, an app on your cell phone, a few pages in your bullet journal, or a Google Docs document that you add to each day.
For younger kids, a gratitude journal can even be a blank notebook where they draw one picture and write one word as an expression of gratitude.
For instance, if it was free ice cream day at your kindergartener's school, they can draw a picture of an ice cream cone and write the word "ice cream". This is also a GREAT activity to help to develop writing and spelling skills for kids!
Why a Gratitude Journal for Kids is a GREAT Idea…
Besides the fact that a gratitude journal is a GREAT way to teach your kids to be grateful, there are many studies that have been done on the positive benefits of writing in a gratitude journal.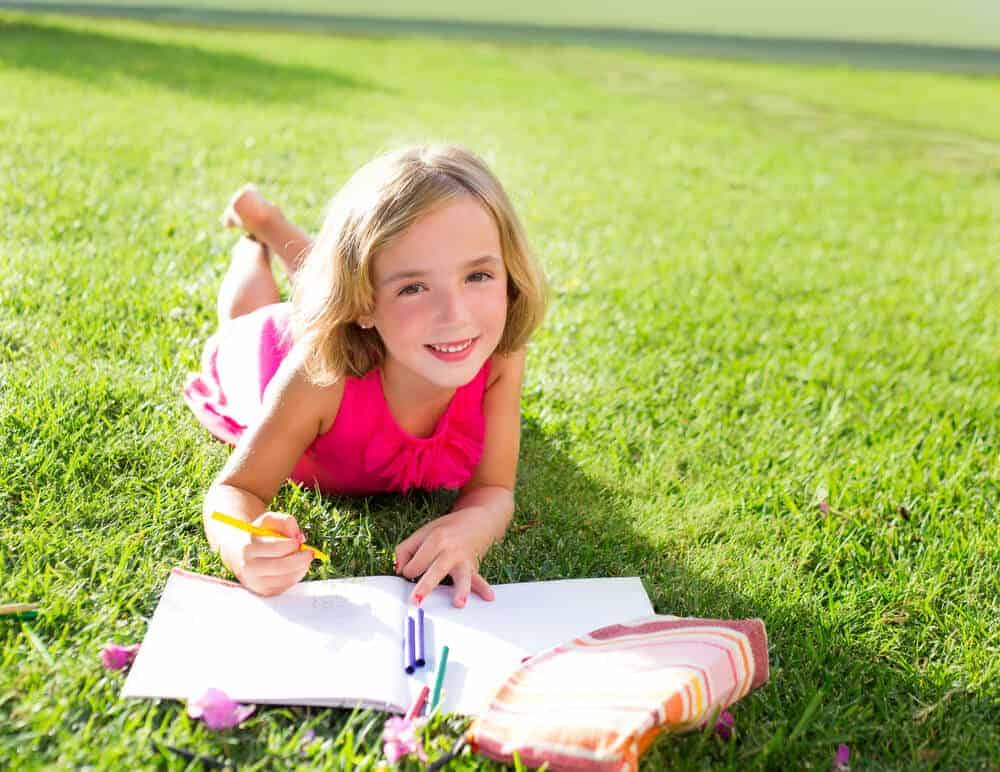 Here are just a few of the scientifically-proven benefits of expressing gratitude:
Still not convinced that a Gratitude Journal is right for your kids? Check out this VERY informative post from Happier Human on the 31 Science-Backed Benefits of Gratitude.
And, any time that you can sneak in some extra writing and spelling practice is a WIN, right?!
How to Start a Gratitude Journal for Kids
1. Pick a Journal.
Before your kids start a gratitude journal, they'll need to have an actual journal or notebook to write in.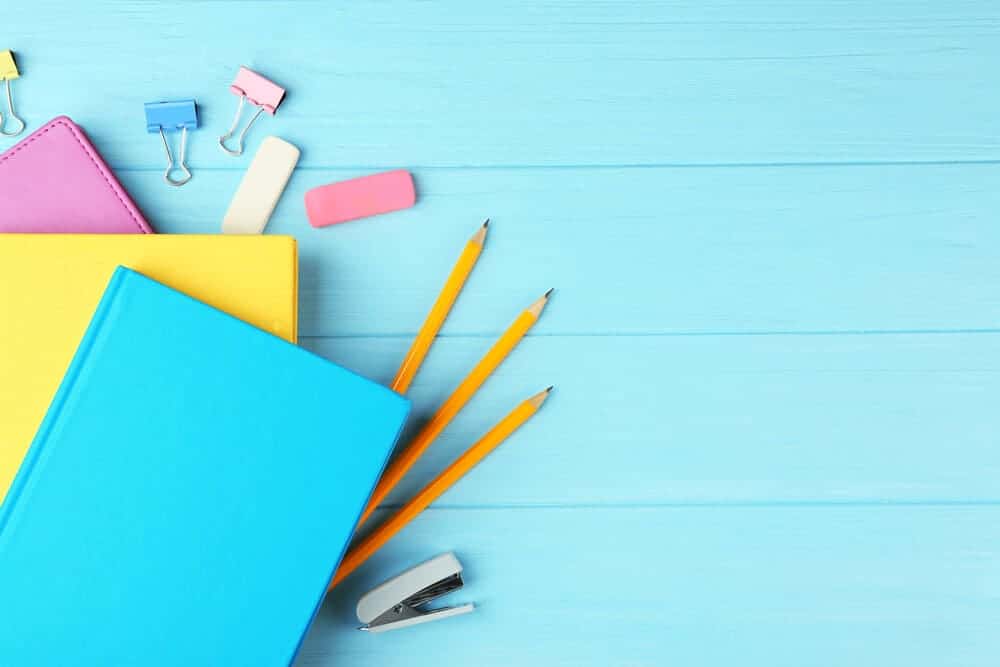 I highly encourage you to get your kids involved in the process of picking a journal so that they feel a sense of ownership for it. Taking your kids to the book store to browse the journals and notebooks and pick out one that they love is a GREAT first step.
Or, you can also use my free printable Gratitude Journal for Kids down below, and let your child pick out a cute 3 ring binder or folder to keep the pages in. And you could even get your kids their own colorful pens and designate those as their special "gratitude journal pens". I recently wrote an entire post on my absolute favorite pens for planners and journals… Read it here: The Best Pens for Planners – And I Tried Them All!
Setting them up for journal writing success and making sure that they have all of the necessary supplies, that they picked out themselves, will go a long way in encouraging your kids in their new habit.
2. Set some parameters for journal writing.
Once your kids have a journal designated specifically for writing things that they're grateful for, it's time to set some "ground rules". But, it's important to not be too strict when developing a journal writing routine, because you want to encourage your kids to express themselves freely.
Here are some of the things you and your kids may want to decide on together when starting a gratitude journal:
How often will they write in their journals? Will it be part of their nightly routines, or once a week?
How many minutes will be designated for journal writing?
Will they write in their journals before bedtime, first thing in the morning, etc?
How many sentences should they write?
Can they draw a picture instead?
How often will you review their journals?
3. Incorporate journal writing in to your kids' routines.
After you've found a great gratitude journal for your kids, and you've talked about how and when they should write in it, then it's time to incorporate the act of journaling into your kids' routines.
A 2009 study published in the European Journal of Social Psychology concluded that it takes 66 days on average for a new habit to be formed, so your kids will need to develop a good, sustainable journaling routine and keep at it for about 2 months for it to be automatic.
Just like brushing their teeth and saying their prayers, journaling can have a set time in your child's daily or weekly routine also.
And since you're the one that sets your child's routine, especially if your kids are younger, then it's up to you to encourage their journaling.
4. Have your kids think about what they're thankful for.
When it comes time for kids to write in their journals, encourage them to think about what happened that day that made them happy.
Maybe your tween daughter got a good grade on her science test, or maybe your kindergartener made a new friend at school. Give your kids different examples of small things that they should be grateful for, because it's often difficult for kids to recognize those seemingly insignificant everyday instances as blessings.
Then, once your kids get into the habit of journaling in their gratitude journals, it will become easier for them to recognize those "small things" that they should be grateful for, and not just the big things like a new pair of shoes or a trip to the amusement park.
Free Printable Gratitude Journal for Kids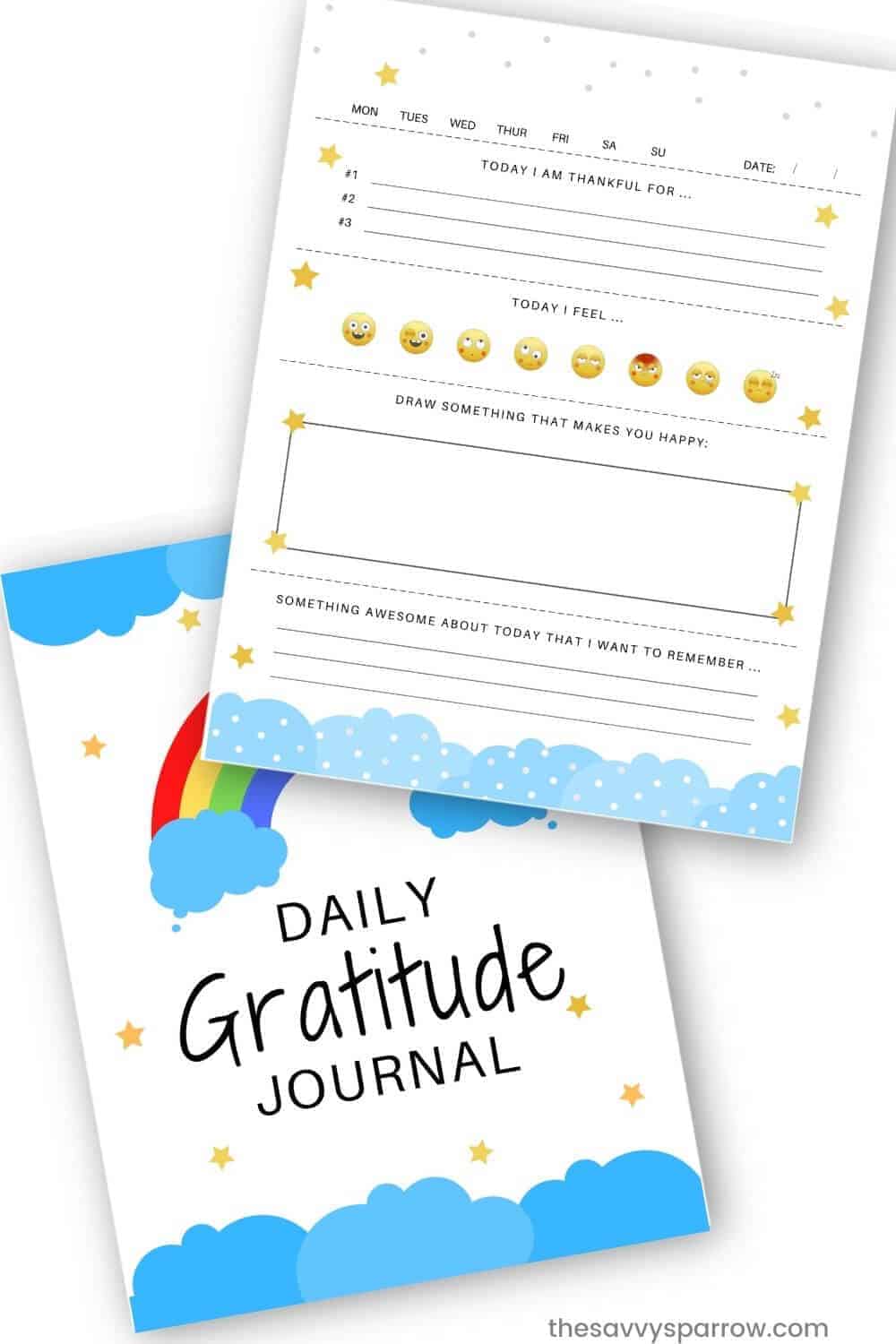 Want to grab my FREE printable Gratitude Journal for Kids?
Just use the form below to sign up for my FREE email newsletter, and I will send you the password to my entire FREEBIES library as a free gift! These are just a few of the kids' printables that you'll find inside the freebies library:
Neighborhood Scavenger Hunts
Kids' Allowance Trackers
50+ Ideas for an "I'm Bored" Jar – Just print and cut the slips of paper and add them to a jar!
Printable Bookmarks for earning screen time by reading
90 Drawing Prompts for Kids
100 Questions to Ask Kids to get them talking
and of course this Gratitude Journal for Kids!
Then, you can print out the FREE gratitude journal pages and put them in a 3 Ring Binder or notebook to get your child started. There's even a black and white version also!
Encourage kids to journal by starting a gratitude journal of your own!
Kids are like sponges… they soak up everything around them! You know what I mean if you've accidentally let a 4 letter word slip out, only to hear your toddler shout the same word a few hours later!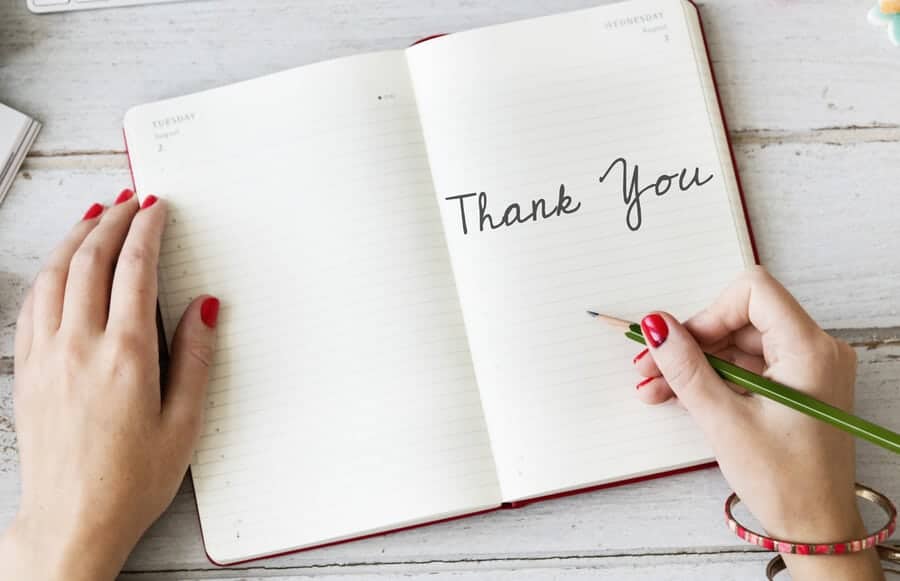 So if you want your kids to develop a good journal writing habit, then you can start your own gratitude journal as well. Your kids will see you writing in your own journal, and they'll be encouraged to do the same.
You can check out this post for How to Start a Gratitude Journal for adults, and get 30 awesome journal prompts to get you started!
I hope you've seen some of the benefits of using a gratitude journal to teach your kids to be thankful.
How do you encourage gratitude in your kids? Any special routines that you do at home to remind your kids that they have so much to be grateful for? Leave me a comment down below!
And happy nesting!