A Home Management Binder can help you get your entire life organized. From meal plans and cleaning schedules to expense trackers and home maintenance logs, a home binder is the perfect place to store all of the documents that can help you manage your household.
Managing a home is HARD… There, I said it.
Making sure that 4+ people are fed three times a day, that they have clean clothes to wear, and that you don't develop a fly infestation from the half-eaten biscuit that your daughter threw in her bedroom trash can 3 months ago can be tough!
Especially if you're a working mom like me, and household management isn't your only job. It's just the job that you do for free!
So I created this home management binder to help!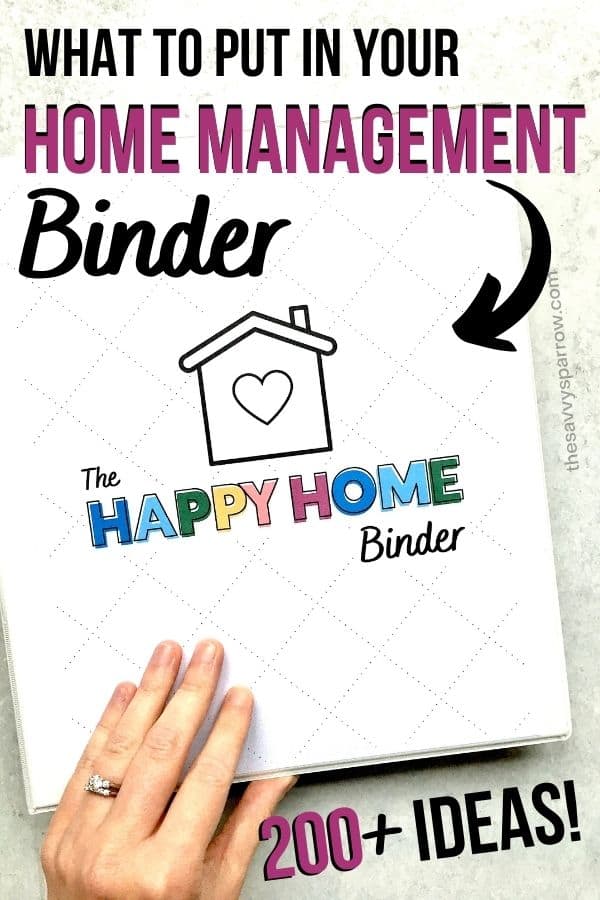 *This post contains affiliate links, which means if you click a link and make a purchase, I earn a commission at no additional cost to you. Read my full disclosure here.
Why You Need a Home Management Binder
Writing things down helps you to accomplish your goals.
Studies have shown that people who actually write down a PLAN are more likely to meet their goals, especially in the case of managing multiple goals.
And a Home Management Binder is essentially a PLAN to accomplish multiple goals… from maintaining a clean home to getting a healthy dinner on the table each night.
A home management binder keeps all of your important info in one place.
Need to find the contact info for your child's teacher quickly… look in your home binder.
Want to know what bills you still need to pay this month… check your binder.
Forgot the username and password to that website that you really need right NOW… it's in your home management binder.
Set up correctly, a home management binder can be super useful to organize all of the information that you may need to find quickly. And it will save you time from rifling through piles of paper clutter.
A home binder helps you manage your time and plan your week.
Do you ever feel like there aren't enough hours in the day to get everything on your to do list done? Or how often do you know in the back of your mind that you have a gazillion things to do, but you don't even know where to start, so instead you just sit on the couch and scroll through Instagram?
A home management binder can help you develop a clear plan of what you want to accomplish each week, with detailed steps of how to meet your goals, so you'll be less overwhelmed by the sheer amount of household management jobs that you need to get done.
Home Management Binder Supplies
3 Ring Binder
The size of 3 Ring Binder that you need will depend on how many pages will be in your binder. I recommend a 2″ binder, because that size should allow you to hole punch other documents and add them to the binder, like kids' school supply lists or favorite recipe clippings.
Divider Tabs
A Home Management Binder full of potentially HUNDREDS of pages is useless if you can't quickly flip to the page that you need. That's why binder divider tabs are an absolute MUST for an organized home binder.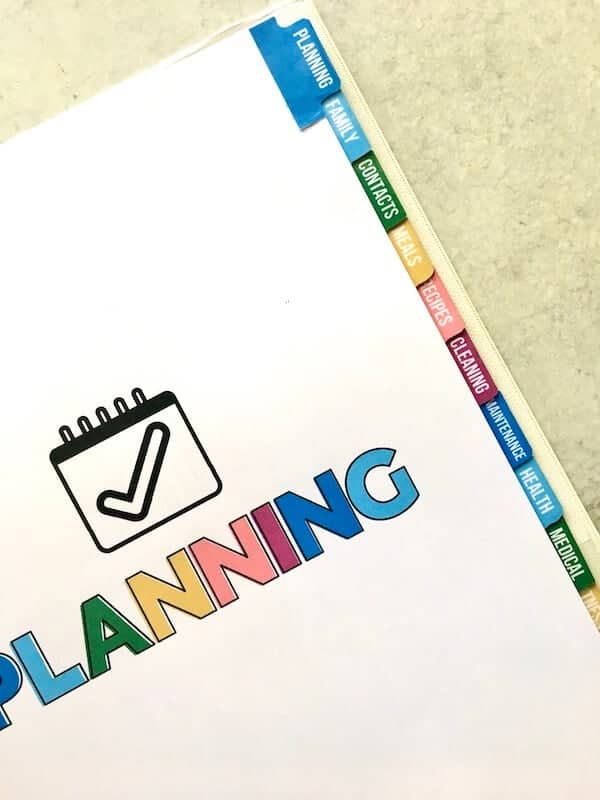 And if you're super OCD, you can even make your own DIY Binder Dividers in cute colors to match the rest of your printables!
Printer and Paper
To set up your own home management binder, you'll need a good printer and paper. I purchased this Epson printer about a year ago, and it was HANDS DOWN the BEST purchase that I've made for my home office ever! The ink never dries out, even if you don't use it for a month, and after printing 1000's of pages, my ink levels are still over half way full!
Of course if you don't have a good home printer, you can always send your home management printables to an office supply store for printing also.
And I would definitely recommend that you print your home management binder pages on a heavier weight paper. Standard printer paper is 20 lb. weight, but the ink tends to show through from page to page. I like to use 28 lb. or 32 lb. paper for printing my colored printables, because the result is much neater.
You may even want to use card stock to print out your divider pages and binder tabs. That's what I used to set up my home management binder. Go HERE to see how to make your own divider tabs (there's even a video!).
Good Planner Pens
Once you have your home binder set up, you'll want to have some good pens to use. And you may even want to color code different sections in your binder based on urgency or family member.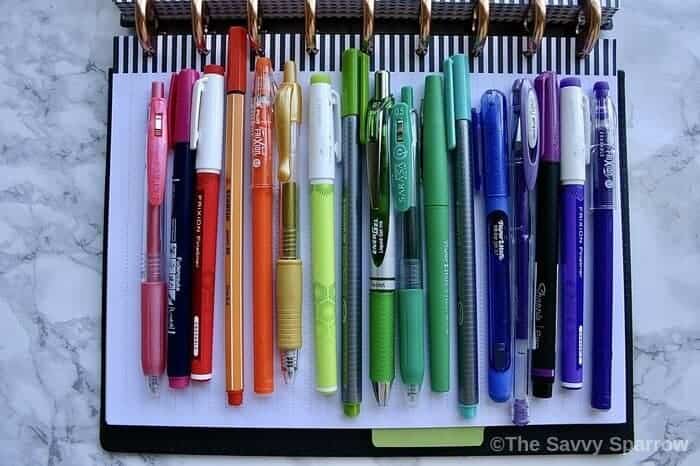 I recently tested out 12 different pens for my planners to find out which are the absolute best. You can read that post here: The Best Pens for Planners – And I Tried Them All!
Home Management Binder printables
You can grab some of my printables for FREE in my freebies library! I'll send you the password as a free gift when you sign up for my free email newsletter.
Or, be sure to check out my home management binder printables at the end of this post!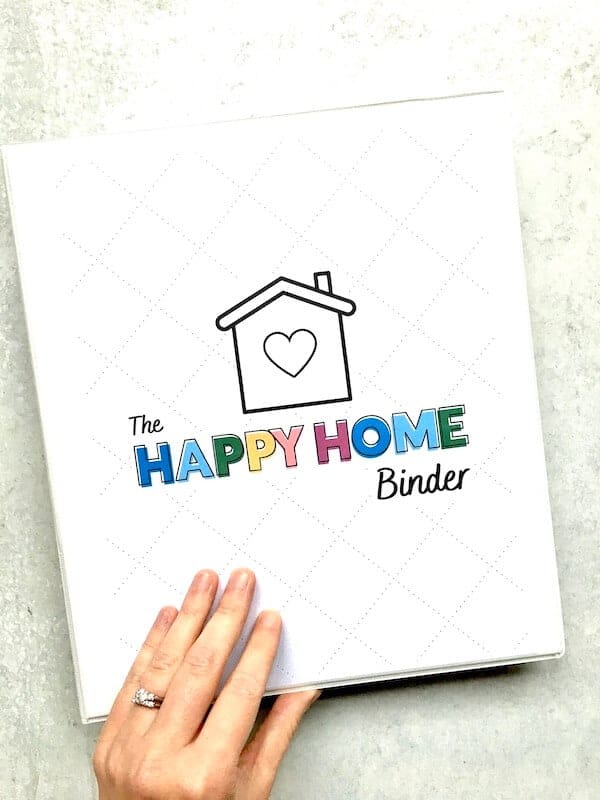 3 Ring Hole Punch
You will need a good 3 ring hole punch to organize your home management binder. Plus, then you can easily add new papers to your binder by just hole punching them.
What to Include in Your Home Binder
A home management binder can include anything and everything that you think will help YOU to stay on top of your household tasks. That's the beauty of a home binder! It's completely up to you what to include.
You can even take your binder one step further and include trackers, logs, and schedules to help you meet your personal goals like losing 15 pounds, maintaining an exercise schedule, or drinking enough water each day.
Here's what is included in my Home Management Binder:
Planning and Schedule Information
Monthly calendars
Monthly goal sheet
Weekly planners and schedules – There are 4 different layouts to choose from, so you can print what you need!
Daily planner sheet – Print one for each day to get SUPER organized!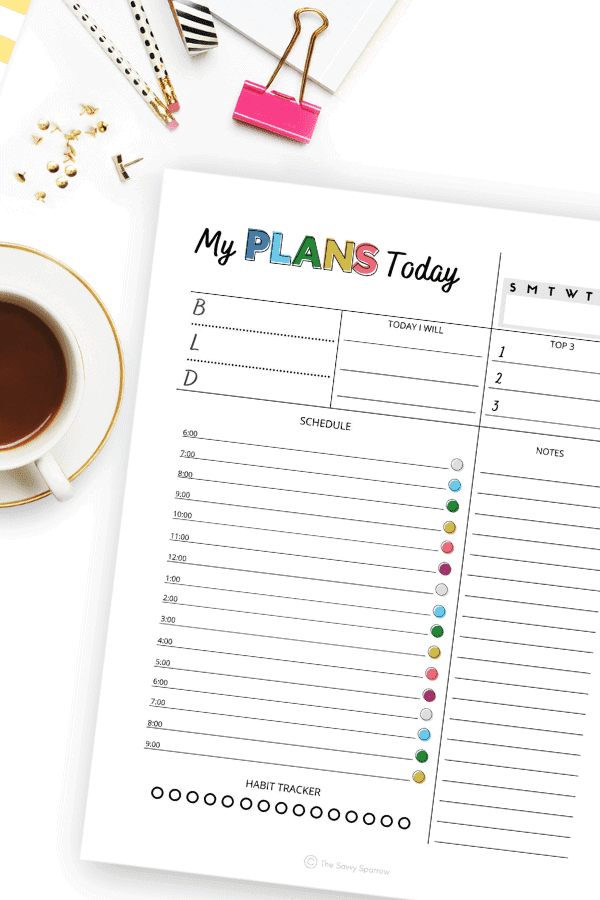 Master to do list – A master to do list is a great way to prioritize what you need to get done based on time frame.
Brain Dump – A brain dump is a GREAT way to relieve stress and get everything that you're trying to keep up with everyday out of your mind and on to paper. Go HERE for a FREE brain dump worksheet printable!
Family Information
Personal Information sheet – Print out one sheet for each member of your family to keep track of license numbers, social security numbers, and a summary of medical info like medications and allergies.
Pet Information sheet – Keep track of pet information here, like microchip number, vaccines, and vet contact info.
Kids' Schedules – If your kids are school-aged, then they're probably super busy with extracurricular activities. Use a one page schedule sheet for each child to keep track of everyone's schedules in one place.
School Schedules – Want to go have lunch with your child at school? Now you know what time to be there!
School Contact Information – Keep track of contact info for all of your child's teachers and the main office.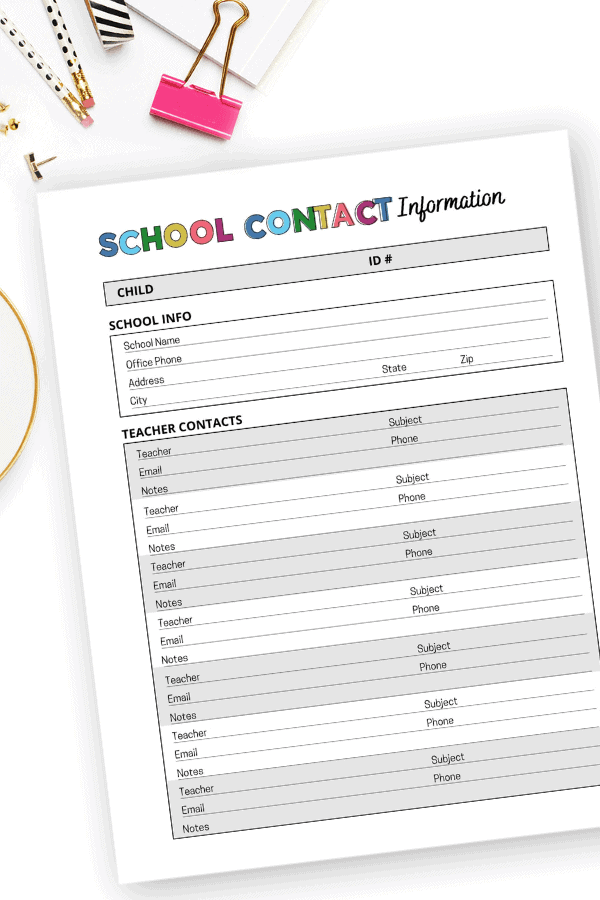 School and Activity Dates – For special events that are scheduled throughout the year.
Kids' Chore Chart
Kids' Reading Log
Babysitter Info sheet
Petsitter Info sheet
Perpetual Birthday Calendar
Gift Ideas tracker – If you randomly think of a great gift idea for a family member, write it down here so you don't forget!
List of Professional and Personal Contacts
I have to admit… I'm old school. Yes, I could keep all of my contacts info in my iPhone, but I prefer an actual pen and paper address book. I just find that it's much easier to have a paper record of personal and professional contacts for when Christmas card season rolls around, or for when I need to send a thank you note.
So, of course, my home management binder includes an entire section for contacts, organized by letter.
Here is the information included for each contact:
Name
Phone
Email
Address
Etc – you can record birthday, anniversary, or other info here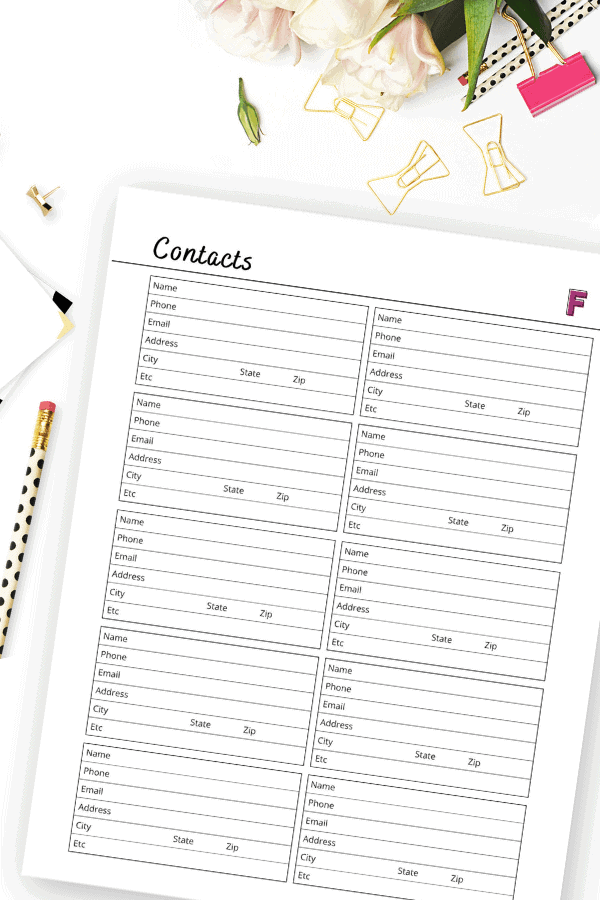 Plus, it's a good idea to have a separate sheet of emergency contacts in this section so that you can find it easily, if needed.
Cleaning Schedules and Checklists
One of the main jobs to managing a household is keeping your home clean… and that can be a challenge, especially if you have young kids and a husband that can't seem to find the hamper… ever!
So having a list of cleaning jobs and a cleaning schedule that you can fill in to meet your needs is super handy!
My home management binder includes a wide variety of cleaning schedules and checklists, so you can print the ones that you want:
Cleaning by Room – This printable sheet is filled with suggested cleaning jobs for each room of your home.
Decluttering Checklist – Use this handy checklist to go through each room of your home and declutter!
Blank Weekly Cleaning Schedule – Keep track of cleanings jobs that need to be done each day of the week.
Blank Monthly Cleaning Calendar – See all of your cleaning jobs on a monthly calendar… this is especially great for special cleaning jobs that only need to be done once or twice per month.
Blank Daily Cleaning Jobs sheet – Fill in jobs that need to be done each day of the week, and check them off as you go.
One page monthly cleaning action plans – These monthly cleaning checklists are separated into 5 weeks (7 days each week), and cleaning jobs that have to be done once each month.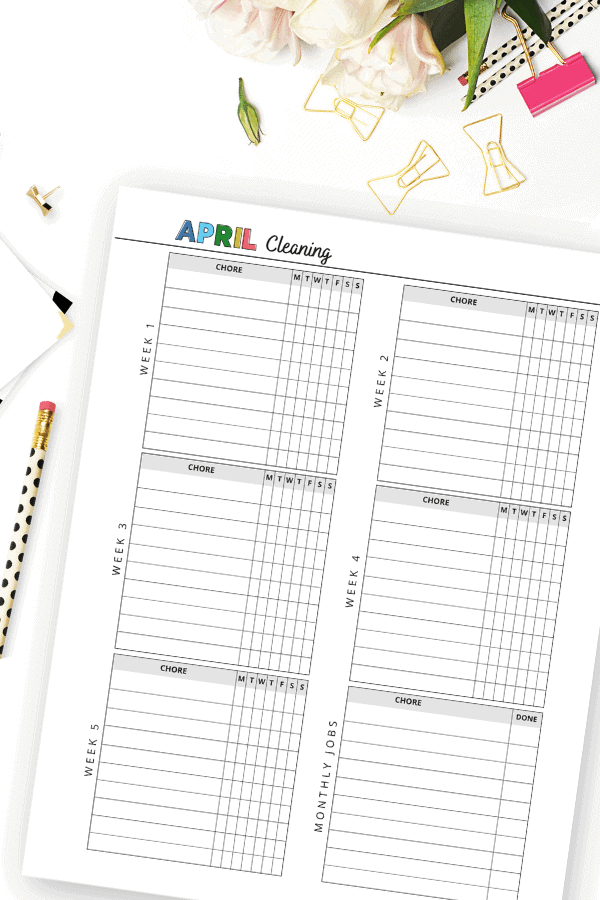 Monthly Cleaning Jobs checklist – These checklists are separated by room, and they're great for keeping track of jobs that need to be done once per month, like dusting ceiling fan blades or cleaning out the refrigerator.
Monthly and Seasonal Household Jobs checklist – These sheets are specifically designed for jobs that aren't considered "cleaning".
Deep Cleaning Jobs – This sheet gives you a detailed list of suggested deep cleaning jobs for each room of your home.
Blank Deep Cleaning Checklist – Use this blank sheet to fill in the deep cleaning jobs that you need to do.
Meal Plans and Recipes
Cooking is another one of the main household jobs that you do, so it's helpful to include an entire section of meal planners and recipes in your home management binder.
Here's what's included in the meal plans and recipes sections of my home binder:
Kitchen Conversions – A handy printable sheet that shows you some useful liquid and dry measurement conversions.
Kitchen Substitutions – This printable gives you a list of baking and cooking substitutions if you don't have a particular ingredient on hand.
Kitchen Staples – A list of common canned goods, spices, baking items, and condiments to have on hand for most recipes.
Quick & Easy Dinners – If you struggle with what to cook for dinner each night, then you will love this list of easy dinner ideas separated by cuisine.
Snack Plate Dinners for Kids – Snack plate dinners for kids are my go-to for when I need to make healthy kids' meals fast! I included a handy checklist of ideas for you to mix and match healthy, well-balanced meals or kids even if you don't have time to cook!
Weekly Meal Planners – There are 3 different layouts to choose from, so you can print which ever one works best for you!
Monthly Meal Planners – My home management binder printables include 2 different layouts for you to choose from.
Family Favorites – Keep a list of what your family loves for when you need ideas for what to cook for dinner.
Food Diary – Track what you eat for breakfast, lunch, dinner, and snacks for the week. A food diary is especially helpful if you're trying to lose weight… I had no idea how many fun size candy bars I was absent-mindedly snacking on each day until I started writing it down!
Grocery Lists – How many times do you go to the grocery store and realize that you forgot something while you're pulling in to the garage? Printable grocery lists can help with that! My printable home binder includes 3 different shopping list layouts.
Kitchen Inventory sheets – Keep track of what's in your fridge, pantry, and freezer so you don't buy duplicates and food doesn't go to waste. You can grab my FREE printable Freezer Inventory sheet here!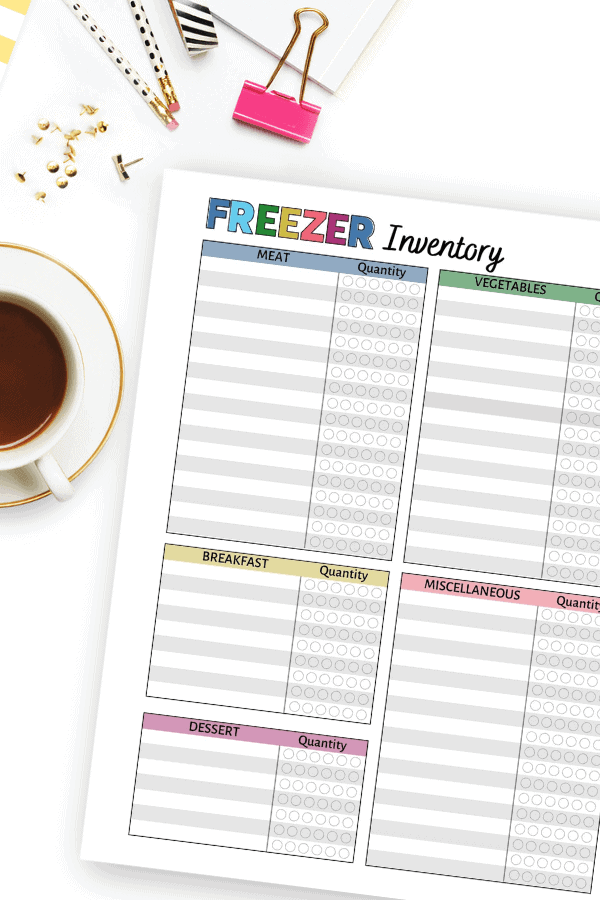 Divider pages for different recipe categories – Including fish, chicken, pork, beef, pasta, soups, sides, bread, salad, dessert, breakfast, drinks
Recipe cards – My printable home binder includes 3 different recipe layout options to choose from!
Home Maintenance Jobs and Schedules
Managing a home is about more than just cooking, cleaning, and chauffeuring your kids here and there, it's also about maintenance.
A home maintenance binder is important because it helps you to remember to perform upkeep on your home so you don't end up with costly repairs, AND it's also a GREAT tool for when you go to sell your house! I wrote an entire post on home maintenance binders here!
The Home Maintenance section in my home binder includes:
Common Maintenance Jobs (one page already filled in and one page blank) – Use this list of common maintenance jobs to get started!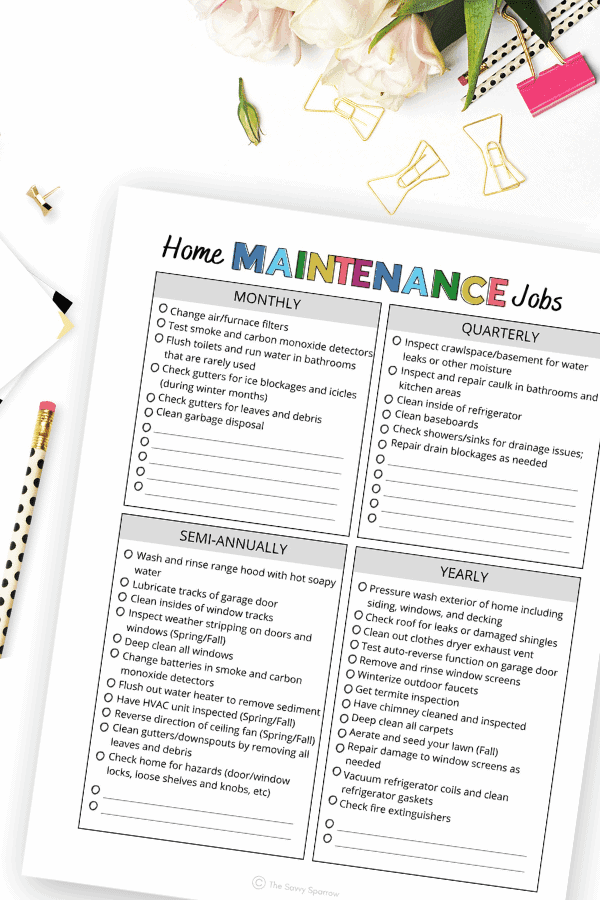 Maintenance Calendar – Fill in with specific jobs to do each month and check off as you complete them.
Maintenance Log – Use this page to log maintenance jobs after you complete them. Includes space for job description, date completed, who did it, and next due date.
Maintenance Contacts – Keep track of companies that you use to perform different maintenance jobs for you so you can easily access it in the event of an emergency.
Maintenance Receipts – This shows potential home buyers that you properly maintained your home by hiring out important jobs (like termite inspections and HVAC maintenance).
Warranty Log – Keep track of important warranty details for home appliances, services, etc. in case you need to make a claim.
Project Planner – Use this project planner to plan home projects that you want to complete.
Home & Valuables Inventory – Keep track of valuables in case of an emergency.
Lawn & Garden Treatments – If your husband is a lawn fanatic like mine, then he'll appreciate this printable sheet! Keep track of lawn and garden treatments including products used, date, and notes.
Garden Planner – Use this grid page to plan the placements of plants in your garden beds.
Paint Color Log – We once painted a patch on our wall in the correct COLOR, but the wrong FINISH, so we had to repaint the entire wall! Keep track of paint colors that you use in each room so that doesn't happen to you.
Health, Medical, and Fitness Information
If you don't take care of yourself first, it's hard to take care of an entire household. So that's why my home management binder includes a section for your own personal health.
Use this section to track health goals and habits, doctor appointments, medications taken, and even fitness goals.
Here's what's included in this section of my Home Management Binder:
Goals sheet – Keep track of health and wellness goals and action steps.
Daily Wellness sheet – If you want to focus on self care, this is the printable for you!
Daily Routine sheet – Track sleep times, energy level, calories/carbs for each meal, etc.
Weekly Reflection sheet – Taking time at the end of the week to reflect is a great way to meet your goals!
Sleep Tracker sheet
Meal Planner sheet
Food Log
Medical Summary info sheet – Print one page for each family member so you have important medical info handy.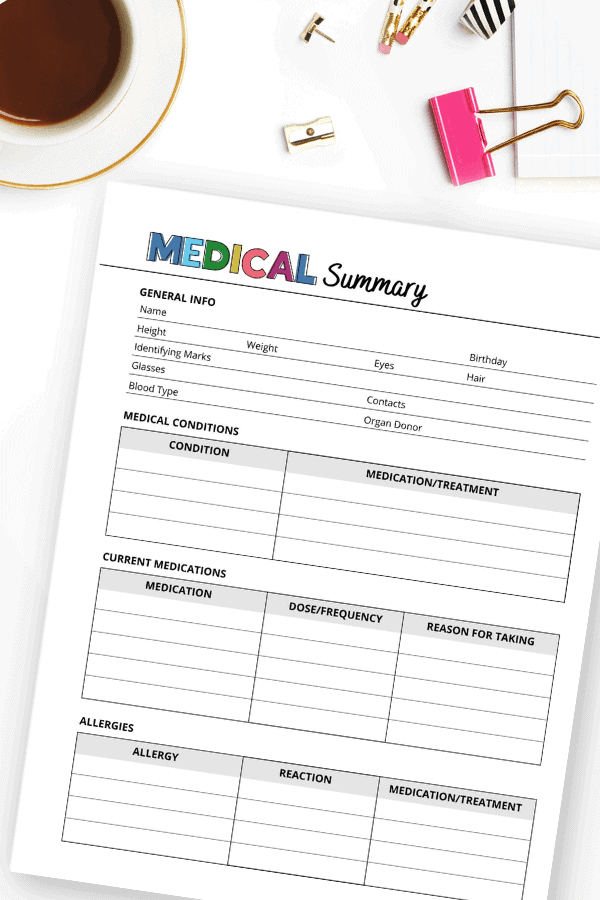 Emergency Medical Info
Medical Contacts sheet – Keep contact info for doctor, dentist, specialist, etc.
Health Insurance Details sheets
Family Medical History – This handy chart is pre-filled with various conditions so you can record important medical history info. Then, you can reference this page when filling out paperwork for new doctors visits.
Medication List – Keep a list of all medications, what they are for, and dosage/frequency. This is especially useful if one of your family members has a serious medical condition that you need to manage.
Medication Tracker – Raise your hand if you accidentally skip a day on your antibiotics! I know I'm not the only one! This tracker can help with that.
Appointment Log
Medical Expenses Tracker – This sheet is handy at tax time if you deduct your medical expenses.
Blood Pressure Tracker
Before and after with photos and measurements – If you want to work on meeting your fitness goals.
Dream Body diagram
Weight Trackers – There are 2 different options to track weight or weight loss.
Workout Plan
Workout Schedule – in calendar form
Habit trackers – The health section of my home management binder includes 3 different habit trackers for you to track habits like exercising, walking, drinking enough water, etc.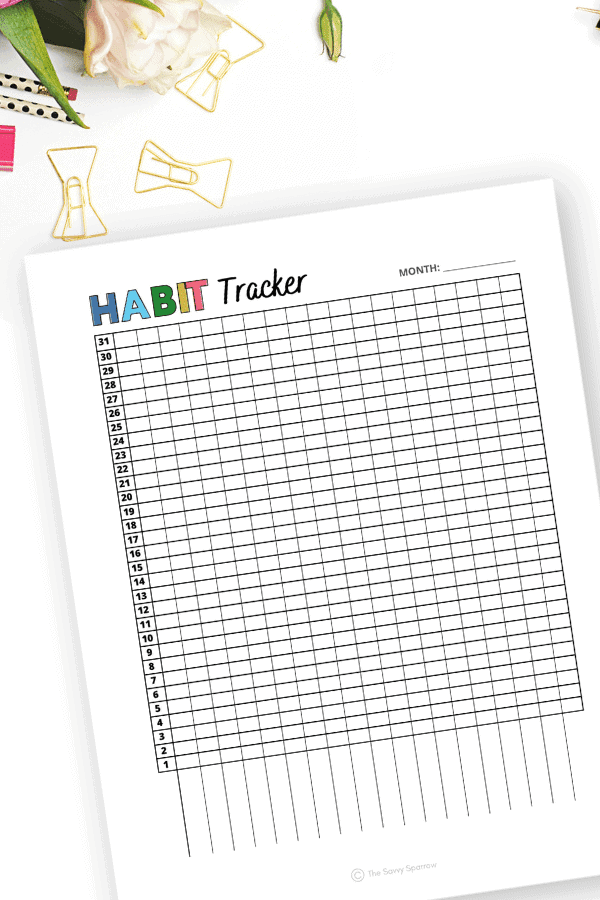 Financial Information
An important step of successfully managing a household is managing the finances. And as the sole financial manager for my family, I feel like I ROCK at this!
My husband doesn't even know the name of our mortgage lender… no joke! That's why I created this Emergency Binder… because if something ever happened to me, he would be SCREWED!
Here are the printable sheets that are included in the financial section of my home binder:
Monthly Finance Summary – Use these sheets to get a quick snapshot of your financial health for each month. I also use this budget spreadsheet that I LOVE… I can tell you in 30 seconds how much money we spent last month, down to the penny!
Monthly Budget – If you need help creating a budget, these 2 different blank budget templates can help you!
Financial Calendar – Use this undated monthly calendar to record savings deposits, daily spending totals, etc.
Weekly Spending Trackers – If you're not tracking your expenses and spending, then you could be spending more money than you make without even realizing it! Go here to read about tracking income and expenses like a BOSS!
Monthly Bill Payments Trackers – It can be difficult to keep up with all of your monthly bills. Use these printable sheets to help you avoid costly late fees.
Income Log – Keep track of all income earned for each month.
Monthly Expense Logs – The expense logs in my home management binder are separated by category with logs for:

Vehicle
Health
Personal
Kids
Clothing
Home
Misc
Giving
Debt Payments
Credit Card, Bank Account, and Investment Trackers – Keep important details for all of your financial accounts handy.
Donations Tracker – This sheet is useful to have at tax time.
Savings Tracker and 52 Weeks Savings Tracker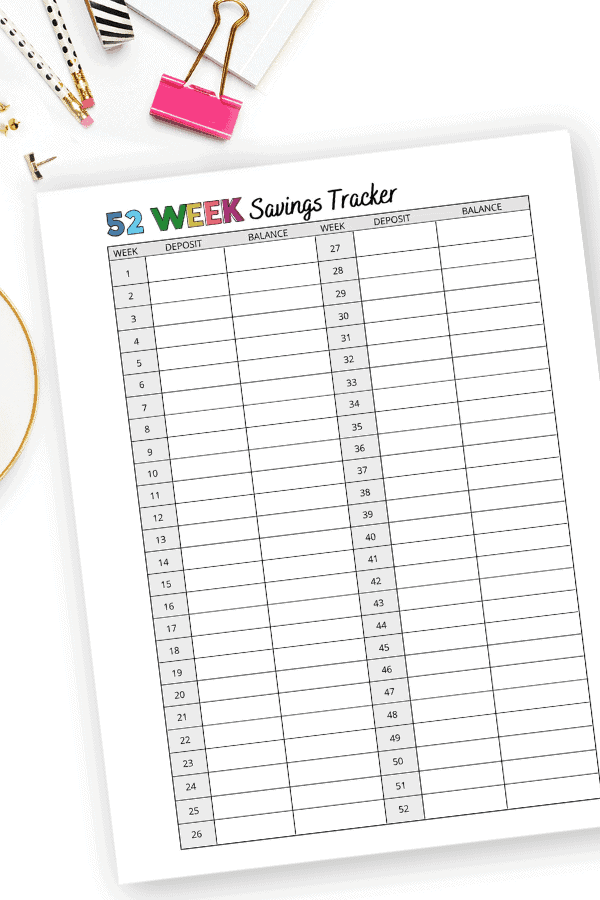 Financial Websites Log In Info – Find your usernames and passwords when you need them!
Get my Home Management Binder Printables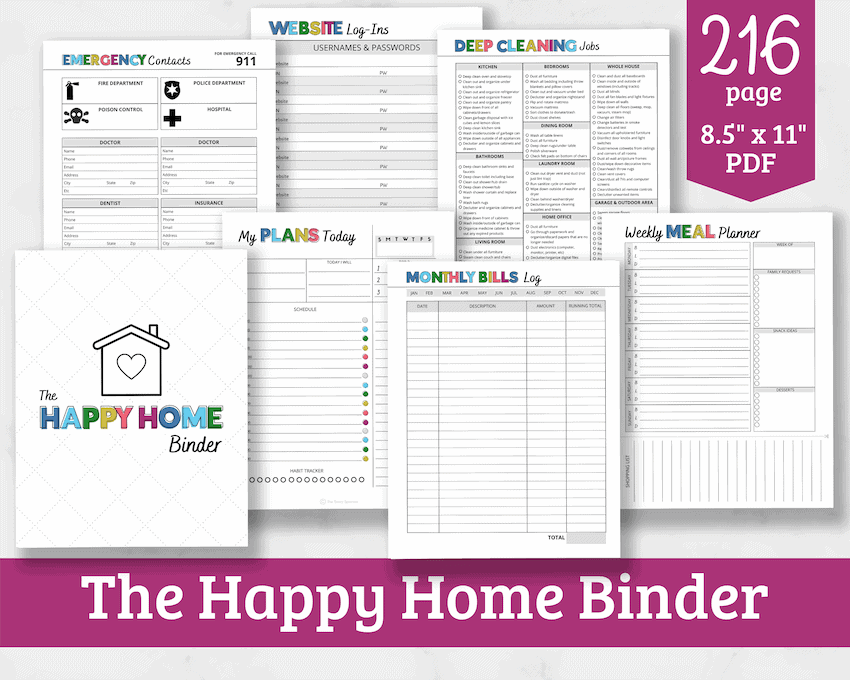 You can get my home management binder, which I call The Happy Home Binder, HERE!
That's 216 pages of printables to help you manage your entire home and life!
And, all of the printable templates are undated, so you can use them year after year! And if you need more of a certain page, you can print more! Don't like a certain page, leave it out!
I just tried to include any and every worksheet/template/tracker/log that you could ever need!
I hope you've been inspired to create your own home management planner to get yourself organized!
Leave me a comment down below with any comments or questions. I would LOVE to hear from you!
And happy nesting!