Just call me "Queen of the Snack Plate"… What is a snack plate for kids? And why is it my go-to healthy dinner for kids? Learn about my genius dinner hack for kids, perfect for when you feel like a short-order cook. Plus, get a FREE Printable of snack plate ideas for kids to hang on your fridge for when you're too tired to even think about dinner.
As you may already know, my husband is the one and only cook in our house. Yes, I know I'm super lucky. He was an Executive Chef at a high-end steakhouse for years, and before that he managed a kitchen that was responsible for serving 3,000 US Navy sailors three meals a day.
I, on the other hand, could probably cause a pot of boiling water to catch on fire. Pretty much the only things that I "cook" either: 1) come out of a box 2) can be cooked completely in a microwave or 3) are salad.
So I pretty much leave the culinary duties to him. He's the professional, after all. 🙂
But, when he wants to whip up something that our picky eater kids won't eat, then the responsibility for the kids' dinners falls on me. He prepares us amazing, restaurant-quality meals at home…
And I use this easy dinner hack for kids…
Snack Plate Dinners!
Our snack plate ideas actually started because my husband started feeling like a short-order cook. He actually used to joke that I needed to check the mailbox for his W-2 from Waffle House.
Our two daughters have different palettes, and they usually won't eat what we're eating, so that would leave my husband to prepare two or three different dinners each night.
He got tired of that pretty quickly, so I started to prepare dinners for the kids while he cooked dinner for us. And these snack plate ideas quickly became my best friend:
Snack Plate Ideas for Kids that Require Little to No Prep
To make your own snack plate dinners for kids, pick 1-2 items from each category below and you'll have a well-balanced, healthy and easy meal for your little ones!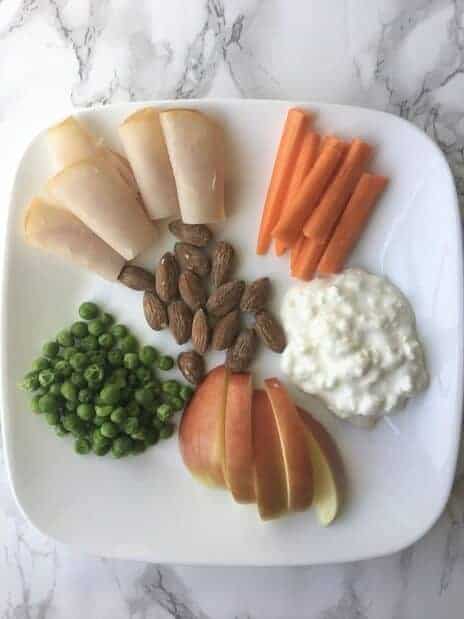 Proteins/Entrees for Snack Plates
Lunch meat rolls
Edamame
Hard-boiled eggs – I like buying the ones that already done for you at Costco. They come in a pack of 12 two-pack servings for about $9, and they are a lunchbox staple in our house!
Almonds
Cubed, cooked chicken breast
Rotisserie chicken
Meatballs – I buy the pre-cooked, frozen ones and heat them in the microwave
Turkey pepperonis
Turkey hot dog heated in the microwave
Scoop of peanut butter
Hummus
Pre-cooked bacon or sausage heated in the microwave
Meats from dinner leftovers
Lunchmeat "pinwheels" – Ham or turkey slices and cream cheese rolled up on a whole grain tortilla
Peanut butter and granola "quesadillas" – Spread peanut butter on a small whole grain tortilla, add sliced banana, honey, and granola and fold over like a quesadilla
English muffin pizzas – Spread marinara sauce on half of a whole grain english muffin, top with mozzarella and pepperoni, and heat in a toaster oven
Easy cheesy nachos – Whole grain tortilla chips sprinkled with cheese and then heated in the microwave
Easy microwave pasta – I like to buy the microwavable bags of pasta, heat them in the microwave and stir in marinara sauce or cheese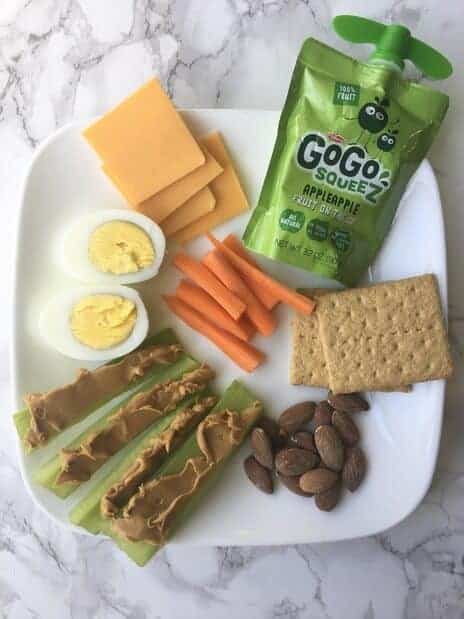 Vegetables for Snack Plates
Carrot sticks
Celery sticks
Pickle
Green pepper strips
Cucumber slices
Cherry tomatoes – Quartered for younger kids
Avocado
Raw or steamed broccoli/corn/peas – I use the steamable microwave bags of frozen veggies.
Raw Sugar snap peas
Side salad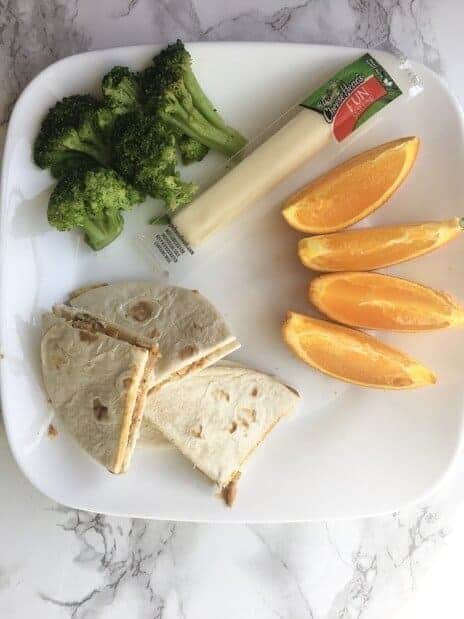 Fruits for Snack Plates
Strawberries
Banana slices
Fresh cherries, pitted
Grapes – Quartered for younger kids
Apple slices
Pear slices
Orange slices or tangerine segments – Cuties or Halos
Raspberries, Blackberries or Blueberries – These are a favorite of mine because they require no prep besides a quick rinse
Grapefruit segments – I like to buy the giant jar of grapefruit already cut up in 100% juice so that there is no prep work
Raisins or dried cranberries
Applesauce
Pineapple chunks
Watermelon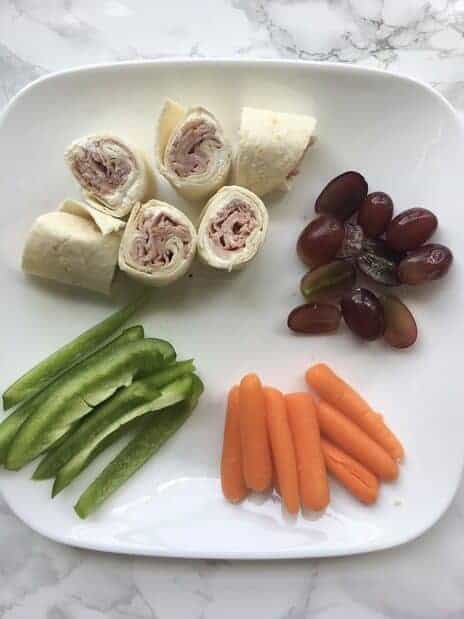 Dairy for Snack Plates
Cheese cubes
String cheese
Scoop of cottage cheese
Yogurt
Glass of milk
Grains for Snack Plates
Whole grain crackers
Graham cracker
Pretzels
Piece of whole grain toast with peanut butter, jelly, or Nutella
Granola
Half of an english muffin
Whole grain dinner roll
Whole grain tortilla chips
Free Printable List of Snack Plate Dinner Ideas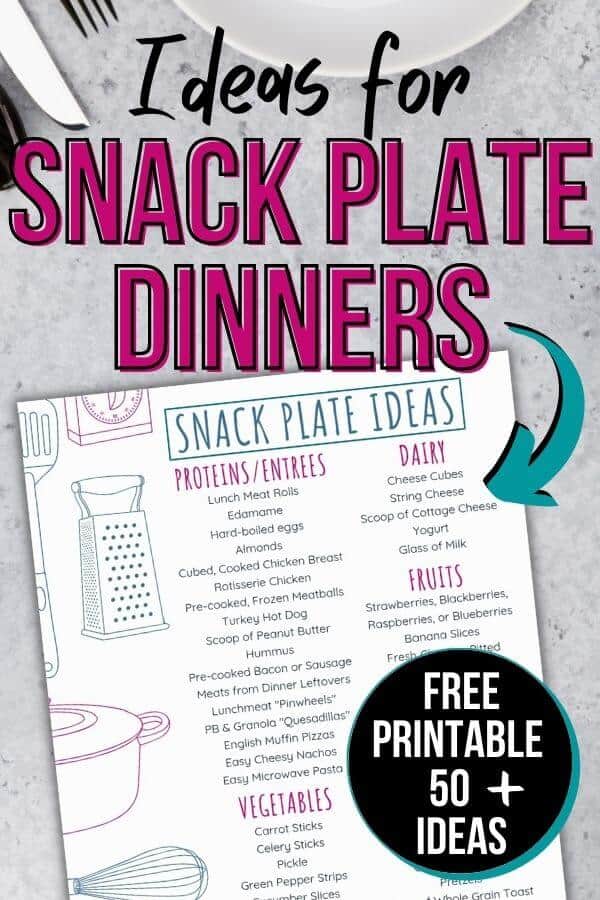 Want the FREE Printable list of easy Snack Plate Ideas for Kids? Use the form below to subscribe to my email newsletter and you'll get access to my entire library of free printables as a gift!
Then just hang the list of snack plate ideas on your fridge for those busy nights that you don't really have time to cook your kids a healthy dinner!
There you have it! My best tip for preparing quick and healthy dinners for kids!
Snack plate dinners are my best friend! My kids LOVE these snack plate ideas, and I'm sure your little ones will love them, too.
No more stressing about what to make your kids and your husband for dinner. And no more having to feel like a short-order cook. Just keep some of these easy-to-prep items on hand, and you can whip up a healthy snack plate dinner in no time!
And if you struggle with figuring out what to cook for dinner, check out The Only List of Meals for Dinner You Will Ever Need and grab the super cute FREE printables below: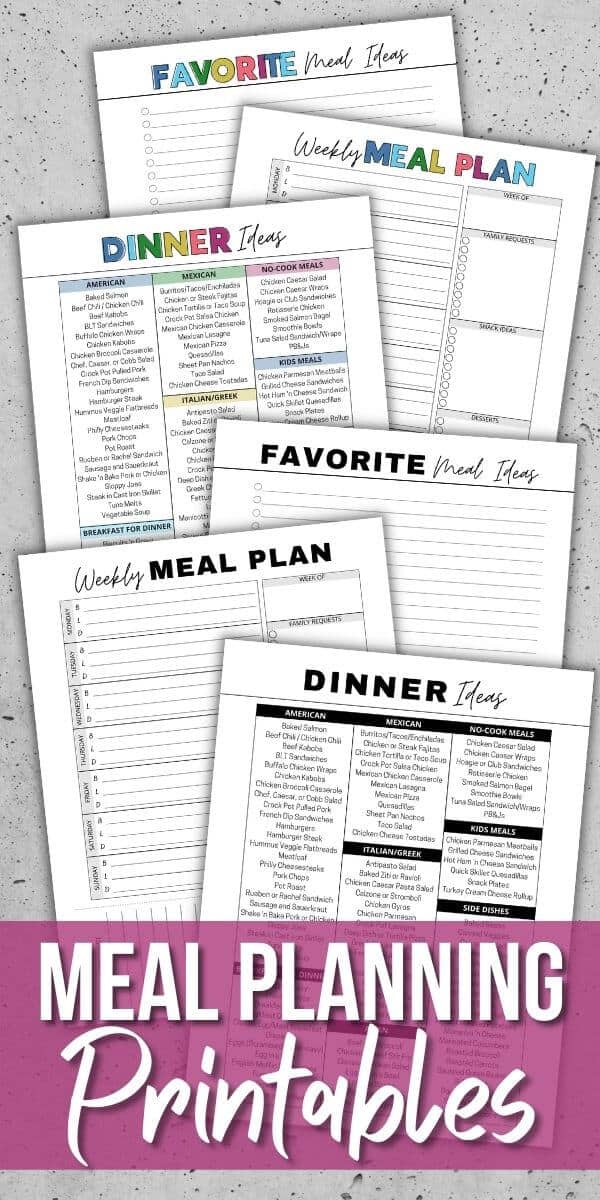 And be sure to PIN this post for later: