One of the hardest things about cooking each and every night is coming up with ideas for what to make for dinner. This free printable list of meals for dinner will help you plan ahead!
I've got a confession to make… I don't cook dinner.
My husband is the cook in our house, and he is responsible for our dinner meals. But it's my job to plan what he will be cooking and to make sure that we have all of the necessary groceries, which is sometimes just as difficult as actually cooking the meal itself.
But over the years, we've nailed down a good list of family favorite meals. Meals that are go-to's for busy weeknights. Dinners that use ingredients that we probably already have on hand.
And today I'm sharing our favorite dinner ideas with you!
The Big List of Dinner Ideas
This list of meals for dinner is organized by cuisine, because I find it easiest to narrow down what type of food you want (Mexican, Italian, etc) and then decide what to cook in that category.
However, you can also organize your list of meals for dinner by protein or main ingredient. That way, you can figure out what to make for dinner based on what meat you have in your freezer. For instance, organize meal ideas by category like:
Ground beef
Steak
Fish
Chicken – You can even break it down into categories based on the type of chicken, like boneless skinless chicken breasts or chicken drumsticks.
Pasta
No matter how you decide to organize your list of dinner ideas, just having a list of go-to meals will help you out. And if you need actual recipes for some of the meals listed, then all you need to do is either type the dish name into Google or search a recipe site like allrecipes.com.
So without further ado, here is the HUGE list of meals for dinner: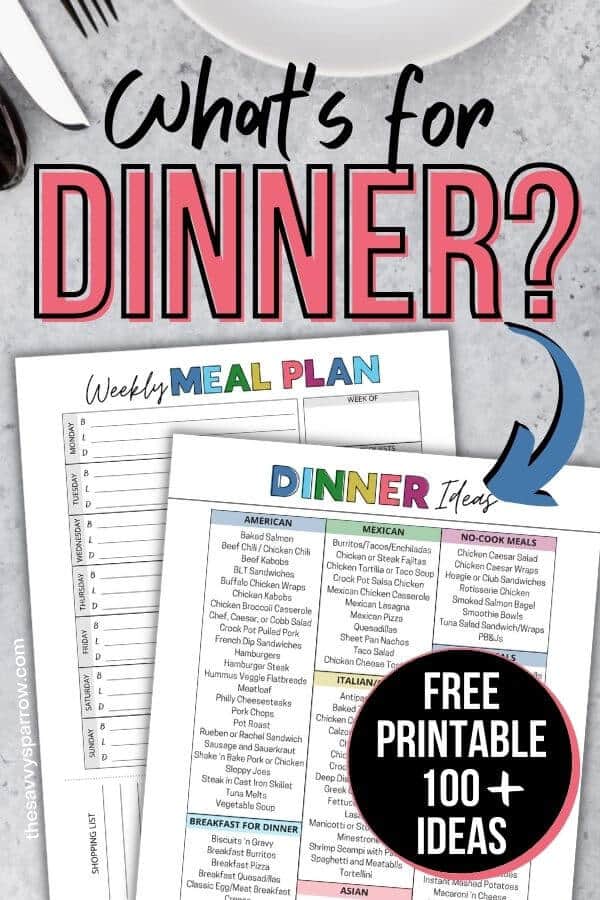 American Dinner Ideas
Hamburgers – We make them either on the grill or in a cast iron skillet.
Hamburger Steak – My husband and I are watching our carbs, so we often make our daughters cheeseburgers in a cast iron skillet and then cook ourselves hamburger steaks. Just combine your hamburger meat with Worcestershire sauce, garlic powder, and salt and pepper, and form into a patty. Cook in the skillet with sliced onions and mushrooms, and top with blue cheese crumbles.
Meatloaf
Sloppy Joes
Baked Chicken
Chicken or Beef Kabobs
Pot Roast
Steak in a cast iron skillet – For those days that you don't want to start the grill!
Pork Chops
Chili – Our daughters love to eat their chili with corn chips, shredded cheese, and sour cream.
Chili Cheese Baked Potatoes – Take leftover chili and put it on top of a baked potato with shredded cheese, sour cream, and chives! One of my favorite ways to use leftover chili!
Hummus Veggie Flatbread – This super easy dinner idea is also SUPER healthy! This is one of our go-to meal ideas when we feel like we need to eat more vegetables!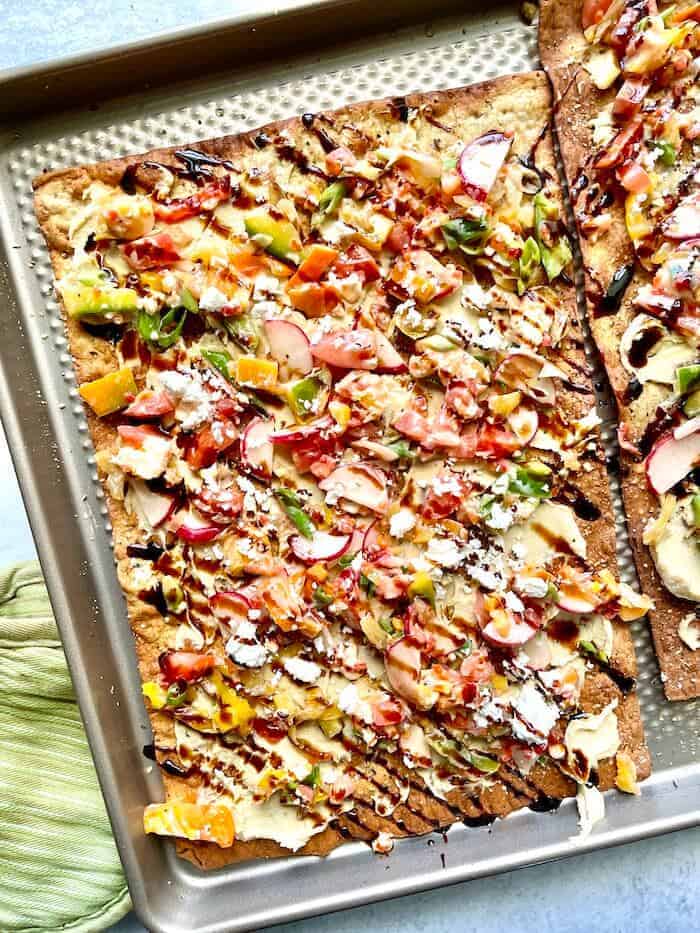 Vegetable soup – We make the easiest and tastiest vegetable soup from leftover pot roast.
Cobb or Chef Salad – These salads are a great way to use up extra produce in your fridge before it goes bad.
BLT sandwiches – Cook extra bacon and store it in the fridge for a chef salad the following night.
Philly cheesesteaks
Chicken Cordon Bleu Wraps – Wrap grilled chicken breast strips or shredded rotisserie chicken, sliced honey ham, swiss cheese, bacon, and ranch dressing in a flour tortilla and put in the oven to bake until golden brown.
Crock Pot pulled pork
Baked salmon
Rueben or Rachel sandwiches
Sausage and sauerkraut – Use the leftover sauerkraut from your Reuben sandwiches. We also add regular sautéed cabbage and thinly sliced apples to the skillet.
French Dip sandwiches
Buffalo Chicken wraps – These are a favorite in our house, and they're great for using up leftover cooked chicken.
Tuna melts
Chicken Broccoli Casserole with Cauliflower Rice – This is one of our FAVORITE easy low carb dinners!
Mexican Dinner Ideas
*Note – If you're on a low carb diet, then you can easily swap out the flour tortillas in the meals below for low-carb tortillas or lettuce wraps.
Tacos – We cook an extra pound of ground beef when we're making tacos, and then use the leftovers to make quesadillas or nachos later in the week.
Fajitas – Fajitas are a favorite at our house when we're trying to eat healthy. We load them with sautéed vegetables like green peppers, onions, and broccoli and skip the tortillas.
Enchiladas/Burritos
Chicken Quesadillas
Taco Soup
Chicken Tortilla Soup
Mexican Rice Bowls – Just like you would get at Chipotle – Layer your favorite ingredients in a bowl with rice and black beans.
Huevos Rancheros
Taco Salad – Great with leftover taco beef or fajita chicken.
Crock Pot Salsa Chicken
Mexican Lasagna
Sheet Pan Nachos
Chicken and Cream Cheese Tostadas
Mexican pizza – Brush the bottom of a large tortilla with olive oil and crisp it up in a skillet. Then top it with refried beans, leftover shredded chicken or ground beef, a bit of taco sauce or salsa, and shredded cheese, and bake in the oven at 400 degrees until the cheese is melted. Super easy and yummy!
Mexican Chicken Casserole with Cauliflower Rice – Another one of our favorite low carb meals for dinner!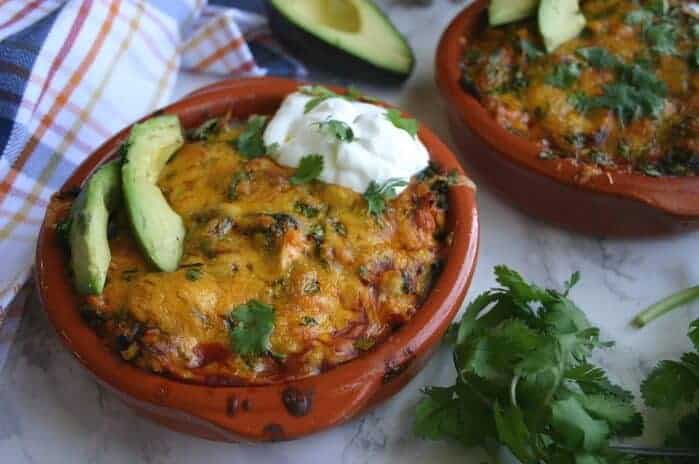 Italian and Mediterranean Meal Ideas
Spaghetti
Ravioli
Fettuccini Alfredo
Crockpot Lasagna
Stuffed Shells
Antipasto Salad
Greek Chicken Salad
Calzones or Stromboli
Tortellini
Chicken Caesar Tortellini Salad – Combine store-bought cheese tortellini, grilled chicken breast strips, Caesar dressing, shaved parmesan cheese, and chopped romaine lettuce and serve it cold. This is also our go-to brunch or bridal shower dish!
Chicken Gyros
Shrimp Scampi with Pasta
Baked Ziti
Meatball subs – You can use store-bought frozen meatballs and jarred pasta sauce to make these super easy!
Deep dish pizza – Just stretch store bought pizza dough into the bottom of an oiled cast iron skillet, top with jarred marinara sauce, cheese, and toppings and bake at 400 degrees until done. Super easy and delicious!
Chicken Parmesan
Minestrone Soup
Low carb tortilla pizza – Another favorite in our house, and SUPER easy to make! Go here to see how to make the best pizzas on low carb tortillas!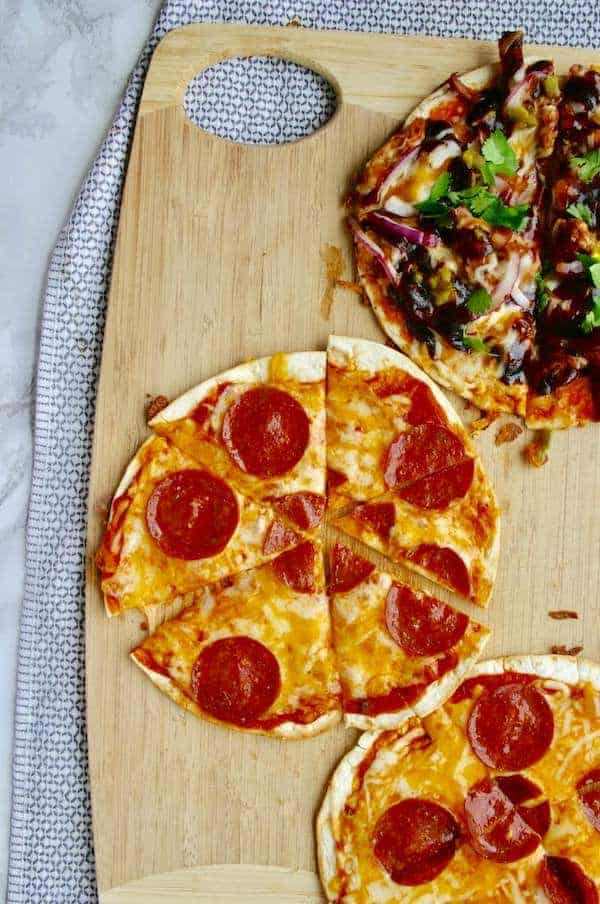 Chinese
Stir Fry
Egg Roll in a Bowl
Beef with Broccoli
Orange Chicken
Pork Fried Rice
Lettuce Wraps – These P.F. Chang's Copycat Lettuce wraps are made with ground turkey!
Chinese Chicken Salad
Teriyaki Chicken
Thai Chicken Wraps
Breakfast for Dinner Ideas
Pancakes – You can also make a double batch of these easy muffin mix pancakes, and store the leftovers in a gallon sized Ziploc bag in the freezer for easy weekday breakfasts for kids!
Omelettes
French Toast
Waffles
Crepes – You can make sweet or savory crepes.
Breakfast pizzas – These breakfast pizzas are made on a low carb tortilla, so they're great if you're watching your carbs!
Breakfast burritos – Just add scrambled eggs, sautéed veggies, breakfast meat, cheese, and salsa to a tortilla and roll it up! You can also make a bunch of extra breakfast burritos, wrap them individually in plastic wrap, and store them in the freezer for easy breakfasts.
Biscuits and gravy
Smoothie Bowls – Like these yummy Acai Smoothie Bowls with Almond Butter and Granola that you can actually meal-prep ahead of time!
Egg in a Hole – This is my girls' favorite!
Breakfast quesadillas – Make them just like you would regular quesadillas, except add scrambled eggs, breakfast meat, sautéed peppers and onions, and cheese.
Classic egg and meat breakfasts – Cook a big batch of scrambled eggs, bacon or sausage, hash browns, and toast!
English muffin breakfast sandwiches – Top toasted english muffins with an egg, a few slices of bacon, and a slice of cheese. Serve with some fresh fruit or sliced tomatoes or avocado on the side.
No-Cook Meals for Dinner
Sometimes life gets busy and you just don't have time to cook a full meal for dinner, let alone preheat the oven. Here are some awesome no-cook dinner ideas when you're running short on time and don't want to deal with a TON of dirty dishes:
Chicken Caesar Salad – You can use a rotisserie chicken or pre-made grilled chicken breast strips for an easy dinner!
Chicken Caesar Wraps – Just put the salad in a tortilla and wrap it up!
Tuna salad – Serve your favorite tuna salad on a sandwich, in a wrap, or on a salad.
Rotisserie chicken – A rotisserie chicken is SO versatile, and at about $6, it's an easy and inexpensive dinner idea. Serve it with one of the side dish ideas down below.
Smoked Salmon Bagel – Layer cream cheese, smoked salmon, chives, red onion, everything bagel seasoning, etc on a toasted bagel. Yum!
Easy Kids' Meals for Dinner
Coming up with ideas for what to feed your kids is another tricky task, especially if you've got younger kids who don't stray too far from macaroni and cheese and chicken nuggets. But you can add some variety to your kids' dinner plates also, without spending a ton of extra time in the kitchen.
These are my tried and true easy kids' dinners, great for picky eaters:
Hot ham and cheese sandwiches – Just put a couple of slices of ham and one slice of American or cheddar cheese on a wheat hamburger bun, wrap it in a paper towel, and microwave for about 45 seconds. SO EASY, and my kids love them!
Turkey and cream cheese roll ups – My kids make this easy meal by themselves! Just spread cream cheese on a tortilla, top with turkey slices, and roll it up.
Snack plates – These are one of my BEST parenting hacks!
Quick skillet quesadillas – In a skillet, heat a tortilla topped with shredded cheese and meat of your choice. Once the cheese starts to melt, fold the tortilla in half to form a quesadilla. You can make your kids' quesadillas with leftover taco meat, shredded rotisserie chicken, lunchmeat, or pepperoni.
Easy chicken parmesan meatballs – These are only 3 ingredients, and they make great party appetizers too!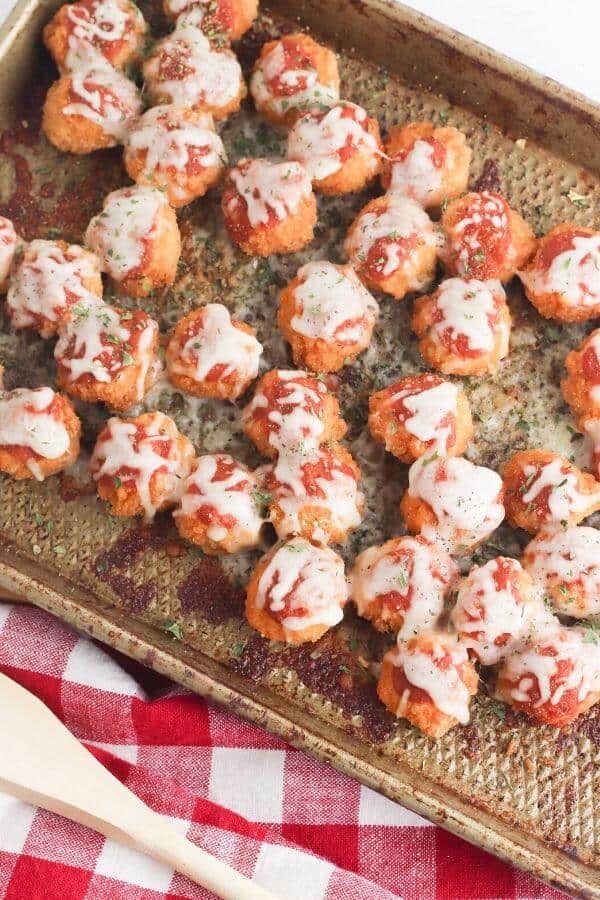 Visit this post for other Easy Kids' Meal ideas!
What to serve for side dishes?
Corn on the cob
Instant mashed potatoes
Frozen steamable vegetables – We LOVE the Birds Eye Steamers brand of frozen veggies… the Creamed Spinach is one of our freezer staples because it's healthy and it doesn't taste like a frozen bagged vegetable!
Roasted broccoli – We buy the fresh broccoli florets from Costco, because a HUGE bag is less than $5. Then, just spread them on a baking sheet lined with aluminum foil (no clean up!), drizzle with a little olive oil, sprinkle on salt and pepper and bake in the oven. So easy!
Roasted baby carrots – Use the same roasting method above. We also buy baby carrots from Costco because you can get the organic variety for way cheaper than the grocery store.
Fruit salad – Cut up whatever fruits you already have in your fridge, and mix together in a large bowl. You can also add a bit of orange juice or sugar to the mix.
Garlic roasted potatoes – These sheet pan roasted potatoes are SO easy to make, and they're super flavorful with homemade roasted garlic!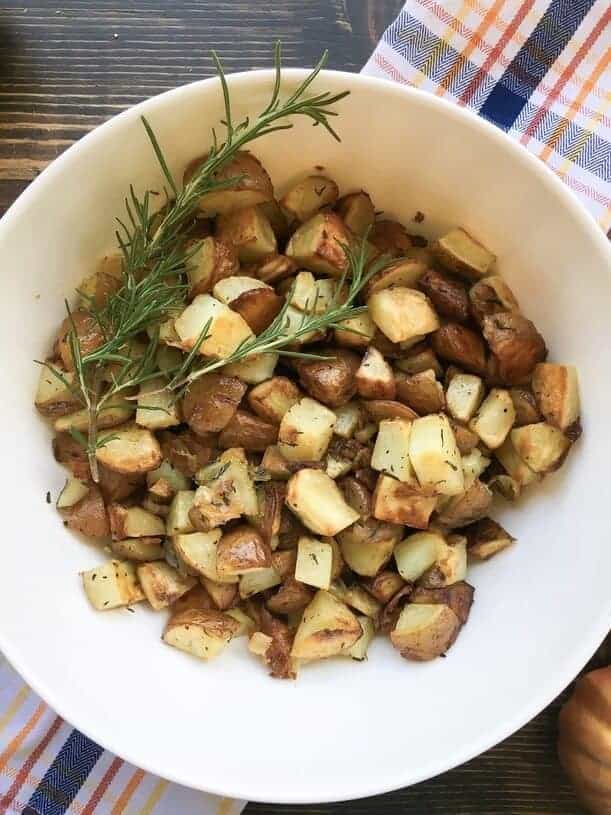 Quick side salad – You can even use the store bought packaged salad kits to make it easier.
Baked beans
Potato salad
Coleslaw
Low carb squash casserole – Another family favorite!
Macaroni 'n cheese
Pinto beans
Baked cinnamon apples
Creamed spinach
Brussel sprouts and bacon
Vegetable kabobs – If you're having grilled meat for dinner, then slice some veggies (squash, bell peppers, zucchini, mushrooms, and onions work well), and slide them on a skewer and grill them at the same time.
Corn and veggie salad – Combine fresh corn (cut off the cob) and your favorite chopped veggies like bell peppers, onion, avocado, cucumber, cherry tomatoes, etc with a little salt, pepper, and olive oil.
Quick marinated cucumbers – Slice cucumbers and sweet onions, and mix them in a bowl with red wine vinegar, olive oil, a bit of sugar, and salt and pepper. Fresh basil is also a good addition.
Canned greens – Our favorite is the Old Glory brand… we just heat them in a skillet and add a bit of apple cider vinegar.
How to Make Cooking Dinner Easier
Now that you've got a huge list of meals for dinner, the hard part is done for you. Here are a few other tips for how to make preparing dinner a little less stressful:
Hang a list of dinner ideas on your fridge.
When you get home from a long day of work or playing with your toddler, it's hard to think about what to cook for dinner, so having a list of dinner ideas readily available in your kitchen can make it easy.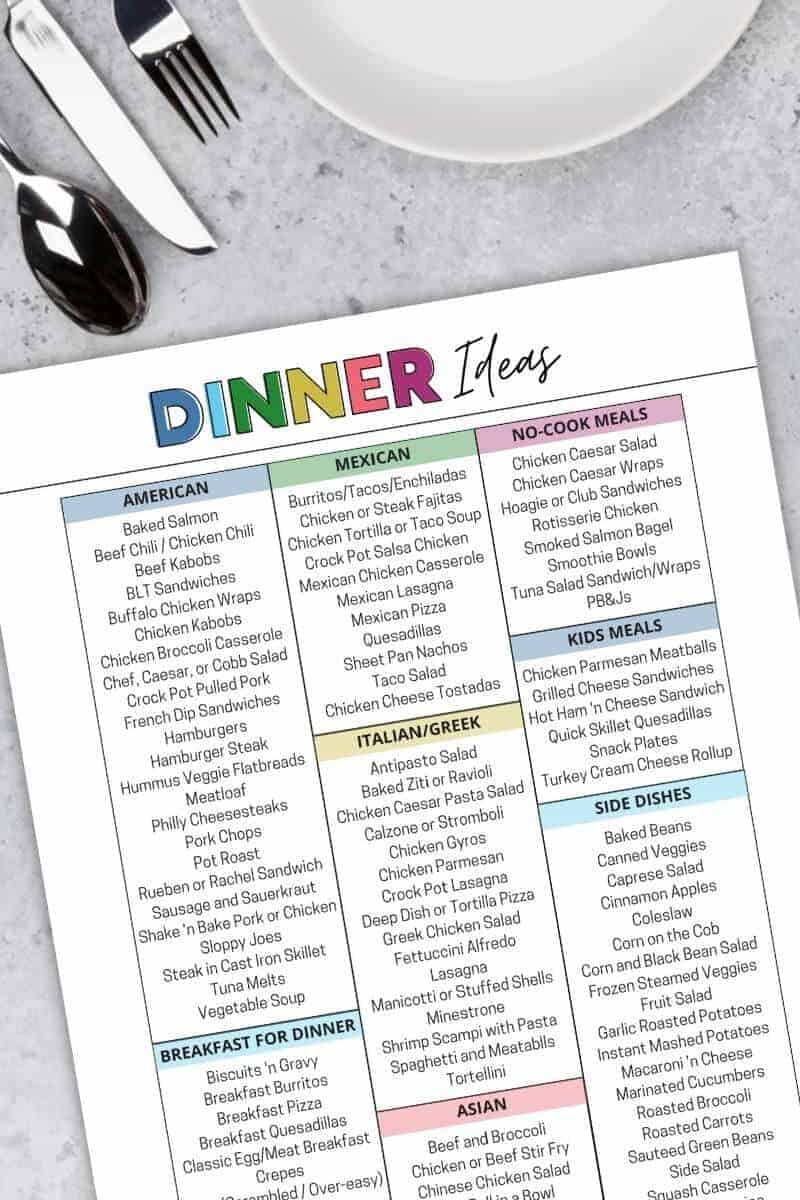 You can grab the free printable list of meals down below and laminate it to hang on your fridge for when you're drawing a blank on what to make for dinner.
Keep your recipes neatly organized.
If you're busy with a full time job (or full time toddlers!), then you probably barely have time to cook dinner, let alone time to track down your recipes. But a well organized Recipe Binder can make dinner time easier, and also serve as a handy book of dinner ideas.
Just flip through your recipe binder when you need inspiration!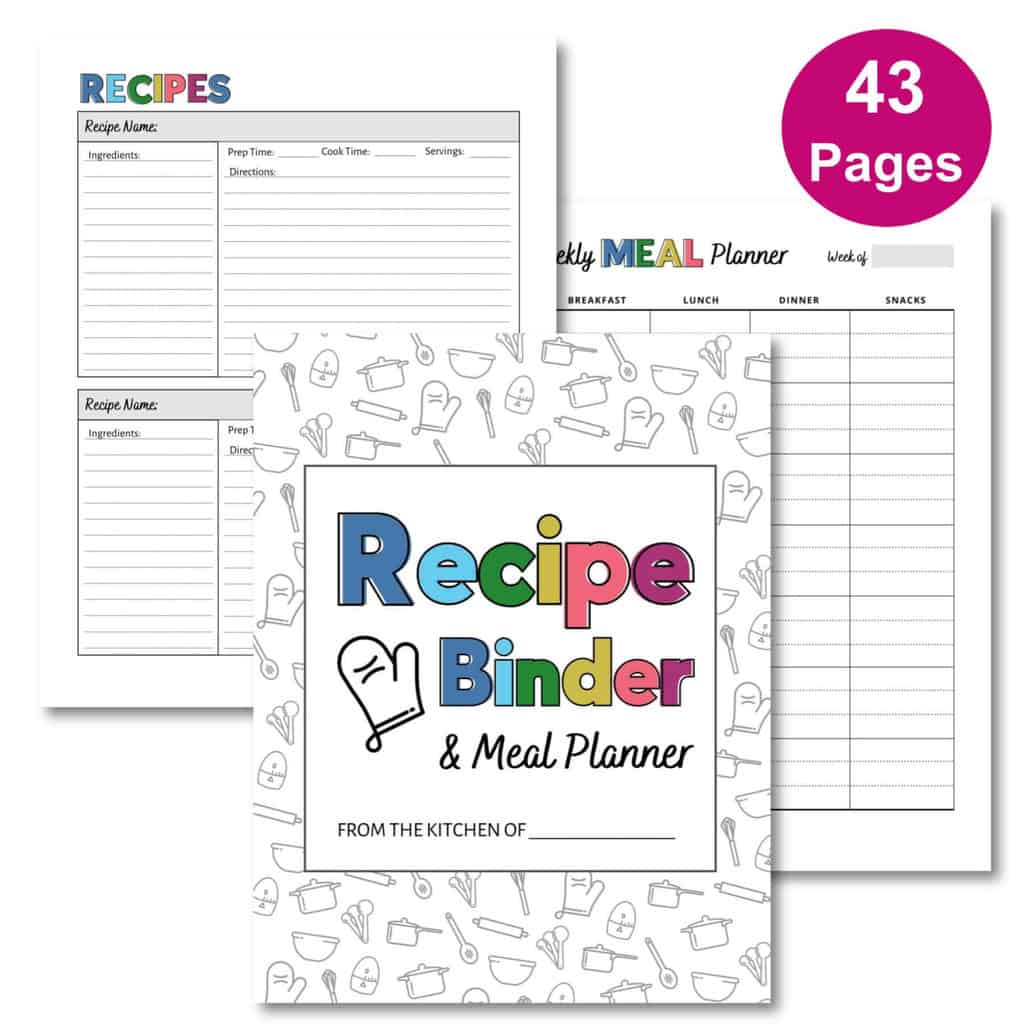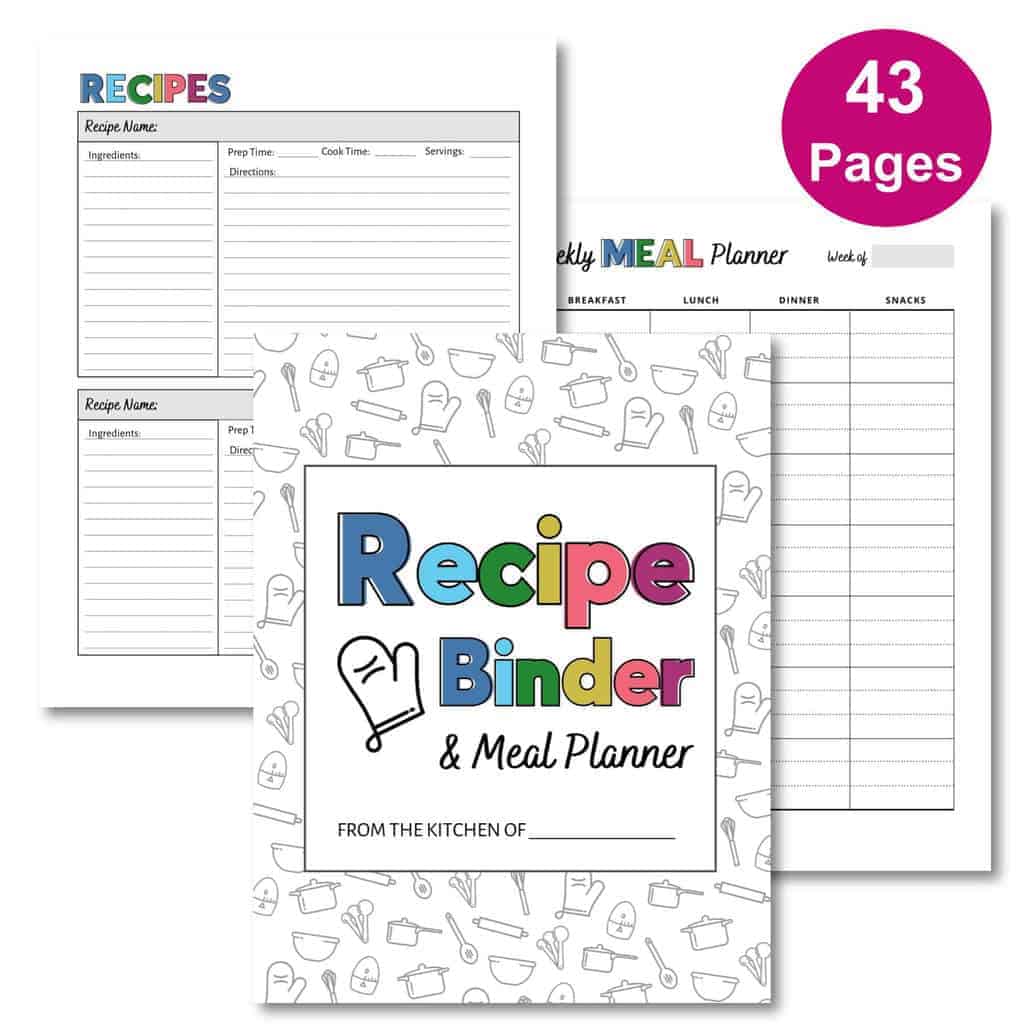 You can check out my handy printable Recipe and Meal Planner Binder here!
Try Snack Plate Dinners for kids!
When it comes to preparing dinners for kids, you can easily start to feel like a short order cook at Waffle House. One child likes peas but the other hates them. One child prefers apple slices, and the other one wants mandarin oranges.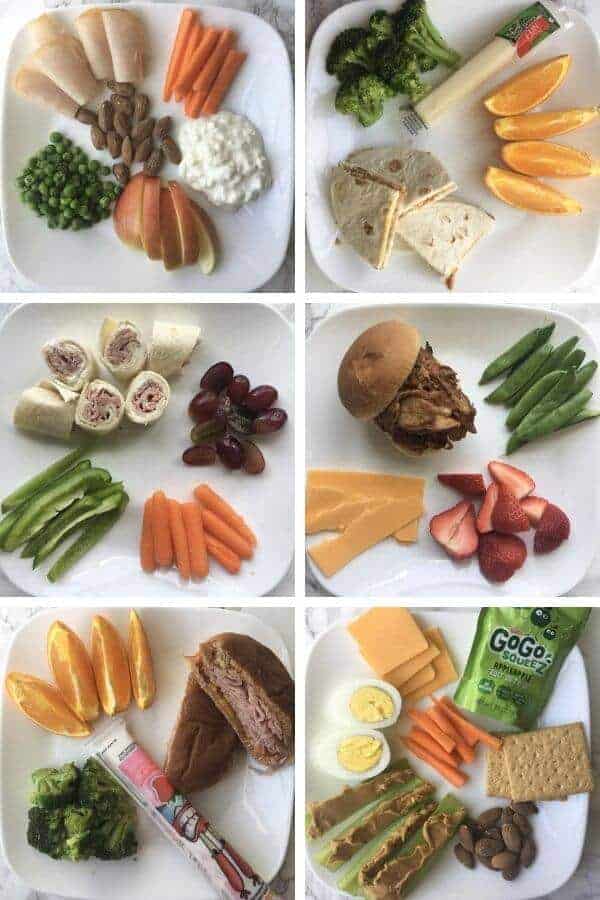 Make a List of Favorite Meal Ideas for Dinner.
Every now and then my husband prepares the absolute BEST dinner that I want him to make again, so I just add a little note in my iPhone so I don't forget about it. I have a whole "Notes" page titled "Family Favorite Dinners" that I just add to as needed.
This notes page started out as a list of perfect meal ideas for hosting large family dinners (we host dinners often and we feel like we're always cooking the same thing over and over again), but it morphed into an easy way for me to keep track of meals that are must-make-again's. It's super simple, and I can just add a quick note after cleaning up after dinner so I don't forget.
Or, you can also use a cute list of favorite meal ideas that you hang on your fridge and as to as needed: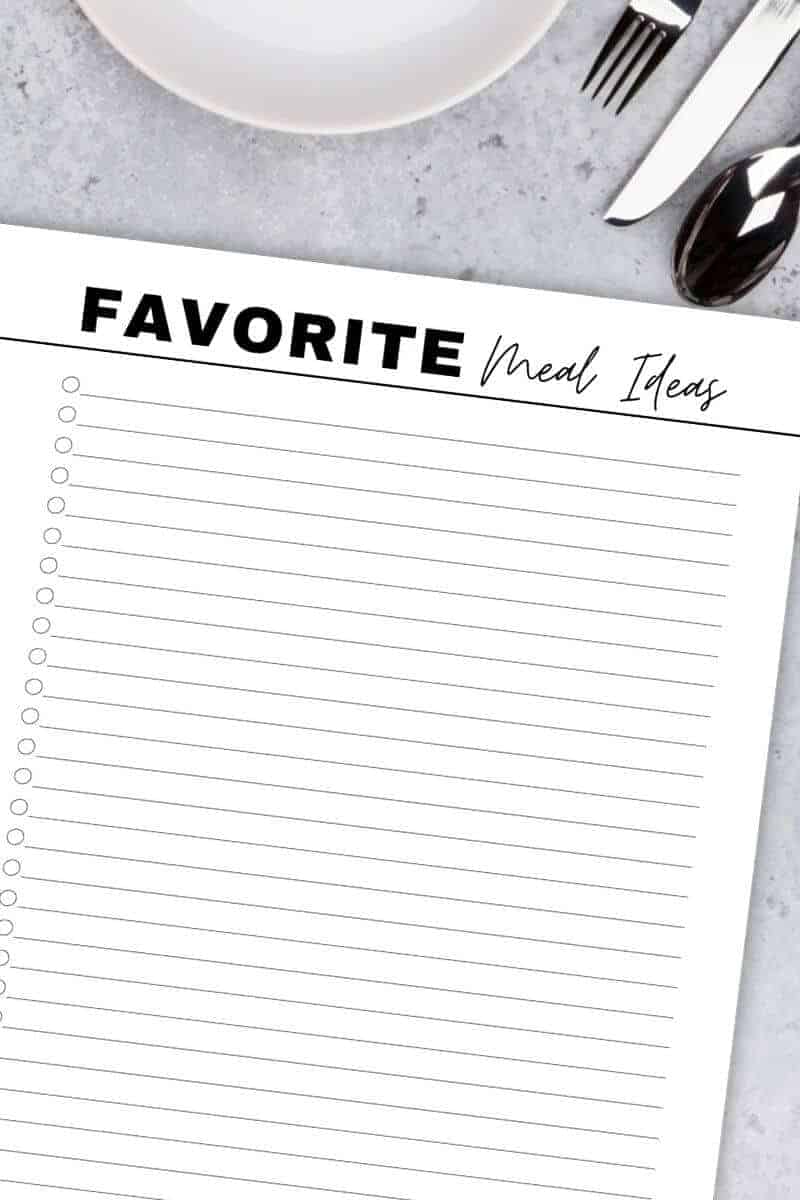 You can grab this free printable list at the end of this post!
*And be sure to visit this post for my other cooking tips to Make Cooking Dinner Easier!
Use a Printable Meal Planner to Plan Your Meals.
Meal planning for the week is super easy with the free printables below! Just print the list of meals for dinner and the meal planner template and plan what your family will have for dinner each week!
Free Printable List of Meals for Dinner
Want to grab the free printable list of meals for dinner AND some handy meal planning worksheets? Just use the form below to sign up for my free email newsletter and you'll get access to my entire freebies library as a welcome gift!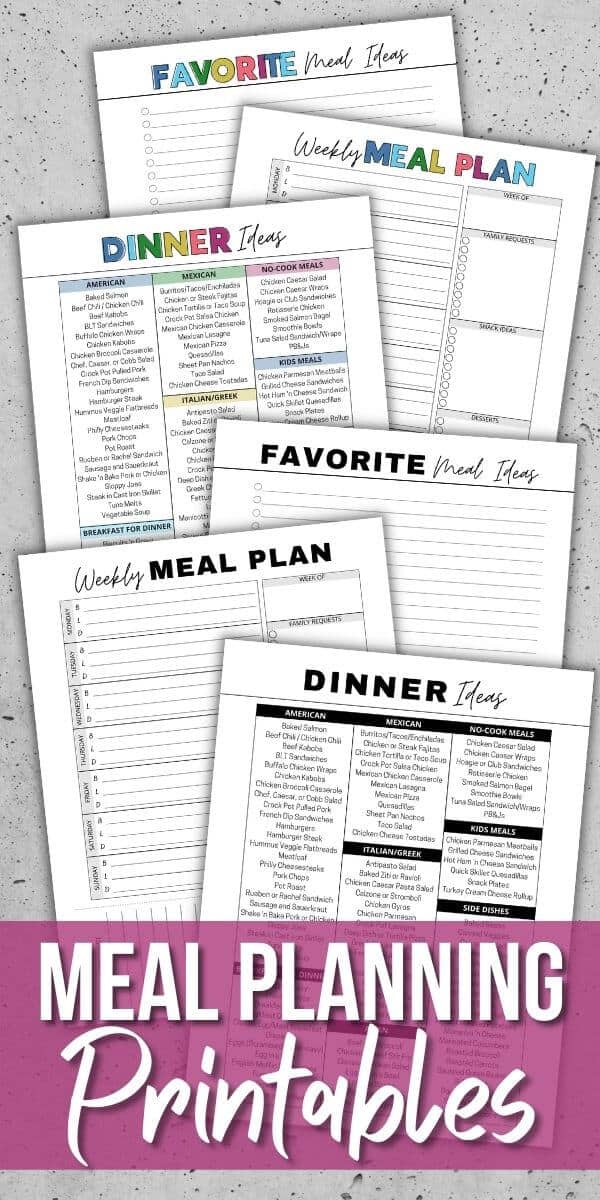 Conclusion
Cooking dinner each night doesn't have to be difficult… and it doesn't have to involve standing in front of your open fridge for 20 minutes trying figure out what to cook. Just print out this list of meals for dinner, hang it on your fridge, and use it to plan your dinners for the week!
What are some of your absolute favorite go-to meal ideas? Are there any meals that you seem to prepare every single week, because they're super easy and super delicious? Leave me a comment down below! I'd LOVE to hear from you!
And happy nesting!