I have to hand it to my husband… He made another killer dinner! (How did I get so lucky to marry such a great cook?!). I thawed out some ground turkey this morning (that's the extent of my jobs in the kitchen – I pick a protein to thaw out in the morning and he turns it into something fabulous for dinner), and he did not disappoint! We both love the Asian chicken lettuce wraps at PF Chang's. The calories, carbs, and price… not so much. So, fortunately for me, my culinary-genius husband can pretty much replicate any restaurant food, reducing the calories and carb counts and saving us money. He even makes chicken teriyaki like you would get at a Japanese Steakhouse! But back to these delicious and healthy Asian Ground Turkey Lettuce Wraps…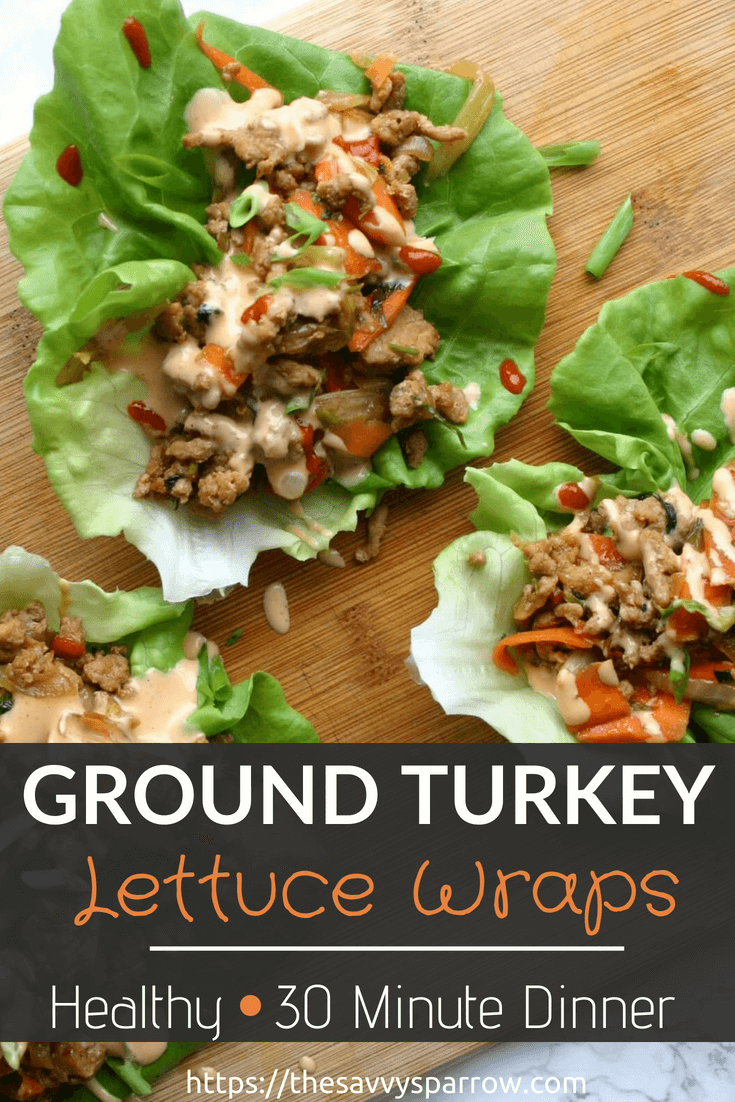 *This post contains affiliate links, which means I may earn a small commission from these links, at no additional cost to you. Read my full disclosure here.
The ground turkey is perfectly seasoned with a combination of ginger, chopped garlic and hoisin sauce, resulting in a slightly sweet, slightly spicy, totally delicious flavor. And the crunch from the carrots and celery is the perfect contrast to the delicate bibb lettuce.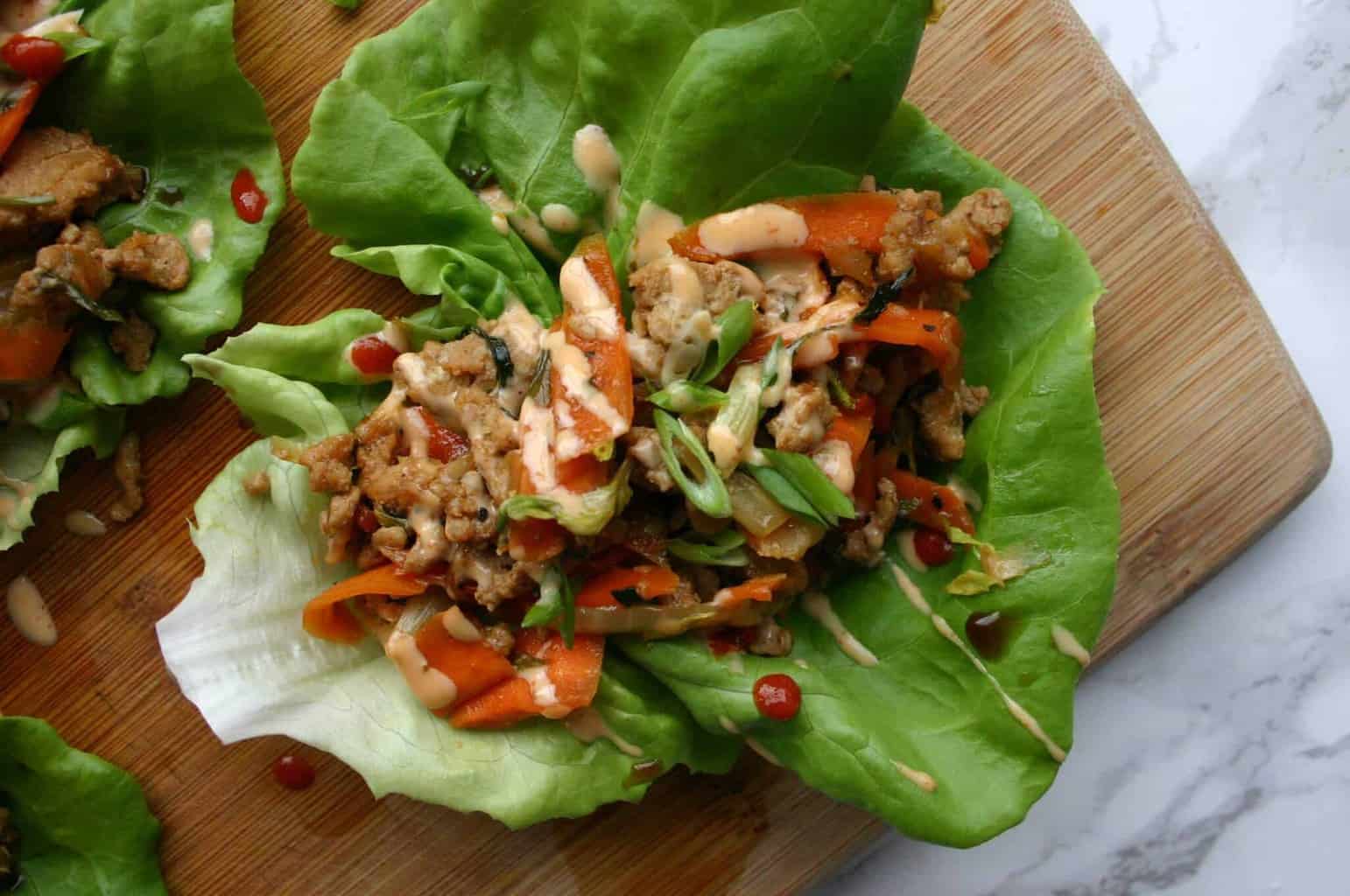 And the best thing about these healthy asian ground turkey lettuce wraps is that they are so quick and easy to make! This whole dinner took my husband less than 30 minutes to prepare. And that was with the "help" of our 6 year old who loves to use her own knives (which are completely awesome, btw!) to chop veggies for Daddy!
**Have a little helper in the kitchen? I highly recommend these silicone knives made just for kids. They will legit slice a tomato, but won't cut little fingers. Perfect for teaching your mini-me to cook!
Okay, forgive my kids' knives tangent…
You know that Yum Yum sauce that you get at a Japanese Steakhouse? Our grocery stores carry a pre-made version in the refrigerated section (sometimes next to the seafood) that we love for Asian night. We drizzle a little of that goodness on top, along with a few drops of siracha and a tad extra soy sauce to finish off these perfect healthy asian ground turkey lettuce wraps.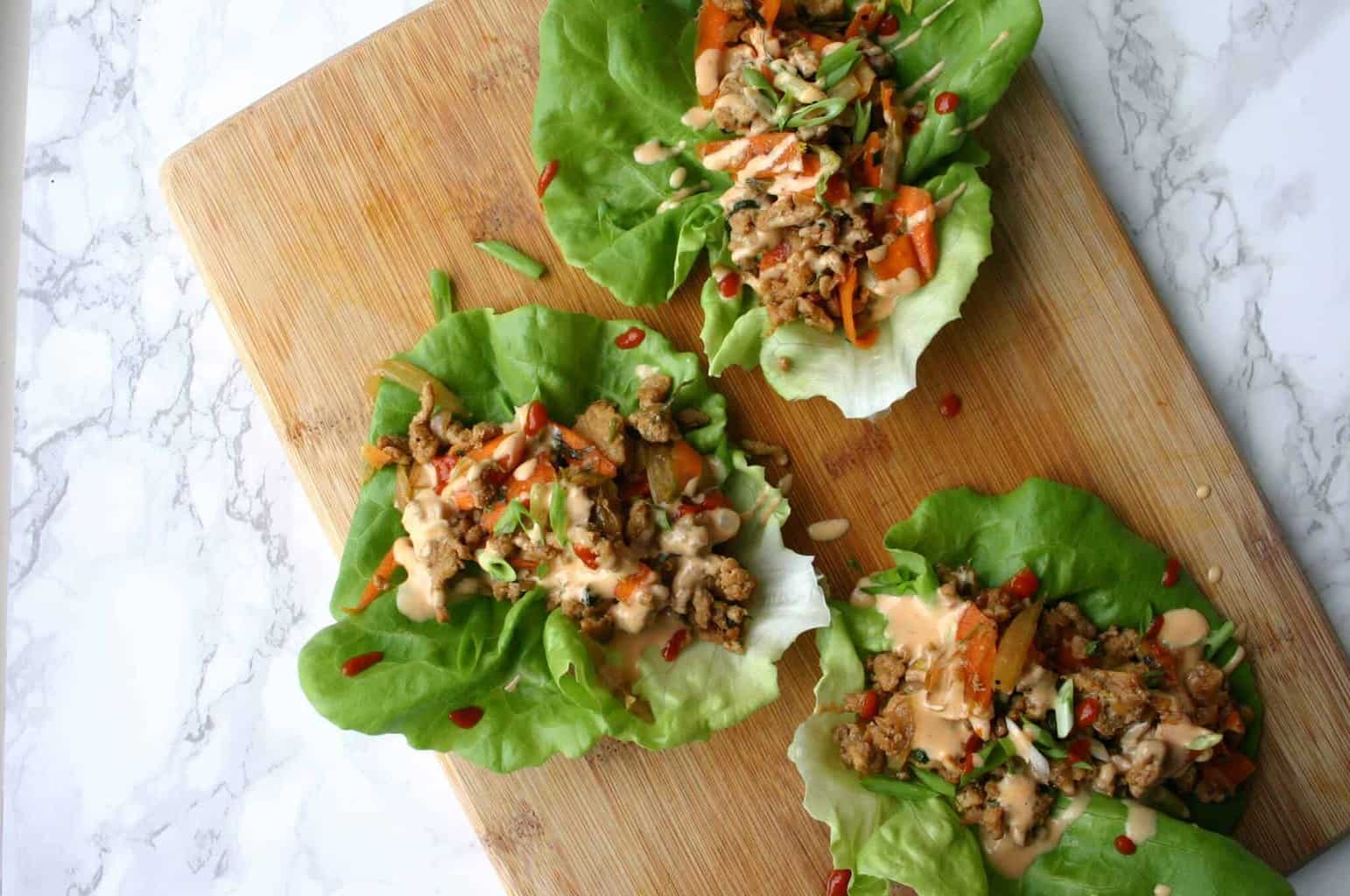 Trust me, they are so good! And way healthier than the PF Changs Chicken Lettuce Wraps. And they're pretty darn good-looking too, don't you think?
Here's the recipe so you can give 'em a try:
Healthy Asian Ground Turkey Lettuce Wraps
Yield: 3 servings
Healthy Asian Ground Turkey Lettuce Wraps (PF Chang's Copycat)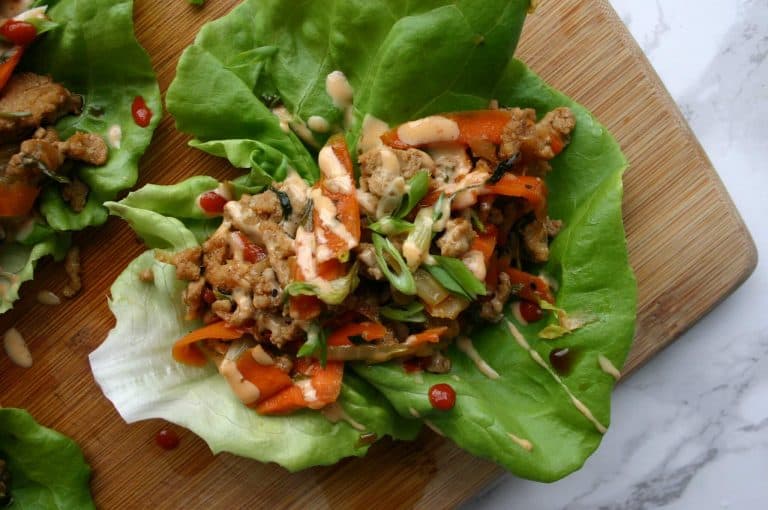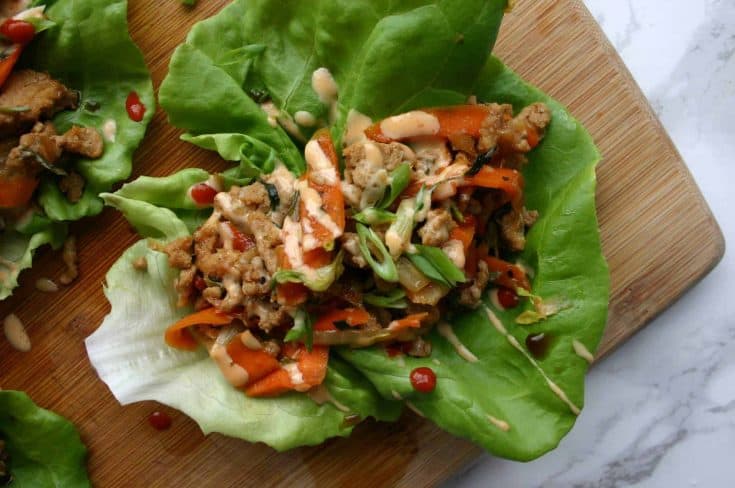 Do you love the Asian lettuce wraps at PF Chang's as much as I do? Then you have to try these delicious, easy, and healthy Asian Ground Turkey Lettuce Wraps. Garnish with some chopped green onion and a drizzle of store bought Yum Yum sauce for an extra yummy and super beautiful fresh dinner.
Prep Time 10 minutes
Cook Time 10 minutes
Total Time 20 minutes
Ingredients
1 lb ground turkey
1 head bibb lettuce
1 medium carrot, chopped
1 small onion, chopped
1 celery stalk, chopped
1/4 cup cilantro, chopped
2 green onion, chopped, (reserve some for garnish)
2 tbsp pickled ginger, chopped
1 tbsp garlic, minced
2 tbsp sesame oil
1/4 cup hoisin sauce
2 tbsp reduced sodium soy sauce
2 tbsp olive oil
Siracha, (optional)
Yum Yum sauce, (optional)
Instructions
Brown turkey in olive oil in a large skillet on medium heat, about 4-5 minutes.
Add carrot, celery, onion, and garlic and continue to cook about 2-3 minutes on medium heat, stirring occasionally.
Turn heat up to medium high and add hoisin sauce, sesame oil, and soy sauce. Cook about 2-3 minutes to reduce sauce, stirring occasionally.
Add in cilantro, ginger, and green onion. Stir.
Continue cooking about 2-3 minutes, making sure that ground turkey is completely cooked through.
Spoon turkey mixture into individual bibb lettuce leaves.
Garnish with a sprinkling of green onion, siracha, and Yum Yum sauce (optional).
Notes
Want to kick it up a notch? Try smearing a pad of cream cheese on the lettuce leaves before adding the ground turkey mixture. Adds another delicious layer of flavor and texture!
Nutrition Information:
Yield:
3
Serving Size:
3 Servings
Amount Per Serving:
Calories: 666
Total Fat: 46g
Saturated Fat: 10g
Trans Fat: 0g
Unsaturated Fat: 32g
Cholesterol: 162mg
Sodium: 1144mg
Carbohydrates: 22g
Fiber: 3g
Sugar: 12g
Protein: 42g
Love this recipe? Then I know you'll love this delicious-ness too: