I know, I know… I'm always preaching about saving money. But this time I'm actually telling you to spend money. Why? Because sometimes you have to spend money to save it. Head scratcher, I know. But, there are actually certain products that, if you invest a little bit now, will actually save you money in the future. Want to know what they are and how much they can save you a year? Read on for my ultimate list of products that save you money in the long run.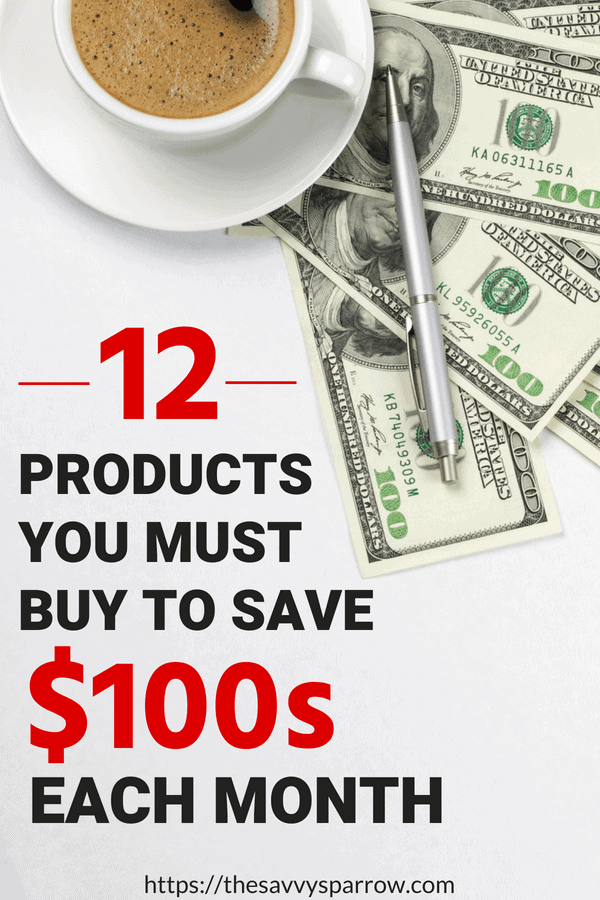 *This post contains affiliate links, which means I may earn a small commission from these links at no additional cost to you. Read my full disclosure here.
12 Products that Save You Money in the Long Run
Good Water Bottle
A 16oz bottle of water costs about 17 cents (if you figure a 24 pack costs $4.00). And say you drink 4 bottles a day to get your recommended 64 oz… now you're up to 68 cents a day. That's over $20 a month just for water that you can get for free.
Invest in a good insulated water bottle
for about the cost of one month's worth of bottled water. And be sure to bring it with you each time you leave the house. My oldest daughter knows that it's her job to make waters for us before we go out to run errands. That way, I don't have to spend $1 or more for a single drink while we are out.
Here are some highly rated water bottles you can snatch up on Amazon:

Tire Gauge
My husband drives a lot for work, so tires are a big expense for us. And to prolong the life of our tires and get better gas mileage, we are diligent about checking his tire pressure every other week. Want to know how much you can save with a tire gauge and a few minutes of your time? According to the National Highway Traffic Safety Administration, you can save up to 11 cents per gallon on fuel by properly inflating your tires, and extend the life of each tire by about 4,700 miles. Considering how much we drive, that's a HUGE savings thanks to a $10 tool.
Don't have a tire pressure gauge
? Check out these great options and get in the habit of checking your tire pressure frequently:
It can be easy to forget about your air filters, until your electric bill starts creeping up and your air conditioner becomes less efficient. Changing air filters every month or two, or even more frequently if you have pets or live in a dusty area, can help to reduce the energy costs for your air conditioner by up to 15 percent, according to the Department of Energy.
But, it can be difficult to remember when you last changed them. Here's a simple hack we use to make sure we are changing our filters on schedule:
Use a Sharpie Marker to write the date that you change your filter on the cardboard edge of the filter itself. That way, you know when you changed it last.
Don't want to make the trip to the store for air filters? You can actually sign up for subscription services, like FilterEasy, that deliver air filters to your front door automatically. With FilterEasy, each delivery includes all of the filters that you need for your home, in all the right sizes. Plus, did I mention the delivery is FREE. Check them out here and get your first shipment for FREE!
The Most Convenient Way to Change Your Home Air Filters! Click here for your Free Trial
LED Light Bulbs
Forget about the electricity and replacement savings from longer-lasting LED light bulbs
, these bulbs are also great for brightening up your home. In fact, we recently changed all of our canister lights in our kitchen to these LED bulbs, and now I don't even need any extra fancy photography lights for my recipe photos. Not so great – all of the crumbs that are now much more visible on my kitchen floor! 🙂
Hair Clippers
Pay for fewer haircuts each year by just giving your husband a quick trim between trips to the salon. A good pair of clippers (these are the ones I use) works wonders for cleaning up edges around the ears and neck. And, trust me, if I can do it then you can do it. Though I will admit, I was super nervous that I would take a chunk out of his ear the first time. 🙂
Even if you can save just 4 trips to the salon each year, that'll save you roughly $60 which means that this investment could pay for itself in just a few months.
TV Streaming Device
This is one of the biggest money saving products on my list. We currently spend about $120 a month on satellite tv service, and I'm not proud of it. But you can bet that when our contract is up (T minus 8 months) then we are going to "cut the cord" and switch to television streaming. After all, we already pay for great internet service (which is a must since I work from home online), and streaming services like Netflix and Hulu are much more affordable than cable and satellite providers.
Want to know what types of devices you can use to save big money on your tv bill each month? We have this Smart Blu-Ray Player/Streaming device plus an Amazon Fire Stick, both of which I highly recommend. Here are a few more popular choices to consider:
Bento Box Containers
I pack three lunches each night – one for each of my daughters and one for my husband. And for the longest time, I used ziploc bags. About 10 each day just for lunch boxes. I finally got tired of buying so many ziploc bags (which aren't cheap when you are going through a bunch of them) and invested in some good bento box food storage containers
.
Sure, it does take me a few extra minutes each night to wash them, but that's well worth the cost savings. Here's a few great ones to check out:
Produce Savers
Prolong the life of your fruits and veggies by using produce savers
. Limit the amount of produce that ends up in your trash can by storing it in special containers made specifically to keep your food fresher for longer. Because throwing away rotten strawberries is pretty much the equivalent of throwing away two bucks.
Smart Thermostat
Smart thermostats
are designed to automatically adjust the temperature settings of your home when you're sleeping or away during the day. And, if programmed correctly smart thermostats
have the potential to save you big bucks. According to the EPA, a programmable thermostat can save you $180 per year on heating and cooling costs, which means one of these smart devices could pay for itself in about a year.
Toaster Oven
Our toaster oven is the single most-used appliance in our house, and for good reason.
It preheats much more quickly and uses only half of the energy of a conventional oven, according to the American Council for Energy-Efficient Economy. And it doesn't drive the temperature up in the house during the summer months like our regular oven, which means we save money on both the air conditioning and electricity costs.
Plus, it's super convenient and easy to use. I reheat my Best Ever Mini Chocolate Chip Pancakes in our toaster oven, plus it makes a fantastic grilled cheese sandwich with zero clean-up. And, ours is large enough that we can cook a whole chicken in it.
Yes, it is a bit pricey, but our toaster oven (which we got as a wedding gift) has lasted us over 12 years and still works great!
Don't have one? Here are a few highly rated toaster ovens on Amazon:
<— The one we own and LOVE!
Coffee Maker
If you are an avid coffee drinker and don't own a coffee maker, then that means you're probably blowing hundreds (or even thousands if you frequent Starbucks) each year on caffeine.
Investing in a good individual-serving coffee maker like a Keurig can save a TON! A single K-Cup is about 40 cents. When compared to a $3.00 cup of coffee from your favorite cafe, that's a savings of over 85 percent!
Plus, the best part of a single serve maker like a Keurig is that you don't have to wait for a whole pot to brew, or wash a coffee pot everyday.
This is the Keurig that we own (and use every single day) and we LOVE it:
Yes, you're probably thinking to yourself "How on Earth can a weekly planner save me money?".
When you use a weekly planner like I do to track your spending, you'll be more aware of your spending habits and you'll know where you're spending money needlessly.
Go here for the easy method that I use to track all of the finances for my family with just a weekly planner!
Spend Now to Save Later
Yes, it may be a budget-killer to invest in all of these products that save you money at the same time. So, make a few simple changes here and there to start saving money now. It's easy to buy a great water bottle and get in the habit of filling it each time you leave the house. Or to end your reliance on ziplocs and switch to bento box style containers for your kids' lunches.
Buying some of these products that save you money now will help your budget in the long run.
What money-saving products do you love? I'm always looking for new and creative ways to save, so I'd love for you to leave me a comment with your favorite frugal living tip!
Related Posts: