"No… no… no… no…". Do you feel like a broken record sometimes, stuck on the "No" song? Your kids ask for a new toy in Target… "No". Your kids want ice cream before dinner… "No". Your kids ask to go over to a friend's house… "No". It can get tiring after a while. For you and them. They feel like all you ever say is "No", and you feel like the mean Mom. I'm with you. But sometimes, we have to say no. Yes is not an option. So, how can you let them down gently? How can you say "No" without actually uttering the word for the umpteenth time? And why should you care about how many times you say "No" (I'm speaking to you, husband!)? I'm letting you in on some great ways to tell kids no without saying no.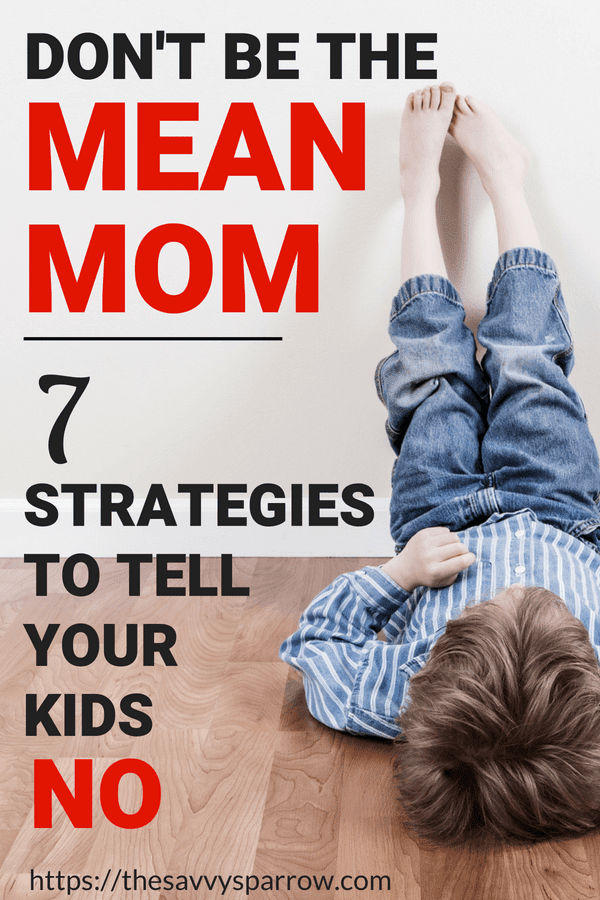 My husband is always telling me that I don't tell our kids "no" enough. (They would beg to differ).
What he doesn't realize is that I tell them no quite alot… I just don't use the actual word "No".
Why?
Let's look at what the experts say…
Why to Tell Kids No without Saying No?
Take a guess at how many times the average toddler hears the word "no" in one day…
15…
50…
Even 100…
Nope.
According to a study done by UCLA, the average toddler hears the word "no" over 400 times a day.
For all you Math whizzes out there, that's about once every 3.5 minutes. (If they're awake 24 hours a day which, I pray for your sake, that they're not!). 🙂
But, here's the bad news… saying "no" too frequently can actually make your child immune to the word.
Yeah, yeah… You've heard the debate. There's the Pro-"No" side that says if you give in to your child's wants then they will be spoiled and think that the world revolves around them. Then there's the Anti-"No" side that says that kids need to feel special and respected and be free to make their own choices.
But let me clarify…
I'm definitely not saying that you shouldn't tell your kids no.
I absolutely believe that kids should hear the word "No", in one form or another.
I don't know how many times I've seen an older child (age 8 or so) in the middle of the Target toy aisle pitching an absolute fit. I can't help but think to myself, "If I were that kid's mother…".
Yes, I admit it. Try as I might not to, I do judge. I'm not perfect. "That child hasn't heard the word 'no' enough", I think to myself.
And that poor Mom throws the toy in the buggy to avoid a scene. And then gets to the register and pulls out her one credit card that isn't yet maxed out.
But on the other hand, it is nice to be able to say "Yes" once in a while. After all, I have the absolute BEST behaved kids, and they do deserve to be rewarded. It's nice to show them that they are loved and appreciated with a small treat or an affirmative response.
But, here's the thing…
When you do say "no", try to switch up your language a bit. Try to tell kids no without saying no.
7 Strategies to Tell Kids No Without Saying No
Redirection
I am a HUGE fan of redirection. I use this strategy so much with my own kids that it's second-nature to me now.
Redirection is basically a form of distraction in which you direct your child's focus to something else. It's a great alternative to using the word "no" or engaging in some sort of negative punishment.
Just today, my girls were bickering back and forth about Lord knows what, so I asked my youngest to come and help me make biscuit pizzas for lunch.
Rather than yelling at my girls to stop arguing, I redirected the attention of my youngest off of her petty argument with her sister and on to helping me cook lunch (which is one of her favorite things to do, btw). No more bickering (negative behavior), and I didn't have to get mad or say no.
Explain Your Reasoning
Sometimes when you say "no" to your kids, you really do have a good reason, other than "Because I said so". Show of hands? I know I'm guilty of using that one!
After all, you are the parent and you know what's best for your child (and your family's finances).
Tell your child why you're saying no… like "I don't think it's a good idea to have ice cream right now because I want to make sure you save room for dinner."
Offer an Alternative
If your child is doing something that you don't want her to do, rather than just saying "Don't do that", offer an alternative activity.
When I walked in on my 6 year old recently using my colored (very permanent) Sharpie markers, I politely told her, "Here, honey, use these markers instead" and passed her the Crayola washable markers. I did not just say, "No, don't use those markers."
I'm sure this technique is one that we've all used plenty of times with our babies, also.
I can remember my girls as babies constantly pulling on my dangling earrings. Obviously, saying "No" doesn't work so well with an infant, so I would loosen their grasps on my vulnerable ear lobes and pass them a rattle instead.
Be Empathetic
Put yourself in your kid's shoes. If your child really wants the newest, coolest (and most expensive-est) gadget, then chances are that's all he can think about. His world revolves around that thing, for right now at least. And why shouldn't it? He doesn't have to worry about paying bills, working, cleaning the house, and cooking dinner.
So be empathetic when you say no.
"I know that the new Playstation is really important to you, and I know that your best friend just got one, but we just can't get you one right now."
Doesn't that sound a lot better than just saying "NO".
Show Them How You Want Them to Behave
If your child is engaged in an unwanted behavior, rather than scolding them, model the way that you want them to behave.
Recently, I witnessed one of my friend's children torturing our poor dog, trying to stick his finger in her eye. Props to our black lab, Nelly, for just sitting there and taking it like a champ. Instead of telling the child no, I showed him the right way to pet our complaisant pup.
Kids learn from their environments and imitate what they see and hear you doing.
Like the time that my 6 year old told her sister she was going to "light her ass up" – something she picked up from my husband (who should really learn to watch his language around little spongey ears). Haha.
But I digress…
Instead of just saying "no", use it as a teaching moment and show your child the appropriate way to act/behave/speak/etc.
Use "No" Replacements
If you must say no, use a "no" replacement such as:
"Maybe later."
"Not right now."
"That's not a good idea."
Say Yes… with Contingencies
Answer in the affirmative, instead of the negative. You and your child both feel better with a "yes". So say "yes, if…".
"Can I go to my friend's house?" "Yes, you may… if you finish your homework first."
By using contingencies, you're placing the responsibility on your child to get the "yes". Now it's not your job to say "yes", it's your child's job to earn the "yes".
Your Turn to Tell Kids No Without Saying No
If you feel like you're trapped on a "No no" merry-go-round, try implementing some of these strategies to tell kids no without saying no. Don't give in to your child's every demand, but let them down easy and avoid the negativity of the word "no" the next time that you need to say… well… No. And don't let your child hear negative words 400 times a day.
How do you feel about using the word "no" with your child? Yay or Nay? Hard to believe that the average toddler hears the word "no" 400 times a day, huh? Leave me a comment and let me know what you think. I'd love to hear what strategy you use to tell kids no.
Related Posts: