I love me some Mexican food. Tacos, nachos, chimichangas, quesadillas… I don't discriminate, I'll eat 'em all. My hubby and I love Mexican food so much that we have a standing lunch date every Friday and, no matter how many times we tell each other during the week that we're going to try a new restaurant, we always end up at our favorite Mexican place. I could just about eat Mexican food every night of the week, if I could still fit into my jeans. But, since a big 'ol plate of cheese covered, ground beef layered, fresh-fried nachos isn't exactly the healthiest choice, we do our own healthy version of Mexican night at home, with one of the best cauliflower rice recipes ever. It ain't no chimichanga, but this easy low carb Arroz Con Pollo with Cauliflower Rice is still just as good, without the guilt. If you are a Mexican food fiend, too, give it a try! Promise you'll barely even notice that the "rice" is actually a super-healthy and low carb vegetable.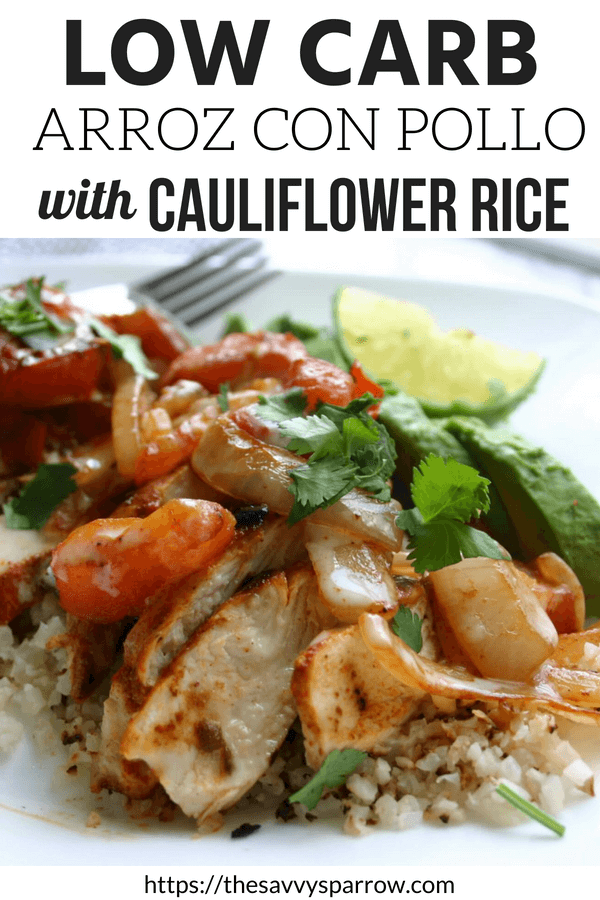 First off, yes, this does taste as delicious as it looks.
Props to my husband for his amazing food styling! 🙂 And his cooking skills, without which our diets would consist of a rotating menu of frozen meals and take-out.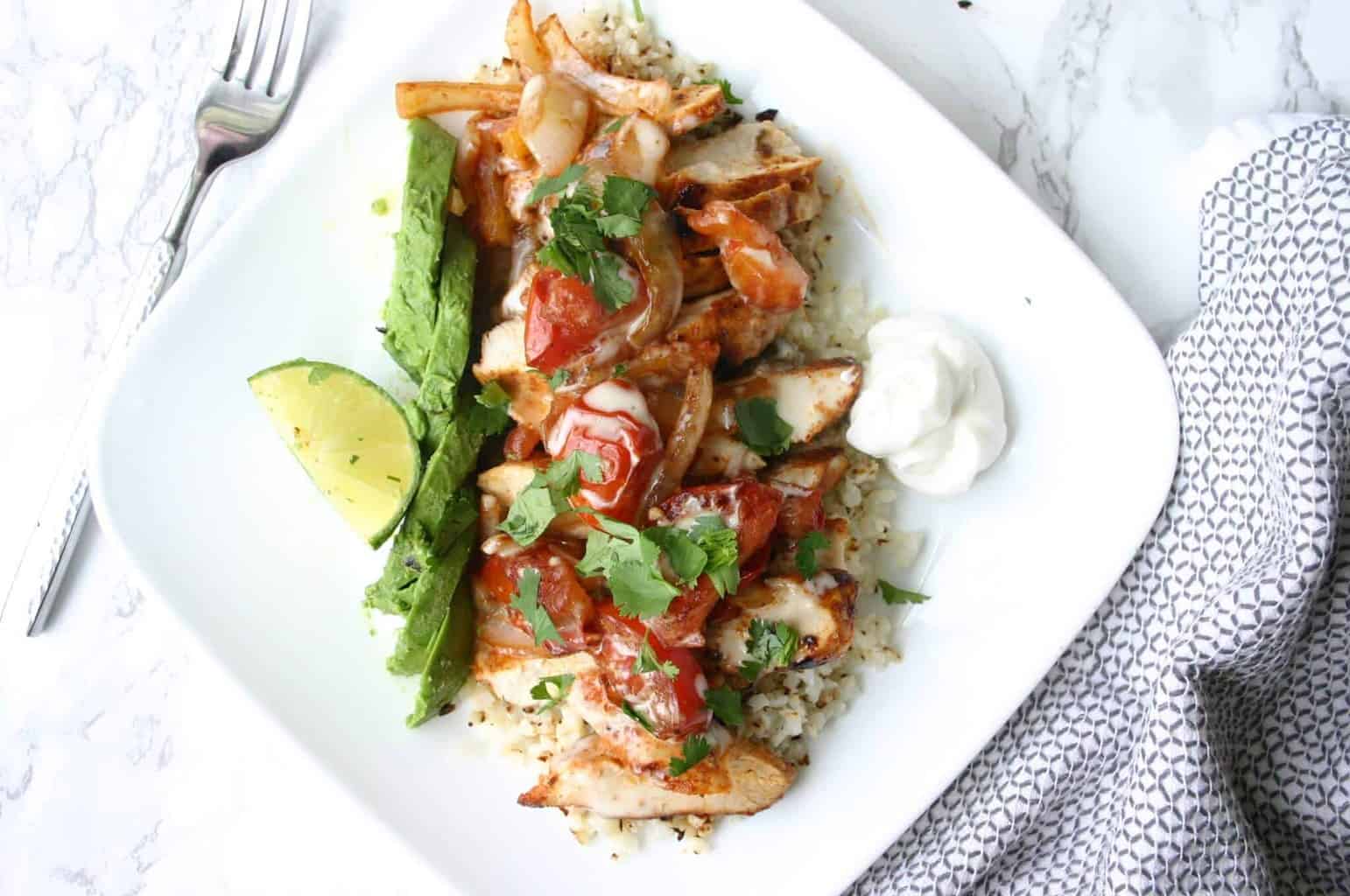 The chicken in this low carb Arroz con Pollo is oh so juicy and expertly seasoned. And the addition of fresh cilantro adds the perfect pop of fresh flavor. Top it all off with an easy store-bought Mexican cheese dip and you have the perfect quick, easy, and low carb Mexican dinner.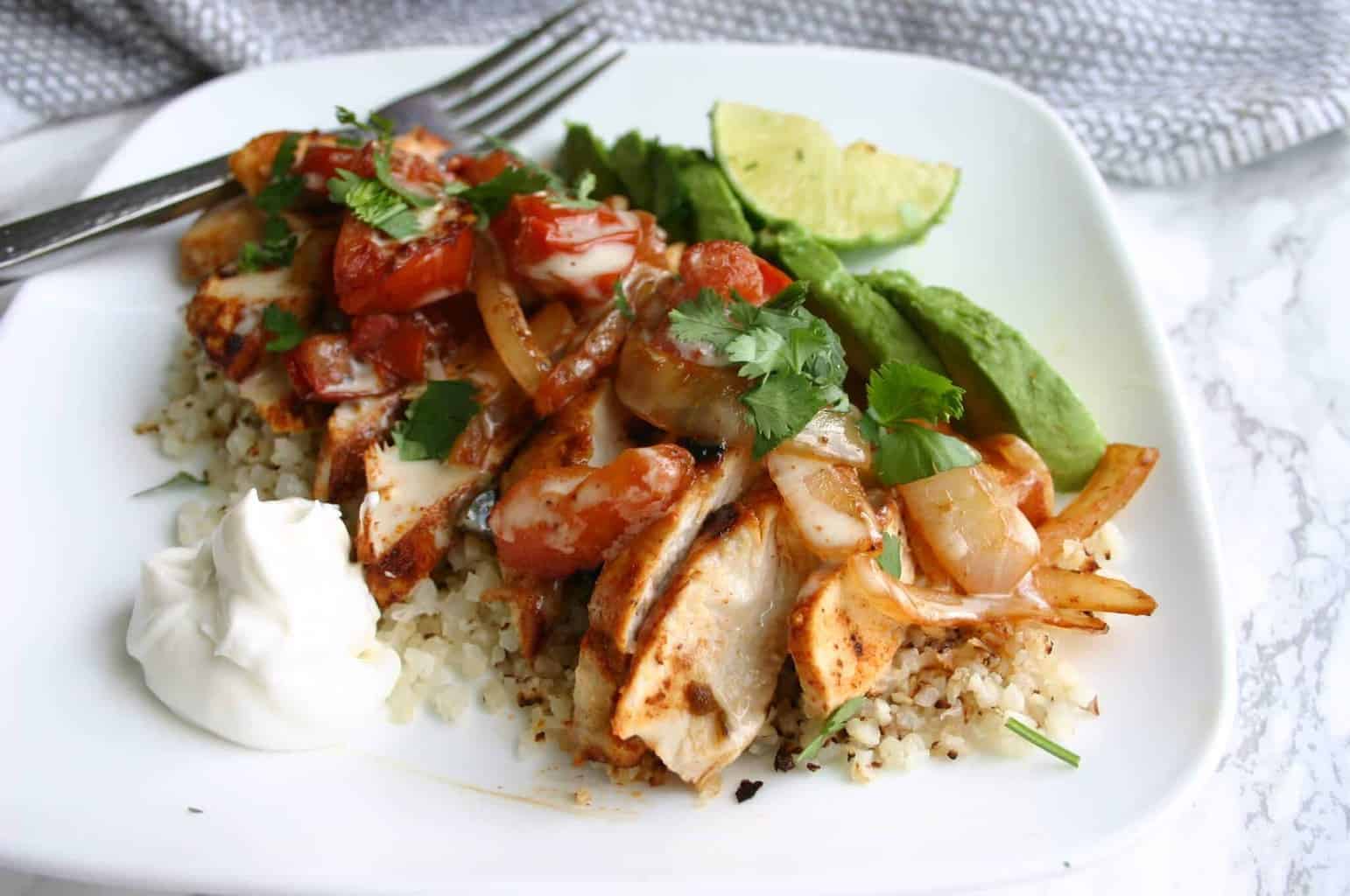 And let's discuss this cauliflower rice.
If you've never had cauliflower rice before, and you're half way concerned with your health, then you need to try it pronto. The texture is very similar to that of white rice and, while it does have a faint cauliflower taste, if you season it enough then you'll barely notice that you're actually eating a vegetable instead of a carb-loaded starch.
In fact, I would say that the biggest difference in cauliflower rice versus actual white rice is that it is very difficult to get cauliflower rice crispy (like for a fried rice recipe). But, that doesn't stop us from using it as a healthy substitute in our favorite chicken fried rice recipes anyway.
And the best thing about this cauliflower rice recipe is that you don't have to drag your food processor out from the depths of your bottom cabinets. Getting the cauliflower "riced" requires zero prep because you can buy it already riced in the freezer section of the grocery store.
We love the frozen steamer bags of cauliflower rice so much that we buy about 15 bags at a time when they go on sale for BOGO Free at Publix. No joke! (That's one of my secrets for saving money on produce… Check out How to Eat Clean on a Budget: Save Money on Produce! for more money-saving grocery tips!)
But back to this delicious low carb Arroz con Pollo with Cauliflower Rice…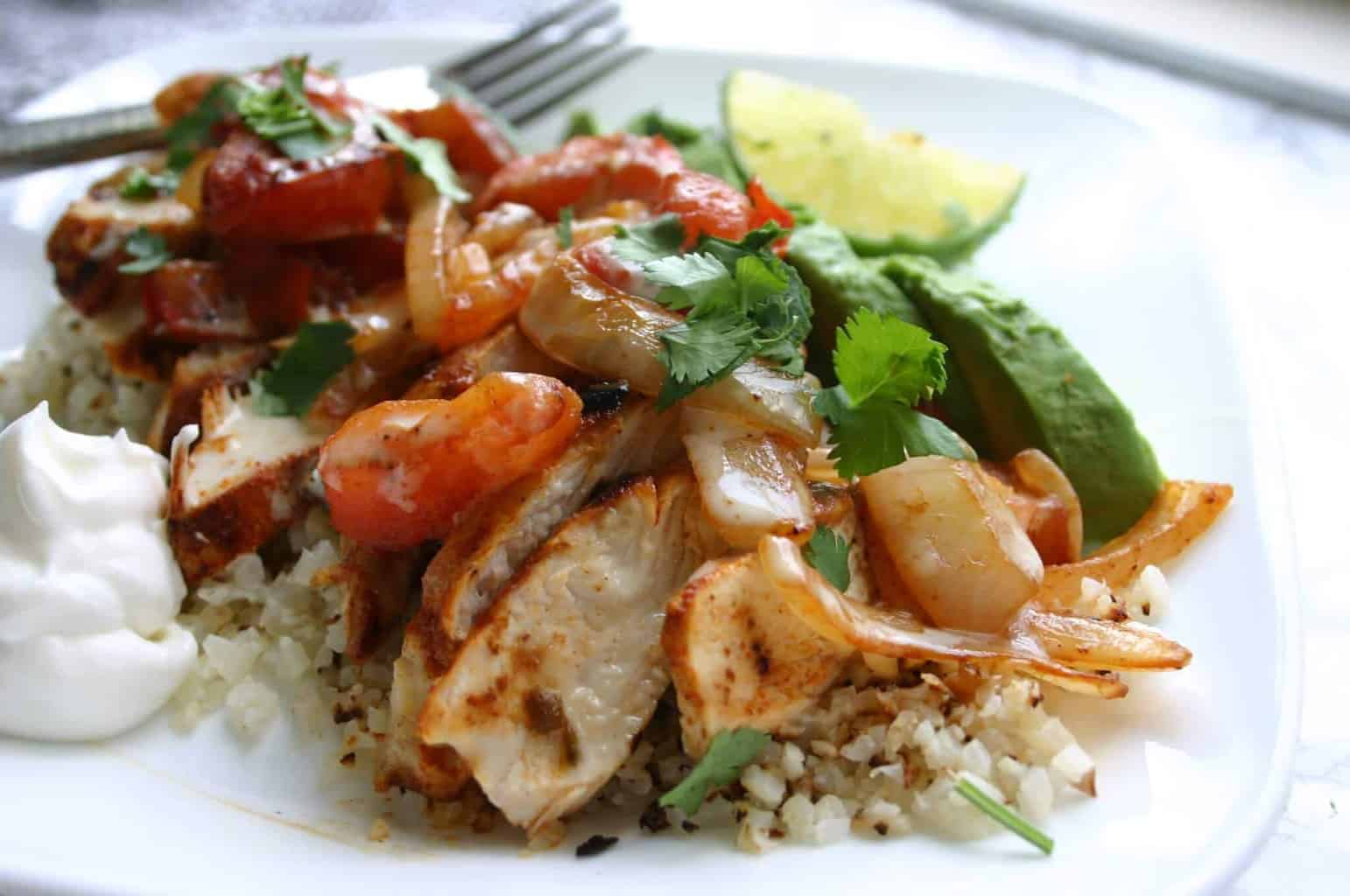 Next time a hankering for Mexican food comes on, and it's not cheat day, give this recipe a try!
I'm sure you'll love it! And you'll feel zero guilt for chowing down on this versus a gargantuan plate of nachos.
Yield: 2 Servings
Low Carb Arroz con Pollo with Cauliflower Rice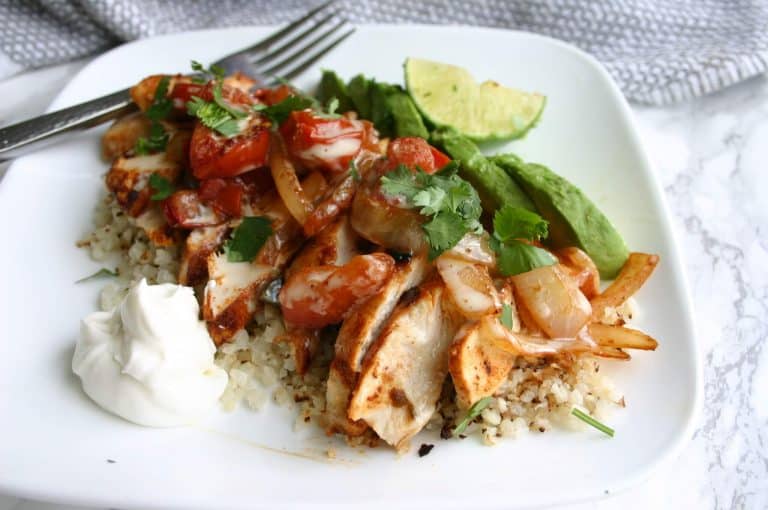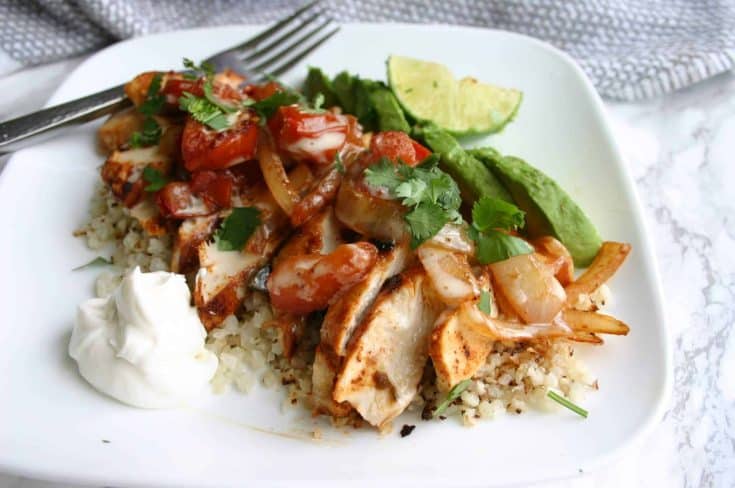 This low carb Mexican recipe is a favorite at our house, because it's super flavorful and super easy! Using frozen cauliflower rice makes this a healthy, quick weeknight dinner for when you're craving Mexican food!
Ingredients
2 boneless skinless chicken breasts, butterflied
1/2 lime, juiced
1 tbsp paprika
1 tbsp garlic powder
3 tbsp taco seasoning
2 tbsp olive oil
1 red pepper, cut into strips
1 medium onion, cut into strips
1 medium tomato, cut into bite-sized chunks
1 bag frozen cauliflower rice, thawed in refrigerator beforehand
fresh cilantro, for garnish, (optional)
store-bought Mexican white cheese dip
Instructions
Marinate butterflied chicken breasts in lime juice for about 15 minutes.
Sprinkle paprika, garlic powder, and taco seasoning on top and bottom of chicken.
Heat 1 tbsp of olive oil in a skillet over medium heat.
Cook chicken in skillet over medium heat until done.
Remove chicken from skillet and set aside to rest.
Saute cauliflower rice in a non-stick skillet with 1 tsp olive oil until brown bits start appearing. Remove "rice" and set aside.
In the same skillet, saute onion and peppers in 2 tsp olive oil over medium heat until almost done. Don't stir vegetables around a lot so that they have the chance to develop a light char.
Add tomatoes to the peppers and onions, and continue cooking about 2-3 minutes.
Season vegetables with salt and pepper to taste.
Cut cooked chicken breasts into strips and add to the vegetables.
Continue cooking another 1-2 minutes.
Remove from heat and serve chicken and vegetable mix over cauliflower rice.
Heat Mexican cheese dip in microwave according to package instructions. Pour over chicken and rice.
Garnish with chopped cilantro and serve with sour cream or guacamole (optional).
Nutrition Information:
Yield:
2
Serving Size:
2 Servings
Amount Per Serving:
Calories:

505
Total Fat:

23g
Saturated Fat:

5g
Trans Fat:

0g
Unsaturated Fat:

16g
Cholesterol:

111mg
Sodium:

1301mg
Carbohydrates:

30g
Fiber:

7g
Sugar:

10g
Protein:

44g
Nutrition information isn't always accurate.
Related Posts: