These easy chocolate chip pancakes are a staple in our house! Make these freezable pancakes using muffin mix and pancake mix for easy breakfasts for busy mornings… and throw in some extra chocolate chips because extra chocolate = extra LOVE!
UPDATED May 16th 2020
Chocolate chip pancakes.
Enough said.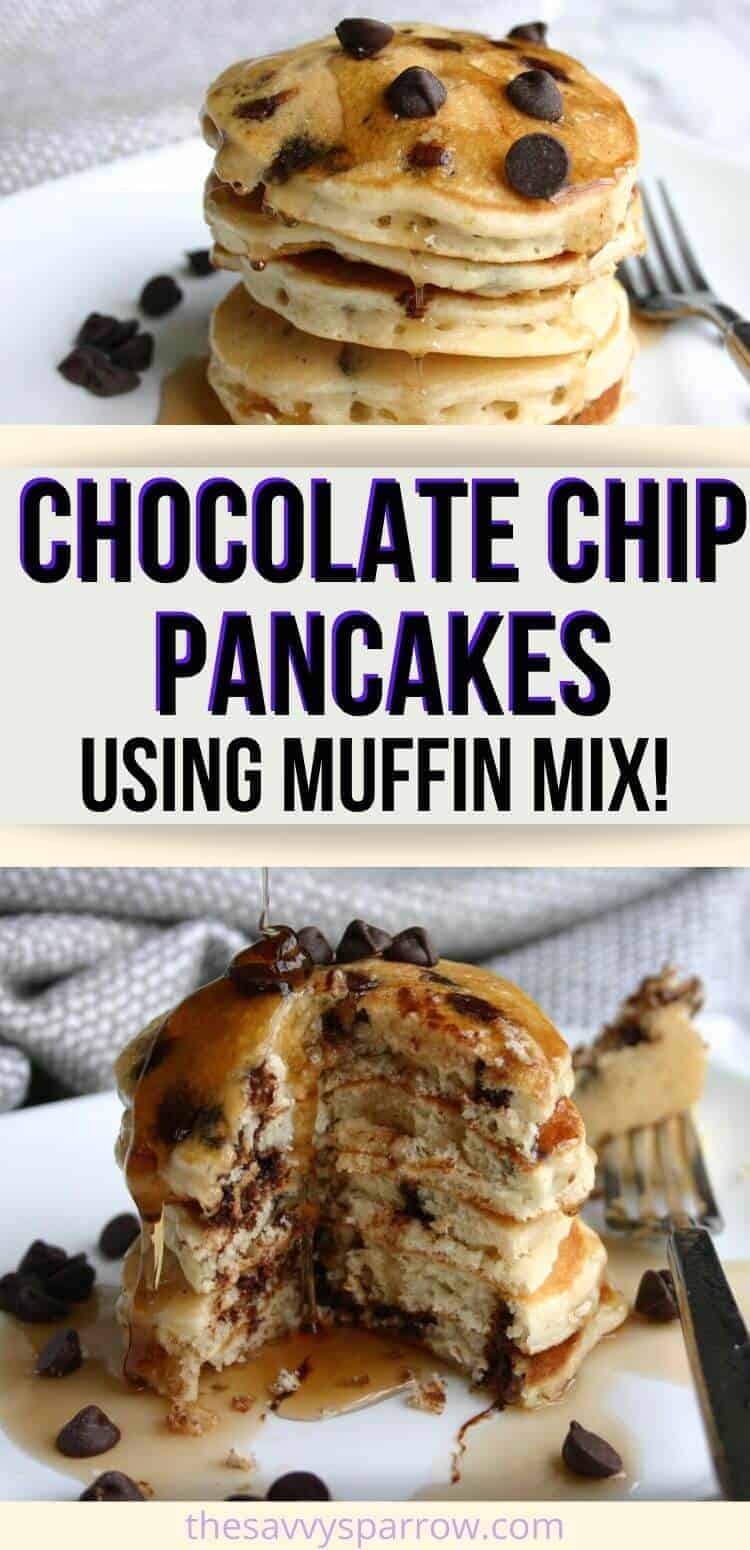 *This post may contain affiliate links, which means I may earn a small commission from these links, at no additional cost to you. Read my full disclosure here.
Anything with chocolate chips is gold in my book… but chocolate chips for BREAKFAST?! That's platinum! 🙂
And these Best Ever Mini Chocolate Chip Pancakes are just that… the best ever.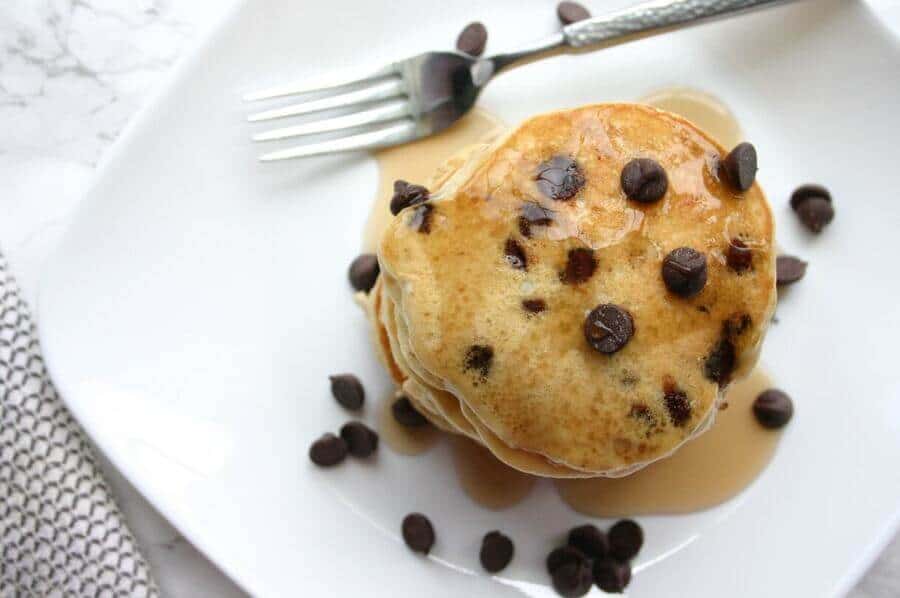 No syrup needed.
Can't eat just one.
Best ever.
Admittedly, this is my husband's recipe. Yes, you heard that right. I am one of those lucky girls that married a man that puts my kitchen skills to shame. When we first started dating way back at the ripe old age of sixteen, he even convinced me that my pot of boiling water was on fire. (It wasn't). But I sprinted to the kitchen anyway, because if anyone could catch water on fire, it would be me!
But, over the past fourteen years of marriage, I have perfected a few dishes with lots of help from my better half, and this Mini Chocolate Chip Pancakes recipe is one of them.
Every Saturday morning, I can be found in my coziest pajamas, whipping up a double batch of these yummiest of yummy Chocolate Chip Pancakes with muffin mix. Yes, a double batch. Did I mention these pancakes freeze extremely well? I put the leftovers in a gallon size freezer bag, and pop them into the freezer to be enjoyed throughout the week.
And another great thing about this easy pancake recipe using muffin mix, is that you can use ANY flavor of packaged muffin mix that you want! We've also made this same recipe using Blueberry muffin mix, Mixed Berry muffin mix, and Banana Nut muffin mix!
Here's how to make these yummy pancakes that are sure to become a staple in your house…
Ingredients for Easy Chocolate Chip Pancakes
This easy pancakes recipe only takes a few basic (and mostly boxed!) ingredients:
Bagged chocolate chip muffin mix – Be sure to get the kind that you only need to add water or milk to! Martha White and Duncan Hines are two of the ones that I've used to make these pancakes. They should be priced at only about $1 per bag.
Pancake or waffle mix – You can use your favorite mix! We've made these easy chocolate chip pancakes with Bisquick or even belgian waffle mix.
Milk
Eggs – Use one egg for each bag of muffin mix. I often make a double batch of these pancakes and store them in the freezer for easy weekday breakfasts for my kids!
Vanilla extract
Extra mix-ins – You can add whatever mix-ins that you like… chocolate chips, blueberries, chopped pecans, etc.
How to make Chocolate Chip Pancakes with Muffin Mix
Preheat electric griddle to 350 degrees.
I prefer to use an electric griddle like this one (affiliate) when making my pancakes because it is easy to control the heat, and you can cook about 6-8 pancakes at one time.
As a novice chef (my kids tell me I should audition for Worst Cooks in America!), an electric griddle makes cooking pancakes pretty much foolproof. Trust me, if I can make this easy pancakes recipe, so can you!
Mix all wet ingredients together in a large bowl.
Combine milk, eggs, and vanilla in a large bowl until thoroughly mixed.
Add dry ingredients to make your chocolate chip pancake batter.
Add the packaged muffin mix (just the dry mix!) and your pancake mix of choice to your wet ingredients. Stir until just combined. Be sure to not over-mix your pancake batter or your pancakes will be gummy.
Scoop pancake batter onto griddle.
I say "scoop" because that's the easiest way that I've found to make mini chocolate chip pancakes… and we're all about easy and stress-free here!
I use a 2 tablespoon cookie scoop like this one (affiliate) to perfectly portion out the batter for my mini chocolate chip pancakes. PRO TIP – This scoop is also great if you portion out peanut butter into 2 oz portion cups for your kids to dip apple slices or celery sticks… much cheaper than buying the pre-portioned little peanut butter cups from the grocery store! 🙂
* VERY IMPORTANT – Be sure to spray your griddle with cooking spray BEFORE putting your batter on to prevent sticking! I've forgotten to do this a few times in the past, and it's just a big sticky mess.
Cook chocolate chip pancakes until done.
Allow your chocolate chip pancakes to cook on the first side until you see small bubbles start to form and the edges appear to be setting up. Then it's time to flip!
After flipping, your pancakes will probably need to cook an additional 1-2 minutes before they're done. When your chocolate chip pancakes are done cooking, transfer them to a plate and serve immediately OR allow to cool so you can bag them up and freeze them.
Freeze extra chocolate chip pancakes in a zipper bag.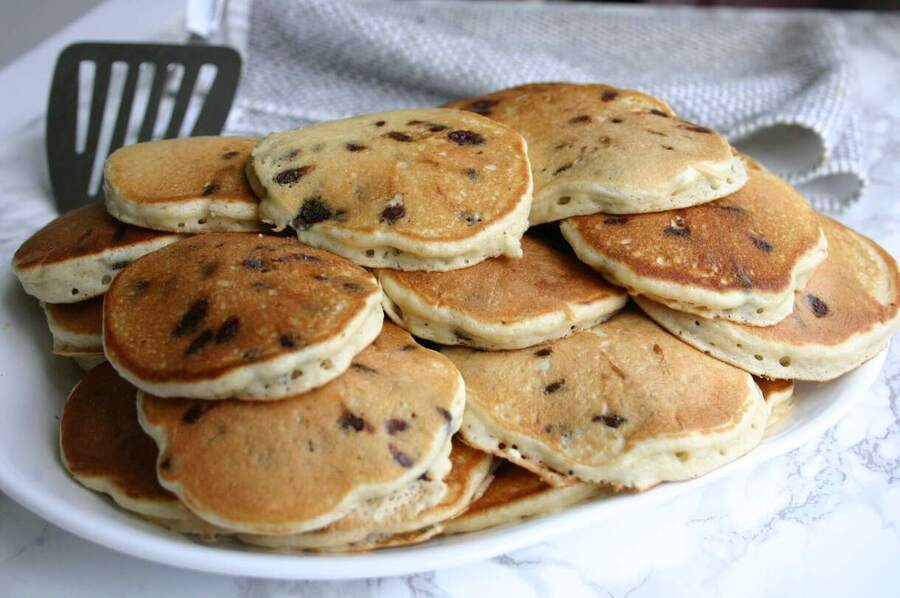 Once your pancakes have cooled down to room temperature, you can place them in a large zipper bag and freeze them.
How to Reheat Frozen Chocolate Chip Pancakes
Heating your frozen pancakes couldn't be easier… Which makes this easy mini pancakes recipe perfect for those I-Can't-Find-My-Shoes, I-Forgot-Where-I-Put-My-Homework kind of mornings!
Here are a few different ways to reheat chocolate chip pancakes after they've been in the freezer:
Toaster Oven Method – This is my preferred way to reheat frozen pancakes, but that's probably because we use our toaster oven for EVERYTHING! Just put a few frozen pancakes into the toaster oven on a medium-high toast setting, and they're done! You may want to keep an eye on your pancakes to make sure they don't burn, until you get a feel for what setting works best on your toaster oven.
Microwave Method – If you don't have a toaster oven, or if you don't like your pancakes to be slightly toasted/crunchy on the outside, then you can also microwave your frozen pancakes. Just wrap 2-3 of the mini pancakes in a paper towel and microwave for about 45 seconds or until heated through.
I mean… what kid wouldn't want to eat these for breakfast?!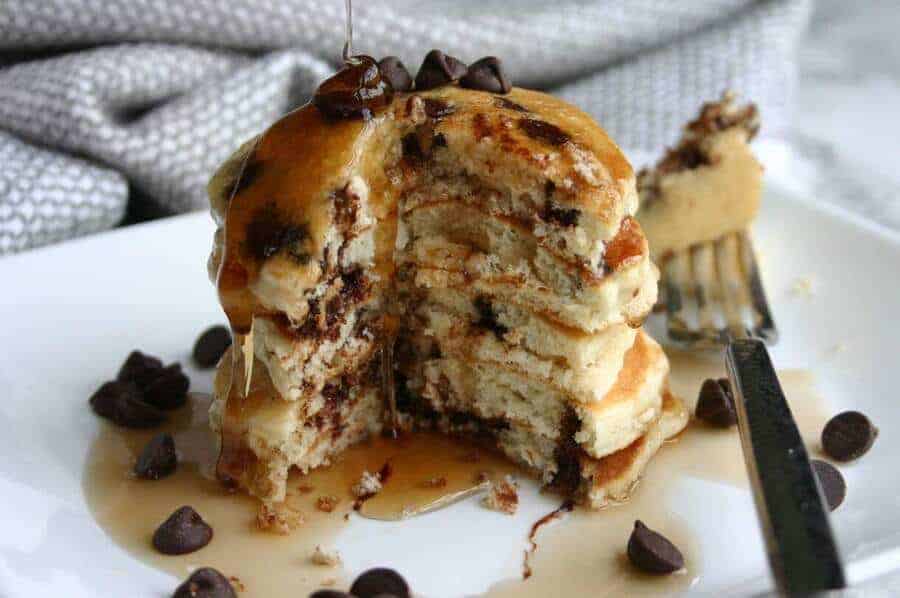 I've even been known to top these easy chocolate chip pancakes with muffin mix with Hershey's Chocolate Syrup, instead of regular syrup. Double Mom points.
And throw on some sprinkles to make it extra special!
Have a Bit Longer? Check out my collection of 36 of the Best Brunch Recipes Ever! Or, if you need a healthy meal prep breakfast for YOU, then you've got to try my Acai Smoothie Bowls! They are A-MAZ-ING, and you can make about 6 at a time and store them in the freezer!
Freezer pancakes for the kids and freezer smoothie bowls for you! 🙂
Happy Nesting!
Yield: 12-14 mini pancakes
Best Ever Mini Chocolate Chip Pancakes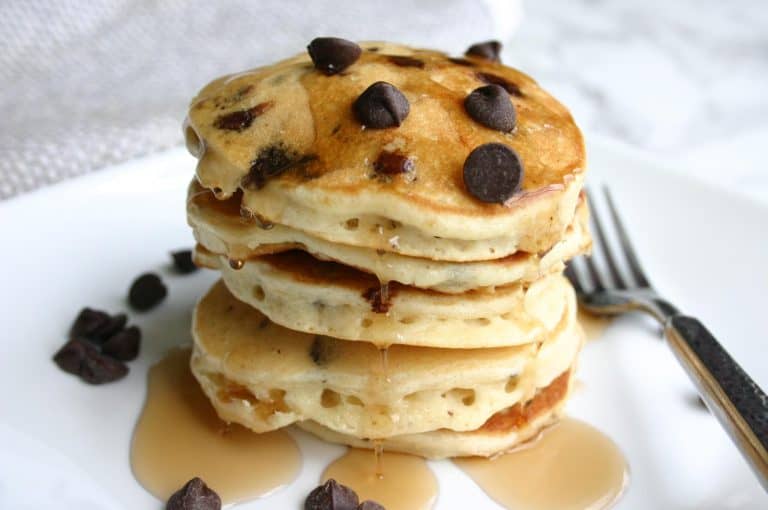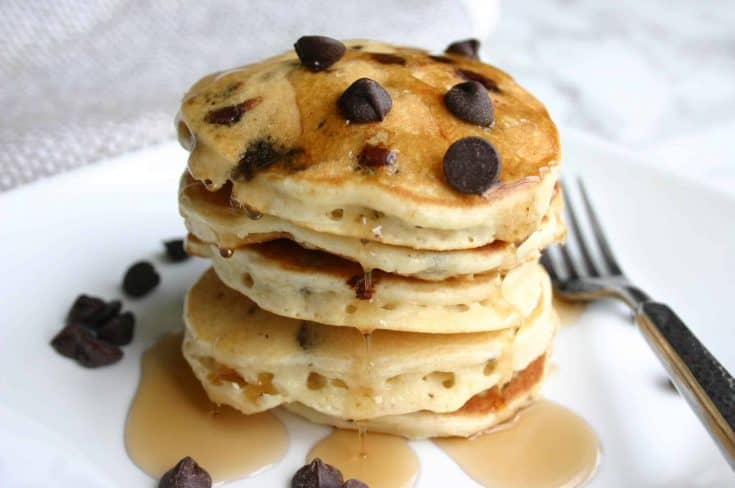 These chocolate chip pancakes are moist and flavorful, and they freeze very well. A staple in our house!
Prep Time 5 minutes
Cook Time 10 minutes
Total Time 15 minutes
Ingredients
1 large egg
1 cup milk
1 tsp vanilla extract
1 1/2 cups Bisquick, or other pancake mix
1 package Duncan Hines Chocolate Chip Muffin Mix, (dry mix only)
1 cup semisweet chocolate chips
Instructions
Preheat electric griddle to 350 degrees.
In a large bowl, mix together egg, milk, and vanilla extract.
To the wet ingredients, add pancake mix and muffin mix and stir until combined.
Fold in chocolate chips.
Spray griddle with baking spray or grease with butter to keep the pancakes from sticking.
Using a 2 tbsp scoop, scoop batter onto preheated griddle. Allow pancakes to cook on first side until small bubbles start to form and edges appear to be setting up.
Flip pancakes and allow to cook an additional 1-2 minutes.
Remove from griddle and serve warm.
Notes
I prefer to use an electric griddle to make my pancakes because of the large surface area and consistent heat, though these can be made in a skillet also. I make a double batch of these pancakes and freeze the leftovers for a quick weekday breakfast. Reheat in microwave or toaster oven.
Nutrition Information:
Yield:
4
Serving Size:
3 pancakes
Amount Per Serving:
Calories: 613
Total Fat: 28g
Saturated Fat: 12g
Trans Fat: 0g
Unsaturated Fat: 14g
Cholesterol: 61mg
Sodium: 887mg
Carbohydrates: 85g
Fiber: 4g
Sugar: 38g
Protein: 12g
Nutritional information is provided as a courtesy and is an estimate only. Different online calculators may calculate nutritional information differently. Also, the addition of optional ingredients and varying brands and products may change the information. For the most accurate data, you should calculate the nutritional information with the actual ingredients that you use.
Love this recipe? Try out some of my other delicious and easy breakfast recipes:
Or, if you want some more ideas for how to use muffin mix bags, then check out this post from Yummly on Muffin Mix Dessert Recipes!