Chocolate Chip Pancakes.
Enough said.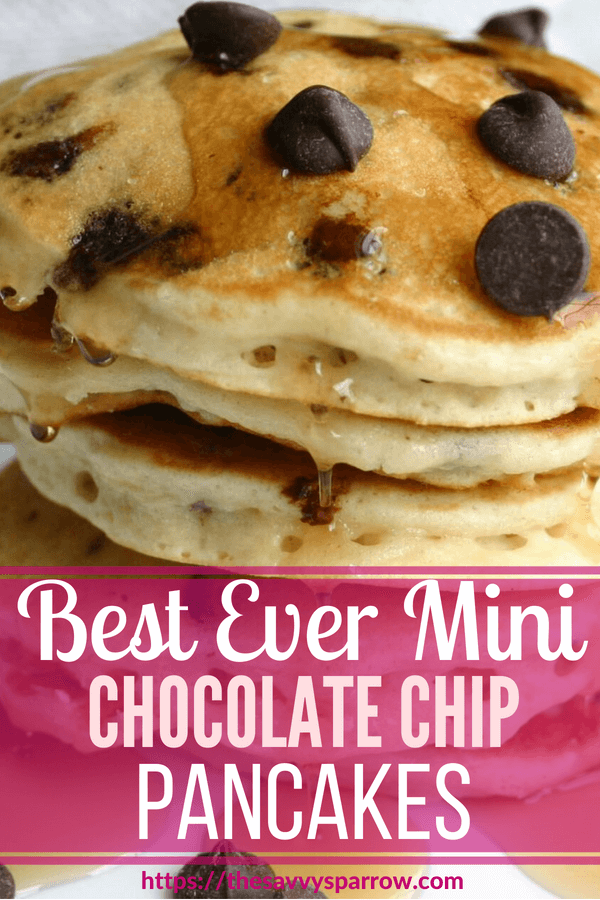 *This post may contain affiliate links, which means I may earn a small commission from these links, at no additional cost to you. Read my full disclosure here.
Anything with chocolate chips is gold in my book. But chocolate chips for breakfast – that's platinum.
And these Best Ever Mini Chocolate Chip Pancakes are just that… the best ever.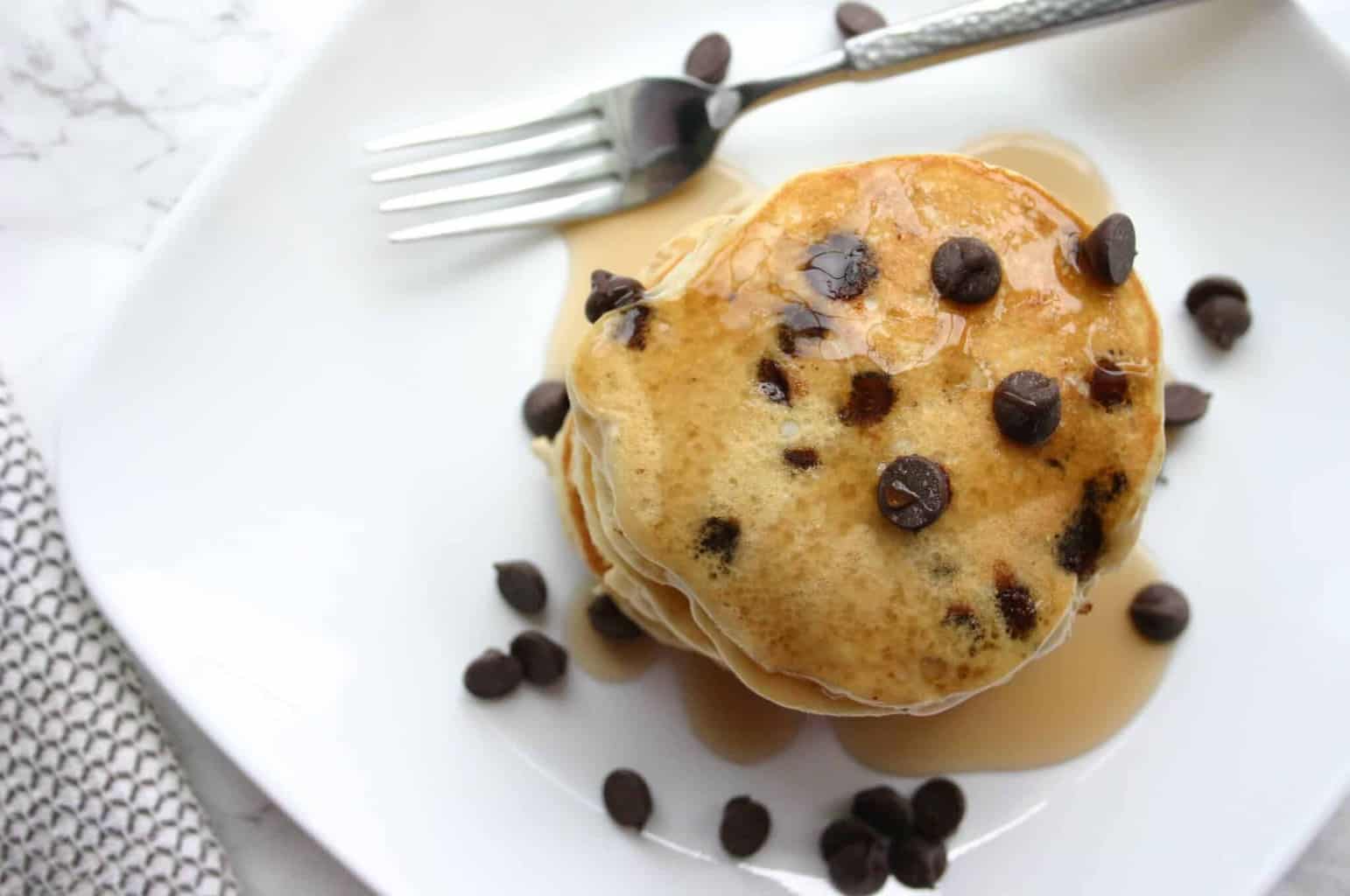 No syrup needed.
Can't eat just one.
Best ever.
Admittedly, this is my husband's recipe. Yes, you heard that right. I am one of those lucky girls that married a man that puts my kitchen skills to shame. When we first started dating way back at the ripe old age of sixteen, he even convinced me that my pot of boiling water was on fire. (It wasn't). But I sprinted into the kitchen anyway because, if anyone could catch water on fire, it would be me.
But, over the past eleven years of marriage, I have perfected a few dishes with lots of help from my better half, and this Mini Chocolate Chip Pancakes recipe is one of them.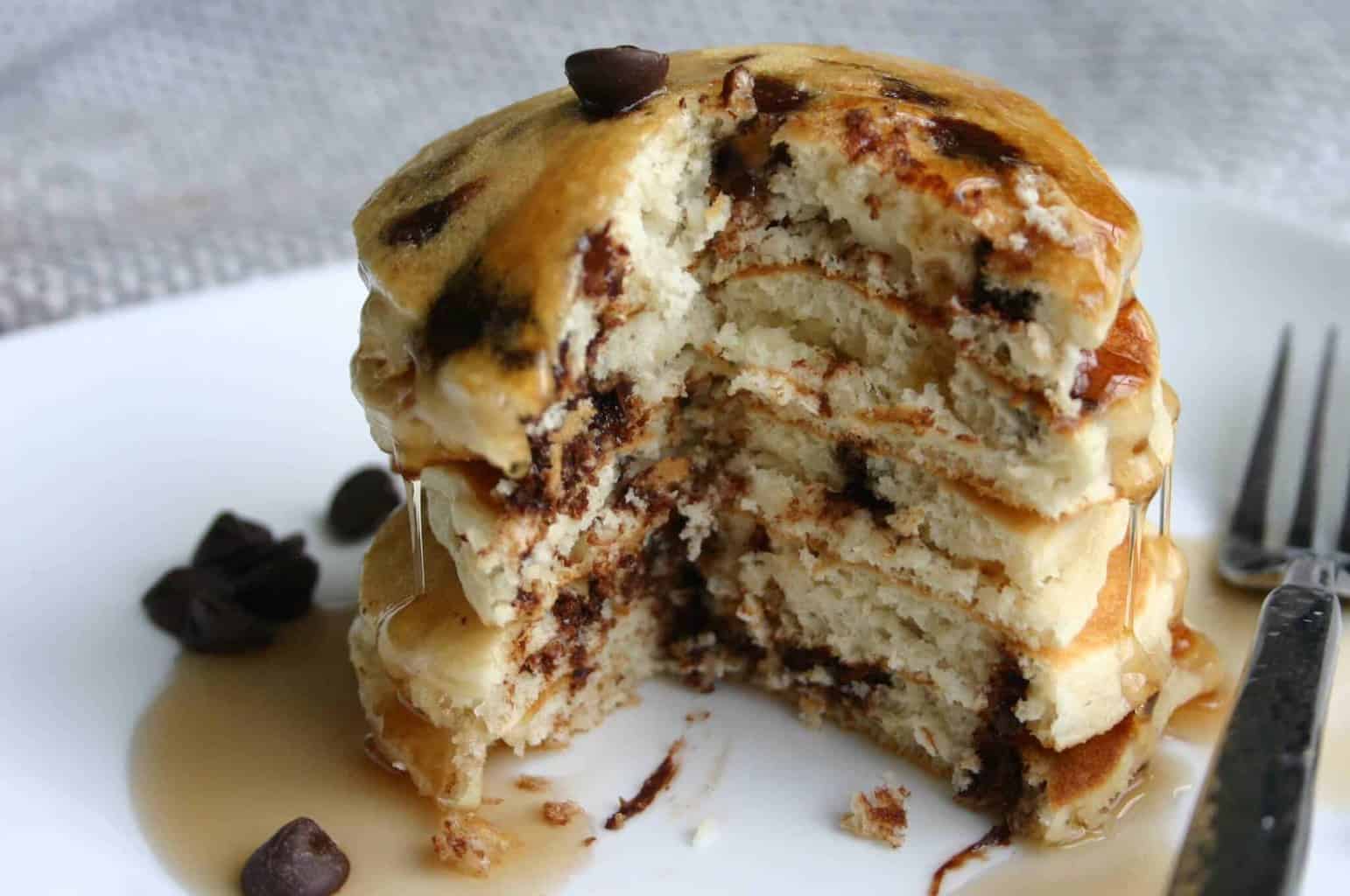 Every Saturday morning, I can be found in my coziest pajamas, whipping up a double batch of these yummiest of yummy Chocolate Chip Pancakes. Yes, a double batch. Did I mention that these freeze extremely well? I put the leftovers in a gallon size freezer bag, and pop them into the freezer to be enjoyed throughout the week.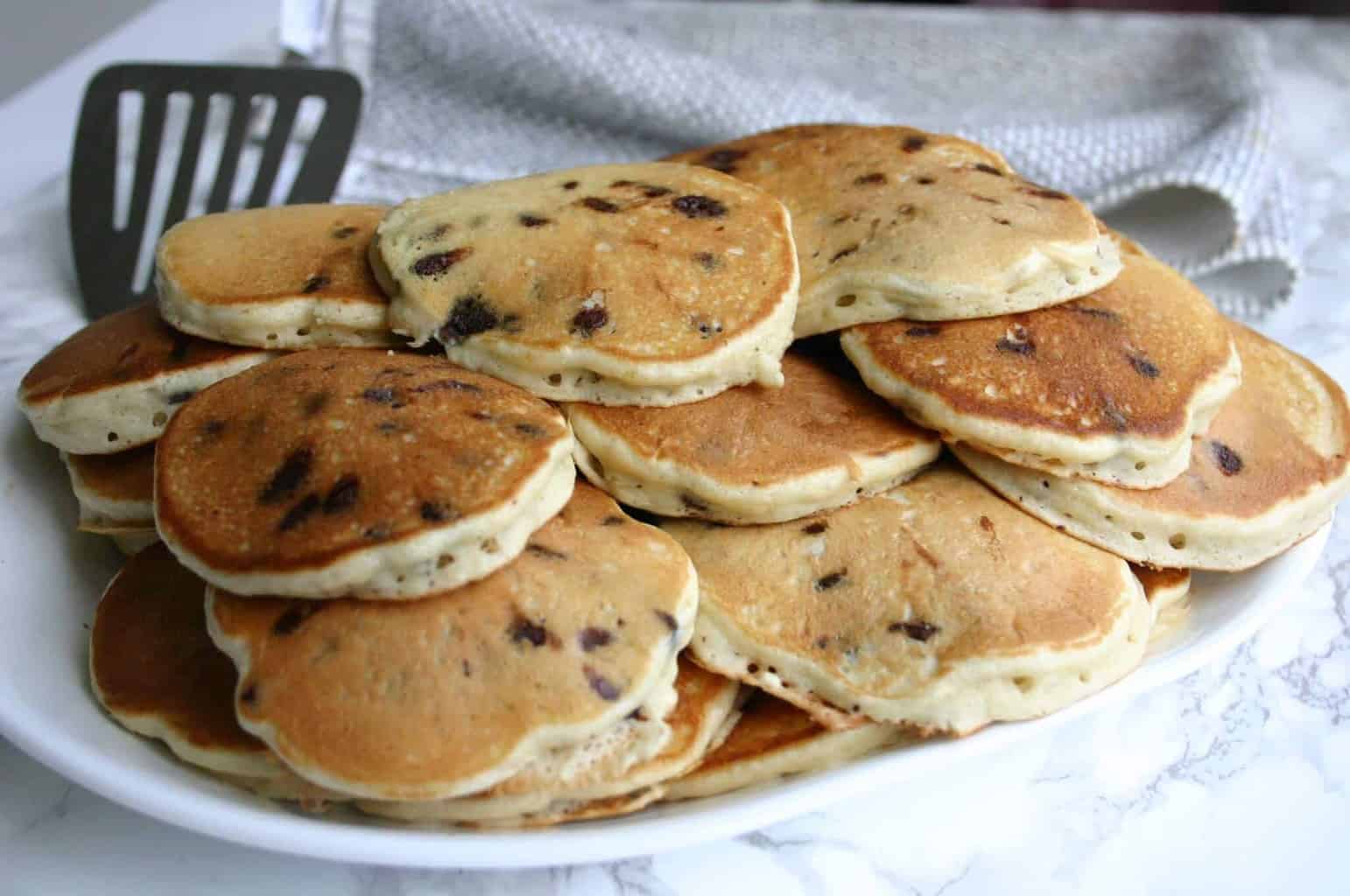 Then, on a hectic I-Can't-Find-My-Shoes, I-Forgot-Where-I-Put-My-Homework kind of morning, I just throw a few into the toaster oven on the highest toast setting (that's 7 on my trusty Cuisinart) and breakfast is served.
I've even been known to top these with Hershey's Chocolate Syrup, instead of regular syrup. Double Mom points.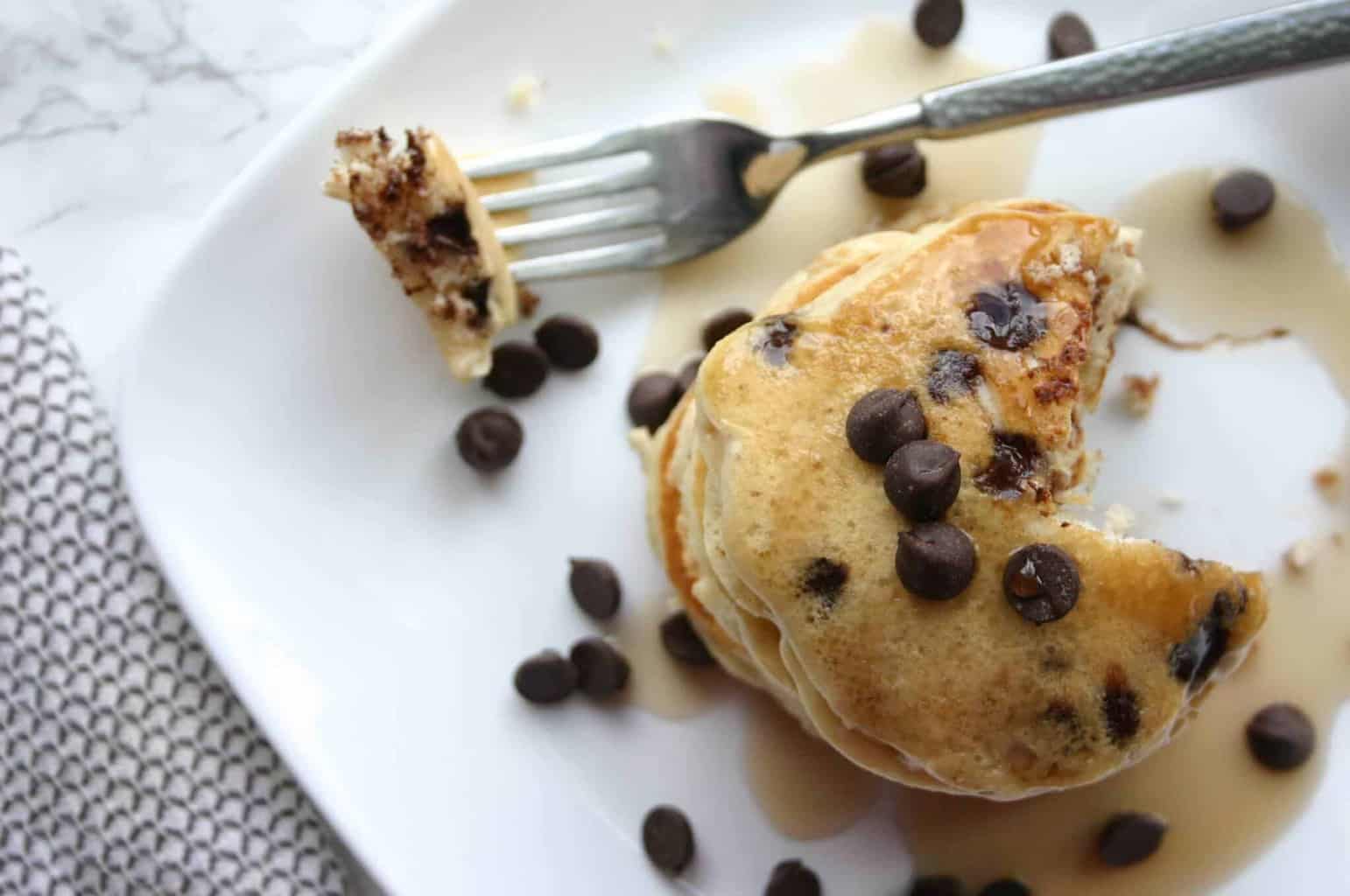 Try these out today!
*And, as a fun and practical wedding gift, I've been known to print this recipe and include it with a new electric griddle, 2 tbsp scoop, whisk, and all of the dry ingredients for these delicious chocolate chip pancakes! Here are the kitchen essentials for making these Best Ever Mini Chocolate Chip Pancakes:
Chocolate Chip Pancakes Recipe:
Best Ever Mini Chocolate Chip Pancakes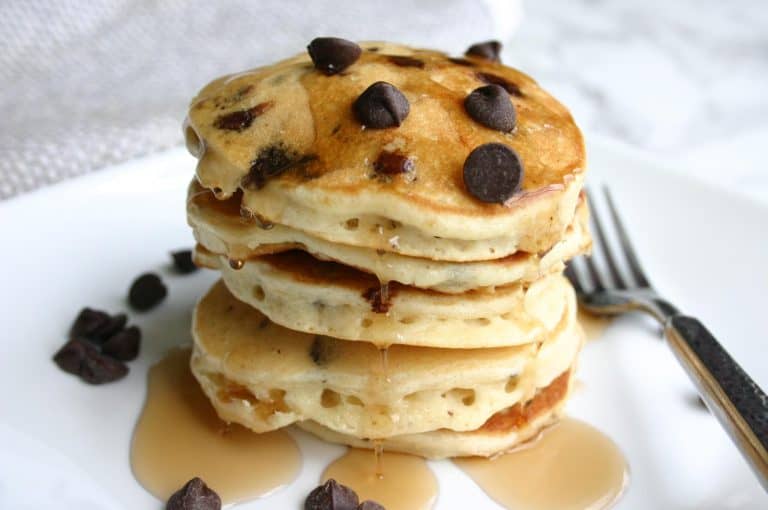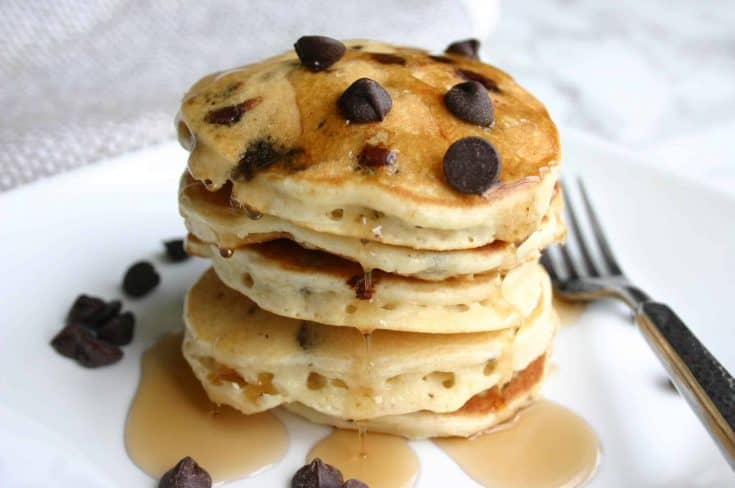 These chocolate chip pancakes are moist and flavorful, and they freeze very well. A staple in our house!
Ingredients
1 large egg
1 cup milk
1 tsp vanilla extract
1 cup Bisquick, or other pancake mix
1 package Duncan Hines Chocolate Chip Muffin Mix, (dry mix only)
1 cup semisweet chocolate chips
Instructions
Preheat electric griddle to 350 degrees.
In a large bowl, mix together egg, milk, and vanilla extract.
To the wet ingredients, add pancake mix and muffin mix and stir until combined.
Fold in chocolate chips.
Spray griddle with baking spray or grease with butter to keep the pancakes from sticking.
Using a 2 tbsp scoop, scoop batter onto preheated griddle.  Allow pancakes to cook on first side until small bubbles start to form and edges appear to be setting up.
Flip pancakes and allow to cook an additional 1-2 minutes.
Remove from griddle and serve warm.
Notes
I prefer to use an electric griddle to make my pancakes because of the large surface area and consistent heat, though these can be made in a skillet also.  I make a double batch of these pancakes and freeze the leftovers for a quick weekday breakfast.  Reheat in microwave or toaster oven.
Nutrition Information:
Yield:
6
Serving Size:
3 pancakes
Amount Per Serving:
Calories:

366
Total Fat:

17g
Saturated Fat:

8g
Trans Fat:

0g
Unsaturated Fat:

8g
Cholesterol:

40mg
Sodium:

463mg
Carbohydrates:

50g
Fiber:

3g
Sugar:

24g
Protein:

7g
Nutrition information isn't always accurate.
Love this recipe? Try out some of my other deliciousness, brought to you by my culinary-genius husband: