Pizza for breakfast?! No, I'm not talking about sneaking a piece of leftover Dominos from the fridge and chowing down while it's still cold. I'm talking about these Easy Low Carb Breakfast Pizzas with sausage, eggs, cheese, and every other breakfast goodness that you can dream up.
If you haven't had pizza for breakfast then you're seriously missing out. And with these easy low carb breakfast pizzas, you can nosh without the guilt of blowing your diet first thing in the morning.
My kids even love these breakfast pizzas, and I love that they're getting a healthy and filling breakfast that doesn't come in a sugar-filled bowl.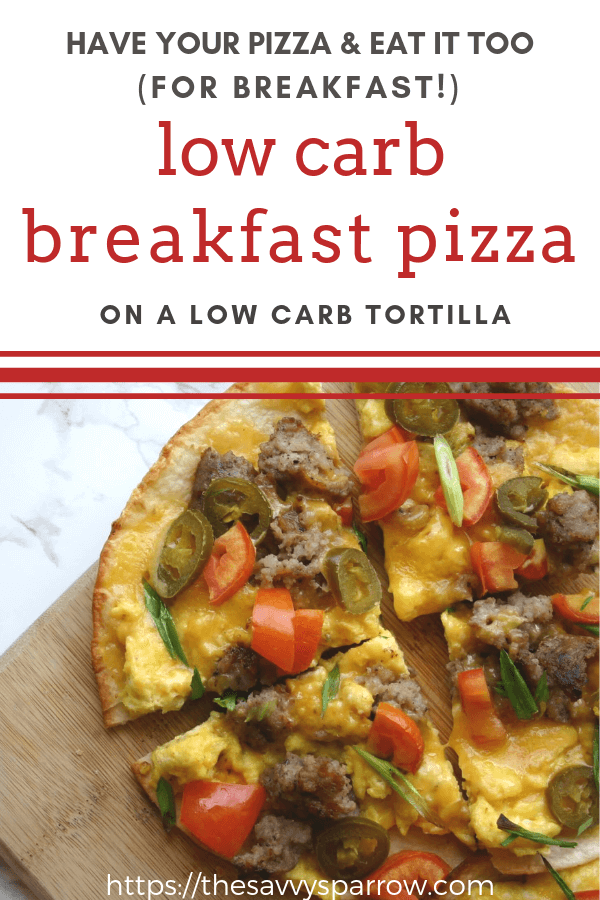 BTW – If you are a health-conscious, pizza fiend like me, then you must check out my (and by "my" I mean my husband's) recipe for Barbecue Chicken Tortilla Pizzas! Delicious!
*This post contains affiliate links, which means I may earn a small commission from these links at no additional cost to you. Read my full disclosure here.
I am always on the hunt for yummy, easy and low carb breakfast ideas. A quick bowl of cereal just doesn't cut it when you're trying to not eat all the carbs. I mean, come on, if I'm going to consume 20+ carbs, it's going to be in the form of a candy bar instead of a bowl of Rice Krispies.
Am I right?!
If you're watching your carb intake also (who isn't these days – just look at what's trending on Pinterest!), then you will love these low carb breakfast pizzas!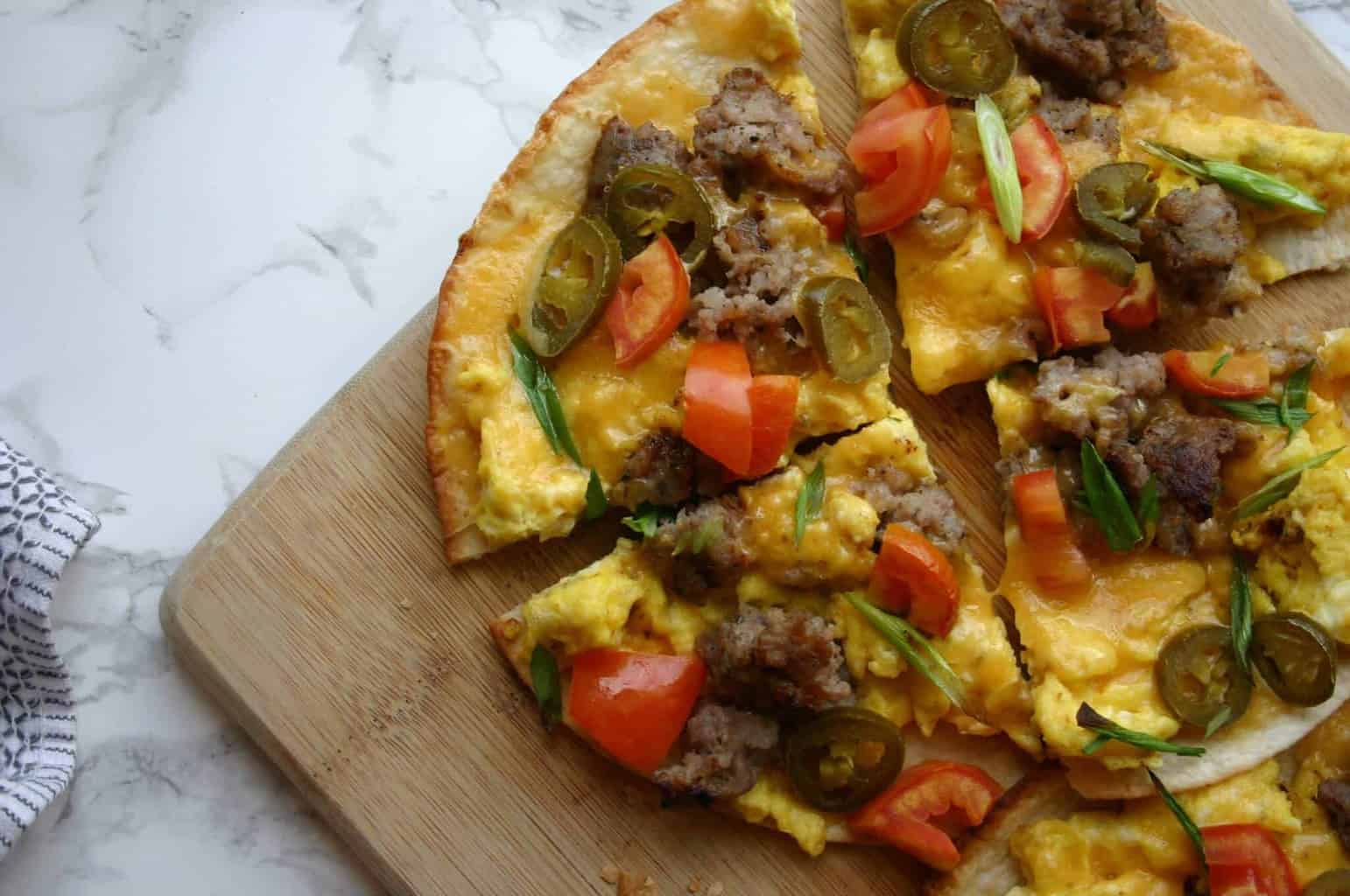 They're super easy to make thanks to packaged low carb tortillas. And, you can make a big batch of scrambled eggs/sausage/breakfast meat at the beginning of the week to store in your fridge to make these low carb breakfast pizzas even easier to whip up in the mornings.
*Though if you pre-make your scrambled eggs I recommend cooking them a little under to account for the time needed to reheat them.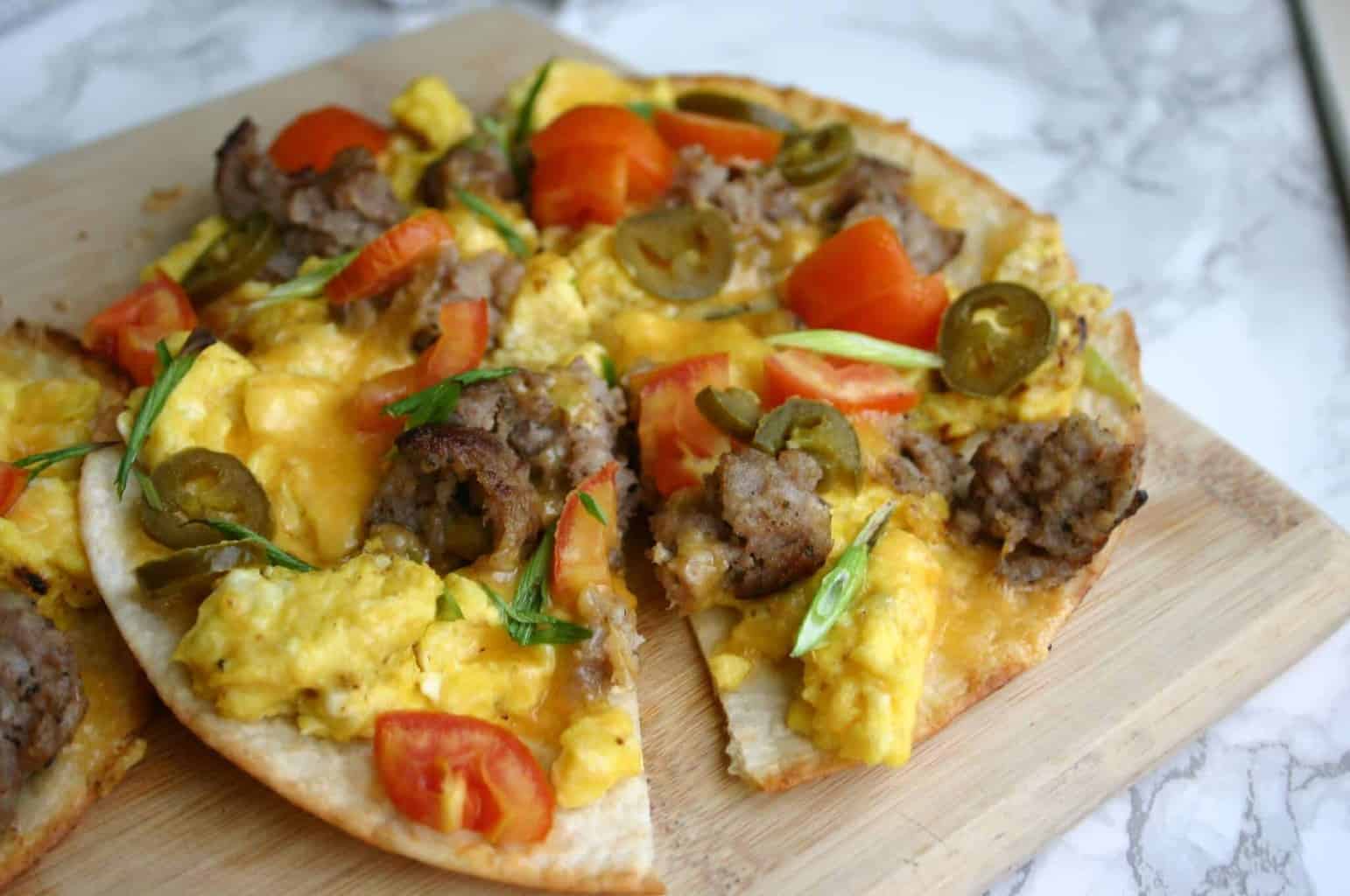 Cereal… pizza… cereal… pizza… it ain't even close! These low carb breakfast pizzas win by a landslide!
Oh… I almost forgot… to make these low carb breakfast pizzas low carb, be sure to use low carb tortillas! Duh! Here are the ones that I use and love, and they only have 6g net carbs per tortilla (the same net carbs as 1 medium carrot!).
Here's the quick and easy recipe so that you can have your pizza and eat it too… guiltlessly… since it's low carb!
Low Carb Breakfast Pizzas Recipe:
Yield: 1 pizza
Low Carb Breakfast Pizzas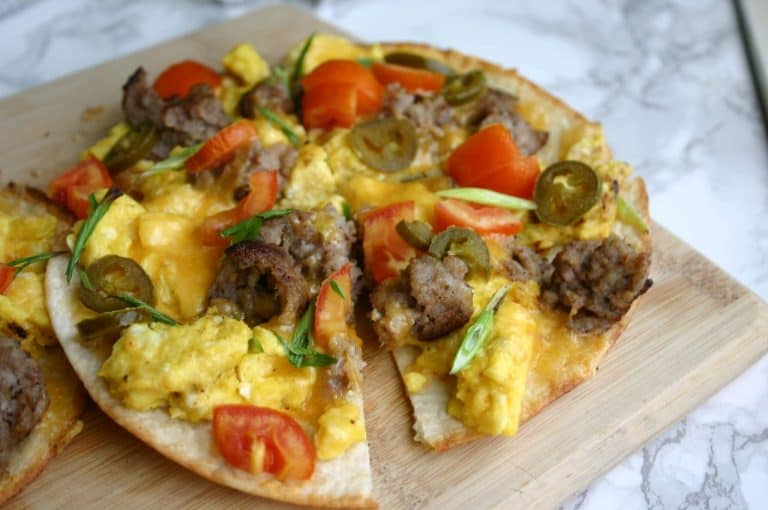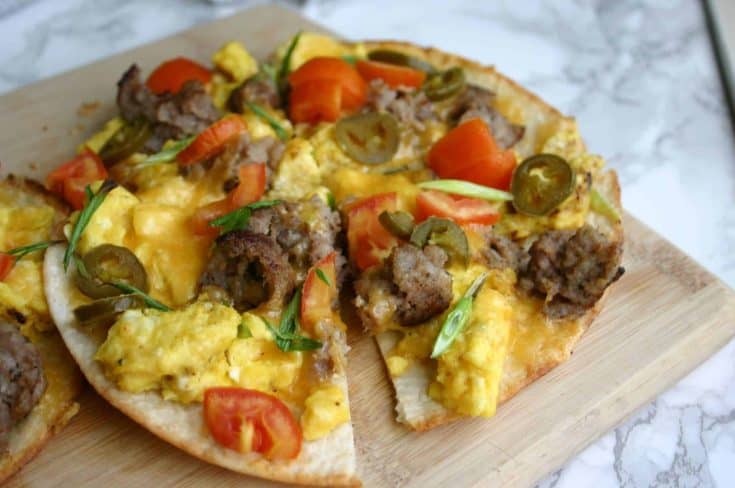 Try these low carb breakfast pizzas for a quick and tasty low carb breakfast! A packaged low carb tortilla makes the perfect crispy crust. Use leftover scrambled eggs or breakfast meat to make this low carb recipe even easier! And feel free to customize your breakfast pizza using whatever toppings you like. Goat cheese, spinach, mushrooms, and eggs would also be yummy!
Prep Time 5 minutes
Cook Time 10 minutes
Total Time 15 minutes
Ingredients
1 low carb tortilla, (Mission Carb Balance tortillas soft taco size work well!)
1 tbsp olive oil
2 eggs
1/4 cup shredded cheese of your choice, (I used sharp cheddar)
1/4 cup sausage, cooked and crumbled, (or breakfast meat of your choice)
diced tomato, optional
diced jalapeno, optional
green onion, optional
salsa, optional
Instructions
Scramble eggs in a skillet over medium low heat until done. Set aside.
Preheat oven to 400 degrees. (Or if you are using a toaster oven, you can toast your pizza on high heat and do not need to preheat the oven.)
Heat olive oil in a skillet over medium high heat.
Once olive oil is heated, add tortilla. Toast tortilla until lightly golden brown on bottom. Do not flip.
While tortilla is toasting, layer on scrambled eggs, cheese, breakfast meat and the diced tomatoes and jalapenos (optional).
After tortilla is lightly golden brown on bottom, transfer tortilla pizza to a baking sheet.
Bake at 400 degrees for about 3-5 minutes or until cheese is melted and edges of tortilla start to turn brown. (If using a toaster oven, toast on high - settings my vary).
Remove from oven. Sprinkle with green onions and/or salsa (optional). Slice and serve.
Notes
*For tortilla pizzas, I only recommend using soft taco-sized tortillas. Larger tortillas are flimsy and more difficult to hold.
Nutrition Information:
Yield:
1
Serving Size:
1 person
Amount Per Serving:
Calories: 674
Total Fat: 50g
Saturated Fat: 16g
Trans Fat: 0g
Unsaturated Fat: 29g
Cholesterol: 435mg
Sodium: 1198mg
Carbohydrates: 25g
Fiber: 6g
Sugar: 8g
Protein: 35g
Nutrition information isn't always accurate.
Related Posts: