Make sure your man feels loved with these 50 easy ways to show your husband that you love him! These creative ways to show love are based on "The Five Love Languages" by Gary Chapman, and they're a great way to let your husband know that you think he's awesome!
If you haven't been living under a rock for the last decade, then chances are you've heard about a little book called The Five Love Languages: The Secret to Love that Lasts by Gary Chapman.
But just in case you are an under-rock dweller, then The Five Love Languages is a wildly popular relationship book about the different ways that make an individual feel the most loved. 
Gary Chapman offers five main languages of love and suggestions for how to use your partner's language to improve your relationship. 
If this is all news to you, then you can head here to take The 5 Love Languages quiz for FREE!  Then, come back for some fun and unique ways to show your husband that you love him based on his love language.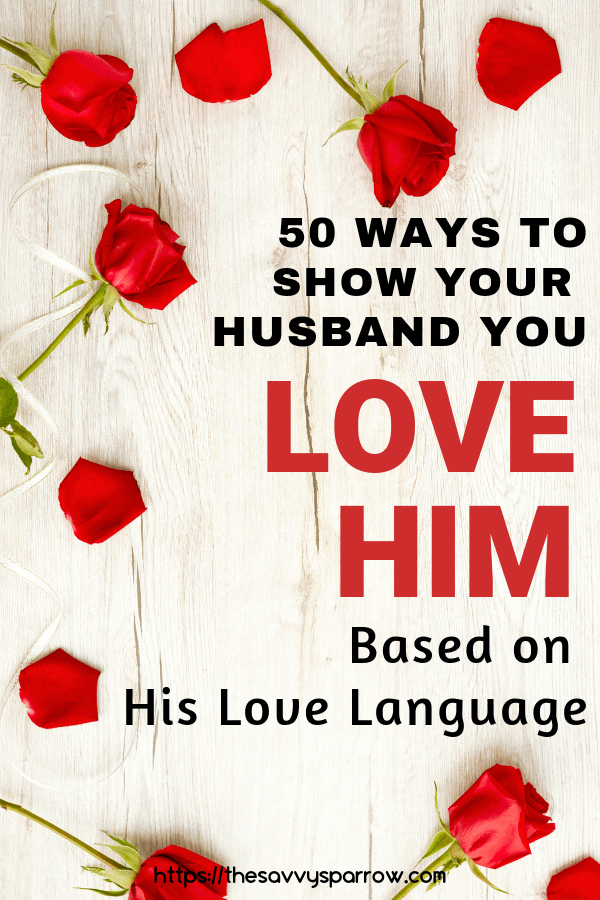 *This post contains affiliate links, which means I may earn a small commission from these links at no additional cost to you. Read my full disclosure here.
I'm not shy about telling people how amazingly happy I am in my marriage, or dishing out unsolicited marriage advice.  In a culture of divorce and fake "relationship goals" on social media, my husband and I agree that we are so blessed to have a rock solid partnership.  We truly love each other, and we are best friends.
But, any good marriage also requires work. 
I'm not talking about the ugly, we've-got-to-work-through-this-stuff type of work, though that type of commitment is important, too, when life throws you a curveball.  I'm talking about the "work" that still needs to be done when times are good.
It's important to put in the "work" of making sure that your spouse feels loved. Not just saying "I love you" and kissing each other goodnight. But really putting in the extra effort to keep your bond and your marriage strong.
And it's important to know your spouse's love language so that your efforts are effective.
So, after you've had your husband take the Five Love Languages quiz, (or you've read the book), steal some of these fun and unique ways to show your husband you love him.
50 Ways to Show Your Husband that You Love Him
Words of Affirmation –
What it is? Verbal affirmations. Expression of love through uplifting, encouraging, reassuring words.
Ways to show your husband that you love him:
Write him a thoughtful love letter or card and mail it to your house.
Compliment him out of the blue.
Leave sweet sticky notes in random spots like on his steering wheel or in his gym bag.
Brag about how great he is to your friends, in front of him.  I'm not shy about telling people that my husband is a "triple threat" because he cooks, cleans, and does laundry.  He's a catch, and I know that he feels appreciated when I tell others how great he is.
Tell him how appreciative you are of all that he does for your family.  If your husband is the main "breadwinner", then he works hard to provide for you.  Let him know that his efforts aren't taken for granted.
Say "I love you".
Make an easy DIY dry erase love note memo board and use it to leave notes for your spouse.  Just take a tabletop picture frame and put a pretty piece of scrapbook paper inside.  Then, use a dry erase marker to write on the glass "I love you because…".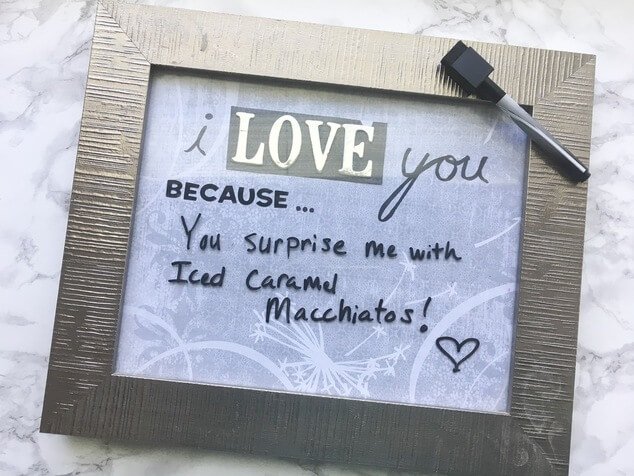 Leave a small note in his lunchbox every day of the month with a new quality that you love about him.
DM him!  Let him know how much you love him through direct messages on his social media.
Call him and when he answers, start singing your wedding song/love song to him.  My Boogie husband and I do this quite often… even though both of our singing voices sound like dying cats.  The completely tone-deaf renditions of "Have I Told You Lately that I Love You" make it that more meaningful.  🙂
Acts of Service –
What it is?  Actions to help make your partner's life easier. 
*Side Note – During our pre-marriage counseling, our pastor also stressed the importance of acts of service in maintaining a healthy marriage.  Even if your spouse's love language is NOT acts of service, you should still try to do whatever you can to make each other's lives easier.  Less stress in your life = Less stress in your marriage. 
I talk more about this in my post, 10 of the Best Marriage Tips Ever!.  Check it out!
Ways to show your husband that you love him:
Wash his car.
Make him breakfast in bed.  Or a sexy dessert like this Easy Chocolate Fondue.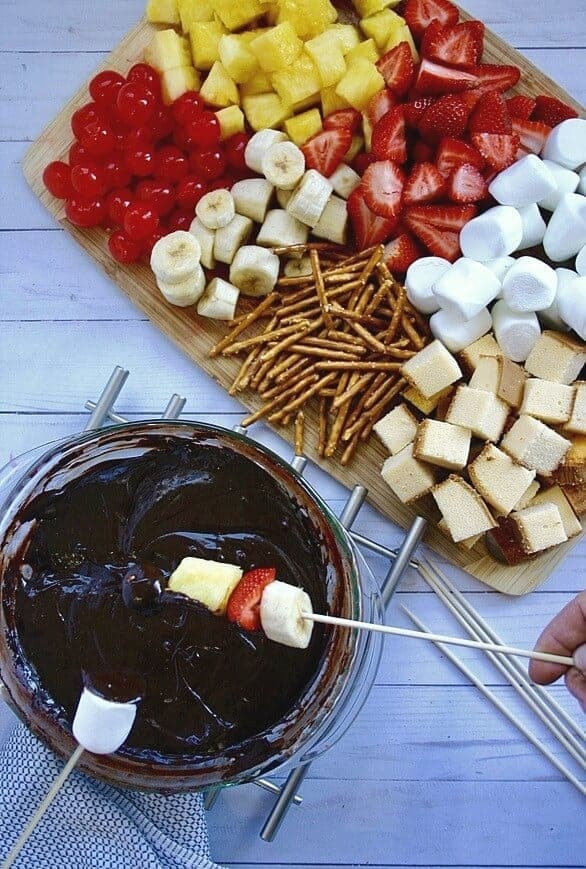 Mow the yard for him.
Offer to help him complete a task for his job.
If he has a household chore that he really hates doing, offer to split the work with him (i.e. – alternate taking out the trash).
Cook his favorite fancy dinner and serve it to him by candlelight.
Order his favorite takeout and have his favorite ice cold beverages waiting for him on game day.
Do something that you know is important to him, even if it isn't important to you.  For example, Christmas is right around the corner and my husband takes "deck the halls" seriously.  He LOVES to have a perfectly (and thoroughly) decorated house for the holidays.  I would be fine with just a tree.  But, since I know that it's important to him, I put in the extra effort to decorate the mantle, hearth, front door, dining table, coffee table, kitchen (attic – okay, maybe not, but you get the idea!).
At the risk of sounding antiquated… Make his dinner plate.  No, not just make his dinner.  Actually make his plate and bring it to him.  My Mom has done this for my Dad ever since they got married 37 years ago.
Throw his towel in the dryer for him before he gets in the shower so that he has a nice warm towel to dry off with.  My husband does this for me every now and then, and I LOVE it!
Receiving Gifts –
What it is? Pretty self-explanatory. If this is your spouse's love language, then he feels most loved when you give him a gift.
Ways to show your husband that you love him:
Buying that shirt/watch/hat that he's been wanting and surprise him with it, just because.
Gift him an experience, like a round of golf or an hour at the gun range.
Order him a subscription box so that he gets a fun gift in the mail every month.  For example, if he loves crazy socks, try Sock Fancy.  Sports fan?  Try Fanchest.                                                                                                                 
Give him a sentimental gift – like framed memorabilia from a milestone date that you shared together (first date, wedding day, anniversary) or a photo album filled with all of the concert/movie tickets that you saw together.
Gift him a coupon book of Honey-Do coupons filled with jobs that you can do for him (wash car, breakfast in bed).
Have your kids make him a homemade gift or card.
Have a replica made of the top tier of your wedding cake. This makes an awesome anniversary gift, too! Especially if you include his pet name. 🙂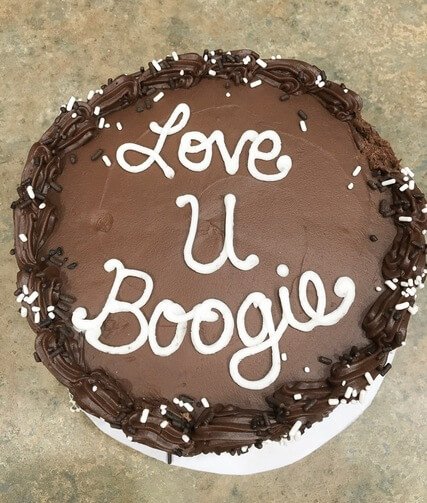 Give him a naughty gift to use in the bedroom.
Bring his favorite snack home from the grocery store.
Give him small gifts on important dates like the anniversary of your first date or your first kiss.
Give him a completely off the wall gift to make him laugh.  Go here for some hilarious gifts for men!
Quality Time –
What it is? Giving your undivided attention. Spending time with your spouse free from distractions.
Ways to show your husband that you love him:
Shower together.  Maybe a little TMI – but my husband and I shower together every night, and I highly recommend it to improve your marriage.  Why?  Because you can't watch TV or take your phone with you in the shower, so it's truly distraction-free quality time.  (Read more of my marriage tips here!)
Have no-phones dinners.  Put your phones out of reach and turn off the ringers during dinner time so that you're not tempted by it.
Go to the gym together.
Meet him for lunch at work with an impromptu picnic.
Sit with him while he watches a football/basketball/golf game on TV.  This is especially meaningful if you despise sports like I do.  🙂
Schedule weekly, biweekly, or monthly dates.  Make time alone together a priority.  My husband and I have a standing lunch date every Friday, and we really enjoy spending that time together each week while the kids are at school.
Plan a fun outing for the two of you.  Do something in your city that you've never done before, like a Food Tour or a city scavenger hunt.
Pack a kickball or a frisbee and head to the park.
Take a walk around the neighborhood together.
Play a board game together, with the TV off.
Try one of these 16 Stay at Home Date Ideas on a Budget, because date night doesn't always have to cost a bunch of money.
Want something fun and meaningful to talk about during your quality time together? When you subscribe to my email newsletter, I'll send you a FREE Printable of 100 Questions to Ask Your Spouse! And don't worry, I will never sell your info or spam you… that's not what friends do!
Physical Touch –
What it is? Touching. Plain and simple.
Ways to show your husband that you love him:
Give him a back/foot rub.
Snuggle him in bed.  My husband like to complain about my cold feet, but I know he secretly loves it!
Go see a movie, sit in the back row, and make out like you're still in high school.  🙂
Lay your head on his shoulder while you're sitting on the couch watching TV.
Rub lotion on his hands and give him a mini manicure.
Rest your hand on his leg while he's driving.
"Accidentally" brush up against him.  Wink wink.
Dance with him in the middle of the living room for no reason.
Hold hands while you're walking around the grocery store or running other errands.
And, of course, there are a gazillion other ways to show him love through physical touch… all of which I won't mention here to avoid my parents the embarrassment of reading 50 Shades-style advice written by their daughter.  You're welcome, Mom.
And there you have it! Fun and creative ways to show your husband love based on his specific love language. What are some of your favorite ways to show your husband that you love him? I'd love it if you left me a comment below… maybe some words of affirmation! 🙂