Are you in desperate need of a good stay at home Mom routine? This post will help you create your own stay at home Mom schedule with loads of tips and a sample real-life routine from a busy Momma of four kids!
*This article was written by Katie Gochenour, a longtime acquaintance of mine and a mother of four children ages seven and under. In addition to staying home with her two youngest kids, Katie also works part-time as a freelance writer and content creator. She also has a budding Etsy shop and enjoys anything that serves as an outlet for her creativity.
In all my years in the workforce, I have never held a job title more challenging and worthwhile than "Stay At Home Mom." It's the single most underappreciated position in existence (aside from teachers and janitors), and no one really knows what you're going through unless they're living it.
I decided to become a stay at home mom after my fourth child was born. Before that, I taught high school language arts for several years, and I've had a job since I was 16 years old. However, the stress of teaching during the pandemic took its toll on me, and I wanted my children to come home to someone who wasn't cranky and anxiety-ridden most of the time.
One thing that helped me make the transition was having an organized schedule. Having some kind of structure to my day not only helped me stay sane but was also positive for my kids. I wanted to share some of my real-life tips and ideas for creating a stay at home mom routine with you, and I hope they're helpful!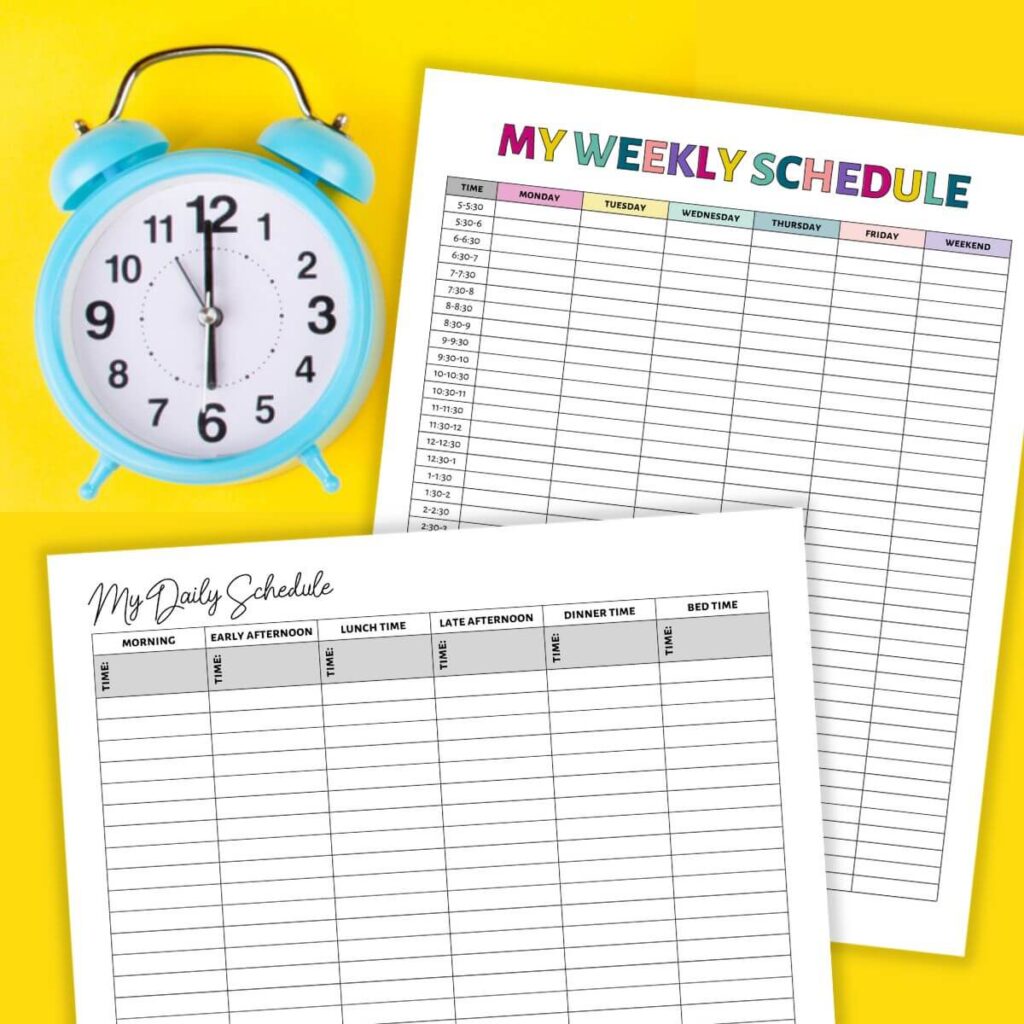 How to Create a Stay at Home Mom Routine that Works for You
Creating your own stay at home mom routine is always going to be a fluid process because each stage of life brings its own set of unique needs. For example, my daily schedule as a mom of one child looked much different than what it is now as a mom of four.
If you have younger kids, your stay at home mom schedule will be closely tied to their programs and routines. If there's one thing I've learned over the years, it's that young children thrive on routine. Life is just easier for everyone involved, trust me!
For example, my two oldest sons go to school, and I have my three-year-old son and baby at home. My life is organized around the baby's naptimes (which I rarely compromise on), having a set time for preschool activities with my son, and then working on my other tasks and items on my to-do list.
Even though all of our mom lives look different, my goal in writing this is to help you create a framework for your daily life that gives you a sense of stability, organization, and (a few) moments of calm. Of course, there might still be days when you're in your pajamas at 4 p.m., and that's OK. I've definitely been there!
Let's start with some first steps on how to create your daily schedule/routine:
Write Down Your Daily/Weekly Tasks to Add to Your Stay At Home Mom Schedule
Grab a piece of paper, use a list app, whatever strikes your fancy, and jot down a list of the daily and weekly tasks you need and want to accomplish. My husband and I have divided up household chores since I also work part-time from home.
Some of my regular tasks include:
Weekday/Weekend Morning Routines
Laundry
Errands/Doctor's Appointments
Outside Playtime
Independent Playtime
Preschool Time
30 minutes of exercise
Nap/Quiet Time
Helping Kids with Homework
Meal Planning and Prep
Working on my Etsy business
Writing and Other Freelance Work
Self-Care
Since my husband works long hours and I also work from home part-time, I have to be uber-organized in planning my week. Otherwise, I'm either scrambling to get things done or staying up way too late (usually both). Which brings me to the next topic – making a schedule!
Choose a Daily Schedule Format
You'll need to decide what format you're going to use to schedule your week. Are you obsessed with Erin Condren planners? Will you use a printable schedule template you can hang on the fridge? There are also plenty of scheduling apps out there if you prefer to keep things on your phone or tablet as well.
I personally prefer to create my weekly schedule in Google Calendar. I can set recurring daily and weekly events like sports practices, preschool time, and other tasks. I also like to color code things, and modifying times and days is very easy. For example, if I can't get to a task on Monday, I can easily shift it over to an open slot on Tuesday.
If a paper planner is more your style, then check out this post for some of the best mom planners to help you with your daily stay at home mom schedule! Or you can use a free printable weekly planning template, like the one below: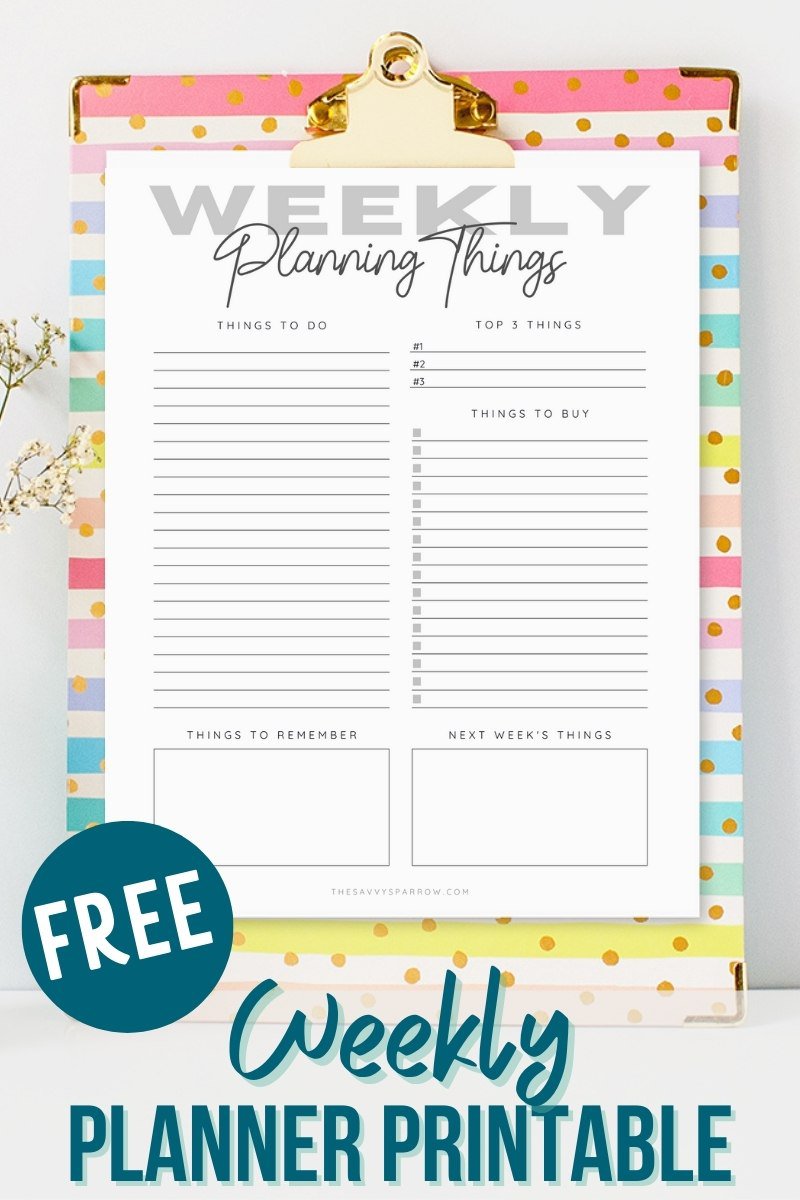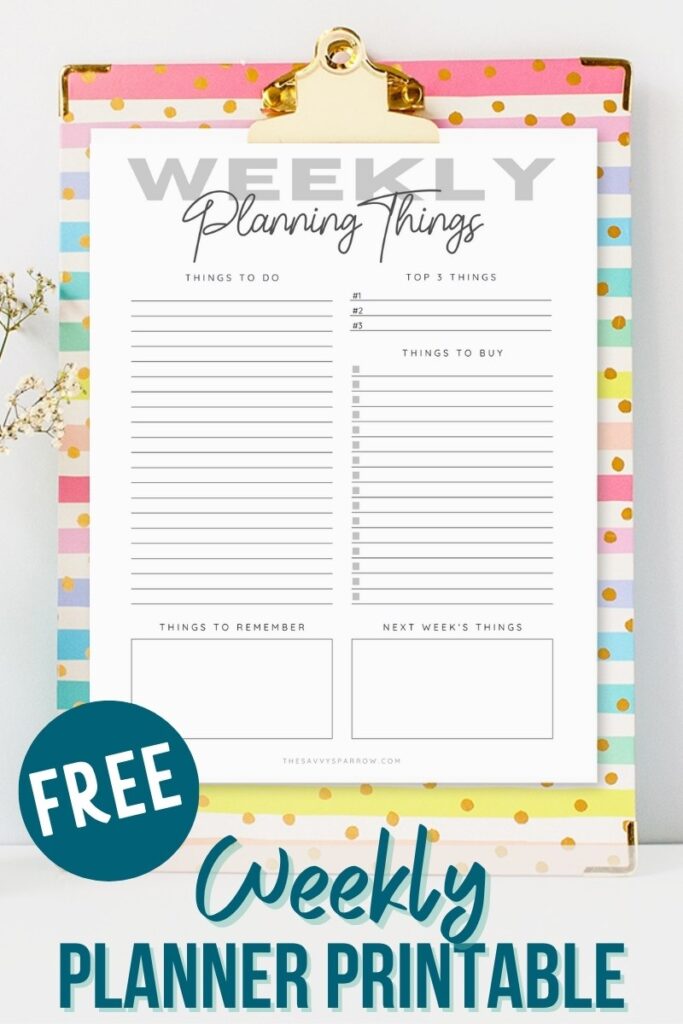 Think About Your Productive Hours
One of the most important factors to consider as you're making your stay at home mom schedule is your productive hours. These are the times when you're most likely to accomplish the tasks you've set for yourself.
If you're not a morning person, the likelihood that you'll get up at the crack of dawn and work out is probably next to zero. Or if you're exhausted by 7:00 p.m. (like I usually am), don't schedule yourself to be super productive late at night.
I think the key – at least for me – is to rank my tasks by how much energy and brain power each one requires. I like to get up early and get things done before my kids wake up, so I start my day at 4:30 a.m. during the week. This gives me a chance to walk on the treadmill, shower, and get a few hours of work in before I have to get them ready for school.
Figure Out Your Non-Negotiables
As you're creating your regular stay at home mom routine, think about those non-negotiables, a.k.a. the things you absolutely have to accomplish each day. Here are some examples of non-negotiables in my schedule:
Meal time
Bath time
Grocery shopping (or ordering groceries and picking them up)
Errands
Self-care (exercise, meditation, etc.)
Naptimes (Dear God, yes)
Practices/appointments
Baths and Story Time
These are the things you work into your schedule first, and you only modify them if it's totally necessary. For example, I have worked hard to create a regular sleep schedule for all my children. Therefore, I know that I won't be going anywhere during naptimes. Yes, sometimes I have to tweak things because I truly believe that doctors' appointments only occur during naps, but I try not to let it happen very often.
Schedule Some Flex Time into your SAHM Routine
If there's one thing I've learned from trying to figure out my daily schedule, it's not to fill every spare minute. Instead, schedule some flex time, or white space, on your calendar. After all, you don't need to be doing something every second of your life. Also, things will inevitably pop up to ruin your plans, and you need some wiggle room to avoid going nuts.
As I write this post, my one-year-old daughter is fussing upstairs after waking up TWO HOURS EARLY. So needless to say, my morning schedule will be thrown off, and I'll have to return to this later. But that's okay because I have other times in my day (or later in the week) where I can work this in.
The bottom line on flex time: You need it! Being a stay at home mom is one of the most demanding gigs in existence, and you don't need to add unnecessary stress by filling all of your waking hours with too many non-negotiables or things you could gradually get done.
The Most Important Parts of Your Stay at Home Mom Routine
Regardless of what your stay at home mom life looks like right now, here are some of the most essential parts you shouldn't compromise on.
Prioritize at Least 30 Minutes of Self-Care Each Day
Burnout is a very real problem for stay at home moms everywhere, especially for those of us with young kids. You wake up early to have time to yourself, and so does your toddler. You plan a vacation for the family and your baby gets an ear infection. Life can get very "life-y" and suddenly you're wondering when you last spoke with an adult other than your spouse.
Girl, I get this on the most personal level possible. Just when I seem to have my daily schedule nailed down, we hit a sleep regression, or one of the kids comes home sick from school. It can be exhausting, frustrating, and often downright lonely.
This is precisely why you need to prioritize at least 30 minutes of self-care EVERY DAY to avoid having a complete breakdown at the drop of a hat. Here are a few suggestions that have worked for me:
Go for a walk around the neighborhood to get some sunshine and fresh air. Some days, you might be lucky enough to go by yourself. On other days, you'll have to load your kid(s) into the stroller and take them with you.
Wake up at least 30 minutes early in the morning to meditate, read a daily devotional, or do some yoga.
Read a few chapters of a book while your child is taking their nap.
Watch an episode of your favorite show after the kids go to bed.
As moms, we're used to putting ourselves at the bottom of the priority list, but remember that you can't pour from an empty cup. If you don't take time to do the things that bring you joy, you won't be able to give it to anyone else.
Fit in Quality Time With Your Husband
Life with four young kids and a husband who works long hours can get pretty crazy, and I'm assuming that train isn't going to stop anytime soon. As a result, sometimes it's challenging to set aside time for my husband and me to focus on each other.
There will be seasons in life that make it harder to keep the marital spark alive than others, and that's just the way the cookie crumbles. But don't let that stop you from taking time away from the kids to focus on each other. Here are a few suggestions:
Hire a babysitter once a month so that you can go to dinner
Have a movie night after the kids are in bed (if you have enough energy!)
Deepen your connection to each other with a 30-day relationship challenge
Find unique and inexpensive ideas for date night at home
Your stay at home mom routine will look different throughout the years, but consistently prioritizing quality time with your husband is a must!
Create a Doable Cleaning Schedule
I have a confession to make – I hate cleaning. And I mean pure, unadulterated hatred of cleaning toilets, folding endless piles of laundry and doing loads of dirty dishes. It's not my thing, and I'm okay with that.
But do you know what I hate more? A messy, cluttered house.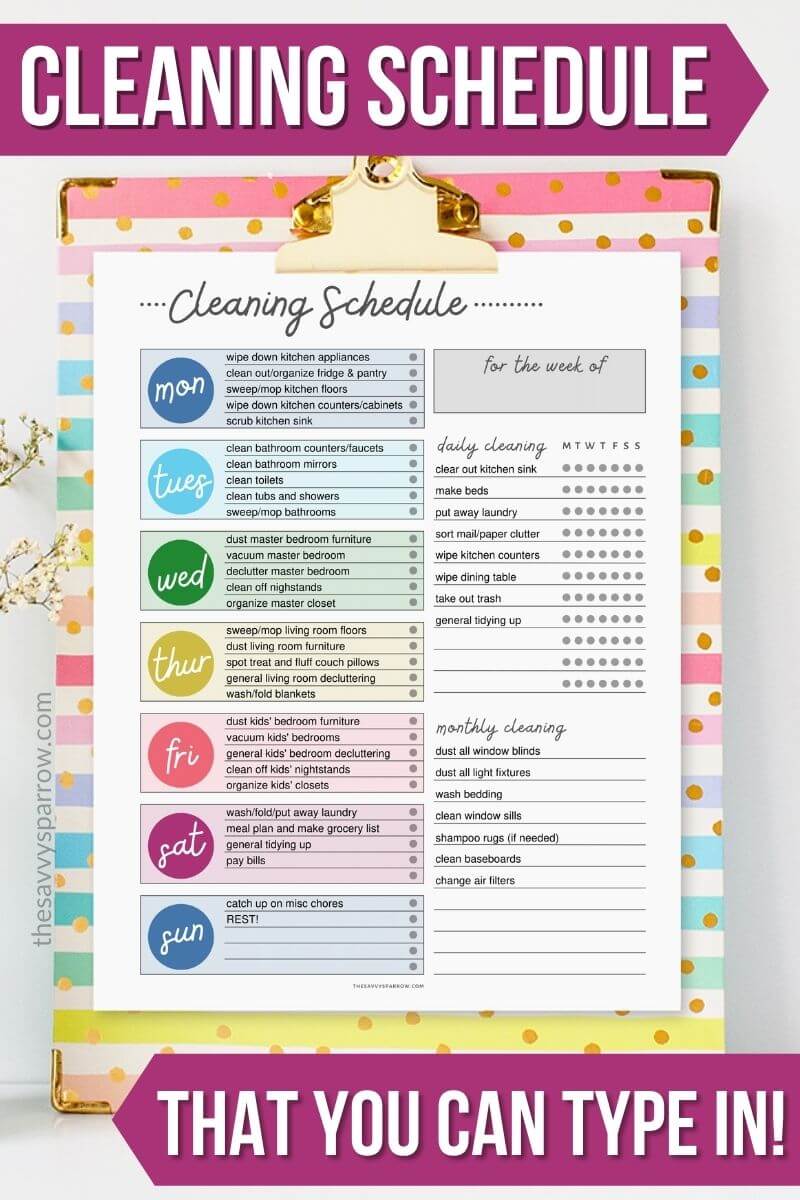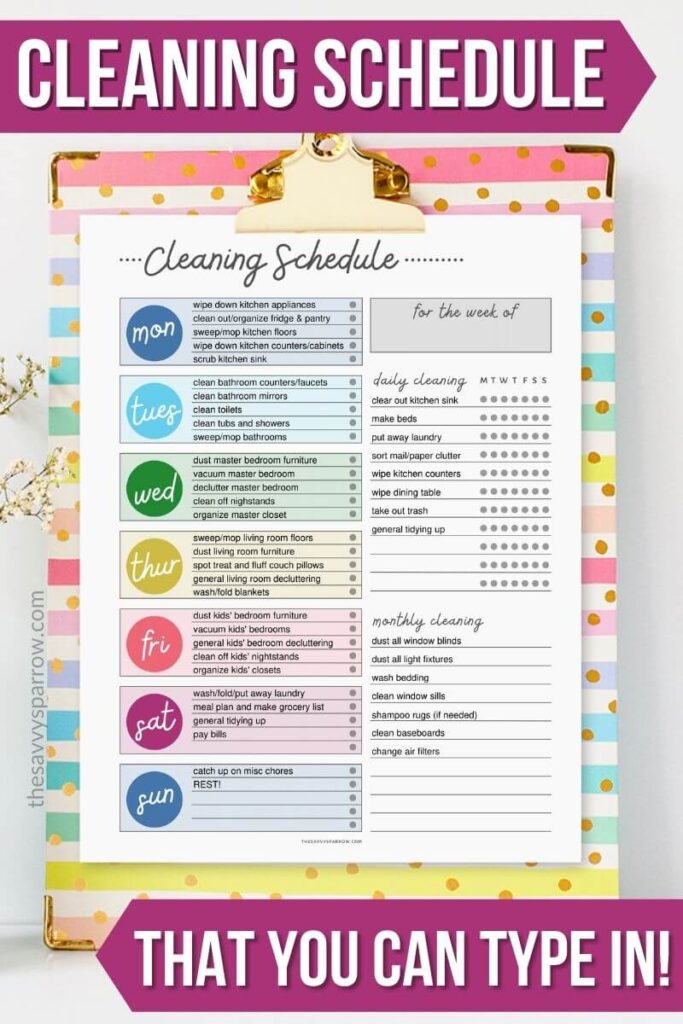 Whether you're like me or enjoy scrubbing the baseboards as a form of therapy, it's important to create a weekly cleaning schedule (like the one pictured above) that you can stick to. Decluttering your home is equally important, as clutter has been clinically proven to cause stress and anxiety. Having junk-free countertops might not spark joy within you, but I guarantee you that you'll feel more at peace.
Time to Meal Prep
I once met someone who would prep all of her meals an entire month in advance. Then, she would package them up, label each meal, and stack them in her freezer in neat, organized piles.
Hear me when I say what I'm suggesting is not nearly on that level.
However, I do think your stay at home mom routine should include a little meal prepping, even if it's just making an extra batch of pancakes on the weekend to freeze for when your kids are in school. It takes some of the pressure off your mornings, and they get pancakes twice a week. That's a win-win in my book.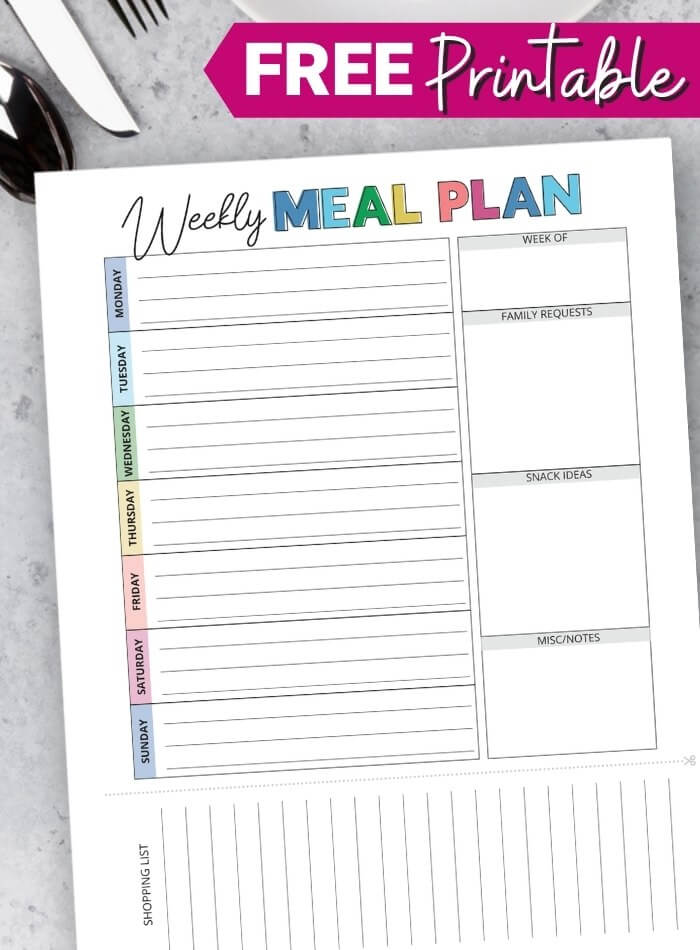 *Check out these awesome free printable meal planning templates to help you with meal prep!
My Sample Stay at Home Mom Routine as a Mom of 4
Before I share my sample daily schedule, I'd like to preface it by telling you that my life is a work in progress. Since my husband is in law enforcement and is often deployed on short notice, I usually hold down the fort alone with our four kids.
This is what works for me right now, and flexibility is essential because things can change quickly. I hope you find the structure helpful when creating your own stay at home mom routine.
Morning Routine – 4:30 a.m. – 5:30 a.m.
Shower (If I don't take one before the kids wake up, it doesn't happen!)
Meditate (I love the Calm app)
Morning devotional
5:30 – 7:00 a.m. – Work Time
I work part-time for a marketing company, so I like to get a few hours of work accomplished before my children wake up. Sometimes this happens, and other times, it doesn't!
7:00-7:40 a.m. – Get kids ready for school
Children wake up and get dressed
Breakfast
Help my two oldest get their snacks and folders in their backpacks
Get school-age kids on the bus
7:40 – 9:30 a.m. – Play Time and Chores
Get baby up and feed her breakfast
My three-year-old son has unstructured play time
Morning Chores: Dishes, one load of laundry
Preschool Time
9:30 – 11:00 a.m. – Baby's First Nap
Put the baby down
Let my son watch a few of his TV shows
Time to get some work done
11:00 – 1:00 p.m. – Outside Play Time/Lunch
Play at the park, go on a walk, play in the yard
Make lunch
Independent playtime
Get a few chores done
1:00-3:00 p.m. – Naptime/Quiet Time
Put both kids down for a nap
Wrap up marketing work
Eat lunch (I do intermittent fasting, so I don't eat until later)
The oldest two get home from school
3:00 – 5:00 p.m. – Homework/Playtime
Snacks
Homework
Outside to play
Free time
Chores
Husband gets home from work
5:00 – 7:00 p.m. – Dinner/Family Time
I try to start getting dinner ready around 5:00 since we like to eat around 6 p.m. Our kids usually watch TV while my husband and I catch up with each other about our days. We eat together as a family, and my husband cleans up (I make dinner, and he does the dishes).
One thing that I've started doing lately to make life easier is to order Hello Fresh meals. I typically choose 3-4 meals for myself and my husband. Unfortunately, my kids only eat an average of three items, which we do in rotation.
7:00 – 8:00 p.m. – Get Ready for Bed
Baths if they need them
Cleaning up toys in the living room
Get pajamas on and brush teeth
Read stories
We stick to a pretty tight schedule during the week and relax our weekend routine. Our kids usually stay up later on Friday and Saturday nights.
8:00 – 8:30 p.m. – Bedtime
We put the kids to bed around 8:00 p.m. and then get into bed ourselves since my husband and I both get up early. Most of the time, the kids stay in bed. But, sometimes they don't…here's where having a little flexibility comes in. If I can make it to bed before 9:00, I feel like I've accomplished something!
Free Printable Stay at Home Mom Schedule Template
Actually writing your stay at home Mom routine down on a schedule template can help you structure your day and keep you focused on the things that you need to get done. And I've got some awesome free printable schedule templates for you that are perfect for your SAHM routine!
Whether you want a vertical or horizontal layout, or you like blank lines or pre-printed times on your schedule, you'll find some handy PDF templates down below! Just print the schedule that you like best and use it to plan your days as a stay at home Mom!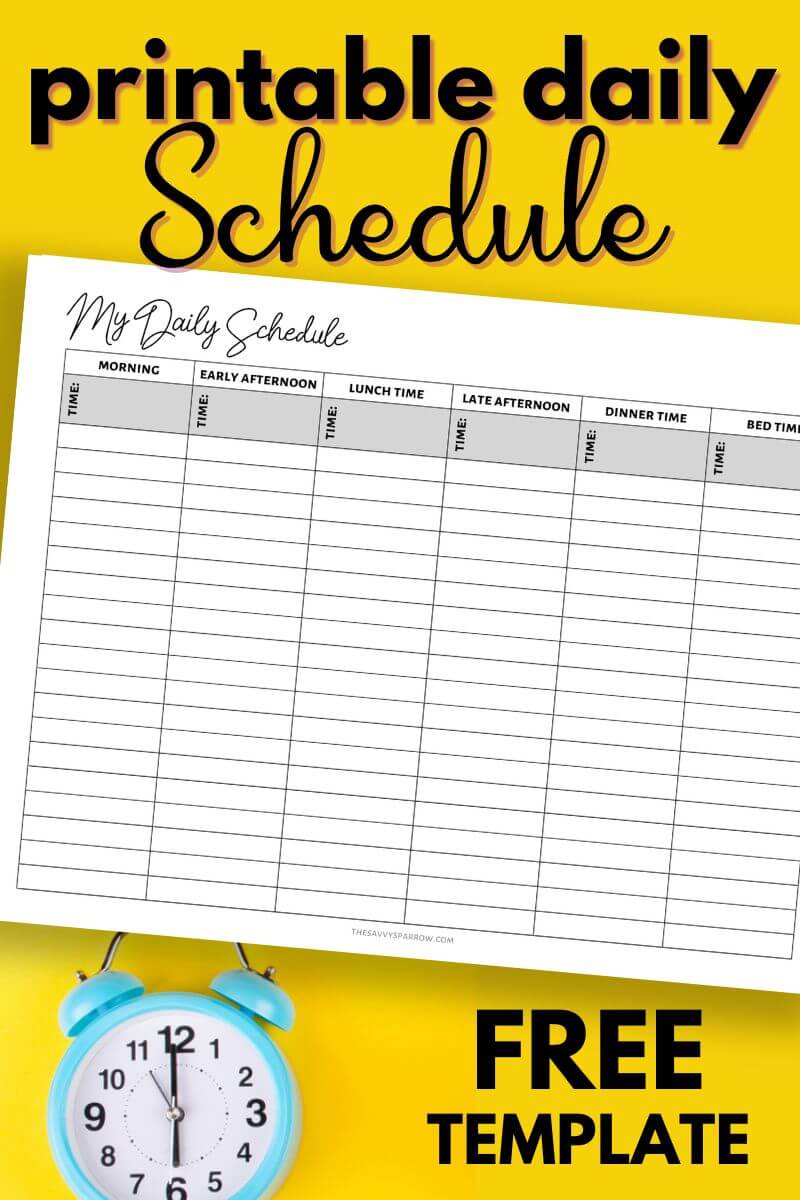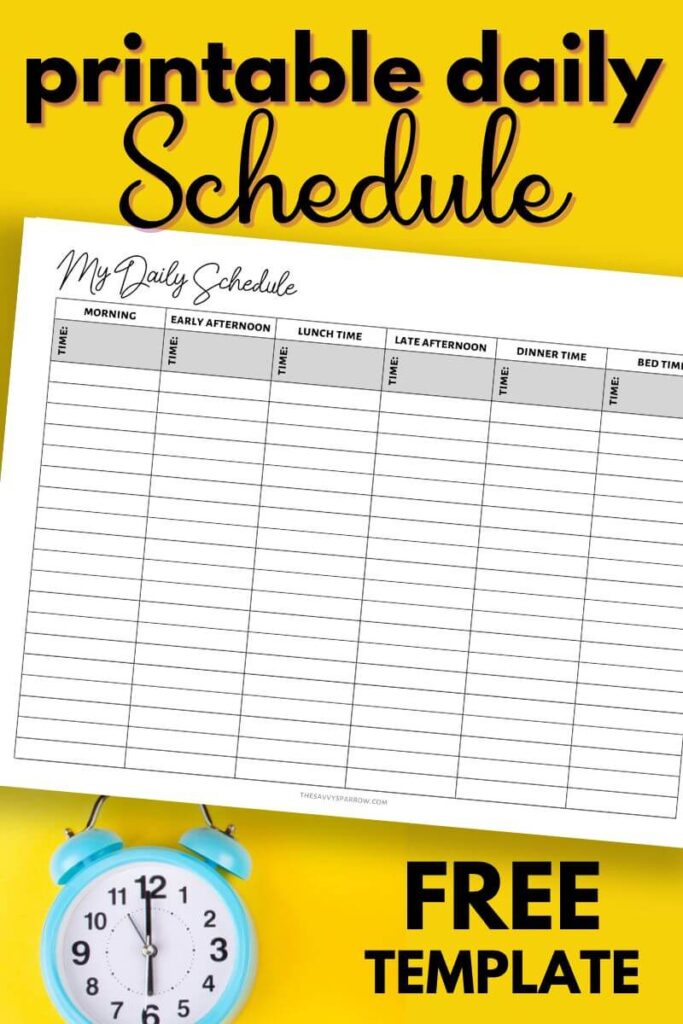 Click here for the Black and White Horizontal Daily Schedule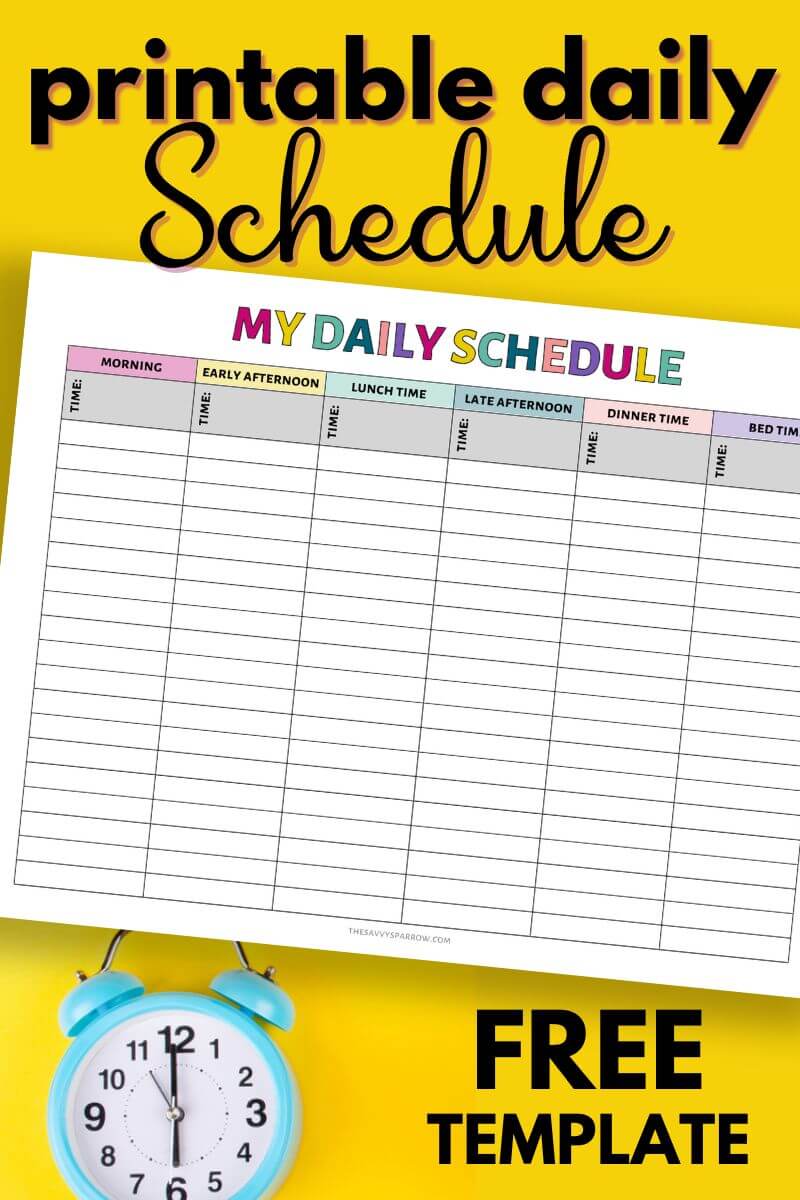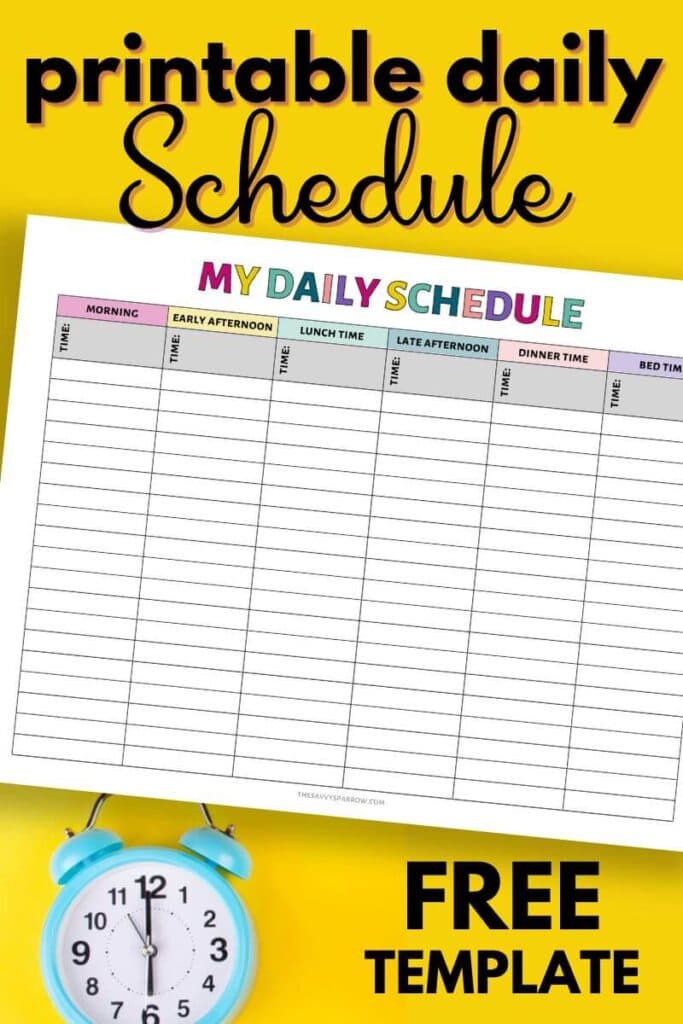 Click here for the Colored Horizontal Schedule Template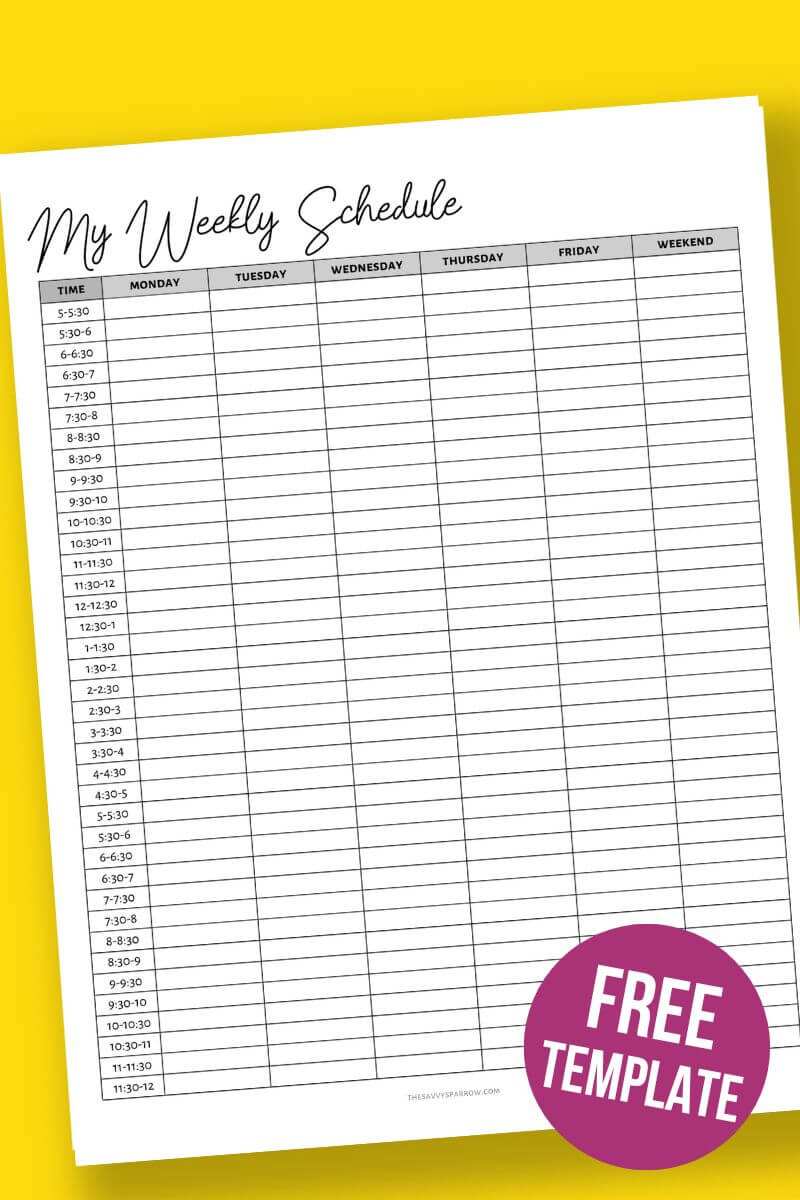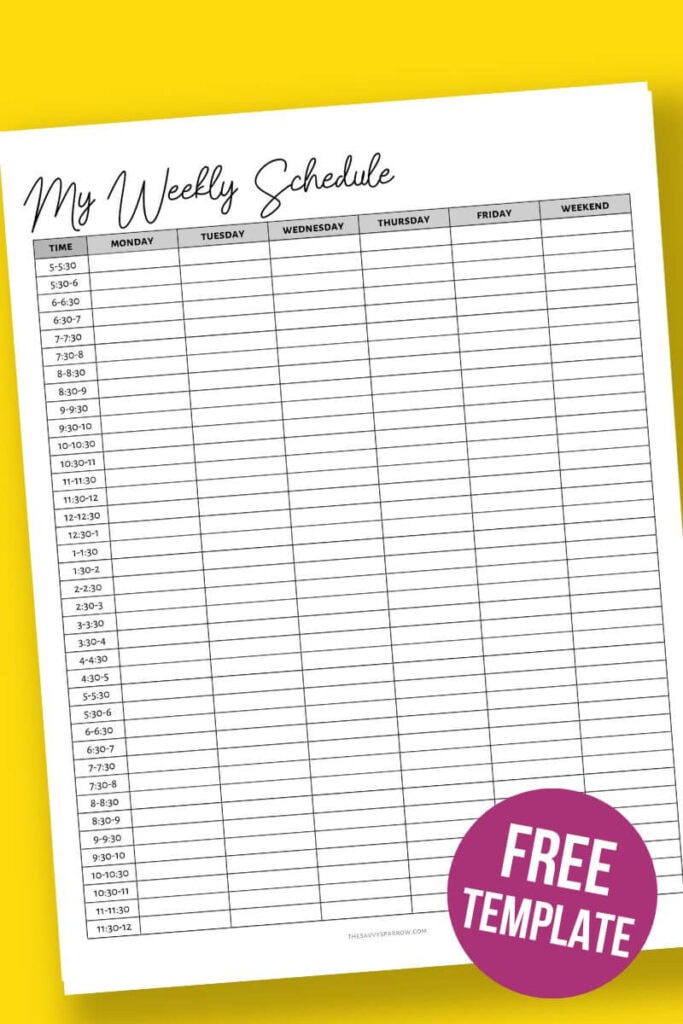 Click here for the Black and White Vertical Schedule Template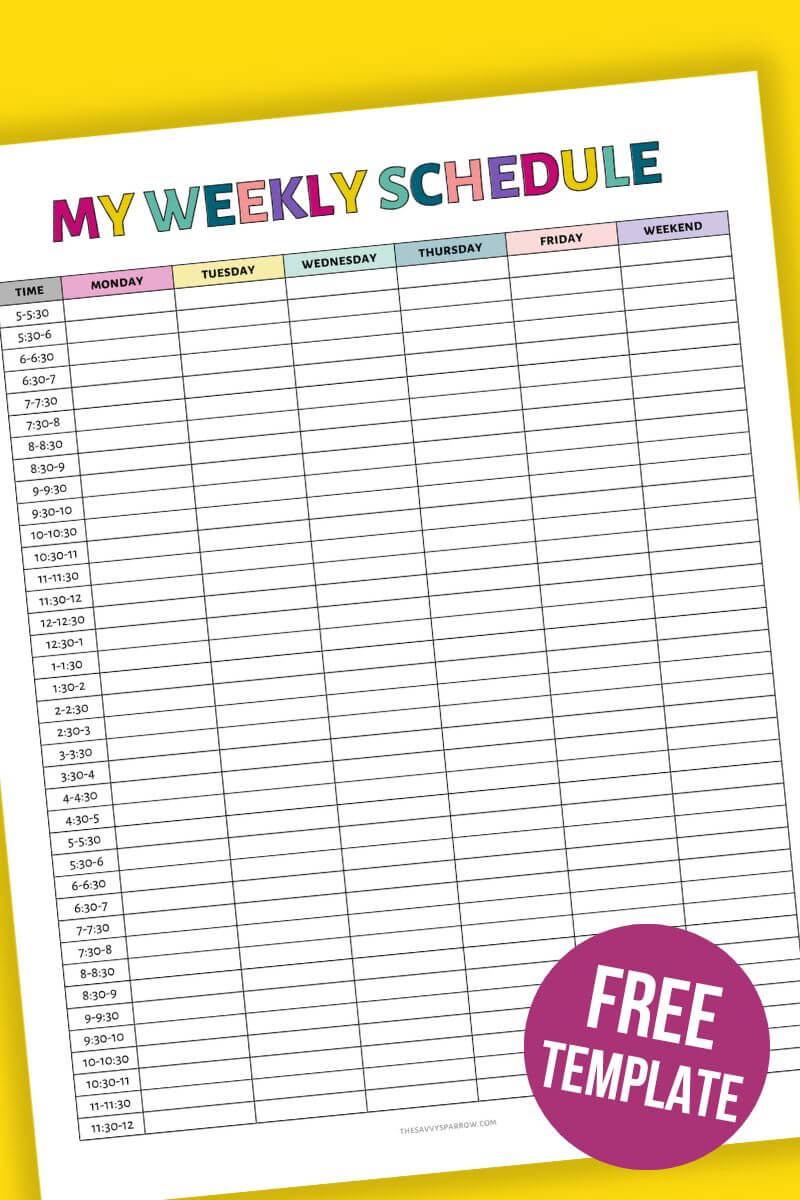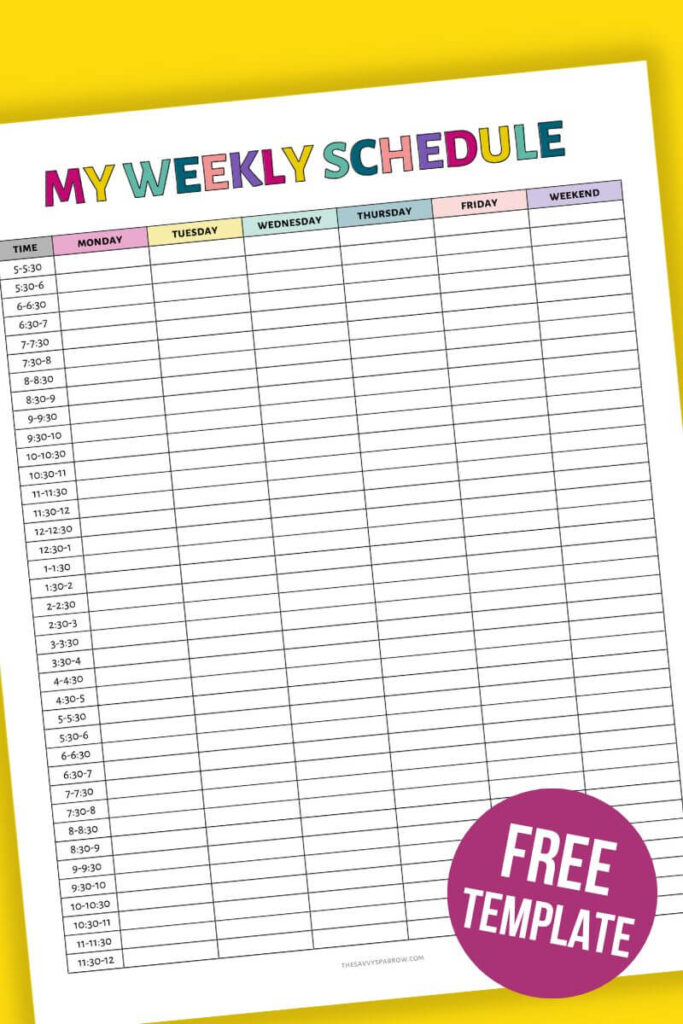 Click here for the Colored Vertical Schedule Template
If you have fewer than four children, your schedule may not have to be as structured as mine, or maybe it's more detailed. You have to figure out what makes sense for you and your family and gives you regular opportunities for self-care.
I hope this sample schedule was helpful, and best of luck with creating your stay at home Mom routine!
What does your stay at home Mom schedule include? Leave me a comment down below! And don't forget to PIN this post for later!