Looking for a printable weekly planner to help you get organized? Use these free weekly planner printable templates to add to your paper planner or just print them and hand them on your fridge to use as a weekly schedule! Grab all of the 7 free PDF designs now!
If you're new around here, you need to know one thing about me… I rely heavily on a weekly schedule and to do lists.
As a busy Mom, wife, and business owner, it's a necessity. Otherwise, I would just wake up in the morning wondering what I should do next, wasting time trying to come up with a plan on the fly. And I definitely don't have time to waste.
So over the years, I've developed a few good systems to help with productivity… one of which is the act of weekly planning. By the way, I highly recommend you check out this post: How to Create a Weekly Plan – Plus FREE Printable Planner Template
Having a weekly plan can help you to be more productive, to not forget important things in your schedule, to outline your goals, and to say "no" to things when you're just too busy.
Think of "weekly planning" as the action step to better manage your schedule and to do list, and then the "printable weekly planner" is the tool to help you get the job done… and it's a FREE and super cute tool, too!
Here are some awesome weekly planner printable templates to help you get more organized and keep track of your weekly schedule… and did I mention that they're all free!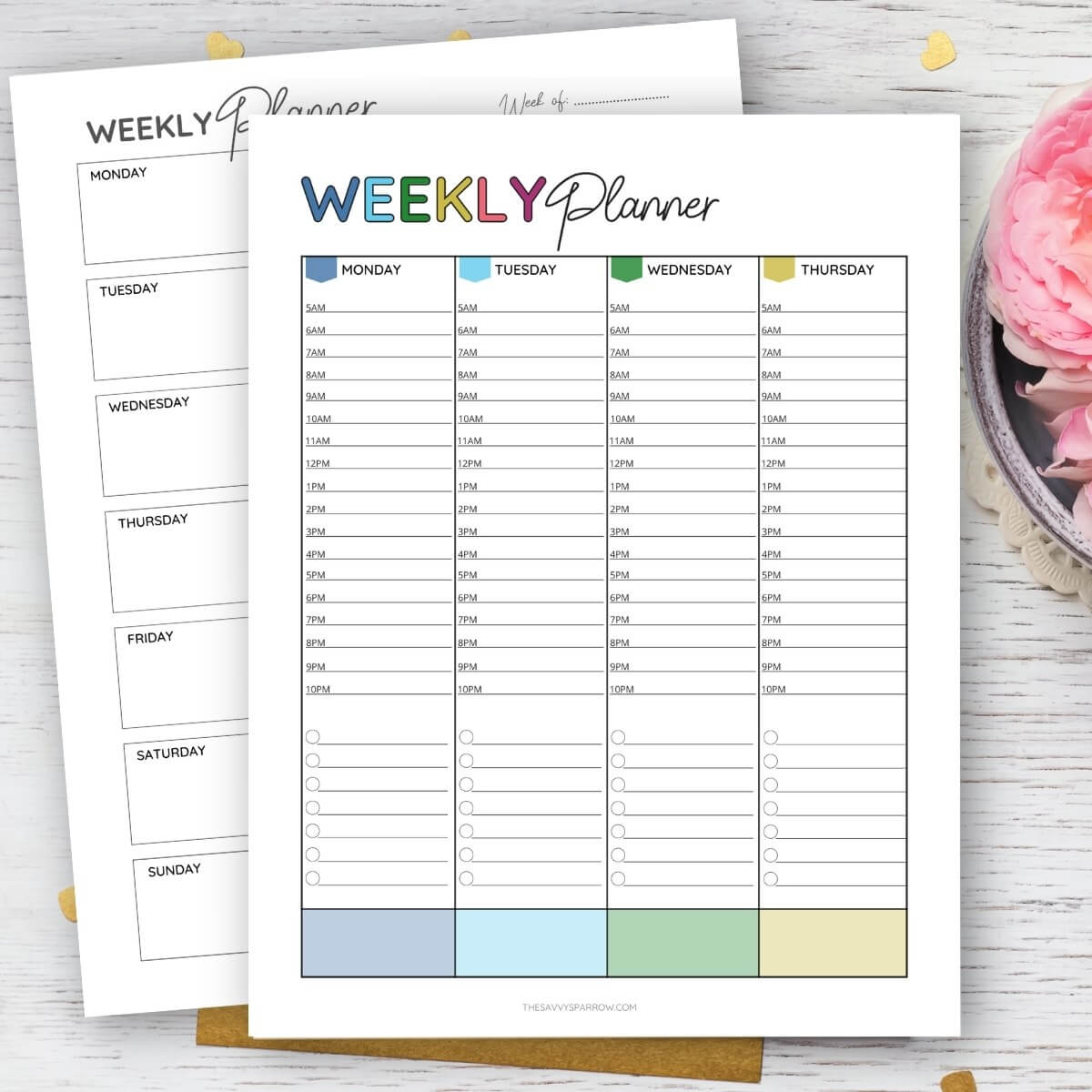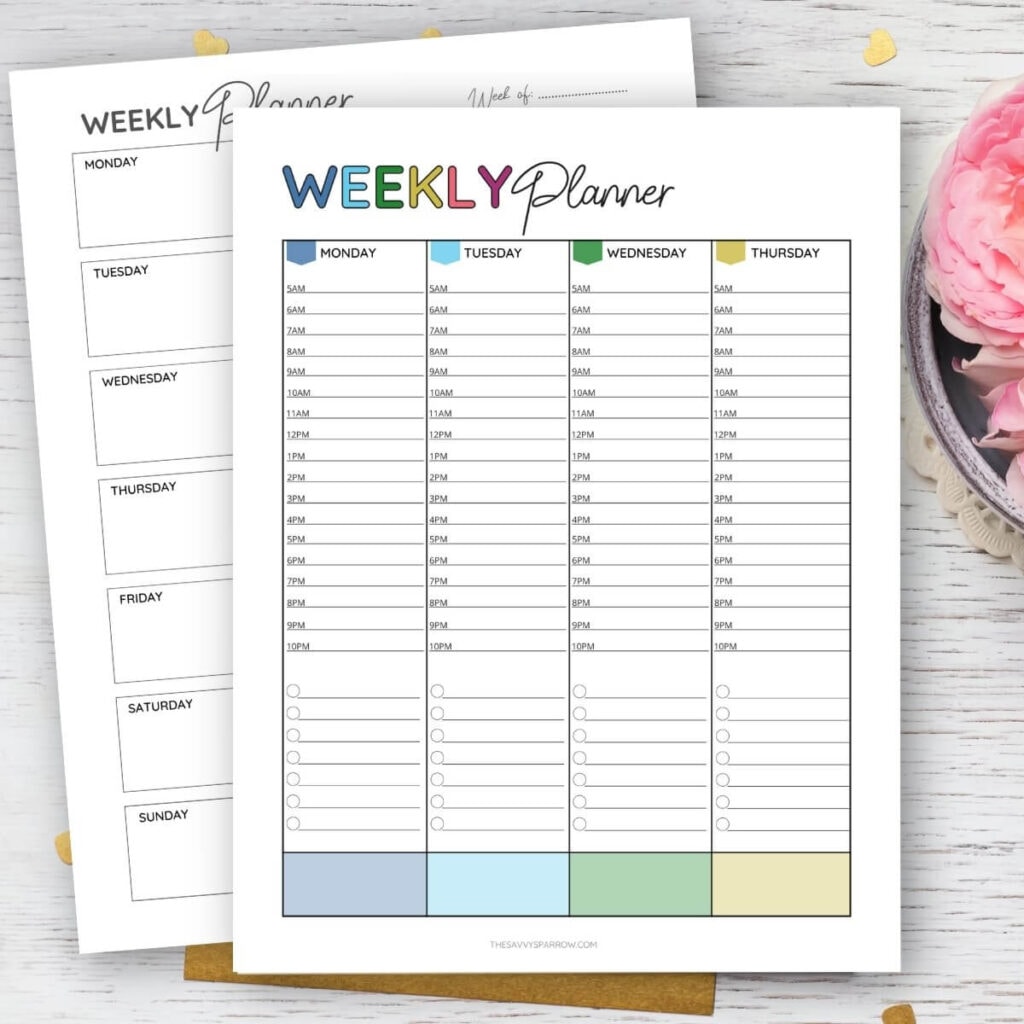 How to Use the Printable Weekly Planner Sheets
These printables are super easy to access and download, so you'll be on your way to getting your schedule organized in no time! To use the planner templates simply:
Find the templates that you like best at the bottom of this post.
Click the link to download the PDF. There are 7 different weekly planner PDF templates to choose from… And the links to download are below each different PDF.
When you click the link, the printable will open in a new window. All of the weekly planner printables are delivered via Dropbox.
From the Dropbox window, simply look for the download icon (a box with an arrow facing downward) and click on it. Or, you can select "Print" right from the Dropbox window to go ahead and print the template.
All of the printables are US Letter sized (8.5″ x 11″). You can visit this post for how to re-size printables to fit your planner!
Ideas for Putting Your Printable Weekly Schedule into Action
Even thought these free printable weekly planner templates have "planner" right in the name, that doesn't mean that you can only use them by inserting them into your paper planner. In fact, I don't use my schedule sheets in my planner at all.
Here are some ideas for how to make these weekly planner PDF templates work in your own life:
Add the weekly planner template to your Happy Planner. Print a new PDF for each week.
Print out the printable weekly planner and add it to your family command center. I have a few clipboards that hang on the wall with a large dry erase calendar and some catch-all wire baskets. You can add the weekly schedule template to a clipboard to easily fill it in during the week.
Upload the PDF to an app on your iPad for an instant digital weekly planner!
Print out a weekly planner template for each of your older kids so they can be more productive with their time also.
Use a printable weekly planner as a student planner… Keep track of homework assignments, tests, and projects on the PDF template.
Print out a few different weekly schedule templates for each week… Use one for your personal/family schedule and a separate sheet for your work schedule.
Use the weekly planner printable as a weekly to do list instead… a few of the printable weekly schedule templates are designed especially for that!
So which planner printable do I use to help manage my busy schedule?
I prefer the one page "Plan for the Week" weekly to do list version down below. I print out a new copy for each week and I hang it on a bulletin board over my office desk. Then, as something comes up that I need to do for the week, or if I remember something that I need to add to my shopping list, then my weekly planner is right there for me to easily access.
Also, I like this PDF template because it keeps my 3 top weekly goals front and center. I find that having a list of my 3 "non-negotiables" for the week where I can actually see them everyday is very motivating.
Which printable weekly planner PDF will you choose?
Free Weekly Planner Printable Templates
Without further ado, here are the free printable weekly planner templates. To download each PDF, simply click on the link below the ones that you want… or go ahead and download all of the printables to test them out and see which works best for you!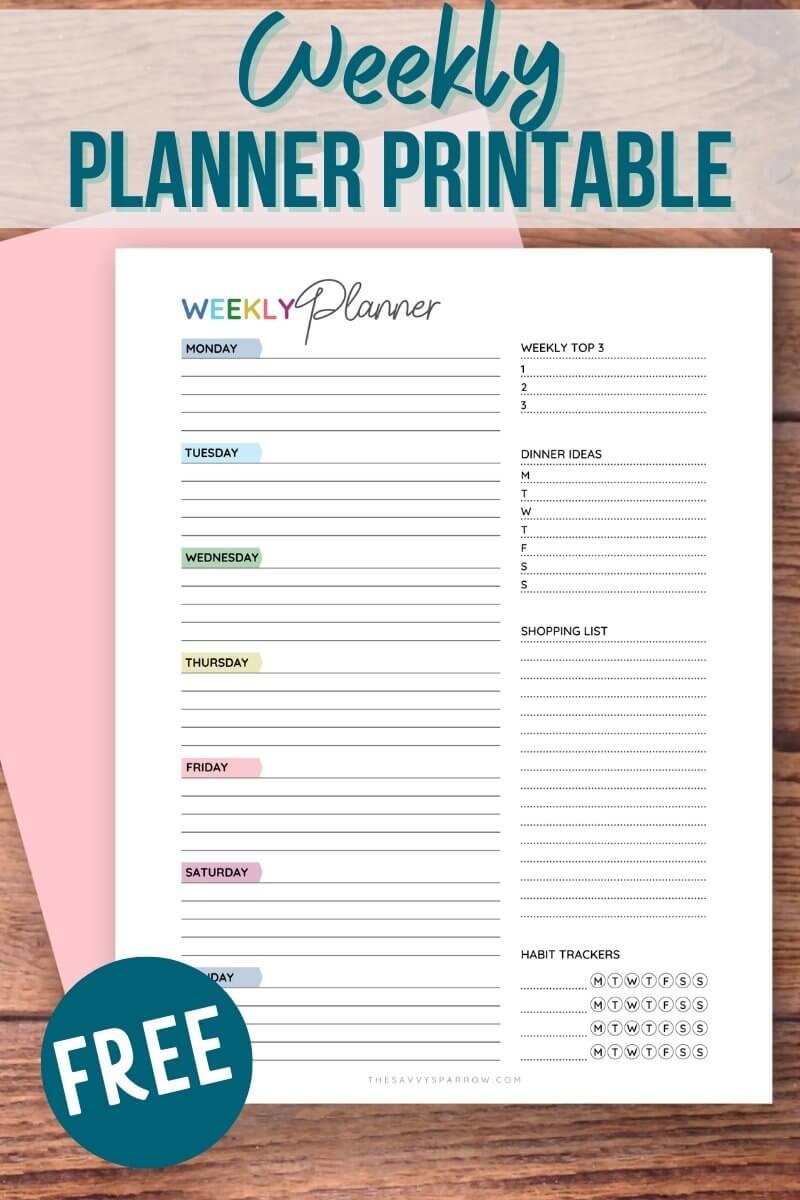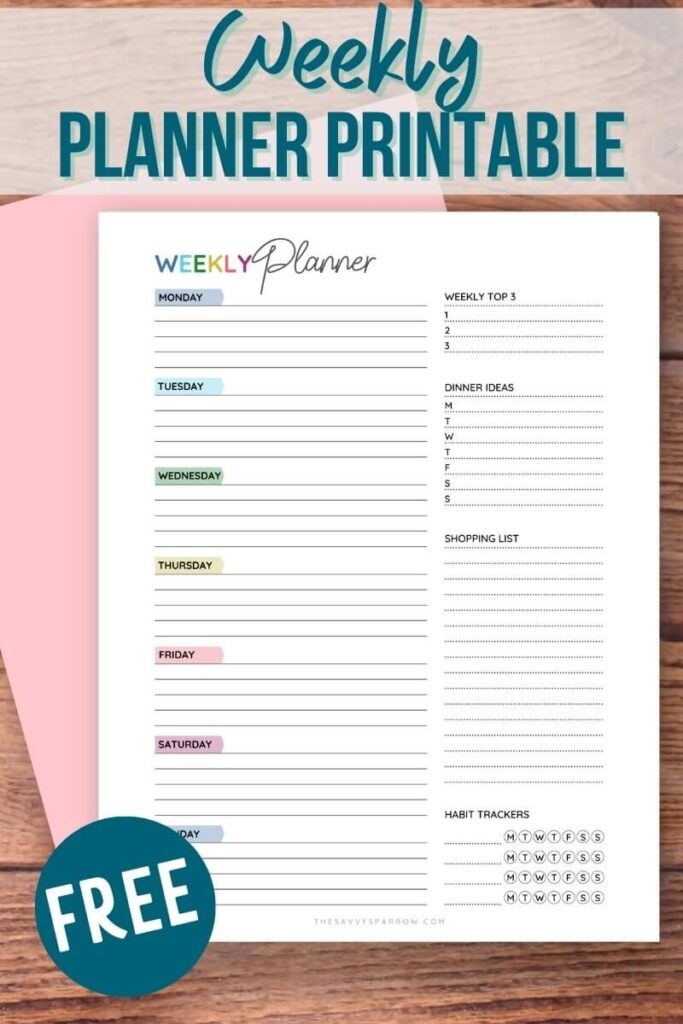 Rainbow "Week at a Glance" One Page Weekly Planner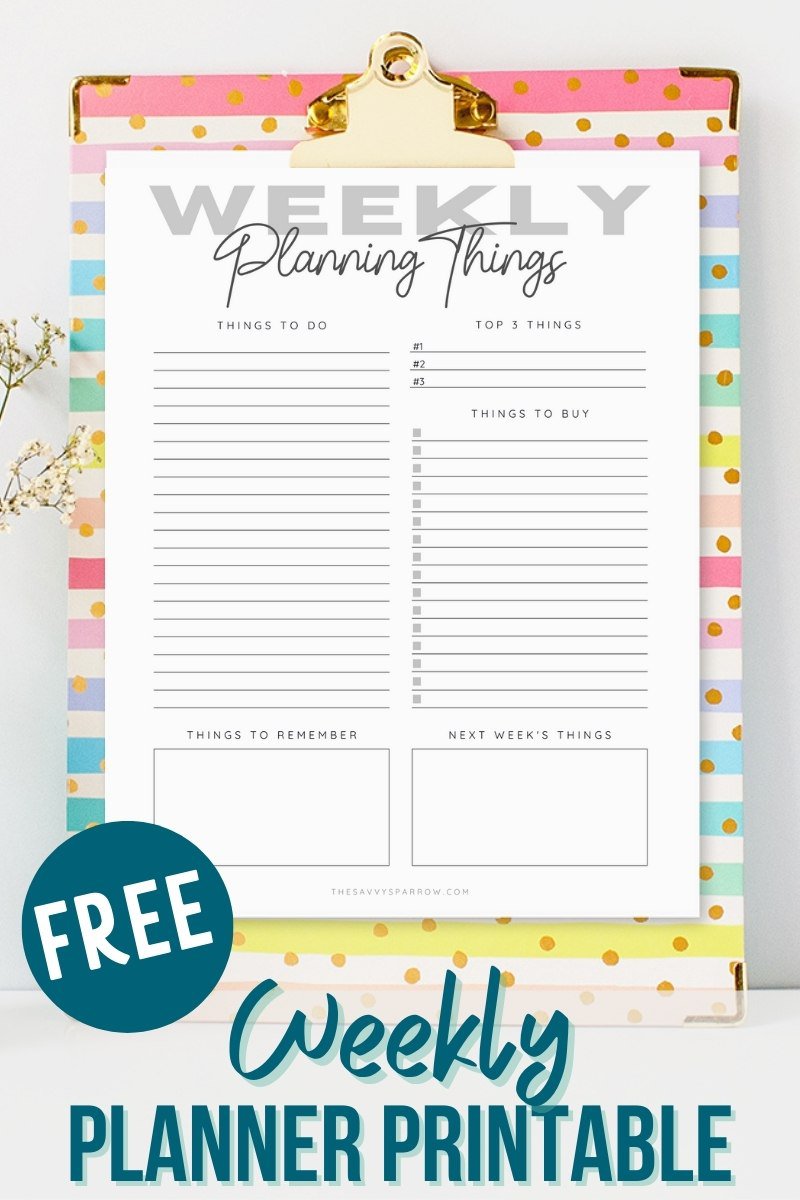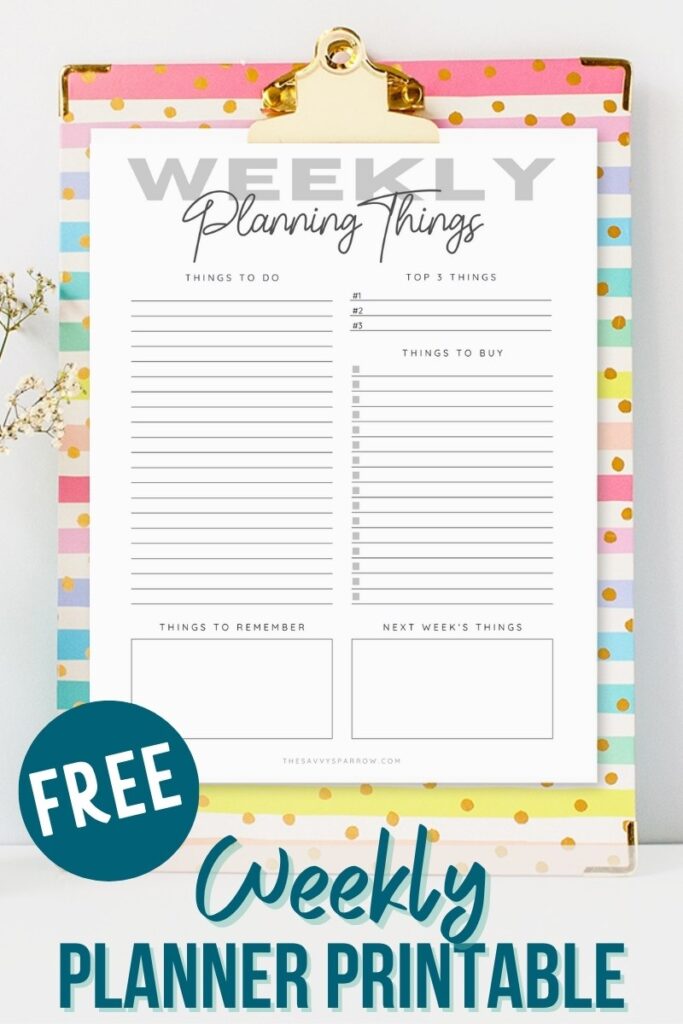 Black and White "Planning Things" One Page Weekly Planner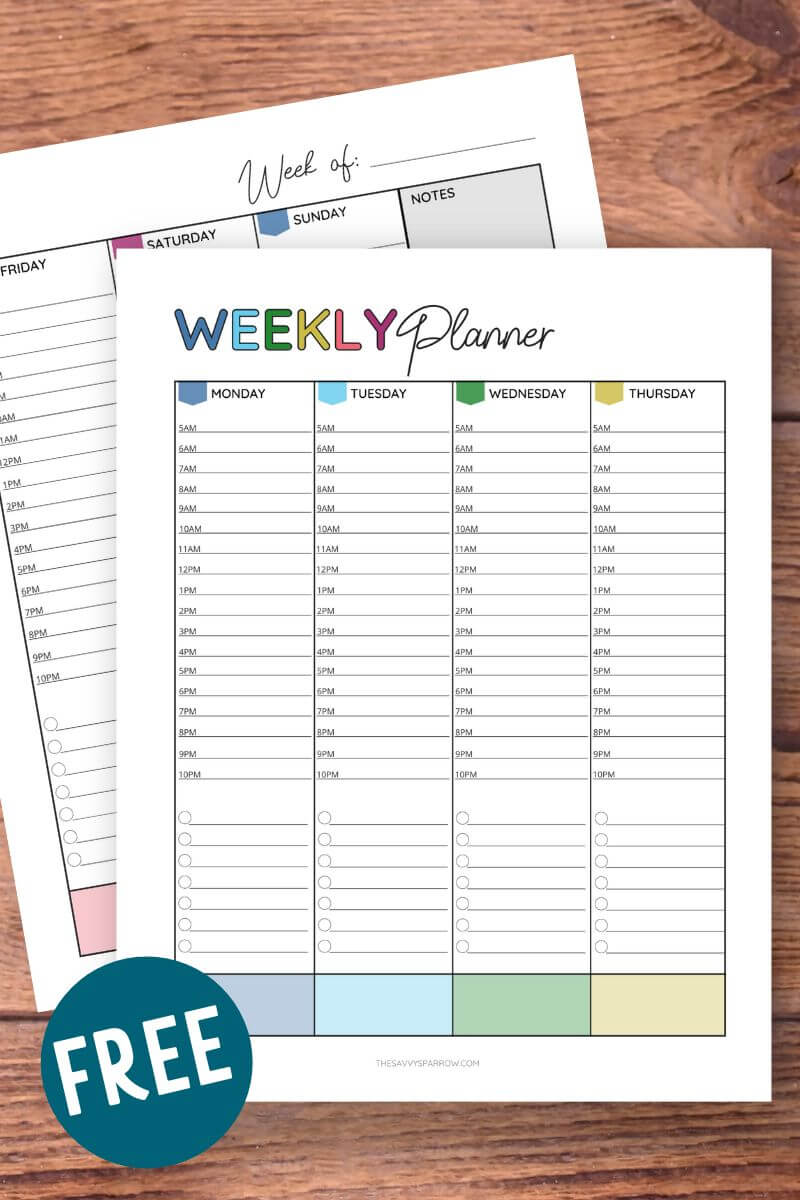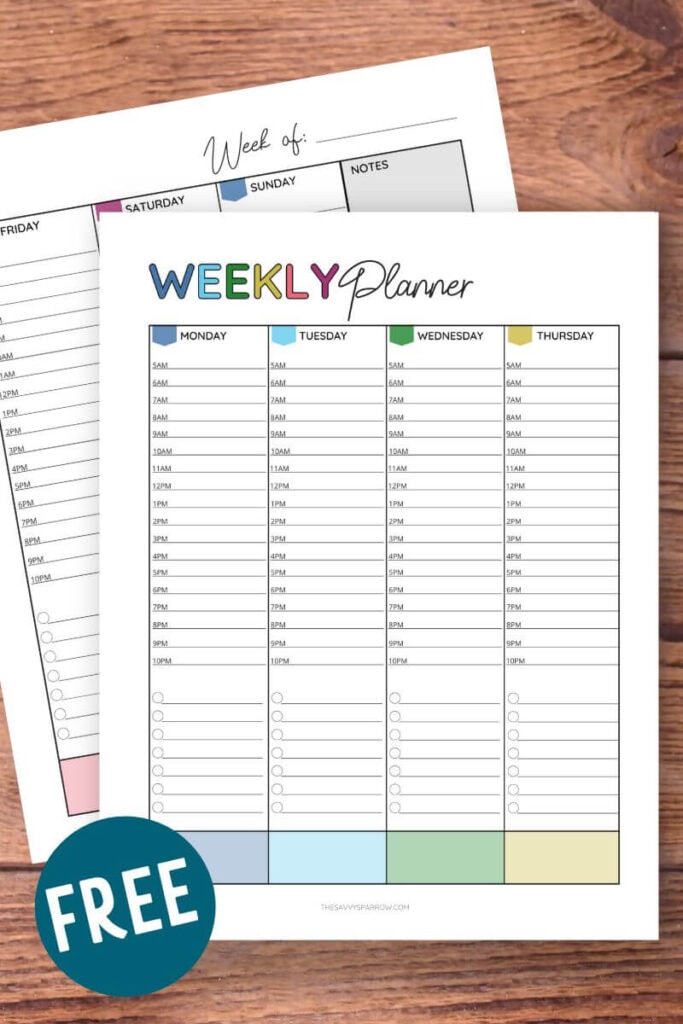 Two Page Hourly Weekly Planner Printable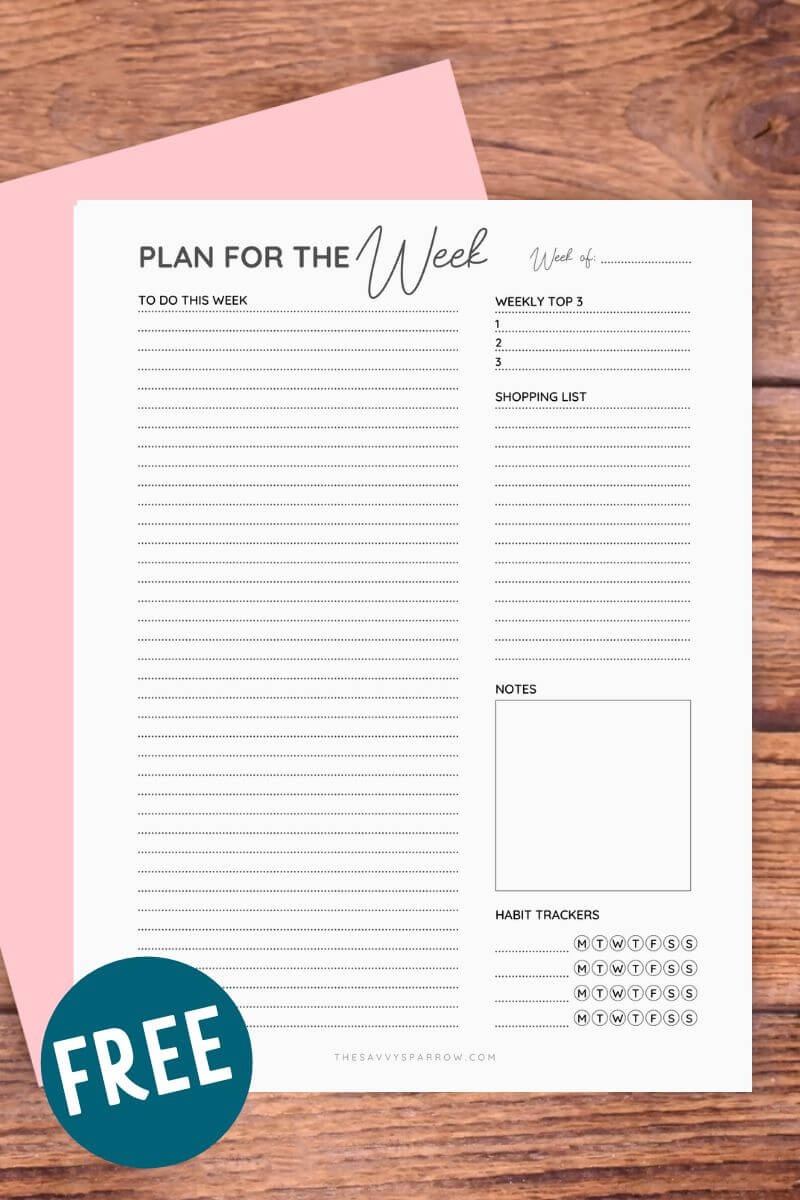 "Plan for the Week" Weekly To Do List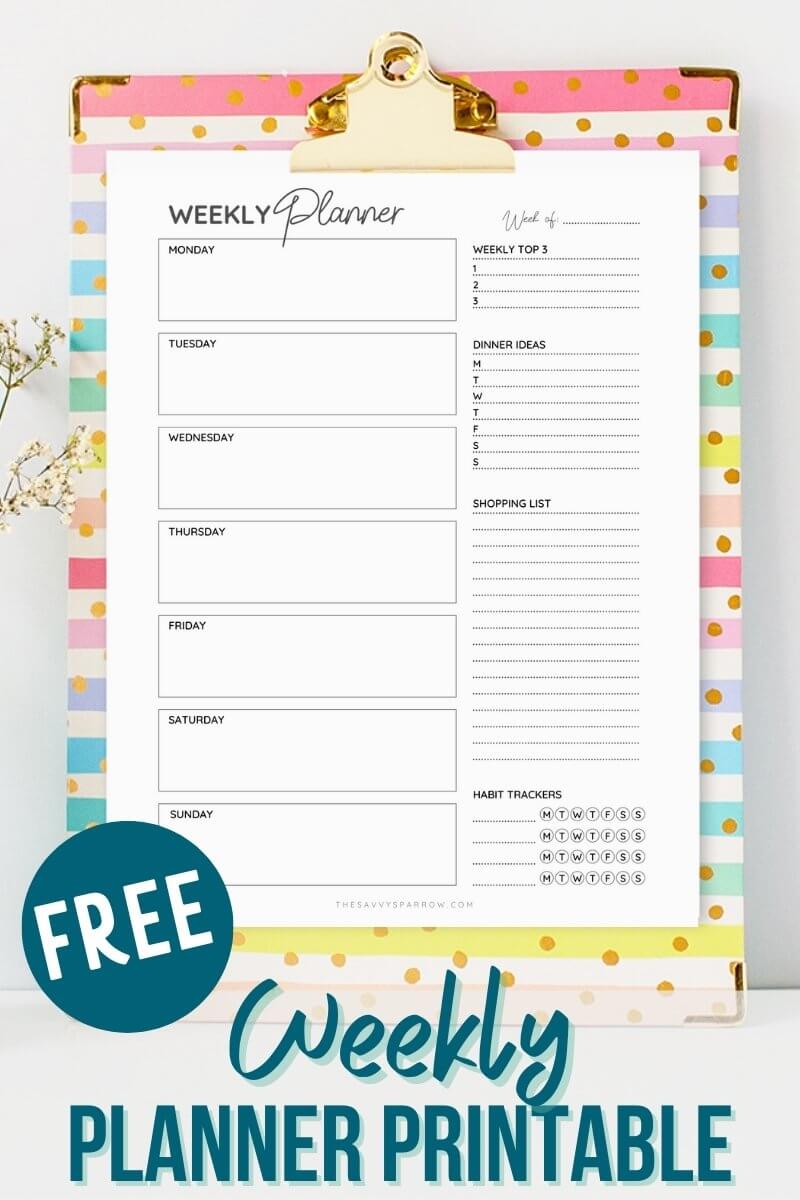 Black and White Simple Printable Weekly Planner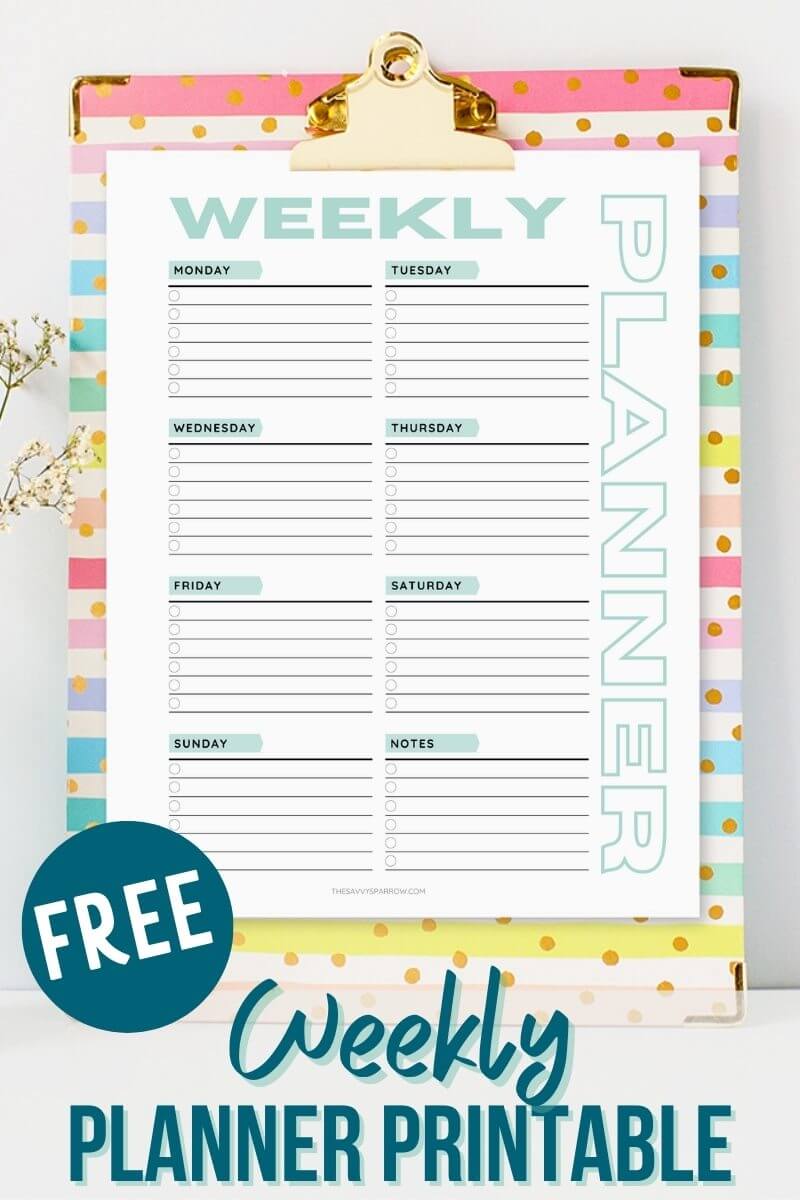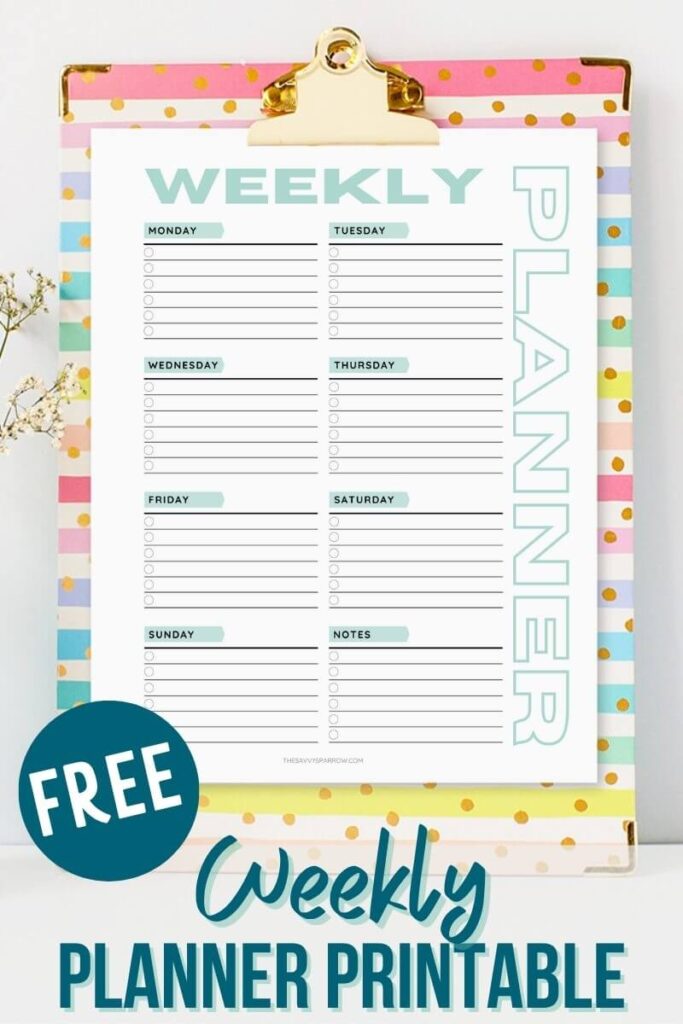 Bold and Graphic Teal Weekly Planner PDF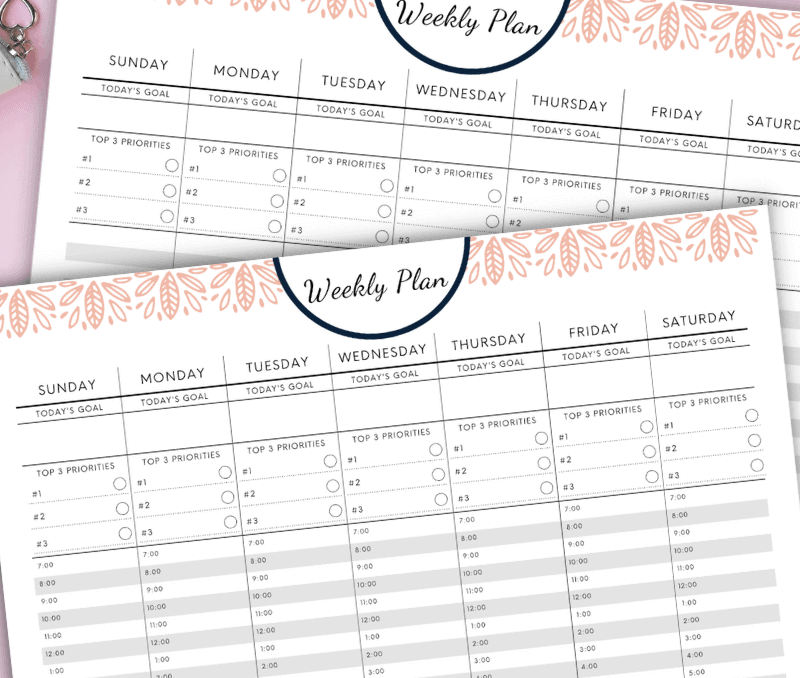 Horizontal Peach and Navy Hourly Weekly Planner Template
Other Printable Templates for Your Planner
I've got a TON of other printable planner templates that can help you manage your household and your to-do lists. Be sure to check out these posts for other great resources that you can print:
Free Weekly Meal Planner Template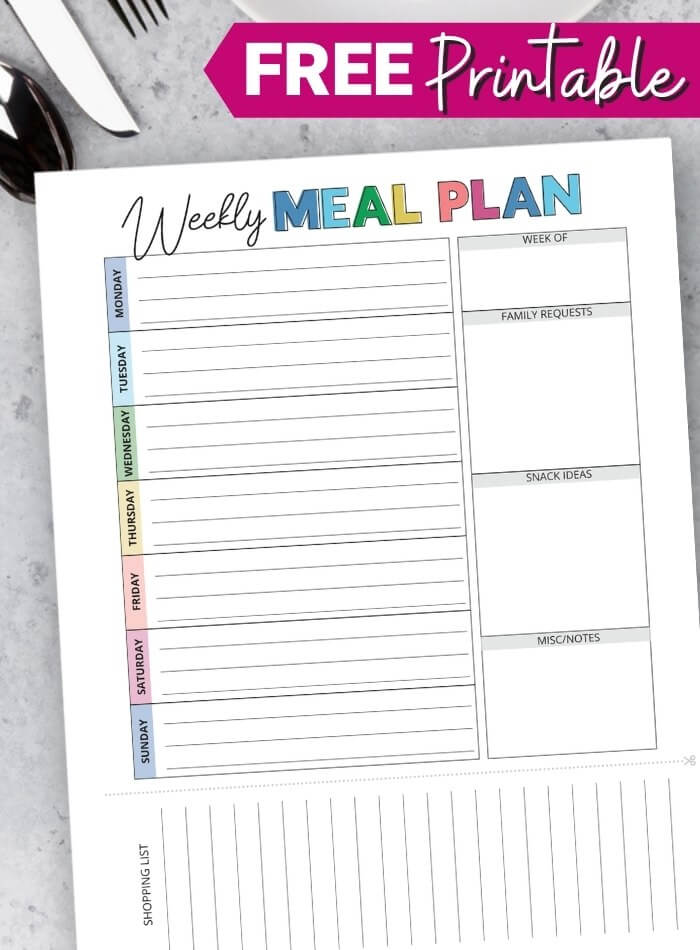 Stop wondering what's for dinner with these super cute weekly planners that are designed just for meal planning! Keep track of your family's favorite dinners and your grocery list, too!
Create a Weekly Cleaning Schedule You Can Stick To – Printable Checklist!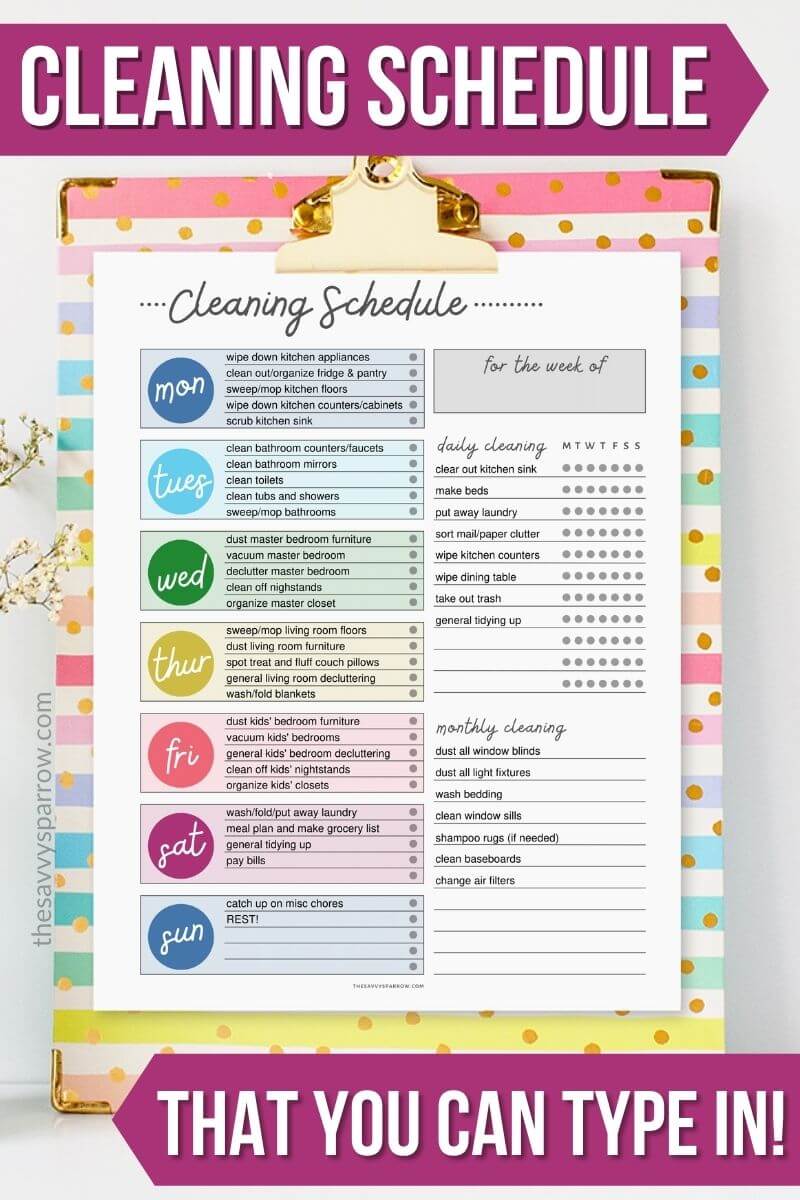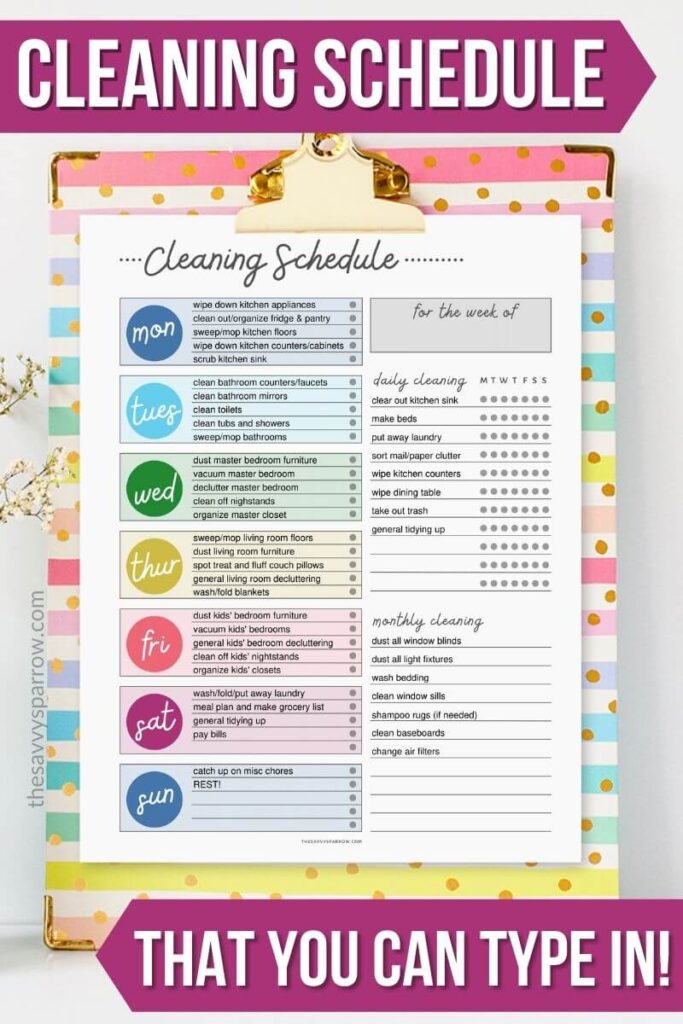 Use this cute and functional bundle of weekly cleaning schedules to create your own cleaning checklist… You'll be amazed at how much more motivated you are to keep your home clean when you have a weekly checklist to hold yourself accountable!
Create a Master To Do List with Free Printable Templates
I like to use my weekly planner printable as a sort of "master to do list"… rather than keeping track of things that I need to do everyday, I like to have a master list of things to do every week. As a busy working Mom and wife, I find that this type of running to do list is much more flexible.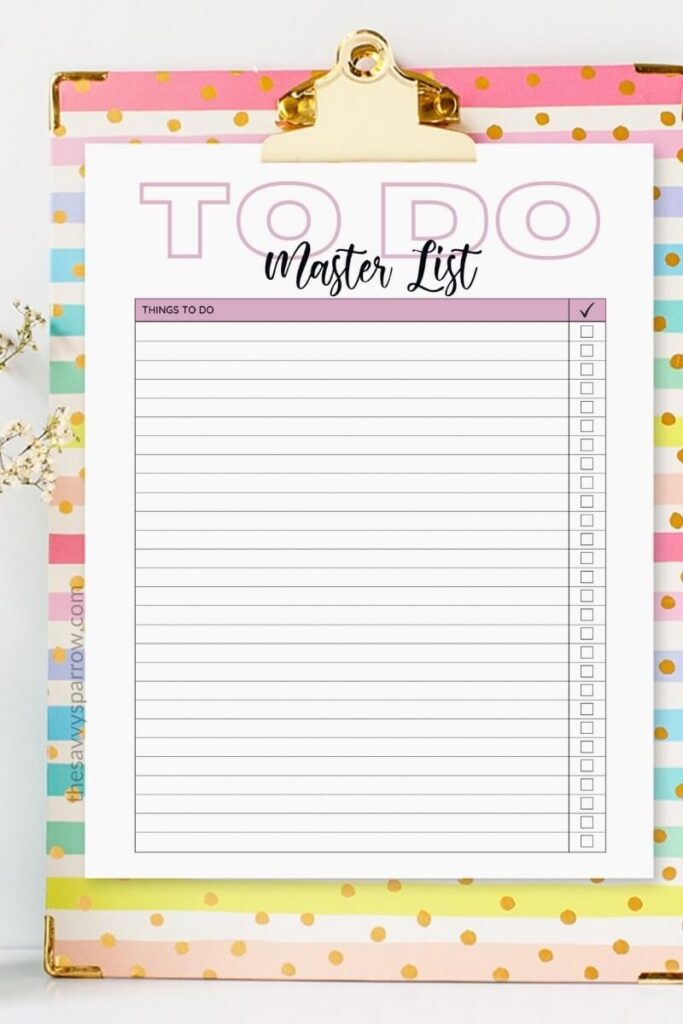 Be sure to check out the post above to learn all about how to use a master to do list, and grab the cute free printable to do list templates to add to your planner or keep at your desk!
I hope you enjoy these printable weekly planner pages! If you print them out and use them, be sure to hop back over here and leave me a comment letting me know what you think!
And don't forget to PIN this post for later: