Use this weekly meal planner template to help plan your family's dinners for the week! Grab the free printable meal planner now, plus get tips for how to incorporate the cute printable menu planner into your routine!
If you ask Moms what their top 5 biggest domestic challenges are, I'd bet that most would say meal planning. Constantly coming up with dinner ideas can be difficult, especially if you're not creative or you get in "ruts" where you make the same 3 meals over and over again.
How about tacos? We had that 2 nights ago.
Burgers? I've had enough red meat this week… See the taco reference above.
Spaghetti? Not in the mood for pasta.
When you've got a big family to feed, and everyone has their own favorites and requests, making dinner can be overwhelming.
But that's where a good weekly meal planner printable can come in handy!
Instead of having to start fresh each day, staring at a stocked fridge and wondering how to combine some of those 52 different ingredients into a dish that your family will love, you can reference your meal planning template for ideas.
Here's a cute and FREE meal planner printable template for you to use, and tips for putting it into action in your own home!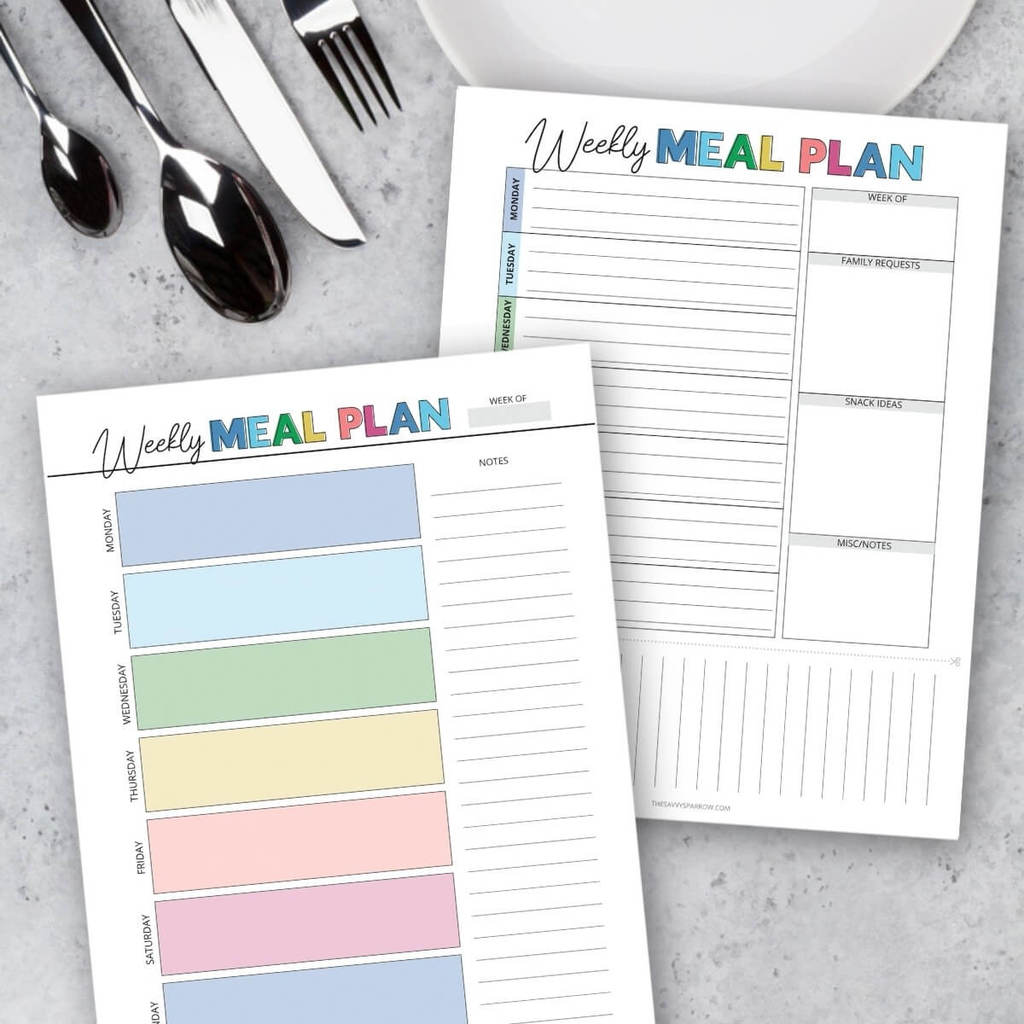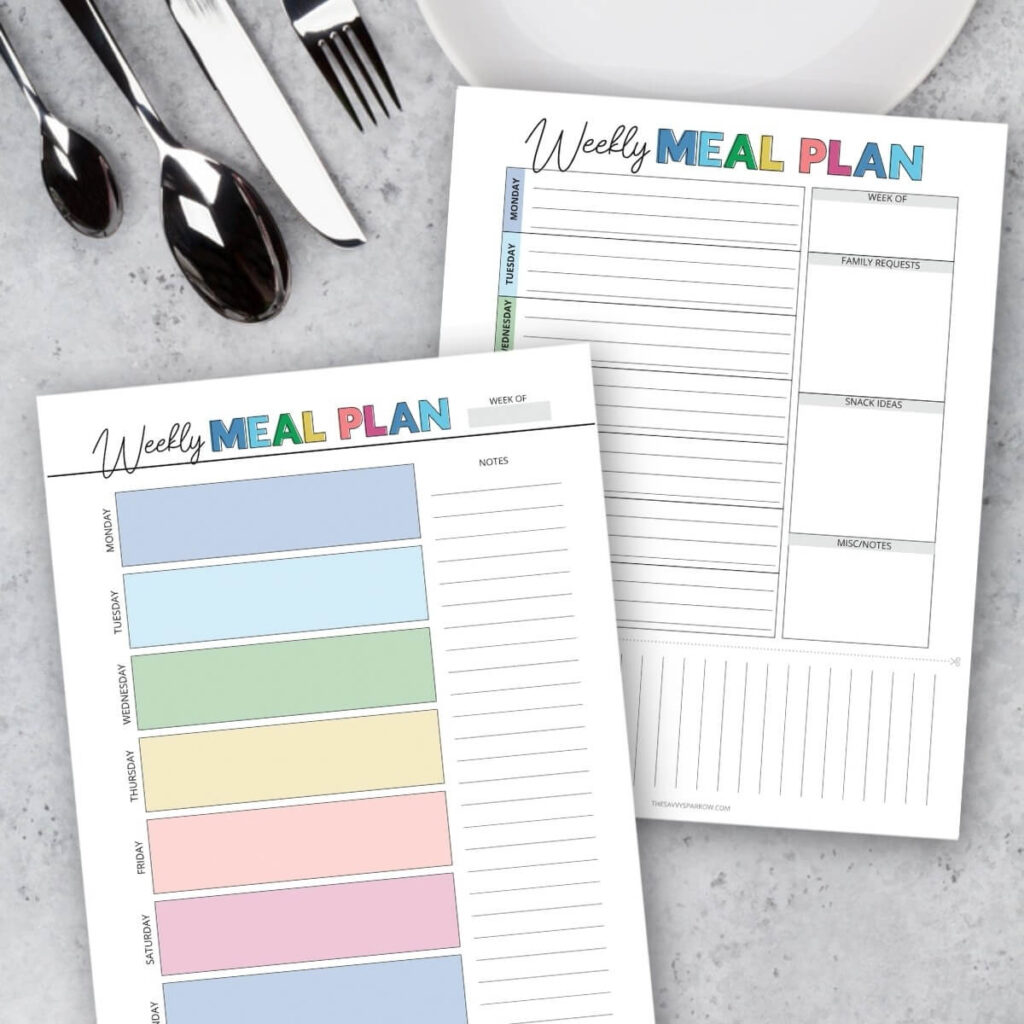 *This post contains affiliate links, which means if you click a link and make a purchase I earn a commission at no additional cost to you. Read my full disclosure for more info.
How to Use the Meal Planner Printable
I designed this printable meal planner so that it's super easy to use and self-explanatory, even for the meal planning newbies! Here's how to put the cute template to good use:
Step 1: Print the free meal plan template and hang on your fridge or add to your planner.
You have a few different options when printing and using the meal plan template. You can either:
Print a new sheet on regular printer paper each week, then use a pen or pencil to fill it in.
Print the meal planner template and then laminate it to use with dry erase markers.
If you're going to laminate your meal plan template, then I highly recommend this laminator! I use it ALL the time for different household printables like my kids chore charts and screen time tickets.
Step 2: Brainstorm a list of family favorite meals.
When you start to meal plan for the week, you're still stuck looking at a blank page. And nothing is less inspiring than, well, nothing. So it helps to have a HUGE list of your family's favorite meals and dinners that are easy for you to prepare.
Before you work meal planning into your routine, you'll want to write down ALL of the dinner ideas that you can… Think of it like doing a brain dump for dinners. You can even use the cute Family Favorite Dinners printable here! Then, just keep that list in the front of your planner or household management binder when you need some dinner inspiration!
Step 3: Use the printable meal planner to schedule a week of meals at a time.
This is the easy part! Once you've got a list of dinner ideas that are easy to prepare and loved by your family, just insert them into your meal planner printable!
You may want to fill in your template with a pencil or an erasable pen to be able to make changes easily if needed. Or, you can even try to use the PDF on your iPad in an app like GoodNotes!
Tips for Using a Weekly Meal Planner Template
Starting a new routine like menu planning can be daunting at first… like you need one more thing to do each week, right?! But I've got some tips to help you be successful on your meal planning journey:
Tip 1: Incorporate the meal plan template into your routine.
Printing off a bunch of super cute meal planning templates is one thing, but actually using them is another. If you don't want your meal planners to end up collecting dust on your kitchen counter, then you need to actually make meal planning a part of your weekly routine… you can even add "meal plan" to your weekly planner template!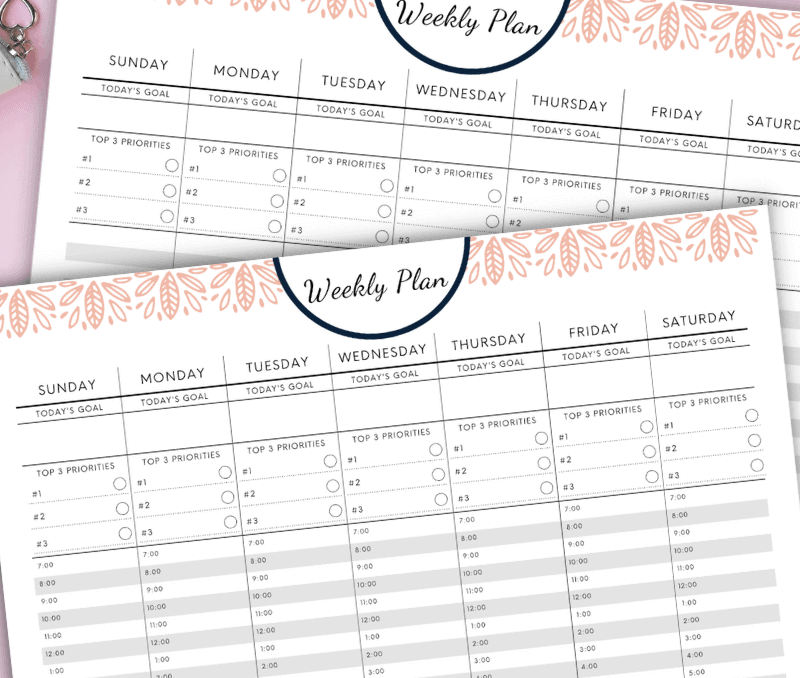 You may choose to plan out all your meals on Sunday evening after you put the kids to bed. Or, you may prefer to schedule out your family's menu on a weekday morning when your kids are at school. The important thing is to find a day and time that works for you, and commit to using that time for planning your dinners, each and every week.
Tip 2: Keep your meal planner where it's visible.
If you have a family command center where you keep important school notes, a calendar, or cleaning checklists, then you can definitely add your meal planner printable to that area as well. Or, hang it on your fridge where it's front of mind and you can easily make changes if needed.
If the meal planning template is hanging somewhere front and center, you're less likely to forget about it, especially as it's becoming one of your weekly habits.
Tip 3: Plan meals based on what you already have.
To save money and prevent food waste, check your own fridge, freezer, and pantry when planning out your meals!
Make sure to use the oldest ingredients first so that they don't expire and end up in the trash… In the restaurant world, this is called "FIFO", or First In First Out… Or in other words, the first ingredients to go in your fridge are also the first ingredients to go out of the fridge, or the first to get used.
Having an organized freezer and a freezer inventory sheet like mine is also a good way to use up what you already have on hand!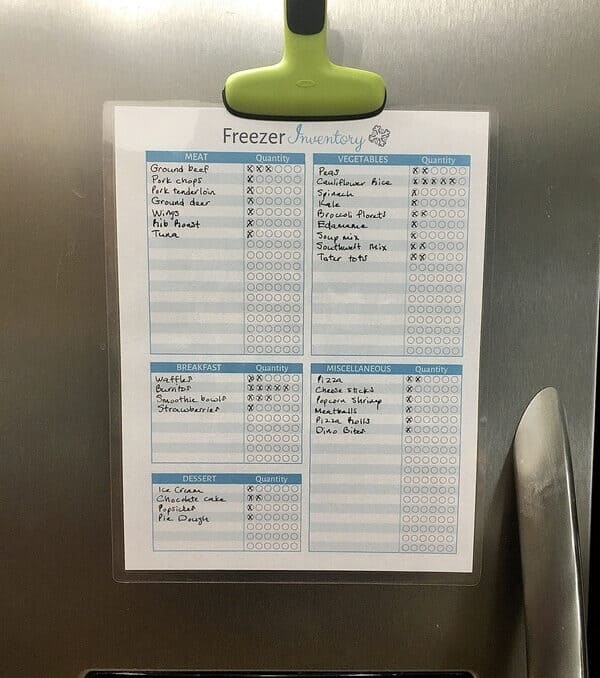 Tip 4: Make your grocery list while filling in your meal planner.
While you're focused on meal planning, you should also take the time to write out your grocery list for each week… Kill two birds with one stone, so to speak.
Look through your completed meal planner template and think about each meal separately. Ask yourself, do I have all of the ingredients to make this meal? If not, add them to your list along with your other "master" grocery items, or the things that you buy on repeat.
I've even got a printable master grocery list template that you can use to make grocery shopping easier… and you can even type right into the sheet!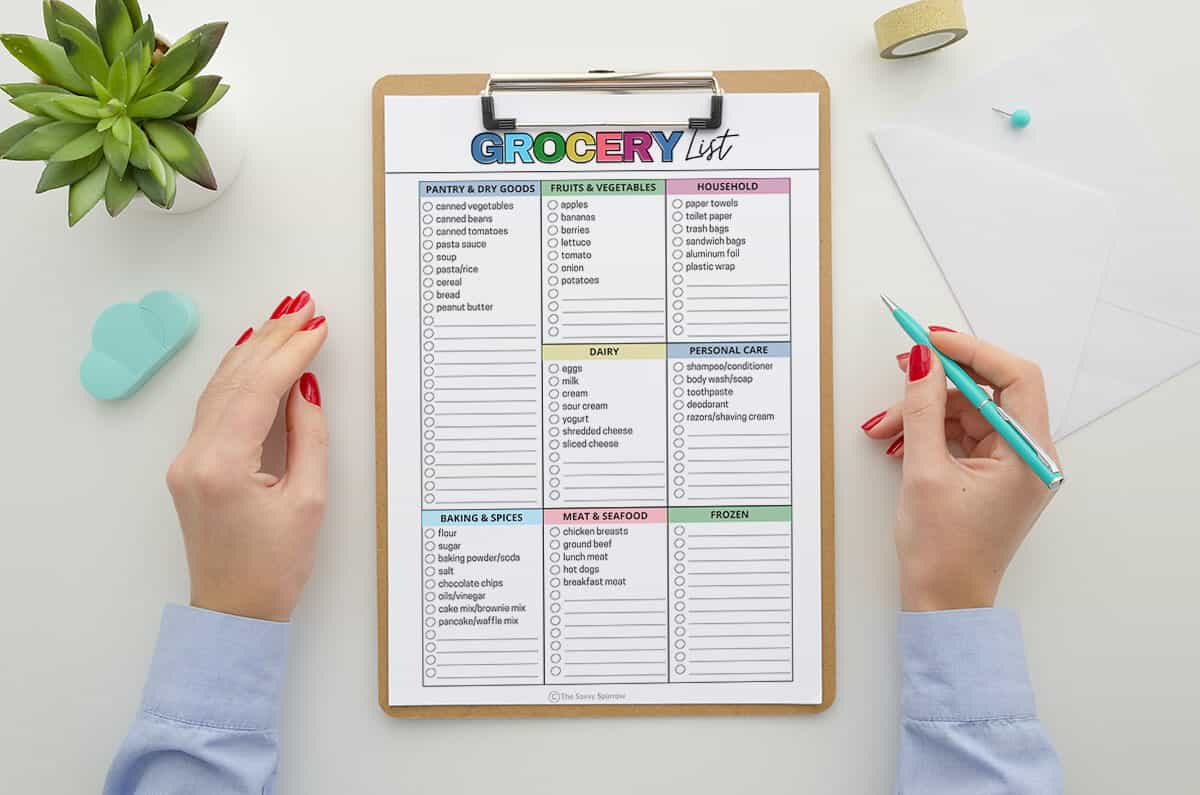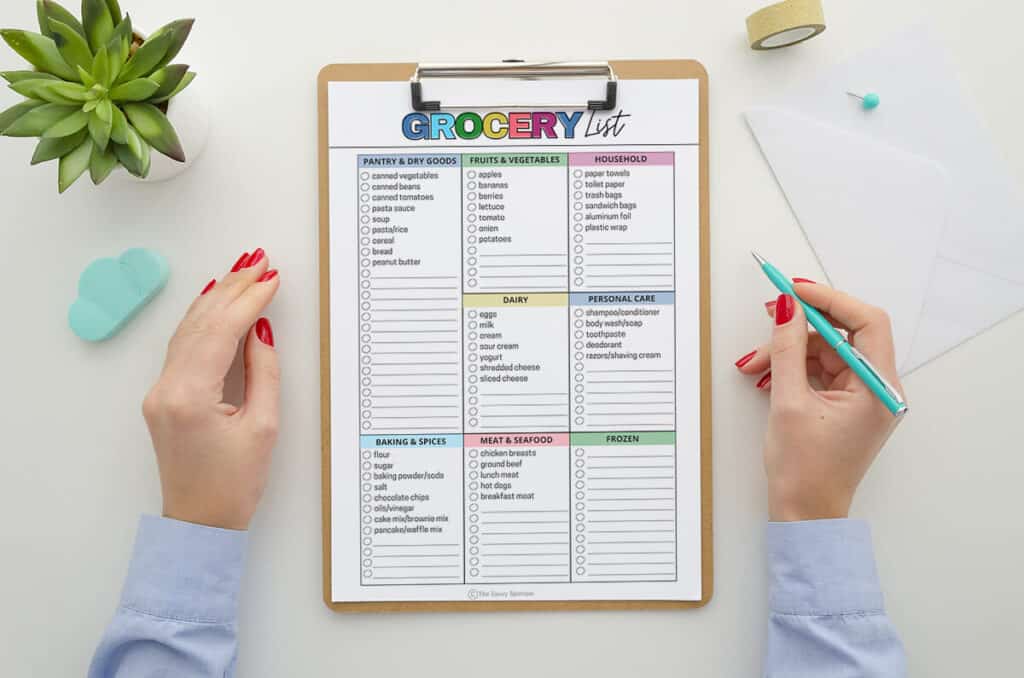 Tip 5: Have a go-to list of dinner ideas.
Having a go-to list of your family's favorite dinners and easy meals that you can make on busy weeknights can help you fill in your menu planner each week. I recommend that you keep a list of meal ideas in the back of your planner or on a clipboard underneath your printable meal planner template… That way it's easy to access each week, and you can add to the list of meal ideas as you need to.
Need dinner ideas for your meal plan template? I've got an entire list of dinner ideas that you can use as inspiration when planning out your menu for the week! So much easier than starting from scratch!
Click here to grab this super cute printable list of meals: The Only List of Meals for Dinner You Will Ever Need (Free Printable!)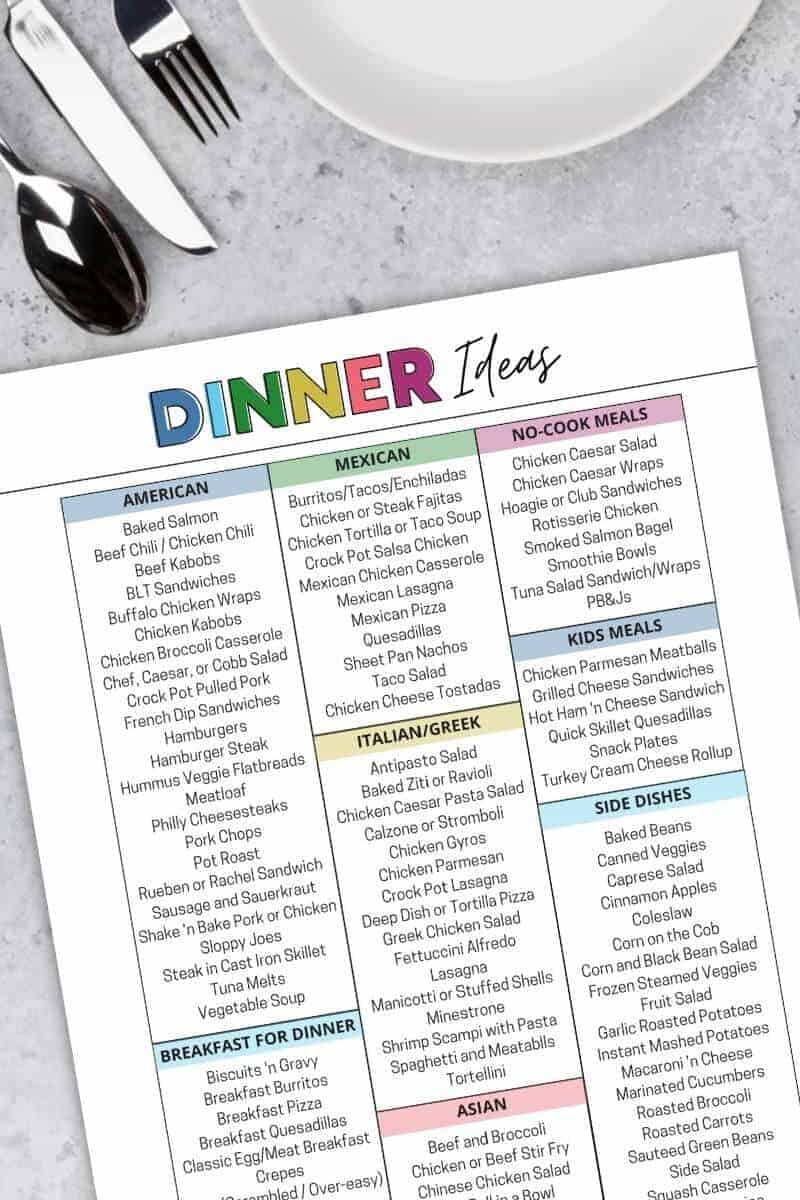 Tip 6: Add theme dinner nights to your weekly meal planner template.
If you need even more ideas for meals to put on your template, then give themed dinner nights a try! Designating different days of the week for different meals or cuisines can help fuel your imagination, and your family will probably love it too!
For instance, try "Mexican Mondays" when you make any type of Mexican themed dish like sheet pan fajitas, enchiladas, or chicken tortilla soup. Or, "What's in the Fridge?" Wednesday when you use up ingredients that you already have on hand.
Get the Free Meal Planner Printable Template Now
Want to use my weekly menu planning templates to plan your family's meals? Just click the links below to download your favorite meal planner printable!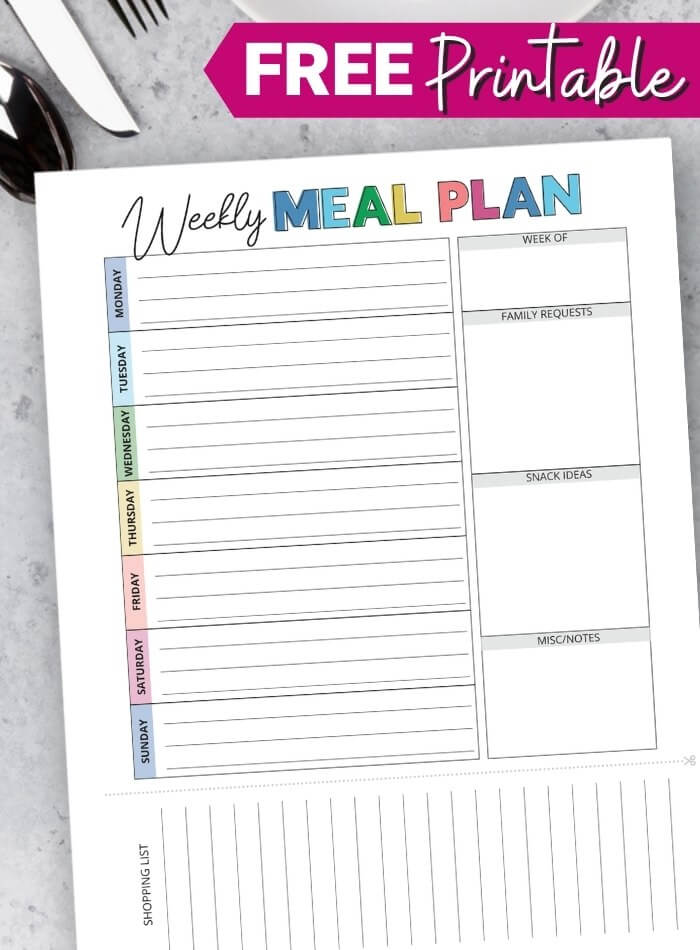 Click HERE for the Meal Planning Template with Shopping List – Color Version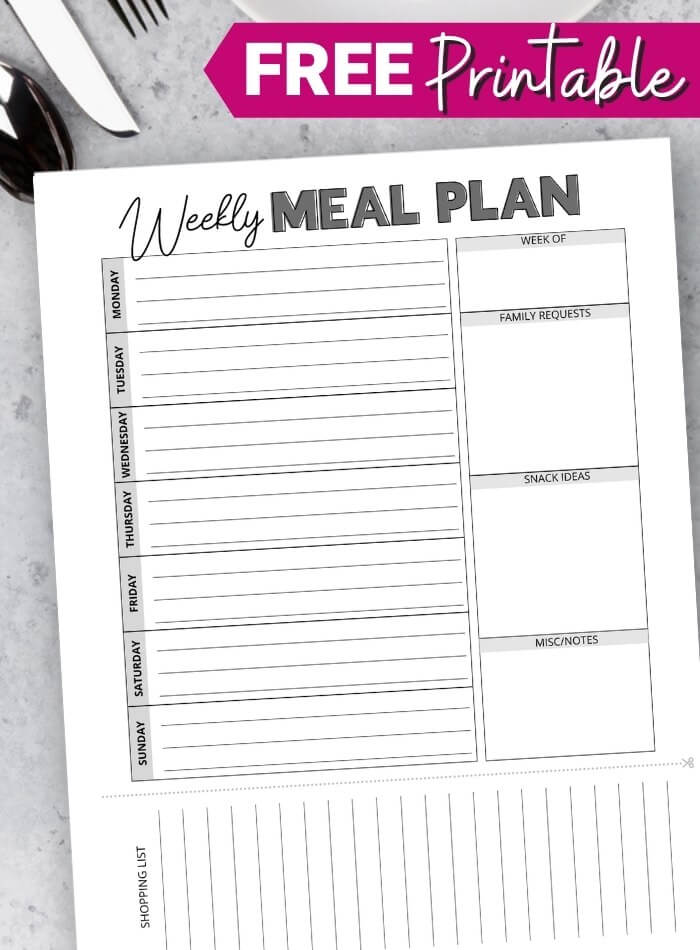 Click HERE for the Black and White Meal Planner Template with Shopping List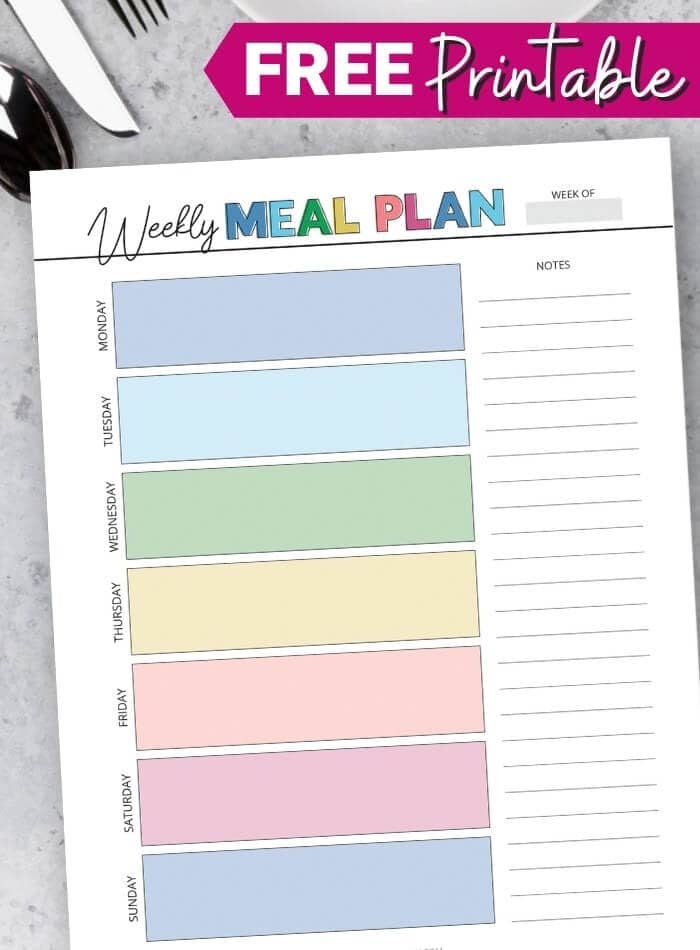 Click HERE for the Color Weekly Meal Planner with Notes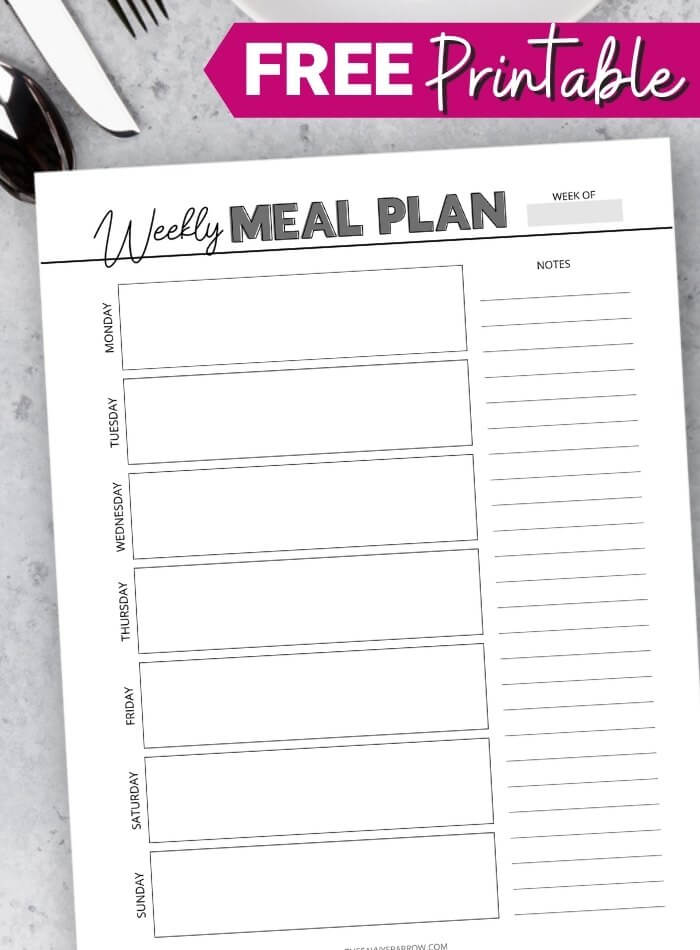 Click HERE for the Black and White Weekly Meal Planner Template with Notes
I hope these cute meal planner printable templates help you to stress less about making dinner each night! Which of the menu planning templates is your favorite? Or do you use something different like an app or a digital meal planner to help determine your weekly menu? Leave me a comment down below! I'd LOVE to hear from you!
And don't forget to PIN this post for later: