If your husband's love language is acts of service, then this huge list of acts of service ideas will help you! Get creative with these examples of ways to serve your husband!
My parents have been married for over 35 years, and in that multi-decade span, my Dad has probably made his own dinner plate about 3 times. I have witnessed him plating his own food in the buffet line at weddings, but besides that, I couldn't tell you the last time that he dished out his own mashed potatoes or even added mayonnaise to his own hamburger.
My Mom is the ultimate server.
And while that may seem antiquated to some, and I may get an earful in the comments section from the feminists out there, I think it's incredibly important to serve your husband.
Or, if the idea of being your husband's "servant" makes you cringe, think of acts of service as ways to show your husband that you love him instead. Tomato – "Tomato" (in a British accent). Because doing things that make your husband's life easier is a great way to show him that you appreciate him, whether you call it "serving him" or not.
If your husband's love language is acts of service, and you need some examples of ways to serve him, then this post is for you! Read on for some easy acts of service ideas that you can use in your marriage: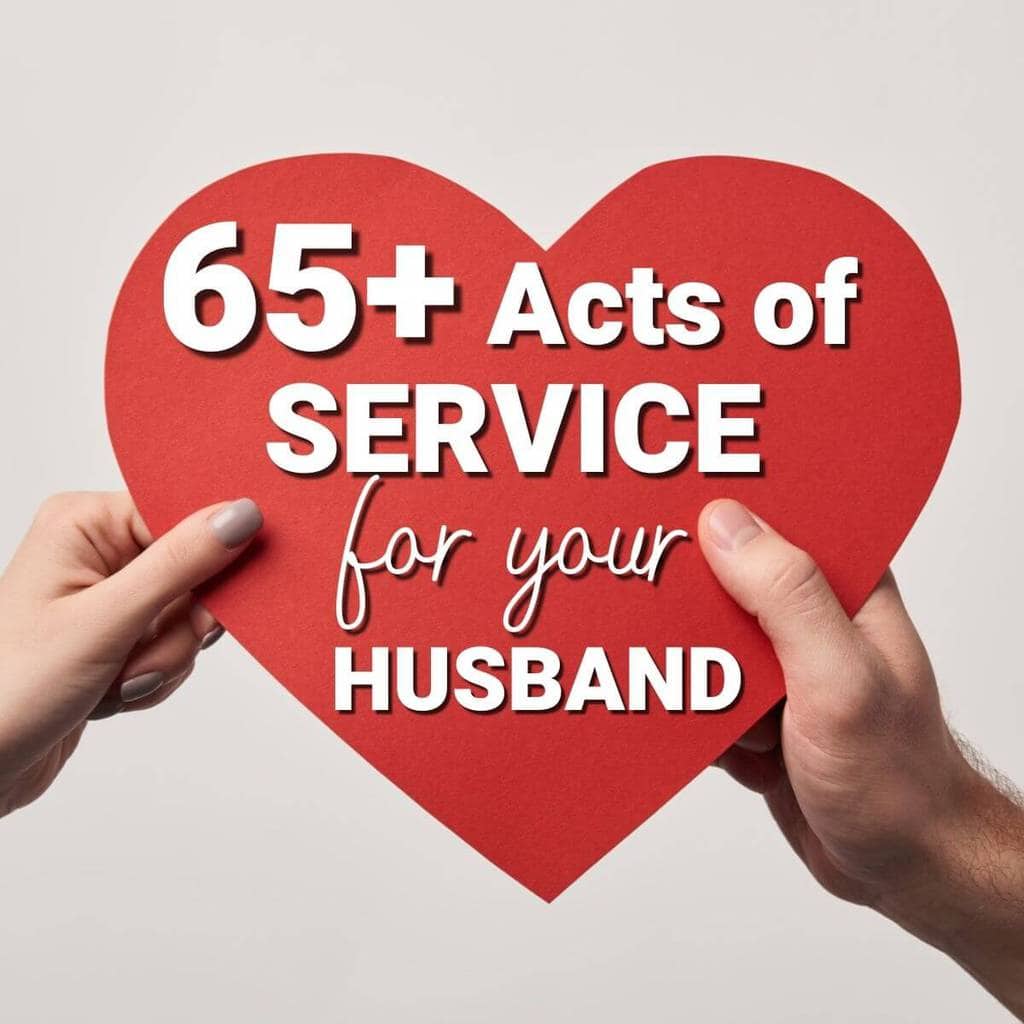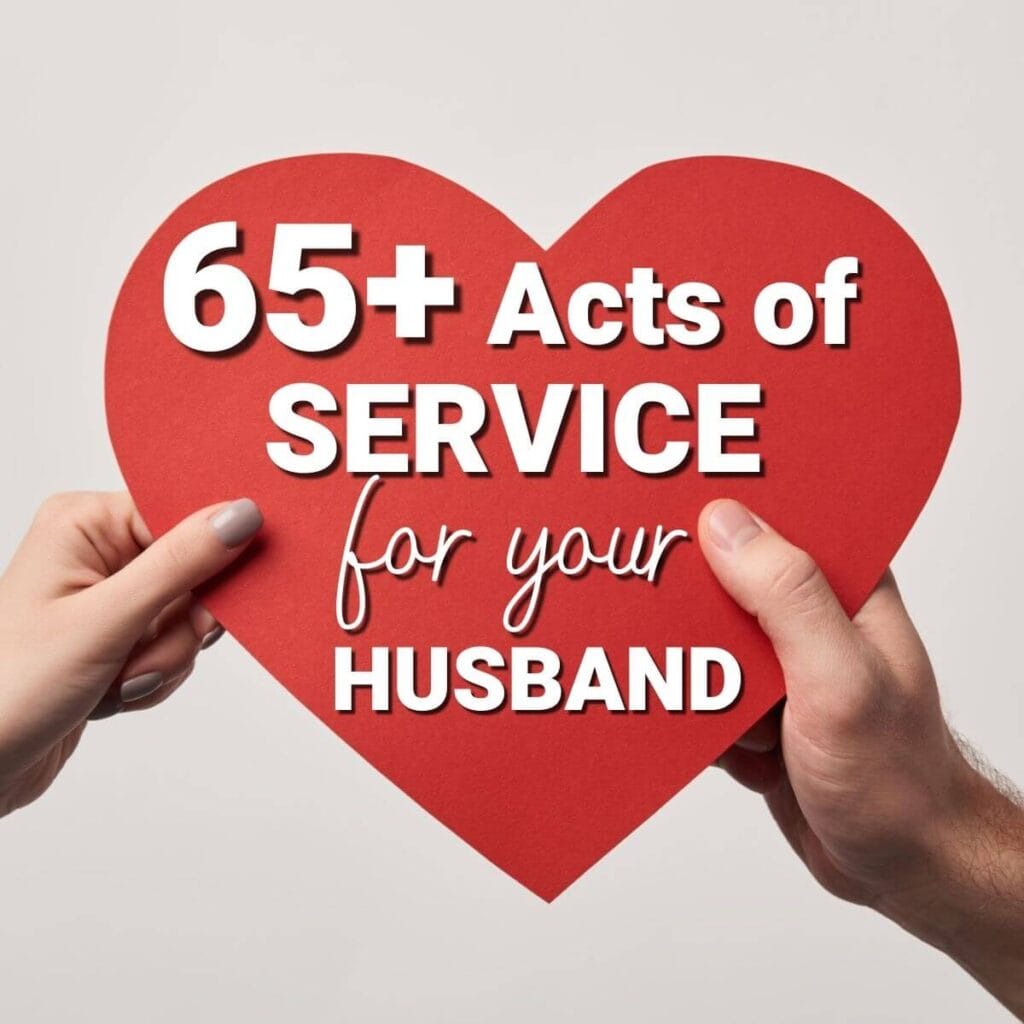 What are "Acts of Service" According to the 5 Love Languages?
First off, if you haven't heard of The Five Love Languages, then I highly recommend that you and your spouse take the Love Languages quiz!
According to the 5 Love Languages website, love languages are "a simple and effective way to strengthen your connections, so you can experience greater joy and harmony in all of your relationships." The 5 different languages of love are: words of affirmation, gifts, acts of service, quality time, and physical touch.
Understanding each other's love language is something every couple should have as a relationship goal. After taking the quiz, you'll better understand how to express love to your significant other so that he or she feels truly cared for and appreciated.
So what if your husband's language of love is acts of service? Well, think beyond just doing his laundry or making his coffee in the morning.
An "act of service" can be any action that you take to make his life easier or to show him that you love him… but the key here is the word "action". You know the old adage "Actions speak louder than words."? That definitely applies here.
Just telling your husband that you love him may not be enough for him to truly feel loved… you need to actually SHOW him.
Things to Consider When Serving Your Husband
Before jumping in to the big list of acts of service ideas, here are some things to think about when you're brainstorming ways to serve your husband:
What makes him the most stressed?
A stressed out husband can lead to a stressed marriage.
Let me say that again…
When you're stressed, your relationship is also under stress.
So when you're thinking about acts of service ideas that you can use, consider what things make your husband the most stressed, frazzled, or overwhelmed?
Maybe he feels like he never has time to himself because he's always too busy? If so, try to transition a few of his daily routine items off of his plate and on to yours. For instance, start taking the trash out yourself, or start sorting and organizing the mail each day.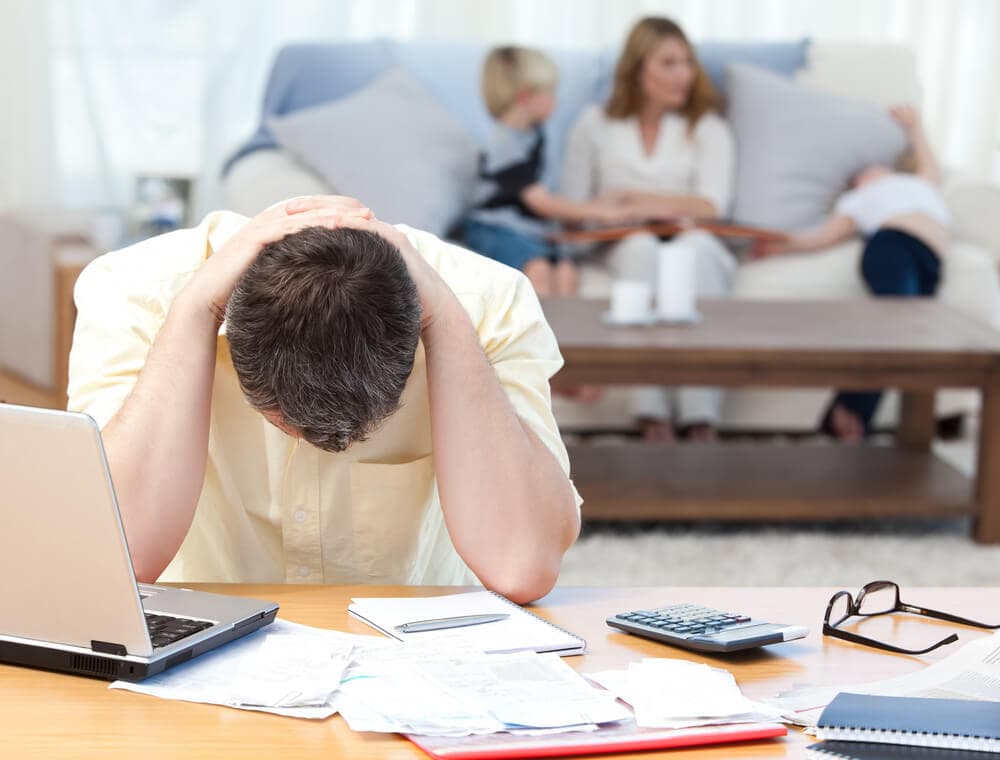 Or maybe he gets stressed out trying to keep track of your finances? If so, you can offer to help him by using a handy money tracker spreadsheet that you can fill in each day, and then you all can review it together weekly.
What can you do to make his day easier?
This is actually one of the questions that was posed by our pastor over 15 years ago in our required premarital counseling. Our pastor stressed the importance of acts of service in maintaining a healthy marriage, even if your spouse's love language is NOT acts of service. He said that you should still try to do whatever you can to make each other's lives easier.
Whether it's ironing your husband's shirt before he goes to work or simply dropping off a bill payment so he doesn't have to, these small acts can alleviate some of his workload and help to show him that you care.
What are your own strengths?
You should also consider your own strengths when reviewing the acts of service examples down below. If you're really unorganized or you're not good with numbers, then you probably shouldn't be paying the bills as a way to serve your husband.
For instance, I can't cook to save my life, so cooking dinner for my husband each night is definitely NOT an act of service that I do… but I can spread mayonnaise and mustard on some bread and add some lunchmeat to make my husband a sandwich everyday for work.
Think about your own personal strengths and weaknesses, and use those to determine how best to serve your husband.
What are small routines that you can start to show him love?
A great way to add some acts of service into your relationship is by incorporating them into your own routine.
Maybe you make his coffee every morning before he leaves for work. Maybe you leave a clean shirt out for him to put on each morning. Or maybe you take the trash to the dump every Friday because that's one less thing that he has to do.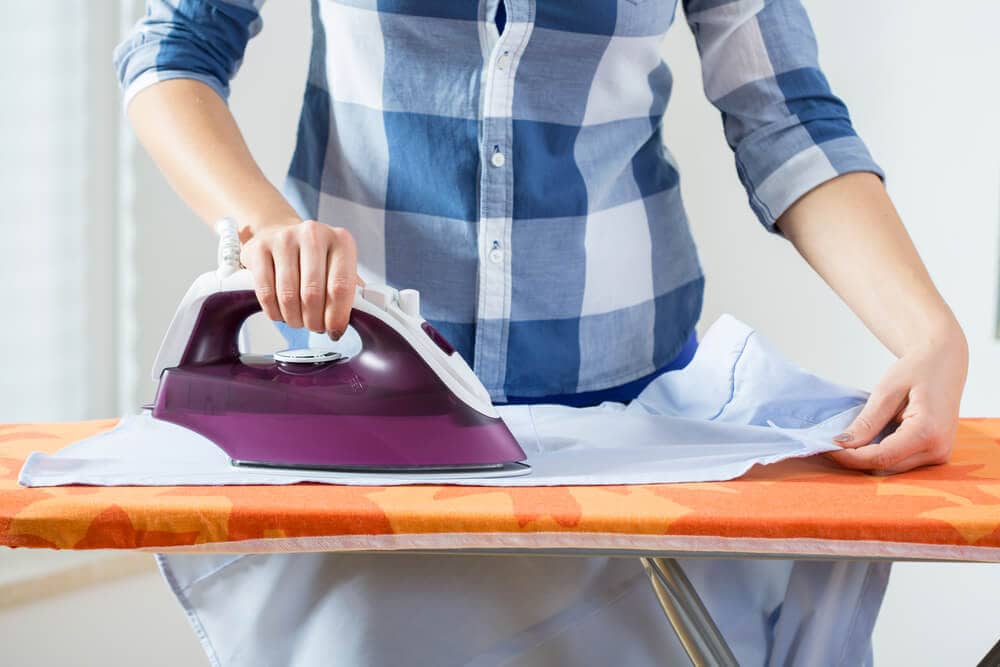 Think about small acts of service that you can easily incorporate into your own routine as a token of your love for him.
68 Acts of Service Ideas for Your Husband
So now let's talk about specific ways to serve your husband. Here's a huge list of easy acts of service examples you can do:
Take the trash to the dump or wheel the trash can out to the curb on trash pick-up day
Make your husband's lunch for him to take to work
Make him a cup of coffee in the morning
Iron his shirt when he has a big work meeting coming up
Lay out his clothes for him before you go to sleep
Make his dinner plate and serve it to him at the table
Take his car through the car wash for him
Make him a nice breakfast or protein shake in the morning
Wash and fold his clothes
Put his clean clothes away in his drawers for him
When he gets home from work, greet him at his car and help him carry in his stuff – This is something that I do every single day!
Take the kids out for a few hours so he can take an afternoon nap
Make his favorite meal for dinner and dine by candlelight
Make his favorite dessert and serve it to him in bed
Organize a surprise date just for the two of you – Get 94 fun and creative date ideas here!
Give him a back massage
Offer to file and buff his nails for him
Give him a foot rub while you're watching TV together
Take care of a household chore that he's been putting off… For instance, if he really wants to have the yard seeded, but he's been dragging his feet, call a lawn care company to do it for you.
Mow the lawn so that he doesn't have to – You could even do it while he's at work as a nice surprise!
Call the doctor or dentist for him to schedule his appointments
Pick up things that he needs at the store
Take his shirts to the dry cleaner
Bring him a surprise lunch while he's at work
Make him a special playlist of his favorite songs
Ask him what he needs help with, and then make every effort to help him
Put his towel in the dryer so that it's nice and warm for him when he gets out of the shower
Start his car for him in the winter so that it can warm up (if he has to park outside)
Offer to let him park in the garage (if he usually parks outside)
Clean and detail the inside of his car
Start the shower a few minutes before he gets in so the water warms up for him
Buy his favorite snack the next time you're at the grocery store
Let him be in charge of the remote control
Organize his sock and underwear drawer
Put an air freshener in his car
When you're at the drive-thru getting yourself a coffee, call and ask him if he wants one as well
Clean his sneakers
Bring him an ice water or Gatorade while he's out doing yard work
Get the mail (if he normally does it)
Put a funny or flirty love note in his lunch box
Schedule him a round of golf or an afternoon at the driving range
Run him a hot bath
Give him a printable Love Coupon Book with vouchers for things like baking his favorite dessert or massaging his back
Order his favorite takeout for dinner and go pick it up
If he has to run an errand, offer to drive him there
Do something that you know is important to him, even if it is not high on your list of priorities – For instance, my husband LOVES having our home decorated to the nines for Christmas, but I'm fine with just a simple tree. But since it's important to him, I take the time to go "all out" on our holiday decorations as a way to serve him.
Keep the house clean so that he has a nice and tidy space to come home to each day
Try acts of service related to his hobbies – clean his golf shoes, make sure his tennis bag is packed, etc.
Take his boots off for him when he gets home from work
Bring him his nightly medicine or vitamins
Take care of him when he's not feeling well
When you get up to make yourself a snack, offer to make him one as well
Complete specific favors or things that he asks you to do – and don't forget!
When you run to the grocery store, text him to see if there's anything he needs
Make him breakfast in bed
Pay attention to when his household items or favorite snacks are low and buy more without him asking
Polish or clean his shoes for him
Make sure his favorite sodas or drinks are always stocked in the fridge so he always has a cold beverage
Organize the tools or his work area in the garage
Offer to help if you know he's having a rough day
Give him the biggest steak or the best bite of your dessert
Scrape the ice or snow off the windshield of his car
Clear his place for him after dinner
Get tickets to see that new movie he's been talking about
Neatly fold and organize all of the clothes in his dresser drawers
Clean and organize his side of the closet
Help him with an important project he's working on
Pack his suitcase or carry-on bag for upcoming trips
Other Ways to Show Your Husband Love
These acts of service ideas are important for any marriage, even if your husband has a different love language. Want some other ways to show your husband that you love him? Check out some of these posts:
31 Awesome Texts to Send Your Husband to Make His Day! – What's easier than a simple text to let him know you're thinking about him?! I've got 31 awesome text message ideas here!
50 Affirmations for Your Husband – Encouraging Words He Needs to Hear – If your husband's love language is words of affirmation, then this is a must-read!
Funny and Flirty Love Notes to Leave for Your Husband – Want to put a smile on his face? These super cute printable love notes are perfect for hiding in his lunchbox or gym bag!
I hope you enjoyed these acts of service ideas… and I hope your husband enjoys them, too! Which examples of service will you use first? Leave me a comment down below!
And don't forget to PIN this post for later: