Setting relationship goals as a couple can help you communicate your expectations to each other and improve your chances for success. Read on for 7 couples goals that can help better your relationship!
Believe it or not, #CoupleGoals is more than just a trending hashtag. You see it all the time, all over social media. But when was the last time someone told you your relationship was #goals?
I don't know about you, but wouldn't you rather actually strengthen your relationship and amplify the love in real life instead of just looking the part of "couple goals" on social?
Call me old fashion, but I care much more about what's going on behind the camera instead of in front of it. Yeah, okay. But, how do we even get there?
Enter in, setting couples' goals. And don't worry, I promise diving deep with your honey bunches of oats can actually be a lot of fun and not really feel like work at all. Here are some tips for setting relationship goals as a couple, and 7 goal ideas to get you started: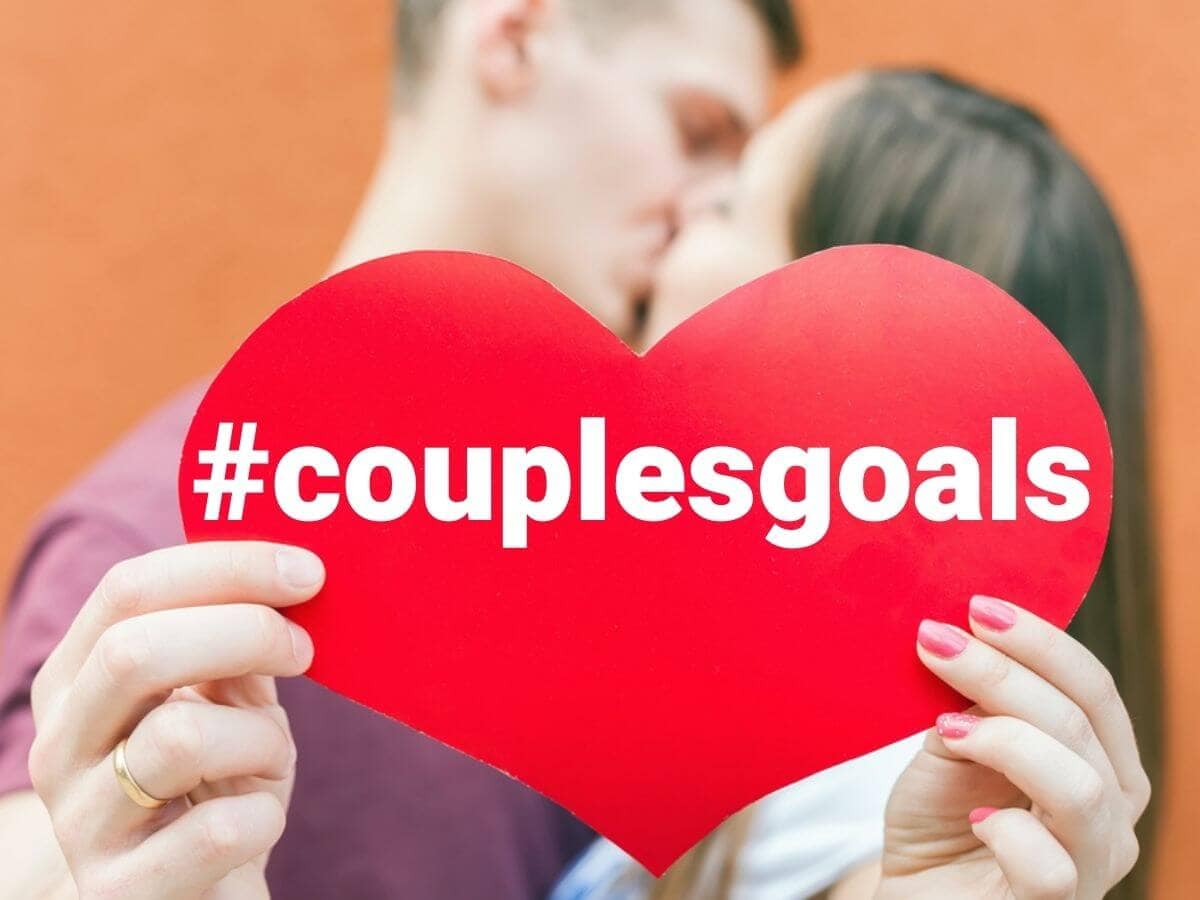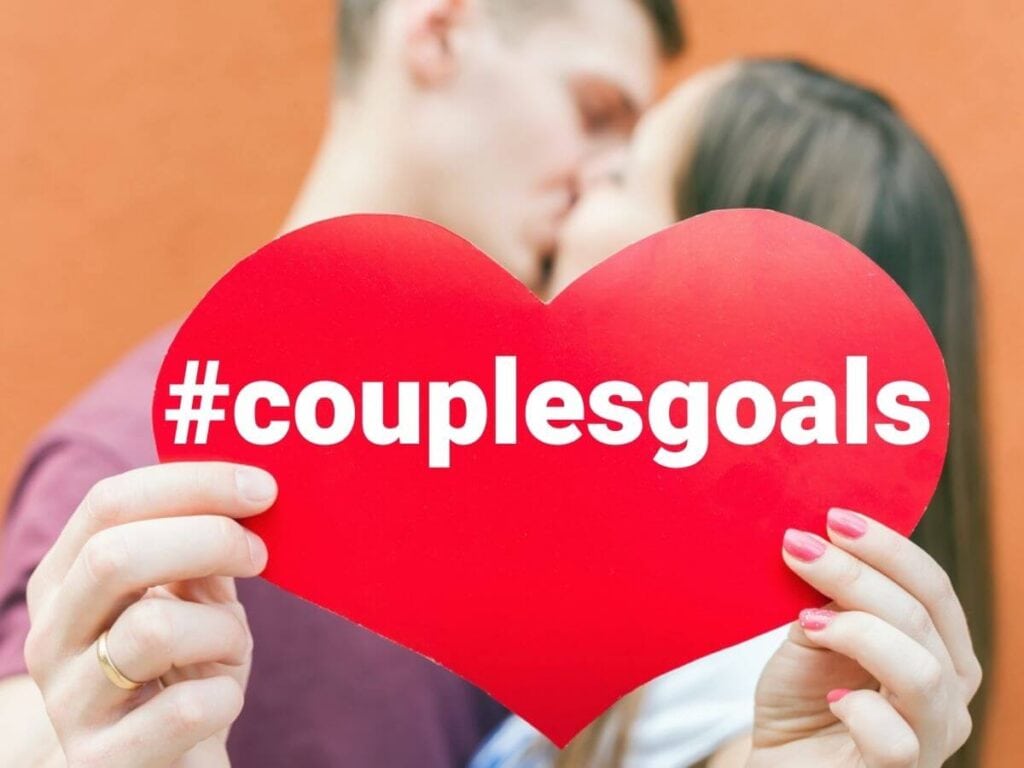 Why Couple Goals Are Important for Your Relationship
Setting couples' goals together will do nothing but work wonders for your relationship. But don't just take my word for it. According to Marriage.com, setting couples goals with your partner for your relationship can maintain and deepen your level of intimacy.
In addition, setting these goals together will:
Help keep you both on the same page in your relationship. How many times have you thought about something you'd love to do but forgotten to share it with your spouse? Writing out goals together makes sure you both feel heard. Sharing conversations and goals will help you grow together and not apart.
Strengthen your bond. During your run-of-the-mill day, you're constantly communicating with your spouse. But how often do you get to dive into a deep conversation about your hopes and dreams for the present and the future? Setting couples' goals together might just uncover a little something special you didn't realize about your spouse before.
The One Relationship Goal You Should NOT Have
But before we dive into the conversation about the goals you should aspire to in your relationship, there is one you definitely want to avoid.
Remember the saying, keeping up with the Joneses? Here's a thought, don't try to. Honestly, worrying about keeping up with the other friends in your circle can be exhausting. To top it off? It won't get you anywhere either.
In a world where a cute photo on social might be 'couple goals' worthy, it's always better when you master relationship goals in real life.
So do you and your partner a favor and steer clear of comparison. As Theodore Roosevelt said, (comparison) is the thief of joy. Don't worry about measuring up to what everyone else is doing. After all, they aren't the ones in your relationship.
So, instead of stressing about how your relationship compares, pour your time and energy into meeting the relationship goals you set together as a couple.
How to Set Relationship Goals As a Couple
Setting couples' goals is a guaranteed way for you and your partner to strengthen your relationship. Now that you've decided to go ahead and make them, where do you actually start?
When you're setting relationship goals, there are a few things you want to keep in mind, besides, of course, agreeing on the goals you're setting. Remember, communication is always key!
So put your phones down, turn off the TV, and put your listening ears on (sorry, that's the preschool teacher in me coming out!).
All jokes aside, together with your partner, ask yourselves:
Is this goal specific to us as a couple? Be sure to discuss what is most important to you (as a couple) and what you want to get out of your goal setting.
How will we measure if we're hitting our goal? It's great to have couples' goals, but if you don't have a way to measure them, you won't know if you're being successful.
What actions will be taken to make sure our goals become realities? This is where being specific, intentional, and having a way to measure your success is most important. Once you've set a solid foundation with your partner, look at the big picture and see what meeting these goals looks like in real-time for your relationship.
Are these goals realistic for our relationship and our lifestyle? No two relationships are the same. So the goals that your friends set might not look the same or make sense for your relationship. Maybe they want to spend six weeks backpacking through Europe, and while it sounds incredible, there is no way your family of 5 would make it half a mile.
When do we want to start working towards these goals? Now that you and your partner have done the (fun) work of setting these goals to strengthen and grow your relationship, it's time to talk about when you're going to put your plans into action.
If you need a little help getting started with the goal setting for your relationship, keep reading for 7 couples goals you should absolutely include to help with your relationship.
7 Couples Goals that Will Help Your Relationship
1. Devote 20 minutes a day to tech-free, quality time together
While there is no denying that tech makes many things easier (and basically, the world go round), tech-free, quality time is so important.
No, you don't have to get a couples massage or spend time meditating together (though that would be incredible). Honestly, it can be as simple as running errands together or a nice quiet drive (sans kids) to go pick up some take-out for dinner. Making tech-free quality time with your spouse is a must-have goal for your relationship, so you don't end up looking like this: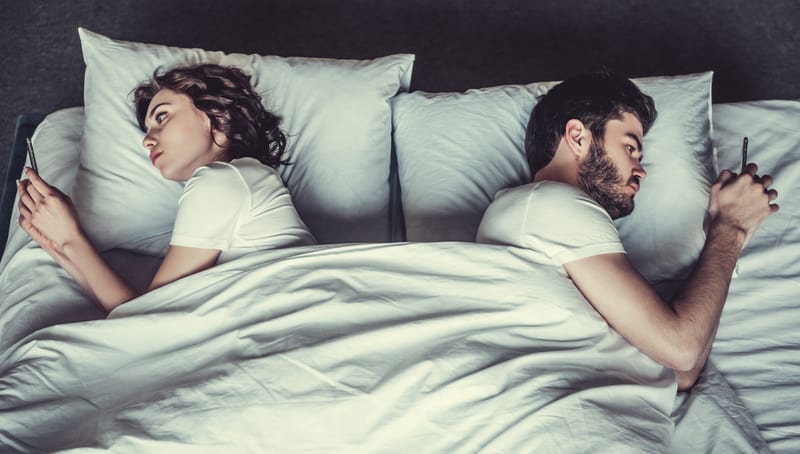 Truly, who wants to have to battle for their partner's attention for a whole two minutes before they hop back on their phone? Tech has been so wonderful in so many ways, but if you fail to be intentional in its use, you risk it putting a damper on your quality time together.
My husband and I take a shower together. Every single night for the past 16 years, except for a handful of times that he's been away on a guys' trip or we've had some crazy thing pop up in our schedule. But hey, if that's not your thing, there are still endless opportunities.
2. Have conversations about things that matter
When you've been married for 16 years like I have, the conversations that you have with your spouse can start to feel mundane – What are the plans for the weekend? How about chicken fajitas for dinner?
While all those things are important, couples should definitely have compelling conversations too. What does the next decade together look like? What kind of travel plans do you have? How will we handle it when we are finally empty-nesters?
Remember those hours-long conversations you used to have when you first got together? Communication and conversations like those are the things that couple goals are built on.
Check out this post for some deep conversation starters for couples if you need ideas of what to talk about with your spouse! And you can grab these awesome conversation cards, too!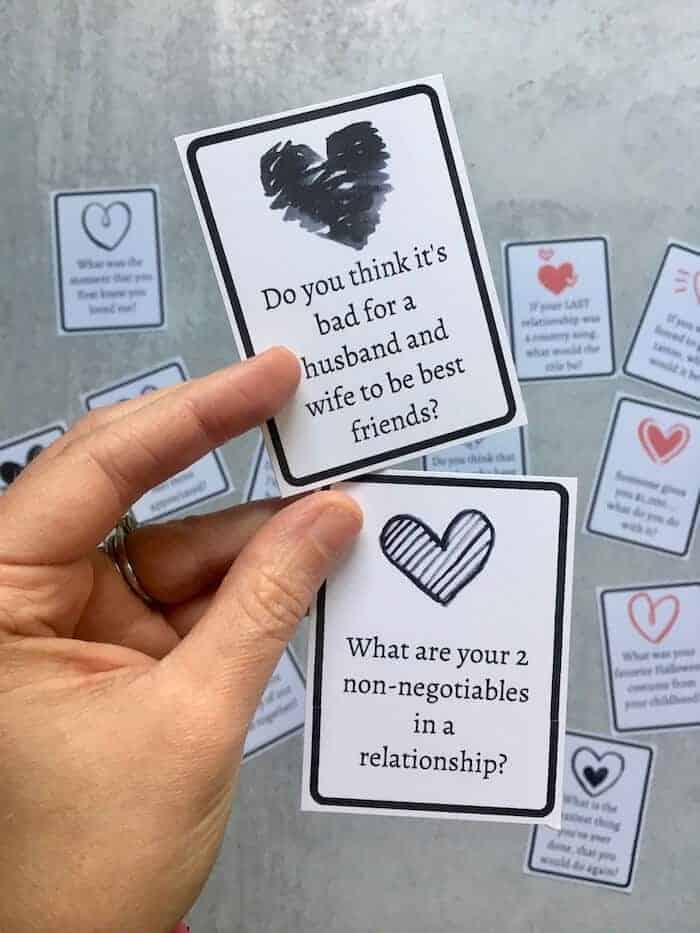 3. Try new things together as a couple
A goal for couples that can be a challenge after a while is finding a way to spice things up. And no, we're not just talking about intimacy, but by all means, add that to your couples' goals as well.
When the day-to-day routine starts to make your relationship feel boring, even the smallest new experience together can work wonders.
Here are some ideas of fresh, new activities that you can try out on a monthly basis to keep the excitement front and center in your relationship:
Try a sushi making class.
Visit a new restaurant that you've never been to before once each month.
Cook a new recipe together once a month for dinner.
Take a yoga class together.
Visit a pottery-making or "paint and sip" art studio.
Take a hike in a new park.
Play a new couples game once each month.
Maybe you'll love what you try out. Or maybe, it'll be a first-and-last type of scenario. Either way, you're making new memories together, and if that's not a win for your relationship, I don't know what is.
4. Express your love for each other… Often!
Of course, you love your spouse. I mean, the whole "I do" thing is a pretty grand gesture that speaks loud and clean. But as time goes on, you can never go wrong deliberately showering them with love. Honestly, who doesn't love an extra little TLC?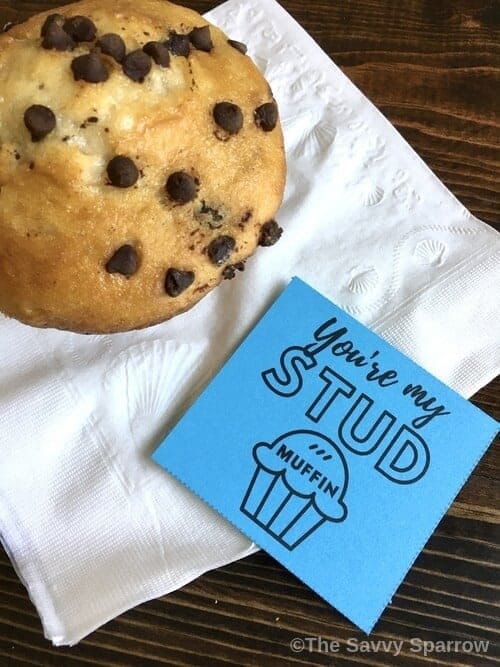 It can be something as simple as a cute and funny love note (like the one above) that brings a smile to their face when they read it. Or you can dive a little deeper by affirming your encouragement, love, and attraction to them. It's the little unexpected things that sometimes can mean the most.
Either way spreading the love for your partner, just because, should absolutely be a goal for your relationship.
5. Figure out each other's Love Language
Every couple expresses love and affection differently. What's more, each person in the couple might show their love differently, using their own love language. And no, I'm not just talking about those three little words.
Love languages are communicated in five different ways: words of affirmation, gifts, acts of service, quality time, and physical touch. Understanding each other's love langue is something every couple should have as a relationship goal.
When you're focused on giving love in the way you receive it, you might run into some problems. Say you love it when your husband cuddles or holds your hand when you go for a walk, but he tries to communicate his love for you by buying you lavish gifts instead.
While it's a nice gesture, it won't speak to you the same way as a massage after a hard day or being able to rest your head on his chest for comfort.
I mean, being able to nail each other's love language? Talk about couple goals.
6. Make date night a priority
Ah, date night. Remember the days back before children, when you could just pick up and go whenever you wanted?
Well, just because the scheduling is a little more hectic doesn't mean date nights should go out the window. In fact, they're an essential part of keeping your relationship happy and healthy, and they should absolutely be included in every couples' goals.
And while it can be nice to visit your favorite restaurant (because hey, they've got the best tacos in town), don't be afraid to mix things up now and again. You can even make your own date jar or use printable date night ideas cards like these: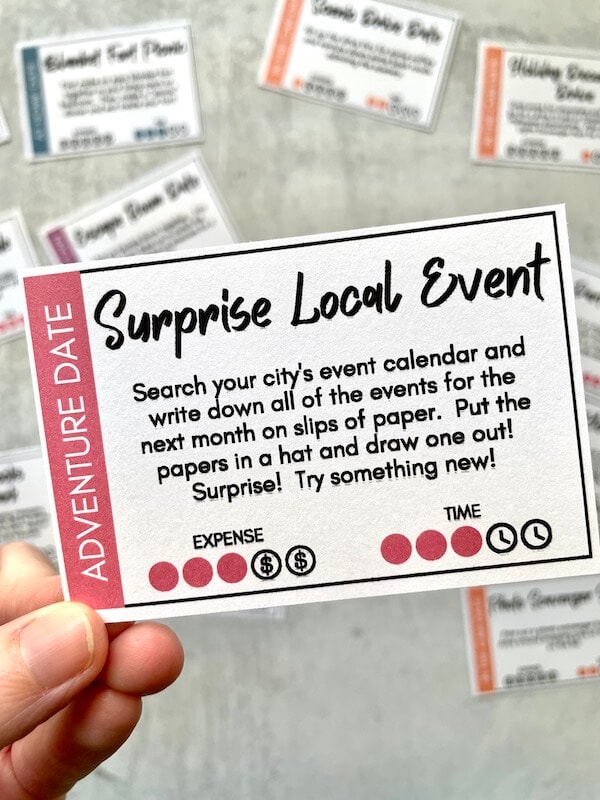 Or maybe make a bucket list together for your relationship. What couples goals can you fulfill together while making it an adventure?
7. Lead with empathy, always
It doesn't matter if you've been together for six months or 16 years. Having empathy for your partner in your relationship is probably the number one goal for couples.
Yes, you live with them, see them, and talk to them more than anyone else in your life, but do you always understand what they're going through?
Maybe they had an awful day at the office. Or perhaps the kids were driving them up a wall (again). When you lead your conversations and interactions with empathy, your partner will feel seen and heard.
Even though you can't physically put yourself in their shoes, being there to listen and support them will mean the world and strengthen your relationship.
What Couples Goals Do You Have for Your Relationship?
What goal are you most excited to set first in your relationship? What goals have you already set, and how did that go? Leave me a comment down below!
And don't forget to PIN this post for later: