Let's face it… Boho wall decor ain't cheap! But you can make your own with yarn and personalize it to match your room with this DIY boho wall hanging!
We recently redid our oldest daughter's bedroom and went with a "boho glam" theme (her words not mine). And if you've ever completely updated a bedroom, then you know that it can get expensive.
So I was on the hunt for inexpensive boho wall decor and DIY ideas to help with the cost.
She was really wanting a yarn wall hanging (the quintessential boho decor piece), but all of the cute ones that I found were $40 or more, so we decided to DIY our own. And I couldn't be happier with how it turned out!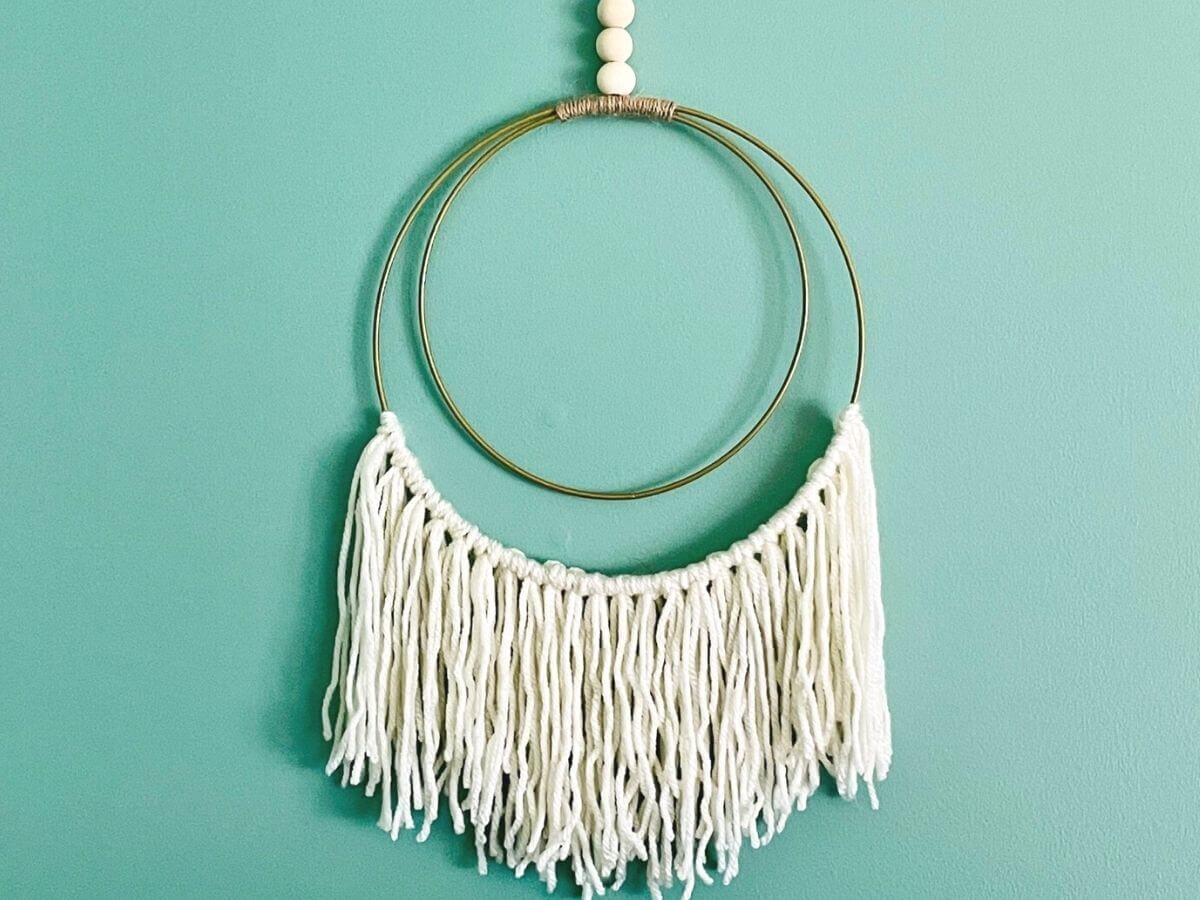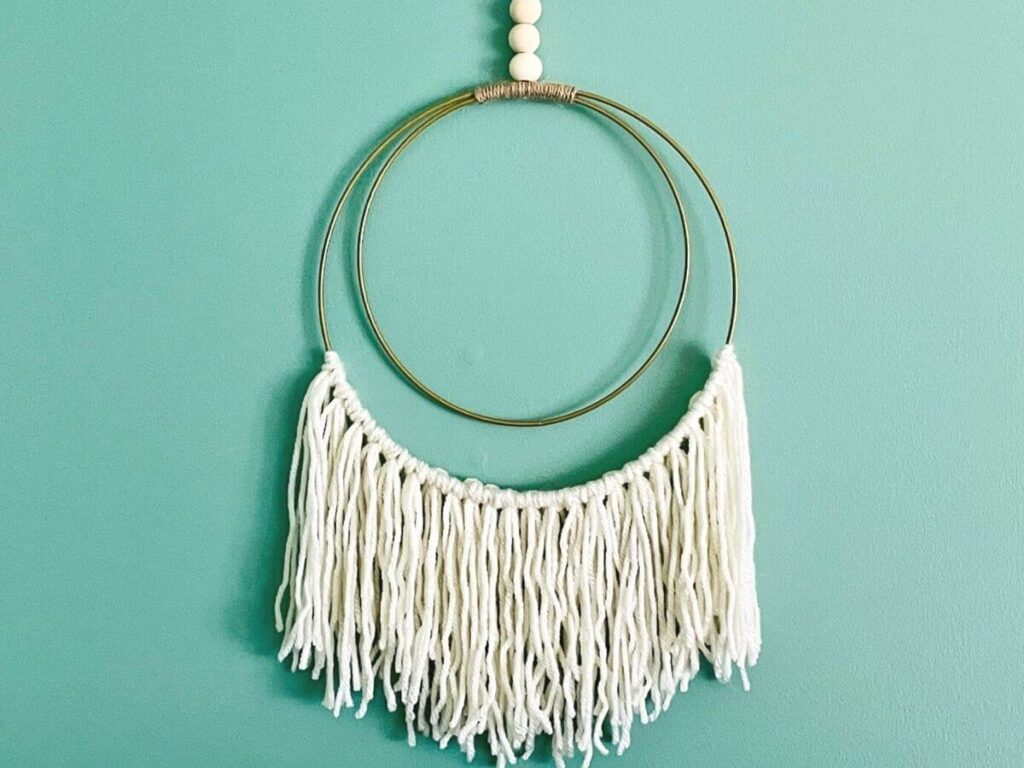 If you want to make your own super cute yarn wall hanging to decorate your small bedroom on a budget, then you're in luck!
This cute decor piece can be made in about 30 minutes for less than $7! Here's how to do it:
Boho Wall Hanging Supplies
Here's what you need to make your own cute and cheap yarn wall hanging: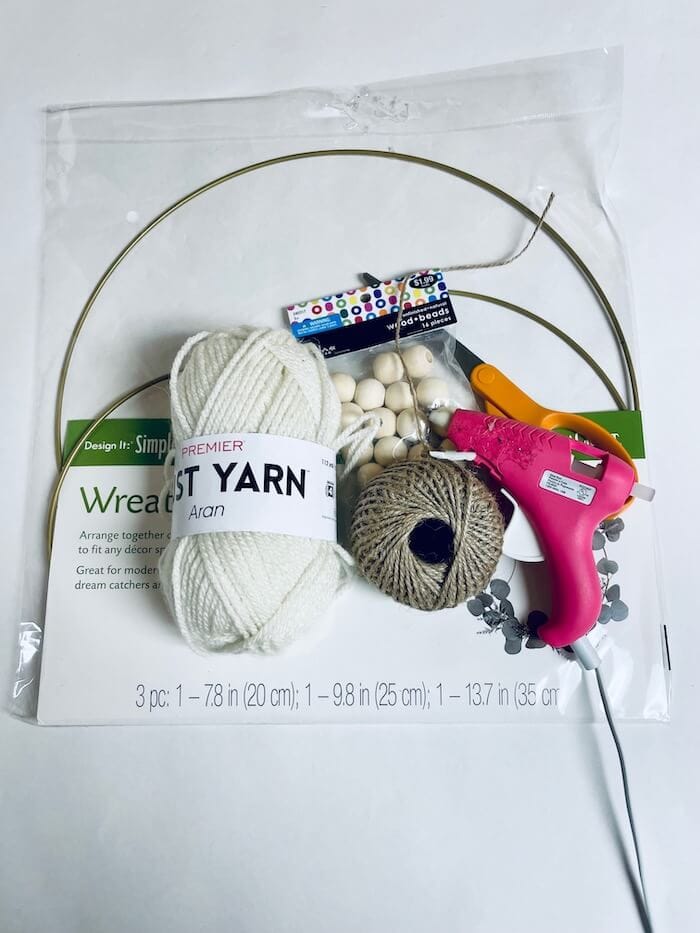 2 metal hoop wreath circles – The ones that I used are from Walmart and come in a 3 pack for only about $3. I used the two largest hoop circles in the pack, which are about 13 inches and 9 inches in diameter.
Yarn of your choice – You can use whatever yarn you have on hand, or macrame cord works well also.
Scissors
Hot glue gun
Jute twine – I got mine from Dollar Tree!
Large Wooden Beads – I got a bag from Hobby Lobby that was 50% off!
How to Make an Easy Boho Wall Hanging with Yarn
Here's how to make your own DIY boho yarn wall hanging:
Step 1: Glue the metal wreath hoops together.
Start by placing the two gold hoops together so they're touching in one area. The smaller hoop should go inside the larger hoop. Then, hot glue the two hoops together there.
Once the hot glue is dry, wrap a piece of jute twine about 4-5 inches long around both of the metal hoops where you glued. The twine helps to strengthen the final wall hanging, and it adds a nice decorative touch. Add a dab of hot glue to hold the twine in place, and trim the ends.
Here's what it should look like: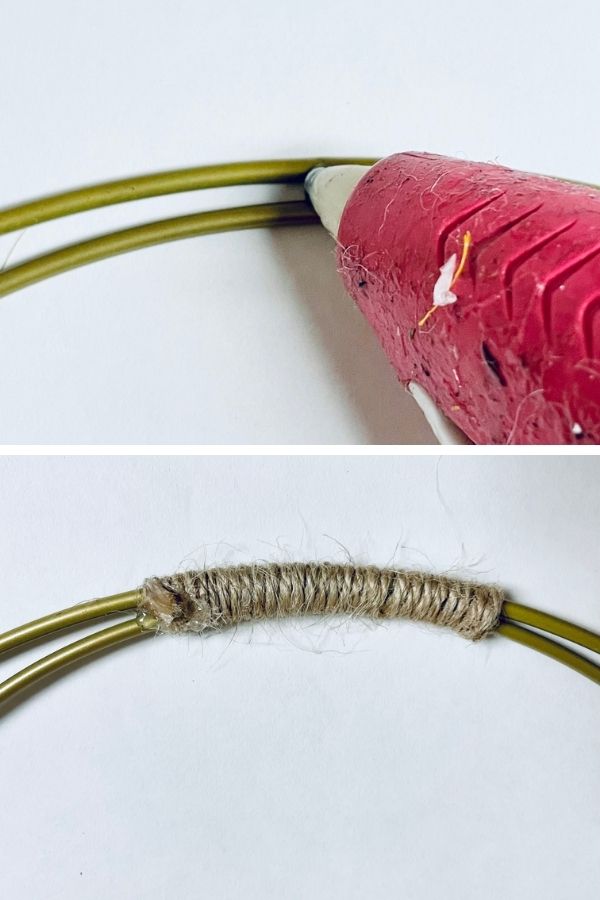 Step 2: Attach wood beads and twine to form a hanger.
Next, you need to make a hanger to be able to hang your DIY yarn hanging on the wall.
Start by cutting a piece of jute twine about 18 inches long. Then fold that piece of twine in half and place it underneath the hoops as shown below. Pull the top end pieces of twine through the loop to form a knot.
Next, string 3 wooden beads onto the 2 loose ends at the top, and tie a knot in the twine so the beads stay in place. You should now have a little loop to use to hang your finished boho yarn decor on the wall.
*Note – You can also use more than 3 wood beads, or even paint the beads if you wish. You can visit this post to see how to easily paint wood beads for DIY home decor projects: How to Make a Wood Bead Garland – Easy Farmhouse DIY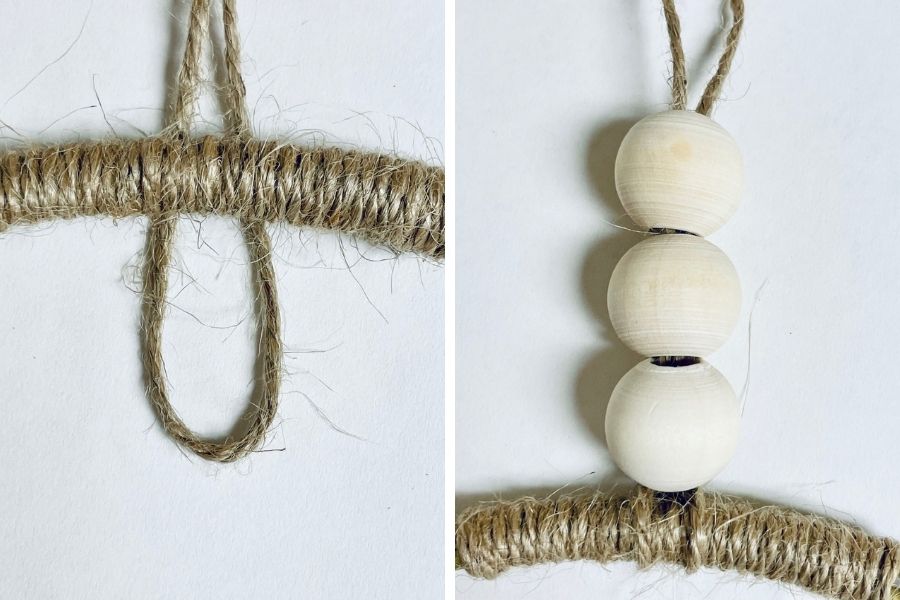 Step 3: Cut your strands of yarn.
Next, you're going to cut a whole bunch of yarn pieces. I cut 92 pieces of yarn, each about 12 inches long. Once your yarn is cut, group the pieces into 4's… so you should have 23 piles with 4 pieces of yarn in each. If you want your finished wall hanging to be fuller, you can also add more yarn.
You can also use different colors of yarn and make a more multi-colored boho yarn hanging instead. For instance, you can use different neutral colors (like tan, ivory, dusty pink, etc) for a different look. Or, switch it up and use different thicknesses and textures of yarn for a cool look… heck, you could even mix in some pieces of ribbon.
The possibilities are endless!
Step 4: Attach the yarn pieces to the bottom hoop.
Next, using a lark's head knot, you are going to fold one section of 4 pieces of yarn in half, placing the loop section under the large hoop and pulling the strands through the loop to form the knot. This is the same type of knot that you used in step 2 to form the hanger.
Repeat this with all 23 sections of the yarn.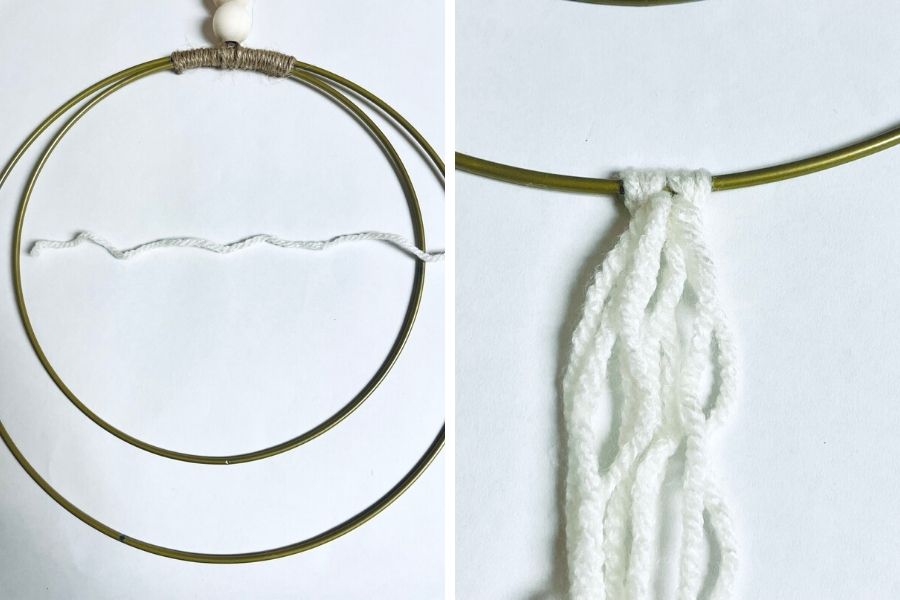 Step 5: Hang your DIY Boho Yarn Wall Hanging and enjoy!
Once you've attached all of your yarn pieces, it's time to hang your super cute DIY boho wall hanging!
Don't you love it?!
This craft would be perfect for your teens to make themselves, or you could even churn out a bunch of them to sell at craft fairs!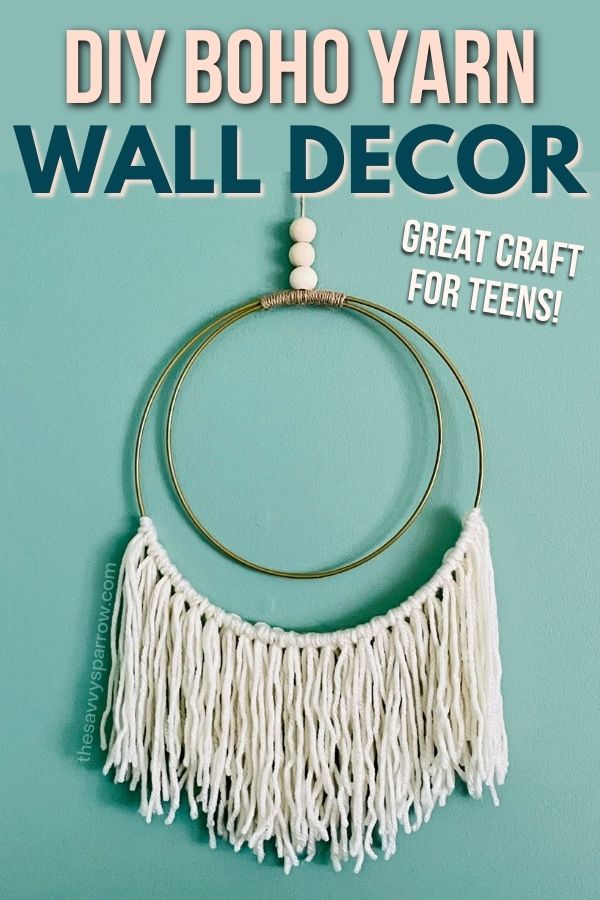 And after you're done with this wall hanging, you might want to make these super cute boho-looking storage baskets out of your old Amazon boxes: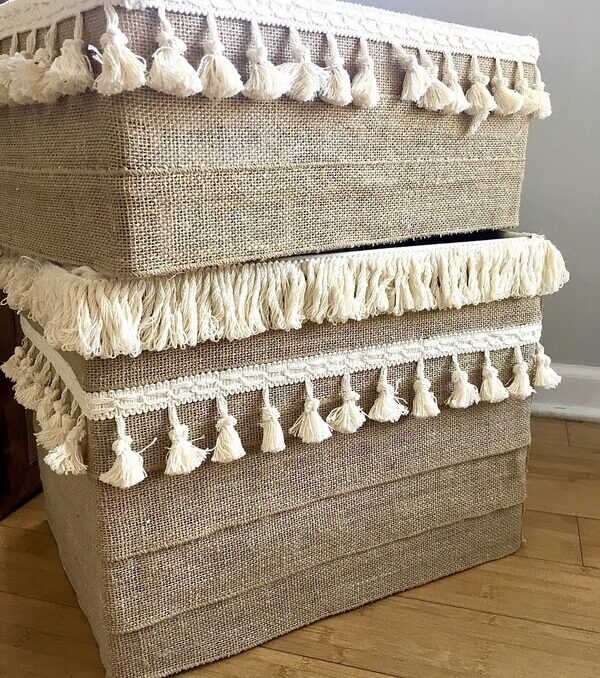 Hope you enjoyed this easy craft! And happy nesting!