Cupcakes are a classic dessert perfect for any holiday. And when you add some Jell-o to the mix, you can easily create some amazing Halloween cupcakes. While these orange poke cake cupcakes look difficult to make, they're actually so simple to put together. With the help of boxed cake mix and orange gelatin, you can whip up this easy Halloween dessert in a matter of minutes.
And after you get done making these easy Halloween cupcakes, then try one of these spooky cute Halloween cookie recipes!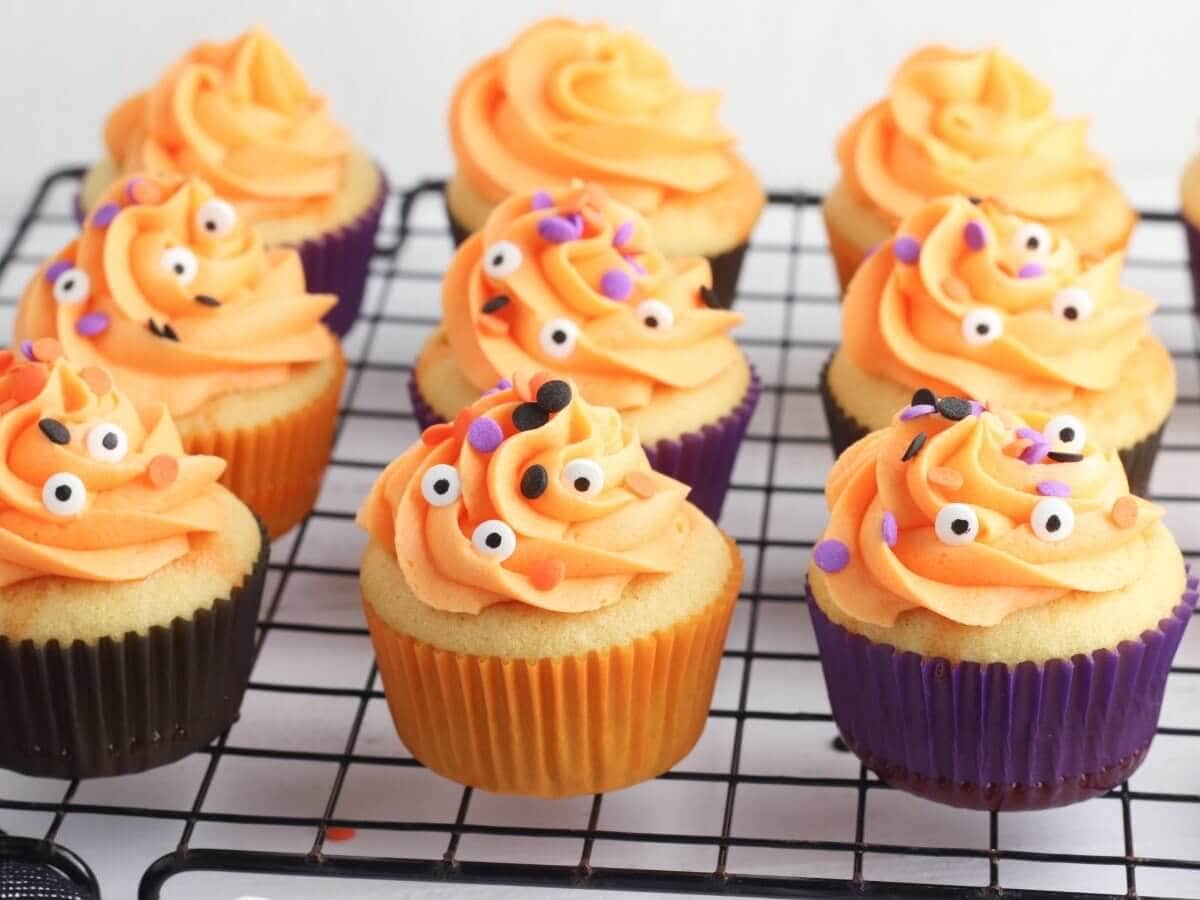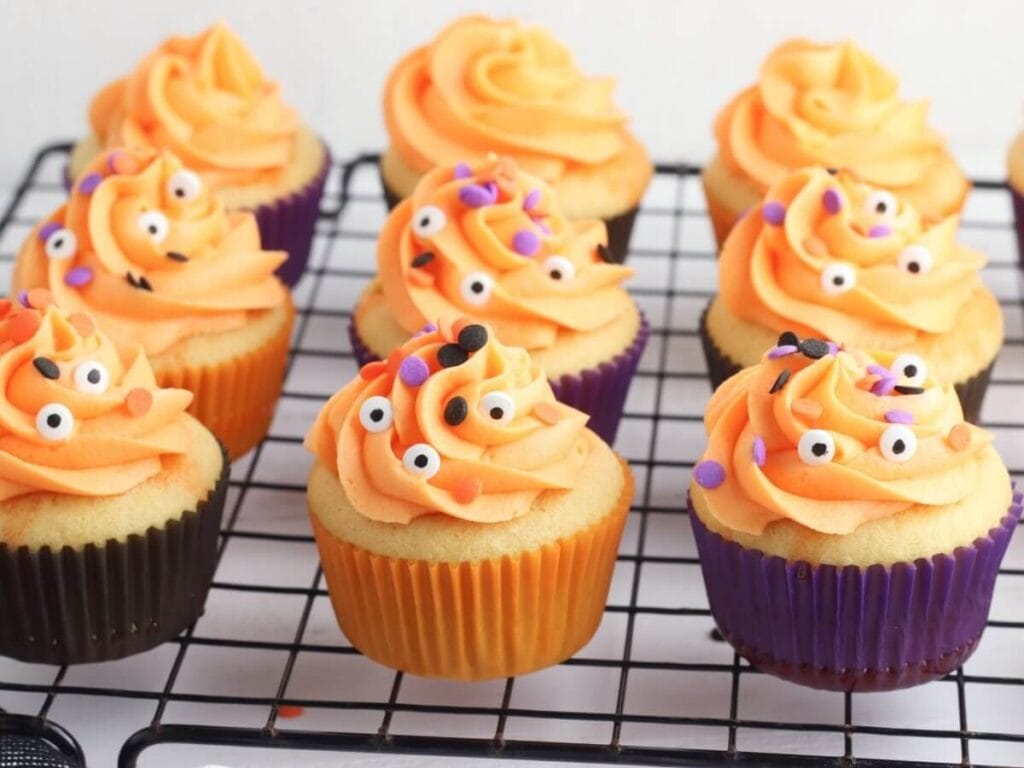 How to Make Halloween Poke Cake Cupcakes
Making poke cake is a simple way to add extra color and flavor to plain white cupcakes. And the best part about this recipe is that there doesn't have to be any baking involved. You can turn store-bought cupcakes into colorful Halloween treats just as easily as you could make them yourself!
Start with plain cupcakes
To make this Halloween dessert, start by preparing your cupcakes. You can make the cupcakes using a boxed mix, like I did, or prepare your favorite recipe. You can even use cupcakes from the grocery store. Just remove the icing on the cupcakes before moving on to the next step.
After your cakes are finished baking, give them time to cool completely.
Prepare the gelatin mix
While you're waiting for your cupcakes to bake, prepare the gelatin mix… but don't follow the instructions on the package. While the package tells you to use two cups of boiling water and two cups of cold water to prepare your orange Jell-o, you only need two cups of boiling water to prepare the gelatin for your poke cake.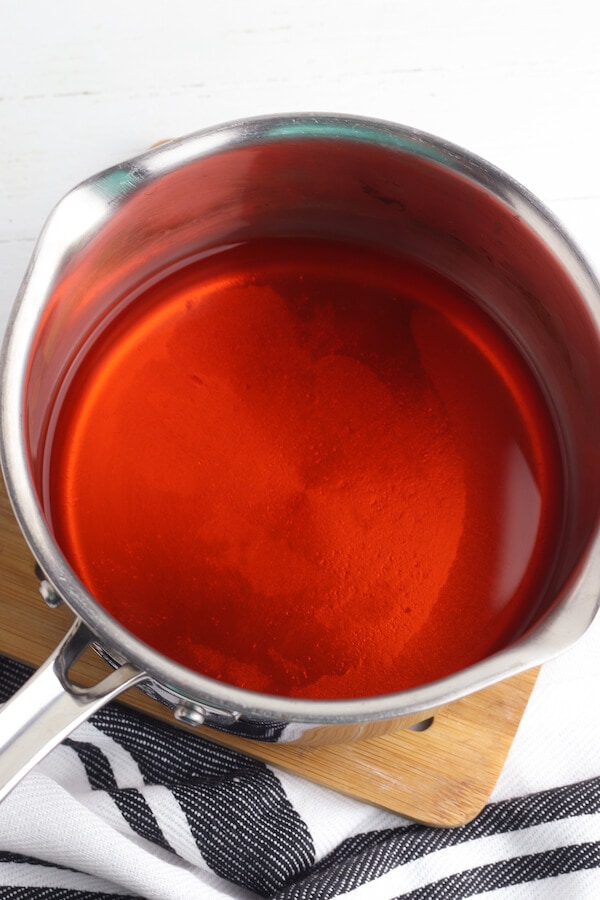 Bring your water to a boil and add the orange Jello to the pan.
If you're planning on topping your cupcakes with orange Jello buttercream like I did, set aside two tablespoons of the gelatin mixture to use in the frosting recipe. Stir to mix the gelatin until it's dissolved in the water. Then, allow the mixture to rest for a few minutes to cool.
Poke holes in your Halloween cupcakes
Before you can add the gelatin to your cupcakes, you need to poke holes in the cake. Use a small straw or wooden skewer to poke several holes in the cake. Just don't go overboard poking too many holes or the cupcakes may fall apart!
Here's what mine looked like before adding the gelatin mixture: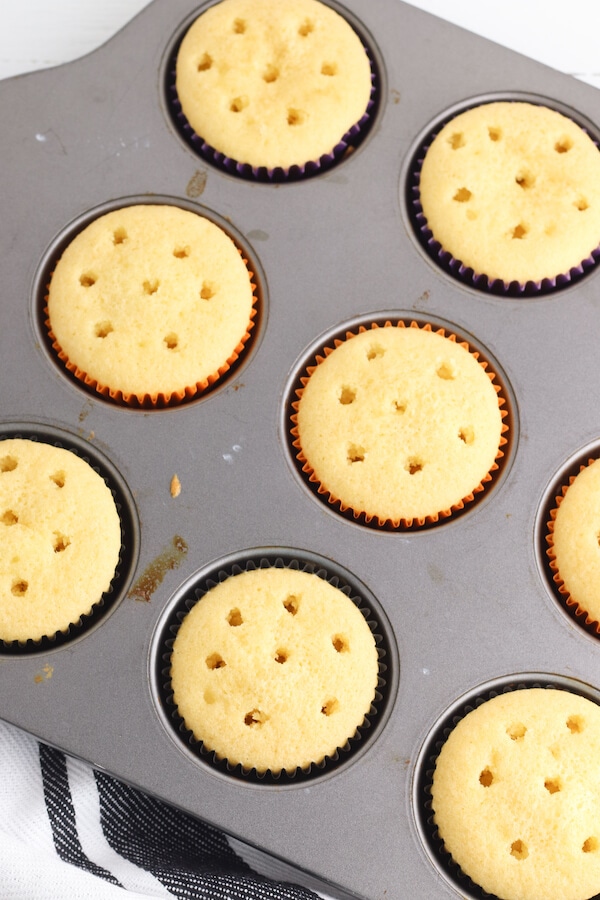 Spoon Jell-O mixture into the holes
Use a spoon to carefully pour the gelatin mixture into each hole in your cupcake. Continue pouring the Jell-o mixture over the cupcakes until you've used it all. Then, transfer the pan to the refrigerator to chill. Give the gelatin at least one hour to set up before you remove your cupcakes from the fridge.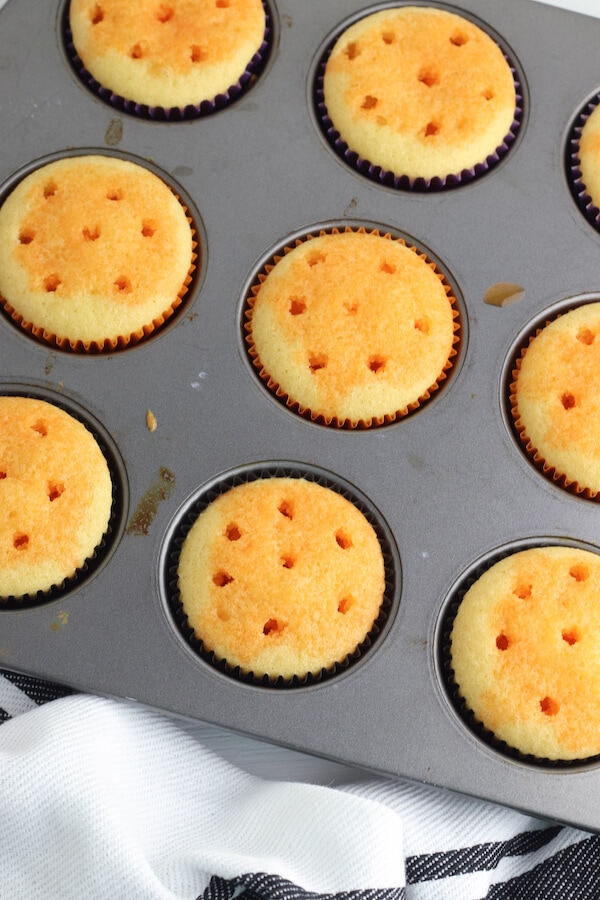 Top your Halloween poke cake cupcakes with icing
Next comes the fun part… decorating your Halloween cupcakes!
You have a few options for the icing – 1) You can add orange food coloring to store-bought canned icing or 2) you can make your own buttercream icing using the remaining dry Jello mix using the instructions down below.
After you've iced your poke cake cupcakes, decorate them with Halloween sprinkles or candy eyeballs.
Then these cute Halloween cupcakes are ready to serve at your Halloween party or as a dessert to go with these jack-o-lantern quesadillas!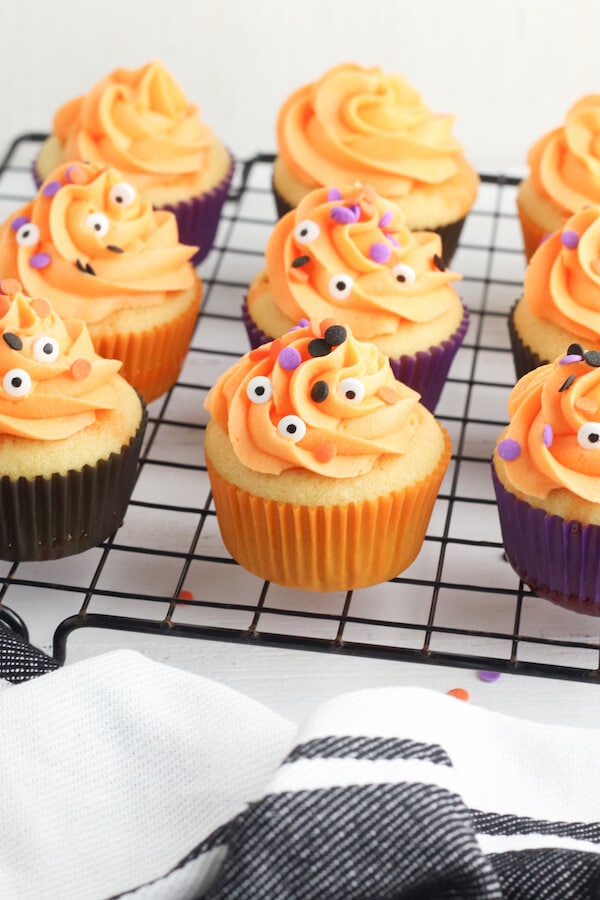 How to Make Buttercream Icing with Jello Mix
While your cupcakes are chilling, you can prepare your Jello buttercream icing. Here's how to do it:
Orange Jello Buttercream Icing Ingredients
Here's what you need to make the orange buttercream icing for your cupcakes:
2 cups butter, softened
2 tablespoons orange gelatin powder – You should have reserved 2 tablespoons of the Jello mix in the steps above.
4 cups powdered sugar
1 to 2 tablespoons milk
Orange food coloring, optional
To Make the Icing:
Start by beating together the orange gelatin and butter until the mixture is smooth and creamy.
Then, add the powdered sugar and milk and beat until smooth.
The frosting will be light orange in color with the addition of the orange gelatin, but if you want it to be more vibrant, you can add some food coloring.
Mix to combine.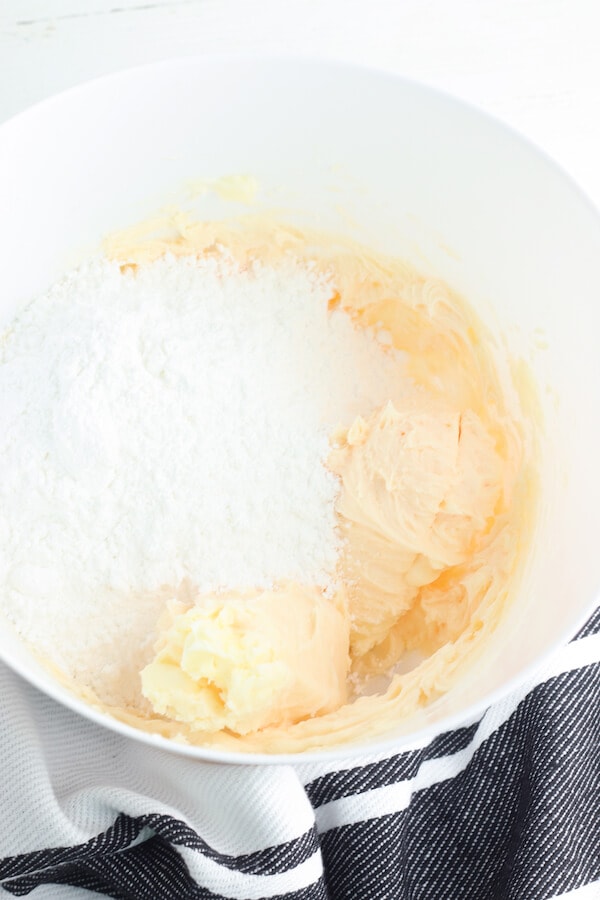 Pipe the frosting on top of each of your poke cake cupcakes, then decorate them with Halloween sprinkles and candy eyes to give them a fun holiday look.
Poke Cake Cupcake Tips
This quick dessert is so simple to make, which means its perfect for a Halloween party! And with these baking tips, you'll have a delicious holiday treat in no time.
Use any flavor of Jello.
I used orange gelatin for these festive cupcakes to give them a fun Halloween look. But you can use any color of Jello for these treats. Try purple Jello for witch themed cupcakes or green for creepy toxic cupcakes.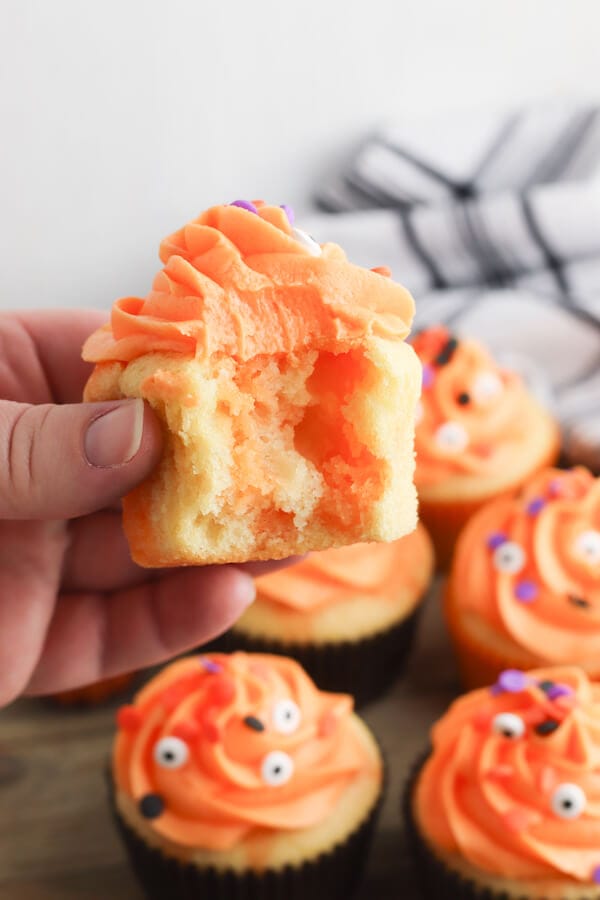 Try different cake flavors.
White or yellow cake mix are great options for poke cake cupcakes because they allow you to see the distinct stripes from the gelatin. But you can use any combination of cake flavor and gelatin for this recipe.
Turn this recipe into a full size Halloween poke cake.
Cupcakes are great for individual desserts, but you can also make this recipe using a full cake. Bake your cake mix in a 9×13 pan, then follow the instructions for pouring the gelatin mixture over the cake. The amount of icing in this recipe should be enough to cover a full cake.
Top with Cool Whip.
The Jello buttercream icing on these Halloween cupcakes is a fun way to add even more orange flavor to your dessert. But poke cake is traditionally topped with Cool Whip, so you could use the whipped topping for your cupcakes to make this dessert recipe even easier to prepare. If you want to add more Halloween color to your dessert, just mix a few drops of orange food coloring into the Cool Whip before you spread it on top of the cupcakes.
Pipe the cupcakes with a zip top bag.
To decorate the top of the cupcakes, I used a 1M piping tip in a traditional piping bag. But you don't need any fancy equipment to decorate the top of your cupcakes. After you blend your frosting, spoon it into a gallon sized zip top bag. Twist the top of the bag to keep the icing from coming out, then cut one corner off the bottom of the bag. Use the bag to create a swirl on the top of each cupcake with the frosting, then add some sprinkles on top.
Want some other fun Halloween dessert recipes? Try these easy 4 ingredient Mini Mummy Cherry Pies or these Spooky Halloween Sugar Cookies!
Yield: 24 cupcakes
Halloween Poke Cake Cupcakes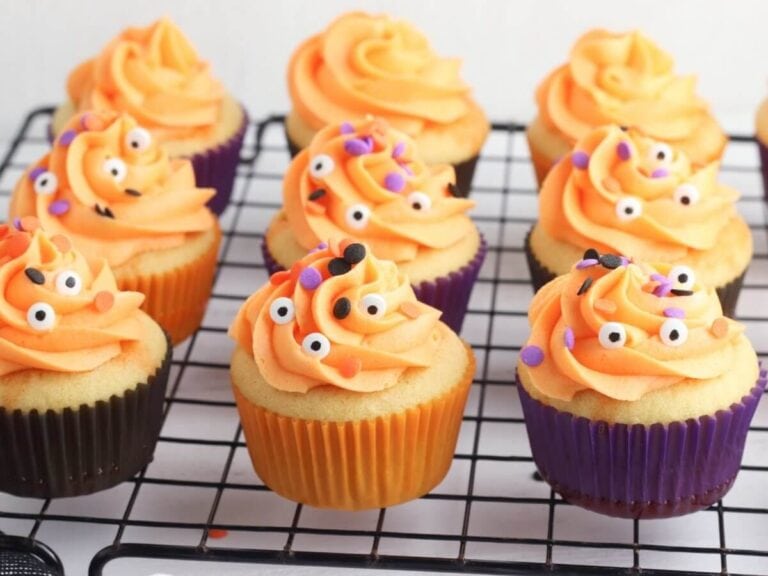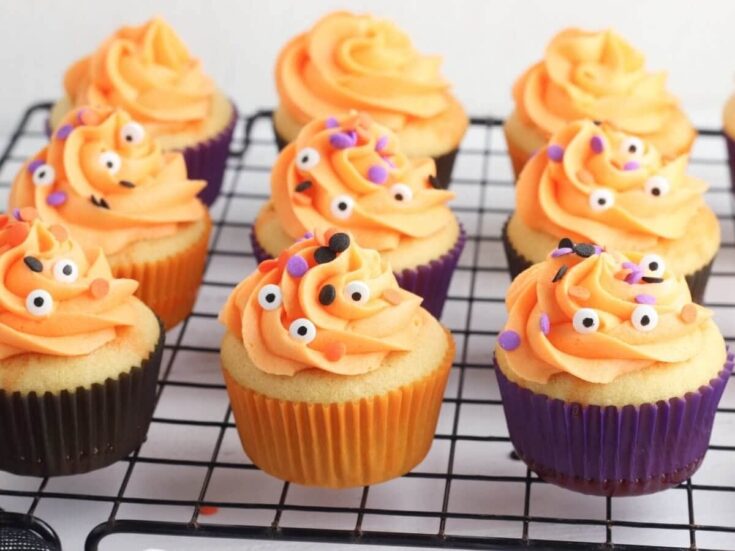 These Halloween poke cake cupcakes are the perfect dessert to serve at your next Halloween party! Make these easy cupcakes with boxed cake mix and orange Jello mix, and let your kids decorate them with Halloween sprinkles and candy eyeballs for a spooky cute dessert!
Prep Time 30 minutes
Cook Time 30 minutes
Cooling Time 1 hour
Total Time 2 hours
Ingredients
For the Cupcakes:
1 box white or yellow cake mix, prepared as cupcakes
6 oz. package orange gelatin (like Jello brand)
2 cups water
Halloween sprinkles for decorating
For the Buttercream Icing:
2 cups butter, softened
2 tablespoons orange gelatin powder (reserved from the 6 oz. box above)
4 cups powdered sugar
1 to 2 tablespoons milk
orange food coloring, optional
Instructions
Prepare the cake mix according to package instructions and bake as 24 cupcakes.
Once the cupcakes are done baking, allow them to cool completely, then use a straw or wooden skewer to poke holes in each cupcake (approximately 5-6 holes per cake).
Heat 2 cups of water in a saucepan until boiling. Remove the pan from the heat.
Take 2 tablespoons of orange gelatin mixture from the package and set to the side for the icing. Add the remaining gelatin to the hot water, and stir until all the gelatin has dissolved. Allow the gelatin mixture to cool for 5-10 minutes.
Use a spoon to pour the orange gelatin liquid mix into the holes in the cupcakes. When all the cupcakes have been filled, refrigerate them for at least one hour.
Prepare the icing by beating together butter and the reserved 2 tablespoons of gelatin powder until combined.
Add the powdered sugar and 1 tablespoon of milk to the butter/gelatin mix and beat until smooth. Add more milk, as needed, to thin the icing. For a more vibrant colored icing, add food coloring and mix until the desired color is reached.
Use a 1M piping tip to pipe icing on the cupcakes, or spread icing on with a knife.
Decorate Halloween poke cake cupcakes with sprinkles and candy eyes before serving.

And check out Country Living for 60 more Halloween cupcake ideas!
And don't forget to PIN this post for later: